Up With Lou Grant's Lovable Grouch Ed Asner
Update: Ed Asner has died on August 29, 2021 at the age of  91. Farewell to an icon.
Emmy-winning actor, former Screen Actor's Guild President, and autism advocate Edward Asner acquired over 380 film credits in a career that spanned 7 decades.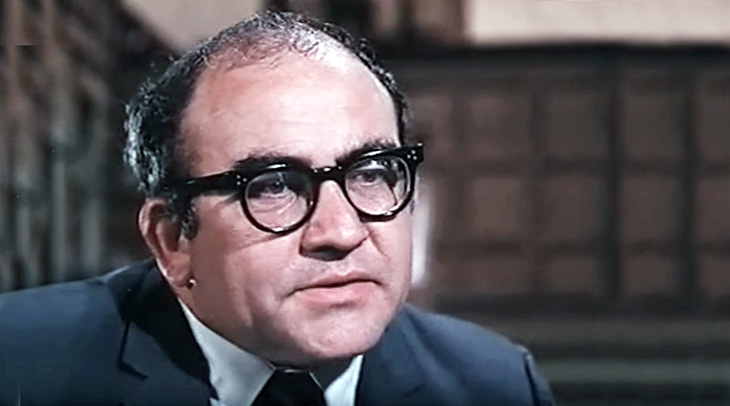 (Edward Asner 1970 The Old Man Who Cried Wolf)
In the first half of 2019 alone, 89-year-old Asner toured in 3 plays, and had no less than 12 TV or feature film projects in various stages of production. He turned 90 in November 2019, and if a global pandemic hadn't come along, who knows how much more he could have achieved? Edward Asner worked with almost everyone in show business.
Eddie Asner (Hebrew name Yitzhak) was the youngest of 5 children (there are 16 years between him and his oldest sibling) when he was born on November 15, 1929 in Kansas City, Missouri. According to Asner on his Twitter feed, his Russian Orthodox Jewish parents fled the pogroms in Russia to come to the US, and most of his family that survived World War II (either in camps or fighting in the forests of Poland) emigrated to America after the war ended. 
After graduating from the University of Chicago and stints with GM and the US Army, Asner decided on a career in theatre and has never looked back. Actress Barbara Harris recalled acting on stage in Chicago at the Playwrights Theatre alongside Edward Asner in the early 50s when she was a teenager.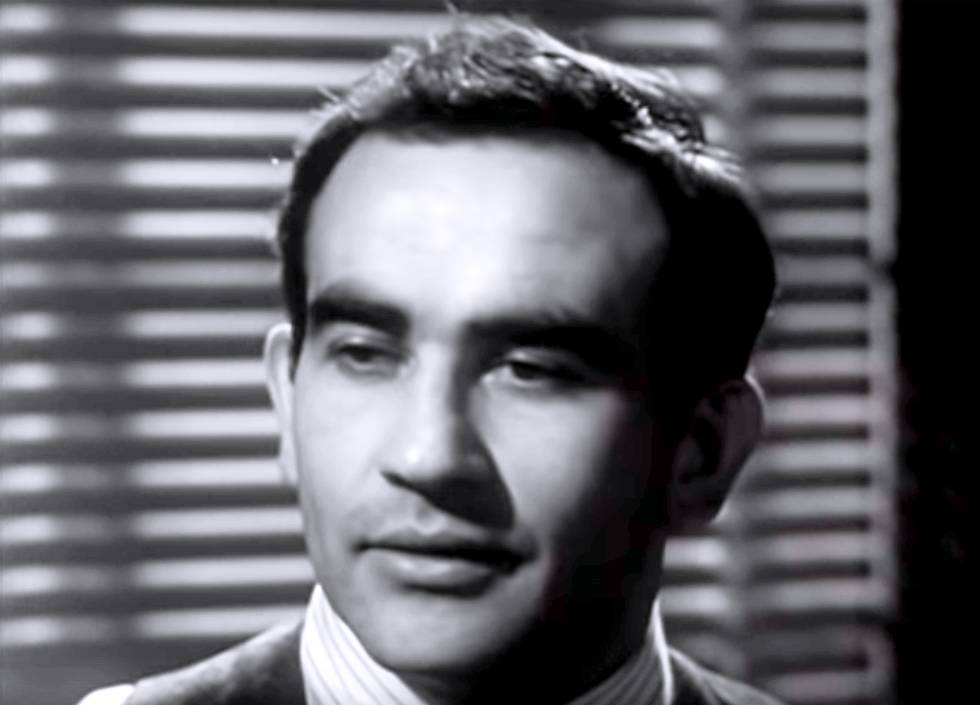 (Edward Asner 1960 The New Girl)
One of Ed Asner's first films was The New Girl (1960), a short produced by a government committee. Asner plays Kurt Harden, a manager at manufacturing company that's decided to begin integration of their white collar, office jobs. The "new girl" hired is played by actress Gail Fisher, later Peggy on Mannix, with Louis Gossett Jr. as her brother, and Clarice Taylor as her mother. Lynn Hamilton also appears in The New Girl in a short, uncredited role. 
Classic 1950s & 1960s Television Shows
Edward Asner began acquiring off-Broadway successes and TV appearances in the 1950s. With an episode of Decoy with Beverly Garland, and 3 appearances on Studio One in episodes with William Shatner, James Coburn, Ralph Bellamy, Steve McQueen, and Martin Balsam on his resume, he moved to Hollywood in 1961 to pursue more TV and feature film work.
During the first half of the 1960s Asner's flexibility as a talented character actor made him a very busy guest-star on many popular television series.
In two episodes of Naked City (1961) starring Paul Burke, Harry Bellaver and Horace McMahon, Asner played Lt. Vincent Busti – possibly the first, but not the last time he would play a police officer. His fellow guest stars in these episodes included Robert Duvall, Sylvia Sidney, Godfrey Cambridge, Martin Balsam, Robert Blake, and Lou Antonio.
The Defenders stars E. G. Marshall and Robert Reed as Lawrence and Kenneth Preston, a father-son lawyer duo; Asner appeared on 2 episodes of The Defenders  alongside William Shatner in 1963, and J.D. Cannon in 1964. 
Cain's Hundred (1962) starring Peter Mark Richman, in an episode with James Coburn that featured actress Dorothy Dandridge as a blues singer with a drug habit; she sings The Man I Love, in what would be her last TV appearance in an acting role. Peter Mark Richman and Edward Asner would later both appear in the same episode of Profiles in Courage in 1965, and co-star in the 1970 TV movie House on Greenapple Road, along with Julie Harris and Barry Sullivan.
The Virginian (1963), starring James Drury and Doug McClure, in an episode with Bradford Dillman and John Dehner. Asner plays a detective tracking down stolen gold who follows Bradford Dillman's character. Bradford Dillman and Asner were also in the same 1963 episode of The Alfred Hitchcock Hour, and appeared in a 1972 Mod Squad episode together. 
The Doctors and the Nurses (1963), in an episode with Lee Grant and Robert Webber.
In Breaking Point (1963) starring Paul Richards and Eduard Franz as psychiatrists, Asner guest-starred in an episode with Anthony Franciosa.
Dr. Kildare (1962-1963) starring Richard Chamberlain and Raymond Massey, in 2 episodes which also featured Olympia Dukakis and Ken Berry. 
Mr. Novak stars James Franciscus as idealistic and dedicated young teacher John Novak. When Asner guest-starred in a 1963 episode of Mr. Novak, Dean Jagger played the school principal. In 1965 when he guest-starred again, Burgess Meredith was the new principal. 
Profiles in Courage is a series based on real people and events. Ed Asner appears in the Richard T. Ely (1964) episode starring Dan O'Herlihy as a professor and Marsha Hunt as his wife; Leonard Nimoy plays Burr Jones. In 1965 Asner played President Ulysses S. Grant in the Hamilton Fish episode, which has Henry Jones as Secretary of State Hamilton Fish and Peter Mark Richman as Rawlins.
Asner had a recurring role as Frank Radcliff on Slattery's People in 1964. Slattery's People stars Richard Crenna as a politician fighting the system; and the episodes Ed Asner is in also feature familiar faces Arthur Hill, Joan Blackman, Michael Constantine, Steve Ihnat, James Whitmore, Malachi Throne, Elizabeth Allen, Peggy McCay, Andrew Duggan, and Charles Aidman. Steve Ihnat and Asner would later play spys on an episode of Mission: Impossible (1969), with series regulars Peter Graves, Martin Landau, Landau's wife Barbara Bain, Greg Morris, and Peter Lupus. They were both guest-stars again on the same 1967 episode of Ironside, starring Raymond Burr (Perry Mason) as a detective in a wheelchair assisted by various former cops and lawyers.
In 4 guest-starring gigs on The Untouchables (1962-1963) starring Robert Stack as Eliot Ness, Asner appeared in episodes with Charles Bronson, BarBara Luna, Sheree North, Tom Reese, Alan Oppenheimer, Jerry Douglas, Barbara Stanwyck, Nita Talbot, and Paul Picerni. He'd work with several of these co-stars again; BarBara Luna and Asner appeared in the same episodes of The Outer Limits in 1963, and Burke's Law in 1965. 
Asner progressed from an un-named character in his first appearance on Route 66 in 1960, to bigger roles in his next 4 gigs on the show – eventually playing an officer of the law a couple of times. Along with Route 66 stars Martin Milner as Tod Stiles and George Maharis as Buz Murdock, guest-stars on Asner's episodes of the series were Lew Ayres, Frank Overton, Michael Conrad, Bruce Dern, Darren McGavin, Lois Nettleton, and Rod Steiger. A few years later Bruce Dern and Asner were co-stars again in an episode of A Man Called Shenandoah (1965).
A 1964 guest-starring role on The Farmer's Daughter "Like Father, Like Son" has Asner playing politician George Chase, while Virginia Gregg plays his wife. Congressman Glen Morley (series star William Windom) is forced to compromise his principles to work with Chase, a lesson his son Steve (Mickey Sholdar) finds bitter.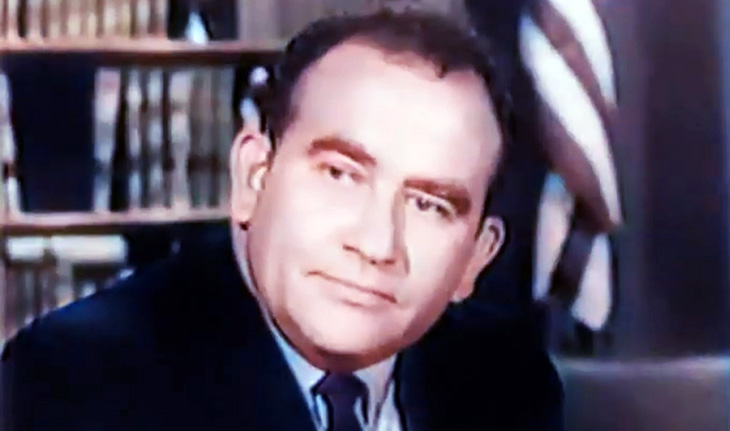 (Edward Asner 1964 The Farmer's Daughter 'Like Father, Like Son")
Not content with having already acquired a long string of credits on television earlier in the decade, it seemed like Ed Asner was determined to appear on almost every television series that existed in the the latter half of the 1960s. It might be shorter to list the series he wasn't in, but that would be cheating…
Edward Asner can be seen in episodes of Iron Horse, The Wild, Wild West, and these shows:
The Rat Patrol (1966) starring Christopher George, Gary Raymond, Lawrence P. Casey, and Justin Tarr as a team of commandos fighting WWII Nazis in North Africa. Eric Braeden plays their perennial adversary and occasional comrade Captain Hans Dietrich. Asner plays Captain Fridrich in an episode which sees Casey's character brought into a German hospital for surgery.
Voyage to the Bottom of the Sea (1965) staring Richard Basehart and David Hedison. Asner plays Brynov, leader of the People's Republic and a would-be defector. Richard Basehart and Ed Asner were co-stars again that same year in the sci-fi feature film The Satan Bug (1965) starring George Maharis and Anne Francis.
Run For Your Life (1966) starring Ben Gazzara, with guest star Wendell Corey as a former politician who learns his daughter (Brooke Bundy) is being held by a mafia kingpin.
Asner guest-starred in two episodes of the long-running western series Gunsmoke (1964 & 1966), starring James Arness as Marshall Matt Dillon, and regulars Milburn Stone, Amanda Blake, and Ken Curtis. Other guest-stars in the Gunsmoke episodes Asner appeared in include Robert Culp, Elisha Cook Jr., Michael Conrad, Harold J. Stone, and John Saxon. John Saxon and Asner were also both supporting actors in The Doomsday Flight (1966), a made-for-TV thriller starring Jack Lord (Hawaii Five-O, another series Asner would guest-star on), Edmond O'Brien, Van Johnson, Michael Sarrazin, Greg Morris, and Richard Carlson, among others.
In two episodes of The Invaders (1967 & 1968) starring Roy Thinnes, Asner played different characters. Linden Chiles, Burgess Meredith, Russ Conway, and Peggy Lipton co-starred with him in one episode, and Barbara Hershey in another. 
Judd for the Defense (1967 & 1969) stars Carl Betz as Houston lawyer Clinton Judd and Stephen Young as his assistant Ben Caldwell. Asner co-starred in two episodes with fellow guest-stars Jeff Corey, John Doucette, Brock Peters, Howard Duff, Dennis Cole, and Russ Conway. Asner also guest-starred on Howard Duff and Dennis Cole's earlier series The Felony Squad, which co-starred Ben Alexander.
Medical Center (1969) starring Chad Everett and James Daly as doctors. Asner plays a coach in "The Last Ten Yards" episode, while O.J. Simpson is, naturally, a football player. Cicely Tyson and Dana Elcar also guest-star in this episode.
The Name of the Game (1969) stars Gene Barry as publishing magnate Glenn Howard and Susan Saint James as editorial assistant Peggy Maxwell. Ed Asner guest-starred in two episodes of The Name of The Game, with fellow supporting actors Barry Sullivan, Fritz Weaver, Gia Scala, Ray Danton, Gene Evans, Hal Holbrook, Diana Hyland, Clu Gulager, Stephen McNally, Joanna Barnes, Ida Lupino, and Charles Drake.
Before the 1960s ended, Ed Asner would also have guest-starred 3 times on two very popular long-running series:
The Fugitive, with David Janssen as the wrongly convicted Dr. Richard Kimble who goes on the run, looking for the one-armed man who killed his wife. William Conrad narrates the series, and Barry Morse plays Lt. Philip Gerard, who in turn chases Kimble. Asner plays different characters in The Fugitive episodes from 1965 & 1967. He worked with series regulars and other guest-stars such as James Broderick, Sam Melville, Richard Anderson, Fay Spain, Milton Selzer, DeForest Kelley, James Doohan, and others. Richard Anderson and Asner had previously been on a 1963 episode of The Lieutenant, starring Gary Lockwood and Robert Vaughn.
The F.B.I., starring Efrem Zimbalist Jr., Philip Abbott, and William Reynolds. In the first episode he appeared in, Asner's fellow guest-stars included Lew Ayres, Wayne Rogers, and Kurt Russell. His second episode of The F.B.I. had Russell Johnson, Martin Sheen, John Kerr, and Jim McMullan, while the third featured Linden Chiles, Tim O'Connor, Louise Latham, Arthur Hill, and Dawn Wells. 
It's worth noting that most of these 1960s series Asner guest-starred in were westerns, adventure or dramatic series – definitely not the comedy fare that he would become so well known for in the 1970s. A few exceptions to this are an episode of Please Don't Eat the Daisies (1966), a comedy series starring Pat Crowley and Mark Miller. He also had a 2-episode recurring role as Matt Balter on Here Come the Brides (1969), starring Robert Brown, Bobby Sherman, and David Soul as the Bolt brothers, with Joan Blondell as saloon owner Lottie. 
Ed Asner's 1960s Movies
Although perhaps better known throughout his career for his work on television, Edward Asner also began carving out a career path in feature films during the 1960s. Some of these roles would pair him onscreen with actors that he'd work with multiple times in the next decades.
The Venetian Affair (1966), set and filmed in Venice, Italy, is based on a spy thriller of the same name by author Helen MacInnes. Robert Vaughn stars as an ex-CIA agent trying to save the day and uncover a bomb conspiracy, while Asner is the current CIA boss. Elke Sommer, Luciana Paluzzi, and Boris Karloff are supporting actors in the film. Robert Vaughn and Asner had already worked together when they co-starred in an episode of The Lieutenant in 1963.
Gunn (1967) stars Craig Stevens as Peter Gunn, with Laura Devon as Edie and Edward Asner as Police Lt. Jacoby. Gunn had been a 1985-1961 TV series starring Craig Stevens and the character was reprised for the film. Other supporting actors in Gunn are Alan Oppenheimer, Jerry Douglas, Regis Toomey, George Murdock (Banacek), and Sherry Jackson (Make Room For Daddy). Jerry Douglas and Ed Asner later both guest-starred on an episode of 70s series Police Story, and in the 1991 feature film JFK.
El Dorado (1967) stars John Wayne as hired gunman Cole Thornton, who turns down a job offer from Bart Jason (Edward Asner) to take down an old friend. Robert Mitchum plays old pal, El Dorado Sheriff J. P. Harrah. James Caan is Mississippi, a young gunslinger. Among the other players in El Dorado are Arthur Hunnicutt, Christopher George as a bad guy, Charlene Holt, Michele Carey, and Robert Donner. Caan and Asner had been co-stars previously, in a 1961 episode of Play of the Week.
This movie trailer for El Dorado features John Wayne, Robert Mitchum, James Caan (introduced as a new, young star), Charlene Holt, Michele Carey, Arthur Hunnicutt, Edward Asner, and Christopher George.
Kid Galahad (1962) was Ed Asner's first feature film, and starred Elvis Presley as a boxer. Asner plays Assistant D.A. Frank Gerson in an uncredited role, but he did meet Elvis and co-stars Gig Young, Lola Albright, Joan Blackman, Charles Bronson, David Lewis, Liam Redmond, and Roy Roberts.
The next time Asner appeared in an Elvis Presley movie, it was in a more significant role as police Lt. Moretti in Change of Habit (1969), which co-starred Mary Tyler Moore as inner-city nun Sister Michelle – the beginning of a very long and productive working relationship for Mary Tyler Moore and Ed Asner. Barbara McNair, Jane Elliot, Regis Toomey, and Richard Carlson are also in the cast of Change of Habit. 
Films with Telly Savalas
Telly Savalas and Ed Asner were co-stars in two 1960's films. The first was Fanfare for a Death Scene (1964), a made-for-TV movie starring Richard Egan as a businessman / detective, who has to track down Professor George Bannerman (Burgess Meredith), a top physicist. Fanfare For a Death Scene also features trumpeter Al Hirt, glamor gal Tina Louise, and character actors J. D. Cannon, Telly Savalas, and Ed Asner. Burgess Meredith and Asner also worked together on episodes of The Invaders, and Mr. Novak.
Their next film together was the drama The Slender Thread (1965), starring Sidney Poitier as a college student who volunteers at a crisis center and gets involved with a caller in distress. Telly Savalas plays a doctor and Edward Asner is a police detective. Co-starring with them in The Slender Thread are Dabney Coleman, Anne Bancroft, and Steven Hill. 
1970s TV Movies & Feature Films
If Ed Asner had been busy on TV in the 1960s, he eclipsed that in the 1970s. He starred in numerous made-for-TV movies and feature films, all the while enjoying leading actor status as a regular on two long-running series playing the same character.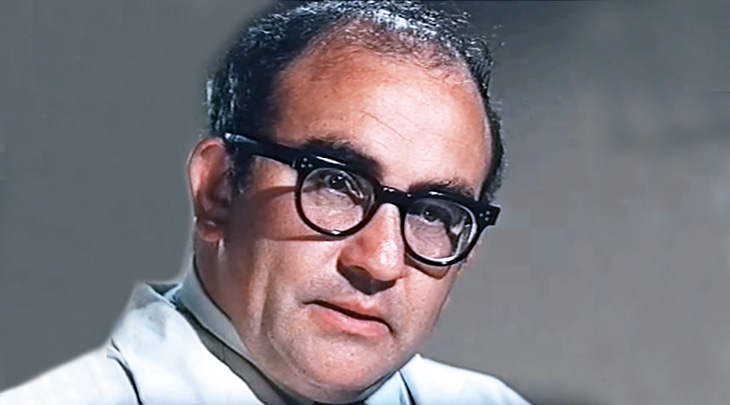 (Edward Asner 1970 The Old Man Who Cried Wolf)
Martin Balsam, Edward G. Robinson, Diane Baker, Ruth Roman, Percy Rodrigues, Martin E. Brooks, Naomi Stevens, Paul Picerni and Sam Jaffe co-starred with Edward Asner in the TV thriller The Old Man Who Cried Wolf (1970). Asner plays a psychiatrist who tries to help senior Emile Pulska (Edward G. Robinson, in a convincing performance) who saw his friend (Sam Jaffe) get murdered; a massive cover-up has Pulska's son (Martin Balsam) doubting his sanity. Sam Jaffe and Asner had guest-starred on a 1963 episode of Ben Casey (1963), starring Vince Edwards, with Barry Sullivan, Beau Bridges, and John Zaremba.
They Call Me Mr. Tibbs! (1970) stars Sidney Poitier as detective Virgil Tibbs, in a sequel to the hit film In the Heat of the Night (1967). For this movie, the locale of They Call Me Mr. Tibbs! has shifted from Phildadelphia to San Francisco, and Martin Landau plays a street preacher suspected of murdering a prostitute. Asner is Woody Garfield, her supposed pimp. Barbara McNair, Jeff Corey, and Anthony Zerbe also have supporting roles in the film. Landau and Asner had worked together before when Asner guest-starred on Mission: Impossible.
Anne Francis and Ed Asner co-starred in the TV thriller Haunts of the Very Rich (1972) with Donna Mills, Robert Reed, and Cloris Leachman (Asner's co-star on The Mary Tyler Moore Show). Leachman and Asner also co-starred in the 1975 TV docudrama Death Scream, starring Diahann Carroll, Kate Jackson, Tina Louise, and Eric Braeden (from Rat Patrol).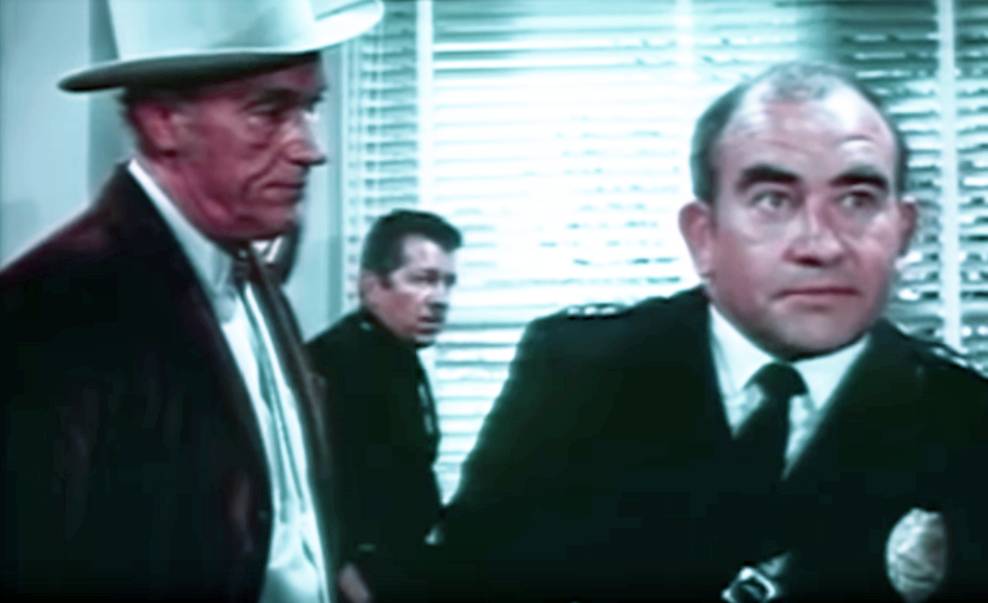 (Edward Asner 1971 They Call it Murder)
They Call it Murder (1971), a TV mystery with Lloyd Bochner, Jo Ann Pflug, and Jessica Walter. Lloyd Bocher and Asner had first worked together on an episode of The Richard Boone Show in 1963, with series star Richard Boone, Robert Blake, Harry Morgan, and Guy Stockwell. Asner once again plays an officer of the law in They Call it Murder.
The Todd Killings (1971), based on the true story of "The Pied Piper of Tucson", serial killer Charles Schmid. Robert F. Lyons stars as thrill killer Skipper Todd, and his supporting cast members include Asner, Richard Thomas, Belinda Montgomery, James Broderick, Gloria Grahame, Fay Spain, Barbara Bel Geddes, and Michael Conrad. Michael Conrad and Asner had been guest-stars in 1960s episodes of Route 66 and Gunsmoke.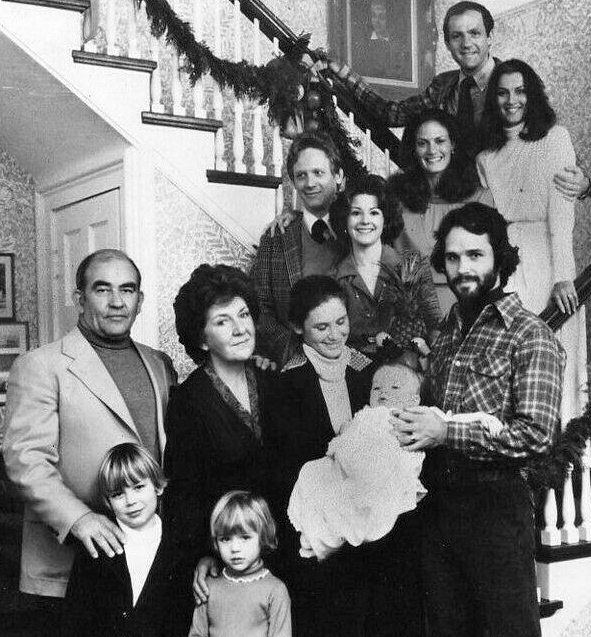 (Ed Asner, Maureen Stapleton & the Cast of The Gathering 1977 Photo)
The made-for-TV Christmas film The Gathering (1977) has Ed Asner playing dying businessman Adam, given a terminal diagnosis, who wants to reunite with the wife and children he'd left 4 years previously. He pulls them together for a Christmas reunion. Maureen Stapleton plays Adam's wife Kate, while Gregory Harrison (Trapper John, M.D.) is his son. Veronica Hamel, Stephanie Zimbalist, John Randolph, Bruce Davison, and James Karen, are also in the cast. John Randolph and Asner would later co-star with Barbara Barrie and Gary Cole in the TV movie Vital Signs (1986). 
This special edition clip of The Gathering features Ed Asner and James Karen. 
Other notable 1970s movies and co-stars for Ed Asner:
Halls of Anger (1970), a TV drama starring Jeff Bridges and Rob Reiner.
Skin Game (1971), a western comedy with James Garner, Louis Gossett Jr., and Susan Clark.
Edward Asner had the starring role as Louisiana Governor Huey P. Long in the 1977 TV movie The Life and Assassination of the Kingfish. 
This Week in Nemtim (1972), a TV comedy starring Carl Reiner and McLean Stevenson.
Twigs (1975), a comedy starring Carol Burnett, Conrad Bain, and Gary Burghoff.
Hey, I'm Alive (1976), a television adventure movie starring Sally Struthers.
Gus (1976), a comedy starring Don Knotts, Tim Conway, Dick Van Patten, Bob Crane, and Harold Gould. 
The Mary Tyler Moore Show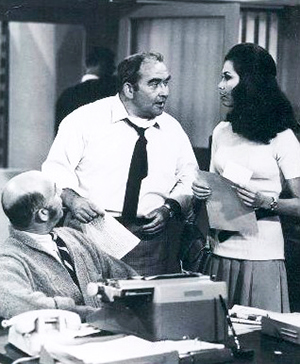 (Gavin MacLeod, Edward Asner, Mary Tyler Moore 1970 The Mary Tyler Moore Show Photo: CBS Television)
Arguably the television series that most Edward Asner fans will remember him best for is The Mary Tyler Moore Show, where he first created the character of lovable, gruff, softy Lou Grant.
On the Mary Tyler Moore Show, Lou Grant is the TV newsroom boss of anchorman Ted Baxter (Ted Knight), newswriter Murray Slaughter (Gavin MacLeod), weatherman Gordy Howard (John Amos), and producer Mary Richards (Mary Tyler Moore). Georgia Engel plays ditzy Georgette Franklin, who later marries Ted; Betty White is man-hungry TV home-maker Sue Ann Nivens; Valerie Harper plays Mary's best friend Rhoda Morgenstern; and Cloris Leachman is Mary's landlady Phyllis Lindstrom.
At the end of The Mary Tyler Moore Show, Lou leaves the WJM TV station, and in the farewell episode the characters all cling to each other in goodbye. I can remember watching this episode and feeling grief at the ending of not just a wonderful series, but the splitting apart of actors who had made their camaraderie so real for the audience.
In a 2018 Ed Asner Really Famous Podcast #27 interview with Kara Mayer Robinson, Asner said of Gavin MacLeod that he was "my buddy" and commented that the three guys were tight with each other until Asner's new series Lou Grant was taken off the air, and Ted Knight made a not-nice comment about it; they stopped talking. 
He had nothing but admiration for actress Mary Tyler Moore, calling her a great performer and a great star. 
"Everybody got to be a star around her. She was the axle around which the wheels revolved."
Almost 30 years after they first worked together in Change of Habit, and 20 years after The Mary Tyler Moore Show went off the air, Mary Tyler Moore and Ed Asner co-starred in the TV movie Payback (1997).
Among the 29 Emmy Awards that The Mary Tyler Moore Show received during it's run from 1970-1977, were three Outstanding Supporting Actor in a Comedy Series Emmy Award's for Edward Asner.
Above, Ed Asner talks about Lou Grant, and recalls how he came to suggest actress Beverly Garland for a guest-starring role a 1975 Mary Tyler Moore Show episode where he'd be reunited with a former girlfriend, who'd thrown him over while he was in France in WWII.
Lou Grant and Battling Weight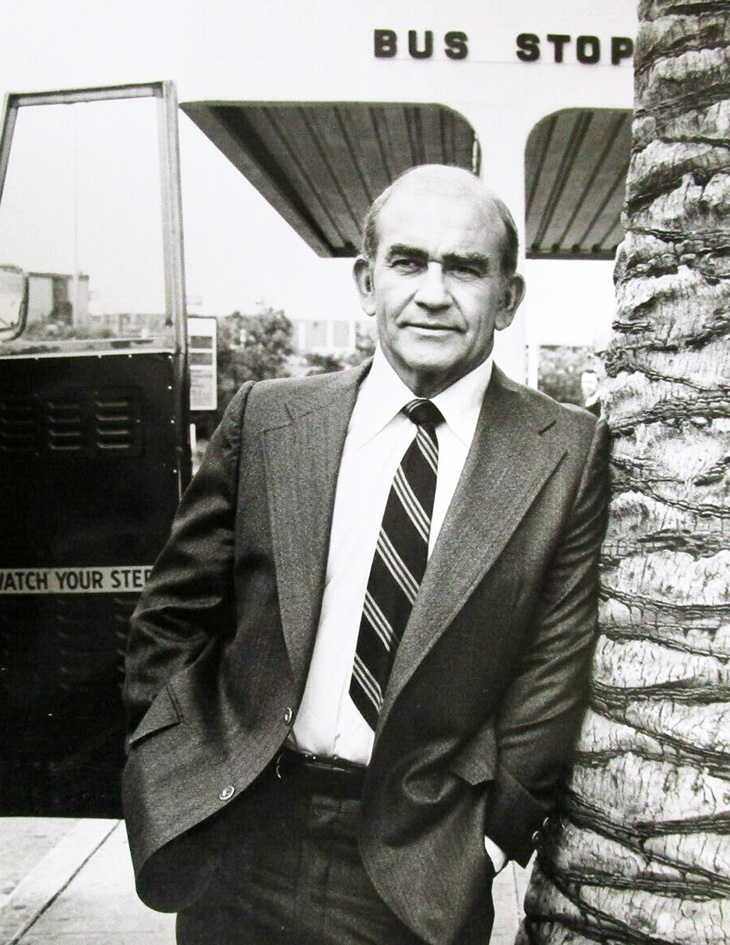 Ed Asner 1977 Lou Grant Photo: CBS Television Network)
As often happens in television land, the monster success of one TV series spawns another.
The Mary Tyler Moore Show had no less than 3 spin-off's – first the sitcoms Rhoda, then Phyllis, and last but not least, the newsroom drama Lou Grant (1977-1982).
On this re-incarnation of the Lou Grant character, Lou is now a city newspaper editor instead of a TV newsroom boss. In Dashing, Daring, and Debonair (2016), author Herbie J. Pilato explains that Asner slimmed down for the role of leading man at the request of network executives, who thought  it might benefit his character and health.
Asner confirmed "I'm always dieting" in a 1981 interview with KOLH/KGIN-TV; he even tried a liquid diet for a time. Almost 40 years later, he told Kara Mayer Robinson in 2019 that his biggest flaw was "wasting a lot of time thinking about being fat."
During the series run of Lou Grant, most of the storylines focused on reporters Joe Rossi (Robert Walden) and Billie Newman (Linda Kelsey).
Supporting actors on Lou Grant included Nancy Marchand as publisher-owner Margaret Pynchon, Mason Adams as managing editor Charles Hume, Jack Bannon as city editor Art Donovan, and Daryl Anderson as 'Animal', photographer Dennis Price. 
In interviews Asner has said he was very proud of the high quality of work on Lou Grant, and regrets that the series was cancelled – he believes because of heat from sponsors regarding his statements about U.S. involvement in El Salvador. 
Before it was taken off the air, Ed Asner won 2 Emmy Awards for Outstanding Lead Actor in a Drama Series, and the Lou Grant series won Outstanding Drama Series twice, in addition to 9 other Emmy Awards and numerous other accolades..
In 2011 when interviewed in by Emmy TV Legends about his long career, Asner reminisced about Lou Grant the character, and the series.
"I liked him a lot. He was a straight shooter, a great guy." 
Asner would tell interviewer Kara Mayer Robinson that the worst time of his life was Lou Grant was cancelled and "I was regarded as a commie in the business…it was a harsh time."
Roots and Ground-Breaking Mini-Series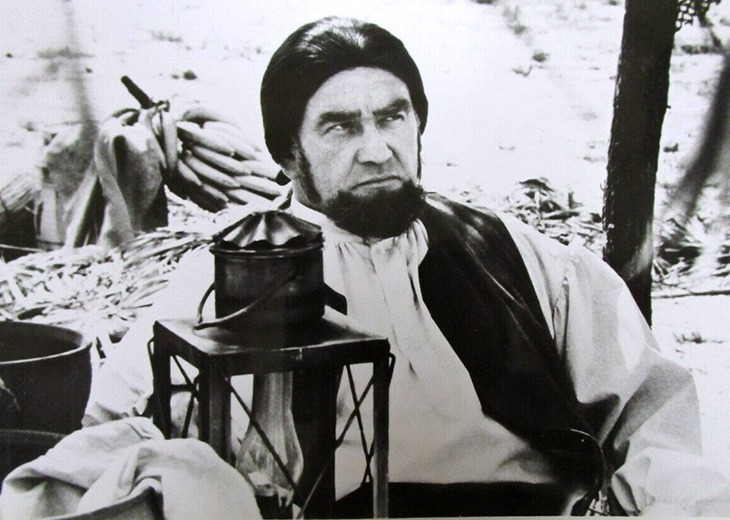 (Edward Asner 1977 Roots Photo: ABC)
The ground-breaking, iconic TV mini-series Roots (1977), stars LeVar Burton as Kunta Kinta, Leslie Uggams as Kizzy Reynolds, Louis Gossett Jr. as Fiddler, and Ben Vereen as Chicken George. Roots features a huge all-star supporting cast that had Ed Asner playing a white slaver, ship Captain Thomas Davies.
Asner won another Emmy Award, for Best Supporting Actor in a Comedy or Drama Series, Single Appearance, for his work on Roots. He's aid that he thought few other white actors would choose to be in Roots, and was surprised by how many appeared on the mini-series. His co-stars in Roots included Olivia Cole, Carolyn Jones, Lloyd Bridges, Lorne Greene, Gary Collins, Vic Morrow, George Hamilton, Richard Farnsworth, Sandy Duncan, Tracey Gold, Chuck Connors, Cicely Tyson, Burl Ives, Yvonne De Carlo, and many others.
Prior to being in Roots with Robert Reed, Ed Asner had been in an episode of The Defenders with him in the early 1960s, and again on The Mod Squad. In addition to Reed, Asner's co-stars in the three episodes he appeared in of The Mod Squad included series regulars Peggy Lipton, Michael Cole, Clarence Williams III, and Tige Andrews, and fellow guest-stars Stefanie Powers, Cesar Romero, and Anne Archer. Asner had guest-starred on Stefanie Powers' series The Girl From U.N.C.L.E. in 1967, and Michael Cole and Ed Asner co-starred with Barbara Babcock in the sci-fi TV thriller The Last Child (1971).
The year before Roots broke records with TV viewers, Ed Asner had been an important player another iconic television mini-series, Rich Man, Poor Man (1976), based on the novel by Irwin Shaw. Asner played against his lovable Lou Grant/MTM comedy "type", as embittered, hulking family patriarch Axel Jordache, father to sons Rudy Jordache (Peter Strauss) and Tom Jordache (Nick Nolte). Dorothy McGuire played Axel's wife Mary, and Susan Blakely was young Rudy's love interest Julie. Asner's performance as in Rich Man, Poor Man is truly memorable and deserving of the Emmy Award he won for it. Almost 45 years later, I can still recall feeling a sense of foreboding watching him dominate the other actors on the screen with him.
His other co-stars in Rich Man, Poor Man include Gloria Grahame, Robert Reed, Dennis Dugan, Frank Aletter, Nicholas Hammond, Steve Allen, Bill Bixby, Kim Darby, Ray Milland, Van Johnson, and Talia Shire. Peter Strauss and Asner would later co-star in another miniseries – Tender is the Night (1985), based on F. Scott Fitzgerald's novel, with Mary Steenburgen, John Heard, and Sean Young.
Marriages, Family, and Autism Advocacy
A marriage to Nancy Sykes in 1959 produced three children – his oldest daughter Liza and son Matthew, and his youngest daughter Kate.Kate is an actress, and Matthew is a documentary writer, producer & director. His divorce from Nancy was final in 1988, but the marriage had broken down before that. He told Kara Mayer Robinson that he credits his marriage to Nancy as the best decision he ever made, because "the kids are joys", and that his biggest regret was their divorce; although they still speak, in his opinion they could have a better relationship.
He met separated housewife Carol Jean Vogelman in 1986 and their son Charles was born in 1987. In 2012 Ed Asner told Success.com that Charlie's mother had moved him from school to school because he wasn't doing well. When Charlie was around 7 or 8, Asner won custody and at the prodding of his then-fiancee Cindy Gilmore (they got engaged in 1991), had him tested for autism. He married Cindy in 1998 and credits her with persisting in getting Charles the help he needed in school. 
Asner is a grandfather several times over, and his grandson Will (Matthew's son) is also autistic (a more severe form than Charlie's). Matthew and Ed were involved in supporting autism causes together, such as Autism Speaks, for many years. He co-founded The Ed Asner Family Center to provide support and services for families and individuals living with autism. 
His marriage to Cindy Gilmore ended in divorce in 2015. Single and "not really" dating in 2019, Asner said that although he loved women, he was still learning how to deal with them.
Although not against it, Asner professed dismay over some outcomes from the Me Too movement where "worthwhile people have been drummed out" without a fight, while others (i.e., the current President was "caught on actual tape bragging about what he's done to women") have not been punished. Now, he says, "We had sexual liberty before…that liberty has been greatly circumscribed."
1980s-2000s TV Highlights
Although his career high could be said to have been contained within the 1960s and 1970s, Edward Asner continued to be a presence on television and at the movie theatres as an in-demand character actor throughout the 1980s, 1990s, and 2000s.
Some television highlights for this busy guy from the 1980s until recently, include recurring or starring in more television series – Off The Rack (1984-1984) with Eileen Brennan and Dennis Haysbert; The Bronx Zoo (1987-1988); The Trials of Rosie O'Neill (1991-1992) co-starring Sharon Gless, Ron Rifkin, and Dorian Harewood; Hearts Afire (1992-1993) starring John Ritter, Markie Post, and Billy Bob Thornton; Thunder Alley (1994-1995) with Haley Joel Osment and Andrew Keegan; The Closer (1998) starring Tom Selleck and Penelope Ann Miller; and Studio 60 on the Sunset Strip (2006-2007) with Matthew Perry, Amanda Peet, Bradley Whitford, Steven Weber, and others. 
He played Henry Winkler's dad on Royal Pains, guest-starred several times on Mad About You (1996-1997) starring Helen Hunt and Paul Reiser, and was Dr. James McNulty on a 3-episode arc on ER in 2003. He was a judge for 4 episodes of The Practice between 1997-2004, and a doctor again on The Glades for 3 episodes in 2013.
From Fort Apache, the Bronx To Santa and Grandpa Roles
Staying busy in feature films and made-for-TV movies while aging is a tightrope many actors never manage to walk, but Edward Asner didn't have that problem. In the 1980's & 1990s his roles were often that of a father figure, man of the law, or business leader, as portrayed in these films:
Fort Apache, The Bronx (1981), co-starring with Paul Newman, Ken Wahl, and Danny Aiello. The above Fort Apache, The Bronx trailer features Ed Asner as police captain confronting a mob, with Paul Newman and Ken Wahl.
O'Hara's Wife (1982), a comedy drama starring Asner as Bob O'Hara, Mariette Hartley as his wife Harry O'Hara, Jodie Foster as his daughter Barbara, and Perry Land as his son Rob. Tom Bosley, Ray Walston, Nehemiah Persoff, Kelly Bishop, and Barney Phillips all have supporting roles in O'Hara's Wife. 
Director Oliver Stone's political thriller JFK (1991) stars Kevin Costner, Kevin Bacon, Sissy Spacek, Joe Pesci, Tommy Lee Jones, Donald Sutherland, Walter Matthau, Jack Lemmon, John Candy, and many others….Ed Asner plays retired F.B.I. agent Guy Banister, who was a private detective in Louisiana at the time of President John F. Kennedy's assassination.
Hard Rain (1998), an action-thriller starring Christian Slater, Morgan Freeman, Randy Quaid, Minnie Driver, and Betty White (his former MTM Show co-star). Asner plays Slater's on-screen Uncle Charlie, who is shot in an armed robbery that takes place in a town evacuated due to flooding. Asner had co-starred with Morgan Freeman almost 20 years earlier in The Marva Collins Story (1981), a TV biographical drama starring Cicely Tyson. He later guest-starred on Betty's White's sitcom Hot in Cleveland in 2012, and was a visitor to her Off Their Rockers series in 2013.
A Case of Libel (1983) is a courtroom drama based on a 1954 news reporter who sued after he was accused of being a communist by a columnist. Asner, Daniel J. Travanti and Gordon Pinsent star.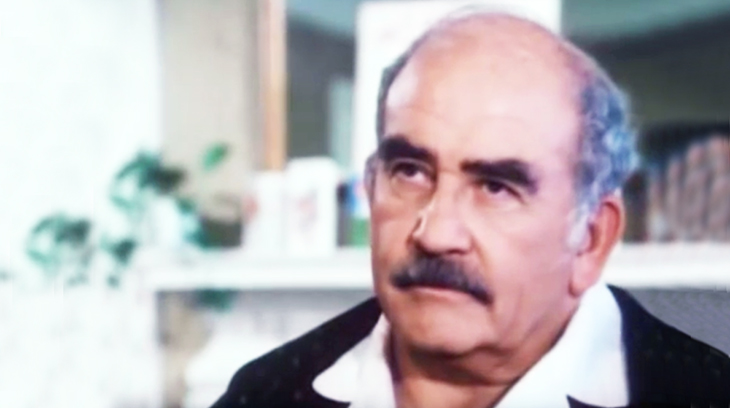 (Edward Asner 1984 Anatomy of an Illness)
The TV movie Anatomy of an Illness (1984), co-starring Eli Wallach, Millie Perkins, and David Ogden Stiers. Also based on a true story (tprofessor and author Norman Cousins), Asner plays a man who develops a self-prescribed therapy regiment of laughter and vitamin C.
Kate's Secret (1986) with Meredith Baxter, Mackenzie Phillips and Shari Belafonte; Meredith Baxter and Asner were movie co-stars on three other occasions – The Impostor (1975); The Family Man (1979) with Michael Wincott, Martin Short, and Gordon Thomson; and Dog's Best Friend (1997), a fantasy with Richard Mulligan, Shirley Jones, and John Ratzenberger.
30 years after co-starring in an episode of The Untouchables, Asner and Charles Bronson were reunited in the TV movie Yes Virginia, There Is a Santa Claus (1991), co-starring Richard Thomas. This was an early outing for Asner as Santa, something that he'd become increasingly in demand for. Richard Thomas and Asner had also co-starred before, in The Todd Killings (1971). 
The romantic comedy The Bachelor (1999) starring Chris O'Donnell and Renee Zellweger, reunited Ed Asner and actor Hal Holbrook onscreen; they had both been in the same episode of The Name of the Game 30 years earlier in 1969, along with Clu Gulager and Susan Saint James.
These 2000's movies are notable more for the co-stars Asner worked with, than the films themselves: 
The feature film docudrama The Commission (2003) had Asner co-starring with Sam Waterston, Corbin Bernsen, Joe Don Baker, Stephen Collins, Lloyd Bochner, Martin Sheen, and Martin Landau. Landau, Bain, and Asner had worked together before when he guest-starred on their series Mission: Impossible back in 1969; while Martin Sheen and Asner had been guest-stars on an episode of The F.B.I. in 1968 – 35 years earlier!
Although neither movie was particularly notable, actors Don Murray and Ed Asner were also co-stars in two films that spanned 30+ years – the TV thriller Daughter of the Mind (1969) and 32 years later, the feature film thriller Island Prey (2001).
Career Highs Elf and Up
Among Asner's most popular films in most recent decades are the Christmas comedy Elf  (2003) starring Will Ferrell. Asner plays Santa in Elf, and said Will Ferrell was among the best actors he'sd ever worked with – and he'd worked with virtually everyone! Also in Elf are James Caan, Bob Newhart, Mary Steenburgen, and Michael Lerner. 40 years earlier, James Caan and Ed Asner had first worked together on Play of the Week in 1961, and El Dorado (1967).
Given his distinctive voice, it was only natural that Ed Asner would find plenty of work as a voice over actor. A stellar example of this is his performance as the main character in the Disney-Pixar animated movie Up (2009).
Christopher Plummer voices Charles F. Muntz and John Ratzenberger is a construction worker "Tom". In Up, Asner stars as Carl, a lonely senior struggling with loss and aging. Asner told Kara Mayer Robinson of his Up co-star Christopher Plummer, "the raves he's getting are long overdue, his talent has always been there." 
This clip from Up features Ed Asner as Carl, and Jordan Nagai as Russell. 
In a 2009 interview, Ed Asner explained his take on the lessons of aging that are presented in the movie Up:
"How capable we can be if allowed…to be independent, not dependent, if allowed to flourish and flower, and to persevere. I think that's the biggest lesson that Carl has to teach the younger generation, is his perseverance, which too many young people lack….It's a repeated lesson, perseverance…Perseverance is a rotten job. It's not fun."
Asner went on to do more voice over work for TV and film, and continued guest-starring on television series. In 2014 he was reunited with actress Marion Ross onscreen 47 years after they had first guest-starred on Insight in 1967, when they were in the same episode of the series Chasing Life; and again in the movie Angels on Tap (2018) co-starring Jamie Farr, Ron Masak, Alan Rachins, and Clement von Franckenstein.
In 2017 alone Edward Asner played Santa in two movies, a role that may eventually eclipse his fame as Lou Grant.. He was enshrined in the International Santa Claus Hall of Fame for his stellar work onscreen as Santa in feature films, TV series and movies, and voice-over work.
Most recently, he played a small but critical role as a retirement residence patient on the 2019 hit TV series Dead to Me, starring Christina Applegate, Linda Cardellini, and James Marsden. 
Despite walking with a cane since 2007, Asner toured the U.S. from 2009-2013 performing in his one man FDR (about President Franklin Delano Roosevelt) in between movie and TV work. In the above 2019 interview with Better Connecticut, he recalls friendships formed on The Mary Tyler Moore Show,  touring in 3 plays in 2019 – his one-man performance of A Man and His Prostate, God Help Us, and The Soap Myth. 
Edward Asner co-wrote The Grouchy Historian: An Old-Time Lefty Defends Our Constitution Against Right-Wing Hypocrites and Nutjobs (2017) with his former Mary Tyler Moore Show screenwriter-producer pal Ed Weinberger. The book pokes at the interpretations by modern day right-wingers of Constitution, and examines the lives of the founding fathers.
In addition to the record 7 Emmy Awards he won for his work on The Mary Tyler Moore Show, Lou Grant, Roots, and Rich Man, Poor Man, Asner has won numerous other awards. He also served two terms as a President of SAG (Screen Actors Guild).
When asked in 2014 by Melissa Parker of Smashing Interviews Magazine if there was anything he'd still like to accomplish in life, Asner responded,
"My physical activity, is somewhat limited. I'd still like to lose weight…I don't walk that well, so touring museums and visiting national parks doesn't do it for me. I guess I'll just have to rely on the beauty of women."
Even Asner can't think of what else he could possibly accomplish, except to persevere and do what he does best – capture our attention in movies and on TV, in bigger and better roles. Up with Ed Asner!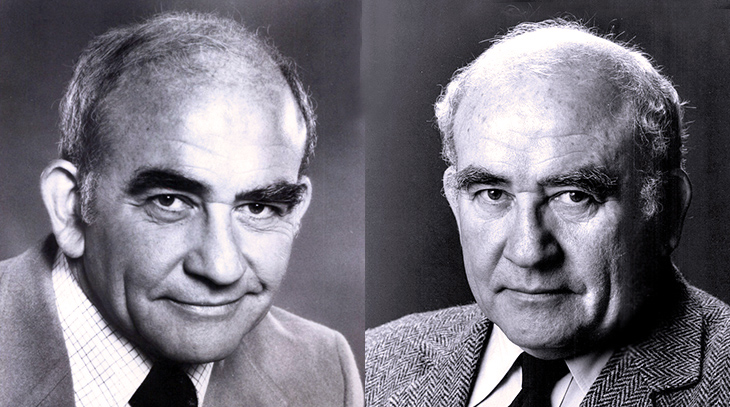 (Ed Asner in 1977 & 1985)
Note: This article was first published in 2019. It has been updated with new & additional content.
*Images are public domain or Creative Commons licensed & sourced via Wikimedia Commons, Vimeo, YouTube, or Flickr, unless otherwise noted*