Celebrating Seniors - Barbara Barrie Turns 85
Stage, movie, and televison actress and author – and now 85-year-old octogenarian senior citizen – Barbara Barrie (nee Barbara Ann Berman) was born in Chicago, Illinois on May 23, 1931.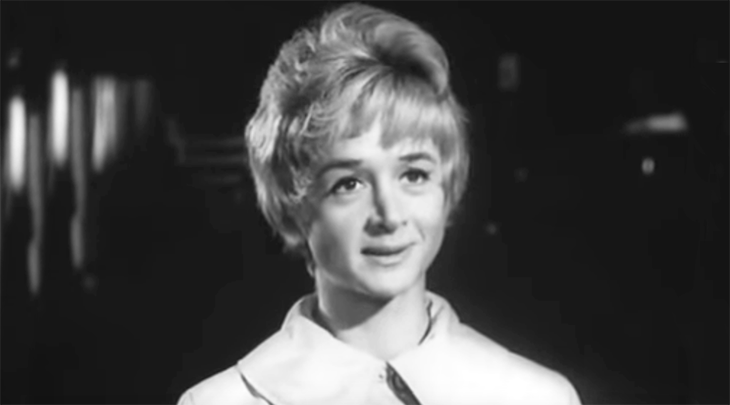 (Barbara Barrie 1964 One Potato, Two Potato Screenshot)
At age 9 Barbara's family moved to Corpus Christie, Texas and she graduated from high school there in 1948; her interest in acting was spiked when she attended Del Mar Junior College in Corpus Christie. While at The University of Texas at Austin working towards a Bachelor of Fine Arts degree in Drama, Barbra won numerous scholarships and awards; fellow students at UT included actors Rip Torn and Kathryn Grant.
Upon graduating from UT in 1953, Barbara Berman moved to New York to pursue a career as an actress and changed her last name to Barrie. She worked on stage during the 1953 theater season in Corning, New York and had her Broadway debut in The Wooden Dish in 1955. Barrie continued working primarily on stage during the 1950's, and was in The Beaux Stratagem in 1958. She'd also began working in television with a few small roles in series beginning with Kraft Theatre, where she made her TV debut; and had a silent, walk-on part in the movie Giant (1956).
Barbara Barrie played a flustered receptionist in a 1957 episode of Suspicion entitled "Heartbeat". Fellow guest stars included David Wayne as an unsuspecting heart patient given mistaken information by his new doctor (played by Pat Hingle), while Warren Beatty made a brief appearance as an obnoxious young man.
Towards the end of the 1950's/early 1960's, Barbara Barrie secured a role on daytime soap opera One Life to Life as Ginny Crandall for a few months, and toured Europe in 1961 as Annie Sullivan in a production of The Miracle Worker. She worked steadily in television throughout the early 1960's in episodes of popular baby boomer TV series including Naked City (1962).  
Barrie moved to California after Naked City and got more work in shows such as Ben Casey, The Twilight Zone, The Alfred Hitchcock Hour, The Fugitive, and Ironside.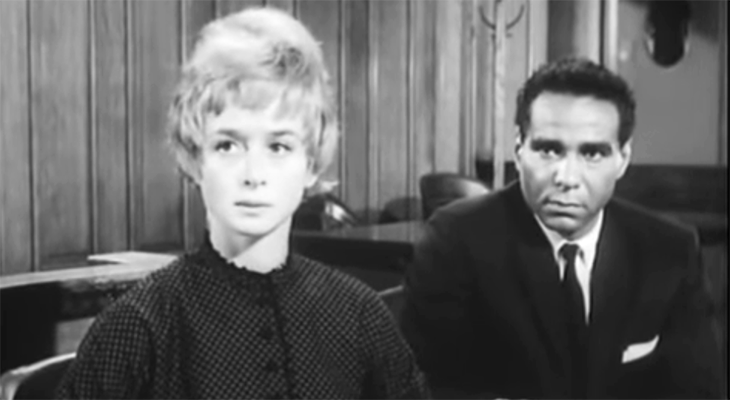 (Barbara Barrie & Bernie Hamilton 1964 One Potato, Two Potato Screenshot)
Barbara Barrie's second credited movie role in One Potato, Two Potato (1964) garnered her a Cannes Film Festival Best Actress Award. Below, the movie One Potato, Two Potato featuring  Barbara Barrie as Julie Cullen Richards and Bernie Hamilton as her love interest. Richard Mulligan plays her ex-husband and Harry Bellaver is the judge in their child custody case. 
That year, Barbara Barrie married former actor turned director and producer (and 1961 founder of Theatreworks USA), Jay Malcolm Harnick in July 1964. She told The Lawton Constitution that she had met Harnick at an audition in the early 1950's and they were friends for 12 years before he proposed. Daughter Jane Caroline Harnick was born in 1965 and son Aaron Louis Harnick in 1969.
In 1970 Barbara Barrie played Sarah in the Broadway musical Company, and was nominated as Best Featured Actress in a Musical Tony Award. More stage work followed in the 1970's, as well as episodic television series work including The Mary Tyler Moore Show, McMillan & Wife, and Lou Grant. She was a regular on Diana (1973-1974) starring English actress Diana Rigg.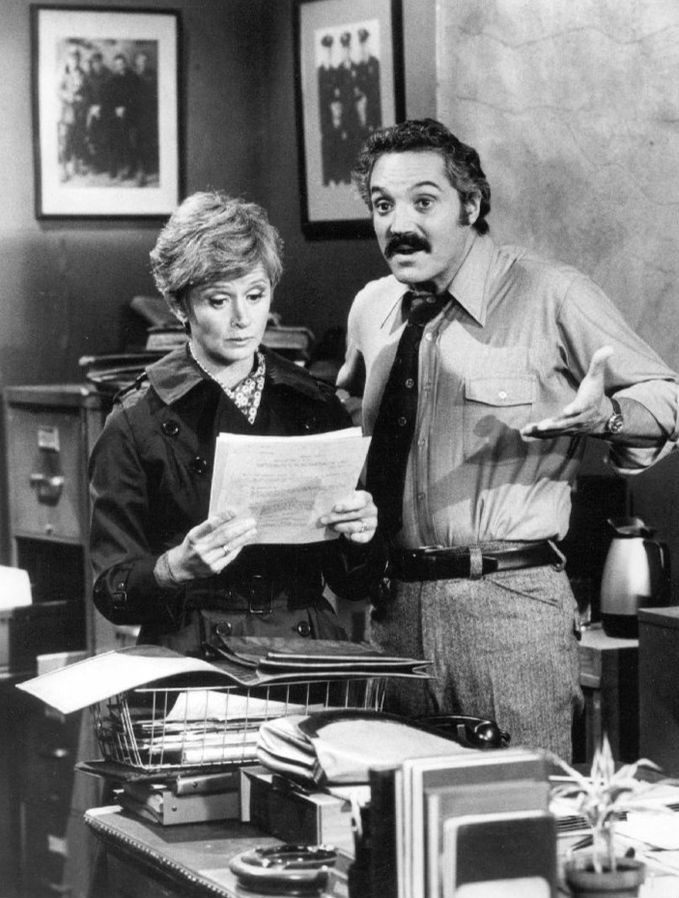 (Barbara Barrie & Hal Linden 1975 Barney Miller Photo: ABC Television)
Barbara Barrie is likely most familiar to baby boomers from her recurring role as the captain's wife Elizabeth Miller (wife to star Hal Linden) in Barney Miller (1975-1978).
As the 1970's came to a close, Barrie appeared in a flurry of big-screen and made-for-TV movies such as Summer of My German Soldier (1978) with Kristy McNichol and Bruce Davison, and The Bell Jar (1979) with Marilyn Hassett and Julie Harris.
In the movie Breaking Away (1979) starring Dennis Quaid, Daniel Stern, and Jackie Earle Haley, Barrie was nominated for a Best Supporting Actress Academy Award for her performance as actor Dennis Christopher's on-screen mother, Evelyn Stoller.
Barrie also appeared in the subsequent short-lived television series based on the movie, Breaking Away (1980-1981) and was nominated for a Primetime Emmy Award for Outstanding Supporting Actress in a a Drama Series.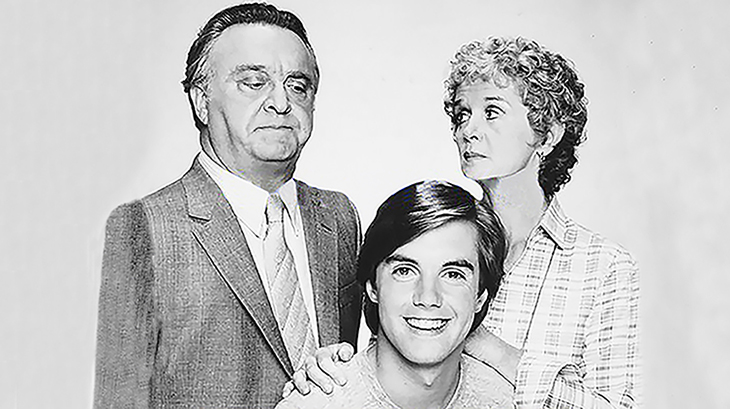 (Vincent Gardenia, Shaun Cassidy & Barbara Bain 1980 Breaking Away Photo: ABC Television Network)
Barbara Barrie played a mother again, this time to actress Goldie Hawn's character in the box-office smash movie Private Benjamin (1980), once again reprising her role as mother Harriet Benjamin in the subsequent television series Private Benjamin (1981).
Now in her 50+ years, Barrie appeared in the made-for-television movie The Children Nobody Wanted (1981) with actress Michelle Pfeiffer; by the time the 1980's were over Barbara Barrie had appeared in 8 more TV movies and a few big-screen films, including End of the Line (1987) starring Wilford Brimley, Kevin Bacon and Holly Hunter.
Barrie was a regular cast member on the short-lived series Tucker's Witch (1982-1983) starring Tim Matheson and Catherine Hicks, and on Double Trouble (1984-1985) she was part of the regular cast as Aunt Margaret. Other episodic television work in the 1980's and 1990's included Trapper John, M.D., Kate & Allie, Family Ties, and Thirtysomething. Barbara Barrie was nominated for a Primetime Emmy Award for Outstanding Supporting Actress in a Drama Series, for her performance in an episode of Law & Order (1992).
During the 1990's, in between television and film work, Barrie wrote two children's books – the biographical Lone Star (1990) about a child that moves from New York to Texas, and Adam ZigZag (1994), about a child with dyslexia.
Barbara Barrie was also diagnosed and successfully treated for rectal cancer in 1994, enduring surgeries, chemo and radiation treatments, and a colostomy. Barrie has said that she had rectal bleeding for decades and had been previously diagnosed with hemorrhoids, nerves, and stress – and refused a colon exam which might have caught the disease earlier. She later discovered that her family history was rife with colon cancer, but presumably due to shame or embarrassment, it was not talked about. While going through her battle with colon cancer and the aftermath, Barrie kept her illness secret.
In the U.S., colon cancer is the third leading cancer killer in women (after lung and breast cancer) and affects men and women equally. It's been estimated that colon cancer screening for people age 50+ would prevent at least a third of deaths from colon cancer. 
Despite her illness, Barrie made a return to the stage after almost 20 years, to appear in Neil Simon's Broadway comedy California Suite in 1996. Now a senior citizen, she also landed a regular cast member role that year in the television sitcom Suddenly Susan (1996-2000) as Helen Keane, grandmother to star Susan Keane (actress Brooke Shields). Co-stars Judd Nelson, Nestor Carbonell and Kathy Griffin rounded out the cast. While appearing in Suddenly Susan, Barrie wrote two biographical books about her battle with colorectal cancer battle and living with a colostomy – Second Act (1997), and Don't Die of Embarrassment (1999) – in order to speak out about the importance of early detection for colon cancer.
A voice-over role in Walt Disney Pictures animated movie Hercules (1997) led to a voice-over for the same character (Alceme) in an episode of the subsequent animated television series Hercules (1998). Barbara Barrie appeared in the film A Chance of Snow (1998) with JoBeth Williams, Michael Ontkean, Charles Durning, and Dina Merrill. In Judy Berlin (1999), star Madeline Kahn's final movie, Barrie's son Aaron Harnick had a role in the movie as David Gold. Later that year, Aaron Harnick wrote and directed the movie 30 Days (1999) and cast his mother Barbara in the movie.
Barbara Barrie became a septuagenarian senior citizen in 2001 and the pace of her movie, television, and stage appearances began to slow down. She earned another Primetime Emmy Award nomination, this time for Outstanding Guest Actress in a Drama Series for an episode of Law & Order: Special Victims Unit (2003), and appeared in episodes of television series such as Dead Like Me (2004), Pushing Daisies (2007), and Nurse Jackie (2010). Barrie's last movie appearance was in the JFK movie Frame of Mind (2009).
Barrie's husband Jay Harnick had been ill for quite a while by the time he died in 2007 at the age 78 in a nursing home; they had been together for more than 40 years and were grandparents.
Not yet ready to retire when she became an octogenarian senior citizen, Barbara Barrie appeared in an episode of the HBO comedy-drama series Enlightened (2011). Most recently, Barrie could be seen on the off-Broadway stage for a production of I Remember Mama in 2014; her performance was nominated for an Outer Critics Circle Award as Best Featured Actress in a Play. That same year,  Barrie was diagnosed with the incurable lung disease idiopathic pulmonary fibrosis, which affects lung function and causes shortness of breath. She went public with her illness, saying:
"I am living full steam ahead and am now trying to help other people do the same."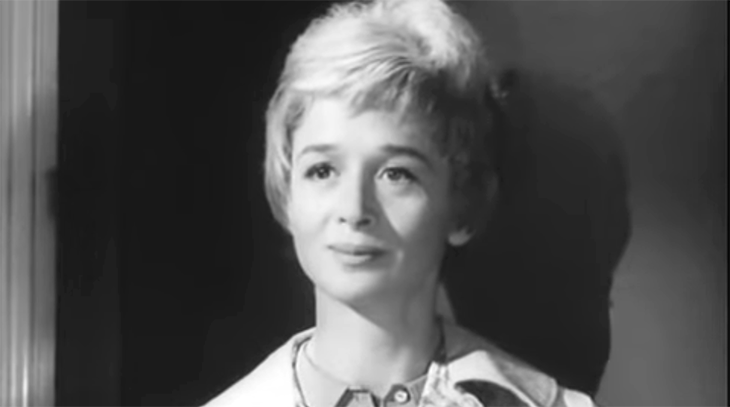 (Barbara Barrie 1964 One Potato, Two Potato)
*Images are public domain or Creative Commons licensed & sourced via Wikimedia Commons, Vimeo, or Flickr, unless otherwise noted*