Top Winter Getaway Destinations
Winter is truly amazing. It is a time of festive celebrations, great decorations, and the chance to take a vacation where you can either embrace the snow and cold, or get out and find some warmth. Whatever direction you decide to take your vacation, you should know that there are many awesome places to visit and tons of fun things to do when you get there.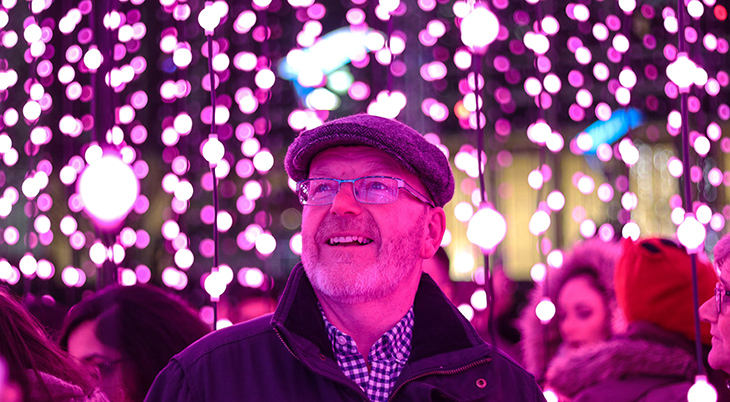 (Winter Holiday Christmas Lights: Axville via Unsplash)
If you are ready to plan your winter getaway, then we have some great travel destinations you should consider, and some advice for why taking a vacation is good for your physical and mental health.
Yes, You Should Go on Vacation
There are many benefits to taking a winter getaway. In addition to the chance to have a change of scenery and get away from work for a week, you can also get incredible life benefits, including the ability to make more friends. Don't be afraid to talk to other people when you are out and about on holiday. You never know when the people you meet will be on vacation but live close to you, and you can enjoy more time with them once the trip is over.
If you don't want to talk up to strangers, then you can also make friends by engaging in different activities during your trip. For instance, by joining a tour of a museum or taking a bus tour of a the city, you will be in close quarters with other travelers, and you can make fast friends as you enjoy the sights. 
In addition to the ability to meet new companions, a winter vacation also offers you many chances to improve your mental health, especially if you spend time outdoors. When we spend time in the fresh air while surrounded by trees and wildlife, it brings us to a more natural place where we can feel truly at ease. Plus, research shows that time out in nature can also reduce the chances of experiencing depression and anxiety. 
Cold Weather Destinations
Whether you already live in a cold climate and you love the idea of playing in the snow, or you currently live in a warmer climate, and you want to have a change of pace, then there are many great trip destinations that you can visit to get your winter holiday fix. Just remember to make smart decisions when touring a cold place and stay safe by packing an emergency kit, wearing applicable clothing, and getting directions ahead of time, so you don't get lost in the winter landscapes.
With that said, consider some of these awesome cold-weather travel destinations: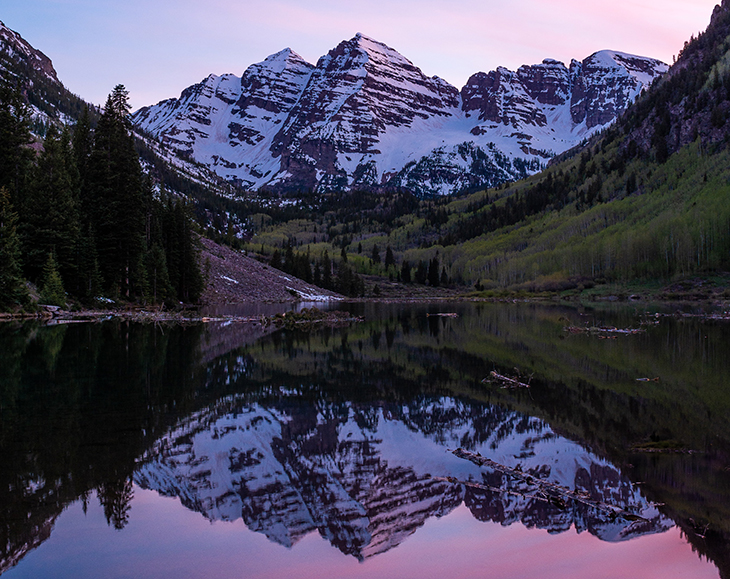 (Aspen, Colorado Sunset: Caleb Kastein via Unsplash)
Aspen, CO – Many people go to Aspen to see the amazing mountains and winter landscapes. There is a lot to do, from skiing and snowboarding to hiking. Or you can sit in a warm lodge and sip hot chocolate. You can also seek out the local hot springs, Glenwood Springs, for a nice soak after spelunking in some of their fascinating caves.
Michigan – Almost any part of Michigan will offer a ton of great things to do, from snowshoeing to sledding down steep hills. One of the main attractions is Mackinac Island, which is full of charming bed and breakfasts, classic architecture, and the chance to take carriage rides through the streets. Michigan is also home to Frankenmuth, a holiday shopping destination that allows you to experience the magic of the holidays all year round, and can be particularly aw-inspiring this time of year. Ice skating, Christmas tree displays, and light shows are all available. You can even write a letter to Santa Claus!
Iceland – if you really want to get the full winter experience, then consider a trip to gorgeous Iceland. The sights will take your breath away – especially the many picturesque waterfalls and the chance to stand on a real-life volcano. There are also amazing hiking trails that will give you many photo opportunities. Check an item off of your bucket list by seeing the Northern Lights, which you can only witness in certain parts of the globe from September through August. Plan ahead this winter and you can also drive Iceland's ring road, a road that encircles the capital city of Reykjavik to easily access these natural wonders, among other phenomena.
Kennebunkport, ME – For a truly relaxing winter getaway, consider Kennebunkport, which has a charming coast with a lot to see and do, including boat tours, whale watching, or even visiting historical architecture such as the Wedding Cake House. Don't forget to try some of the delicious lobster rolls along the way.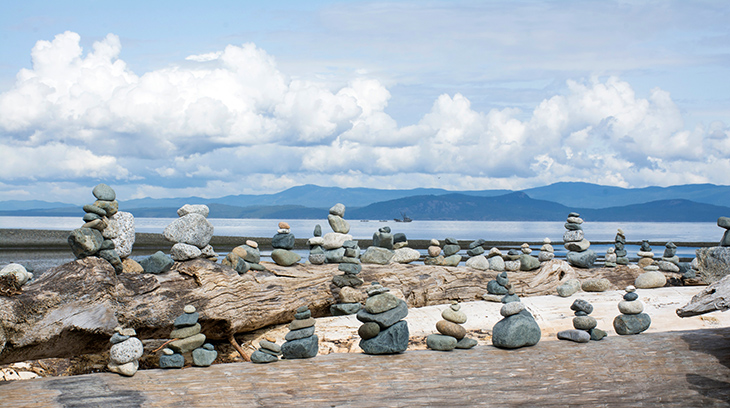 (View From Parksville, Vancouver Island, British Columbia)
Vancouver Island, BC – Even though it may be a bit brisk during the wintertime in Canada, there are plenty of sights to see this time of year. If you want a ski trip, book a couple of runs down world-famous Mt. Washington. For a more secluded experience, you can storm-watch some of the notorious waves Tofino experiences from November to February. There are plenty of ways to you can experience the natural wonder of Canada on Vancouver Island, but if you prefer a more cosmopolitan vibe, enjoy the city lights of picturesque Victoria.
Warm Weather Destinations
While a lot of people enjoy the snow and crisp temperatures of winter, many people who live in cooler climates all year round like to get a break and go somewhere warm. While we will talk about some specific destinations, this is also a great time to pack up an RV and take a cross-country tour. Consider adding solar panels to your RV so you can save money on electricity and use the power of the bright sun to help you get from point A to B.
Here are some great warm-weather winter getaway destinations to consider:
Florida – As you have likely heard, there is a lot of fun to be had in Florida for people of all ages. If you like to relax and enjoy a long walk down the beach, then there are plenty of opportunities to do so along the gorgeous coast. If you want a little more action, then stop by the many amusement parks or take a tour of some of the historic cities. You can also witness some of the natural wildlife like alligators, manatees, and exotic birds.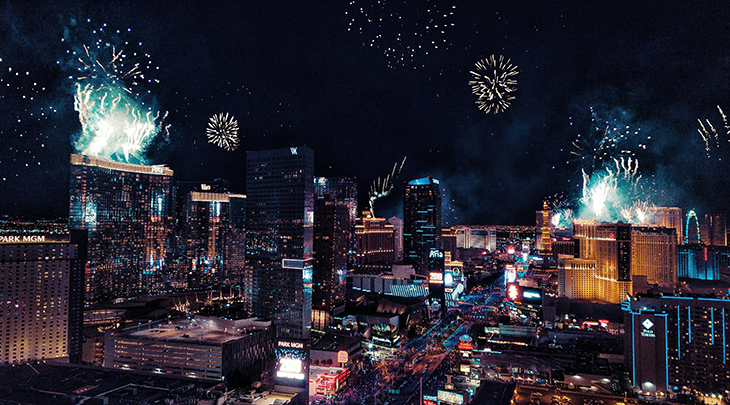 (Las Vegas, Nevada Fireworks: Ameer Basheer via Unsplash)
Las Vegas – If there is anything you can depend on, it is the fact that Las Vegas will be warm even during the winter months. Vegas offers many opportunities to create fun memories on a trip. Of course, you can visit the casinos and responsibly bet some of your cash in hopes of winning the big prize. If that isn't for you, then know that Vegas is full of great restaurants, shows, and museums that can keep you busy for days. Check out some of the rotating art exhibits, such as the interactive Van Gogh museum.
San Diego, CA – Even in the middle of December, the temperature in San Diego typically only dips to the mid-60s, which is perfect for mid-day vacation adventures. San Diego also has plenty of gorgeous white-sand beaches, and there are several ice skating rinks if you want a bit of that winter charm. Among the many things to do in San Diego, it's also home to one of the largest zoos in the country, which as of 2018 was the most-visited zoo in the U.S.
Sydney, Australia – If you live in the Northern Hemisphere, sometimes during the winter the only way truly escape the cold is to go to the Southern Hemisphere. There's no better place to soak up heat, sun, surf, and art than Sydney, Australia. Sydney is not only home to the Great Barrier Reef, one of the largest reefs on earth that offers fantastic scuba diving and snorkeling opportunities, it's also home to the Sydney Opera house and other fascinating museums.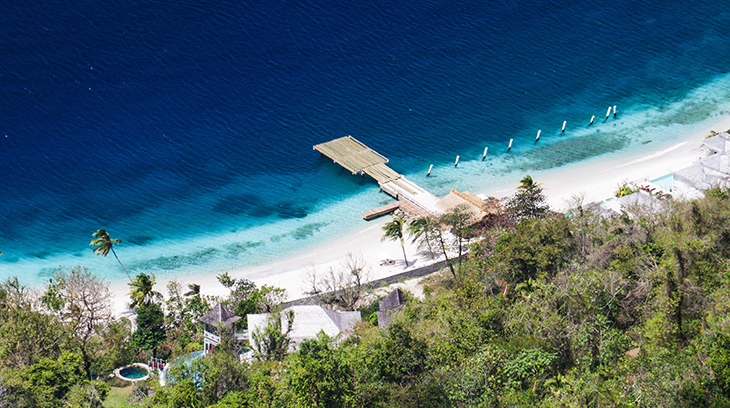 (St. Lucia white sand beach: Nick Fewings)
St. Lucia – As one of the most popular vacation destinations in the Caribbean islands, St. Lucia is home to some spectacular views. From hiking through the Tet Paul Nature Trail to snorkeling through the Anse Chastanet Marine National Park, there are plenty of outdoor activities you can do to truly appreciate the tropical climate. However, you can spend just as much time appreciating the local history! For example, Morne Fortune, a key British naval port during the 17th century, has plenty of monuments to some of the most historical battles between the French and the British. 
As you can see, there are many awesome destinations to try for your winter getaway. Find the place that is right for your interests, health, and lifestyle, stay safe along the way, and you will have a winter vacation you won't soon forget.