Winter Road Trip Safety for Retirees
Many people have had to cancel or adjust their travel plans over the last year due to the COVID-19 pandemic. Now that there's a light at the end of the tunnel, planning for a trip can be an exciting distraction and a beacon of hope that things will soon be back to normal.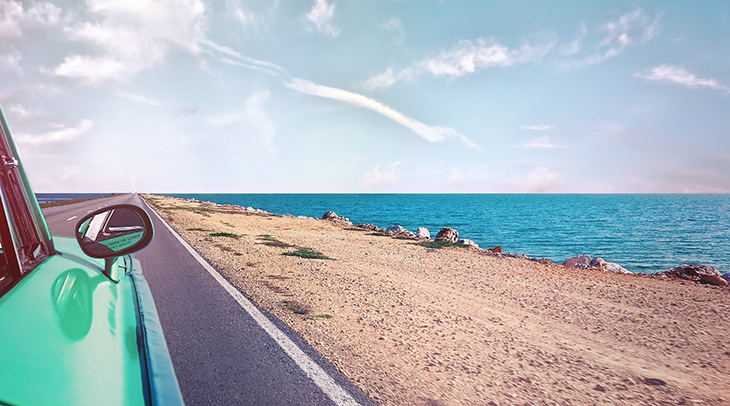 (Driving Road Trip Photo: Photo by Simon Matzinger from Pexels)
While travel restrictions may still be in place for a while, as things start to open up in some areas, people are eager to get back out into the world and away from their everyday routines while they were stuck at home.
If you're considering a vacation away from home soon, why not try something different like a road trip? They are often less expensive, they allow you more direct time to bond with your family and friends, and you can build an entire trip based on seeing unique sights and stopping at interesting places along the way.
A road trip is a great way to ease back into traveling again, especially for seniors and retirees that usually don't have to worry about getting back in time for work on Monday morning. But, it's important to take safety precautions, especially if you're considering a road trip in the winter. Let's cover a few considerations that will keep you safe and secure on the road.
Know Where You're Going
Before you get into planning your trip, consider where you want to go. Trips that involve traveling through a few different states or provinces, will also potentially involve different driving and traffic bylaws that you should be aware of.
Now, because of COVID-19, different regions may also have other restrictions in place – things such as using hotel facilities during your stay, eating in restaurants (some restaurants may be closed or offer take-out only), mask requirements, curfews, etc. – and it's important to know these ahead of time. 
You should also take into account that different destinations may have different weather along the route. In the winter, driving on icy roads can be dangerous. While you might not be taking your car or van to Iceland, Canada and northern United States experience harsh winters, with a lot of snow and ice that can result in slick roads and delays due to weather conditions at times.
Finally, consider the safety of your destination and every stop in between. Some regions are safer than others when it comes to driving (based on driving habits, ie speeding incidents etc.), with the safest American states being:
Rhode Island
Massachusetts
Connecticut
Vermont
New York
If you plan on staying in specific towns or cities, make sure you do your research on areas with high crime rates as well.
The stops you make while on your road trip are just as important as overnight or longer stays, so take precautions to keep yourself and your passengers safe and comfortable at every break along the way. Older adults and seniors typically need to build in a few more bathroom breaks and opportunities to stretch their legs into their travel schedule. 
Do your research ahead of time on everything from weather and road conditions to bylaws, driver safety, and other factors that might play into keeping you secure on the road while you head to your destination. 
Expect the Unexpected
A road trip can be a great adventure, but you have to be prepared for anything. Extreme weather conditions and wear and tear on your car could cause a flat tire or other maintenance issues. You might have to stop more frequently than originally planned, and may not be able to stay on your ideal schedule.
Whatever the case, make sure you're in a mindset to expect the unexpected. When you have the right attitude about it, those "unexpected situations" can contribute to your adventure.
Expecting the unexpected means you CAN be prepared. Have your car checked out by a mechanic before you leave on your trip, and make sure your tires are in good shape. It also helps to have both a first aid kit and a winter safety kit in your care in case of an emergency. Your winter car safety kit should include things like this checklist:
Flashlight(s)
Batteries
Jumper Cables
Snowbrush/scraper
Road Flares
It can also be helpful to have a few blankets, "hot" pockets for gloves or boots, and extra clothes in your survival kit in case you have to wait for help from a tow truck or someone else. The same goes for keeping a supply of water and energy/nutrition bars to stave off hunger or thirst.
Take Care of Yourself
Keeping your car in shape and planning ahead to know what you might expect are both important. Staying safe on the road also involves keeping yourself healthy, too. Driving for long periods of time can cause fatigue, making you lose your concentration and focus. When that happens, it can become dangerous to be on the road.
Sitting for that long can also increase your risk of a variety of health issues, including raising your blood pressure. It also makes it easier for blood clots to form, especially in your legs. 
Getting out of the car for frequent breaks can help to boost your energy and get your blood flowing throughout your body. As often as possible, take breaks that allow you to get up and move. Take a ten minute walk, or simply get out of the car to do a few stretches. 
In winter, it's not uncommon for muscles to feel tense and achy, especially in your neck and hip flexors. Stretch those muscles out and you'll feel refreshed before hitting the road again.
If you've been itching to travel for quite a while, now is the perfect time to start planning a road trip adventure. Keep these tips in mind whether you go during the winter or another time of year, and you can feel better about staying safe on the road and enjoying the full experience.
You may also enjoy Tips for Safe Travel During the Holidays
*This article is for general informational purposes only. 50+ World does endorse any product or service providers, nor does it receive remuneration from them. Where appropriate, obtain expert medical, legal, and/or travel advice from a qualified practitioner about your unique situation.*