Celebrating Seniors - Kim Carnes 70th Birthday
6 of the best from raspy voiced baby boomer Kim Carnes – Nobody Knows, You're A Part of Me, Don't Fall In Love With A Dreamer, Bette Davis Eyes, Make No Mistake, He's Mine, Crazy in the Night.
Singer-songwriter Kim Carnes was born in Los Angeles, California in 1945 and knew by the age of three that music was how she wanted to make a living. She grew up beside next door neighbour David Lindley, who was a year older and would become a famous session guitarist and musician himself; David Lindley and Kim Carnes"married" each other when Kim was 4 years old. She began performing as a child, studying  piano for 9 years and writing songs as a pre-teen. 
20-year-old Kim Carnes joined a pop-folk band called the New Christy Minstrels in 1966; although her tenure in the group was brief (a couple of months), she met several people from the group that would influence her career. Singer Kenny Rogers, singer-songwriter Mike Settle (now a journalist and music critic); and fellow singer-songwriter and session musician Dave Ellingson, were all members of the New Christy Minstrels.
A flutter with acting in the 1967 hippie-themed musical film C'mon, Let's Live A Little starring Bobby Vee and Jackie DeShannon, was the beginning and end of Carne's acting career. She married Dave Ellingson in November of that year and together they focused on their musical careers. In 1969 at age 24, Kim Carnes and Dave Ellingson signed their first contract with producer Jimmy Bowen in 1969; he would become a long-time friend and mentor for Carnes.
Her recording artist debut was singing Nobody Knows (written by friend and former New Christy Minstrels bandmember Mike Settle), which ran during the end credits of the post-Woodstock-era film Vanishing Point (1971), a baby boomer cult favorite movie. Sing Out For Jesus, a song written by Carnes, was also featured in Vanishing Point, but sung by Big Mama Thornton and produced by Jimmy Bowen. Below, Kim Carnes singing Nobody Knows in Vanishing Point.
Oldest son Collin Ellingson was born in 1975 (Collin became a composer and musician before becoming a realtor), followed by younger son Ry Ellingson in the 1980's (Ry currently works in the film industry in Nashville).
Success didn't happen overnight; Kim Carnes and Dave Ellingson also co-wrote songs with David Cassidy and performed as his opening act on a world tour in the early 70's. Carnes continued to write songs (alone, and with husband Dave Ellingson), perform as a backup singer and in clubs, and cut a first record before striking a vein on her self-titled second album in 1976.
Her first hit single, You're A Part of Me, made the Billboard Adult Contemporary Charts (#32) in 1975. She re-recorded You're A Part of Me as a duet with Gene Cotton in 1978 and it made it to #36 on the Billboard Hot 100 chart. Below, Kim Carnes sings You're A Part of Me.
Kim Carnes' 1976 album Sailin' included the song Love Comes From Unexpected Places, which won prizes at the American Song Festival and the Tokyo Song Festival, and was later recorded by Barbra Streisand on her Superman album. In 1980 Carnes scored a Top Ten hit single covering Smokey Robinson's More Love, and sang backup on Dionne Warwick's No Night So Long album. She found success with a song she co-wrote with husband Dave Ellingson, and performed as a duet with her former New Christy Minstrels bandmember Kenny Rogers – Don't Fall In Love With A Dreamer (1980); it which hit the Billboard charts – #3 Hot Country Singles, #4 Pop & #2 Adult Contemporary in the US. Below, Kim Carnes and Kenny Rogers singing Don't Fall In Love With A Dreamer.
Kim Carnes was now 35 and hitting her stride – her next hit was the game-changing Bette Davis Eyes. Originally written by Donna Weiss and Jackie DeShannon for Donna's 1974 album New Arrangement, it was dusted off and given an edgier, darker sound by Carnes in 1981 for her 6th album, Mistaken Identity.
Bette Davis Eyes was a #1 Billboard US Hot 100 hit for two months, winning Grammy Awards for Song of the Year and Record of the Year. 
The real Bette Davis, at that time a 73-year-old septuagenarian senior citizen, became a fan of the song and reached out to Kim Carnes to thank her; they ended up becoming friends and Carnes performed the song at a Bette Davis tribute just before Davis' death in 1989.
More hit songs, duets and trio collaborations followed, with Carnes achieving multiple Top Ten Adult Contemporary chart hits in the 1980's. Below, singing Make No Mistake, He's Mine written by Kim Carnes, and performing with Barbra Streisand – #8 in 1984. Make No Mistake, He's Mine was later re-recorded by Kenny Rogers and Ronnie Milsap in 1987 and hit #1 on the Country charts. 
Kim Carnes'  songs have been featured in movies – I'll Be Here Where the Heart Is – Flashdance (1983), My Heart Has a Mind of It's Own – Spaceballs (1987), and The Heart Must Have a Home – Summer Heat (1987).
Crazy in the Night (Barking at Airplanes) from her 1985 album Barking at Airplanes, was Kim Carnes' last big chart success, hitting #15 on the Billboard Hot 100. Both of her sons – younger son Ry and older son Collin – made an appearance on the album as well. Below, Kim Carnes performs Crazy in the Night.
Son Collin Ellingson co-wrote some songs with Kim CArnes (River of Memories, Gypsy Honeymoon) and also played keyboard and guitar on her 1991 album Checkin' Out the Ghosts. Although more solo albums followed, in her 50+ and senior years Kim Carnes has had more chart success overseas, or writing songs for other singers. Her 1993 song The Heart Won't Lie was recorded as a duet by Reba McIntire and Vince Gill, and was a #1 Billboard Country single.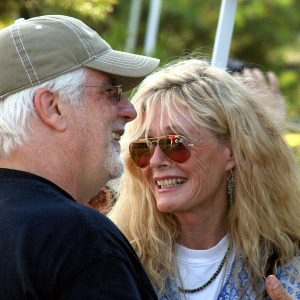 Right, Kim Carnes in 2008 with Michael MacDonald. (Photo: Misterfixit at English Wikipedia | Wikimedia Commons CC 1.2)
Kim Carnes has lived in Nashville since moving there from Los Angeles in 1994 with her family at the urging of her manager Jimmy Bowen. Over the years since her heydey in the 1980's, Carnes has co-written songs with many country artists including Tim McGraw, Suzy Bogguss, Pam Tillis, Tanya Tucker and Conway Twitty. She still contributes vocals and backing vocals to other artist's albums, and has toured Europe (2004) and South America (frequently). 
Below, Kim Carnes was interviewed in 2016 on Speaking Freely about her life and career.
In 2011 Kim Carnes' compilation album Essential was released just after she became a senior citizen; and 5 of her older albums from the 1980'2 – Mistaken Identity, Voyeur, Cafe Racers, Light House, and Barking at Airplanes – were re-released in 201