Remembrance and Veterans Day - In Flanders Fields
Most of us still alive today were not around during World War I, or even World War II for that matter. We must learn, remember, and teach our children about, the lessons from those two devastating global conflicts.
November 11th is Remembrance Day (Canada) / Veterans Day (United States)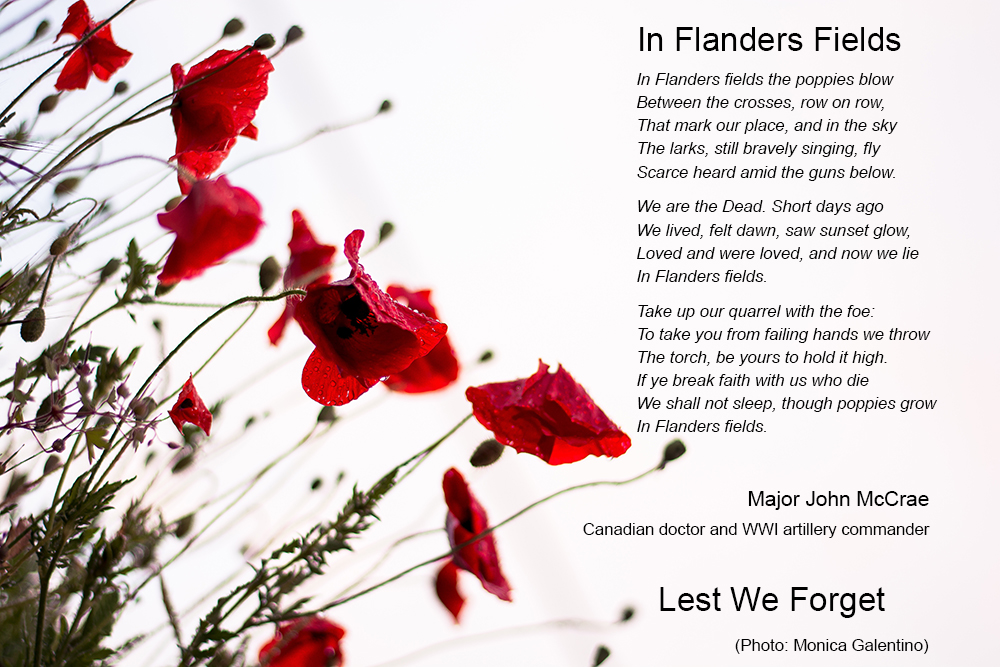 The timeless poem In Flanders Fields (1915) by Canadian military doctor, soldier and artillery commander John McCrae was written during World War I ("The Great War") , and has become the anthem for Remembrance Day and Veterans Day ceremonies around the world on November 11th.  
In Flanders Fields
In Flanders fields the poppies blow
Between the crosses, row on row,
That mark our place; and in the sky
The larks, still bravely singing, fly
Scarce heard amid the guns below.
We are the Dead. Short days ago
We lived, felt dawn, saw sunset glow,
Loved and were loved, and now we lie
In Flanders fields.
Take up our quarrel with the foe:
To you from failing hands we throw
The torch; be yours to hold it high.
If ye break faith with us who die
We shall not sleep, though poppies grow
In Flanders fields.
In Flanders Fields Poet John McCrae
McCrae is said to have composed the poem after his friend and fellow Canadian artillery officer Lieutenant Alexis Helmer, was killed in France during the Second Battle of Ypres on May 2, 1915.
John McCrae was born in Guelph, Ontario on November 30, 1872; he served in the volunteer militia there as a teenager. After graduating from the University of Toronto medical school in 1898, McCrae served in the Boer War in 1900. Before World War I began in 1914, McCrae had established a distinguished career as a doctor and surgeon at Toronto General Hospital, Johns Hopkins Medical School in Baltimore, and Montreal General Hospital.
John McCrae died of meningitis and pneumonia at the age of 45 in France during World War I, on January 28, 1918 and is buried in Wimereux Cemetery near Boulogne. His poem In Flanders Fields was published by London, England's Punch magazine on December 8, 1915.
100 years later, seniors and baby boomers will remember reciting In Flanders Fields in school to commemorate war veterans, and the poem popularized the poppy as a remembrance symbol that is worn by millions every Remembrance Day / Veterans Day
Lest We Forget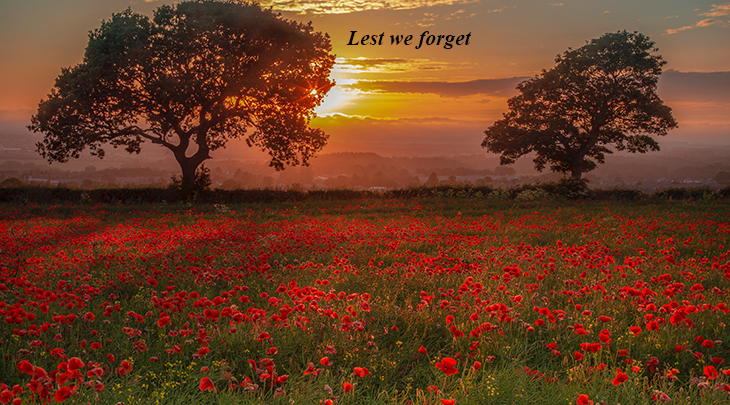 (Red Poppy Field Sunset Photo: Derek Mack)
Unique Veterans Day / Remembrance Day Images
Share these unique images (crafted from a mix of new and vintage source photos*) on your social media pages.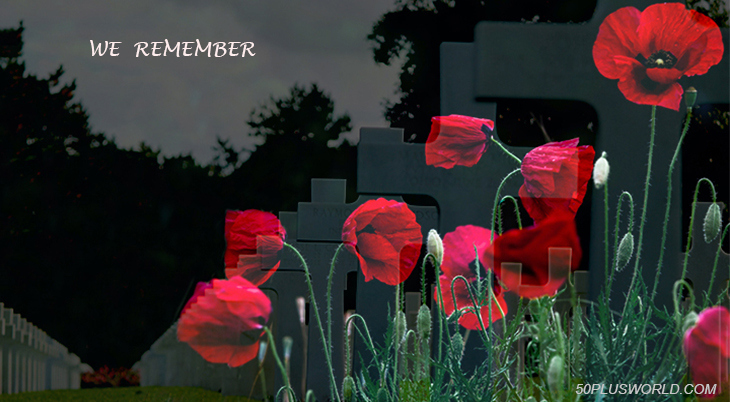 (Red Poppies & White Crosses: Edgar Laureano / Erik Jan Leusink | A. Hamilton / 50+ World)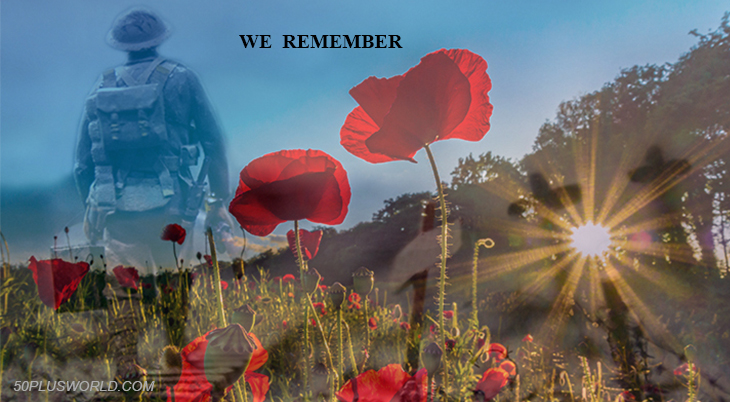 (WWI Soldier & Red Poppy Field Sunset, Scotland: Stijn Swinnen / David Wheater /  | A. Hamilton / 50+ World)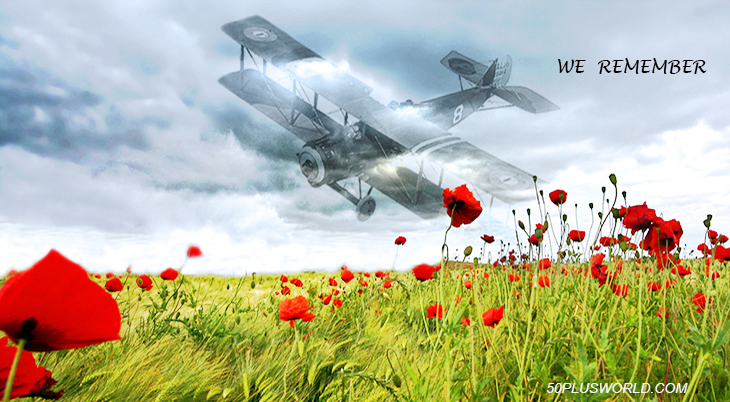 (WWI Salmson Biplane & Red Poppy Field:  Robert Klank | A. Hamilton / 50+ World)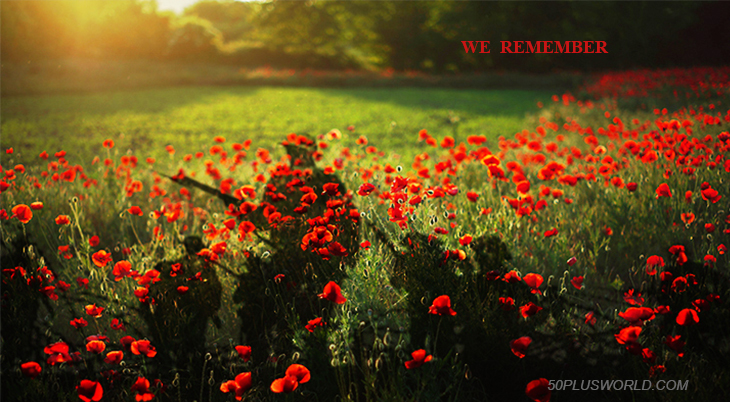 (WWI Battle of the Somme Troops & Red Poppy Field: Evgeniy Gorbenko  | A. Hamilton / 50+ World)
WWI and WWII weren't battles fought only by human foot soldiers on the famous battlefields of Ypres, Vimy Ridge, Argonne, Verdun, along the Somme River, and in Flanders Fields. From homing pigeons to dogs and horses, they also served and saved lives.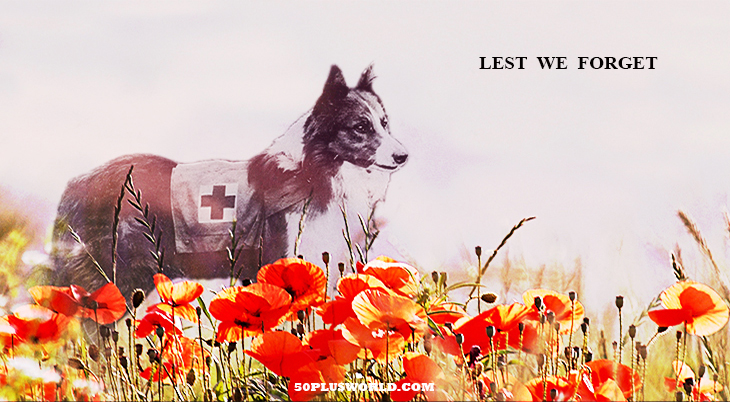 (WWI Red Cross Dog & Poppy Field: Mario Beducci  | A. Hamilton / 50+ World)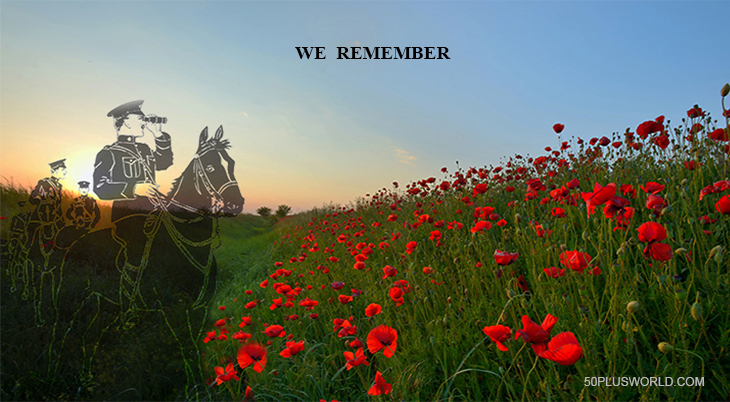 (WWI Canadian Mounted Rifles & Poppy Field: Laurentiu Iordache  | A. Hamilton / 50+ World)
For more unique Remembrance Day or Veterans Day images suitable for sharing on your social media pages, see our complete collection on Facebook and Pinterest.
You may also like these articles:
WWI & WWII Commemorative Stamps, which delves into the history behind Canadian and American stamps that honour soldiers, veterans, and their families. 
Most Decorated Canadian: William George Barker, about the World War One flying ace with the most medals in all of Canada, the British Empire, and the Commonwealth of Nations
Heroic Pigeon Patrols of WWI & WWII, about the history of carrier / racing pigeons carrying messages during peace and wartime, and some special pigeons granted military medals for their service and bravery 
Leviathans of Sea & Air – WWI Flying Boats
Thank you to all veterans and those who serve.
*Source images from vintage WWI press photos and posters and Unsplash.com, with thanks to photographers Edgar Laureano, Erik Jan Leusink, Stign Swinnen, David Wheater, Robert Klank, Evgeniy Gorbenko, Mario Beducci, Laurentiu Iordache, Mojtaba Hoseini, Paul Wickens, Carl Jorgensen, Monica Galentino, Derek Mack*