Exploring Antigua's Beaches and Bays
Exploring the Caribbean Island with a different beach for every day of the year…Antigua is blessed with having many sheltered coves and inviting bays that provide visitors with a lot of picturesque beaches to choose from. Many of the island tours will take you to several of these.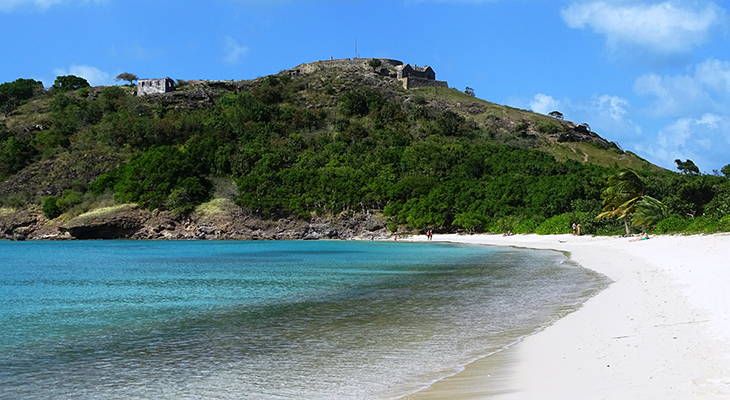 (Deep Bay Beach View of Fort Barrington, Antigua)
Some of the island's most popular beaches can be rather crowded, including Dickenson Bay, Darkwood Beach, Carlisle Bay, Jolly Beach, Hawksbill Bay, Pigeon Point Beach, Coco Bay, Ffryes Beach, and Long Bay.
If you prefer a more remote and quieter beach for snorkeling, try Green Island, which is located just off the east coast of Antigua and is only accessible by boat. And if you're into windsurfing, check out Antigua's beautiful Half Moon Bay, near the village of Freetown. Yet another unique beach destination is Eden Beach, which is the island's only clothing-optional seaside sanctuary.
Deep Bay, Antigua
We had a direct flight from Toronto to Antigua, and stayed at the all-inclusive Royalton Antigua Resort & Spa.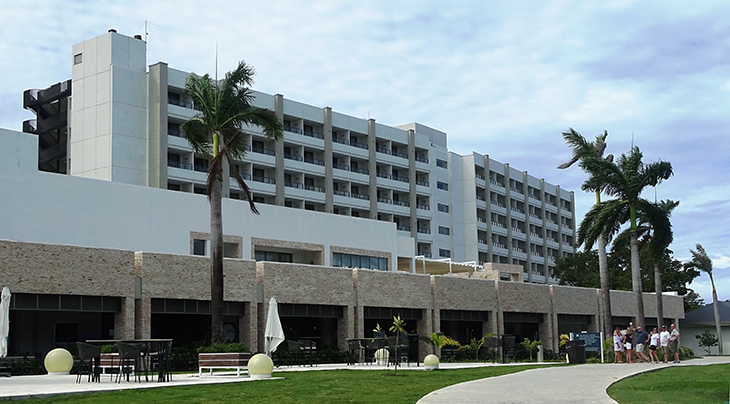 (Royalton Antigua Resort & Spa, Antigua)
It's about a 30 minute drive to the resort from the St. John's airport where we landed. We soon found ourselves on our very own private beach.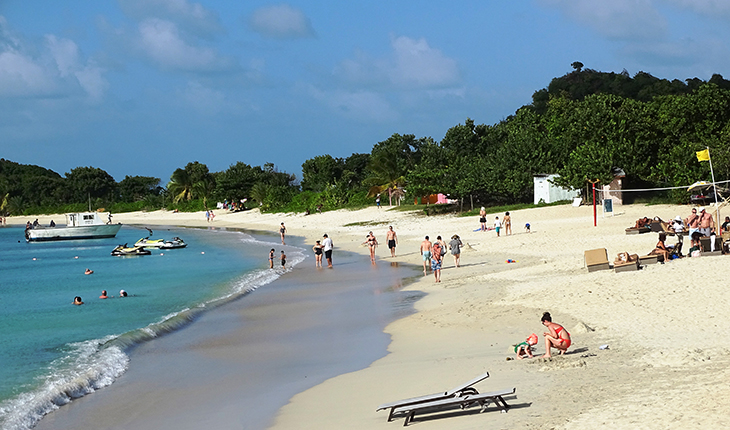 (Royalton Antigua Resort & Spa Beach, Deep Bay, Antigua)
The resort itself offers a luxury family-friendly vacation experience, with free Wi-Fi service everywhere, well-appointed guest rooms, and well-stocked refrigerators (restocked daily). We particularly liked the convenience of the resort's unlimited dining at their specialty restaurants (no reservations needed!).
This resort also has Antigua's only overwater bungalows.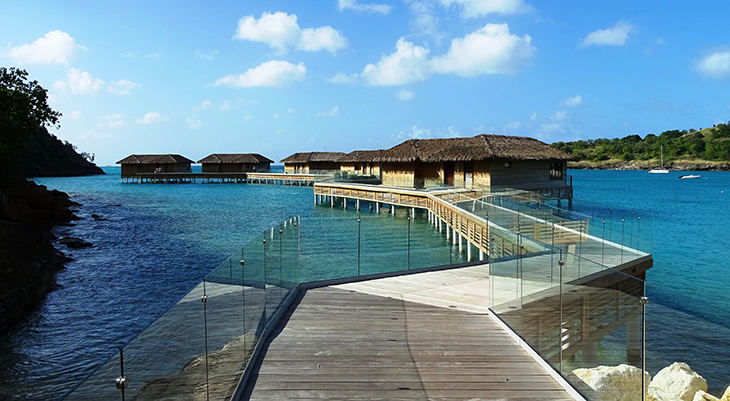 (Royalton Antigua Resort & Spa Overwater Bungalows, Deep Bay, Antigua)
If you wish, you can upgrade your accommodations to an overwater bungalow – with your own plunge pool, overwater hammock, snorkeling equipment, and butler service. 
Our resort's sandy beach was on Deep Bay, where many enjoy snorkeling in the very clear water.
A steep hike brought us from the far end of our beach to what's left of Fort Barrington. This particular fortification, atop Goat Hill, was built by the British in 1779 to protect the entrance to St. John's Harbour.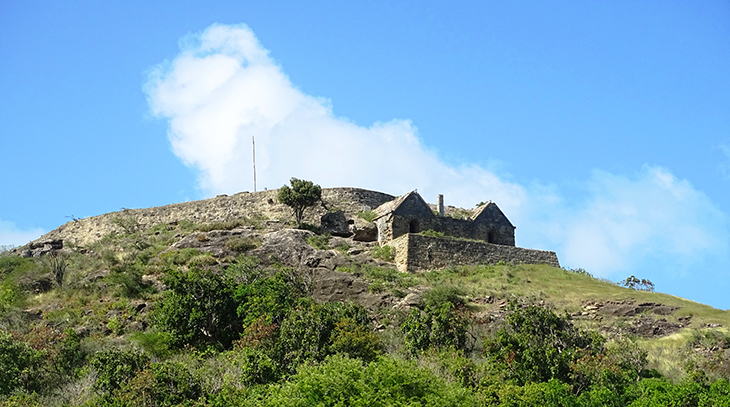 (Fort Barrington, Deep Bay, Antigua)
After our hike, we were rewarded with a stunning panoramic view of the area.
Touring Antigua's Shirley Heights Lookout
Although we enjoy strolling the beach and relaxing by the pool while on vacation, we always want to explore the particular destination that we're visiting, too. We feel this is an important part of the travel experience and adventure. We inquired about a number of group tours that were available on Antigua.
We found that the cheapest and best trip for us was to simply take our own taxi. This also provided us with our taxi driver's personal insights about our destination, for he had lots of information as we drove around the island, stopping at several points of interest.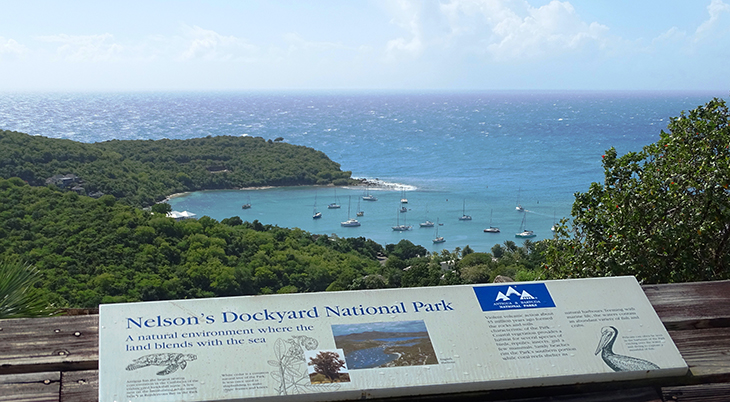 (Shirley Heights Lookout View, Antigua)
One not-to-be-missed attraction in Antigua is the Shirley Heights Lookout, a restored military lookout and gun battery. This spectacular viewpoint overlooks English Harbour, Falmouth Harbour, and Nelson's Dockyard.
The most popular time for this visit is on a Sunday evening, when there's a weekly celebration at sunset, with a barbecue and local bands playing Caribbean music. However, expect to find lots of traffic in this area at that time – and large crowds. We decided to take our trip to Shirley Heights Lookout in the morning to avoid the crowds and have lots of space to take photos.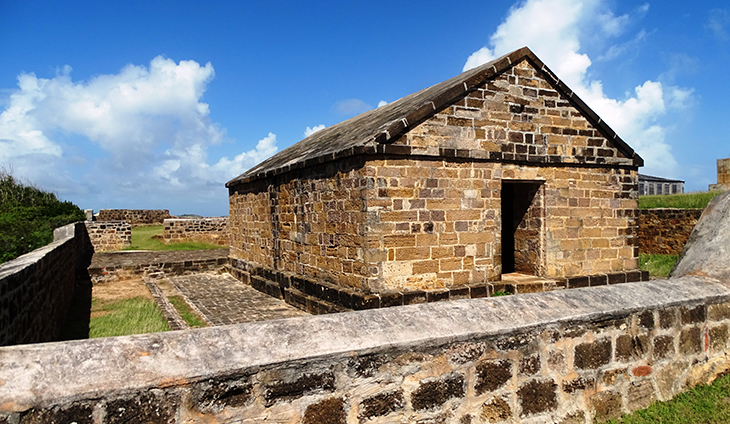 (The Blockhouse,  Antigua)
At the easternmost tip of this military complex, we visited the Blockhouse, which was once part of the island's military defenses. Some of the ruins of the soldiers' quarters are still there. We were even able to take a look inside the Blockhouse itself.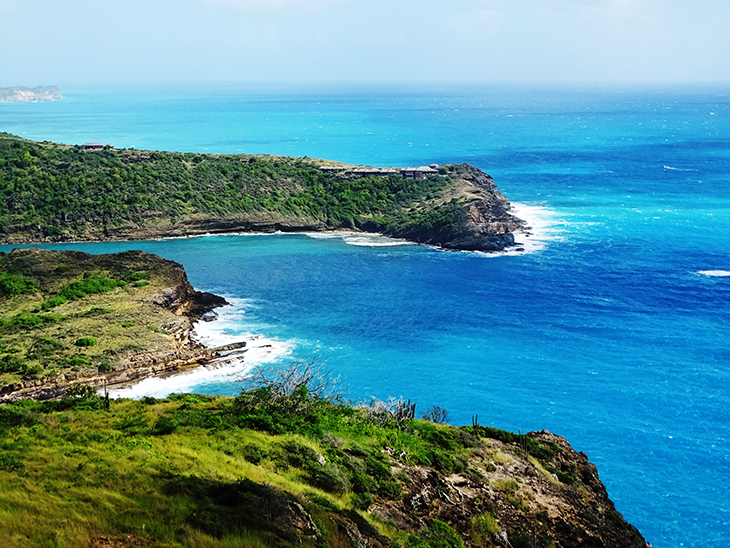 (View of Standfast Point, Antigua)
The main attraction up here is the incredible view from atop this hill, for there's the stunning Standfast Point, where Eric Clapton's awesome home sits atop a spectacular rocky precipice. What a sight!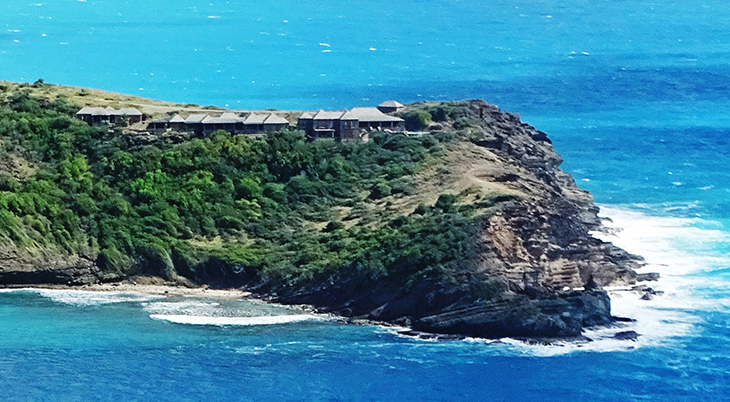 (Eric Clapton's Home on Standfast Point, Antigua)
Nelson's Dockyard
At the Dow's Hill Interpretation Centre (part of Nelson's Dockyard National Park), we viewed an informative 15-minuted multimedia presentation about the history of Antigua.
Christopher Columbus visited and and named this island Antigua in 1493. A group of British colonists later arrived here, in the 17th century, and sugar became it's main crop (manned by slave laborers).
In the 18th century, Lord Horatio Nelson became the Senior Naval Officer of the Leeward Islands, and he used Antigua as his base (1784-1787). The British Royal Navy had already recognized the strategic importance of the harbour area, and a dockyard had been built here to provide a base for British troops. However, after the British navy abandoned this site in 1889, it fell into disuse. Later, like a phoenix rising out of its ashes, the dockyard was restored and renamed "Nelson's Dockyard" – in honour of the time that Lord Horation Nelson spent in Antigua.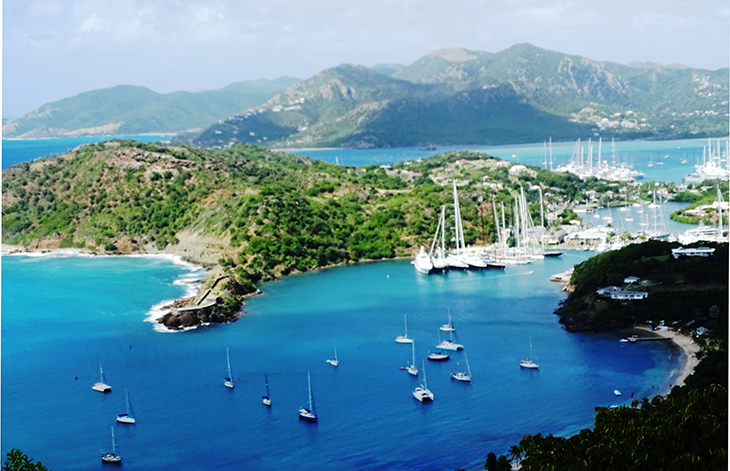 (English Harbour & Nelson's Dockyard – View from Shirley Heights Lookout, Antigua)
Nelson's Dockyard is another not-to-be-missed island attraction. Its restored 18th and 19th century buildings are now home to intriguing gift shops, art galleries, restaurants, hotels, and marina establishments. For example, the Dockyard Museum is located in the former Admiral's House, and it depicts the Dockyard's history and current archaeological research. The Copper and Lumber Store, originally used to store the copper sheets and lumber used in shipbuilding, has now been refurbished and converted into the Copper and Lumber Inn, a boutique hotel where each of the suites is named after one of Lord Nelson's ships or Commanders. 
The remnants of the Capstan House, Sail Loft, and the Boat House are also to be found here. Hiking trails lead into the surrounding area of Nelson's Dockyard National Park (the island's largest national park), and historic forts dot the landscape. Nelson's Dockyard is still used as a working dockyard for numerous ships and yachts, and it hosts a very popular "Sailing Week" every year; this year's big event takes place from April 25-May 1. 
Exploring Antigua
Antigua is the largest of the English-speaking Leeward Islands and is located between the Caribbean Sea and the Atlantic Ocean. It's about 27 km. long and 18. km wide, so it's a nice size to explore. However, the many twisting, narrow roads – that are driven on the  "other" side of the road due to British influence – and the plethora of speed bumps, may slow you down. 
As you explore you might want to check out such other points of interest as Antigua's Donkey Sanctuary, Stingray City, Betty's Hope Plantation, Devil's Bridge National Park, Hell's Gate, the Pillars of Hercules, and Fig Tree Drive. Of course, there are always those 365 beaches, too!
*This article is for general informational purposes only. All photographs & text in this article are © 2020 John M. Smith. All rights reserved. Do not download or reproduce without written permission.*