How To Plan a Film Location Vacation
So many of us love movies. They're a medium through which people can relate to one another. They convey stories with people and places and are most often set against the backdrop of actual locations. Fortunately for us, most film-set locations in the world are accessible to the public. Thus, there are thousands of interesting places to visit that allow us to reminisce about the movies that we know and love.
What's great about most of these trip destinations is that they're usually very accessible for people of all ages, making them great for family vacations as well as vacations later on in retirement.
Let's cover some items to consider when building a trip centered around your favorite movies & filming location(s) of choice.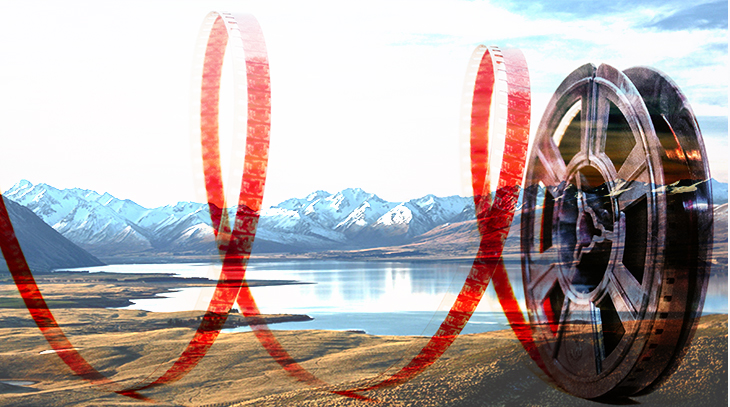 (Movie Reel: Denise Jans & Lake Tekapo, New Zealand: Tobias Keller via Unsplash | Blend: A. Hamilton)
Film sets in the National Parks?
You bet! It may come as a surprise to you that a substantial number of national parks have been used in the making of many movies, all of which could be worthwhile vistas to visit. Films like The Shining, Planet of the Apes, Indiana Jones & The Last Crusade, as well as several James Bond films, were shot on location at various national parks in the U.S. Here are three national parks where many movies have filmed:
South Dakota's National Parks may be at the top of your list – there's Badlands National Park, a site for scenes in Armageddon (1998), How the West Was Won (1962), Thunderheart (1992). Kevin Costner filmed scenes for Dances with Wolves (1990) there, as well as in Black Hills National Forest on the Wyoming/South Dakota border. Mount Rushmore was featured  memorably in the classic movie North by Northwest (1959), and National Treasure: Book of Secrets (2007).
California's Death Valley National Park was a film location for the 1950s western TV series of the same name, and many other TV episodes & films. It's unique terrain made it a popular setting for shooting movies beginning in the era of silent films and to date, almost 200 movies & TV episodes have filmed scenes there. Westerns such as Escape from Fort Bravo (1953) & 3 Godfathers (1948); historical adventure tales like King Solomon's Mines (1950); and space fantasy / science fiction films such as Star Wars: Episode VI: Return of the Jedi (1983).
Arizona/Utah have Monument Valley, a favorite locale of director John Ford, whose favorite actor in turn was John Wayne. The distinctive towering sandstone buttes of Monument Valley can be seen in no less than 5 John Ford/John Wayne westerns, beginning with Stagecoach (1939) and ending with The Searchers (1956). Over 100 movies & TV shows have filmed scenes in Monument Valley, including Forrest Gump (1994), Mission: Impossible II (2000), 2001: A Space Odyssey (1968), National Lampoon's Vacation (1983), and Easy Rider (1969), to name a few. 
If you're into driving or hiking, you could transform your vacation into a "double feature" by making a point of visiting the iconic film set locations within the national parks combined with camping, driving and hiking the national parks you visit. 
Best Film Locations to Think About Visiting
The truly inspiring notion about touring film locations is that there are just so many to choose from. But which ones are the best? Well, at the end of the day, it will probably be the set of whatever your own personal favorite movie is. But that shouldn't preclude you from assessing all of your options.
Iconic film locations include New Zealand, where the Lord of the Rings and The Hobbit films were shot.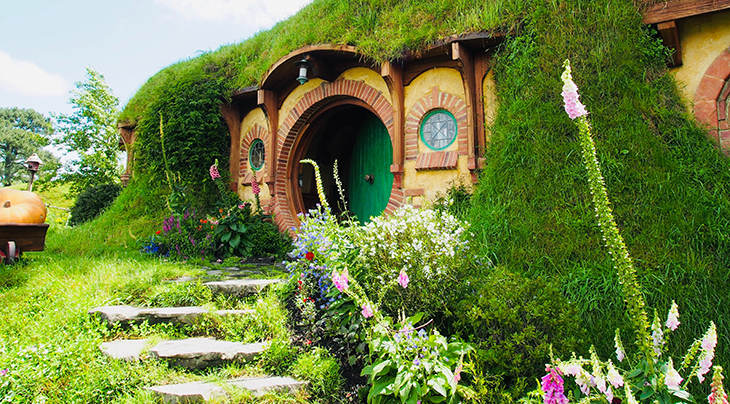 (Hobbiton Movie Set, Matamata, New Zealand: Adrien Aletti via Unsplash)
Vertical Limit (2000), The World's Fastest Indian (2005), and The Last Samurai (2003) also filmed in New Zealand.
There are also intriguing pieces of land and structures around the world that you  might have thought were constructed as part of a film set, but were actually present before filming. 
For instance, Doune Castle in Scotland is the iconic film location of many of the scenes we see in Monty Python and the Holy Grail (which also filmed at Yosemite National Park in California). The castle is open for visits and is a very evocative and tactile way to re-experience the film. Game of Thrones and Outlander TV series have filmed scenes at Doune Castle as well. Plenty of destinations sprinkled around the world contain these film set locations you can visit, and they're usually maintained and adapted for the purposes of visitors.
If you're interested in a more ominous experience, you could plan a trip to Universal City, California, where stands the infamous Bates Motel house used on the set of Alfred Hitchcock's Psycho (1960). Among the other 13 movie film sets you can visit at Universal City are Jurassic Park (1993), Back to the Future (1985), and Kong: Skull Island.
This is the beauty behind trips centered around film sets. Most of them are real-world places that exist today, and the areas they're in are just as interesting to visit because they can often inform the context around how the film set worked so well in the appropriate film it was in.
Planning the Itinerary
Before you leave, plan your itinerary for each day of the trip. Make sure you include time for transportation, meals, and rest. This will help ensure that you have a stress-free vacation. Once you've chosen a destination, research accommodations that are close to the film locations you plan to visit. Look for hotels or vacation rentals that are well-reviewed and offer easy access to public transportation.
It's important to have someone to look after your home, especially if you have pets. Depending on the duration of your trip, it's wise to hire a house sitter to periodically pop into your home and make sure everything is okay. Just be sure to coordinate with them if you plan on arming your home with a security system.
If you're worried about getting lost or missing out on important film locations, consider taking a guided tour. Guided tours can be a great way to learn more about the history of the locations you're visiting and to gain access to areas that may not be open to the public. Another perk is that many accessible film locations will feature audibly recorded tour guides that you can listen to while you view the area.
If you struggle with mobility, you might want to confine your vacation to locations that accommodate limited-mobility individuals, such as wheelchair users.
While you're at your destination, look into any local theaters in the area. Many theaters offer special showings of movies that were filmed at your destination. Sometimes these can even be viewed in small theaters inside museums in the area.
Go On, Then!
Hopefully, you've not got a jumping-off point to craft your trip. What's great is that film sets open to tourists are typically renovated in some capacity to be accessible to everyone. Just be sure to put forth a little detective work and make sure the travel destination you choose will work for you.
If you're looking for more vacation & movie filming locations, check out these travel articles about places in California & Italy where movies have filmed:
The Heartbeat of Hearst Castle
The Heart of Venice: St. Mark's Square
Venetian Palazzos in Movies and Plays
Sirmione and the Grottoes of Catullus
Buona Sera, Firenze: Touring Florence
The Prince-Bishops City of Trento
Lake Como Gems: Tremezzo, Bellagio & Como
Cortina d'Ampezzo and the Dolomites
Guten Tag & Buon Giorno, Bolzano