30 Autumn Movie Classics: A Cozy Night In
When the nights become cooler and the leaves take on a golden hue, you naturally gravitate toward more relaxing activities. Autumn has a unique, nostalgic allure. Soft blankets, cozy pillows, sweaters, and toasty beverages are all a hit. When you're snuggling up on a couch in the evening, you want the perfect ambiance.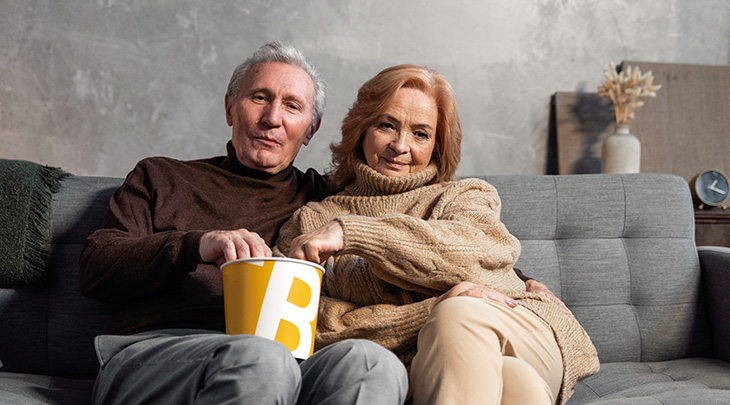 (Older Couple Watching a Movie: Tima Miroshnichenko via Pexels.com)
Light some fall-scented candles, serve up the perfect snacks and click on the television; pop in a DVD, USB, or stream to watch the classic movie of your choice. Learn how to have the best cozy, autumn movie night that will give you all the warm, fuzzy feelings despite the chill in the air.
Why Vintage Films are the Perfect Pick for Fall
There is a scientific reason you love fall. The memories you make throughout life during this change of seasons are imbued with comfort, fun events, family get-togethers, and even self-improvement. This nostalgia is perfectly captured in films that you have watched growing up. If none come to mind, it's the perfect time to create a cozy tradition.
Classic film stars fit perfectly on Thanksgiving Cards for a reason. Old movies evoke a sense of comfort and nostalgia for simpler times. You can slow down and appreciate the changing of the leaves and the warm spices that fill the air. Whether you're in the mood for a classic scary movie from the '80s or a fall-time romance from the '40s, here are thirty vintage film picks to get you started:
30 Autumn Movie Picks
1. The Stranger (1946), a post-WWII film-noir drama starring Orson Welles, Edward G. Robinson, and Loretta Young. A War Crimes investigator travels to a small town looking for a Nazi – a Holocaust mastermind – hiding in plain sight.
2. The Ghost and Mrs. Muir (1947), with Rex Harrison and Gene Tierney as the title characters, and George Sanders as a suave chiseler. Set at a seaside cottage in the 1900s, this fantasy comedy-drama is a darker version of the later 1960s TV show starring Hope Lange and Edward Mulhare. More like this on the Best Classic Scary & Funny Ghost Films list.
3. All That Heaven Allows (1955), a romantic drama about a love that crosses class boundaries in America, with Jane Wyman and Rock Hudson.
4. The Trouble With Harry (1955), an Alfred Hitchcock comedy-mystery with Edmund Gwenn, John Forsythe, Shirley MacLaine, Jerry Mathers, and Mildred Natwick as Vermont neighbors who cross paths with a dead man and either don't notice, or try to cover it up.
5. An Autumn Afternoon (1962), a Japanese drama acclaimed as a masterpiece, from director Yasujiro Ozu.
6. It's the Great Pumpkin, Charlie Brown (1966), an animated Halloween-theme film for all ages starring Charlie Brown, Linus, and the rest of the Peanuts gang.
7. Harold and Maude (1971), a comedy-drama starring Ruth Gordon and Bud Cort as an unlikely pair of friends.
8. Halloween (1978), the original horror thriller that spawned a film franchise and shot actress Jamie Lee Curtis to fame.
9. Autumn Sonata (1978), a drama from Ingmar Bergman starring his off-screen partner Liv Ulmann. Ingrid Bergman (no relation to Ingmar, in her last movie) co-stars, playing Ullmann's mother. 
10. Friday the 13th (1980), a slasher flick that launched another movie franchise and made "Jason" hockey masks a Halloween costume staple. One of actor Kevin Bacon's early films.
11. Clue (1985), a stellar cast portrays different characters from the popular murder mystery board game – Eileen Brennan, Tim Curry, Madeline Kahn, Christopher Lloyd, Michael McKean, Martin Mull, Lesley Ann Warren 
12. St. Elmo's Fire (1985), a post-college coming of age movie with Martin Balsam, Andie MacDowell, and "brat pack" cast members Rob Lowe, Demi Moore, Emilio Estevez, Ally Sheedy, Judd Nelson, Mare Winningham, and Andrew McCarthy
13. The Worst Witch (1986), starring Diana Rigg, Tim Curry, and Charlotte Rae in a family-friendly fantasy.
14. Good Will Hunting (1987), the drama written by and starring pals and film newcomers Matt Damon and Ben Affleck, with Robin Williams as an M.I.T. professor / psychologist who tries to guide a janitor with a gift for mathematics, to try a different path.
15. The Witches of Eastwick (1987), starring Cher, Michelle Pfeifer, and Susan Sarandon as friends who succumb to a mysterious newcomer, played by Jack Nicholson. Fantasy / horror / comedy.
16. Dead Poets Society (1989), Robin Williams stars again as a teacher in another excellent drama set at a New England boarding school. With Robert Sean Leonard and Ethan Hawke.
17. When Harry Met Sally (1989), a romantic comedy starring Billy Crystal and Meg Ryan as friends who are in and out of each other's lives. With Carrie Fisher and Bruno Kirby.
18. Heathers (1989), starring Winona Ryder as high schooler Veronica, and her pals Shannen Doherty, Lisanne Falk, and Kim Walker as the titular "Heathers". A crime comedy co-starring Christian Slater.
19. The Addams' Family (1991), a comedy fantasy about an eccentric and spooky family, played by Angelica Huston, Raul Julia, Christopher Lloyd, Christina Ricci, and others.
20. Bram Stoker's Dracula (1992), Gary Oldman as Dracula, Anthony Hopkins as vampire hunter Van Helsing, and a cast that includes Winona Ryder, Keanu Reeves, Cary Elwes, Billy Campbell, and others, in a horror film about the fabled vampire set in the late 1890s.
21. Hocus Pocus (1993), a family comedy fantasy about a trio of witches executed in Salem in the 1600s, that come back to life some 300+ years later. Starring Bette Midler, Sarah Jessica Parker, and Kathy Najimy as the witches.
22. Casper (1995) has a father and daughter (Bill Pullman and Christina Ricci) discovering a friendly ghost in this comedy.
23. The Craft (1996), a horror fantasy with high schoolers dabbling in witchcraft. Starring Neve Campbell, Fairuza Balk, Robin Tunney, Rachel True, Skeet Ulrich, and Breckin Meyer.
24. Practical Magic (1998), starring Sandra Bullock and Nicole Kidman as sisters & witches in a small town fantasy-drama.
25. Halloweentown (1998), a made-for-TV adventure-comedy movie that also spawned a franchise, starring Debbie Reynolds.
26. You've Got Mail (1998), with Tom Hanks and Meg Ryan in a rom-com about two people who meet online and hit off, then meet in person – and don't. A remake of sorts, of The Shop Around the Corner (1940) starring Margaret Sullavan and James Stewart, which made the Top 20 Classic Christmas Movies list.
27. The Cider House Rules (1999), a WWII-era romantic drama set in Maine, starring Tobey Maguire and Charlize Theron, with Michael Caine.
28. October Sky (1999), starring Jake Gyllenhaal, Chris Cooper, Laura Dern, and Chris Owen. A biographical drama about NASA rocket engineer Homer Hickam Jr.'s beginnings in a coal mining town.
29. Sleepy Hollow (1999), a gothic horror based on the famous legend, with Johnny Depp as Ichabod Crane, now a banished policeman instead of a school teacher. Christina Ricci plays his love interest Katrina Van Tassel.
30. Autumn in New York (2000), with Winona Ryder and Richard Gere as lovers from different generations; New York City locales also star.
Of course, "classic" can mean many different things, so decide what it means to you this autumn. Add to this list any way you see fit; stick to movies from a certain decade, before the '60s, or set in the '90s. Make a list of slightly scary films, family-friendly comedies, or tear-jerkers with a backdrop of fall leaves. Think of movies you enjoyed growing up. Look for forums or blog posts online that list classic autumnal movies to kickstart your memory. Ask friends and family what they enjoy watching in the fall to feel a little nostalgic. Do whatever you can to set the autumnal mood.
Prepare Special Seasonal Snacks
When setting up for your cozy film night, movie snacks are crucial. Consider spicing up traditional popcorn with cinnamon and brown sugar. Fill a plate with Honeycrisp apples and caramel dip. Bake a loaf of pumpkin bread.
Whatever you choose, keep in mind your – and your movie-watching comrades – dental needs. You don't want to crunch down on a hard kernel and turn a scary movie into a real-life scary dental situation. If you have dental implants or dentures, opt for softer foods that won't be hard to bite or become sticky when chewing. Pumpkin bread or graham crackers with cream cheese pumpkin dip, evoke that quintessential fall feeling while being easy to chew and digest. Consider seasonal drinks like apple cider or chai lattes.
Also, consider any dietary restrictions your fall film audience may have. You want this movie night to be cozy and fun, so stocking up on health-conscious options may mean you can enjoy these fall-time foods and flicks more often. A box of Milk Duds may have been great as a teen, but now you might want to snack on roasted pumpkin seeds or spiced nuts. As you get older, it's important to make the most out of these special moments and keep your health in mind at the same time.
Set the Scene for Cozy Movie-Viewing
Crisp evenings are perfect for cuddling up to watch a movie, and this is made even better if you have a heat source. Think about cuddling up with a partner, soft blanket, pet, or heating pad instead of pumping the heat from your furnace. If you have a fireplace, you can also use this to lower utility costs and up the autumnal ambiance.
Make sure you are comfortable and able to snuggle up when the films evoke emotion, adding to the nostalgic, cozy experience. Wear your favorite sweater and some fuzzy slippers to elevate your comfort. This, combined with the right snacks in hand, will have you ready to settle in for a delightful evening of cinematic entertainment amidst the autumnal ambiance.