Best Classic Scary & Funny Ghost Films
A countdown of my picks for the Top 15 hauntingly funny movies. From vintage classics such as The Ghost Goes West (1935) and Blithe Spirit (1945) to modern classics like Ghost (1990) and The Frighteners (1996) – these films have just the right amount of suspense and humor to put you in the spooky Hallowe'en spirit (get it?), without scaring the bejeebers out of you.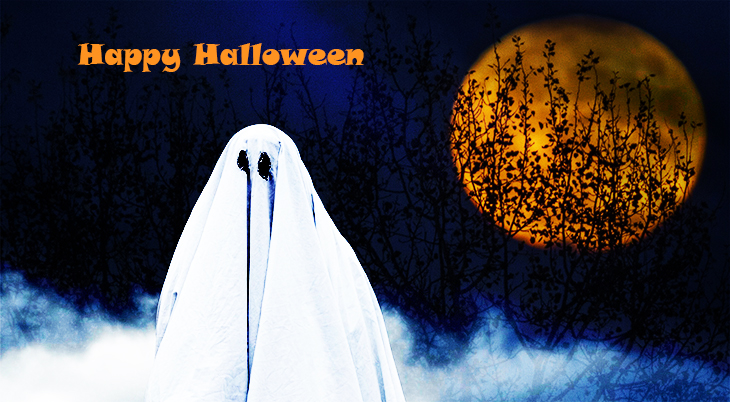 (Ghostly Halloween Moon Photo Blend: A. Hamilton)
15. The Canterville Ghost (1944)
Several feature films and made-for-TV movies have been based on witty Oscar Wilde's first published short story. Wilde's funny tale of The Canterville Ghost (1887) has a family moving to a castle haunted by the ghost of a nobleman who killed his wife, and was then walled in and starved to death. This 1944 film version of The Canterville Ghost stars Charles Laughton as cowardly nobleman/ghost Sir Simon de Canterville from the 1600s. Reginald Owen plays Simon's father, who curses his son to "find no rest" until his act of cowardice has been atoned for.
Margaret O'Brien co-stars 6-year-old Lady Jessica de Canterville, the current owner of the castle which is now – during 1940s WWII – being occupied by US Army Rangers. One of the rangers – Cuffy Williams (Robert Young) – is discovered to be a descendant of Simon's brother. An incident which appears to show Cuffy as also being a coward, sees him disgraced and left behind at the castle by his troop. Directed by Norman Z. McLeod, Jules Dassin (with help from experience director-actor Charles Laughton). The cast includes William Gargan, Frank Faylen, and Peter Lawford as Anthony de Canterville.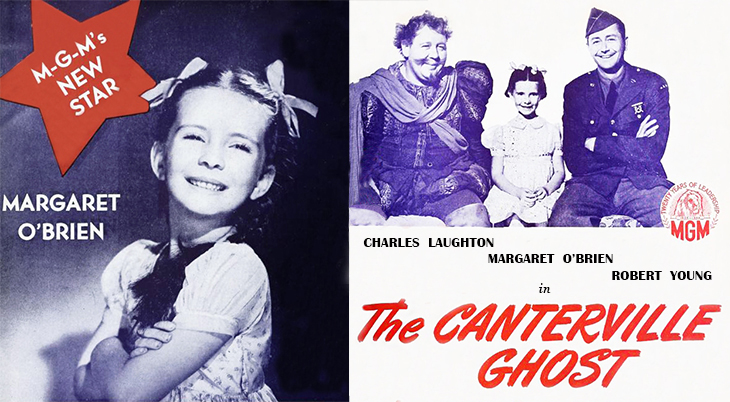 (Margaret O'Brien, Charles Laughton & Robert Young 1944 The Canterville Ghost)
A new version of The Canterville Ghost starring Hugh Laurie, Freddie Highmore, Stephen Fry, and Imelda Staunton, is in post-production. Due to COVID-19 restrictions, it's completion date is TBD. 
14. Blackbeard's Ghost (1968)
Dean Jones, Suzanne Pleshette, and Peter Ustinov star in this Disney film, directed by Robert Stevenson. Small coastal town college track coach Steve Walker (Dean Jones) is new in town and staying at Blackbeard's Inn. The Inn was built using timbers from sunken ships. At an auction, Steve wins an antique bed warmer that one of Blackbeard's wives had once owned, and discovers a book of spells. Mayhem ensues. Peter Ustinov appears as Blackbeard, and Suzanne Pleshette is Steve's love interest Jo Anne Baker. With Elsa Lanchester, Joby Baker, Richard Deacon, Michael Conrad, George Murdock, and former silent film star Betty Bronson as an "old lady".
13. Blithe Spirit (1945) 
Playwright Noël Coward's extremely popular 1941 comedy Blithe Spirit was a smash hit in London's West End and on Broadway, and enjoyed repeated stage revivals. The play was also adapted for films on multiple occasions.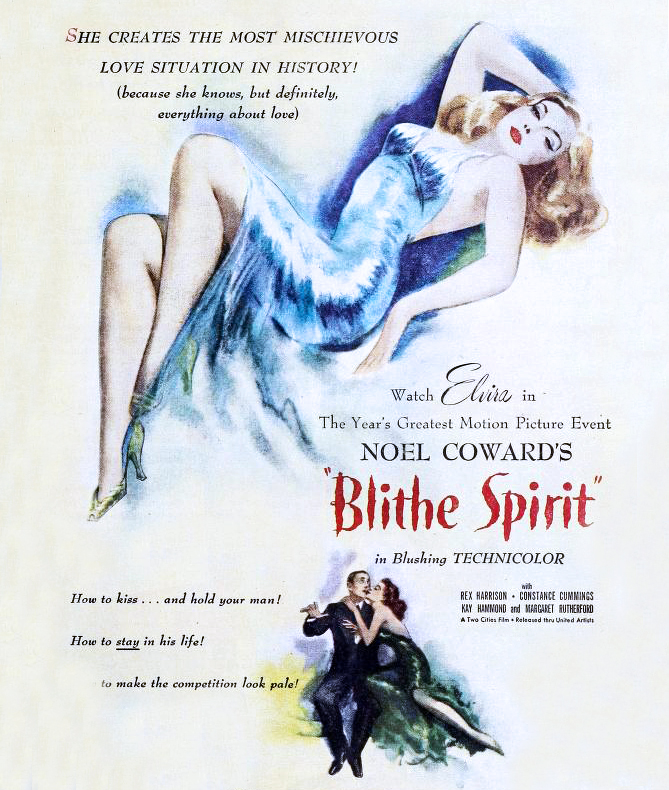 David Lean adapted and directed the 1945 film version, with Margaret Rutherford as the medium Madame Arcati and Kay Hammond as Elvira Condomine, the deceased first wife of novelist Charles Condomine (Rex Harrison). Charles and his wife second and current wife Ruth (Constance Cummings), have invited friends to their country home for a seance; witty dialogue ensues. Margaret Rutherford and Kay Hammond had created their roles in the original stage play. Blithe Spirit's special effects technician Tom Howard won the Academy Award for his work on the movie.
12. Bedknobs and Broomsticks (1971)
Based on author Mary Norton's 1943 children's book The Magic Bed-Knob. In a similar vein to Blackbeard's Ghost, this is another Disney film that uses witchcraft, but adds in some animation to the live action. Set during the WWII Blitz of England, three children are evacuated from London to the countryside and put under the care of Miss Price (Angela Lansbury). When the Nazis are threat her museum, Miss Price uses a spell to bring the museums displays of suits of armor from knights, and military uniforms, to life. David Tomlinson is Professor Browne and Roddy McDowall is the local minister. With Alan Hewitt, and former silent film star Reginald Owen as Major General Sir Brian Teagler, in his last film role. Bedknobs and Broomsticks was nominated for 5 Academy Awards, winning one – Best Special Visual Effects. 
11. The Cat and the Canary (1939) 
Billed as a horror-comedy film, this movie stars Bob Hope as Wally Campbell and Paulette Goddard as Joyce Norman, two of several survivors of deceased millionaire Cyrus Norman. Norman's will is about to be read at his remote bayou estate by his executor Mr. Crosby (George Zucco), but Crosby discovers the will has been tampered with. In addition to Joyce and Wally, other hopeful inheritors that arrive at the estate include characters played by John Beal, Douglass Montgomery, Nydia Westman, and Elizabeth Patterson as Aunt Susan. A clause in the will stipulates that any heirs must remain sane (and alive) for 30 days after inheriting. Joyce is first on the list to inherit, and of course, everyone has to stay overnight in the mansion with her. Co-incidentally, there's a nearby insane asylum and wouldn't you know it, a murderer known as "The Cat" has escaped….
Blacklisted actress Gale Sondergaard plays the creepy housekeeper Miss Lu, and Charles Lane is a reporter.
Influences, precursors, and remakes:
This time-honored plot of gathering inheritors at a remote location and seeing what transpires, has been used effectively in countless mystery and horror films and books – notably Agatha Christie's And Then There Were None (originally titled Ten Little Indians, and before that, the very politically incorrect Ten Little Niggers…it was back in the 1920s when first written).
However, this particular film is based on the 1922 play The Cat and the Canary by John Willard, which itself may have been partially inspired by the children's fable, or the earlier silent comedy-drama short film The Cat and the Canary (1912).
An earlier silent film version of this movies The Cat and the Canary (1927) stars Laura La Plante, Creighton Hale, Tully Marshall, Gertrude Astor, and Lucien Littlefield, was which pre-dates the Bob Hope version, was a little heavier on the horror and lighter on the comedy.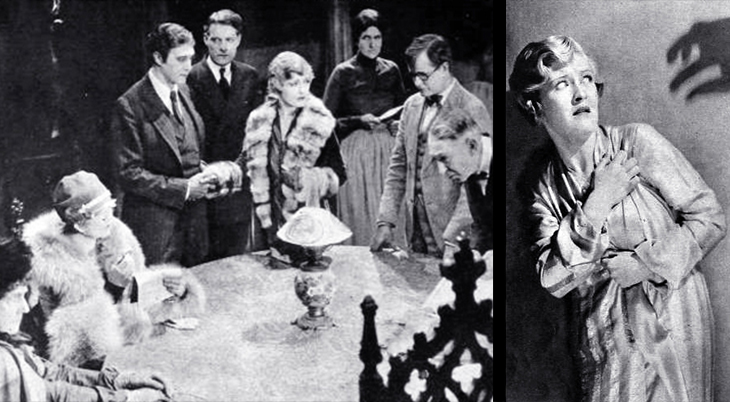 (Laura La Plante / 1927 The Cat and the Canary Photos: Picture Play Magazine)
The Cat Creeps (1930), a lost film / remake starring Helen Twelvetrees, Raymond Hackett, Neil Hamilton, Lilyan Tashman, and Jean Hersholt. Actress Elizabeth Patterson plays Susan….the same character she reprised for the 1939 Bob Hope movie The Cat and the Canary.
Years later, The Cat and the Canary (1978) British remake stars Honor Blackman, Michael Callan, Edward Fox, Wendy Hiller, Olivia Hussey, Carol Lynley, and Wilfrid Hyde-White in a more comedy-than-horror vein.
10. The Ghost Breakers (1940) 
A few years after The Cat and the Canary, stars Paulette Goddard and Bob Hope were re-teamed in a another ghostly comedy film, The Ghost Breakers. This time around, Bob Hope is crime reporter Lawrence Lawrence aka Larry, and Goddard is hotel guest Mary Carter. Mary is given the deed to a remote plantation and mansion on an island near Cuba, by creepy Cuban lawyer Mr. Parada (Paul Lukas). Naturally she has to go to the island…With Richard Carlson, Willie Best, Anthony Quinn, Pedro de Cordoba, Paul Fix, and other familiar faces. 
This film version of The Ghost Breakers was a remake of two earlier silent films with the same name – a 1914 movie starring H.B. Warner and Rita Stanwood, and the 1922 film with Wallace Reid, and Lila Lee.
9. Hold That Ghost (1941) 
The comedy duo of Bud Abbott and Lou Costello rarely misses a beat, and for some reason their movies that combine an element of horror with comedy, are among their best.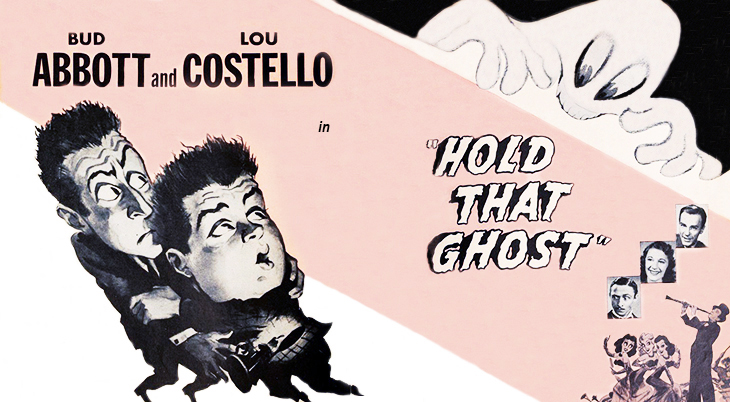 Hold That Ghost is no exception, with Abbott and Costello playing Chuck Murray and Ferdie Jones, gas station attendants and waiters at a nightclub. They get fired from the night club where the Andrews Sisters are singing, and back at the gas station, they are taken along for the ride when a mobster is pursued by police. When the bad guy is killed in a shootout, they inherit his estate. They're now the target of other mobsters, and back at the new rural estate they've inherited, strange things keep happening….
Directed by Arthur Lubin, produced by Glenn Tryon and Burt Kelly, and starring: Bud Abbott, Lou Costello, Richard Carlson, Evelyn Ankers, Joan Davis, Marc Lawrence, and Shemp Howard (of Three Stooges fame). With The Andrews Sisters, Mischa Auer, and others.
8. The Time of Their Lives (1946)
The Time of Their Lives (aka The Ghost Steps Out) starring Bud Abbott and Lou Costello is one of the best from that film comedy partnership.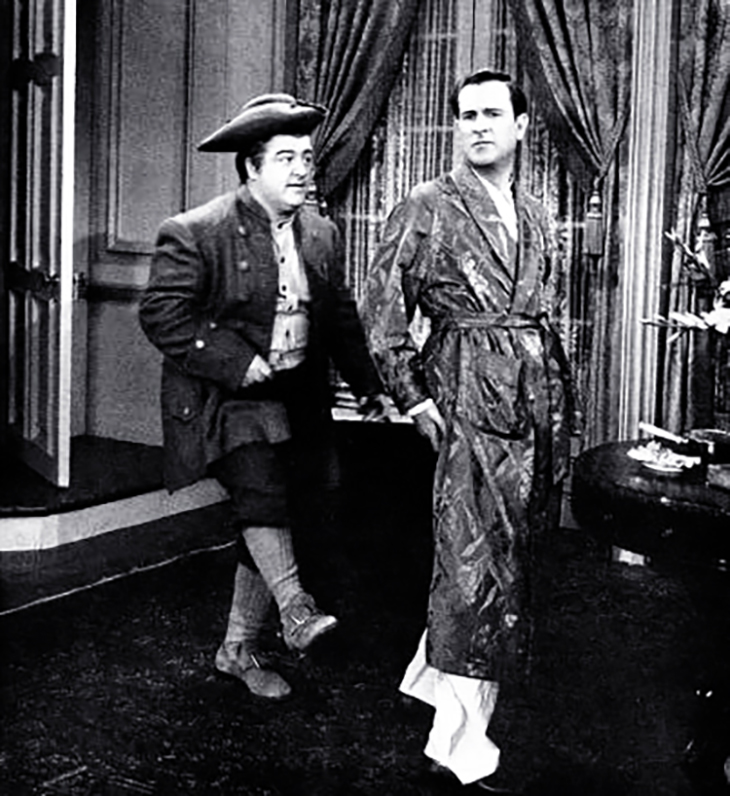 (Bud Abbott & Lou Costello 1946 The Time of Their Lives: Pictures Universal)
Lou Costello is Horatio Prim in 1780, who has a crush on Tom Danbury's (Jess Barker) maid Nora (Ann Gillis), but is foiled by the devious butler Cuthbert Greenway (But Abbott). General George Washington, Benedict Arnold, and other historical characters are mixed into the plot, which has Marjorie Reynolds as Danbury's fiancee Melody. Melody and Horatio are mistaken for traitors and shot, and their ghosts are bound to the estate until they can prove their innocence. Fast forward 160+ years, and some new folks have moved into the now rebuilt estate.
In addition Abbott and Costello, other great character actors and actresses such as Marjorie Reynolds, Binnie Barnes, John Shelton, Donald MacBride, Rex Lease, and Myron Healy have roles to play in The Time of Their Lives.
7. Beetlejuice (1988) 
Although Beetlejuice is not one of my personal favorite films, almost everyone I know would put it on a best of funny scary movies list, so I will too. And, it does have some startlingly hilarious scenes, with good music too. Director Tim Burton is at the top of his game here.
Alec Baldwin and Geena Davis are the ghostly Maitlands, trapped in their earthly home after an accident. When the new family moves in – played by Jeffrey Jones, Catherine O'Hara, and Winona Ryder – they can't be scared away because they can't see the ghosts. Enter Betelgeuse (Michael Keaton)!
Warner Bros. shares their top scenes from Beetlejuice in this clip.
Beetlejuice was a financial and special effects success, winning the Academy Award for Best Makeup.
6. The Ghost and Mrs. Muir (1947)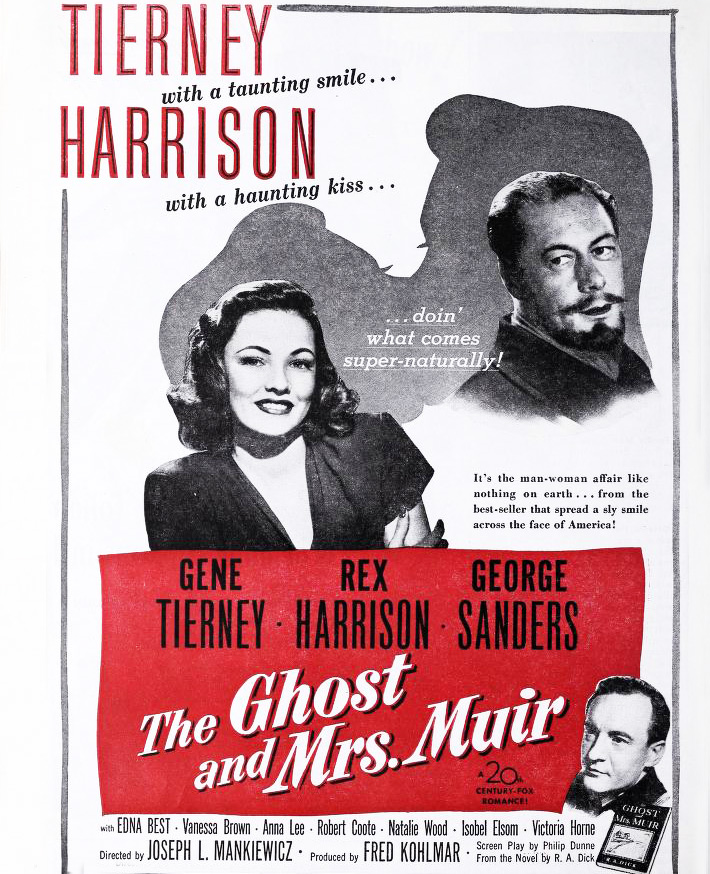 (The Ghost and Mrs. Muir 1947 Ad: Photoplay)
The stellar cast – beginning with Rex Harrison as the Captain and Gene Tierney as the lonely widow who moves into Gull Cottage – are just one of the reasons to watch The Ghost and Mrs. Muir. Directed by Joseph L. Mankiewicz, with a supporting cast that includes George Sanders, Vanessa Brown, Anna Lee, Robert Coote, Natalie Wood, and Edna Best. 
It could turn up on many "best of" lists, and I've written more extensively about The Ghost and Mrs. Muir (and the filming of it), on this page. 
5. The Frighteners (1996) 
You can't go wrong with a Michael J. Fox movie if you're looking for funny – and in this case, one of the scariest (on my list, lol) Halloween films. Fox plays Frank Bannister, a different kind of ghostbuster, who crosses path with some truly bad ghosts (and some very funny ones). Trini Alvarado is his love interest Lucy Lynskey, while Peter Dobson is her brother Ray, who's being haunted by ….but I won't ruin it for you. With John Astin, Jeffrey Combs, Dee Wallace, Jake Busey, and Chi McBride.
This clip from The Frighteners features Michael J. Fox, Trini Alvarado, and Peter Dobson. 
4. Topper (1937) 
Thorne Smith's 1926 novel Topper was the basis for the Topper screenplay (Jack Jevne, Eric Hatch, and Eddie Moran). Producer Hal Roach and director Norman Z. McLeod had top-notch talent to work with in their leading actors – Cary Grant, Constance Bennett & Roland Young (nominated for an Academy Award Best Supporting Actor).
When fun-loving Marion and George Kerby (Cary Grant and Constance Bennett) realize they are now ghosts, they return to haunt their old pal Mr. Cosmo Topper (Roland Young) and his wife Clara (Billie Burke). With Alan Mowbray, Eugene Pallette, Arthur Lake, and Hedda Hopper. There are several uncredited cameos – Hoagy  Carmichael, Lana Turner, and Ward Bond.
This trailer for Topper features Constance Bennett, Cary Grant, and Roland Young.
A film so popular – and good – it inspired several sequels and remakes, including
Topper Takes a Trip (1938) with Constance Bennett reprising her role as Marion Kerby; Roland Young, Billie Burke, Alan Mowbray also return. Mrs. Topper is going to be divorced from her Mr. unless ghostly Marion Kerby can help clear up a misunderstanding. Director McLeod and screenwriters Jevne and Moran also returned for this sequel; special effects technician Roy Seawright received an Academy Award nomination for his work on Topper Takes a Trip.
Topper (1953-1955) an Emmy-nominated television series starring real-life husband and wife couple Robert Sterling and Anne Jeffreys as the ghostly Kerby's, with Leo G. Carroll and Lee Patrick as the Toppers. Kathleen Freeman plays their maid Katie in the first season of Topper, which was produced at the Hal Roach Studios in California.
Topper Returns (1941) starring Joan Blondell as a young woman murdered by mistake (her friend – played by Carole Landis – was the intended victim). Cosmo Topper gets roped into solving the crime. With Roland Young, Billie Burke, Dennis O'Keefe, Patsy Kelly, H.B. Warner, George Zucco, and Eddie 'Rochester' Anderson as a hilarious chauffeur. Academy Award nominations for Topper Returns went to Elmer Raguse for Best Sound Recording, and to Raguse and Roy Seawright for Best Special Effects. In my opinion, this is the funniest of the Topper films.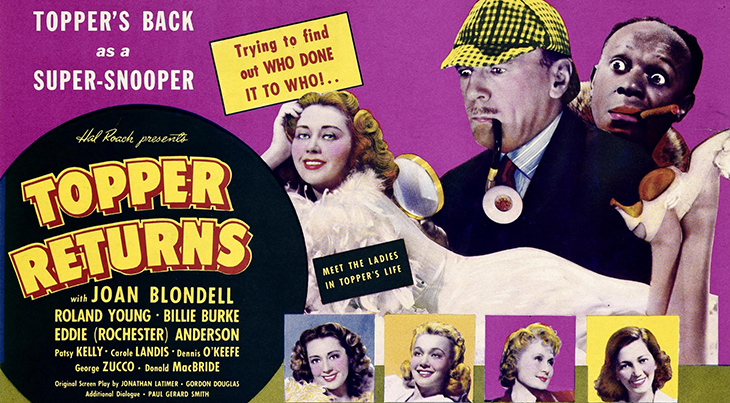 3. Ghost (1990) 
In this clip from Ghost, Demi Moore watches as Whoopie Goldberg and Patrick Swayze bicker.
2. Ghostbusters (1984) 
Director Ivan Reitman's Ghostbusters was a smash box office hit, thanks to the script by the film's co-stars Dan Aykroyd and Harold Ramis. It's Bill Murray that steals The Ghostbusters show, as underhanded paranormal "expert" Peter Venkman, who likes hot cellist Dana Barrett (Sigourney Weaver). Venkman and his partners Ray Stantz (Dan Aykroyd), Egon Spengler (Harold Ramis), and Winston Zeddemore (Ernie Hudson), they take on the supernatural spirits of New York. With Rick Moranis, Annie Potts, and William Atherton. The Ghostbusters theme song sung by Ray Parker Jr. won the Grammy Award for Best Pop Instrumental Performance, and was nominated for the Oscar for Best Original Song.
In this clip from Ghostbusters, Dan Aykroyd, Ivan Reitman, and Bill Murray confront a ghost in the hallway 
This is yet another film so popular that numerous film and television sequels and remakes were spawned:
Ghostbusters II (1989) – the original stars and director returned for the reprise, and was did well at the box office, but not as well as hoped for by producers; critics panned the film.
Ghostbusters (2016) – Although Ivan Reitman produced the film, along with Amy Pascal, the starring players this time around were all women. Comedic actresses Melissa McCarthy, Kristen Wiig, and Kate McKinnon are the Ghostbusters. With Chris Hemsworth, Andy Garcia, Charles Dance, and Ed Begley Jr. Director Reitman, and many of the original Ghostbusters cast (Bill Murray, Ernie Hudson, Sigourney Weaver, Dan Aykroyd, and Annie Potts), appear in cameos.
Ghostbusters: Afterlife brings back many of the characters from previous films and is slated for release in 2021…
1. The Ghost and Mr. Chicken (1966) 
You'll have to search far and wide to find an actor that can top Don Knotts at the top of his physical comedy game, as he is here in The Ghost and Mr. Chicken. Knotts plays cowardly wanna-be reporter Luther Heggs, out to prove he can tough it out in the local haunted house overnight, and solve a murder. The stellar supporting cast of The Ghost and Mr. Chicken includes a spooky Liam Redmond, Dick Sargent, Skip Homeier, Reta Shaw, Joan Staley, Lurene Tuttle, and Charles Lane. Directed by Alan Rafkin, and written by James Fritzell and Everett Greenbaum.
This trailer for The Ghost and Mr. Chicken features Don Knotts, Joan Staley, Dick Sargent, and Skip Homeier.
Wishing you and yours a very safe, fun, and just a little spooky,
Happy Halloween!
More Hallowe'en Fun:
Unique & Vintage Halloween Wishes
If you like my Best Classic Scary & Funny Ghost Films for Halloween, you may also like my other "best movie" lists of seasonal or themed favorites:
Top 20 Classic Christmas Movies
Top New Year's Eve Movies & Clips
Best Romance Films with Older Actors
Best New and Classic "Irish" Movies
*Images are believed to be in the public domain or Creative Commons licensed & sourced via Wikimedia Commons, Vimeo, YouTube, or Flickr, unless otherwise noted*