November 1947 Headlines
News Headlines & Baby Boomer Entertainment Trivia From November 1947: The Hollywood Blacklist begins; Princess Elizabeth marries Prince Philip.; Howard Hughes flies his mammoth Spruce Goose into the record books; and film-noir classic movie Out of the Past starring Jane Greer, Robert Mitchum, & Kirk Douglas premieres.
Howard Hughes Flies Spruce Goose Into the Record Books
On November 2, 1947, millionaire filmmaker, manufacturer, inventor, engineer, and aviator Howard Hughes flew the Spruce Goose, his innovative flying boat, for the first and only flight of it's life.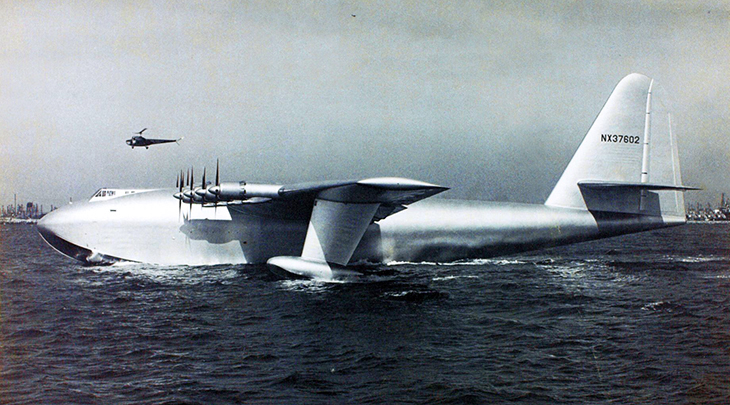 (Howard Hughes H-4 Hercules / Spruce Goose Nov. 2, 1947 Photo: SDASM Archives)
Howard Hughes had broken into filmmaking in the 1920s, formed the Hughes Aircraft Company in 1932, and proceeded to enhance his already magnificent phil of money and accomplishments in the world of movies and aeronautics.
During and after WWII, Howard Hughes secured several contracts to manufacture bombers, reconnaissance planes, helicopters, and other airplanes and aeronautical innovations.
His most massive feat of airplane engineering – literally, figuratively, and financially – was the design and construction of his H-4 Hercules, popularly known as the Spruce Goose. Hughes had secured a contract to build a flying boat to transport troops and equipment overseas during WWII, using non-strategic materials. The result was a massive pontoon airplane with eight engines/propellers, built mostly of wood (birch, not spruce) instead of aluminum, 5 stories tall, and large enough to carry up to 700 crew and soldiers.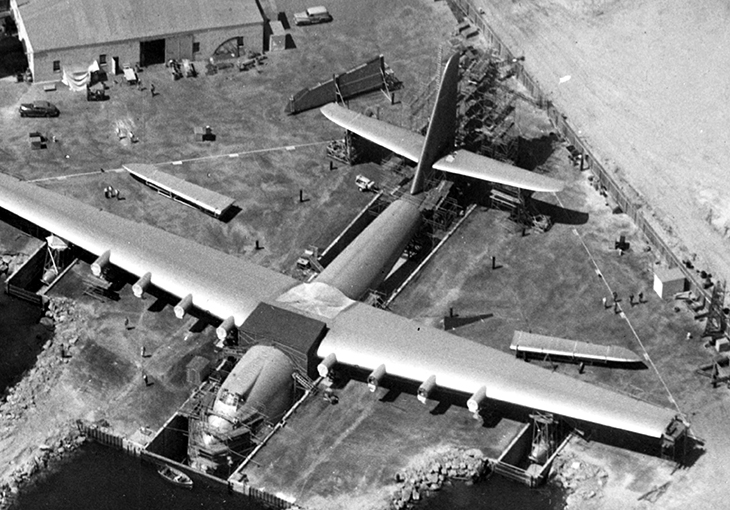 (Construction of the Hughes H-4 / Spruce Goose c. 1942-1947 Photo: SDASM Archives)
The Spruce Goose set records for being the largest airplane built from wood, for having the longest wingspan (over 319 feet, longer than a football field), and for being the most costly airplane developed (over $23 million). The scale of the project meant the Spruce Goose was not completed until the fall of 1947, long after WWII was over. As a result of the time and money over-runs, Howard Hughes was called to testify before the Senate War Investigating Committee over the use of Government money to develop the H-4
During a break in the Senate hearings, Hughes decided to take the H-4 airplane out for it's inaugural flight. Aboard the plane piloted by Howard Hughes were other flight crew members, aviation industry representatives, and members of the press – 36 people in all. Hughes made a couple of taxi runs, and then on the third taxi, took the aircraft airborne – a flight that lasted a grand total of 8 minutes. Although the flight vindicated his use of government funds to produce a working airplane, the Spruce Goose was never flown again. .
The H-4 was kept in a climate-controlled hangar by for almost 30 years by Howard Hughes until his death in 1976, during which time ownership of the plane was disputed until an agreement was reached with the U.S. Government. The Spruce Goose has been on display at the Evergreen Aviation & Space Museum in McMinnville, Oregon since 1993.
The 1986 drama Flight of the Spruce Goose starring Karen Black, Betsy Blair, Dennis Christopher, and Jack Kehoe, has a man kidnapping a model and driving from Pittsburgh to California to see the Spruce Goose airplane.  
The Blacklist Begins With the Hollywood Ten
The Hollywood blacklist began on November 26th, 1947 when executives from the motion picture studios put in place measures to combat communism in the film industry. They began firing or suspending suspected communists, beginning with "The Hollywood Ten".
"The Hollywood Ten" were directors and screenwriters charged with contempt of Congress on November 24th, 1947 for refusing to answer questions during the House Un-American Committee's / HUAC hearings into communism in movieland. Instead, they – Ring Lardner Jr., Dalton Trumbo, Edward Dmytryk, Alvah Bessie, Adrian Scott, Lester Cole, Samuel Ornitz,Herbert J. Biberman, and John Howard Lawson  – cited their First Amendment Rights of freedom of speech and assembly.
This documentary about the Hollywood Ten was made with the cooperation of the blacklisted group, and directed by John Berry. 
Motion Picture Daily reported that on November 25th, a policy committee comprised of ten movie company executives were meeting to determine what measures the industry should put in place to combat communism. Committee members included Nicholas M. Schenck (President of Loew's), Joseph Schenck, Dore Schary, Albert Warner, Barney Balaban, J. Cheever Cowdin, Harry Cohn, Walter Wanger, Samuel Goldwyn and Donald M. Nelson. 
Even before their policy was revealed, Louis B. Mayer, M-G-M production chief, said he intended to dismiss any known Communist from the studio, and that the "government will be asked to assist in unveiling 'Reds'.
On Nov. 26, 1947 Motion Picture Daily published the new Hollywood blacklist policy:
Immediate discharge or suspension without compensation of the 10 Hollywood men cited for contempt by the House of Representatives, without re-employment unless they are acquitted or purge themselves of contempt and declare under oath they are not Communists.
No Communist or member of any group which advocates the overthrow of the Government by any illegal method is to be employed, if known to be such.
Hollywood talent guilds to be invited to work with management for the elimination of subversives in the employ of producers and to aid in safeguarding innocent employees from injury in carrying out the policy.
Congress is requested to enact legislation to assist American industry to rid itself of subversive elements.
The Screenwriters Guild countered by sending a letter to Congress urging they pass the "Sabbath Bill" to abolish the Un-American Activities Committee. 
M-G-M 's head Louis B. Mayer promptly suspended Lester Cole and Dalton Trumbo; 20th Century-Fox fired Ring Lardner, Jr. , and RKO did the same to Edward Dmytryk and Adrian Scott. All of the Hollywood Ten were unable to find work for many years in Hollywood (under their own names), and several moved to other countries in attempt to support themselves in their profession. 
Columbia pictures said they were confident none of their employees were Communists and had no plans to investigate their political interests, despite actor Larry Parks and producer Robert Rosson having been labeled by HUAC as "unfriendly" witnesses (they were never called to testify).
After serving his prison term for contempt of congress and moving to England, director Edward Dmytryk had a change of heart. Wanting to be able to work in Hollywood again, he agreed to testify before HUAC in 1951, during which process he named names to the committee. One of the names given was the Hollywood Ten documentary director John Berry, who had joined the communist party during the latter half of the 1930s; Berry was also named to HUAC by another accused director/screenwriter (Frank Tuttle). As a result, Dmytryk and Tuttle were able to work again in Hollywood, while John Berry was immediately blacklisted and moved to France to try and find work. 
Classic Movie Premiere – Out of the Past
RKO Radio and director Jacques Tourneur's film-noir classic movie Out of the Past  premiered in New York City and San Francisco in November 1947.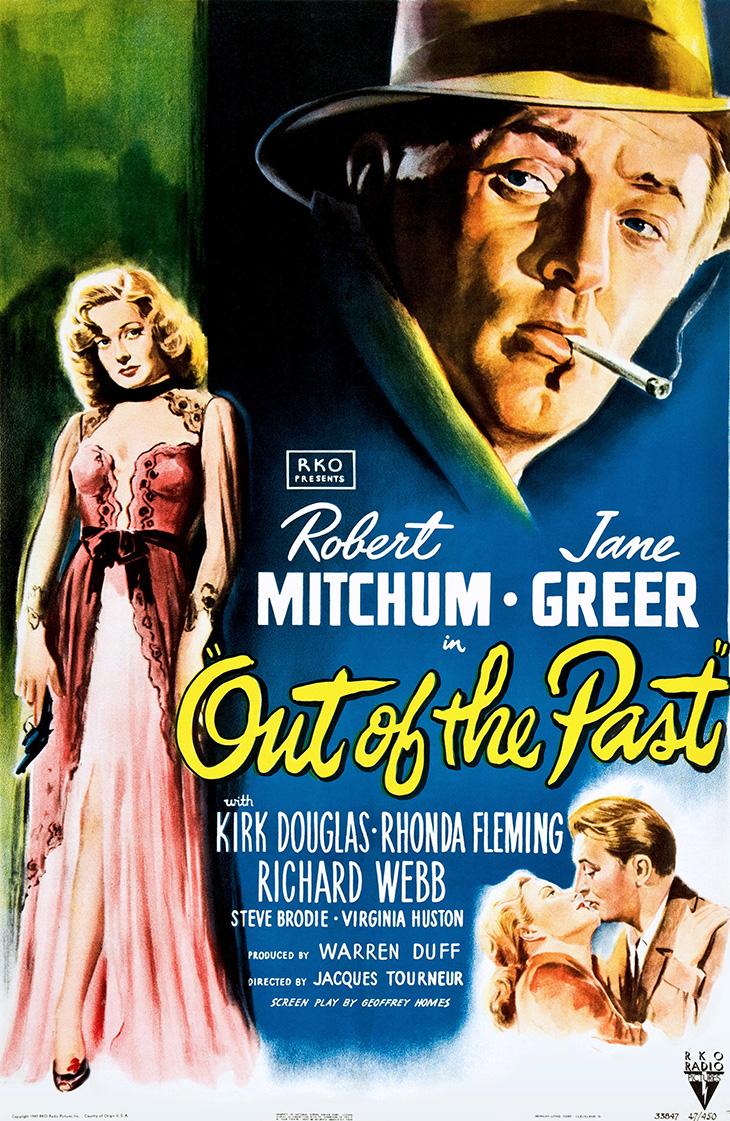 (Out of the Past 1947 Poster: RKO Radio Pictures Inc. | William Rose)
The film Out of the Past (aka Build My Gallows High in the U.K.), is based on novelist and screenwriter Daniel Mainwaring's 1946 novel Build My Gallows High. Both the book and the screenplay adaptation of Build My Gallows High were written by Mainwaring under his pseudonym Geoffrey Homes.
Starring Robert Mitchum, Jane Greer, and Kirk Douglas, Out of the Past was film star Kirk's second movie, in what would become a long and successful career.
From October 1946 through January 1947, filming for Out of the Past took place in several California locales – Lake Tahoe, Silver Lake, Bridgeport, Sonora Pass, Lake Sherwood, San Francisco, Lower Twin Lake, Leo Carillo State Beach, the Sierra Nevada Mountains, and RKO's Hollywood studios as well as their Encino Ranch. Other location shots were taken in Reno, Nevada; Mexico City, Taxco, and Acapulco in Mexico; and in New York City.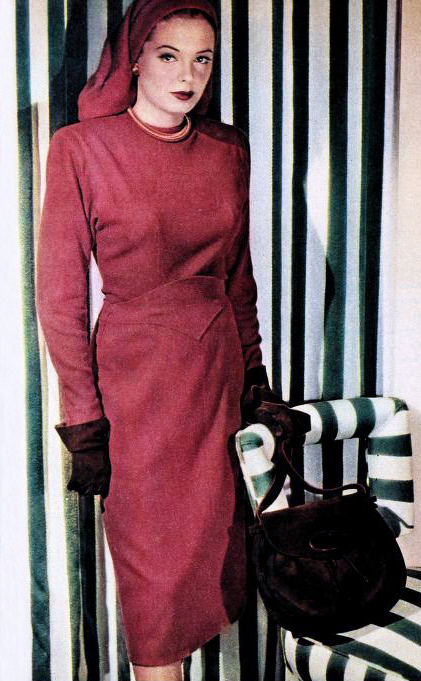 (Jane Greer 1947 Photo: Photoplay)
Jane Greer models a dress and turban in satin created by studio designer Edward Stevenson for her role in Out of of the Past.
The plot of Out of the Past has Bridgeport gas station owner Jeff Bailey (Robert Mitchum) fishing with girl friend Ann Miller (Virginia Huston). Their fishing idyll is interrupted by a message for Jeff from job muscle man Joe Stefanos (Paul Valentine), that visiting New York mob boss Whit Sterling (Kirk Douglas) wants to see him.
Ann accompanies Jeff on the road trip to Whit Sterling's home, and during the drive he relates the story of a past case gone wrong(seen in flashback):
Jeff, whose real last name name is Markham, had been a P.I. in New York with his partner Jack Fisher (Steve Brodie).
Whit Sterling's girlfriend Kathie Moffat (Jane Greer) had stolen money from him, and shot Sterling in the back before taking off. Sterling hired the two P.I.'s to find Kathie and said he wanted to reconcile and wasn't interested in the money; Jeff suspected his real motive was revenge. Sterling demanded that only Markham handle the case, and Jeff's partner Fisher insisted they still split the money for the job 50/50 anyway.
Jeff found Kathie in Acapulco, where she admitted to shooting Whit Sterling but claimed she never took his money. A smitten Jeff went to his hotel room to pack so he could go on the run with Kathie. When Sterling and his henchman Stefanos arrived unexpectedly, he told them Kathie had escaped him, and Jeff quit the case.
Jeff and Kathie were trailed by his ex-partner Fisher (now on the case for Sterling), to a cabin in the Sierra Nevada Mountains. The two men fought and Kathie shot and killed Fisher, before taking off. Jeff found her bankbook showing a deposit of the sum Sterling had claimed she'd stolen from him.  
The flashback ends and Ann drops Jeff off at Sterling's home. Jeff declines another job offer from Sterling, but stays over night and is shocked to see Kathie at breakfast. Whit tells Jeff he can't decline this new case, to recover files from a crooked lawyer that is blackmailing Sterling….and the plot twists go on.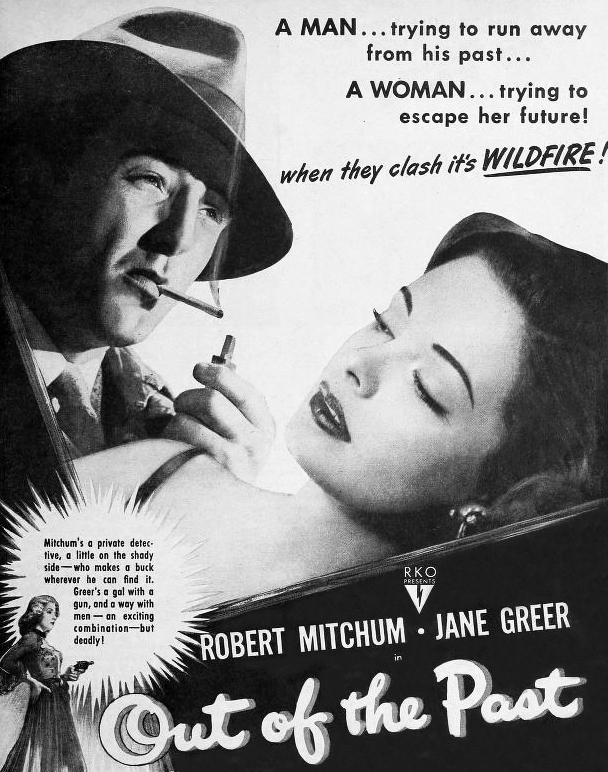 The supporting cast of Out of the Past includes Rhonda Fleming, Richard Webb (who shares a September 9th birthday with co-star Jane Greer) as Kathie's hometown beau Jim, and former child actor Dickie Moore (Our Gang / Little Rascals). An excellent film-noir with enough plot twists to keep you guessing what will happen right up until the end. 
Out of the Past was remade in 1984 as Against All Odds, starring Rachel Ward as femme fatale Jessie Wyler, and Jeff Bridges as P.I. Terry Brogan that falls for her. In a couple of casting twists, two actors from the original film also appear – Jane Greer plays the mother of Ward's character, and actor Paul Valentine is a councilman this time around instead of a henchman. Against All Odds also features James Woods as the mob boss and Alex Karras as Bridges' P.I. partner. With Richard Widmark, Dorian Harewood, Swoosie Kurtz, and Saul Rubinek in supporting roles.
Princess Elizabeth Marries Prince Philip of Greece and Denmark
King George VI of England's oldest daughter Princess Elizabeth married Philip, Duke of Edinburgh on November 20, 1947 in a lavish royal wedding.
Their wedding was the inspiration for the 1951 film Royal Wedding starring Jane Powell, Fred Astaire, Peter Lawford, Keenan Wynn, and Sarah Churchill. Sarah was the third child of one of Britain's most distinguished politicians, Prime Minister Winston Churchill.
In order to marry Elizabeth, Philip had been forced to give up his former titles of Prince of Denmark and of Greece, and was given the title of Duke of Edinburgh instead.
Five years later when King George VI died, Elizabeth became Queen Elizabeth II of the United Kingdom.
*Images are believed to be in the public domain and/or Creative Commons licensed (Flickr, YouTube, Wikimedia, Vimeo) or used by permission, unle