Jane Powell's Movies, Life and Loves
Jane Powell died of natural causes on September 16, 2021 at the age of 92.
Dancer, actress and soprano singer Jane Powell (nee Suzanne Burce) began taking dance lessons at the age two, and was soon tap-dancing on local Portland, Oregon radio stations. Singing lessons at age 10 followed and her amazing two-and-a-half octave range quickly opened entertainment doors for her.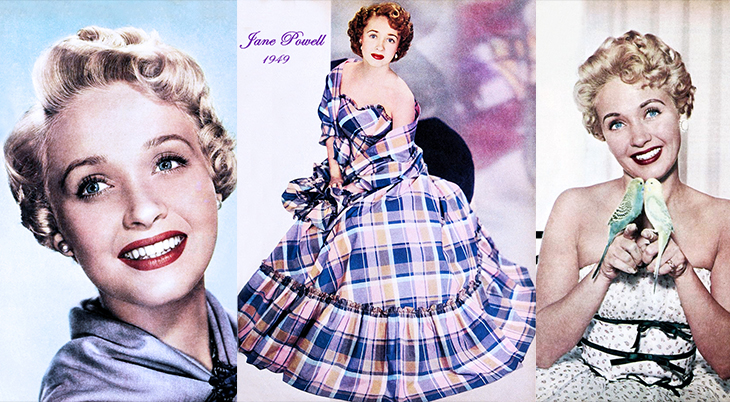 (Jane Powell 1949 to 1954 Montage)
At age 12, while still in grade school, Jane Powell was singing in two weekly radio shows and touring Oregon as the Oregon Victory Girl, selling Victory Bonds during World War II. 
During a 1943 family summer vacation in Hollywood, 13-year-old Suzanne Burce won a talent competition/radio show hosted by Janet Gaynor, Hollywood Showcase: Stars Over Hollywood. The next day she had two auditions with producers – one with David O. Selznick and another with MGM head Louis B. Mayer, who promptly signed her to a 7-year contract with MGM at age 14. Although reluctant, Powell said she felt she owed her parents for the hardships endured while they paid for her singing and dancing lessons.
She played the character of Jane Powell in her first movie, Song of the Open Road (1944), and took that as her professional name.
MGM Studios Little Red Schoolhouse With Roddy & Elizabeth
From 1944-1958, Jane Powell starred in 19 movies for MGM movie studios, and the other studios they loaned her out to.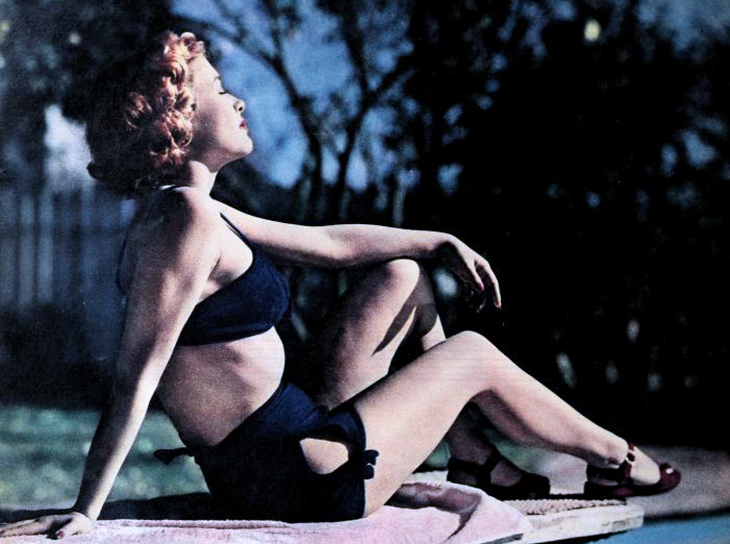 (Jane Powell 1947 Photo: June Smith)
Her fresh blonde looks (which always remind me of the Trixie Belden character in the youth mystery series) had MGM grooming her as a health "girl next door" type. 
Her second film was Delightfully Dangerous (1945), a musical in which she co-starred with Ralph Bellamy and Constance Moore. Powell played a younger sister who dreams of following her sis (played by Constance Moore), onto the stage.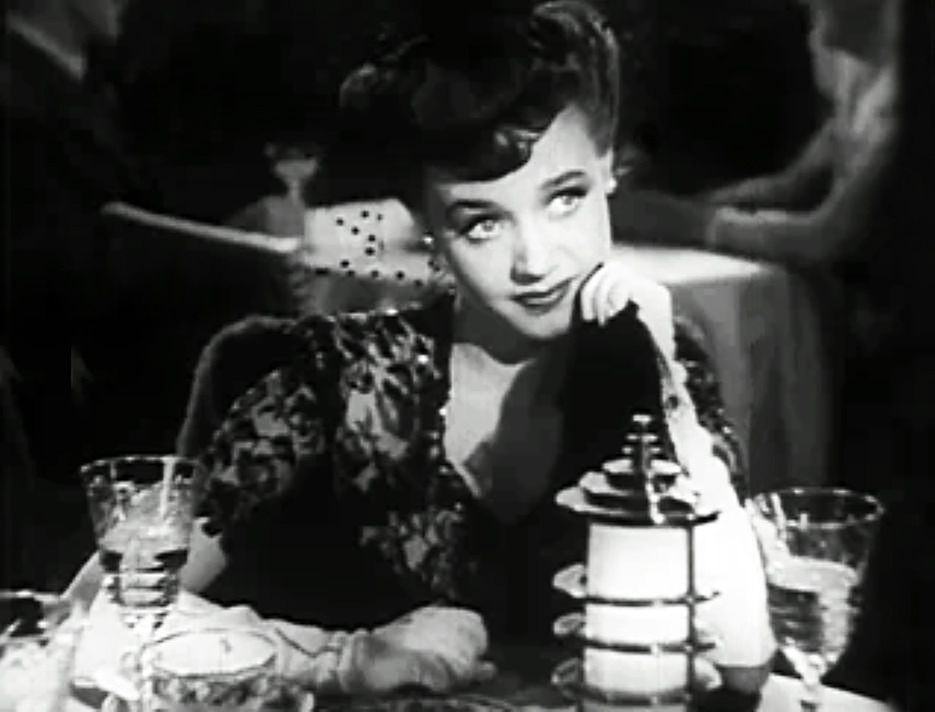 (Jane Powell 1945 Delightfully Dangerous)
As a teenager, Jane attended the famous MGM backstage "Little Red Schoolhouse", along with other child stars such as Margaret O'Brien, Elizabeth Taylor, Dean Stockwell, and long-time friend Roddy McDowall. Frequent co-star Debbie Reynolds also attended this school.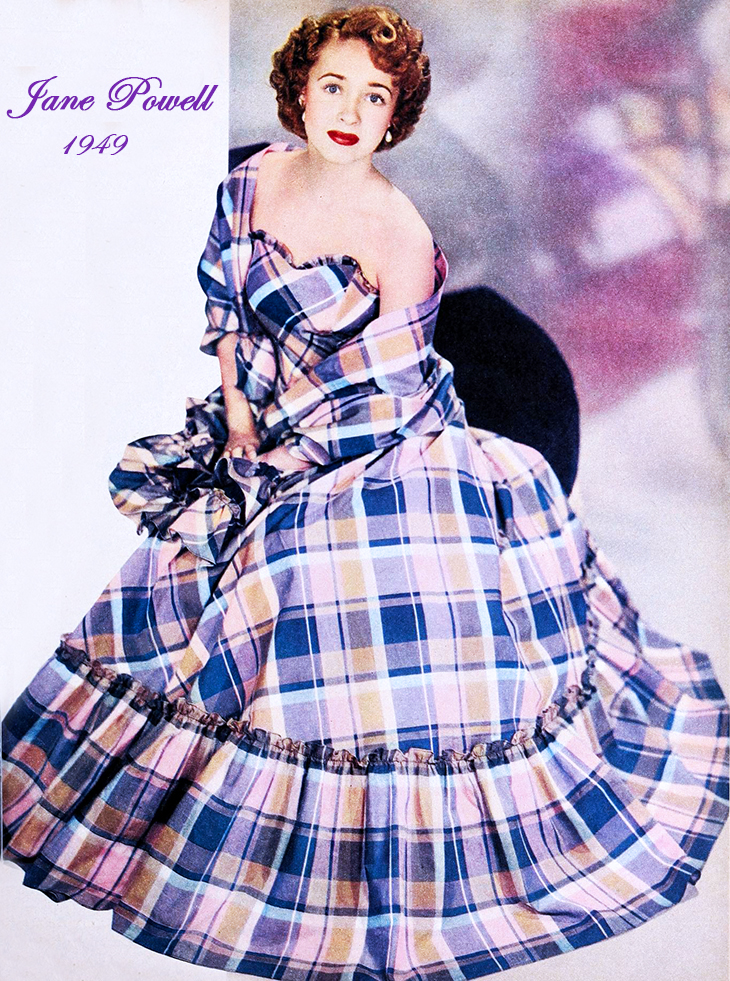 (Jane Powell 1949 A Date With Judy)
Below, Elizabeth Taylor's high school graduation photo on the set of the MGM movie Father of the Bride (1950) shows the camaraderie on the MGM lot with the young stars. The "little red schoolhouse" as it was called, was the place where lifelong friendships were formed, and special occasions celebrated with friends.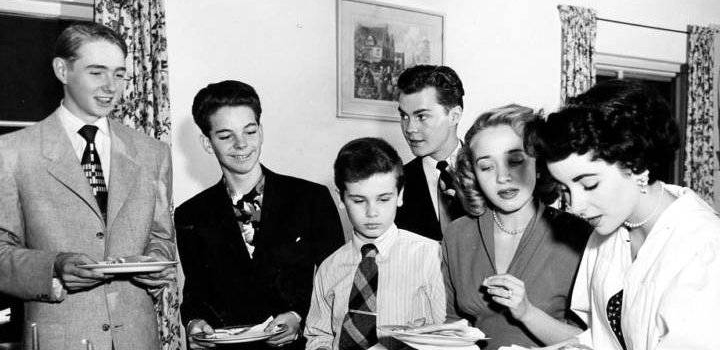 From left: Claude Jarman Jr., Russ Tamblyn, Dean Stockwell, Tom Irish, Jane Powell, Elizabeth Taylor. (Photo: listal.com) 
In a 2011 interview with the Chicago Tribune, then-octogenarian senior Jane Powell reflected back on that time in her life at MGM:
"Roddy McDowall…was like a brother to me, the same way he was with Elizabeth…We'd meet at his house most every Sunday, and we'd dance, and we'd swim, and play badminton, and Roddy's mother would make a big dinner. And that was the only socializing we did, really. We were terribly isolated…It was a lonely life."
Part of this group of friends that hung out together was another young MGM starlet, slightly older actress Janet Leigh.
Friends Jane Powell and Roddie McDowall appeared in the movie Holiday in Mexico (1946) together. In Holiday in Mexico, Powell plays the daughter of the U.S. Ambassador (Walter Pidgeon), who has a crush on an older man (piano virtuoso José Iturbi).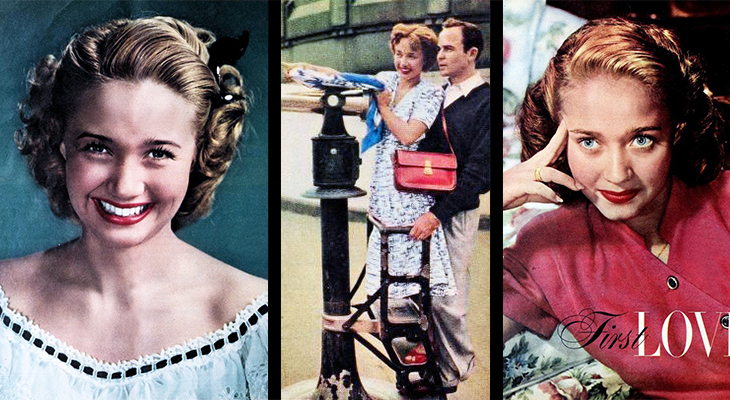 (Jane Powell & Tommy Batten 1948 Photo Montage)
An early romance for Jane Powell in 1948, was aspiring actor and college student Tommy Batten.
That same year, she starred as Judy in A Date With Judy (1948) alongside her schoolmate and friend Elizabeth Taylor, who played Judy's boyfriend's sister.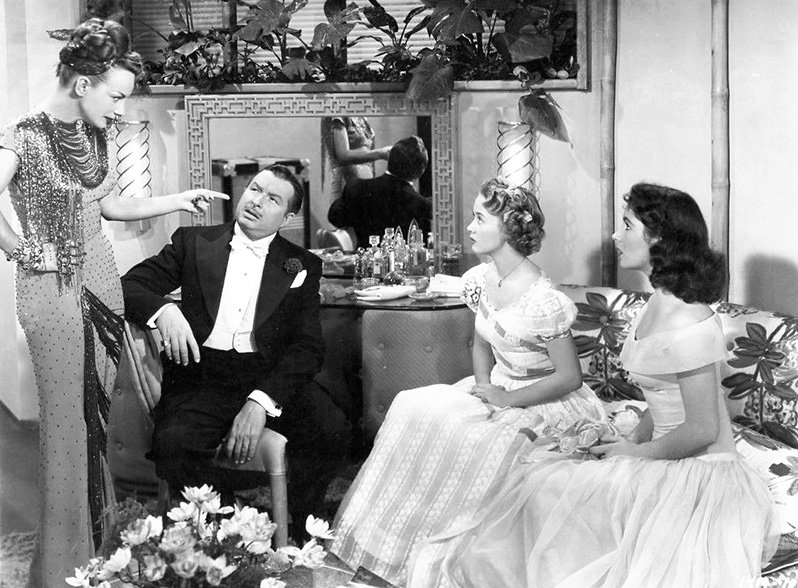 (Carmen Miranda, Xavier Cugat, Jane Powell & Elizabeth Taylor 1948 A Date with Judy Photo: MGM)
Robert Stack, Wallace Beery, Carmen Miranda, Xavier Cugat, and Scotty Beckett also co-starred in A Date with Judy.
Former child actor Scott Beckett had broke into the movie business in Hal Roach's Our Gang / Little Rascals 1930s film shorts. He was later signed by MGM as a teenage youth actor in 1947.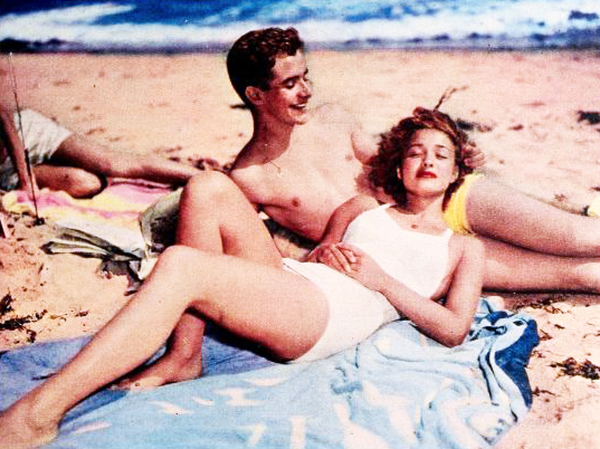 (Jane Powell and Scotty Beckett 1948 Photo: Modern Screen)
Beckett and the other MGM youth actors were often captured in photo ops for the fan magazines.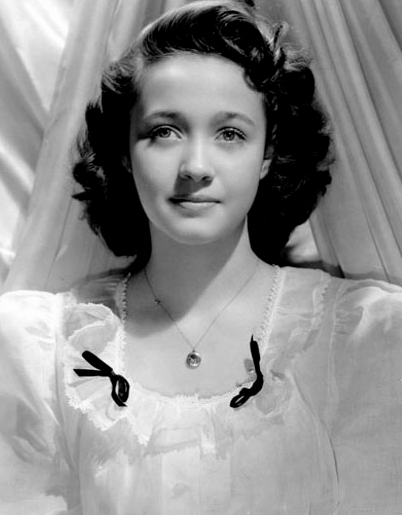 (Jane Powell 1940s Photo: MGM)
In a 2000 interview with Rex Reed for Observer, Jane Powell reflected that,
"I made a great deal of money but I never got to spend it. My mother took everything. I don't know what she did with it. Probably hid it under the mattress. After that, my first husband took half of everything I made. Everyone wanted to keep me young. I didn't even know anything about sex until I was 21."
The musical Three Daring Daughters (1948), featured Jeannette MacDonald as a divorced mother of three, and José Iturbi as her love interest. Actresses Ann E. Todd and Elinor Donahue played Powell's on-screen sisters in Three Daring Daughters.
The movie trailer below of Three Daring Daughters features Jane Powell, Elinor Donahue, Ann E. Todd, Jeannette Macdonald, and José Iturbi. 
Nancy Goes to Rio (1950 ) is a musical comedy in which Powell plays the title role of Nancy, daughter to actress Ann Sothern. Onscreen mom & daughter (both singers) are interested in actor Barry Sullivan, the movie's leading man. Carmen Miranda, Louis Calhern, and Scotty Beckett are also in the cast of Nancy Goes to Rio. 
Early Marriage to Geary Steffen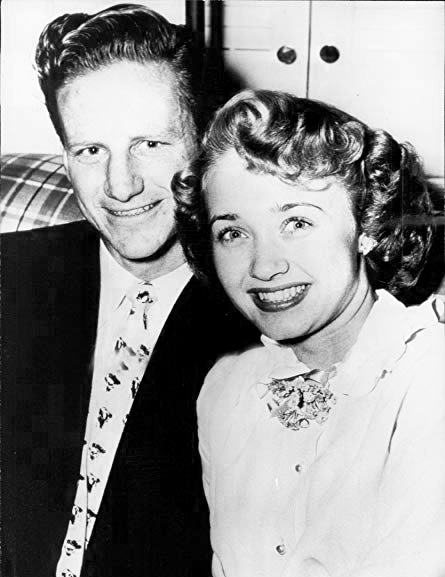 (Jane Powell & Geary Steffen 1949 Engagement Photo: Associated Press Wirephoto)
Jane Powell was a very young, sheltered 20-year-old when she married first husband Gearhardt (Geary) Anthony Steffen (age 26), an insurance broker and former figure skater, in November 1949.
Steffen had much more experience of the world, having been a WWII combat veteran.
He'd also been an ice-skating partner of world champion figure skater Sonja Henie during the early 1940s, appearing with her in carnivals and films such as Wintertime (1943), where he is billed as Geary Steffin.
Jane Powell's MGM Schoolhouse friend Elizabeth Taylor was a bridesmaid at their wedding.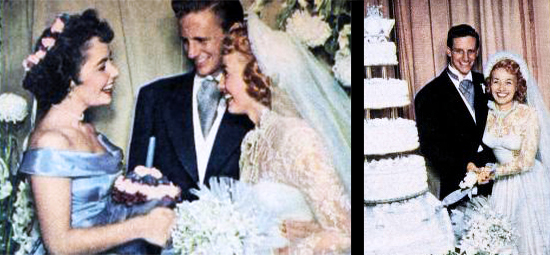 (Jane Powell with Suzanne and Geary Steffen Jr. 1955; & with Lindsey Nerney 1958)
The following year, Jane was one of Elizabeth Taylor's bridesmaids when she married Conrad Hilton, Jr. in 1950.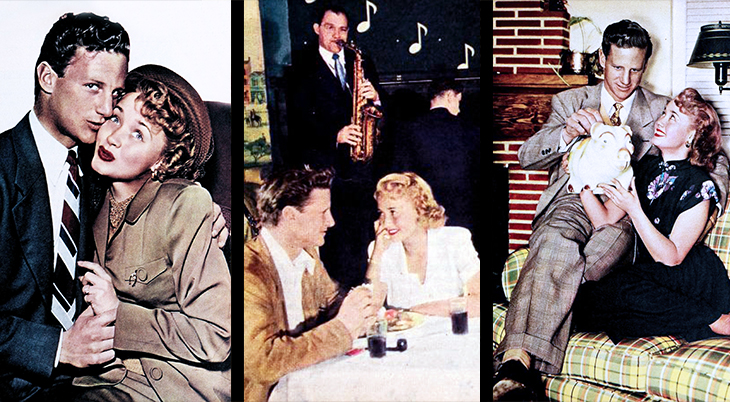 (Jane Powell & Geary Steffen 1949 Photo Montage)
The newlywed Geary's were on nodding terms with most of Hollywood, including future President Ronald Reagan and his then-date, and future second wife, Nancy Davis.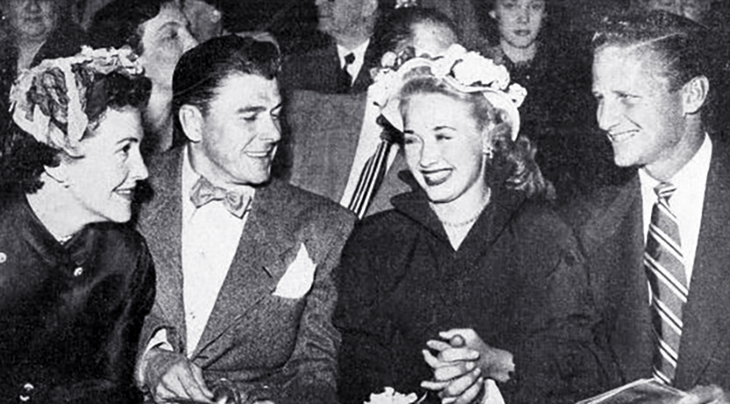 (Nancy Davis, Ronald Reagan, Jane Powell, Geary Steffen in 1950)
Jane and Gearhardt's first child, son Gearhardt Anthony (G.A. "Jay") Steffen III (aka Geary Jr.) was born in July 1951.
Their second child, daughter Suzanne (Sissy) Steffen, was born in November 1952.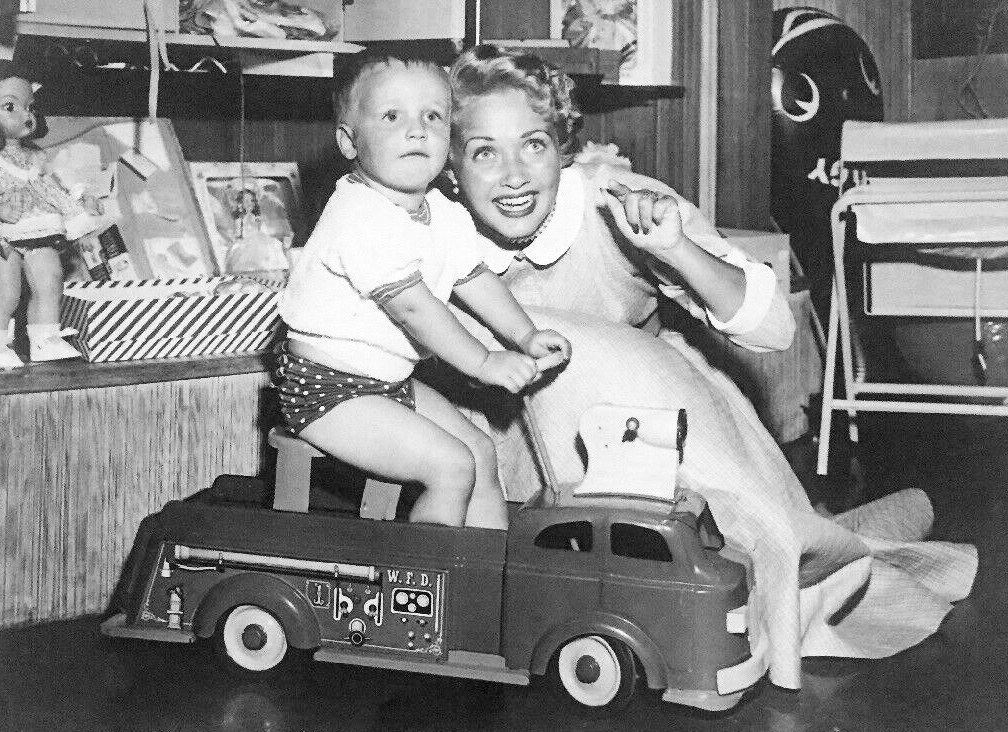 (Jane Powell with her child in a 1953 photo: Irving L. Antler / Ambassador Hotel Photograph)
Gene Nelson And Other Co-Stars
Jane Powell continued acting after her marriage and starred in the first of three movies with actress Debbie Reynolds, who played her sister in Two Weeks With Love (1950); co-incidentally, both Powell and Reynolds share an April 1st birthday.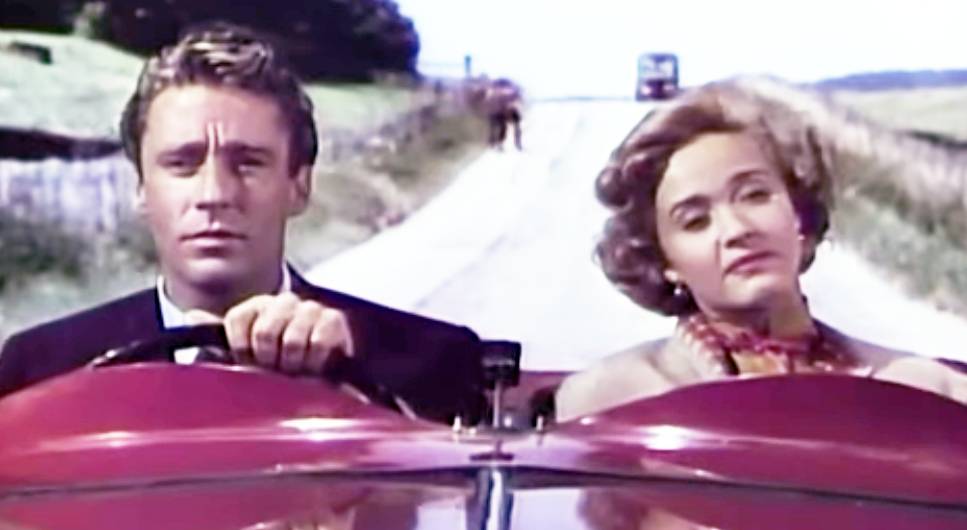 (Jane Powell & Peter Lawford 1951 Royal Wedding)
The classic musical-comedy Royal Wedding (1951) had Jane Powell co-starring with Fred Astaire as his on-screen sister. Royal Wedding was set at the time of Princess Elizabeth and Philip Mountbatten, Duke of Edinburgh's wedding in 1947 London, and was very popular with audiences at the time. Powell and Reynolds were co-stars and played sisters again onscreen in the rom-com Athena (1954).
Powell also appeared in four movies with fellow singer-actor Vic Damone during her MGM career – Rich, Young and Pretty (1951); two 1954 films, Deep in My Heart & Athena; and Hit the Deck (1955).
According to author Tony Benvenuto of Classic Images, after her daughter Sissy's birth, MGM loaned Jane Powell to Warner Brothers to film the movie Three Sailors and a Girl (1953).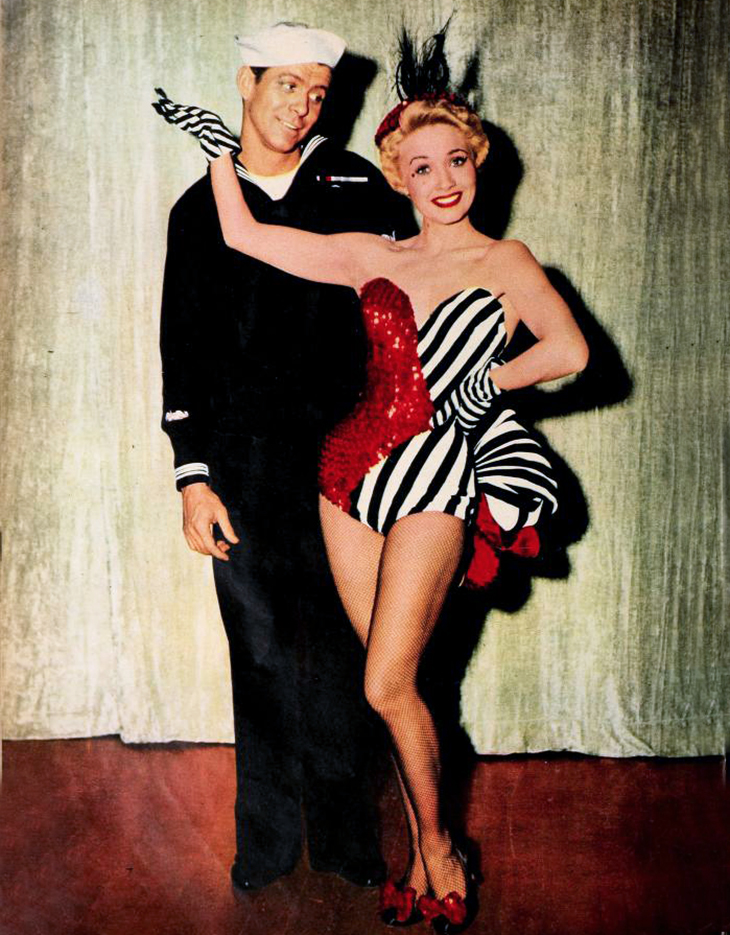 (Jane Powell & Gene Nelson 1953 Three Sailors and a Girl)
During filming of Three Sailors and a Girl, Powell fell in love with married actor and father of one, Gene Nelson.
Their love affair brought an end to both their marriages, with both Jane Powell and Gene's wife Miriam filing for divorce from their respective spouses in August 1953. Jane and Gene had planned to marry when their divorces were finalized, but by late 1953 Nelson had backed away from their romance.
Powell was left furious with herself at the damage that she had wrought on her personal and professional life.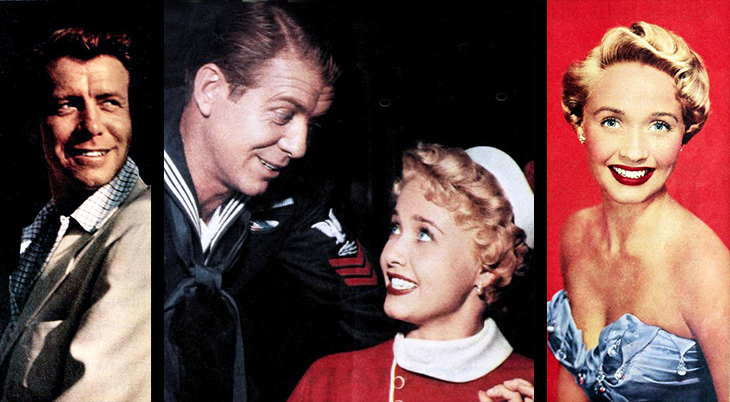 (Gene Nelson, Jane Powell and Three Sailors and a Girl 1953)
Gene Nelson's career wasn't damaged by the affair; he acted steadily on TV and in the movies, and was also in demand as a television director in the 1960s and 1970s. Nelson and his first wife Miriam finally divorced in 1956. He married and divorced twice more, and was single when he died of cancer at the age of 76 in 1996. 
Geary Steffen became a prominent insurance agent, and according to his Los Angeles Times obituary, was a life-long athlete – in addition to figure skating, he played tennis, skied, and was a long-time polo player at the Will Rogers Polo Club. In addition to his children Geary Jr. and Suzanne with Jane Powell, Steffen had three more children with his second wife Anne Salve. Steffen had been ill with Alzheimer's disease for 5 years and was married to his third wife Mary Lou Moran for 25 years, when he died of pneumonia on May 14, 2004, at the age of 80.
Formerly envisaged by the movie studio and fans as a sugary-sweet innocent ingenue, Jane Powell's image both on and off-screen had now changed.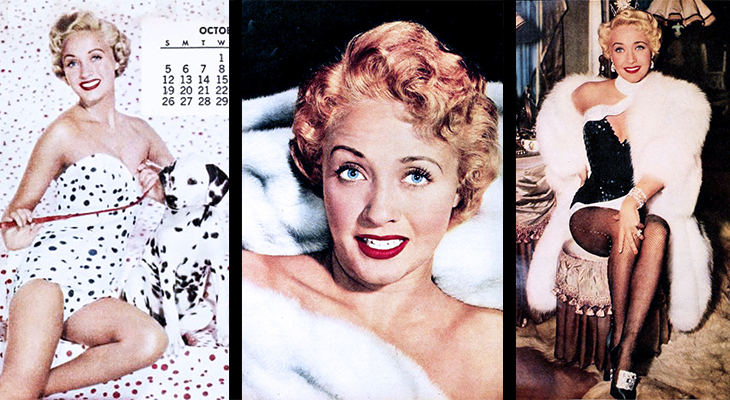 (Jane Powell 1953, 1954 & 1953 Photo Montage)
Seven Brides for Seven Brothers
Powell's next picture release was the classic movie musical Seven Brides for Seven Brothers (1954), possibly the film she is best known for. 
Jane played feisty Milly opposite Howard Keel as oldest brother Adam; and once again co-starred with a former MGM Little Red Schoolhouse actor, Russ Tamblyn, who played youngest brother Gideon in the film. Seven Brides for Seven Brothers won the Academy Award for Best Scoring of a Musical Picture. 
Below, Jane Powell sings Goin' Courtin' in a clip from Seven Brides for Seven Brothers. Cast members and the titled onscreen brothers Russ Tamblyn, Jeff Richards (Benjamin), Tommy Rall (Frank), Marc Platt (Daniel), Matt Mattox (Caleb), and Jacques D'Amboise (Ephraim) sing and dance with her.
Still unhappy in her personal life, Jane Powell married a friend, automobile executive and divorced father of one Patrick Nerney, in November 1954. Nerney had been the first husband of actress Mona Freeman (m. 1945-1952), and was 9 years older than his new bride (now a still-youthful 25).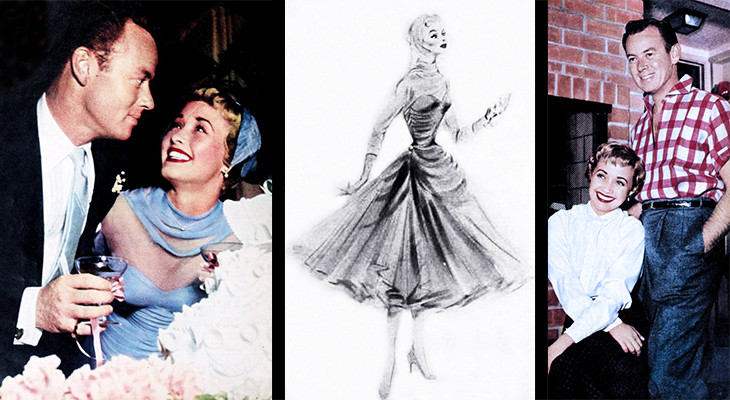 (Jane Powell & Patrick Nerney 1954 Wedding and Dress)
Once again the movie fan magazines played up the romance; MGM designer Helen Rose designed Powell's pale blue chiffon wedding dress.. Many years later, in her autobiography The Girl Next Door And How She Grew (1988), Powell related her inability to be alone as something she overcame later in life.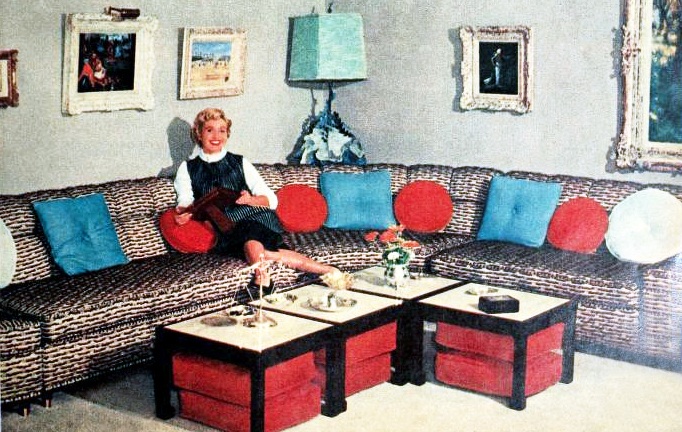 (Jane Powell in her Living Room 1956)
Hit The Deck (1955) featured Jane Powell (playing Susan Smith) and Debbie Reynolds (as dancer Carol Pace) in their third film together. It also reunited Powell with her MGM schoolhouse pal Russ Tamblyn on screen, as he played Susan's younger brother Danny Xavier Smith.
Jane Powell and Patrick Nerney's daughter Lindsey Nerney was born in February 1956, and Jane's single True Love made it to #24 on the Billboard Hot 100 music charts that same year.
As her contract time with MGM came to a close, Jane completed three movies that were released in 1958. In her last MGM films, she co-starred with Cliff Robertson in The Girl Most Likely (1958), and played glamorous Hedy Lamarr's daughter in The Female Animal; the story has Lamarr's love interest (actor George Nader) instead falling for her daughter. 
Farewell to MGM & Starting Over
After 1958, Jane Powell's big-screen film career was effectively ended. Throughout the remainder of the 1950s and 1960s she guest-starred on television specials and variety shows such as The Ed Sullivan Show.
Powell also appeared in touring productions of stage plays and musicals, including 3 productions of The Unsinkable Molly Brown (1963, 1966, and 1981), but the film role went to her formerly frequent movie co-star, Debbie Reynolds.
Patrick Nerney and Jane Powell divorced in 1963. Two years later Powell married for the third time, to James Fitzgerald, while she was touring in Australia. Below, news video footage of the wedding of Jane Powell and James Fitzgerald.
For several years the couple celebrated their anniversary in Australia. James Fitzgerald became Jane's business manager, and their marriage evolved more of an unhappy business relationship, according to Powell. 
After replacing Debbie Reynolds in Irene on Broadway for a 9-month run in 1974, Powell then toured with a production of the show while Fitzgerald stayed in California. Jane Powell and James Fitzgerald divorced in 1975 after 10 years of marriage, and Jane made a return to films as a voice over actress (Celeste in Tubby the Tuba, 1975).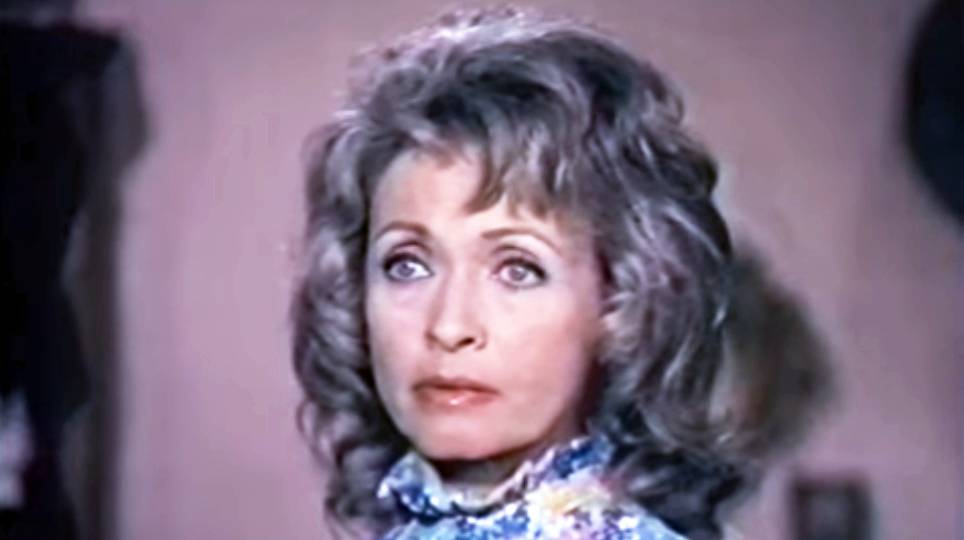 (Jane Powell 1973 The Letters TV Movie)
Jane Powell's husband number four was writer David Parlour; he and Jane married in 1978 and were divorced in 1981.
During the 1980's Jane Powell guest starred on popular baby boomer television series like The Love Boat, and had a 9-month turn on daytime TV soap opera Loving as Rebecca Beecham in 1985. From 1988-1990 she had a recurring role on Growing Pains as Alan Thicke's on-screen mother, Irma Seaver Overmier. 
Finding Lasting Love
Friend Roddy McDowall asked Jane to grant an interview to PR firm owner and former child actor Dickie Moore of Our Gang and Little Rascals fame, who was researching his autobiographical novel Twinkle, Twinkle, Little Star, But Don't Have Sex or Take the Car (1984).
Dickie Moore and Jane Powell began dating and moved in together in New York in 1982. They married in 1988 – Powell's fifth marriage, and Moore's third. Jane Powell's autobiography, The Girl Next Door…And How She Grew, was published that same year. The couple maintained homes in New York City and Connecticut during their happy marriage.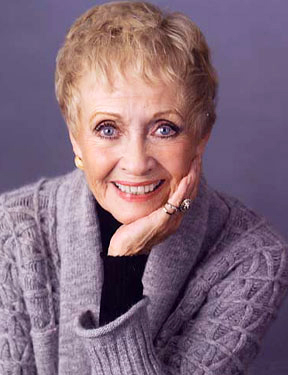 (Jane Powell 2002-2003 Photo: Goodman Theatre, Used by Permission)
In 2000 a septuagenarian Jane Powell returned to acting with a vengeance – starring in 4 non-musical stage plays and two made-for-TV movies. This frenetic pace may have burned her out, because by the end of 2003 she had retired from acting.
In an interview that year with Rex Reed for Observer, Jane Powell noted
"My voice is not what it used to be. I can't hit the high notes and I won't be second-rate. I have everything I've ever wanted in life and more-a wonderful marriage, a beautiful home, perfect health."
Interviewer Lloyd Schwartz commented in an article for The Phoenix as recently as 2013 that octogenarian Jane Powell was in great shape, working out and taking care of husband Dickie Moore, who was then suffering from arthritis and dementia.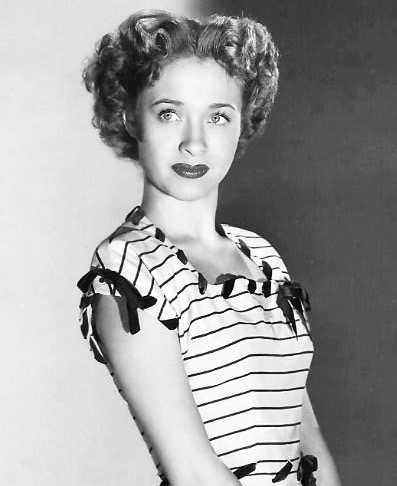 (Jane Powell 1948 A Date With Judy Photo: MGM)
Sadly, Dickie Moore died in September 2015 at age 89 after 27 years of marriage (and 33 years together) with Jane Powell.
Powell told The Connecticut Post in 2017 that she was learning to live alone and was enjoying her life, gardening and finding companionship with her pets (a toy poodle and cat).
She recalled her MGM schoolhouse days, close friendship with Roddy McDowall, and other stars she worked with in the studio system, such as Carmen Miranda, Fred Astaire, Ann Miller, and said of her The Female Animal (1958) co-star Hedy Lamarr, 
"Hedy didn't like me too much because she had to play my mother and she didn't like having to play a mother. She was such a beautiful woman, but she was so wrapped up in her beauty…"
Ever-beautiful Jane Powell celebrated her 92nd birthday on April 1, 2021. She was born on April 1, 1929 (April Fool's Day), and now she lives forever on film.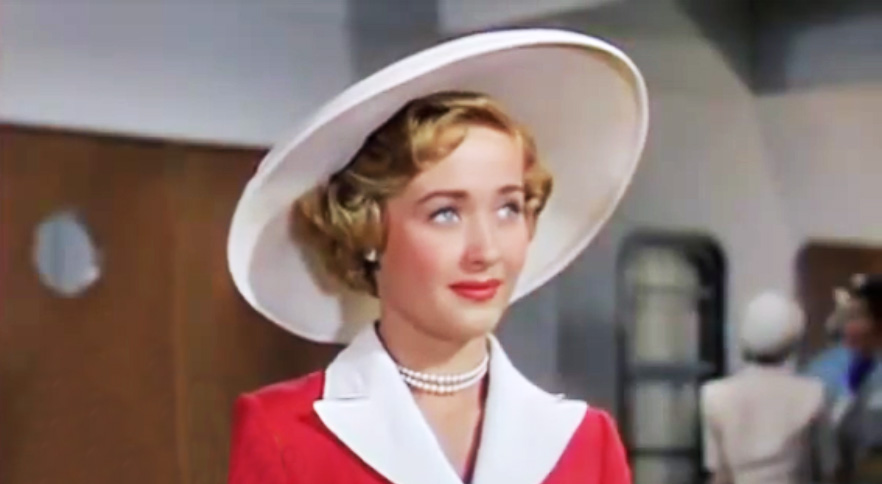 (Jane Powell 1951 Royal Wedding)
Note: This article was first published in 2016 with the title Celebrating Seniors – Jane Powell is 87. It has been updated with new & additional content.
*Images are public domain or Creative Commons licensed & sourced via Wikimedia Commons, Vimeo, YouTube, or Flickr, unless otherwise noted*