The Many Loves and Life of Zsa Zsa Gabor
Glamorous actress and larger-than-life personality Zsa Zsa Gábor "I have never hated a man enough to give his diamonds back," was named Sári Gábor when she was born February 6, 1917 in Budapest, Hungary.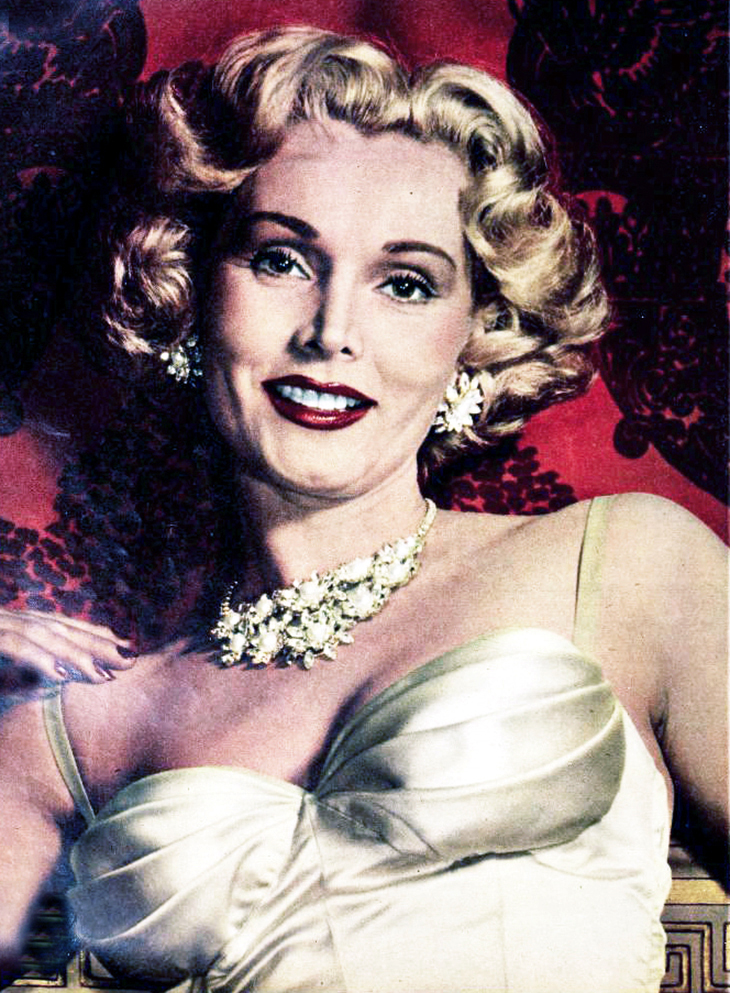 (Zsa Zsa Gábor 1952)
Zsa Zsa (a nickname from childhood) is best known for being actress Eva Gabor's older sister; her frequent marriages and divorces, legal disputes, and more highly quotable remarks.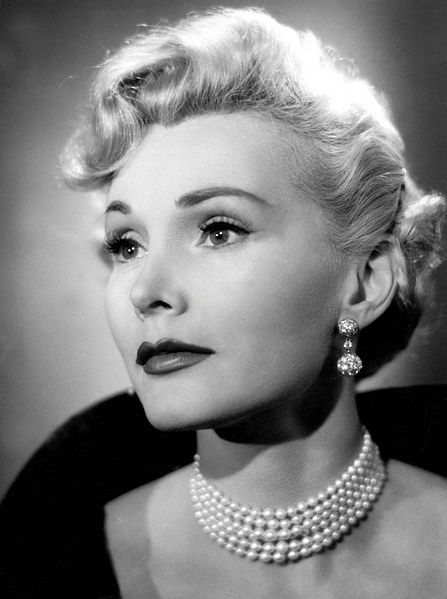 (Zsa Zsa Gábor c. 1955)
According to Bio., Zsa Zsa's Jewish mother Jolie Gábor was wealthy, and the Gábor daughters (there was also an older sister, Magda) attended boarding schools.
While Jolie Gábor said her wealth came from jewelery stores, her name was linked with brothels in Budapest, Hungary.
Zsa Zsa spoke Hungarian and German at home in Budapest and learned English and French when she went to Madame Subilia's School for Young Ladies in Lausanne, Switzerland. 
Burhan Belge
While at home on leave from school in 1934, 17-year-old dark-haired Zsa Zsa Gábor first met the visiting Director of Press for the Turkish Foreign Ministry, twice-divorced Burhan Belge (b. 1899), through a party at her grandmother's (Franceska Kende) home. That same year while vacationing in Vienna with her mother, opera singer Richard Tauber saw Zsa Zsa and suggested she play the soprano in the operetta The Singing Dream (August-December 1934), in Vienna, Austria.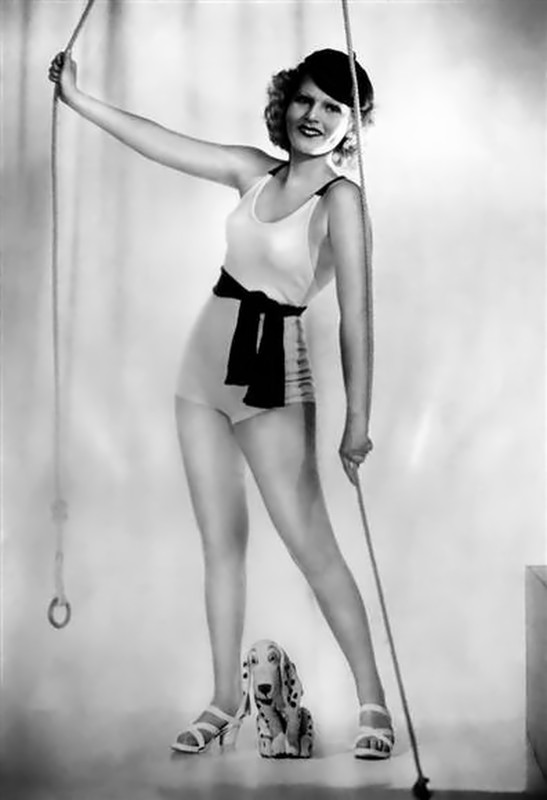 (Zsa Zsa Gábor 1936)
In her biographies, Zsa Zsa has said she proposed to all of her husbands, starting with Burhan Belge. Their marriage is credited as taking place in 1937, when she was 20 years old and Belge was 38. The couple lived in Ankara, Turkey. 
Gábor also said that after marrying, she and Belge lived together without consummating the marriage (her wish, not his). 
Burhan Belge gave Gábor an Arabian horse (Zsa Zsa owned and rode horses until her 2002 car accident), and she spent a lot of time riding alone. During one of her rides Gabor met the British Ambassador to Turkey, Sir Percy Loraine, who would become a friend.
In Zsa Zsa's memoir One Lifetime Is Not Enough (1991) she claims to have had a 6-month romance with (Mustafa) Kemal Atatürk (the President of Turkey, then age 56) while she was married to Burhan Belge.
"He dazzled me with his sexual prowess and seduced me with his perversion. Atatürk was very wicked. He knew exactly how to please a young girl."
Kemal Atatürk, who was a heavy drinker, was 57 when he died due to cirrhosis of the liver in 1938.

By 1939, Zsa Zsa's friend Sir Percy Loraine had left Turkey and became the British Ambassador to Italy, under Fascist rule. Her sister Eva Gábor eloped with her new husband to America, and World War II was raging in Europe.
Unhappy in her marriage, and wanting to go to America, by mid-1941 Zsa Zsa achieved her goal and arrived in New York, and then California, alone – leaving Burhan Belge behind in Ankara, Turkey. Belge agreed to a divorce by letter in December 1941; he died on January 12, 1967.
Conrad Hilton Sr.
Zsa Zsa Gábor was 24 in early December, 1941 when she met 54-year-old, recently divorced, devout Roman Catholic and hotelier Conrad Hilton Sr.  They married on April 10, 1942, a few months later. The marriage was strained; Zsa Zsa described being shocked at having separate bedrooms, and Conrad keeping his door locked to her. As the thrifty Conrad Hilton, Sr. recounted in his 1957 autobiography Be My Guest:
"Glamour, I found, is expensive, and Zsa Zsa was glamour raised to the last degree. She also knew more days on which gifts could be given than appear on any holiday calendar."
According to legal documents referenced in the book The Hiltons: The True Story of an American Dynasty, Conrad Hilton and Sari Zsa Zsa Gábor were separated by November 1944, and their final decree of divorce was granted in September, 1946.
In her biography Gábor admitted to having an affair with Conrad's son Conrad "Nicky" Hilton Jr. which began in 1944 when Zsa Zsa was separated from Conrad Hilton Sr., and according to her, continued beyond Nicky Hilton's engagement in 1950 to Elizabeth Taylor.
Zsa Zsa's daughter Constance Francesca Hilton was born March 10, 1947. In her memoirs Zsa Zsa claimed that Francesca was born as the result of a rape one night by her estranged husband Conrad Hilton Sr. While Hilton never had a paternity test done and never publicly disavowed Francesca, he did write a letter to his lawyers in 1971 stating he'd never believed Francesca Hilton was his daughter; the letter came to light when Francesca unsuccessfully contested Conrad Hilton's will after his death in 1979.
George Sanders & Porfirio Rubirosa
In his book The Hollywood Book of Break Ups (2006), author James Robert Parish describes Zsa Zsa meeting married Russian-born actor George Sanders at a Manhattan party in April 1947. Zsa Zsa Gábor and George Sanders got married in April 1949 – her third marriage, his second.
Their marriage was tempestuous; Sanders was by turns witty and moody, and often away on location for movies; Gábor was bored.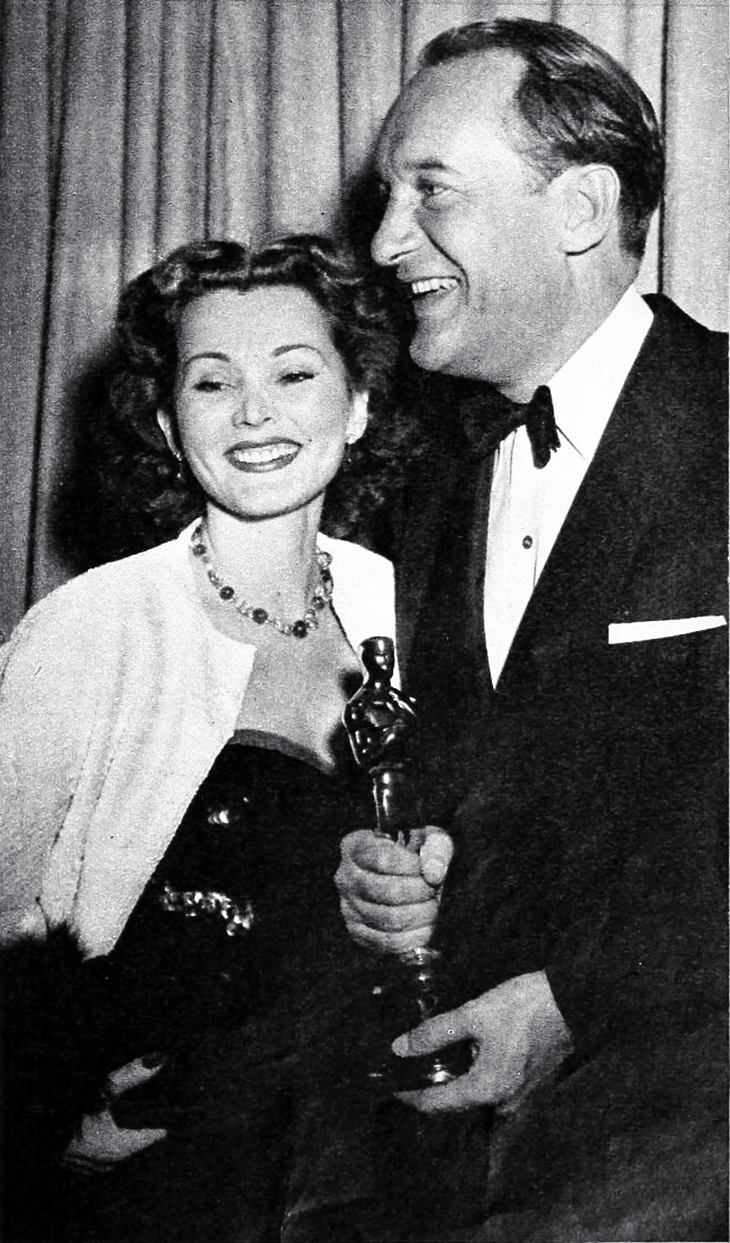 (Zsa Zsa Gábor & George Sanders at the 1951 Academy Awards)
Zsa Zsa attended the 1951 Academy Awards Ceremony with George, where Sanders was presented with Best Supporting Actor for his performance in All About Eve (1950). 
Zsa Zsa said George Sanders taught her how to act, but he refused to help her get parts in his movies. It was Sander's brother Tom Conway who arranged Gábor's first acting job onscreen, in a live show he hosted for CBS called Bachelor's Heaven (1951), while Sanders was on location in England. She was an instant hit with her one-line responses, and began to be featured on magazine covers, fielding offers for parts in movies and on television. 
Gábor appeared in 7 films in the next two years, beginning with her first, Lovely to Look At! (1952).
This movie trailer for Lovely to Look At features the movie's stars Kathryn Grayson, Red Skelton, Howard Keel, Marg and Gower Champion, Ann Miller, Kurt Kasznar, and Zsa Zsa Gábor.
That same year, Zsa Zsa co-starred with Jose Ferrer in the musical Moulin Rouge, directed and co-written by John Huston. The next year, Zsa Zsa Gábor appeared in 2 movies co-starring Leslie Caron – The Story of Three Loves, and Lili. 
Neither George Sanders nor Zsa Zsa Gábor remained faithful to each other. Sanders' purported affair with heiress Doris Duke and Gábor's subsequent long affair with Duke's ex-husband, Dominican diplomant, polo player, rumoured spy and playboy Porfirio Rubirosa, did not help their marriage.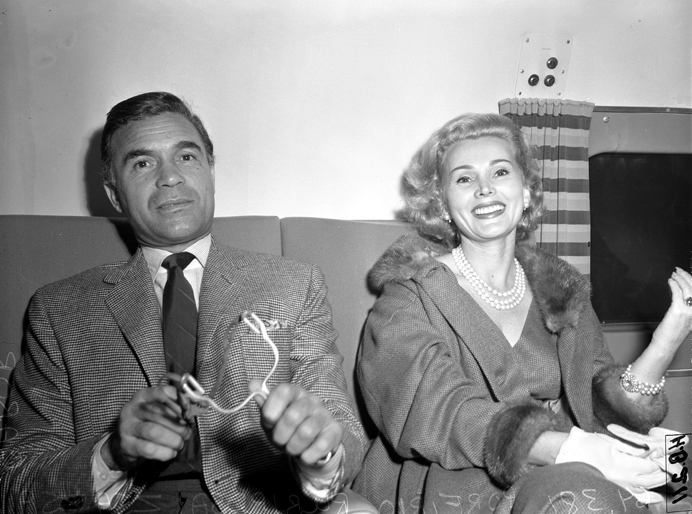 (Porfirio Rubirosa Ariza & Zsa Zsa Gábor c. 1954 Photo: Los Angeles Times)
Porfirio Rubirosa and Zsa Zsa Gábor met in late 1952 in New York, and in her biography In One Life is Not Enough (1991) Zsa Zsa Gábor described him as "machismo incarnate" and possessive. Gábor claimed Porfirio asked her to leave George Sanders and marry him many times, and she refused because she was torn between the two men; Sanders who had cooled on her, and Porfirio Rubirosa who was passionate. 
In her biography, Gábor described George Sanders (with two detectives) breaking in on her with Porfirio while they were both naked; Sanders filed for divorce. Porfirio Rubirosa briefly married wealthy heiress Barbara Hutton (from December 1953 – February 1954), only to go back to Zsa Zsa. After 6 years of marriage, the Sanders-Gábor divorce was finalized in April 1954.
Zsa Zsa Gábor's film and television career continued; she had co-starred with legendary comedy team Dean Martin and Jerry Lewis in 3 Ring Circus (1954), and appeared in the movie Death of a Scoundrel (1956) opposite her now ex-husband George Sanders.
This role may have also signaled the end of her relationship with Porfirio Rubirosa, as he had supposedly said he would leave her if she starred in it with Sanders.
Porfirio Rubirosa married Odile Rodin in 1956 and was 56 years old when he died in a car crash in 1965.
Ex-husband and friend George Sanders committed suicide in April 1967; two years before, he had been briefly married to Zsa Zsa's older sister Magda Gábor (for less than 6 weeks) before the marriage was annulled.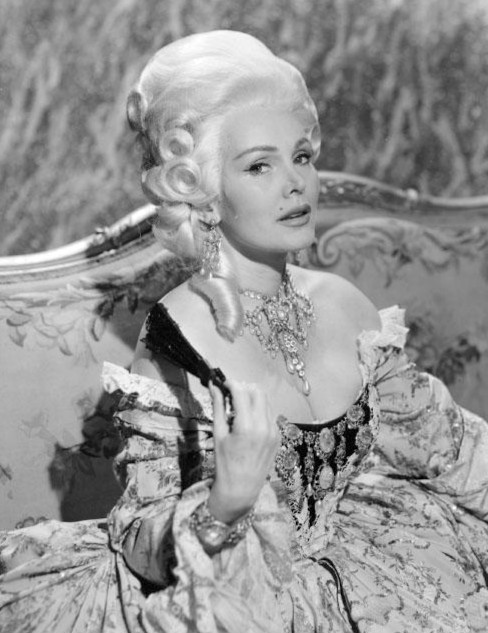 (Zsa Zsa Gábor 1957 Matinee Theater Photo: NBC Television)
Many of Zsa Zsa Gábor's television roles in the 1950's, 60's and 70's were guest spots where she portrayed herself.
In 1958 alone, Zsa Zsa Gábor was in 4 movies, although most of her films would be considered "B" movies, such as Queen of Outer Space (1958) and For the First Time (1959).
Clips of Zsa Zsa Gábor's best lines from the movie For the First Time, with Mario Lanza and Kurt Kasznar. 
>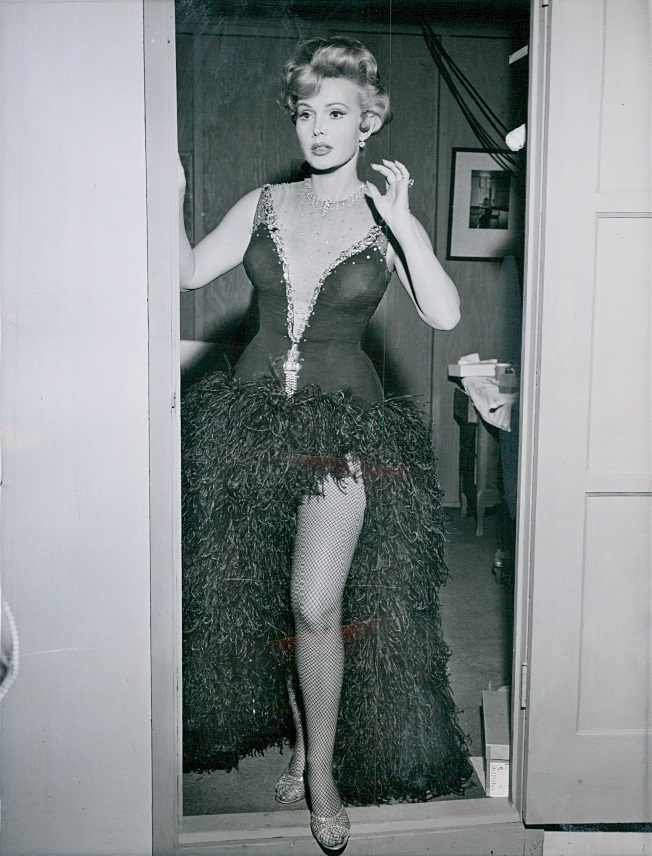 (Zsa Zsa Gábor 1958 December Bride Photo: CBS Television)
Zsa Zsa was also linked with builder millionaire Hal Hays and Ramfis Trujillo (the son of Dominican President Rafael Trujillo) during the 1950's, although she surprisingly remained officially single/divorced from 1954 to 1962.
Her first biography Zsa Zsa Gábor: My Story (1960), was written by Zsa Zsa Gábor and Gerold Frank.
The movie Boy's Night Out (1962), a comedy starring Kim Novak, James Garner, Tony Randall, and Patti Page, had Zsa Zsa Gábor and Anne Jeffreys in supporting roles. 
Herbert Hutner
Zsa Zsa Gábor married financier Herbert Hutner (his second marriage, her fourth) in 1962. In a 1963 interview she said that her first 3 marriages failed because her husband's weren't successful husbands. The interviewer noted that her behaviour was subdued, and her husband Herbert Hutner was referred to as Mr. Gabor twice during the interview.
They divorced on March 3, 1966. Herbert Hutner died in 2008 just a few weeks before his 100th birthday. 
Joshua S. Cosden Jr.
Gábor promptly married for the fifth time, to oil millionaire Joshua S. Cosden Jr., on March 9, 1966, while she was also appearing on Broadway in the play Forty Carats. Cosden was the son of the found of Cosden Petrolleum Corp and was 51; Zsa Zsa was 43.
"Zsa Zsa Gábor just returned from Mexico where she divorced her third husband, took out a marriage license Friday with Joshua S. Cosden Jr….The Hungarian actress said she met Cosden six weeks ago on a blind date in Dallas" – Zsa Zsa to Marry Ex-Big Spring Man, AP / San Angelo Standard-Times, Saturday, March 5, 1966
Zsa Zsa Gábor and Joshua Cosden divorced 18 months later, in October 1967. He married again, to Barbara Helen Ball in 1980. Joshua S. Cosden Jr. was 74 when he died in 1988.
Bel Air Mansion
Now in her 50+ years, Zsa Zsa Gábor's movie and television career was waning rapidly.
She had a small role in the film Jack of Diamonds (1967) with George Hamilton, and didn't appear in another movie until Up the Front (1972). 
In 1973, Zsa Zsa bought a French Regency-style 28-room Bel Air hilltop mansion on an acre of land at 1001 Bel Air Road for $280,000. Built in 1955 by Howard Hughes, it was owned at one time by Elvis Presley.
"Views of downtown Los Angeles, Santa Catalina Island, and the ocean…has a formal sitting room with an antique French fireplace, an oversized dining room with city views, a butler's pantry off the kitchen and staff quarters. It has four bedrooms, five bathrooms and a half-bath lie within 6,393 square feet of living space." – Mansions on the move in L.A. neighbourhood, by Lauren Beale, Los Angeles Times / Edmonton Journal, July 2, 2011
The home was put up for sale following Zsa Zsa's hospitalization in 2011.
The home was sold in 2013 for $11 million, with a deal giving Gabor life tenancy (plus four months).
Jack Ryan
Although Gábor's acting career was on the decline, she had friends and her marital career was still zipping along. Zsa Zsa married yet another millionaire, Mattel designer (Barbie Dolls, Hot Wheels, etc.) Jack Ryan.  Ryan was 9 years younger than her when he married Zsa Zsa Gábor in a January, 1975 Las Vegas wedding ceremony. According to an interview with People Magazine in 1975, they had first met 8 years earlier at a dinner party.
Zsa Zsa Gábor and husband number six, Jack Ryan were divorced in August 1976. Jack Ryan died in 1991, age 64.
Michael O'Hara
Next, Zsa Zsa Gábor married husband number seven, lawyer Michael O'Hara (he had represented her in her divorce from Jack Ryan), in 1976
"Actress Zsa Zsa Gábor has married a Beverly Hills attorney in Las Vegas, three days after divorcing her sixth husband, Barbie Doll inventor Jack Ryan. Miss Gabor, 56 (not her true age), and Michael O'Hara, 47, were married Friday in the bridal suite of the Las Vegas Hilton. It was O'Hara's fourth marriage." – People…In Brief, The Sacramento Bee, August 29, 1976
This marriage lasted a little longer; Gábor and Michael O'Hara didn't divorce until 1982.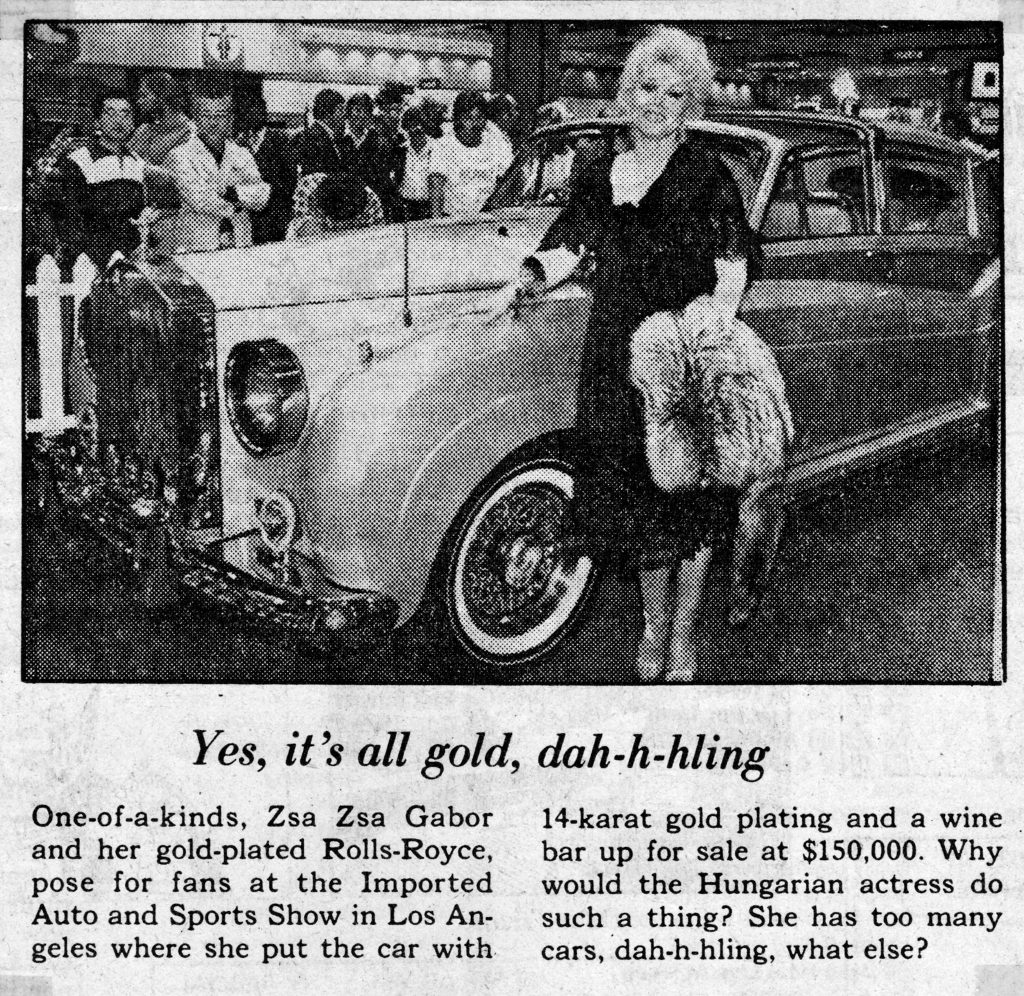 (Zsa Zsa Gábor 1979 Photo: Alden Jewell)
Ever the glamour queen even during her marriage to Michael O'Hara, Zsa Zsa Gábor sold her 14-karat gold plated Rolls-Royce automobile in 1979.
Felipe de Alba
Unfortunately, before the divorce from O'Hara was finalized, Zsa Zsa married for an 8th time while at sea, to Mexican Felipe de Alba on April 13, 1982.
The guests sipped champagne to the tunes of a mariachi band as Zsa Zsa Gabor was married on a yacht off this Pacitif resort to her seventh husband, a Spanish-born count she calls 'a born prince.' …The couple first met 12 years ago at a polo match in Deauville, France. After a chance encounter in Boston, Miss Gabor said in an interview Monday, she won his heart with her cooking." – People, Puerto Vallarta, Mexico, AP / The Odessa American, April 14, 1982
Gábor's marriage to Felipe de Alba was annulled the very next day. By now an extremely youthful-looking senior citizen, Gábor later said the reason for the annullment was his playboy life bored her because she was a hard working actress. Her divorce from Michael O'Hara was finalized that July.
Felipe De Alba died in 2005, age 81.
Frédéric Prinz von Anhalt
In 1986, Zsa Zsa Gábor married Frédéric Prinz von Anhalt (born Hans Georg Robert Lichtenberg in 1943). It was her 8th (legal) marriage (discounting the bigamous marriage to de Alba), and Frédéric Prinz Von Anhalt's 7th marriage.
More than 25 years younger than Gábor, Hans Georg Robert Lichtenberg had been given his title Prinz Von Anhalt when he was adopted as an adult in 1980 by German Princess Marie-Auguste after the death of her son. His name has been linked with brothels and prostitution in Germany.
Zsa Zsa continued to make guest appearances on television in the movies during the 1980's and 1990's. Her arrest for slapping a police officer in 1989 gathered more attention than any of her professional appearances.
According to Wendy Leigh, her One Lifetime is Not Enough (1991) biographer, Zsa Zsa continued to undergo plastic surgery and beauty treatments well into her seventies.
Zsa Zsa Gábor appeared in the movies Naked Gun 2.5: The Smell of Fear (1991), and The Naked Truth (1992). Her last movie role was a cameo in the 1996 made-for-TV movie A Very Brady Sequel. She also released a very low-impact exercise video It's Simple Darling in 1993, notable more for humour than exercise benefits.
A 9-year feud (according to the Los Angeles Times in 1993), during which insults were exchanged with actress Elke Sommer, resulted in a $3.3 million judgement against Gábor and Frédéric Prinz von Anhalt. Gábor subsequently filed for bankruptcy protection in 1994.
During her 90s, Zsa Zsa Gábor was fairly low profile. She began making the news for a long list of health problems, beginning with a serious car accident in 2002 that left her partially paralyzed and in a wheelchair. This was followed by a stroke which impacted her speech, and required emergency surgery for a blocked artery in 2005. In 2010, Gábor fell out of bed, broke several bones, and had to have a hip replacement. In 2011 her right leg was amputated above the knee.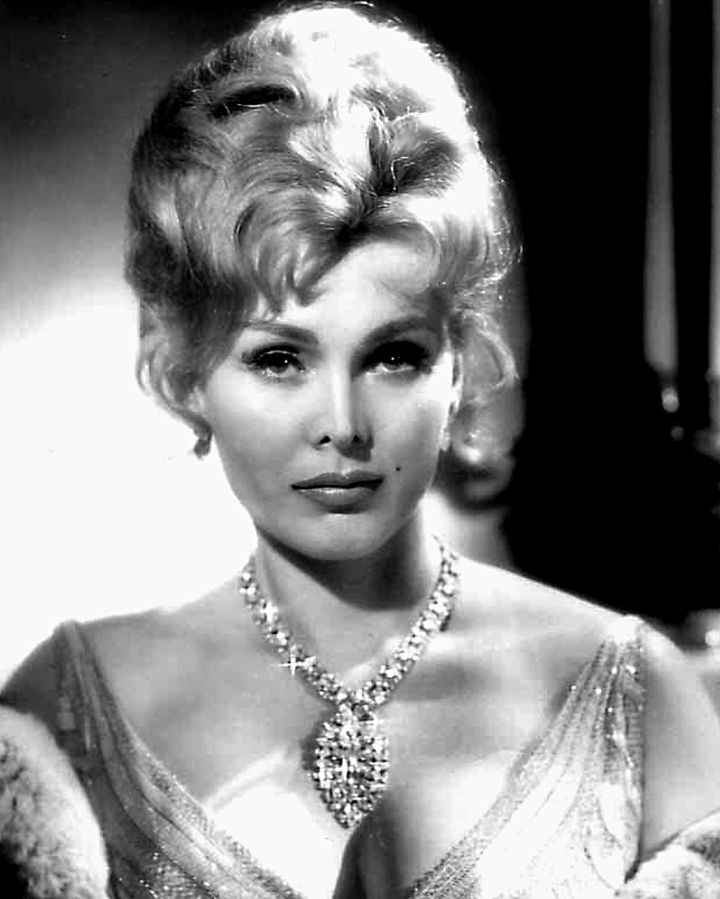 (Zsa Zsa Gábor 1959 Photo: Rogers & Cowan)
On February 9, 2016, she was rushed to hospital; several reports said she was having problems breathing due to a lung infection and had to have a feeding tube that she's had for several years replaced via surgery. 
A final quote from Zsa Zsa Gábor's book How to Catch a Man, How to Keep a Man, How to Get Rid of a Man (1970):
"These days, any man between the ages of 15 and 95 can produce children—and so can even a test tube. (The nice thing about that is you don't have to lie awake at night wondering who your test tube is out dancing with.)"
Zsa Zsa Gábor died at the age of 99 on December 18, 2016, from a heart attack. She was survived by her 8th (legal) and final husband, Frédéric Prinz von Anhalt and pre-deceased by her daughter Francesca Hilton (died in 2015).
Frédéric Prinz von Anhalt sold Gabor's 6,400 square foot Bel Air estate in 2017 for $10.45 million. It was was put on the market in 2018 listed at $23.45 million (with permitted plans for a new 24,020 square-foot mansion in it's place), and sold for $20.8 million that fall. The house sold again in 2020 for $16 million.
Von Anhalt flew to Budapest with her ashes in 2021 to honor her final wishes.
"In her will she expressed a wish to end up in Hungary. He said the rest of her remains would stay in Los Angeles. 'She was first class, she had her own seat and she had her passport, everything there. It was her last trip, she always used to go first class, she had her champagne, caviar,' he said." – Zsa Zsa Gabor's ashes buried in birthplace, The Independent, July 14, 2012
Frédéric Prinz von Anhalt is still alive as of September 2024.
Note: This article was first published in 2016. It has been updated with new & additional content.
*Images are believed to be in the public domain and/or Creative Commons licensed, or used by permission, unless otherwise noted*