Pacific Palisades Cowboy Actor Pat Conway
At 6′ 2″, Tombstone Territory series star Pat Conway's dark good looks and piercing gaze are among the reasons for the enduring popularity of that 1950s western TV series.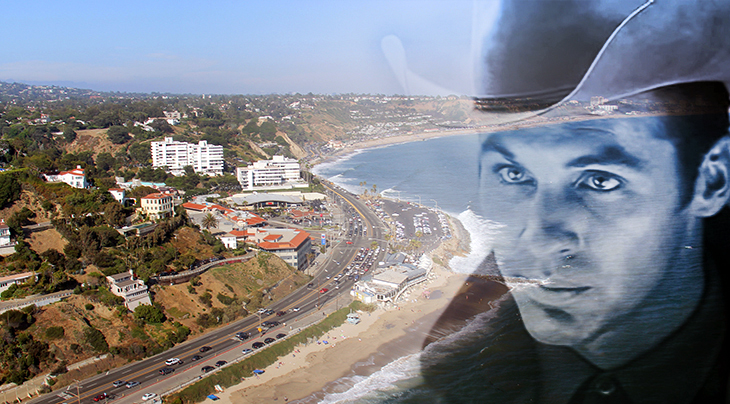 (Pacific Palisades: Foto: © JCS / Wikimedia Commons; Pat Conway 1957 Tombstone Territory)
Born into Hollywood Royalty
Actor Pat Conway came by his handsome features, lean physique, ease around horses, and acting ability genetically – born into one of Hollywood's royal families of film.
His maternal grandfather Francis X. Bushman topped popularity polls with silent movie audiences in the 1910s, and was one of the first screen idols. Francis X. was noted for his ability to drive a chariot and team of horses – something he did to perfection without the benefit of a stand-in or stuntman, in some scenes of MGM's 1925 historical adventure movie Ben Hur (1925).
Francis X. Bushman and his first wife Josephine (m. 1902 – div. 1918) had five children – Ralph (aka Francis X. Bushman Jr.), Josephine, Virginia, Francis X. Bruce (aka Bruce), and Lenore (aka Leona).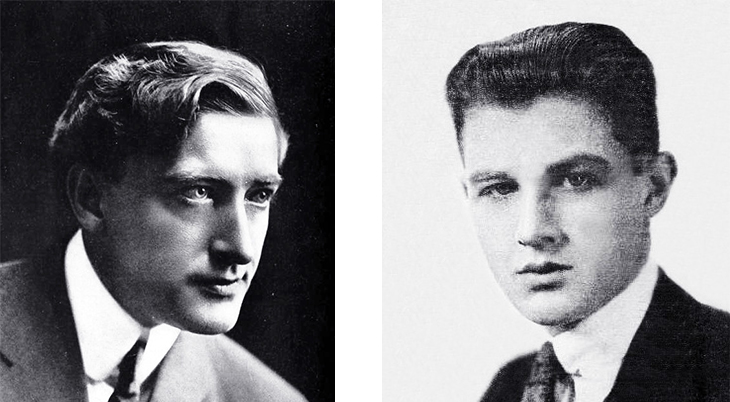 (Francis X. Bushman 1912: Essanay | Ralph / Francis X. Bushman Jr. 1920: C.S. Bull)
Their son Ralph Bushman became a film star in his own right (billed as Francis X. Bushman Jr.) during the 1920s and '30s. Ralph's daughter Barbara Bushman Quine (Pat's first cousin), also appeared in a movie; her second marriage was to M*A*S*H actor Harry Morgan.
Virginia Bushman and her sister Lenore were each in a couple of movies during the 1920s. During her brief foray into films, Virginia met divorced M-G-M director Jack Conway.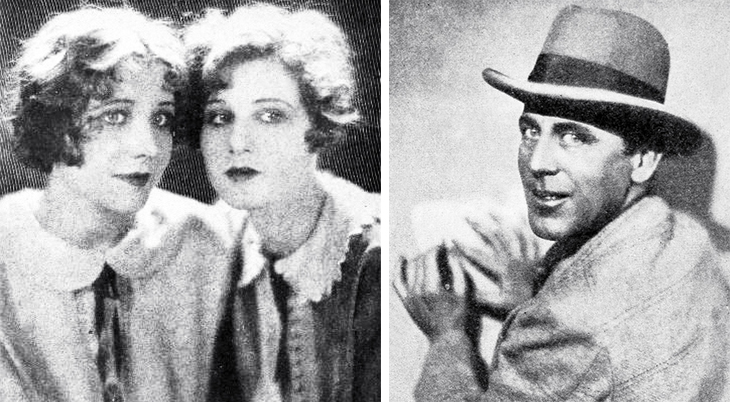 (Lenore & Virginia Bushman 1926 Picture-Play | Jack Conway 1929 Film Daily Yearbook)
Pat's father Jack Conway had been a silent movie actor in the same era as his maternal grandfather Francis X. Bushman. Although Jack Conway acted in over 100 movies between 1908-1935, his greatest claim to fame is as a noted Hollywood movie director, beginning in 1912. One of the last silent films he directed was Our Modern Maidens (1929) with Joan Crawford, Rod La Rocque, Douglas Fairbanks Jr., and Anita Page. Jack Conway's film career survived and thrived with the transition to "talkies". During the 1930s until 1948, he directed more than 30 classic feature films, working with frequently movie legends such as Clark Gable, William Powell, Hedy Lamarr, Jean Harlow, and Walter Huston.
Virginia Bushman (age 20) and Jack Conway (age 29) were married on Sept. 22, 1926, at Conway's Los Angeles home, according to Palisadian-Post reporter Michael Oldham. 
Their social circle included actors John Barrymore, Spencer Tracy, Leo Carillo, writers, directors, producers, and studio heads such as Louis B. Mayer and Irving Thalberg (and his wife Norma Shearer).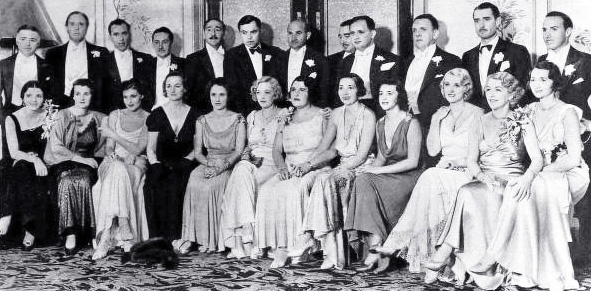 (Jack Conway & wife Virginia at a party for Marion Davies 1931 Photo: The New Movie Magazine)
Back Row, Left to Right: Clarence Brown, Robert Z. Leonard, Jack Conway, Irving Thalberg, Adolphe Menjou, King Vidor, Samuel Goldwyn, George Fitzmaurice, Herman Mankiewicz, Dr. Harry Martin (husband of Louella Parsons), John Gilbert, and Lloyd Pantages.
Front row, left to right: Mona Maris (Mrs. Brown), Gertrude Olmstead (Mrs. Leonard), Virginia Conway, Eleanor Boardman (Mrs. Vidor), Frances Howard (Mrs. Goldwyn), Marion Davies, Louella Parsons, Diana Kane (Mrs. Fitzmaurice), Mrs. Mankiewicz, Kathryn Carver (Mrs. Menjou), Aileen Pringle, and Hedda Hopper.
Virginia and Jack Conway's son Michael Everley Conway was born in 1928, and Patrick Douglas Conway was born on January 9, 1931. Below, Pat and Mike shown at a 1934 children's birthday party for movie actor Chester Morris's children, Cynthia and Brooks Morris.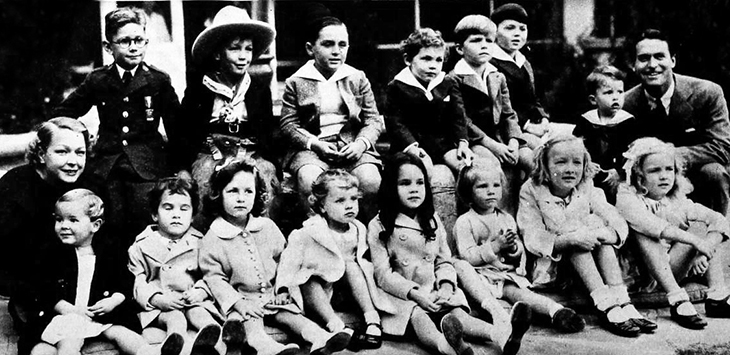 (1934 Photo: The New Movie Magazine)
Back Row, Left to Right: Kenneth Franklin, Brooks Morris, Peter Rosendahl, Pat Conway, John Morgan, Mike Conway, and Reginald Denny Jr. with Chester Morris.
Front row, left to right: Mrs. Suzannne Kilborn Morris, Darrilyn Zanuck (movie producer Daryl F. Zanuck's daughter), Gardner Sullivan Jr. (son of screenwriter & silent movie producer Gardner Sullivan), Joan Selznick (daughter of film producer Myron Selznick and niece of David O. Selznick), Cynthia Morris, Jill Sullivan, Joan Morgan, Lee and Barbara Nugent (daughters of actor-director Elliott Nugent)
A Pacific Palisades Cowboy Gets Married
Virginia and Jack Conway moved to Schuyler Road in Beverly Hills in the 1930s with their young children, and that's where Pat and Michael spent their earliest years.
In the late 1930s Jack and Virginia Conway moved again, to Temescal Canyon in the Pacific Palisades area north of Santa Monica. The ranch house stood on what was originally 185 acres of land covered in a stand of oak forest, and went right down to the ocean (today Will Rogers Beach). Their beautiful estate All Hallows Farm ranch was featured in a magazine. Pat's cousin Chris Bushman recalls family lore that All Hallows Inn in England was taken apart and reassembled as the house on the property, hence the ranch name. Jack Conway raised cattle and champion bulls on the ranch, and Pat Conway grew up in a saddle, learning to shoot, ride and rope like a true cowboy in Pacific Palisades. 
Pat's grandfather Francis X. Bushman also bought a cottage in Pacific Palisades in the early 1940s. In fact, Pacific Palisades was dotted with Bushman and Conway relatives. Chris Bushman has fond memories of family celebrations at Ralph Bushman's house, from the late 1940s until the early 1970s. Significantly younger than his big cousin Pat, Chris remembers him as a very shy, but an "extremely wonderful human being" who was usually warm and friendly when they met.
Below, Francis X. Bushman holds his new great-granddaughter, surrounded by his children and their families in 1959.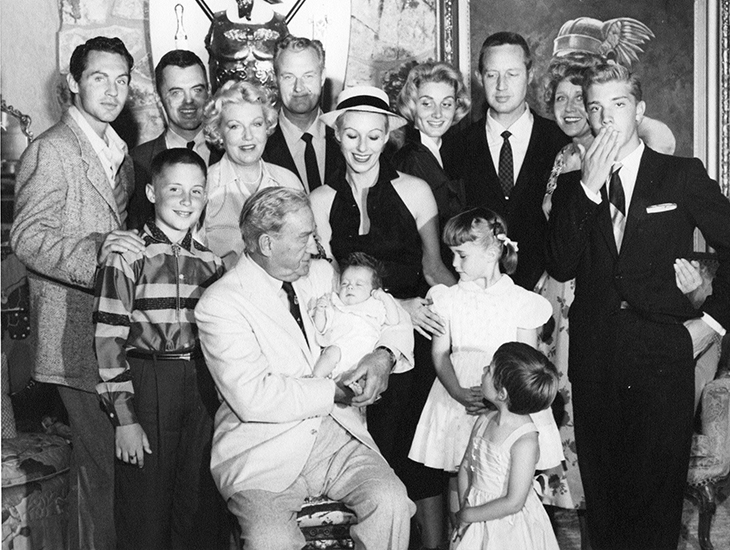 (Photo: Francis X. Bushman Collection)
Back Row, L to R: Pat Conway, Michael Conway, Virginia Bushman Conway, Ralph / Francis X. Bushman Jr., Ralph's daughter Barbara Bushman Quine (in hat), Lenore Bushman Marxer's daughter Linda Marxer Scott, Bruce Bushman, Lenore Bushman Marxer, and Lenore's son Timothy Marxer.
Front Row, L to R: Bruce's son Chris Bushman, Francis X. Bushman holding Linda Marxer Scott's daughter Therese Scott, and Barbara Bushman Quine's daughters.
During the mid-1940s Pat Conway attended Webb School and Menlo Park Junior College. He received tutoring in high school from his Aunt Mary Bushman, whom he remained very close with for most of his life.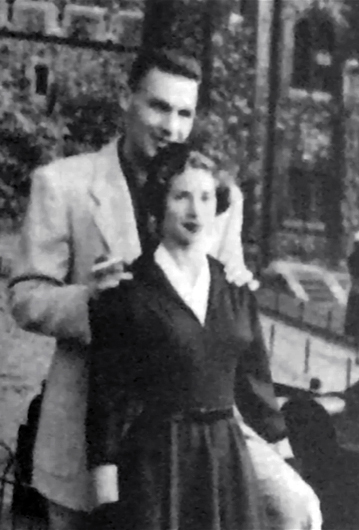 (Dee & Pat Conway c. 1950 Photo: © 2021 Humphrey / Sanguinetti Family Archives)
Patrick Conway graduated from Pasadena Playhouse School of the Theater, where he met fellow acting student and aspiring dancer Marie Dionyse (Dee) Humphrey, a Trinidad, Port of Spain native. 
While starring on Tombstone Territory in the late 1950s, he told Radio TV Mirror  that in between his time in Pasadena Playhouse and studying Shakespeare at the Old Vic Theater in England, he did a stint in the U.S. Marine Corps, with a tour in the Mediterranean and North Atlantic.
What he left out of that interview was that he married Dee Humphrey on July 22, 1950 – in a wedding ceremony that took place in Dee's home town in Trinidad & Tobago, attended by 500+ wedding guests.
Dee and Pat Conway both studied/worked at the Old Vic, and Dee's daughter Heather said her mother spoke of their sojourn in England together as a very happy time in their marriage.
When the couple returned from England, they lived in Pacific Palisades. By this time, Pat's father Jack Conway was sick with tuberculosis, and his mother Virginia took charge as head of the house during his extended illness. 
Dee's lively spirit made her a favorite of the Conway-Bushman extended family.
Pat's brother Michael steered away from the entertainment industry and the limelight, but did make news early in March 1952:
"Michael Conway, son of Jack, is in a serious condition in Good Samaritan Hospital following an automobile crash in which another boy was killed." – Hollywood, by Louella Parsons, Pittsburgh Sun-Telegraph, March 26, 1952.
Michael recovered, and went on to marry and have a family.
Breaking into the Movies and Divorce
Early modeling jobs for Men's Apparel Guild of California eventually brought Pat Conway work in movies and television, beginning in 1951. He fulfilled a series of un-credited feature film roles while under contract to MGM:
Three movies with actress Marilyn Erskine – Westward the Women (1951), a western starring Robert Taylor, with John McIntire; Just This Once (1952), a comedy with Janet Leigh, Peter Lawford, and Richard Anderson; and The Girl in White (1952), a biographical film starring June Allyson as the first female doctor in New York City. With Arthur Kennedy, Gary Merrill, Mildred Dunnock, Jesse White, Herbert Anderson, and James Arness. 
Singin' in the Rain (1952), the iconic musical romance starring Gene Kelly, Donald O'Connor, Debbie Reynolds, Jean Hagen, Cyd Charisse, and Rita Moreno. Pat is billed as a projectionist in the film, and three of his future Tombstone Territory guest-stars are also in the movie – Robert Foulk (a policeman), Kathleen Freeman (a vocal/acting coach), and Lance Fuller (a chorus boy).
Three films with Richard Anderson – Scaramouche (1952) an adventure comedy with Stewart Granger, Janet Leigh, Eleanor Parker, Mel Ferrer, Nina Foch, and John Dehner; Holiday for Sinners (1952), a drama starring Gig Young, Keenan Wynn, and Janice Rule; and the musical comedy-romance I Love Melvin (1953), starring Donald O'Connor, Debbie Reynolds, Una Merkel, and Jim Backus.
Glory Alley (1952), a musical drama directed by Raoul Walsh, with Ralph Meeker, Leslie Caron, Kurt Kasznar, Gilbert Roland, John McIntire, and Louis Armstrong.
Rogue's March (1953), a historical drama about the British in India during the reign of Queen Victoria. Rogue's March was Pat's second movie with the film's co-stars Peter Lawford (after Just This Once in 1952) and Janice Rule (from Holiday for Sinners, 1952). Rogue's March was directed by Allen Davis of England's Old Vic Company.
Pat Conway graduated to small, credited roles in a couple of movies, such as the 1952 romantic drama Invitation, starring Van Johnson, Dorothy McGuire, Ruth Roman, Louis Calhern, and Ray Collins. In Above and Beyond (1952), a drama about the pilot who dropped the atomic bomb on Hiroshima in WWII, he had a slightly larger role as a radio operator. Headliners in Above and Beyond are Robert Taylor, Eleanor Parker, James Whitmore, Larry Keating, Larry Gates, and Marilyn Erskine, with Hayden Rorke and Jim Backus in supporting roles.
Pat was only 21 when his father Jack Conway died at the age of 65 of a pulmonary infection, on Oct. 11, 1952. Hollywood honored Jack with a star on the Walk of Fame, and Pacific Palisades named a street after him – Jacon Way. A couple of years later, Pat's mother Virginia married again (to Peter M. Stuart in 1954), and All Hallows Farm was sold.
The reasons for the split between Dee and Pat Conway may never be fully known, but the couple did divorce around 1954-1955. Author Everett Aaker (Television Western Players, 1960-1975: A Biographical Dictionary) asserted that Pat's early failed marriage to Marie "soured" him, and he became a loner living in the Hollywood Hills. However, both Pat's cousin Chris, and Dee's daughter Heather, both state that Pat and Dee/Marie remained very fond of each other and stayed friends after their divorce. Dee told her daughter that conflict between herself and Pat's mother Virginia, was part of the reason she decided to leave the marriage. 
Dee became a naturalized American citizen the same year she was divorced from Pat. She married actor and future hat designer Bill Hawes, and the couple adopted daughter Heather in 1963 before divorcing when she was three years old. Dee's final marriage was to novelist and television series screenwriter Benjamin Masselink in the 1960s; they remained happily married until his death in January 2000. Dee herself passed away in June 2020 at the age of 90.
Aakers' claim that Pat was a loner may have been closer to the mark. Numerous articles and sources indicate he was a very shy and private person. Pat told one interviewer that he loved music, sailing a 23-foot ketch that he kept at Balboa, cooking, and reading (historical novels). 
Film Success Starts to Come His Way
Post-divorce, Pat Conway's film acting career began to pick up some steam. He was promoted to supporting actor status in the Korean War movie An Annapolis Story (1955), starring John Derek and Kevin McCarthy as brothers at the U.S. Naval Academy who fall in love with the same girl (actress Diana Lynn).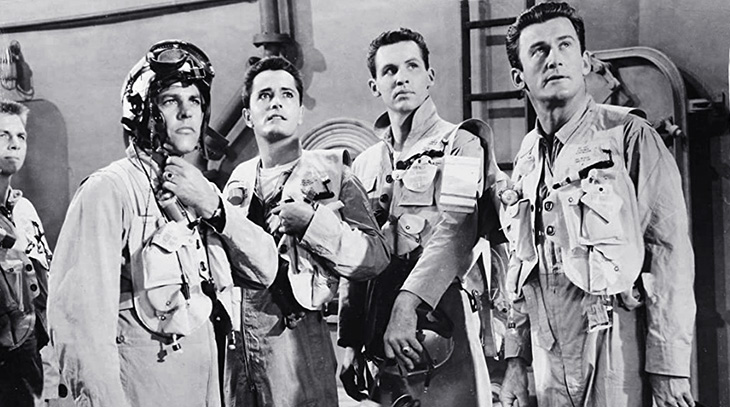 (Alvy Moore, Kevin McCarthy, John Derek, Pat Conway, L. Q. Jones 1955 An Annapolis Story)
Character actors Alvy Moore, L.Q. Jones, and John Doucette are also in the cast of An Annapolis Story. 
Jan Merlin, Alvy Moore, and Tom Tyron co-starred in the WWII historical drama Screaming Eagles (1956), about a paratrooper squadron that receives new recruits on the cusp of the Normandy parachute landings. Merlin is Lt. Pauling, squadron commander, while Conway is Sgt. Forrest. The cast of Screaming Eagles is full of other familiar faces from popular TV series, including Martin Milner, Jacqueline Beer, Mark Damon, Paul Burke, Edward G. Robinson Jr., Robert Blake, and others.
Jan Merlin later guest-starred on Pat Conway's western series Tombstone Territory, and recalled working with Pat for Western Clippings:
"I liked Pat a lot…he was a quiet person with a quick smile, an ideal leading man type, very serious about his work…always thinking about how to improve the role as he went along."
Flight to Hong Kong (1956) stars Rory Calhoun and Barbara Rush in a film-noir crime thriller set in Hong Kong and San Francisco. Pat Conway plays the new Macau chief of a crime syndicate. Filmed in Hong Kong, Honolulu, San Francisco, and Tokyo, Flight to Hong Kong also features actors Werner Klemperer and Paul Picerni in supporting roles.
Pat was fifth-billed as an army officer in the sci-fi horror/thriller The Deadly Mantis (1957), starring Craig Stevens, William Hopper and Alix Talton – and a giant prehistoric praying mantis who terrorizes military personnel at a station in Northern Canada.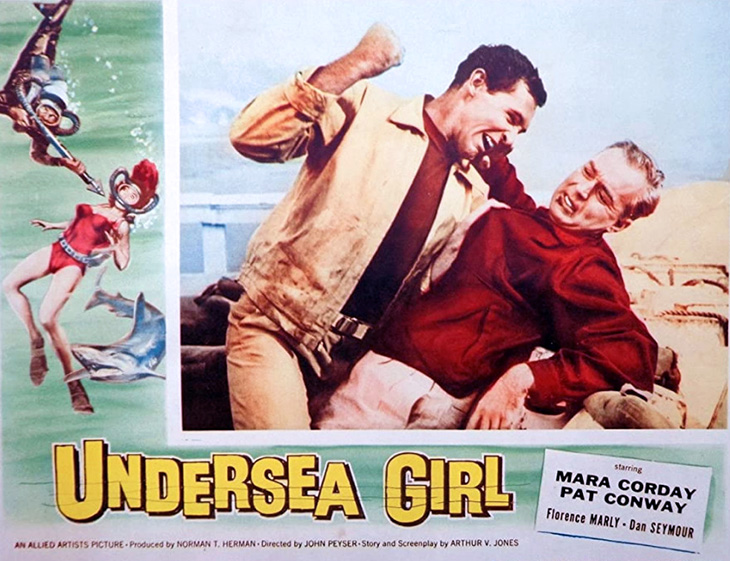 (Pat Conway 1957 Undersea Girl Photo: Allied Artists / National Screen Service Corps.)
Although he was moved significantly up the marquee to co-starring status with Mara Corday in the crime drama Undersea Girl (1957), it was never widely released. Corday plays a female reporter and Pat Conway is a Navy lieutenant investigating a shipwreck.
Pat Conway co-starred with Preston Foster and Jeff Donnell in Destination 60,000 (1957), a drama about test pilots at Edwards Air Force Base. Foster plays Col. Ed Buckley, the designer of a new experimental aircraft, Jeff Donnell is his wife Ruth, and Conway is his wartime pal Pat Connors.
1950s Television Guest-Star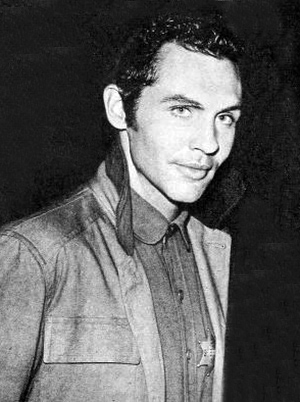 (Pat Conway 1958 Photo: TV Radio Mirror)
A couple of years before landing the role of Tombstone Territory's fictional Sheriff Clay Hollister in 1957, Pat Conway began appearing on anthology and other television series. 
This guest-starring work found Pat Conway working with some of the biggest names on TV and in films.
In addition to appearing three times on Gunsmoke between 1955-1958, he could also be seen on these series:
You Are There:

The Birth of Modern Boxing: The John L. Sullivan-James J. Corbett Battle (1955), has Pat Conway playing boxer James J. Corbett and Jeff York as John L. Sullivan. 
Benedict Arnold's Plot Against West Point (1950), with Whit Bissell and Pat Conway co-starring.

Ford Television Theatre – Model Wife (1956), starring Ralph Bellamy as David Ewing, Felicia Farr as his wife Gloria, and Emlen Davies as their daughter Sally, Conway plays photographer Larry Payne. Payne is photographing Sally for a "spinster's calendar" and sparks fly.
Highway Patrol – Radioactive (1955) has Highway Patrol star Broderick Crawford as a police commander Dan Mathews, Pat Conway plays Mel, a ham radio operator who buys a radioactive oil-indicating device for parts. Mel's pregnant wife Ann (Claudia Barrett) is exposed to radiation, and Mel helps Dan (Crawford). 
State Trooper – Rodeo Rough House (1956) / Star Stage – Killer on Horseback (1956), starring Rod Cameron as Lt. Rod Blake. Pat Conway joined fellow guest-stars Beverly Garland, Claude Akins, and James Flavin. 
Four Star Playhouse – Woman Afraid (1956), with movie/TV star Ida Lupino playing scared housewife Nina Barton, whose husband Carl (James Seay) has broken his leg and is laid up at their remote farm house. Actress Madge Blake plays Aunt Sophie, and Pat Conway is Joe, the hired hand.  
West Point – Start Running (1957), an episode which features guest-stars Pat Conway, Larry Hagman, and Brett Halsey.
The Walter Winchell File – Fight Night (1958), hosted by Walter Winchell, with Pat Conway and Charles Bronson as guest stars. 
The Texan – the Troubled Town (1958), stars Rory Calhoun as the title character, Bill Longley. This episode of The Texan features guest stars James Drury as card-sharp Johnny Kaler, who gets into a fight with Longley; Pat Conway plays Johnny's older brother Mike Kaler. With Harry Dean Stanton, William Schallert, and Gregg Palmer.
Tombstone Territory Stardom
From 1957-1960 Pat Conway starred in the western TV show Tombstone Territory, playing fictional Sheriff Clay Hollister – likely modeled after Tombstone's real lawman, Marshal Wyatt Earp. His co-star Richard Eastham narrated the series and portrayed Harris Claibourne, editor of the Tombstone Epitaph newspaper.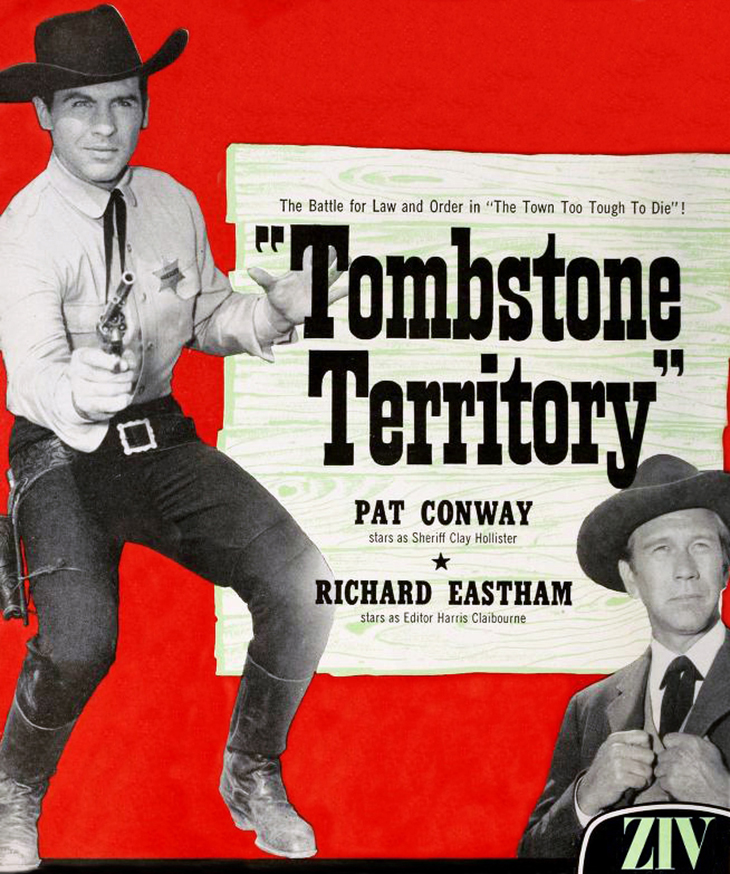 (Pat Conway & Richard Eastham 1960 Tombstone Territory Ad: Broadcasting)
Eastham and Conway were the only two actors to appear in all 91 episodes of the series, which Eastham described as,
"A terrific experience. Pat Conway was a wonderful guy to work with."
In the original pilot for the series, the show was going to be called Town at Gunfire Pass and Pat Conway as the Tombstone Sheriff, was going to be secondary to the Tombstone Epitaph Editor (Richard Eastham). According to Variety, ABC ordered a re-do, and the result was Tombstone Territory, with Pat Conway's character now the series lead. 
Peter Abbott of TV Radio Mirror described Conway in 1958, when he was starring on Tombstone Territory.
 "Just as shy as he is nice. A reporter's pencil or a photographer's camera gets him flustered. Pat is 26, stands six-two. With his six-shooters, he weighs 195; without them, 185. His eyes are blue or green, depending on the light….'I still have trouble getting acting roles in movies. They insist I'm too young. They still remember me in my little angel outfit on the way to do a school play."
At the time Pat was living alone "in the tiniest apartment in Beverly Hills. Kind of a packing box with gray walls. I don't dare turn up my hi-fi for fear of blowing out the ceiling."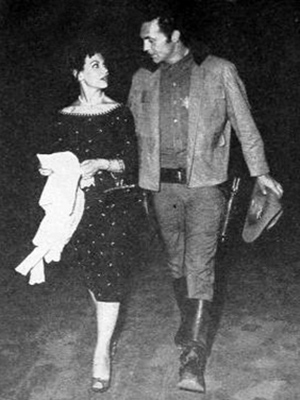 (Pat Conway & Pamela Duncan 1958 Photo: 1958 TV Radio Mirror )
Conway said he enjoyed sailing and cooking, but "These interests are only surpassed by  my love for girls", and described meeting girlfriend and 2-time Tombstone Territory guest-star, actress Pam Duncan when they first met in 1957:
"We met on the set of Tombstone. We fought and argued so much that first day we suddenly decided that we must like each other very much. And we do."
The relationship between Pat and Pam may have been off and on, because later in 1958, Duncan was seeing actor Steve Cochran; and in 1959, they were together again.
Actress Lisa Gaye, who guest-starred several times on Tombstone Territory, said that she had a running gag with Pat Conway because of his height (credited as 6'2 or 6'3 depending on sources), and that he was a good sport about it.
"What size are those boots, Pat?…We had a lot of fun. Lots of laughter."
Stuntman, director and actor Bill Catching, who appeared on 9 episodes of Tombstone Territory, hinted at a less playful side of Conway's character to Western Clippings. 
"He thought he was another Gary Cooper or somebody. Wanted to do his own fights and he clipped a couple of guys. So the director, William Conrad (of Cannon fame), told me to take him out and teach him how to throw a punch."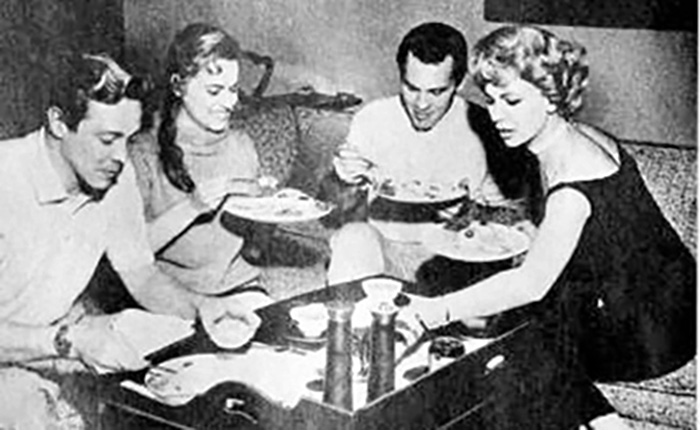 (Britt Lomond, his fiancee Diane Tutini, Pat Conway, & Pamela Duncan 1959 Photo: TV Radio Mirror)
Pat Conway's friend and actor Britt Lomond, who played Captain Monastario on Zorro, also guest-starred on Tombstone Territory. Pat liked to cook and even shared recipes with readers in a 1959 TV Radio Mirror article (at bottom of this page). 
After Tombstone Territory
From 1961-1975, Pat Conway could be seen in the occasional one-off guest-starring gig on popular western television series such as Laramie (1961), The Dick Powell Theatre (1962), Rawhide (1965), Branded (1965), The Loner (1966), Iron Horse (1966), and Hondo (1967). His fourth and final gig on Gunsmoke in 1973 featured series regulars James Arness, Milburn Stone, Amanda Blake, Ken Curtis, Buck Taylor, and fellow guest stars Earl Holliman, Diana Hyland, Denver Pyle, Ken Lynch, and Don 'Red' Barry.
Pat Conway only appeared in two feature films during the 1960s. The first was the western movie Geronimo (1962), starring Chuck Connors as Geronimo, Kamala Devis as his Apache wife, Ross Martin as a tribe member, and Pat Conway as a cruel cavalry captain who makes it his job to destroy Geronimo. His last movie was Brighty of the Grand Canyon (1966), a family-friendly film based on a true story about a burro in the Grand Canyon in the early 1900s. Pat Conway co-stars with Jiggs the Donkey (Brighty), Joseph Cotten, Dick Foran, Karl Swenson, and Dandy Curran. Once again Conway plays an unsympathetic character, who murders an old prospector.
His last screen appearances were on two episodes of The Streets of San Francisco with stars Karl Malden and Michael Douglas in 1972, and again in 1975; and playing a sheriff in the made-for-TV movie The Abduction of Saint Anne (1975).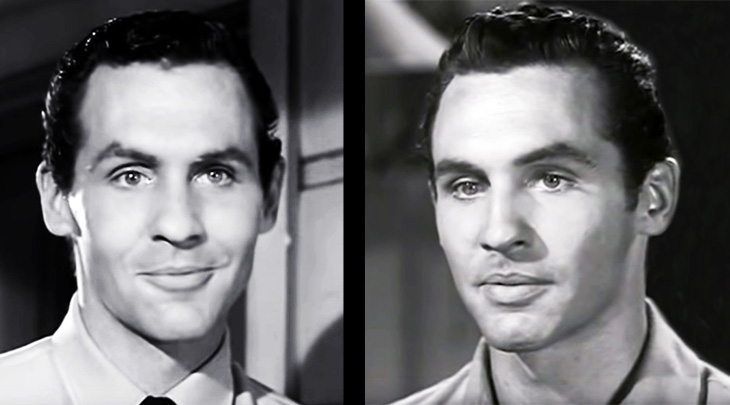 Most of Pat Conway's fans will remember him best as Sheriff Clay Hollister on Tombstone Territory, shown above in 1960 and 1957.
Despite not being terribly busy with television or film work during the 1960s and much of the 1970s, Pat Conway had other interests. In 1960 he was co-owner of Whispering Waters, a small hotel in Rancho Mirage near Palm Springs, with several other celebrities from the world of TV and movies. The hotel had opened in early 1958, and the group of celebrity owners took over that fall. Frank Scully described the venture in December 28, 1960 Variety:
"From the main highway to the hotel is a paved road divided by lighted palms. Around the hotel is enough parking space to take care of a national political convention. The hotel itself has 30 rooms, a bar that can handle 15 on stools and a dining room separated by a glass partition from the bar. It can feed perhaps 50. This leaves no room for elbows. The place cost maybe a million dollars, give or take $500,000, and so far has lost only $50,000 in its first year of operation. But, when you're looking for capital gains and don't mind capital losses, who cares as long as everybody has fun. Who are these everybodys? Well, they are Hugh O'Brian, who makes his living glossing over the sleazier details of the private life of the late Wyatt Earp; Dennis Weaver, who gimps his way through a most notorious western with a law enforcement Galahad named Mr. Dillon; Lloyd Bridges, who figures to be under water when the whole cockeyed world collapses; Pat Conway, whose eminence I must check into sometime; Carolyn Jones, whose emaciated and devoted husband, Aaron Spelling produces the Zane Grey bovidae for steers that can't clean their teeth after every meal; and a few other weekend fugitives from the land of smog, fog, grog and hog-eat-hog. Together they are the owners of Whispering Waters."
Spelling and the actors ownership group soon grew tired of managing the hotel and sold it. Today Whispering Pines is a seniors residential complex. .  
An August, 1963 New York Times article announced the engagement of Patrick Conway to Nancy Sprigg Roe, a graduate of Smith College in Connecticut and a native of Texas. The Los Angeles Times reported that the couple were married on September 28, 1963, at her mother's house in San Antonio, Texas. North Hollywood was given as the location where the newlyweds would reside. Their son was born in 1965. 
According to Pat's cousin Chris, in contrast to Pat's first marriage to Dee, his second marriage to Nancy did not seem as happy. Normally outgoing at family gatherings, Chris recalls that Pat would "slam shut when Nancy was around." Pat's shyness and preference for solitude, reading, and sailing on his boat, may not have gelled with Nancy's personality and interests.
At some point the couple separated, and it appears to have been an acrimonious and final parting of the ways. Whether or not an unhappy second marriage was a contributing factor, by the late 1960s-1970s Chris recalls that Pat would often live on his boat for weeks at a time.  
Pat Conway died at Santa Barbara Cottage Hospital on Apr. 24, 1981 at the early age of 50. His cause of death was attributed to renal failure and dehydration, as a consequence of chronic alcoholism*.
*According to the Mayo Clinic, alcohol use disorder has genetic, environmental, social, and cultural risk factors that are exacerbated by mental health problems, binge drinking, and steady drinking over time. Alcohol abuse is the third leading cause of premature death in the U.S., and the single strongest risk factor for men 15-59 years of age.*
Pat was cremated and his ashes scattered at sea, a nod to his lifelong love of sailing. He was survived by his mother Virginia, who was a widower again when she died in 2001 at the age of 94, and his businessman brother Michael Conway (d. 2010, age 82). 
Pat Conway's Recipes
Pat had a cat helping him when he demonstrating his cooking techniques for the article in TV Radio Mirror in 1959.
(Pat Conway's Demi-Eggs Benedict With Hollandaise Sauce 1959 Photo: TV Radio Mirror)
Demi-Eggs Benedict – Makes 2 servings
Chill one (1 lb) can of corned beef hash. 
Unmold and cut one-half of it into 4 slices. Save remainder for another time.
Brown hash slices in skillet. 
Not included in the instructions but evident from the photo above – place each hash slice atop 1/2 a sliced English Muffin.
Prepare 4 poached eggs and place one on each slice of hash. 
Serve with Hollandaise Sauce.
Hollandaise Sauce
Combine 4 egg yolks and 3 tablespoons of lemon juice in a small saucepan.
Add 2 tablespoons butter and stir over very low heat until butter is melted. Continue stirring until butter is blended and sauce thickened.
Remove from heat and add seasoning – dash of salt, dash of pepper, dash of dry mustard.
Serve immediately.
I owe a special "Thank You" to some folks who were helpful in sharing their time and steering me to some resources for this article – Sally Ivankovich / In Loving Memory of Pat Conway Facebook Page, Chris Bushman, Dee's daughter Heather, Timothy Marxer, Lon Davis, and Keith Gendler. 
**Images / video are believed to be in the public domain or Creative Commons licensed & sourced via Wikimedia Commons or YouTube, unless otherwise noted**