Remembering William Randolph Hearst, Part 3 of 3
Marion Davies & The Thomas Ince Affair
(Marion Davies as a Ziegfeld Girl, 1924 Yolanda Photo: Alfred Cheney Johnson)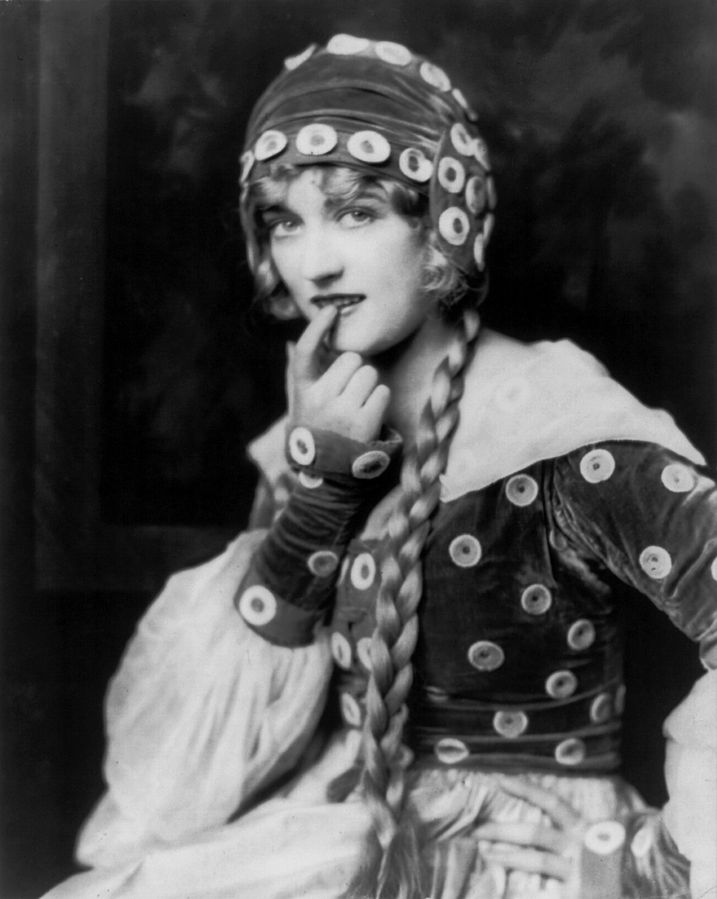 William Randolph Hearst was living in New York City in 1915 with his wife Millicent Hearst and their five sons, when he first saw actress and Ziegfield Follies showgirl Marion Davies. Perhaps not a co-incidence that Hearst fell for a showgirl again, since Millicent herself had been onstage in vaudeville when she caught his eye in 1897.
He was quickly enamored, and by 1916 William Randolph Hearst and Marion Davies were having an affair. His marriage to Millicent had grown cold (despite her giving birth to their twin sons in 1915), but she was Roman Catholic and would not (and never did) consider giving him a divorce.
Many of the early silent movies that Marion Davies appeared in – such as Little Old New York (1923) were either written by her and/or produced by either the "Marion Davies Corporation", or William Randolph Hearst in the credits.
In early 1919 William Randolph Hearst's mother Phoebe died and he inherited the massive Hearst Ranch near San Simeon, California.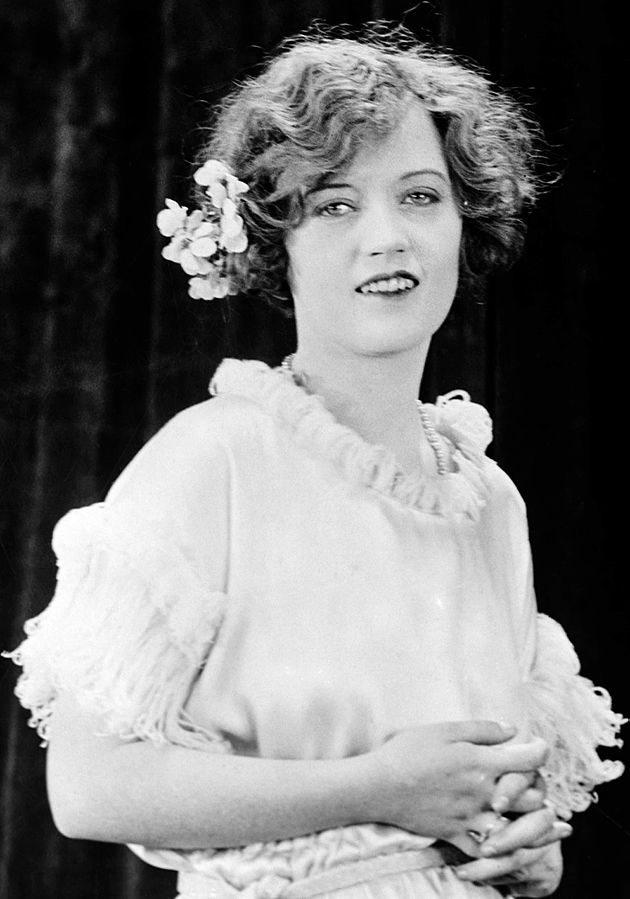 (Marion Davies c 1920s Photo: Bain News Service / U.S. Library of Congress)
He moved out to California to live on the ranch, and Marion Davies moved in with him; Hearst was then 56 years old and Marion only 22 – a 34 year age difference.
Hypocritically, Hearst had 3 "rules" for his ranch visitors: no bad language; no imported alcohol; no sex between unmarried couples. Marion herself liked to drink, sometimes heavily.
William Hearst was a jealous lover, several times hiring detectives to keep an eye on Marion Davies when he was worried that she might be interested in someone else, such as film director and star Charlie Chaplin, whose admiration of Marion was well known in Hollywood.
Marion Davies had an uncredited scene in The Pilgrim (1923), which starred Charlie Chaplin and his brother Sydney Chaplin. 
The Thomas Ince Affair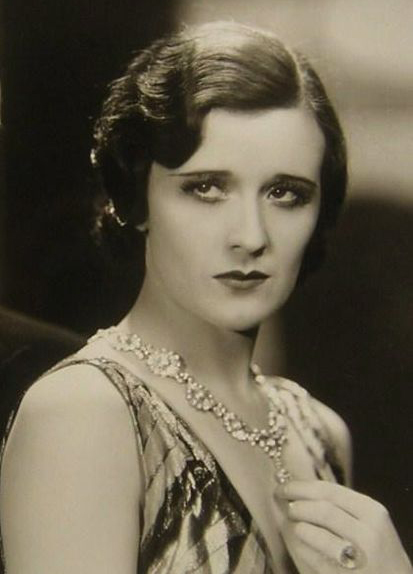 (Margaret Livingston 1931 Photo: RKO Pictures)
As the story goes…On Saturday, November 15, 1924 William Randolph Hearst, Marion's sisters, Dr. Daniel Goodman (who was head of Hearst's Cosmopolitan magazine's productions), actress Margaret Livingston, and other guests and staff, boarded the Hearst yacht in San Pedro.
Actress Margaret Livingston was Thomas Ince's girlfriend (his wife Nell stayed home!).
They were bound for a weekend cruise to San Diego in celebration of both director/producer Thomas Ince's 43rd birthday, and a business deal between Ince/Hearst.
Marion Davies was working at the studio and got a lift with Charlie Chaplin and columnist Louella Parsons later in the day to the Hearst yacht.
The birthday boy Thomas Ince had to work, and took the train the next morning to join the party in San Diego. An evening of music, drinking, dancing and eating ensued at the party on board the Hearst yacht on the evening of Sunday, November 16th.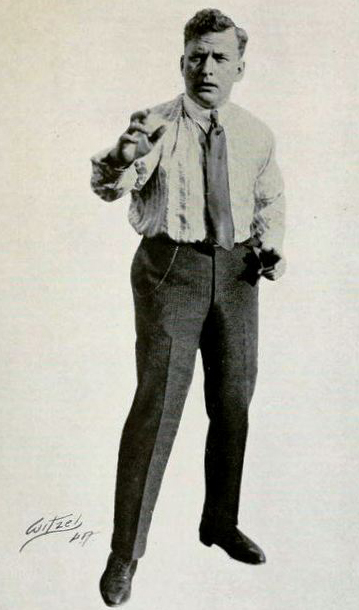 (Director Thomas Ince 1922 Photo: Witzel [L.A.] / Peter Milne)
Thomas Ince took ill with acute indigestion later that Sunday night.
He was taken by water taxi to San Diego from the yacht (accompanied by Dr. Goodman), and put on a train for L.A. 
His condition worsened and he was taken off the train in Del Mar and transported to a hotel by a Dr. T. A. Parker and a nurse, both of whom Ince told he had been drinking on the Hearst yacht.
From the hotel, Thomas Ince was taken to his home in Benedict Canyon on Tuesday, November 18th. He died the next day, Wednesday November 19th, and his personal physician signed the death certificate, giving heart failure as cause of death.
Gossip had it that a jealous William Randolph Hearst had invited Charlie Chaplin on the cruise just so he could watch him with Marion Davies, and that after finding Marion and Charlie together, Hearst had in a jealous rage shot Thomas Ince (mistaking him for Chaplin).
Rumour further had it that Marion screamed in terror, alerting all the other yacht guests, who came running to see what had happened (and would have been witnesses).
This gossip was fueled by conflicting and ongoing stories: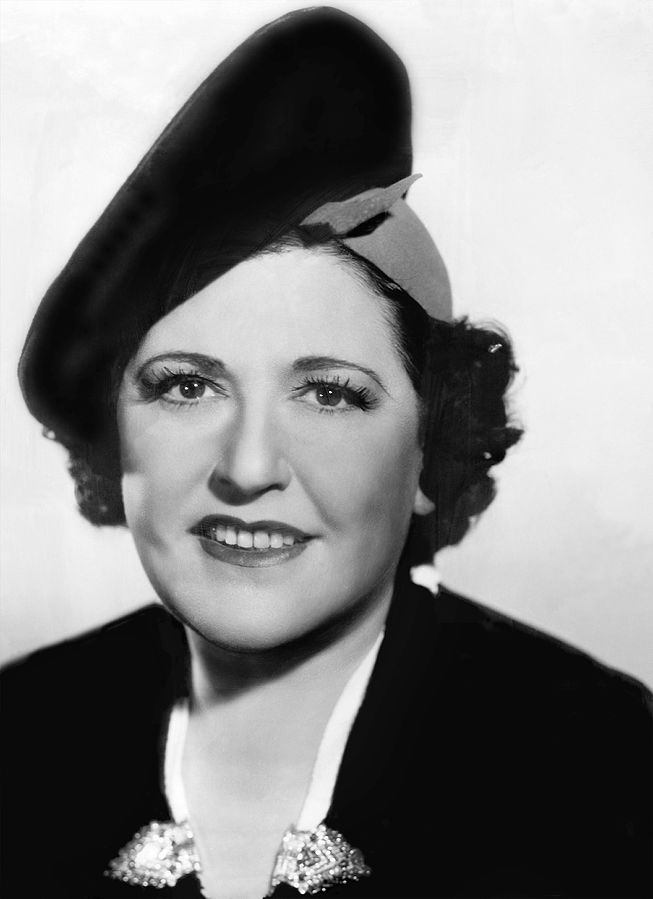 (Louella Parsons 1937 Photo: Lowell Sun / International News Service)
Thomas Ince had been seen boarding the yacht at San Diego.
Charlie Chaplin's chauffeur said he saw Ince's body (complete with bullet hole in the head) being removed from the yacht.
Hearst newspapers gossip columnist Louella Parsons said she had not even been on the west coast at the time of the cruise, yet a stand-in for Marion Davies claimed to have seen Louella talking to Marion and Charlie Chaplin the same day they left the movie studio to drive to the yacht.
Charlie Chaplin said he, Marion Davies and William Randolph Hearst had visited a sick Thomas Ince later in the week, and that Ince died 2 weeks after their visit.
Hearst press released a statement saying Thomas Ince had been visiting Hearst castle for the weekend and when he overindulged, he was returned to his Benedict Canyon home by car with 3 nurses and a specialist.
Marion Davies never confirmed that she, Louella Parsons, or Charlie Chaplin, had ever been on the yacht; and said that Nell Ince called her late Monday afternoon to tell her of Ince's death. Ince's widow Nell ordered his cremation two days after his death; she was given a trust fund by Hearst and left for Europe after the funeral.  Louella Parsons was awarded a lifetime contract with the Hearst newspapers shortly after Ince's death.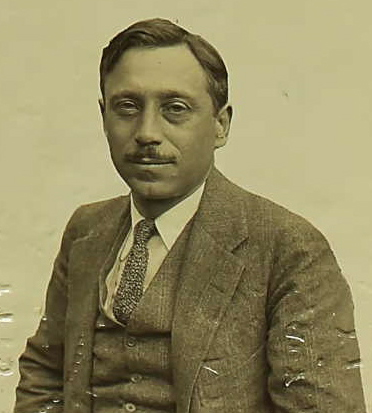 (Dr. Daniel Goodman c. 1922 Photo: Dave Miller)
What's not disputed is that the San Diego DA opened an investigation that was promptly closed after interviewing just one person, Dr. Goodman, who said Thomas Ince had died of acute indigestion.
The Cat's Meow (2001) movie presents a possible version of the events of what has become known as "The Thomas Ince Affair". The cast of The Cat's Meow included Edward Herrmann as William Randolph Hearst, Kirsten Dunst as Marion Davies, Eddie Izzard as Charlie Chaplin, Cary Elwes as Thomas Ince, Jennifer Tilly as Louella Parsons and Joanna Lumley as Elinor Glyn.
Below, the movie trailer for The Cat's Meow features Kirsten Dunst, Edward Herrmann, Cary Elwes, Eddie Izzard, and Jennnifer Tilly.
Marion Davies' Generosity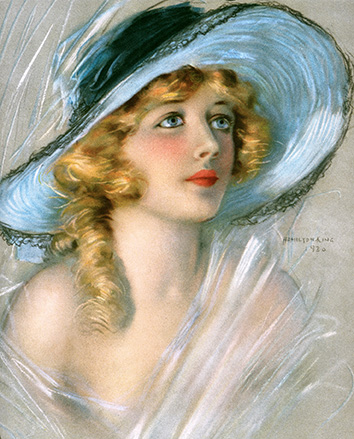 (Marion Davies 1920 Theatre Magazine Cover Portrait: Hamilton King)
In 1925 William Randolph Hearst purchased 900-year-old St. Donat's Castle in Wales, as a hideaway for Marion Davies and himself. Renovations he had done to St. Donat's Castle included adding 47 bathrooms.
St. Donat's Castle in South Wales was used by British and American troops during World War II.
In 1962 St. Donat's Castle was given to the Governing Body of Atlantic College,and as of 2017, is a functioning international IB private residential college.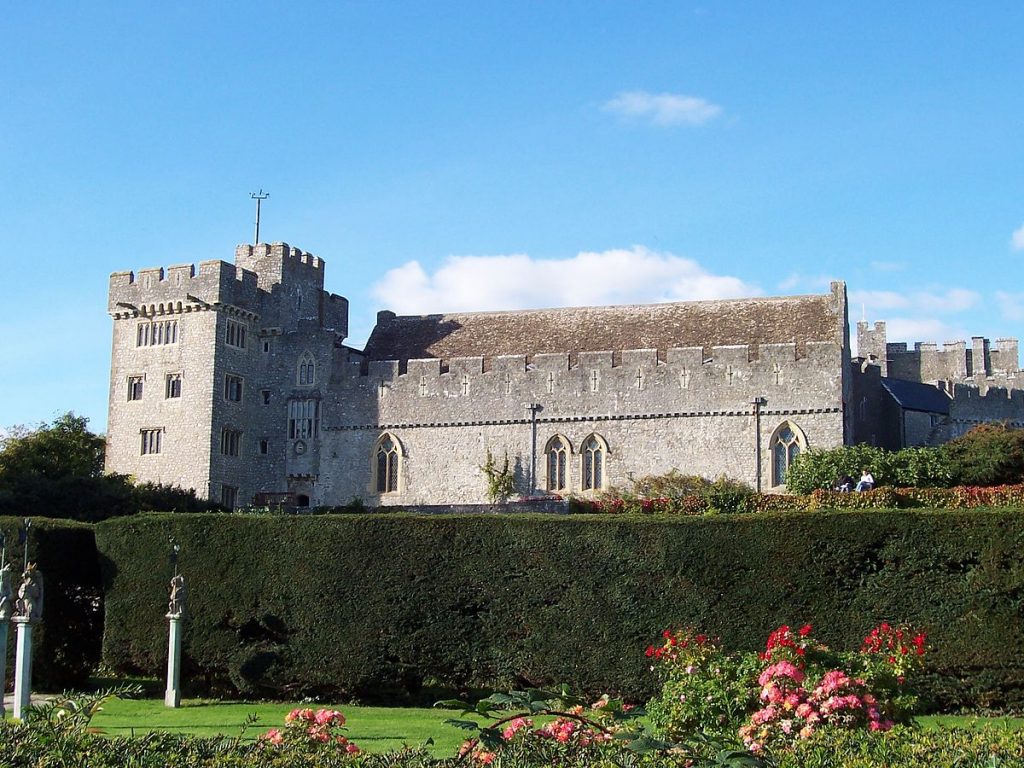 (St. Donat's Castle Photo: Yearbookmaniac)
Marion Davies had successfully transitioned to "talkies" in 1928 and her movies made money. By all accounts she had many friends in the movie business and not just because Hearst financed movies; she had a natural beauty, warmth, and was known for generosity to her family, her fellow actors and movie crews, and charities she supported. Over her lifetime, she donated millions to the Marion Davies Children's Clinic that she founded.
William Randolph Hearst and Marion Davies continued to entertain lavishly throughout the 1930's at both Hearst Castle and St. Donat's Castle. Visitors included Albert Einstein, Gloria Vanderbilt, and Hollywood royalty including Davies close friends and frequent visitors Charlie Chaplin, Carole Lombard and Clark Gable.
By the late 1930's Marion Davies' drinking was getting heavier and her movies were not doing as well. She co-starred with Clark Gable in Cain and Mabel (1936), but filmed her last movie, Ever Since Eve in 1936. Below, vintage behind the scenes film footage of Marion Davies and Clark Gable, for the Cain and Mabel film trailer.
Meanwhile, William Randolph Hearst was now a septuagenarian senior citizen aged 74, and was having severe financial problems. He faced debts totaling $126 million and was forced to sell off a great deal of his art (most of which was in warehouses) and properties. St. Donat's castle was put up for sale, but there there were no offers. When Hearst's lawyers told him he desperately needed to come up with $2 million, Marion sold off her jewels, furs, investments and her own property to come up with the money for him. 
Citizen Kane and The End

Orson Welles was a boy genius at age 24 when he moved to Hollywood in the late 1930's with his wife Virginia Nicolson Welles. Below from left, the cast & crew of the play Too Much Johnson (1938) presented by the Mercury Theatre: Howard Smith, Mary Wickes, Orson Welles, Virginia Welles, William Herz, Erskine Sanford, Eustace Wyatt, and Joseph Cotten.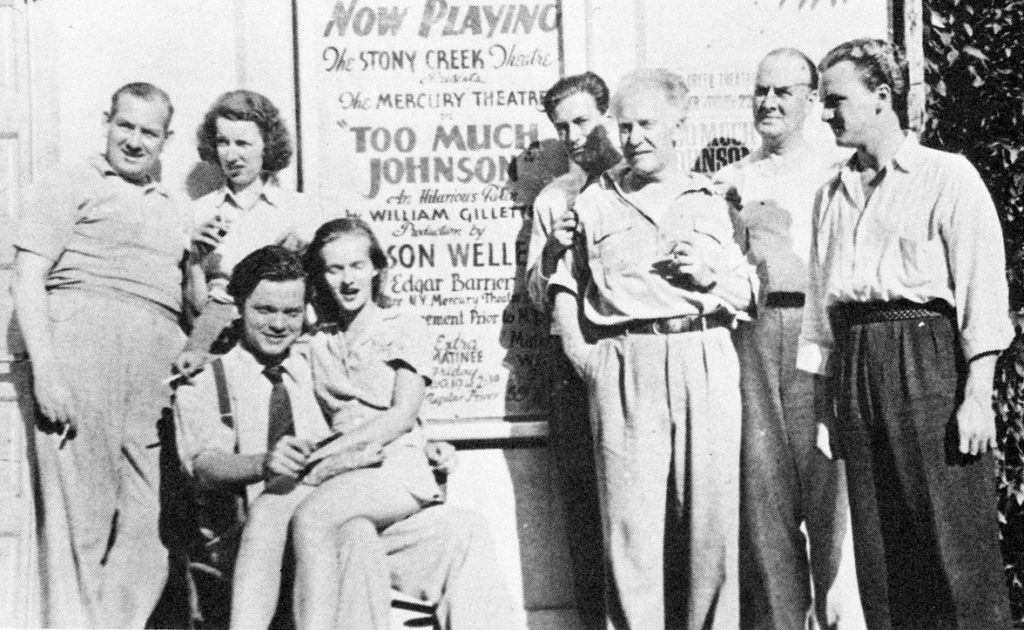 (August 1938 Photo: Mercury Theatre – Orson Welles and Players)
Unfortunately, shortly after arriving in Hollywood, Virginia Welles and met Marion Davies' nephew Charlie Lederer and they fell in love. Virginia Welles and Charlie Lederer were married at the Hearst Ranch in 1940 after Virginia's divorce from Orson Welles was finalized.
Meanwhile, Orson Welles had a contract with RKO to produce a picture and he had teamed up with screenwriter Herman J. Mankiewicz in 1939, to work on the screenplay for Citizen Kane. Herman J. Mankiewicz had once been friends with Marion Davies, frequently visited San Simeon, and had come to hate William Randolph Hearst. Neither man was disposed to think kindly about either Marion Davies or William Randolph Hearst.
The resulting screen play for Citizen Kane about the life of fictional character Charles Foster Kane (the William Randolph Hearst-like character), played by Orson Welles – closely parallels William Randolph Hearst's life, complete with mistress, newspaper acquisitions and yellow journalism, art collections, and castle (Xanadu in the movie), etc. I
In Citizen Kane, Joseph Cotten plays reporter Jedediah  Leland (Kane's best friend), Dorothy Comingore plays Susan Alexander Kane (Kane's alcoholic second wife / the Marion Davies character), Agnes Moorehead as Mary Kane (Kane's mother), Ruth Warrick as Emily Monroe Norton Kane (Kane's first wife), Erskine Sanford is another screening room reporter. Both William Randolph Hearst and Marion Davies were skewered in the movie, and when Hearst got wind of it, he was enraged because of how Marion was portrayed. He tried to get Citizen Kane suppressed, unsuccessfully. Citizen Kane was released in 1941 and remains a movie classic today.
Interestingly, the movie trailer for Citizen Kane includes a statement spoken by Orson Welles…"This is Orson Welle's…I'm speaking from the Mercury Theatre"….and he goes on to introduce cast members – among others, new to film actor Joseph Cotten, Ruth Warrick, Dorothy Comingore, Agnes Moorehead, and Erskine Sandford. (Both Joseph Cotten and Erskine Sandford had been in the 1938 Mercury Theatre play with Orson Welles and his then-wife Virginia Welles). Below, the Warner movies 70th anniversary trailer for Citizen Kane.
By 1947 William Randolph Hearst (now a senior senior in his 80's) began having serious heart problems. He and Marion Davies permanently vacated the Hearst Ranch, moving to a North Beverly Drive house that Marion had bought in 1946 for $120,000 (she gave ownership of it to William Hearst). It was a step down from Hearst Castle; only 29 bedrooms, 3 swimming pools, tennis courts, and cinema…it was listed for sale in May 2015 at $135 million.
Below, William Randolph Hearst stands circa 1940s with cartoonists; from left, George McManus (Bringing Up Father), unknown, Jimmy Swinnerton (Little Jimmy), and Jimmy Murphy (Toots And Casper).
(1940s Photo: Alan Light)
When William Randolph Hearst died on August 14,1951 at age 88, Marion Davies was devastated. Knowing his end was near, she had been sedated and put to bed. While she slept, he passed away and his sons and the Hearst committee removed his body, had it embalmed and flown to San Francisco to Hearst's estranged wife Millicent Hearst's home. Marion was informed of this when she woke up; she was not even invited to the San Francisco funeral, which was attended by over 1,000 mourners. Marion Davies and William Randolph Hearst had been together for over 34 years. 
(Millicent Hearst, William Randolph Hearst, & Marion Davies Photo Montage: 50+ World)
Within 3 months of Hearst's death, Marion Davies married Horace Brown Jr., a former fiancee of Marion's sister Rose. Horace had been a frequent visitor to the Hearst home, was well liked by both Marion and William, and looked quite a bit like Hearst. After William Randolph Hearst's death and her marriage to Horace, Marion's consumption of alcohol and bouts of depression increased. Although she was well off financially due to her real estate investments, her health began to suffer. Marion Davies had a stroke in 1956, and died of cancer on September 21, 1961 at age 64.
In 1993 Marion Davies' niece Patricia Lake died. As requested by Lake, after her death her son announced that Patricia was actually Marion's daughter by Hearst. She had told him that around 1920, Marion Davies became pregnant and was sent to Paris, where she gave birth to Patricia. Marion's sister Rose had given birth to an infant that died around the same time, and so Rose and her husband George Van Cleve raised Patricia Lake as their own daughter. Patricia Lake claimed that Marion Davies had told her she was her mother, and William Randolph Hearst was her father, when she was 11 years old; and that Hearst himself told her on her wedding day (where both Marion Davies and William Hearst gave her away to her new husband Arthur Lake), that he was her father. 
Below, a last aerial look at Hearst Castle and a summary of the estate's history courtesy of The Smithsonian Channel.
Previously:
Remembering William Randolph Hearst, Part 1 of 3