James Brolin - Always a Pistol
Recently 80-year-old actor, director, producer, and pilot James Brolin confessed he's inspired by a 99-year-old friend, who's always a pistol. He's done pretty well so far…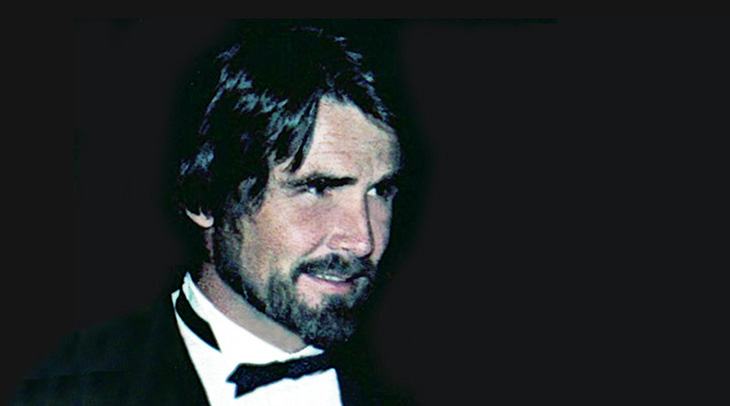 (James Brolin 1981 Photo: Alan Light)
Becoming James Brolin
Future actor, producer, director and pilot James Brolin (nee Craig Bruderlin when he was born on July 18, 1940 in Los Angeles, California) was the oldest of 4 children (he has 2 sisters and a brother). Craig asked his parents to call him Jim at age 12, not liking either his first or last names.
While attending University High School, at age 15 a family friend invited him to tour a movie studio and asked him if he'd considered acting. Although his shyness foiled this early attempt to read a script, Jim was inspired to buy a camera and shoot films. He also met fellow student Ryan O'Neal, and they became friends.
"I was terrified in high school to even deliver a book report in front of a class." – James Brolin, The Way They Are, by Holly Sorensen, March 1998, McCall's
High school graduation was followed by starting his own pool cleaning business at the age of 18. Soon after, Jim was stopped on the street and asked if he'd like to act in a commercial, in a non-speaking role. When his next commercial was offered, it was for a speaking part and he joined SAG (Screen Actor's Guild), officially became an actor.
His friend Ryan O'Neal invited him to meet a talent scout, and combined with some acting classes under his belt, Brolin began to overcome the shyness that held him back from acting in speaking parts. He also took his first flying lesson and discovered a lifelong love of flying.
Jim sold the pool company the following year, and in an attempt to get cast as Marlon Brando's son in the film Mutiny on the Bounty, travelled to Tahiti where the movie was filming. His part was written out but he stayed on and learned about film production as a crew member and production assistant, before returning to Los Angeles after a year.
When he officially changed his name to James Brolin in 1960, small roles on television shows such as Valentine's Day and specials started to happen for him, beginning with 1961's Bus Stop TV series.
20th Century Fox and Batman
James Brolin honed his acting skills while working through a contract with 20th Century Fox, and studying with acting coaches like Stella Adler.  His persistence paid off with a first, uncredited movie role in 1963's Take Her, She's Mine, starring James Stewart, Sandra Dee, and Audrey Meadows. This was quickly followed by more small film parts over the next few years.
A 1965 guest-starring gig on the WWII fighter pilot drama 12 O'Clock High was one early role that played into Brolin's love of airplanes and flying.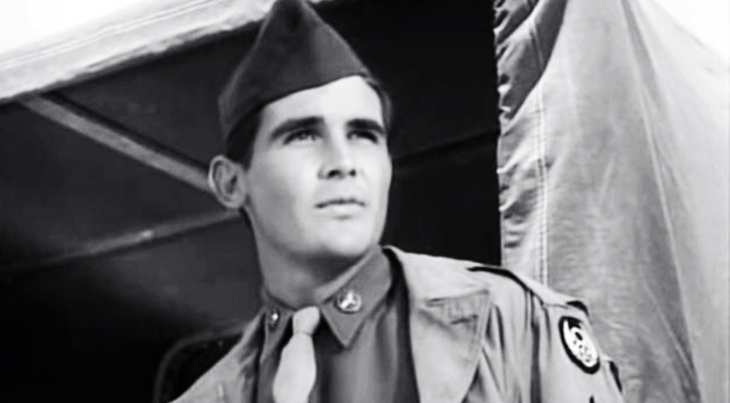 (James Brolin 1965 12 O'Clock High)
He appeared in a 12 O'Clock High episode with series regulars Paul Burke, Frank Overton, and Chris Robinson. Fellow guest-stars included Gia Scala, J.D. Cannon, Tige Andrews, Don Quine, Paul Comi, and Eric Braeden.
Brolin guest-starred on the popular TV series Batman three times between 1966-1967, appearing with regulars, recurring actors, and guest stars Adam West, Burt Ward, Alan Napier, Neil Hamilton, Julie Newmar, Yvonne Craig, Frank Gorshin, James Rennie, Spring Byington, and Joan Collins.
His Batman casting was truly fortunate; he met Jane Cameron, a Batman casting executive with 20th Century Fox. James Brolin and Jane Cameron eloped within 12 days of meeting each other, in October 1966. The couple had 2 sons – Josh Brolin born February 12, 1968; Jess Brolin born February 7, 1972. 
Meanwhile, James Brolin kept acting in small roles in films. He was a supporting actor in the WWII adventure flick Von Ryan's Express (1965) starring Frank Sinatra, Trevor Howard, and Edward Mulhare. Von Ryan's Express filmed in Italy (Florence, Rome, Cortina d'Ampezzo), Spain, and other European locations.
Brolin landed a slightly larger role in the movie The Capetown Affair (1967) opposite Jacqueline Bisset.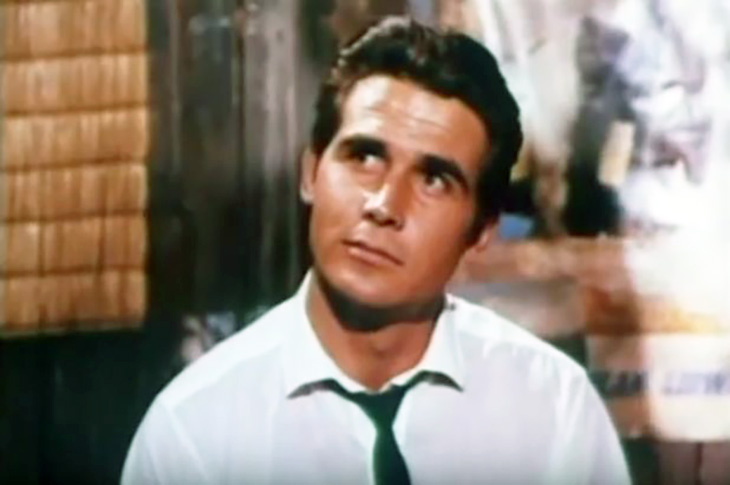 (James Brolin 1967 The Capetown Affair)
His last film role for 20th Century Fox was playing a sergeant in The Boston Strangler (1968), starring Tony Curtis, Henry Fonda, and George Kennedy.
Marcus Welby, M.D. & Movie Stardom
Within weeks of being let go by 20th Century Fox, James Brolin was working for Universal Studios. He won the role of Dr. Steven Kiley on the new television series Marcus Welby, M.D. Marcus Welby, M.D. was tremendously popular, and the 6'4″ Brolin and co-star Robert Young became heart-throbs with the younger baby boomer and 50+ audiences alike.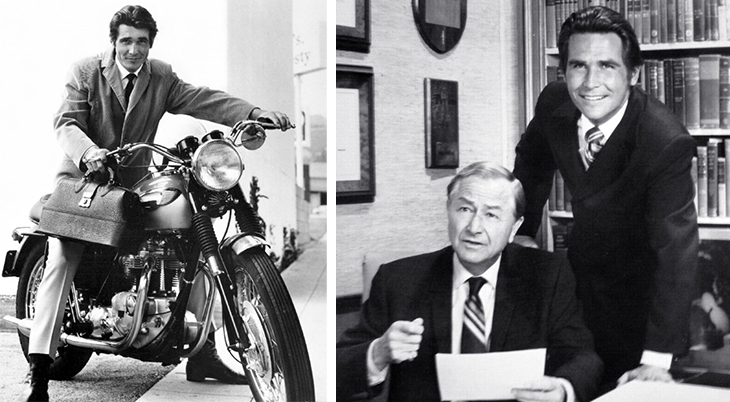 (James Brolin as Dr. Steven Kiley 1969 | w. Robert Young 1970: Marcus Welby, M. D. / ABC)
Brolin won the Emmy Award for Outstanding Performance by an Actor in a Supporting Role for the first year of Marcus Welby, M.D. (1969-70), and received 3 more nominations during the show's run. Here Brolin gives his wife Jane a hug before accepting his Emmy in 1970. 
In the early 1970's, Brolin's entrepreneurial instincts supplemented his acting jobs. He started a house construction and lumber business with partner and architect Nick Fortune (which he still had as of 2013).
Thanks to his exposure from Marcus Welby, M.D., in the early 1970s James Brolin began to get more, and larger, roles in horror and sci-fi films. By the time Marcus Welby, M.D. ended in 1976, he'd become a leading man in films such as Westworld (1973) co-starring with Richard Benjamin and Yul Brynner, The Car (1977), Capricorn One (1978) with Elliott Gould and Brenda Vaccaro, and The Amityville Horror (1979).
This trailer for The Amityville Horror features Brolin and his co-stars, Rod Steiger and Margot Kidder.
An exception to this genre was the biographical drama Gable and Lombard (1976), in which Brolin played that other handsome Hollywood leading man, Clark Gable. Jill Clayburgh co-starred as Gable's great love, actress Carole Lombard.
(Jill Clayburgh & James Brolin 1976 Gable and Lombard | Carole Lombard & Clark Gable c. 1936-1942)
Allan Garfield plays Louis B. Mayer, with actors Red Buttons, Joanne Linville, Melanie Mayron, Ross Elliott, and Morgan Brittany also in the cast of Gable and Lombard. Although critics noted the resemblance of the lead actors to the original film stars, reviews were a mix of raves and catcalls. Brolin has said the movie was wonderful and he loved playing Clark Gable.
The Amityville Horror was so popular that it spawned a series of sequel feature films, although none of the lead actors reprised their roles (which would have been very difficult to do, given the plotline).
At any rate, his television and feature film success made James Brolin a "Star" with a capital S. By the early 1980's, the Brolin family lived on a large rural estate in the Montecito suburb of Santa Barbara. Brolin's wife Jane quit her job to stay home and raise their sons, and was a wildlife activist. James was often away shooting movies and films on set or location.
Hotel and a New Love
James Brolin returned to television series stardom in 1983, playing hotel manager Peter McDermott in producer Aaron Spelling's Hotel (1983-1988), opposite Connie Selleca.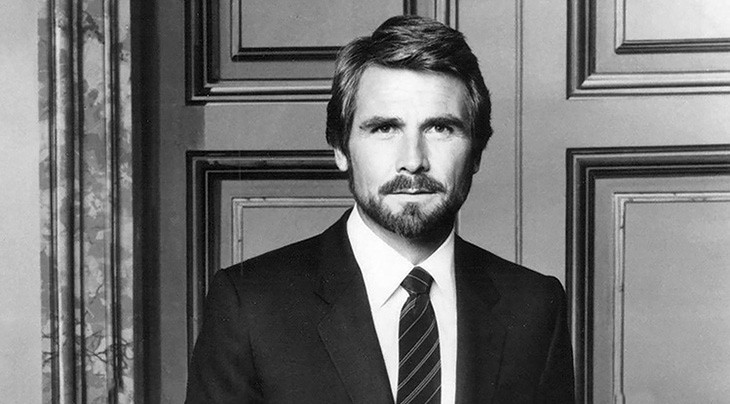 (James Brolin 1983 Hotel: ABC)
He also had the opportunity to begin directing TV episodes on Hotel. Connie Selleca and Brolin remained friends after Hotel ended. Unfortunately, Jane and James Brolin did not…James had met actress Jan Smithers (WKRP in Cincinnati) when she guest-starred in the first season of Hotel in 1983, and they began dating.
Jane and James Brolin separated in 1984, with Jane telling reporters they'd had an open marriage for years. The divorce proceedings were extended, with Jane accusing him of bigamy when James and fiancee Jan Smithers participated in a June 1986 wedding ceremony in Nova Scotia. When his divorce from Jane was finalized in October 1986, Jan Smithers and James Brolin were married again.
Jan and James Brolin's daughter Molly Brolin was born on November 28, 1987, and Smithers retired from acting. This marriage also ended in divorce in 1995, after 9 years of marriage. That same year, Brolin's first wife Jane Brolin died in a car accident. Son Josh Brolin told Men's Journal in 2013 that Jane she had been a drinker and exhibited extreme behaviour.
 James Brolin's career on television and in feature films continued to soar. He starred in more short-lived television series after Hotel ended, including Angel Falls (1993) and Extreme (1995), before landing the 1997-2000 television series Pensacola: Wings of Gold. The series, about a marine fighter-pilot squadron, fit nicely into Brolin's own love of flying and his decades of experience as a pilot .In addition to starring in Pensacola: Wings of Gold, Brolin also had opportunities to direct and produce for the series.
Feature film work also continued non-stop, and included hit films and award-nominated performances in Traffic (2000), Catch Me if You Can (2002), and The Reagans (2003). The same year, he played an executive in the comedy A Guy Thing (2003) starring Jason Lee, Julia Stiles, Selma Blair, Lochlyn Munro, and Diana Scarwid. James Brolin and Jason Lee are featured in this clip from A Guy Thing. 
Brolin co-starred in the senior romance movie Elsa & Fred (2014) with Shirley MacLaine and Christopher Plummer, Marcia Gay Harden, Chris Noth, Scott Bakula, and George Segal.
In 2015 alone, he was in 4 movies – notably, The 33, co-starring with Antonio Banderas, Rodrigo Santoro, and Juliette Binoche; Sisters, with Amy Poehler, Tina Fey, and Maya Rudolph; and The Steps, with Emmanuelle Chriqui and Jason Ritter.
His daughter Molly Brolin encouraged him to take a guest-starring gig on Community in 2013, and from 2015-2019 Brolin returned to series television as a regular on the family comedy Life in Pieces.
Mature Love and Grandparenting
When James Brolin met singer/actress Barbra Streisand in 1996 through Jon Peters ex-wife, Christine, sparks flew. James Brolin and Barbra Streisand were married in 1998 and have lived together in Malibu, California since then. Brolin became step-father to her son Jason Gould (from Streisand's marriage to actor Elliot Gould).
In 2020 Brolin reminisced about his relationship with Barbra Streisand, his 1970 Emmy win for the Marcus Welby, M.D. pilot, and how an interview answer he gave inspired Aerosmith's hit song I Don't Want to Miss a Thing (1998). 
Of James Brolin's now adult children, oldest son Josh Brolin has followed him into show business and is a highly successful actor in his own right. Josh has also made James Brolin a grandfather four times over between 1988 and 2020. His younger son Jess Brolin and daughter Molly Brolin (with Jan Smithers) have also worked in the industry. Brolin is step-father to Barbra Streisand's son Jason Gould (with her first husband, actor Elliott Gould).
Although turning 80 in 2020 meant he could no longer get insurance to pilot his favorite Cessna, Brolin has logged more than 1,600 hours as a pilot as of 2021. He owns his own small airplanes and a jet charter company. His wife Barbra has no desire to take to the skies with her hubby, according to a recent interview.
"One of his disappointments has been his inability to convince his wife, Barbra Streisand, to fly with him. The closest he ever came was when she agreed to join him for dinner in the cockpit of his Skywagon. There they sat enjoying a Japanese meal in bento boxes, but she would agree to no more than taxiing around Brolin's home airport in Camarillo, California." – Actor Pilot: James Brolin, by Barry  Schiff, March 1, 2021, AOPA.org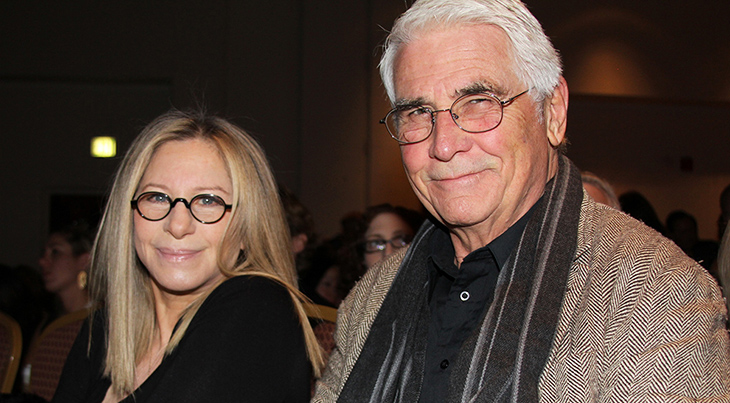 (Barbra Streisand & James Brolin 2013: Lifescript)
The 80-year-old Brolin shared his COVID-19 pandemic upside in 2021: Spending quality time with Barbra at their Malibu home, exercising and swimming in their pool at least 4 times a week. 
"We sit out reading whatever periodicals are stacking up. This time has been a big gift…I have a really active friend who's about 99 years old and still going. I've never talked to him about what he does, but he's always a pistol. That's what I aim to be." – James Brolin, James Brolin Opens Up On Life with Barbra Streisand, Advice from Clint Eastwood and Almost Becoming James Bond, by Mara Reinstein, February 5, 2021, Parade
Note: This article was first published in 2105 as Celebrating Seniors – James Brolin Turns 75. It has been updated with new and additional content.
*Images are public domain or Creative Commons licensed & sourced via Wikimedia Commons, Vimeo, or Flickr, unless otherwise noted*