Celebrating Seniors - Shirley MacLaine is 82
Updated April 2017 with new content
Academy Award-winning actress, singer, dancer and author Shirley MacLaine was born Shirley MacLean Beatty on April 24, 1934 in Richmond, Virginia. Her  3 years later. Shirley began taking ballet classes at age 3, the same year her younger brother, actor and director Warren Beatty, was born (1937).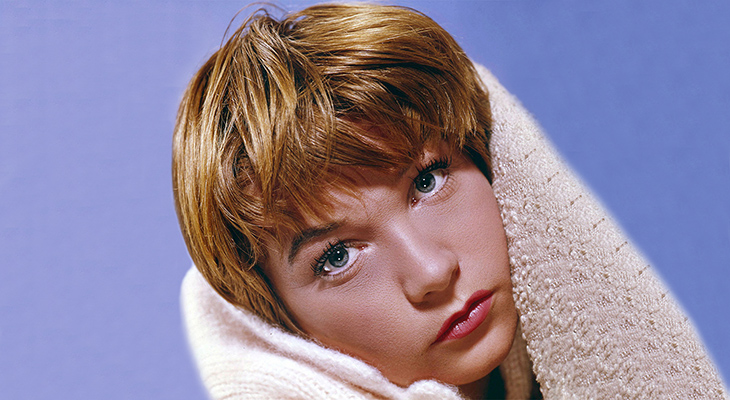 (Shirley MacLaine c. 1950's Photo: Film Star Vintage)
At Thomas Jefferson Junior High School in Arlington, Virginia, Shirley MacLaine played baseball and was a home-run hitter on her all-boys team.
Shirley had already performed on Broadway by the time she graduated from Washington-Lee High School in 1952; after graduation she returned to New York City to pursue acting and changed the spelling of her last name to MacLaine.
In Warren Beatty: A Private Man (2005), biographer Suzanne Finstad noted that Shirley MacLaine's first big job was as a dancer in the Show of Stars southern states tour sponsored by Servel Refrigerators in the winter of 1953.
This was followed by another role as a dancer in the Broadway play Me and Juliet (1953). Shirley was briefly engaged  to a Columbia University grad student who was disapproving of her career aspirations; she broke it off in November 1953 when she learned he'd had an affair.
By this time, 19-year-old Shirley MacLaine had also met William F. Parker, a 32-year-old part-time actor and director that called himself Steve Parker and said he'd lived in Japan. Parker and MacLaine were soon engaged, but her parents strongly disapproved. In April 1954 Shirley tried out for the role of understudy to lead actress Carol Haney in a Broadway production of the musical The Pajama Game. Soon after, Haney broke her ankle and Shirley MacLaine was playing the lead in a Broadway musical. 
By June of 1954, Carol Haney's ankle had mended and she resumed her role in The Pajama Game; in the meantime, Shirley had caught the eye of Hollywood movie producer Hal. B. Wallis, who (at the urging of Steve Parker) had seen MacLaine on stage. Wallis signed her to a 5-year contract with Paramount Pictures for 2 movies a year.
In September 1954 Shirley MacLaine accepted an offer to star in the Alfred Hitchcock comedy The Trouble With Harry (1955), and promptly eloped with Steve Parker. Shirley MacLaine and Steve Parker married on September 17, 1954 in New York City, keeping it a secret from MacLaine's parents and her brother Warren. A rift was created between Shirley MacLaine and Warren Beatty when she sent a cable several days later to inform her parents and brother of her marriage.
The Trouble With Harry (1955), Artists and Models (1955) co-starring Jerry Lewis and Dean Martin, and Around the World in 80 Days (1956), starring David Niven, had been released by the time Shirley gave birth to her daughter Stephanie Sachiko (Sachi) Parker, on September 1, 1956 in Los Angeles.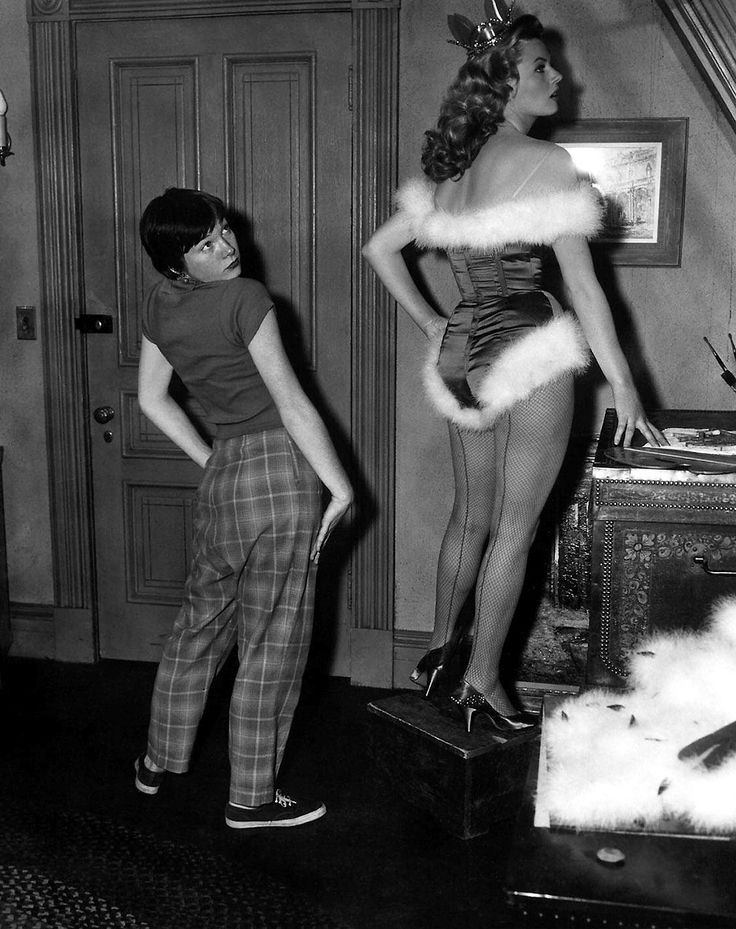 (Shirley MacLaine & Anita Ekberg 1955 Artists and Models Photo: Mauricio Navarrete Contreras)
Husband Steve Parker, tired of trying to gain a professional foothold for himself in the U.S. and not wanting to be known as Mr. Shirley MacLaine – had moved to Japan, while MacLaine continued living in Los Angeles.
Although MacLaine and Steve Parker would travel back and forth to visit each other during the remainder of their marriage, and take some holidays together, they were separated by an ocean and had an publicly open marriage.
Shirley's daughter Sachi Parker would visit MacLaine during the summers and holidays.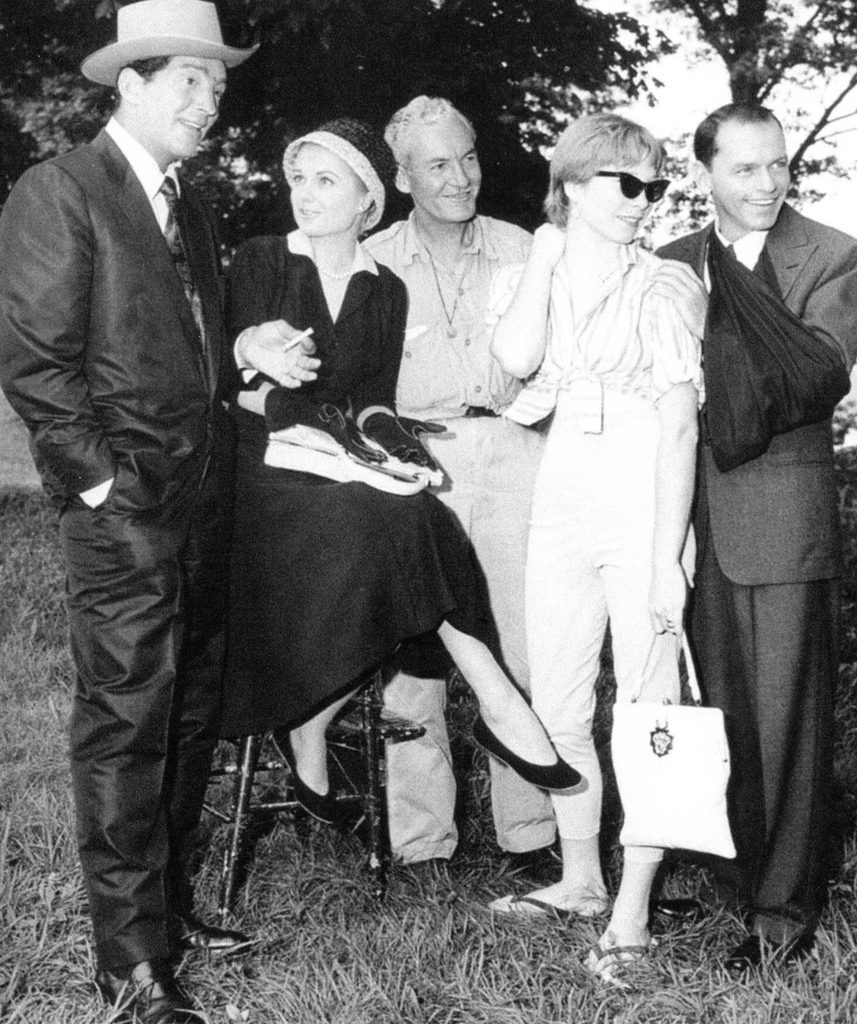 From left, Dean Martin, Martha Hyer, assistant director William McGarry, Shirley MacLaine, and Frank Sinatra, on the set of Some Came Running in 1958. (Photo: kate gabrielle | Flickr Some rights reserved)
In 1958 Shirley's two-year-old daughter Sachi went to live with her father Steve Parker in Japan. Shirley had returned to filming movies with a vengeance – she had 4 films released in 1958. Some Came Running (1958) paired her for the first time with with co-stars Martha Hyer and Frank Sinatra, and reunited her with Dean Martin; a young Marion Ross was also in the cast. MacLaine's performance in  Some Came Running earned her an Academy Award nomination as Best Actress.
Shirley MacLaine was matched up again with Dean Martin in Career (1959), along with Anthony Franciosa and Donna Douglas; and had a cameo in Ocean's 11 (1960) starring the famed Las Vegas 1960's "Rat Pack" of Frank Sinatra, Dean Martin, Sammy Davis, Jr., Peter Lawford, Angie Dickinson, and Joey Bishop. MacLaine became an honorary member of the Rat Pack.
That same year Shirley MacLaine once again co-starred with Frank Sinatra in Can-Can (1960); their co-stars included singer-dancer Juliet Prowse and Louis Jourdan. It was MacLaine's scene-stealing role in Billy Wilder's The Apartment (1960) opposite Jack Lemmon and Fred MacMurray (My Three Sons), that garnered her another Academy Award nomination for Best Actress.
Below, Jack Lemmon, Shirley MacLaine, Fred MacMurray and Jack Krushchen are featured in the official movie trailer for The Apartment.
Shirley MacLaine ended 1960 with 2 BAFTA Awards as Best Foreign Actress under her belt, for Ask Any Girl (1959), and The Apartment (1959).
The Children's Hour (1961) was a dramatic role, with MacLaine co-starring with Audrey Hepburn and James Garner as Martha Dobie, a young woman with lesbian leanings.
Below from left, Fay Bainter as Mrs. Amelia Tilford, Shirley MacLaine, Audrey Hepburn as Karen Wright, and James Garner as Dr. Joe Cardin, with child actress Karen Balkin in front as the accuser schoolgirl, Mary Tilford.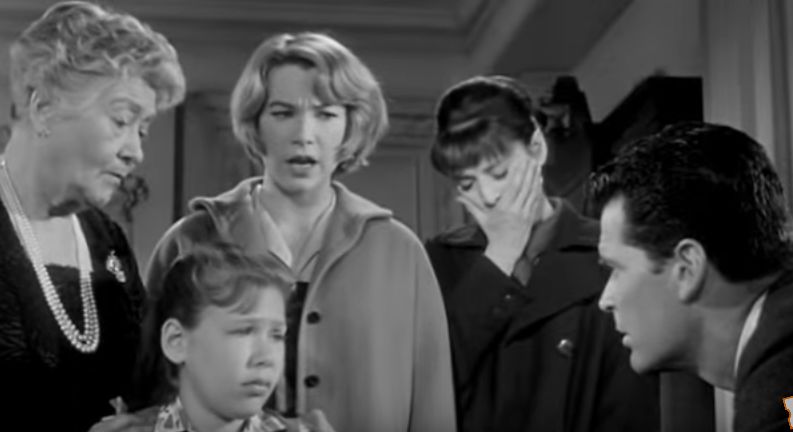 (The Children's Hour 1961 Movie Trailer Photo: Mirisch Corporation)
Shirley MacLaine and Dean Martin appeared in their fourth film together, along with Cliff Robertson, in the romantic comedy All in a Night's Work (1961).
The following year, Two for the Seesaw (1962) with married co-star Robert Mitchum, resulted in a romantic relationship between Shirley MacLaine and Robert Mitchum that lasted for three years (according to MacLaine).
The movie My Geisha (1962) starring Shirley MacLaine and Yves Montand (married to Simone Signoret from 1951 until her death in 1985) was produced by MacLaine's husband Steve Parker and filmed in Japan. According to Whiting's World | Post-War Japan by Robert Whiting, during filming Yves Montand bet Parker he could seduce MacLaine; Montand won the bet when he and Shirley MacLaine had an affair. MacLaine told Oprah Winfrey in 2011 that she had fallen in love for a while with both Robert Mitchum and Yves Montand.
Below, Shirley MacLaine and Edward G. Robinson in My Geisha.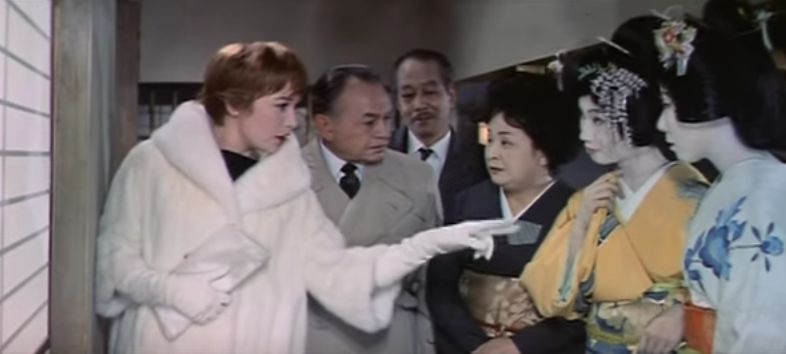 (My Geisha 1962 Movie Trailer Photo: Paramount Pictures)
Shirley MacLaine and Jack Lemmon were paired together again in another Billy Wilder movie comedy, Irma La Douce (1963); MacLaine was cast after Marilyn Monroe died. Irma La Douce boasted 2 young actors in uncredited roles that would become familiar faces – James Caan, and Bill Bixby (The Incredible Hulk). Irma La Douce was a box-office hit and Shirley MacLaine received her third nomination for an Academy Award for Best Actress and a fourth BAFTA Best Foreign Actress nomination.
In the comedy What a Way to Go! (1964), MacLaine starred with no less than 7 leading men, as a sort of reverse black widow, who keeps marrying poor men who then strike it rich. In addition to Paul Newman and Dick Van Dyke, her co-stars in What a Way to Go! include Dean Martin (in their fifth movie together), and one of her romantic interests, Robert Mitchum, who was cast at MacLaine's suggestion. What a Way to Go! was another film that was intended to star Marilyn Monroe, and then Elizabeth Taylor. After Monroe's death; when Taylor's salary demands were too high, Shirley MacLaine was cast. MacLaine earned her fifth BAFTA Best Foreign Actress nomination for her performance in What a Way to Go! 
Below, Shirley MacLaine and Robert Mitchum in scenes from What a Way to Go! that showcase some of the outstanding vintage 1960's dresses designed by the legendary Edith Head, that are worn by MacLaine in the movie.
Beginning in 1966, Shirley MacLaine's movie-making pace started to slow down from the 2-3 movies a year she had been averaging. Shirley appeared in both Gambit (1966) and Woman Times Seven (1967) with Michael Caine as her co-star. For each of these movies as well as Sweet Charity (1968), MacLaine earned her respective 5th, 6th, and 7th Golden Globe Best Actress nominations.
During the 1970's, Shirley MacLaine appeared in only 5 movies. She wrote, co-directed, and produced the documentary The Other Half of the Sky: A China Memoir (1975) that was nominated for an Academy Award for Best Feature Documentary, and was nominated for her fourth Academy Award for Best Actress for her performance in The Turning Point (1977) with Anne Bancroft, Tom Skerritt, and Mikhail Baryshnikov.
MacLaine also starred in the ABC television series Shirley's World (1971-1972), which was filmed on location in England and cancelled after it's first series. Shirley MacLaine's first book, Don't Fall Off the Mountain (1970), touched on her life including her path to movie stardom and her widespread travels.
Both Shirley MacLaine and her daughter Sachi Parker have said in their respective books – Dance While You Can (1991) by Shirley MacLaine; Lucky Me: My Life With – and Without – My Mom, Shirley MacLaine (2013) by Sachi Parker – that Steve Parker had bilked money from MacLaine. Steve Parker and Shirley MacLaine finally divorced in 1982, having spent most of their 26 years of marriage an ocean away from each other. After their divorce, Steve Parker married his long time live-in girlfriend and moved to Honolulu, Hawaii. Parker was a septuagenarian senior citizen when he died from lung cancer 2001.
On the cusp of turning 50, Shirley MacLaine co-starred with Debra Winger, Jack Nicholson, Danny DeVito, Jeff Daniels, and John Lithgow in the tearjerker movie Terms of Endearment (1983), which was based on the best-selling novel of the same name by Larry McMurtry. Despite an acrimonious relationship between Debra Winger and Shirley MacLaine, Terms of Endearment was a box office and critical success, and MacLaine won both the Academy Award for Best Actress (her fifth nomination), and the Golden Globe Award for Best Actress – Motion Picture Drama (her 8th Golden Globe nomination).
Below, Jeff Daniels, Debra Winger, Shirley MacLaine, Jack Nicholson and John Lithgow are all featured in the official Paramount movie trailer for Terms of Endearment.
Cannonball Run II (1984) starring Burt Reynolds was the last movie that Shirley MacLaine, Dean Martin, and Frank Sinatra all appeared in together. MacLaine won her second Golden Globe Best Actress Award in 1988 for her performance in Madame Sousatzka (1988).
Her semi-autobiographical book Out on a Limb (1983) was adapted for a 5-hour television mini-series in 1987 starring MacLaine – themes in the book/mini-series included her travels and beliefs in reincarnation new age spirituality, reincarnation, mediums, and UFO's.
In her 55+ years, Shirley MacLaine continued her run in critically acclaimed performances, appearing in Steel Magnolias (1989) with Sally Field, Dolly Parton, Daryl Hannah,Olympia Dukakis, Julia Roberts, Dylan McDermott, Sam Shepard. She was reunited with her The Turning Point co-star Tom Skerritt in Steel Magnolias, and won a BAFTA nomination. 
The semi-autobiographical novel and screenplay Postcards from the Edge was written by actress/author Carrie Fisher, daughter of singer Eddie Fisher and singer-actress Debbie Reynolds. For her performance in Postcards from the Edge (1990) co-starring Meryl Streep, Dennis Quaid, Gene Hackman, Richard Dreyfus, Rob Reiner and Annette Bening, Shirley MacLaine won another BAFTA acting nomination. 
All told, Shirley MacLaine appeared in 11 movies in the 1990's, racking up two more Golden Globe Best Actress nominations for Used People (1992) with Kathy Bates, and Guarding Tess (1994) with Nicolas Cage. The Terms of Endearment sequel The Evening Star (1996) reunited Shirley MacLaine (as Aurora Greenaway) with Jack Nicholson (as Garrett Breedlove). Juliette Lewis, George Newbern, and Mackenzie Astin are Aurora's grown grandchildren; Scott Wolf is Lewis's boyfriend. Donald Moffat and Marion Ross play seniors; and Bill Paxton is a wanna-be love interest for Aurora Greenaway, while Miranda Richardson is her rival.
The Evening Star movie trailer from Paramount Pictures (below) features Shirley MacLaine and each of these cast members.
Shirley's daughter Sachi Parker married in 1993 and made MacLaine a grandmother for the first time in 1996 (and again in 1998).
Since becoming a senior citizen in 1999, Shirley MacLaine has appeared in 17 movies, many of them filmed after she'd become a septuagenarian – Rumor Has It (2005) with Jennifer Aniston, Kevin Costner, Mark Ruffalo and Christopher McDonald; Bewitched (2005) starring Nicole Kidman, Will Ferrell, and friend and former co-star Michael Caine; Closing the Ring (2007) with Christopher Plummer and Neve Campbell; The Secret Life of Walter Mitty (2013), and the television movie Coco Chanel (2008).
Christopher Plummer and Shirley MacLaine were teamed up onscreen again in the senior romance movie Elsa & Fred (2014). Their co-stars in Elsa & Fred included Marcia Gay Harden, Chris Noth, Scott Bakula, George Segal, and James Brolin.  
During her career thus far, Shirley MacLaine has earned a total of 16 Golden Globe acting nominations. She completed filming on her most recent movie, Wild Oats in 2014, and could be seen on TV in Downton Abbey (2012-2013) and an episode of Glee in 2014.
Shirley MacLaine has written 14 semi-autobiographical books and has called herself a serial monogamist, having had many lovers on different continents. She told The Guardian in 2007 that she'd had a face-lift in the 1970's, but that everything was "Back to where it was, now".
About death and aging, she said that because of her beliefs about reincarnation, etc. she was anticipating finding out if what she believed in, was real, and confessed:
"I'm falling in love with my wrinkles because I was wondering: should I do Botox? I'm loving the idea that I'm 73 and almost looking like it."
*Images are public domain or Creative Commons licensed & sourced via Wikimedia Commons, Vimeo, or Flickr, unless otherwise noted*