Boomer TV Trivia: My Three Sons
Q1. Which regular cast members on the popular baby boomer sitcom My Three Sons appeared in every episode of the series during it's 12-year run, from 1960-1972?
Q2. One of the regular cast members during the first five seasons on My Three Sons was also a regular cast member on I Love Lucy. Who was it?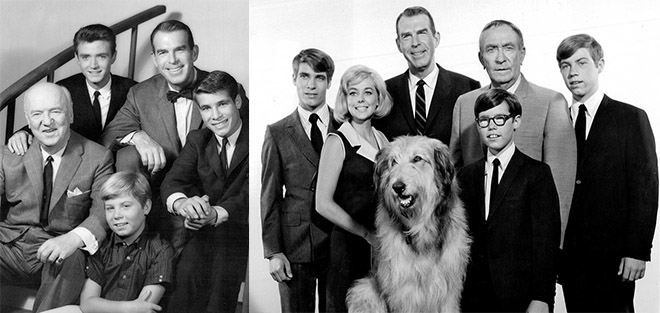 The My Three Sons cast in 1962 and 1967. (Photos: ABC Television)
Originally airing in black and white when My Three Sons premiered in 1960, the series focused on the daily lives of widowed father and aeronautical engineer Steven Douglas (Fred MacMurray), and his three sons – Michael/Mike Douglas (Tim Considine 1960-1965), Robert/Robbie Douglas (Don Grady 1960-1971), and Richard/Chip Douglas (Stanley Livingston 1960-1972). Living with the family is Steven's father-in-law/the sons maternal grandfather, Bub O'Casey (William Frawley).
When Tim Considine didn't renew his contract, the character of oldest son Mike Douglas was married to his fiancee Sally (Meredith MacRae) in a special wedding episode, and then written out of the series.
To keep the title of the show intact, patriarch Steven Douglas adopts the orphaned best friend of his youngest son Chip Douglas – Ernie (Barry Livingston, actor Stanley Livingston's real-life younger brother).
Clockwise from top left, the My Three Sons cast circa 1962: Tim Considine, Fred MacMurray, Don Grady, Stanley Livingston, and William Frawley. (Photo: ABC Television)
In addition to the wedding of Mike Douglas, there were 2 more weddings on My Three Sons:
Middle son Robbie marries his girlfriend Katie Miller (Tina Cole) at the beginning of the 1967-1968 season
In the 1969-1970 season father Steven Douglas marries Barbara Harper (Beverly Garland), a widowed teacher and the mother of 5-year-old Dorothy/Dodie (Dawn Lyn). Steven adopts Dodie as well.
Below from left, the cast of My Three Sons circa 1970: Don Grady, Tina Cole, Fred MacMurray, Barry Livingston, William Demarest, and Stanley Livingston.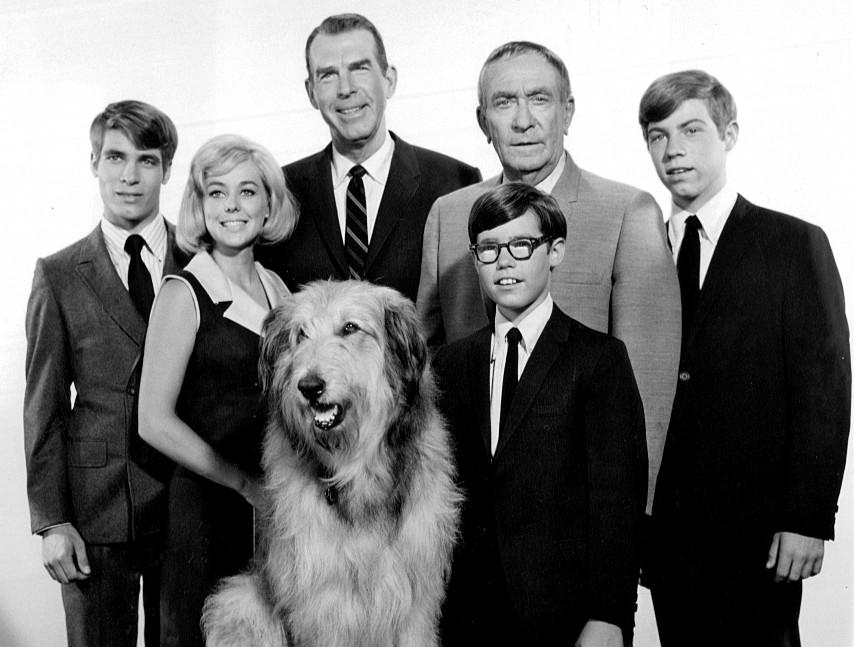 (My Three Sons 1967 Cast Photo: CBS Television)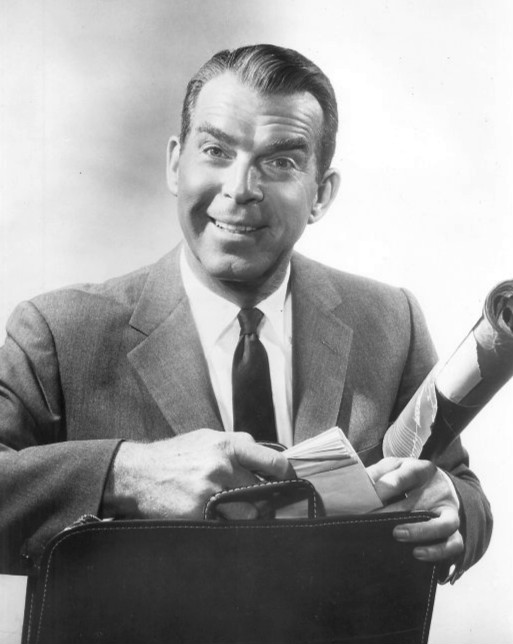 (Fred MacMurray 1960 Photo: ABC Television)
My Three Sons star Fred MacMurray was in his 50+ years and had acquired an impressive resume of 80+ feature films by the time My Three Sons premiered in 1960. Some of his most memorable movies and co-stars from the 1940's and 1950's include the mystery/thriller Above Suspicion (1943) with Joan Crawford.
Fred MacMurray co-starred in Double Indemnity (1944) with Barbara Stanwyck and Edward G. Robinson; The Caine Mutiny (1954) with Humphrey Bogart; and The Far Horizons (1955) with Charlton Heston, Barbara Hale, and William Demarest. 
In the year before My Three Sons debuted, Fred MacMurray appeared in the first of 6 Walt Disney movies – The Shaggy Dog (1959) with Tommy Kirk, Annette Funicello, and Tim Considine (Mike Douglas on My Three Sons); and The Apartment (1960) co-starring Jack Lemmon and Shirley MacLaine.
Fred MacMurray had been married to first wife Lillian Lamont from 1936 until her death from cancer in 1953; during their marriage they adopted 2 children. He married actress June Haver in 1954 and they also adopted 2 children, twins Katherine and Laurie MacMurray (b. 1956).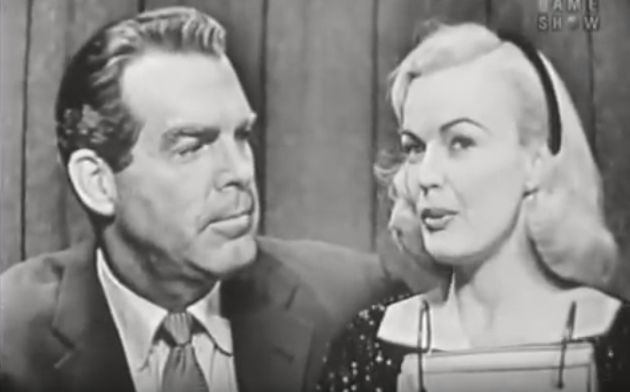 (Fred MacMurray & June Haver 1957 What's My Line)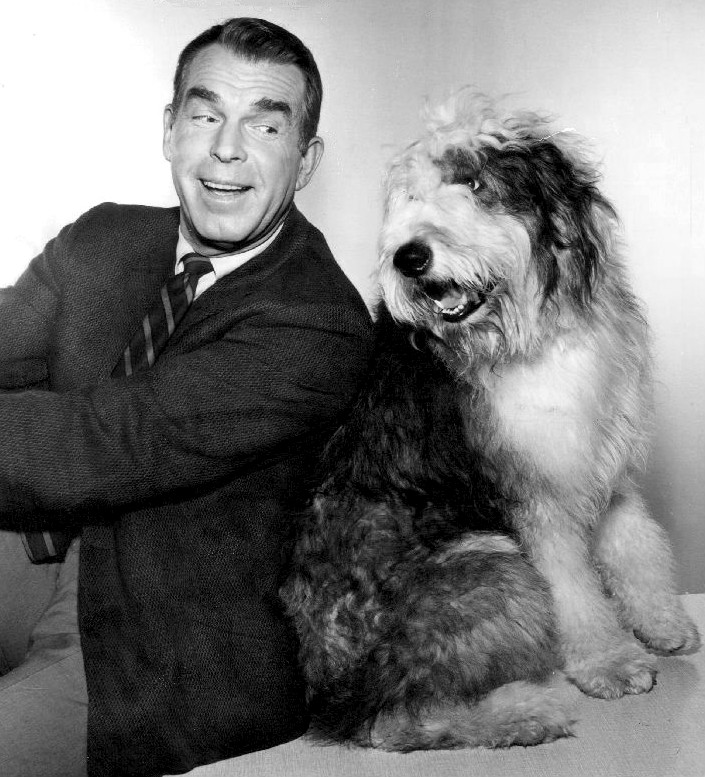 (Fred MacMurray and Tramp, the Douglas family dog, on My Three Sons 1966 Photo: CBS Television)
While My Three Sons was on the air, Fred MacMurray continued to appear in movies, including these Walt Disney that baby boomers will recall: The Absent Minded Professor (1961) co-starring Nancy Olson and Tommy Kirk; Bon Voyage! (1962) co-starring Jane Wyman, Deborah Walley, Tommy Kirk, and Michael Callan; Son of Flubber (1963) with Nancy Olson and Tommy Kirk; and Follow Me, Boys! (1966) with child actor Kurt Russell .
After My Three Sons ended, MacMurray appeared in a few movies including Charley and the Angel (1973) with Cloris Leachman, Kurt Russell, and Vincent Van Patten. His last movie was the star-studded horror film The Swarm (1978) with Michael Caine, Katharine Ross, Richard Chamberlain, Olivia De Havilland, Lee Grant, Bradford Dillman, Henry Fonda, etc.
Fred MacMurray was a septuagenarian senior citizen when he retired in 1978, wealthy from his acting and real estate investments (and reported thriftiness). Before octogenarian senior Fred MacMurray died in November 1991 from pneumonia at the age of 83, he had survived throat cancer, a stroke, and leukemia. His widow June Haver died in 2005 and is buried with him.
Below, Fred MacMurray as dad Steven Douglas, Tina Cole as Katie Miller, and Don Grady as son Robbie Douglas on My Three Sons.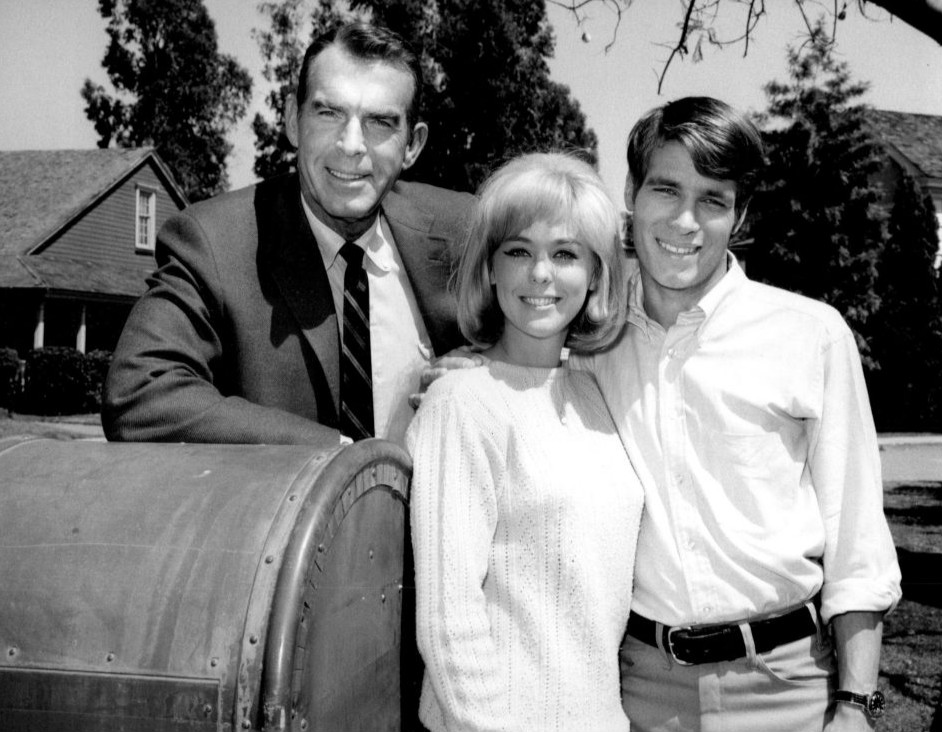 (My Three Sons 1967 Photo: CBS Television)
Don Grady (born Don Agrati in June 1944), who played middle son Robbie Douglas on My Three Sons, was 16 years old when the series began. Grady had been signed by Walt Disney Studios while he was still in junior high school and had already begun acquiring acting acting credits in 1957. He was in episodes of several western TV series such Zane Grey Theater and The Rifleman.
While My Three Sons was on the air, Don Grady's character Robbie Douglas, along with his My Three Sons "wife" Katie Miller Douglas (Tina Cole) made a crossover appearance on an episode of the romantic comedy series To Rome With Love (1970). When My Three Sons ended, Grady and Cole co-starred in TV movie/pilot After the Honeymoon (1971) which was to be a spin-off, but it wasn't picked up.
Don Grady turned his attention to a career in music as a composer and as a stage performer in musicals such as Pippin, Godspell, and Damn Yankees, although he did pop up on TV in two episodes of Simon & Simon in 1983-1984 as different characters. Grady's first marriage to Julie Boonisar lasted 3 years, from 1976-1979. He had two children with his second wife Virginia/Ginny Lewsader, whom he married in 1985. They remained married until his death in 2012 from cancer at the age of 68. 
Below, Don Grady as Robbie Douglas with William Demarest as Uncle Charley, on My Three Sons.
 (My Three Sons 1969 Photo: CBS Television)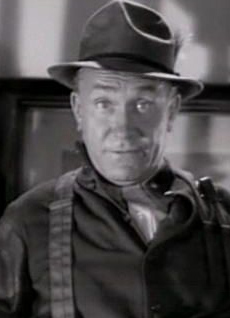 World War I veteran and actor William Demarest was nominated for an Emmy Award for Best Supporting Actor in a Comedy Role for his performance as Uncle Charley on My Three Sons (1965-1972). He appeared with singer Al Jolson in The Jazz Singer (1927), one of the first "talkie" movies, and later was nominated for an Academy Award for his role as singer Al Jolson's mentor in The Al Jolson Story (1946). Born in 1892, Demarest married his vaudeville partner Estelle Zichlin Colette circa 1920; it's believed they divorced around 1927.
(William Demarest 1942 The Palm Beach Story Movie Trailer: Paramount Studios)
 William Demarest married second wife Lucile Thayer in 1939; he was a nonagenarian senior citizen when he died of a heart attack in 1983 at the age of 91, leaving Lucile a widow after 44 years of marriage.
He acquired over 160 film credits (TV and movies) during 51 years in film, with roles in notable movies such as Mr. Smith Goes to Washington (1939) starring James Stewart; The Farmer's Daughter (1940) with William Frawley (Grandfather/Bub on My Three Sons); The Lady Eve (1941) starring Barbara Stanwyck and Henry Fonda; Viva Las Vegas (1964) starring Elvis Presley and Ann-Margret; and That Darn Cat! (1965) starring Hayley Mills and Dean Jones.
A1. Fred MacMurray had a contract that said he only worked for 65 days a year – filming for 35 days in one block of time from late May; then resuming after 10 weeks off, for another 30 days. With 30+ episodes a season for My Three Sons, this required many of Fred MacMurray's scenes to be filmed out of sequence, causing continuity and other problems for the production crew and his fellow actors – but it allowed him to appear in movies, play golf, and raise cattle on his Twin Valley Ranch in Northern California, which he had purchased in 1941. Note: The ranch was sold in 1996 to Gallo, and today is known as the MacMurray Estate Vineyards. Kate MacMurray, one of his adopted twin daughters with June Haver, lives on the ranch in a cabin her father helped build, and is a spokesperson for the MacMurray Ranch Label brand of wine. 
A2. Veteran character actor William Frawley was well known to baby boomer audiences from his role as Fred Mertz on I Love Lucy (1951-1957). Septuagenarian senior citizen Frawley's health was poor and he had to leave My Three Sons part way through the 1964-65 season because Desilu Studios was told insuring him would be too costly.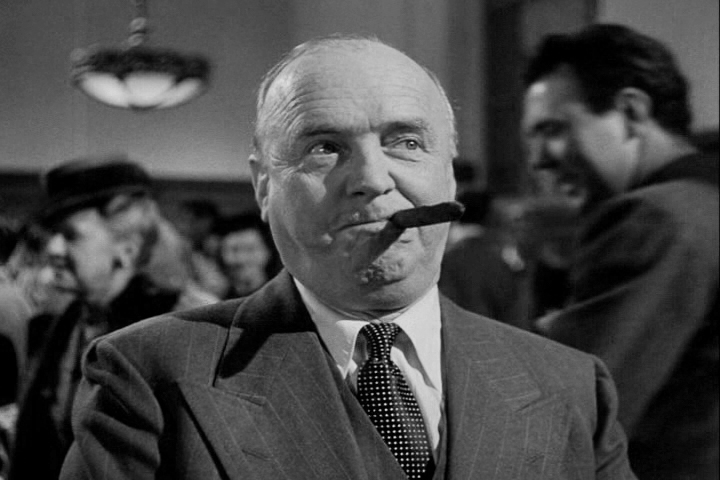 (William Frawley 1947 Miracle on 34th Street Photo: Insomnia Cured Here)
Born in 1887, William Frawley and his brother formed a vaudeville act and wrote scripts, before he made his way onto Broadway and films in the era of silent movies. Frawley was divorced from Edna Louise Broedt, a fellow vaudeville performer whom he'd been married to from 1914-1927, and had no children when he collapsed from a heart attack while walking down the street in March 1966 at the age of 79.
William Frawley had over 110 film credits to his name, including roles in One Night in the Tropics (1940), the first Bud Abbott and Lou Costello movie; The Adventures of Huckleberry Finn (1939) starring Mickey Rooney; Miracle on 34th Street (1947) starring Edmund Gwenn, Maureen O'Hara, and Natalie Wood; and The Lemon Drop Kid (1951) starring Bob Hope. He appeared in several Blondie and Abbott and Costello movies during the 1940's and 1950's as well.
*Images are public domain or Creative Commons licensed & sourced via Wikimedia Commons, Vimeo, YouTube, or Flickr, unless otherwise noted*