Mr. October Reggie Jackson's Innings
Baseball's "Mr. October", baby boomer Reginald (Reggie) Martinez Jackson was born May 18, 1946 in Abington, Pennsylvania. 
The Pre-Game Warm-up for Reggie Jackson
Reggie was only six when his African-American parents broke up and his mother left with 3 of his 5 siblings. Reggie and 2 siblings were raised by his half-Puerto Rican father Martinez Jackson in a primarily white, Jewish neighbourhood of Wyncote, Pennsylvania. Martinez Jackson was also a baseball player and had played professional baseball with the Newark Eagles of the Negro League.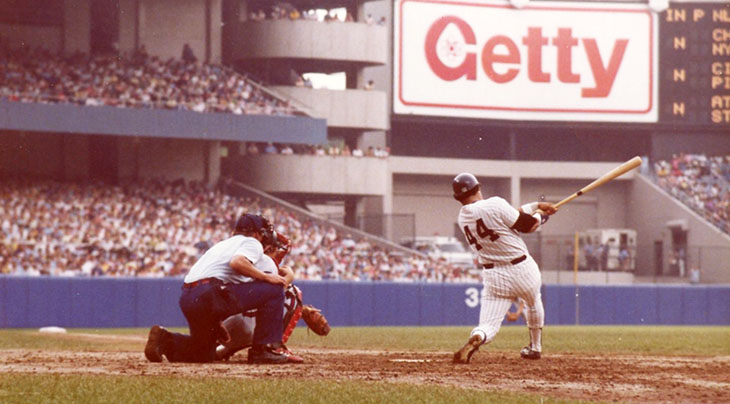 (Reggie Jackson Batting at Yankee Stadium 1979 Photo: Jim Accordino)
Reggie Jackson was a quadruple threat at Cheltenham High School, playing basketball, football, baseball, and track and field. He recovered from two potentially crippling injuries suffered during high school football games (an injured knee and five fractured vertebrae) to be scouted by Arizona State University, where he attended on a football scholarship.
Jackson couldn't play for the Arizona State Baseball team his first year in university because NCAA rules did not allow freshmen to play.
At Arizona State, Reggie began dating Mexican-American Juanita (Jennie) Campos (who looked white); a football coach tried to break them up by telling Campos' uncle about their relationship. Although Jennie's uncle warned them that being together was a bad idea, they continued dating through university. 
In his second year at Arizona State, Reggie Jackson dropped football and began playing baseball, becoming the first black player on the team. At the same time he played baseball for an amateur team associated with the Baltimore Orioles. In 1966, his second and last year with Arizona State, Jackson began playing center field and was an All-American, breaking the team's seasonal home run record.
During the MLB draft in 1966, the Kansas City Athletics picked 20-year-old Reggie Jackson second. Rumours have persisted that Jackson was not picked picked first in the draft because the New York Mets GM George Weiss was racist; and not only was Jackson black, he had dated white women, and when asked by Oklahoma State to stop dating white women when they were scouting him, he had refused. While Weiss was in management with the New York Yankees, according to Yogi Berra in his book Yogi Berra: Eternal Yankee, Weiss had said "he would never allow a black man to wear a Yankee uniform." 
Early Innings for Reggie Jackson
Reggie Jackson began his professional baseball career in the summer of 1966 with the Kansas City Athletics farm team in Idaho, the Lewis-Clark Broncs. He was hit in the head by a pitch in the first inning of his final game with the team, but continued to play with a headache until the ninth inning; he was hospitalized and kept overnight before being released.
In the fall Jackson was sent to the Birmingham A's to play AA baseball and has said he encountered racism as one of a handful of blacks on a southern team.
In June 1967 Reggie Jackson made his major league debut with the Kansas City Athletics (A's) wearing number 9. When the A's moved west to Oakland for the 1968 season, Jackson became an Oakland A baseball player. Jackson married his university girlfriend Jennie Campos that year, but has said that his focus on his career and his history with his mother leaving him as a child, affected not only the marriage but his subsequent relationships with women. 
Below, Reggie Jackson hitting his 23rd home run of 1969 for the Oakland A's. 
In 1970 after a salary dispute and a hitting slump, the A's sent him to Puerto Rico where he led the league. Reggie Jackson returned to the Oakland A's and they won the American League West Division in 1971 and 1972; a torn hamstring in the final game of the American League West division series kept Jackson out of the World Series, which the Oakland A's won.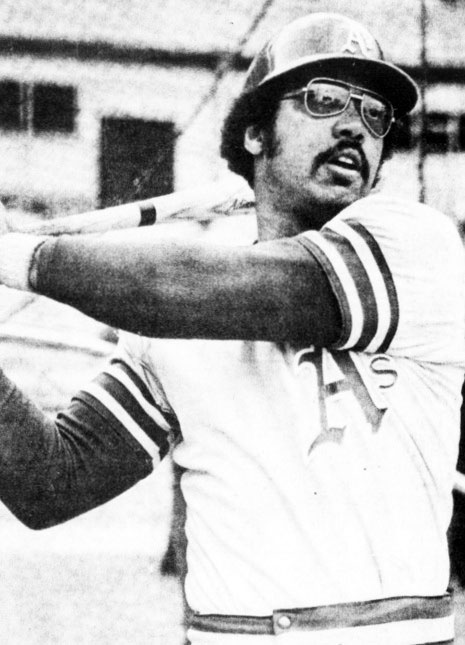 (Reggie Jackson 1973 World Series Third Game Warm-Up Photo: United Press International)
The Oakland A's won their American League Division in 1973 and Jackson was named MVP; they went on to win the World Series and Jackson was named the MVP of the 1973 World Series to the delight of his baby boomer fans.
By the end of 1973 Jennie and Reggie Jackson were divorced; the following year, Reggie got into a fight with A's outfielder Billy North, injuring his shoulder and causing peacemaker Ray Fosse to suffer a crushed neck disk and miss 3 months of the season.
In Jackson's last season with the Oakland A's, they won the 1975 AL West division but didn't progress further.
Jackson's Oakland hills home was hit by fire in 1976 and burned down. With free agency on the horizon, after 9 years within the A's baseball organization, they traded Reggie Jackson to the AL East division Baltimore Orioles in April 1976. Jackson kept his number 9 and both teams finished second in their divisions that year.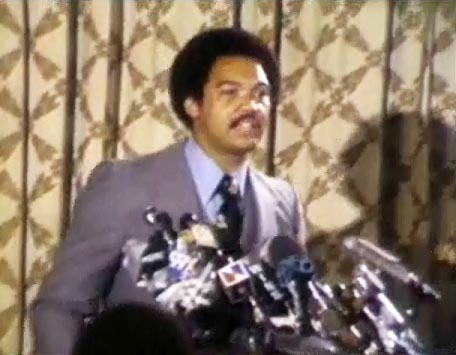 (Reggie Jackson signs with the New York Yankees 1976 Photo: MLB / New York Yankees)
At the end of the 1976 season the New York Yankees signed Reggie Jackson to an almost $3 million, 5-year contract. Jackson's number 9 jersey wasn't available with the Yankees so he took recently retired baseball great Hank Aaron's number 44.
There were strained relationships between Reggie Jackson and his fellow Yankees teammates, manager (Billy Martin), and owner George Steinbrenner, during the 1977 seasons. At one point, fisticuffs broke out between Billy Martin and Jackson in the dugout during a game. Despite this, with Jackson hitting the clean up spot, the New York Yankees won the AL East Division and the AL Championship. In Game Six of the 1977 World Series, Jackson hit 3 home runs off the LA Dodgers to cement his new nickname of "Mr. October", clinch the World Series for the New York Yankees, and earn himself another World Series MVP title.
Below, a clip of Reggie Jackson hitting his legendary third home run of the game & cementing his reputation and nickname of "Mr. October".
The following year the New York Yankees manager Billy Martin either resigned (or was fired depending on sources), and with new manager Bob Lemon the Yankees again won both the 1978 AL Championship and the World Series. Although Reggie Jackson batted a career high .300 during the 1980 season, the Yankees didn't progress past the AL East Division Championships that year.
Despite (verbal) battles with Steinbrenner during the next season in 1981 (the final year of his Yankees contract), Jackson's home runs helped the team wan the AL Championship and make it to the world series. Partly due to injuries suffered during the AL Championship and partly due to manager Bob Lemon, Jackson sat out the first 3 games of the 1981 World Series. Although he played from game 4 on, the Yankees ended up losing the series.
A free agent again in 1982, Reggie Jackson signed a new 5-year contract with the California Angels, owned by cowboy actor/singer Gene Autry. During his time with the California Angels from 1982-1986, they won the AL West twice – in 1982 and again in 1986 – and Jackson scored his 500th home run in September 1984 (17 years after hitting his first MLB home run). Below, Reggie Jackson's 500th home run hit.
After his contract with the Angels ended, Jackson signed a 1-year contract for the 1987 season with the Oakland A's. Reggie Jackson retired at the end of the season at the age of 41, after playing 21 years in MLB baseball.
Before his retirement, Reggie Jackson was an off-season field reporter and analyst, doing commentary for ABC Sports, working with Howard Cosell. throughout the 1970's and 1980's. During the 1980's and 1990's Jackson hosted a television show – Reggie Jackson's World of Sports (1981-1982) – and guest-starred in a few television series such as Archie Bunker's Place (1982) and Malcom in the Middle (2004). He also played bit parts or had cameos in big-screen movies from The Naked Gun: From the Files of the Police Squad! to The Benchwarmers (2006).
A long-time car enthusiast and collector of old "muscle" cars since the early 1970's, in 1988 a fire at one of 3 warehouses with many of Jackson's 130 vintage automobiles inside, also burned down. Below, an older Jackson in his Seaside, California classic car warehouse with many of his vintage 1950's and 1960's cars.
By 1991 Reggie Jackson had three homes in California – a home in Newport Beach, his primary residence in Oakland hills home, and a house in Carmel. As he was preparing to move out of his Oakland Hills house in 1991 to live full-time in his Carmel home, another fire that swept through the Oakland area burned Jackson's house once again.
A relationship with girlfriend Kim resulted Jackson's daughter Kimberly (b. 1991); Kimberly lived with her mother while growing up.
In retirement, Jackson reconciled with Yankees owner George Steinbrenner and became a consultant for the team, as "Special Assistant to the Principal Owner".
Below, Reggie Jackson talks to baseball player Giancarlo Stanton in 2015.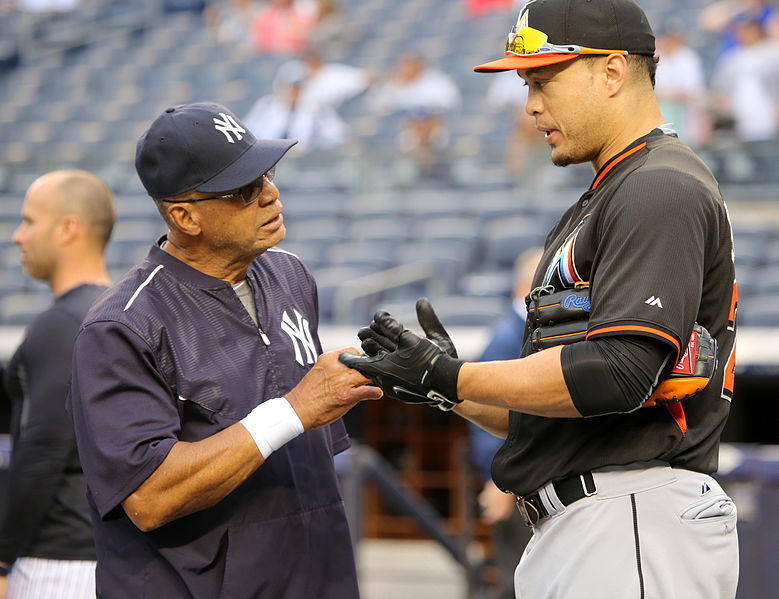 (2015 Photo: Arturo Pardavila III)
In addition to pursuing his interests in muscle cars and vintage cars, Reggie Jackson has been involved in numerous business interests including sports memorabilia, and software companies over the past 30 years of his retirement from baseball. Jackson was inducted into the Baseball Hall of Fame in 1993 and the New York Yankees retired his number 44 shortly after; the Oakland A's retired his number 9 in 2004 when Jackson was in his 50+ years.
The 7th Inning Stretch for Reggie Jackson
The game of life and living is not over for Mr. October Reggie Jackson. The septuagenarian senior is a Special Assistant to the General Manager for the New York Yankees.
He's lived in Carmel, California for the past 25 years, and in addition to recently acquiring a part ownership in Rick Cole Auctions (high-end collectible and sports car auctions), he founded Reggie's Garage, a website to sell vintage automobile parts online.
*Images are public domain or Creative Commons licensed & sourced via Wikimedia Commons, Vimeo, or Flickr, unless otherwise noted*