Savoring The Hamilton Meat Pie Co.
Possibly the only thing that's better than the aroma of fresh baked pastry, roast turkey or simmering beef with gravy, is the actual taste of it in a delicious meat pie.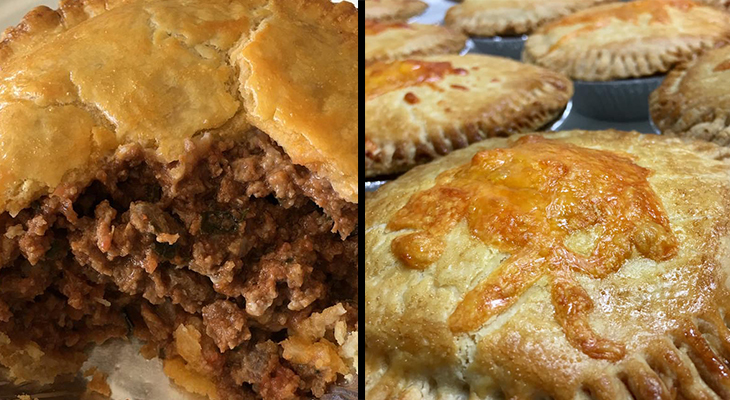 (Ground Beef and Gravy Pie at Hamilton Meat Pie Co.)
That is, when it's one of the yummy hand-made fruit or meat pies that the Hamilton Meat Pie Co. has built a reputation for since they opened in 2018.
Understanding Their Customers
Although their main business is selling fresh pies, breads, and pastries, in their Hamilton, Ontario store on Burlington St., they also offer occasional lunch catering, fruit pies for weddings, and wholesale frozen or fully cooked pies for other local retailers and restaurants to serve their customers.
In non-peak times, owners Liana Valentini and Rick Aiton and their staff of approximately 13 regular employees, begin their work day at 4 AM. On any given day they'll sell 600 fresh pies (they sell several kinds of fruit pies as well as different types of meat pies) and will cook 3 or more turkeys (each turkey weighs 30-40 pounds). Sometimes they'll bake 2 or 3 times a day.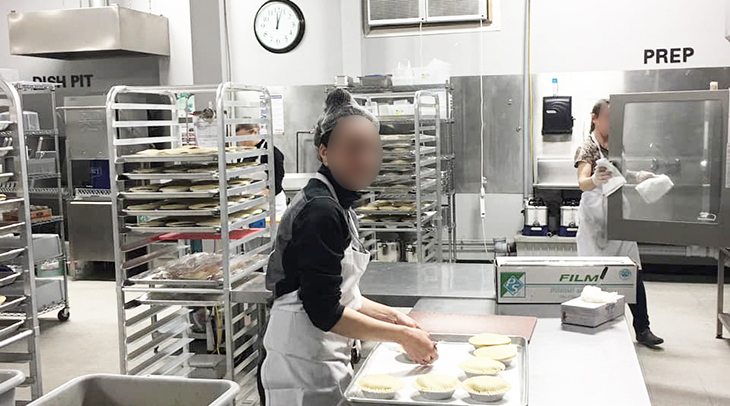 (Making Turkey Pot Pies at Hamilton Meat Pie Co.)
During peak holiday times, or if there is a special order or event, that number shoots through the roof. Liana estimates that to meet this past Thanksgiving's demand (6,000 pies sold in 3 days), they cooked 80 turkeys, with staff working almost around the clock. Astonishing, considering the pies are made by hand daily and sold fresh (not frozen), that same day.
Hamilton Meat Pie Co. customers are typically adults age 50+, however a lot of younger clients come to them after having enjoyed a meat pie first with their parents. Older, single clients often take home several of the smaller portion pies at a time. Not surprising that given their core customer demographic, they offer a 10% Seniors Discount Card for adults age 60+.
Customers often drive from other cities to get their pies; and the reverse is also true – I picked up 5 different meat pies recently to take to a niece in Ottawa, who had enjoyed one at our Hamilton home on a recent visit. Frozen pies are available upon request, and freezing instructions are provided for customers that take fresh pies home with that intention.
Fanning The Spark of Inspiration Into a Flame
Rick is a certified Red Seal chef with over 40 years of experience in the restaurant and catering business, while Liana has a background encompassing entrepreneurial and project management skills. Together they ran a successful local catering company for 20 years, working long hours 7 days a week, while raising their family. Their younger, school-age children sometimes work in the business with them.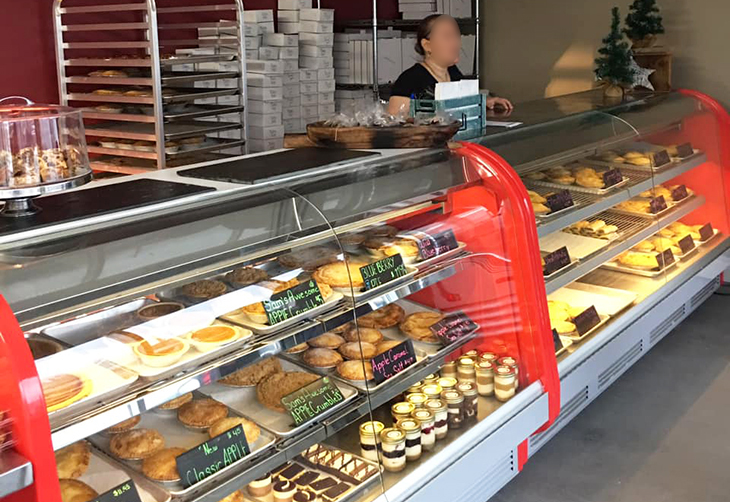 (Hamilton Meat Pie Co. Pastry Counter)
Looking ahead at retiring in a couple of years, and wanting to make a lifestyle change to allow for travel and other hard-earned leisure pleasures, Liana and Rick wondered "what next?" A compliment on a meat pie at an event they'd catered, sparked an idea.
The couple embarked on a two-week taste-testing mission to see what meat pies were available within a 50 km radius of Hamilton. Their market research exposed an opportunity that they seized on.
The Hamilton Meat Pie Co. has been successful right from the start, spurred by an initial Facebook ad. It's gotten busier as their business model (and their pies) evolved, based on listening intently to customer feedback.
Instant Business Success
Of course "instant" is a relative term…it took Rick and Liana's 60+ combined years to acquire the necessary skills, knowledge, etc. to launch the Hamilton Meat Pie Co.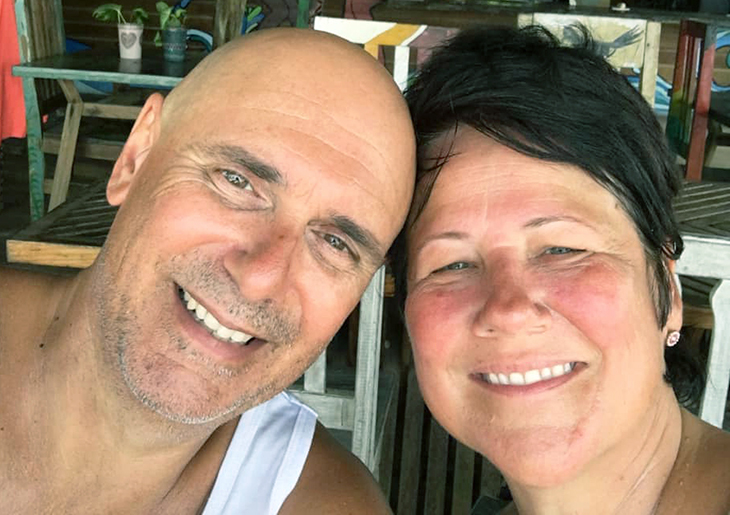 (Rick & Liana, Hamilton Meat Pie Co. Founders)
In addition to the daily non-stop passion and commitment that Liana and Rick invest in their business, other factors in their success include these important elements:
A delicious and attractive hand-made product that focuses on the meat component in their meat pies, with no comparable competition in their local market.
Attention to detail and quality control for the (human) processes, to ensure the customer experience is consistently excellent. Ingredients are baked or roasted, never fried. 
An established location with proper food preparation facilities and a storefront for counter sales.
Owner/entrepreneurs as partners with collective acquired business acumen, skills, and experience in running a food-industry business.

Rick handles the "back office", creating new recipes, managing the baking processes, as well as their social media presence (Facebook and Instagram). 
Liana takes care of the "front office", retail sales, staff, administration, advertising, and promotion.

A combination of established customer relationships / reputation (from their catering business), combined with strong word-of-mouth based on new product sales, has ensured loyal repeat customers – the backbone of any successful business.
Variety is the Spice of Life
Despite a steady taste-testing diet, Liana never tires of trying the original fruit or meat pie recipes chef Rick comes up with. Experimentation with new flavors and filling combinations to refine a recipe, and perfecting the process to produce a consistently savory and attractive pie, typically takes a couple of weeks.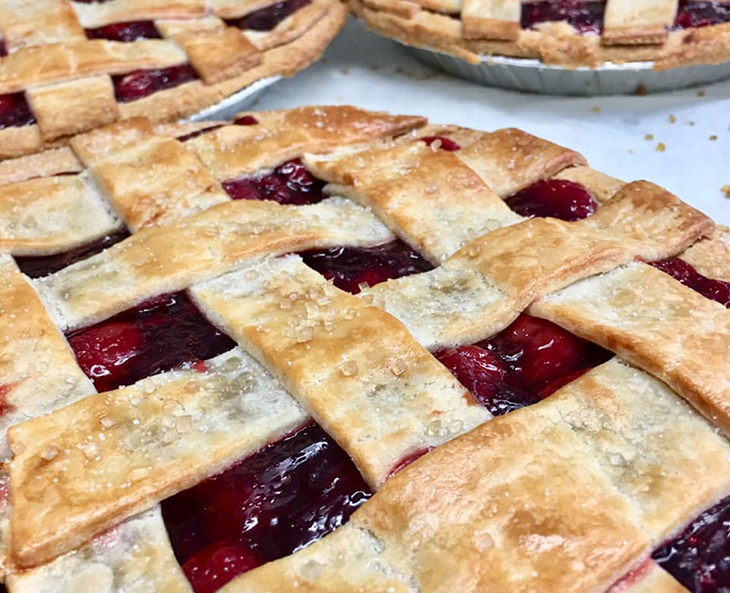 (Hamilton Meat Pie Co. Cherry Pie)
Based on customer feedback, Hamilton Meat Pie Co. has a menu of staple favorites that are available on regular basis, in small (5″) or large (10″) sizes.
Large 10″ Meat Pies (also available in 5″)
Turkey Pie or Chicken Pie, with vegetables and gravy.
Tourtiere or Beef and Gravy Meat Pies with no vegetables. 
Steak and Potato Pie with gravy
Small 5″ Meat Pies
Seasonal Smashed Meatball Pie (a family favorite recipe handed down from Liana's Italian Grandma) is among the large variety of single-serving meat pies.
Pulled Pork Pie in BBQ sauce
Cheese Burger Pie
Curried Vegetable Pie (butternut and pepper squash, sweet potatoes & chickpeas)
Butter Chicken Pie
Taco Pie
Salmon Pie
In addition to these proven favorites, new daily, weekly, or monthly featured meat based on customer requests and dining trends, are introduced after passing the family taste-test.
Fruit Pies & Pastries
A selection of fresh fruit pies and other dessert pies are available every day, in the same serving sizes as the meat pies (5″ or 10″). Ever-popular Sour Cherry Pie, Wild Blueberry Pie, Apple Crumble, and Caramel Apple with Sea Salt Pie are almost always available (if you get there before they sell out that day!). Popular seasonal favorites come and go (ie, Pumpkin Pie at Thanksgiving & Christmas).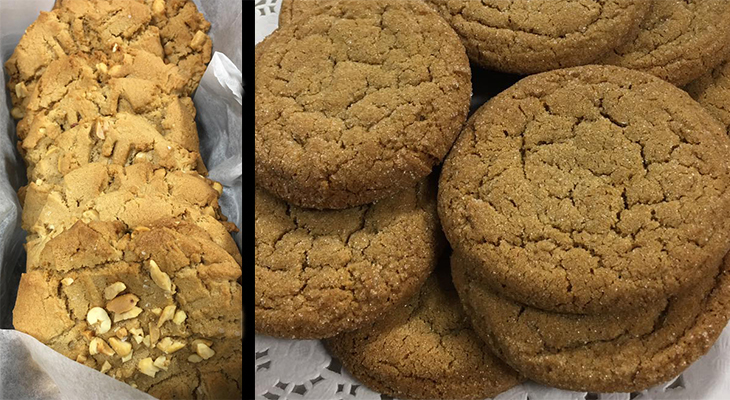 (Hamilton Meat Pie Co. Peanut Butter Sea Salt Cookies & Ginger Spice Cookies)
Cookies, squares, sausage rolls, tarts, breads, and other occasional treats line their counter daily. Their World's Best Cheesecake in a Jar has taken on a life of it's own, and is Hamilton Meat Pie Co.'s TOP SECRET recipe and method; some customers buy an entire case of the individual-serving jars at a time.
Pastry Making Tip: Keep pastry at a cool (but not cold) room temperature so it's easier to work with. Too warm and the pastry will sweat, too cold and it will break.
The Future
The astonishing success of the Hamilton Meat Pie Co. has Liana and Rick once again pondering "what next?". To expand their offerings at their current or other locations to reach a larger local client base, they'd have to start adding more baking shifts in the middle of the night. I point out that their current 4 AM is already the middle of the night for most people, and she laughingly clarifies "starting at midnight". It seems likely that customers will be able to savor the Hamilton Meat Pie Co. for some time to come.
The Hamilton Meat Pie Co. at 601 Burlington St. E., Hamilton, is open 7 days a week, Mon-Friday 10am-6pm, Saturday & Sunday 10am-4pm. Customers can check their website or facebook pages to see what's new: 
Website: https://hamiltonmeatpieco.ca/
Facebook: https://www.facebook.com/hamiltonmeatpies/
Instagram: https://www.instagram.com/hamilton_meat_pie_co/
*All Photos © 2019 Hamilton Meat Pie Co.; Text © 2019 Anita Hamilton. All rights reserved. Do not use or reproduce without written permission.*
**This article is for general informational purposes only. 50+ World does endorse these providers, nor does it receive remuneration from them.**