Thanksgiving Day Fun Facts & Videos
Yes, It's turkey time again! We present some fun Thanksgiving facts, turkey preparation tips & TV's Top 10 Thanksgiving moments: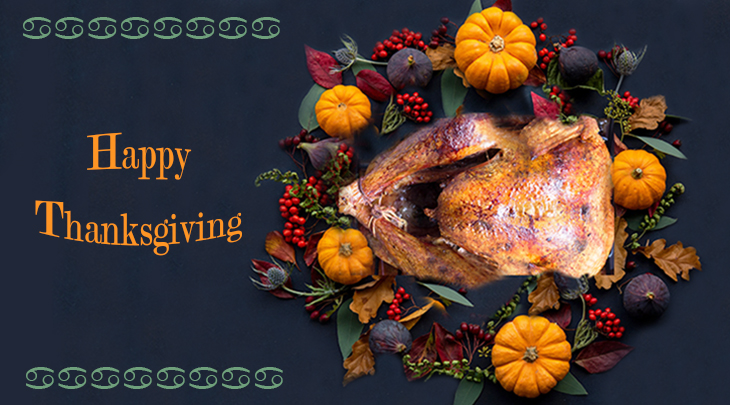 (Source Photos: Joanna Kosinka & Alison Marras via Unsplash | Edited & Blended by A. Hamilton)
Thanksgiving Day Around the World
Not just a North American or religious tradition, a day of thanksgiving is celebrated in several countries around the world, for a variety of reasons:
The United Kingdom Harvest Festival of Thanksgiving is celebrated in late September or early October; the date varies as it's held on the Sunday closest to the harvest moon at the autumnal equinox – a tradition since it was first initiated by the Saxons in Britain before the arrival of Christianity there (600's AD). Today religious observances and food collection for charity is the norm.
Canada celebrates Thanksgiving Day on the second Monday in October. A statutory national holiday in Canada, it's rooted in the end of the harvest and giving thanks for the season's bounty. Traditionally it's a time for families to have a feast that includes turkey, pumpkin pie, and Yorkshire Pudding.
The Caribbean island nations of Grenada and St. Lucia also celebrate Thanksgiving, albeit on different days and for different reasons.
St. Lucia celebrates their Thanksgiving Day on the first Monday in October, and as with Canada and the U.S., it's a celebration of the end of the harvest season; turkey is not likely on the menu.
Grenada's October 25th Thanksgiving Day commemorates the 1983 joint Caribbean & American invasion of Grenada, after a hardline Marxist faction in the Grenadian military executed the moderate communist Prime MInister Maurice Bishop. 
Although Germany's Oktoberfest Bavarian beer festival traditions overshadow it, in early October German Christian churches quietly observe the Erntedankfest (Harvest Thanksgiving Festival) – sans turkey or big meals. 
On the first Thursday in November, Liberia (West Africa) celebrates Thanksgiving Day because freed black slaves from America brought the harvest traditional holiday with them. The Liberian Thanksgiving Day is primarily a day of giving thanks for freedom, marked with religious observances, small family celebrations, and consuming fresh local produce (primarily fruit). 
Influenced by American whaling ships visitors, tiny Norfolk Island (an Australian island territory in the Pacific with a population of less than 2,000) inhabitants observe Thanksgiving on the last Wednesday of November.
The United States of America celebrates Thanksgiving Day on the fourth Thursday in November. A national statutory holiday whose origins are rooted in giving thanks for the bounty of the harvest season as it ends, it's also become a kick-off to the Christmas/holiday shopping season (Black Friday sales). As with Canada, turkey and pumpkin pie are staples of an American Thanksgiving day meal.
Following the U.S. tradition of Thanksgiving Day on the fourth Thursday in November, the city of Leiden in the Netherlands has a church service to commemorate the reception the Dutch gave Pilgrims who stopped there on their way to Plymouth. 
Japanese Labor Thanksgiving Day (formerly called the Rice Harvest Festival, possibly celebrated since the late 600's AD) is a national holiday now celebrated on November 23rd (since the 1860s) to honour & thank others for labour & production
Many other countries around the globe also have harvest festivals, at different times of the year. 
Turkey Preparation
Younger baby boomers (and their children and grandchildren) may find it hard to believe that there was a time when you couldn't buy a frozen turkey, boxed stuffing, or pre-prepared gravy. 
The earnest ladies in the vintage instructional video below (from the 1950s) not only explain how to prepare and cook a frozen turkey, but how to make home-made stuffing and gravy from scratch.
As a bonus they explain how to cook a turkey casserole, prepare a turkey almond salad, or baked turkey pinroll sandwiches, with left-overs from your Thanksgiving dinner. 
If you haven't been in a modern grocery store in the last 60 years, this video may be a revelation to you.
Now you, your family and friends, can sit down to enjoy a traditional North American Thanksgiving Day fare – turkey, stuffing, and gravy – or whatever you choose to eat, in celebration of Thanksgiving Day in Canada or America.
Television's Top Ten Thanksgiving Moments
Sit back and laugh at these "Top Ten" Thanksgiving moments from television below, including clips from WKRP in Cincinnati, Friends, A Charlie Browns Thanksgiving (1973) and more. 
Your Thanksgiving may include a big family-style feast, a day lounging on the couch watching television, or relaxing with (or without) company. Regardless of religious affiliation or how you spend the day, Thanksgiving is a good time to reflect on all there is to be thankful for.
Classic Film Stars Thanksgiving Cards
Share a Thanksgiving Day greeting
A Vintage American Thanksgiving
Happy Thanksgiving!