Top New Year's Eve Songs
Fifteen of the best classic originals, updated covers, and new tunes that are a perfect fit for New Year's Eve or Day. From uplifting to reflective or hopeful, this selection of Top New Year's Eve songs are my personal favorites.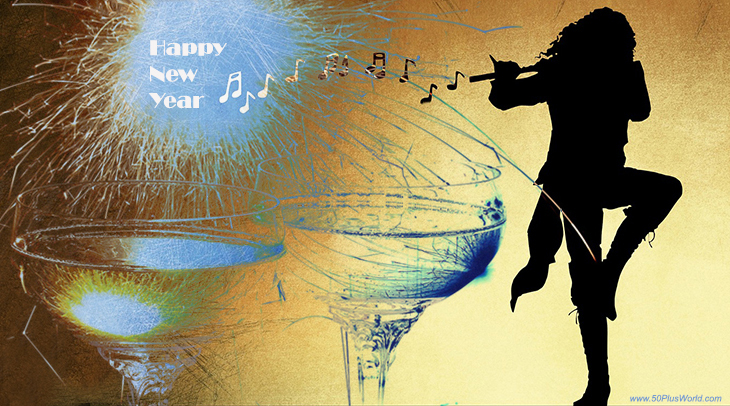 (Modified Blended Photos: A. Hamilton / 50PlusWorld.Com)
15. High Hopes – Frank Sinatra
Written by James Van Heusey and with lyrics by Sammy Cahn, High Hopes is about accomplishing the impossible. Frank Sinatra and Eddie Hodges first sang the 1960 Academy Award-winning Best Original Song High Hopes in A Hole in the Head (1959).
"Anyone knows an ant, can't 
Move a rubber tree plant
But he's got high hopes, he's got high hopes"
14. A New Day Has Come – Celine Dion
Released in 2002 on Celine Dion's A New Day Has Come album, the title track was written by Aldo Nova and Stephen Moccio. Celine Dion has said the song is about the birth of her son René-Charles Angélil in 2001. She clearly was in love with the theme, as A New Day Has Come was also the title of her 3-year Caesar's Palace Las Vegas show which debuted in 2002. 
"A new day has come
Where it was dark now there's light"
13. Happy New Year Baby – Connie Francis
Written by frequent songwriting duo Neil Sedaka and Howard H. Greenfield, Happy New Year Baby was a hit for Jo-Ann Campbell in 1958. Connie Francis released her version in 1987. Below, Connie Francis sings Happy New Year Baby.
"Happy happy new year baby, 
It's been a year I won't forget"
12. Better Days – Hedley
Hedley's 2017 single Better Days was a #25 Billboard hit for the band. Hedley lead singer & songwriter Jacob Hoggard placed 3rd in the 2004 Canadian Idol and has never looked back.
"I've been lost, I've been found
Now I believe in
Better days, better days"
11. Happy New Year – Kid Rock
Kid Rock re-worked New Jersey singer-songwriter John Eddie's lyrics to Happy New Year in 2012 and included it on his Rebel Soul album. Below, Kid Rock performs Happy New Year.
"Yeah it's September, but with you here
Every night is a Happy New Year"
10. Raise Your Glass – Pink
Rock singer-songwriter Pink scored another hit single with her underdog anthem Raise Your Glass, included on her Greatest hits…So Far!!! (2010) album. Pink's official music video for Raise Your Glass, below.
So raise your glass if you are wrong,
In all the right ways,
All my underdogs,
We will never be never be, anything but loud
9. What Are You Doing New Year's Eve? – Zooey Deschanel and Joseph Gordon-Levitt
First written by Frank Loesser in 1947, What Are You Doing New Year's Eve? has been covered by several artists. I like this utterly charming version of What Are You Doing New Year's Eve? by Zooey Deschanel and Joseph Gordon-Levitt.
"Maybe it's much too early in the game
Oh, but I thought I'd ask you just the same
What are you Doing New Year's?
New Year's Eve?"
This tuneful ditty can be heard on the movie soundtracks of Mixed Nuts (1994), and Something from Tiffany's (2022). Loesser also penned the classic Christmas song Baby, It's Cold Outside.
8. Better Days – Goo Goo Dolls
Written by Goo Goo Dolls lead singer-songwriter John Rzeznik, Better Days was a Billboard Top 40 hit single in 2005 for the band. Below, John Rzeznik & the Goo Goo Dolls performing Better Days.
"Cause everyone is forgiven now
'Cause tonight's the night the world begins again"
The 2011 film New Year's Eve features The Goo Goo Dolls Better Days on the soundtrack.
7. Feeling Good – Michael Bublé
Written by Anthony Newley and Leslie Bricusse, Feeling Good (or Feelin' Good) was performed for the first time on Broadway in the musical The Roar of the Greasepaint – The Smell of the Crowd. Nina Simone included Feeling Good on her I Put a Spell on You album in 1965, and many other artists have covered it since then. Below is Michael Bublé's cover of Feeling Good.
It's a new dawn, it's a new day, it's a new life for me
And I'm feelin' good
Feeling Good can be heard on the Cruella (2021) film soundtrack.
6. It's My Life – Bon Jovi
Jon Bon Jovi, Richie Sambora, and Max Martin wrote the #1 hit rock anthem It's My Life, included on Bon Jovi's album Crush (2000). Jon Bon Jovi has said It's My Life was in part inspired by his admiration for movie star and singer Frank Sinatra's career. Below, lead singer Jon Bon Jovi performs It's My Life with the band
"It's my life
And it's now or never
I ain't gonna live forever"
5. Our Day Will Come – Amy Winehouse
Ruby & the Romantics songwriters Bob Hilliard and Mort Garson's song Our Day Will Come was first covered by Ruby & the Romantics in December 1963, and became a #1 hit single for them by New Year's Eve. Retro powerhouse singer Amy Winehouse covered Our Day Will Come in 2003, below. 
"Our day will come
And we'll have everything"
Ruby & the Romantics' song  Our Day Will Come can be heard on the You Should Have Left (2020) movie soundtrack. , Love Field (1992), She's Out of Control (1989), Buster (1988), Grease 2 (1982), and More American Graffiti (1979). Surf Punks perform Our Day Will Come on the Under the Boardwalk (1989) soundtrack, while k. d. Lang &  The Reclines do the honours in Shag (1988).
4. I Hope You Dance – Lee Ann Womack
Written by Tia Sillers & Mark Sanders, I Hope You Dance was the title track recorded by crossover pop-country singer Lee Ann Womack with Sons of the Desert for her 2000 album. I Hope You Dance won the Grammy Award for Best Country Song, and is Lee Ann Womack's signature song..
"I hope you dance (Time is a wheel in constant motion always rolling us along)
I hope you dance (Tell me who wants to look back on their years and wonder?"
Lee Ann Womack's rendition of I Hope You Dance is on the 90 Minutes in Heaven (2015) soundtrack. 
3. New Year's Day – U2
U2's rock anthem New Year's Day was written by the Irish band and included on their War (1983) album, inspired by the Polish solidarity movement.
New Year's Day was U2's first big international hit and has been included in Rolling Stone's list of The 500 Greatest Songs of All Time.  
"All is quiet on New Year's Day
A world in white gets underway"
2. What a Wonderful World – Louis Armstrong
When songwriters George Weiss and Robert Thiele came up with What A Wonderful World and offered it to Louis Armstrong, his 1967 recording become a classic. Since then, What a Wonderful World has been included in several movie soundtracks, and covered by many artists including Hawaiian singer Israel Kamakawiwo'ole, Roy Clark, Anne Murray, Rod Stewart, and others. Below, Louis Armstrong performs his signature song What A Wonderful World live in 1967.
"I see trees of green, red roses too
I see them bloom for me and you
And I think to myself what a wonderful world"
This popular song can be heard on many film & television soundtracks, sung by various performers. Louis Armstrong's unique version of What a Wonderful World is heard in the films Nobody (2021), Finding Dory (2016), New Year's Eve (2011), Head Over Heels (2010), Madagascar (2005), Madeline (1998), 12 Monkeys (1995), and Good Morning, Vietnam (1987), to name a few.
1. Auld Lang Syne – LeAnn Rimes
Scottish poet Robert Burns sent a written copy of Auld Lang Syne – "an old song, of the olden times….I took it down from an old man" to the Scots Musical Museum c. 1788. The phrase Old Lang Syne was used by other, earlier poets as far back as 1600s, including Robert Ayton's short poem Old Long Syne.
It wouldn't be New Year's Eve if you didn't hear SOMEONE singing Auld Lang Syne as the New Year is rung in.
"For auld lang syne, my dear,
for auld lang syne,
we'll take a cup of kindness yet, 
for old lang syne?"
And take a look back in time at these New Year's Eve songs from the 1940s, 1950s and 1960s, including a vintage clips video of films and live performances (complete list below):
1965 – Dianne Lennon & Steve Smith sing What Are You Doing New Year's Eve?
1957 – The McGuire Sisters perform Let's Start the New Year Right
1960 – Peggy Lee sings My Dear Acquaintance (A Happy New Year)
1952 – Sylvia Syms performing The Night They Invented Champagne
1966 – Roosevelt Sykes sings Resolution Blues in Times Square
1976 – The McGuire Sisters again, this time singing Happy New Year
1965 – Julie Andrews performing Auld Lang Syne on TV
1965 – The Sisters sing Happy New Year Baby
1960 – Lonnie Johnson performs New Years Blues Lonnie Johnson
1949 – Freddie Mitchell sings Auld Lang Syne Boogie
If you like this "Top New Year's Eve Songs" list, you may also like my "Top New Year's Eve Movies & Clips" list, a selection of Vintage Happy New Year Greeting Cards, and these other festive favorites:
Top Christmas Songs (in Classic Clips)
Planning a Christmas / Holiday Menu? – Hits and Misses
Top 20 Classic Christmas Movies
I Heard the Bells on Christmas Day (song and the story behind it)
Happy New Year!
Note: This article was first published in 2019. It has been updated.