Canada's Snowbird Anne Murray
Ageless Anne Murray won her way into the hearts of Canadians and fans the world over for forever, back in 1969 when her hit single Snowbird was released and climbed to the top of the music charts. In the decades since, more hits followed on pop and country music charts – You Needed Me, Danny's Song, and many more.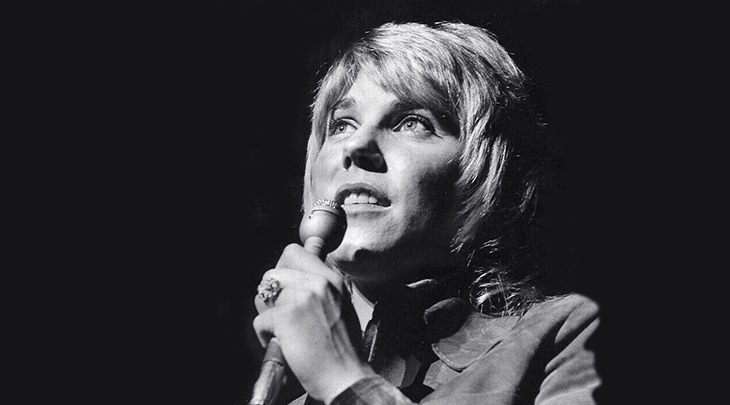 (Anne Murray c. 1973-1974)
Growing Up in Springhill, Nova Scotia
Canadian singer Anne Murray was born June 20, 1945 to her parents, nurse Marion Burke, and Dr. James Murray. She grew up in the coal mining town of Springhill, Nova Scotia, as the middle child sandwiched in between five brothers – older brothers David, Daniel and Harold, younger siblings Stewart and Bruce.
Small wonder that the no-nonsense image which Anne later projected in stage performances (she was never a femme fatale diva), was fostered by her role in a "sports-mad family". Watching favorite teams play sports was fun (Brooklyn Dodgers, Toronto Maple Leafs, Montreal Canadiens), but she also enjoyed participating in many sports herself, with her father and brothers (fishing, swimming, cross country skiing, hockey, softball). In her autobiography All of Me (2009), Anne recalled her father (in a tradition reminiscent of Wayne Gretzky's father Walter), renting out the local skating rink for an hour after church on Sundays, so the family could play hockey together. 
Murray recalled the Springhill mine explosion of 1956 that killed 39 men, the fire that swept through the downtown the following year and wiped out many businesses, and the earthquake the year after, that killed another 75 men in the coal mine. Many of the Murray family friends lost family members and their livings, and her father worked round the clock. Out of the ashes of such tragedies a spirit of resilience was fired in Anne.
It was in Springhill that Anne Murray met the man she referred to as one of the two great loves of her life, her first boyfriend, Brian Fuller. This was Springhill, it was the early 1960s, and Anne was a teenager.
"My romance with Brian Fuller was adolescent puppy love, but it was intense for its time. We went to the movies, held hands and kissed behind the barn on his property." – Anne Murray, All of Me (2009) 
Murray's childhood passions included movie fan magazines like Photoplay, and watching classic movies on TV at home. Favorite films – Random Harvest (1942) with Ronald Colman and Greer Garson, The African Queen (1951) starring Humphrey Bogart and Katharine Hepburn, Mrs. Miniver (1942) with Greer Garson and Canadian actor Walter Pidgeon, and The Greatest Show on Earth (1952) starring Cornel Wilde, Betty Hutton, and James Stewart – played into her fantasy of becoming a film star like Greer Garson.
The notion of becoming an actress gradually gave way to a dream of becoming a singer, spurred by singing lessons beginning at age 15. Anne Murray formed the Freshettes trio with her high school friends Geraldine Hopkins and Catherine Ross. They performed at local venues, and even made it onto a Moncton, New Brunswick television station once.
Before she graduated from the University of New Brunswick in 1966, Anne Murray her her tonsils removed. She discovered that her voice, which had previously had a little nasal quality, had markedly improved. If not for that fateful tonsil operation, Canada's Snowbird might never have flown.
CBC's Singalong Jubilee and Recording Artist
After graduating from the University of New Brunswick in 1966, Anne taught physical education at a high school, and appeared on the Canadian Broadcasting Corporation (CBC) musical variety television show, Singalong Jubilee.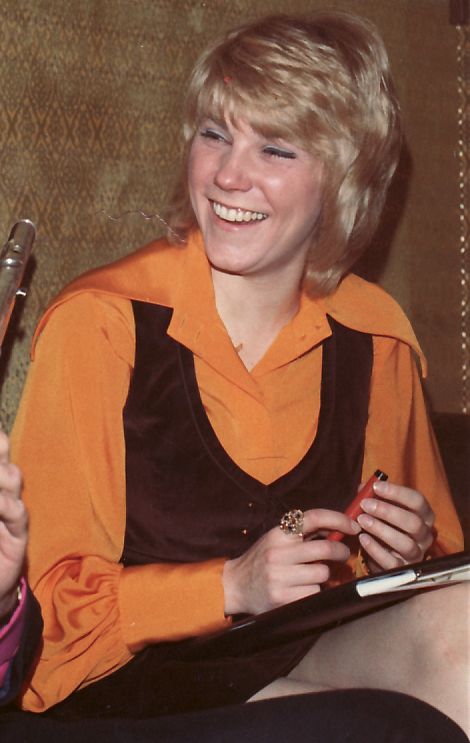 (Anne Murray 1970s Photo: Fraser MacPherson & Anne Murray)
It was on Singalong Jubilee that Anne would meet two major influences in her life – singer-songwriter Gene MacLellan and the show's host, singer Bill Langstroth, who was also a CBC television producer and 15 years Anne's senior.

Anne recorded her first album, What About Me which became a Canadian hit upon release in 1968. That same year, Anne and Bill Langstroth (then a married father of two young children) began a secret affair that would continue for years.
Anne's second album, This Way is My Way, was released the next year and included the single Snowbird (written by Gene MacLellan).
Snowbird became a #1 hit in Canada, and when it reached #8 in the U.S., Anne Murray became the first Canadian artist to earn a gold record there. 
Anne Murray would go on to achieve eight #1 Billboard Hot 100 hits on the Adult Contemporary charts during the 1970's and 80's, including Danny's Song (1972), You Won't See Me (1974), You Needed Me (1978); I Just Fall in Love Again (1979); Could I have This Dance (1980), and many more.
While hosting an episode of The Midnight Special in 1973 with guest performers Don McLean, Badfinger, The Nitty Gritty Dirt Band, Steve Martin, and others, Murray sang her hit single Danny's Song.
Murray's albums have sold over 54 million copies and she's the proud holder of buckets of Canadian and U.S. music's highest awards – 4 Grammy's, 24 Junos, 3 AMA's, 3 CMA's, 3 CCMAA's – 4 Hall of Fame inductions (Juno, Canadian Country Music, Canadian Songwriters, and Canadian Broadcast), with stars on the Hollywood Walk of Fame in L.A., and Canada's Walk of Fame in Toronto. 
Anne Murray performed You Needed Me live on The Johnny Cash Show in 1979.
Marriage, Family and Retirement
In 1975 Anne Murray married the now-divorced Bill Langstroth. Their son William was born in 1976, followed by daughter Dawn in 1979.
Dawn is also a singer-songwriter and has performed with Anne including benefit concerts for anorexia nervosa, which Dawn has suffered from. As a young mom, Anne started recording different types of songs and released a Juno award (1979) winning children's album in 1977 which included a popular single by the same name, There's A Hippo in My Tub.  
Over the years since then, perennial baby boomer fan favorite Anne Murray has appeared on numerous television specials and released new albums and singles. In her 50+ years, she and Bill Langstroth divorced (1998), but remained friends until his death in 2013.
A long-time golf lover, in 2003 Anne Murray made history by becoming the first woman to score a hole-in-one on the 17th hole at the Kalauyat Golf Club (a par 3). Golf For Women magazine named her the world's best female celebrity golfer in 2007, and that same year Canada Post recognized her with a limited edition Anne Murray stamp.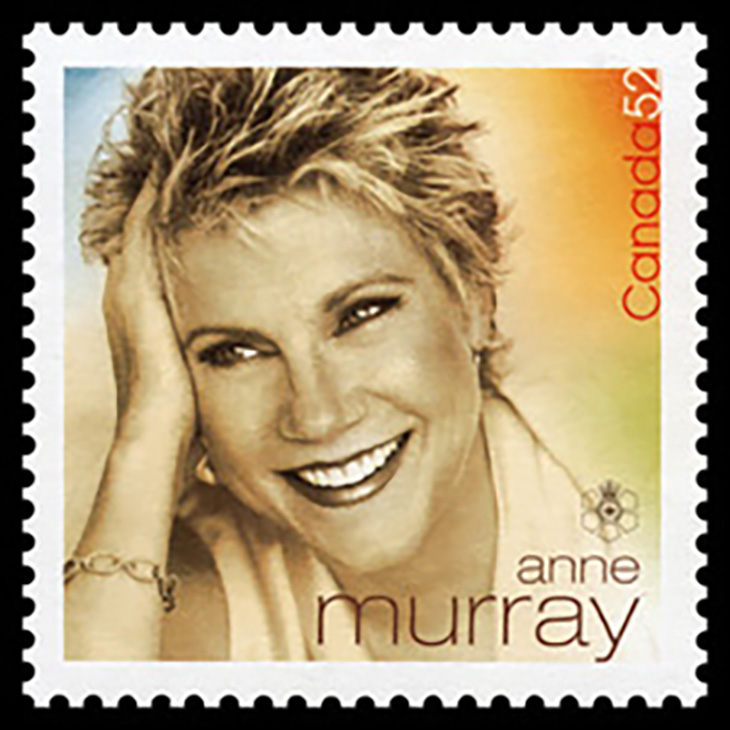 (Anne Murray 2007 Canada Post Stamp)
Her 2007 album Anne Murray Duets: Friends & Legends, which included re-recordings of her hit tunes with other top female artists, hit #2 on the Canadian pop album charts, and debuted at #8 on Billboard's Country Albums chart in 2008.
In a 2007 interview with Michael Posner (globeandmail.com), Anne outlined the exercise regimen that kept her fit and active as she neared her senior years with age-friendly sports such as golf, swimming laps daily, yoga classes, and visits from her personal trainer. Anne also recounted the sense of loss she still felt upon the death of her former manager of 25 years, Leonard Rambeau, from colon cancer at age 49 in 1995.
Anne Murray retired early from singing before actually becoming an official senior citizen, announcing that her 2008 Coast-to-Coast – One Last Time tour would be her final major tour. Although she did mentor contestants on the now-defunct Canadian Idol television series later that year, Anne has not performed in public or released a new album since 2008.
When Murray finished writing her 2009 autobiography All of Me she did a short book-signing tour to promote it's release. As many seniors in retirement do, she continued to keep fit, a benefit of her  love of the game of golf. Anne turned her love of golfing and desire to cultivate a retirement interest in supporting a charity, the annual Anne Murray Charity Golf Classic in 2009, with proceeds going to Colon Cancer Canada to fund research and diagnostic equipment.
In an 2013 morning show interview with Global News, Anne – looking much the same as she has for the past 30 years – said that things were winding down in her life and she doesn't miss her singing career at all; she only sings Happy Birthday occasionally to friends. She urged viewers to get tested for colon cancer, saying:
"What amazes me is the number of people that are scared to be tested…I've been tested 4 times, it's nothing, it's a piece of cake…so please, get tested."
The recent Anne Murray: Full Circle (2021) documentary includes vintage photos of Anne and her family. She voiced her regrets about the toll that touring took on her family life to CBC interviewer Ian Hanomansing.
Conclusions? Anne Murray never seems to age; she will forever be Canada's Snowbird.
Note: This article was first published in 2015 as Celebrating Seniors: Anne Murray Turns 70. It has been updated with new & additional content.