What Was New in February 1952?
Boomer Trivia From February 1952: Classic movie premiere – Classic movie premiere of The African Queen, starring Humphrey Bogart & Katharine Hepburn; King George VI Dies; Norway Winter Olympics & speed skater Hjalmar Andersen

The African Queen Film Premiere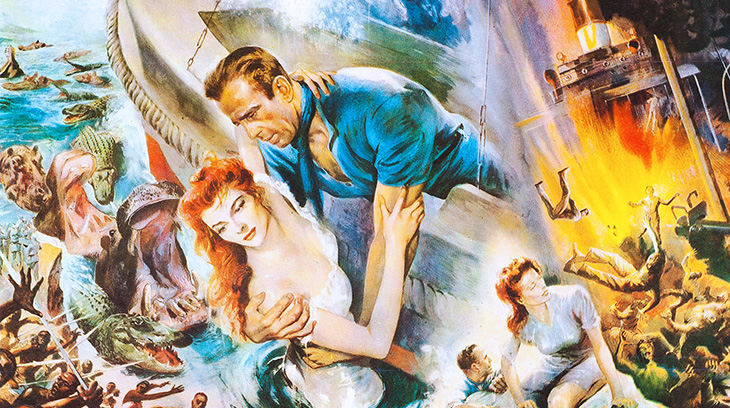 (The African Queen 1952 Movie Poster: United Artists Corp.)
The British-American feature film The African Queen premiered to wide release on February 20, 1952 at the Capitol Theater in New York City. Directed by John Huston (who also had a hand in adapting the screenplay), The African Queen movie was based on a 1935 novel by C. S. Forester.
Movie stars Katharine Hepburn (as Rose Sayer) and Robert Morley (as her brother Samuel Sayer) play British missionaries in East Africa. Humphrey Bogart is Charlie Allnut, the captain of a steamer boat named African Queen.
Charlie helps Rose escape when World War I breaks out and her brother Samuel is killed. Rose and Charlie fall in love as they dodge the Germans. They become separated and are captured and sentenced to death by the Germans; Charlie's request to marry Rose before they are executed is honored.
A miraculous explosion occurs when the German boat they are on hits the torpedo-laden hull of the sunken African Queen, resulting in newlyweds Charlie and Rose escaping to safety. Below, The African Queen movie trailer featuring Katharine Hepburn and Humphrey Bogart..
Roughly half of The African Queen movie was shot in England, and the other half on location in Africa. Katharine Hepburn and many of the cast shooting in Africa were sick while filming there.  Humphrey Bogart is said to have bragged that he didn't get sick because instead of drinking water, he drank gin he'd brought with him. The steamer boat seen in The African Queen movie was restored in 2011 and tourists to Key Largo, Florida can take a private or dinner cruise on the boat.
Death of England's King George VI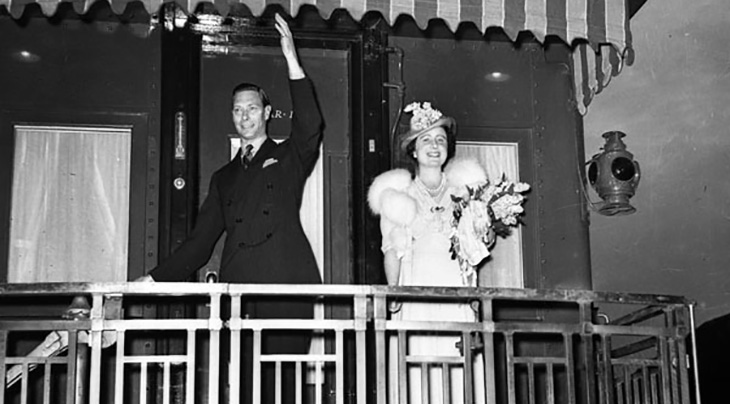 (King George VI & wife Queen Elizabeth 1939 Royal Tour/Train: William Lyon MacKenzie King)
On February 6, 1952, 56-year-old King George VI of the United Kingdom and the British Commonwealth, died in his sleep from a coronary thrombosis. King George VI was a heavy smoker and had developed lung cancer before his death. His oldest daughter Princess Elizabeth (family nickname Lilibet) became Queen Elizabeth II upon her father's death.
Nee Albert Frederick Arthur George when he was born on December 14, 1895, young Prince Albert ("Bertie" to family) was fourth in line to the throne. Prince Albert was shy and had a severe stammer; he never expected nor wanted to become King George VI. His great-grandmother Queen Victoria died in January 1901, and her successor (Prince Albert's grandfather) King Edward VII died in May 1910. When Prince Albert's father King George V died in January 1936, Albert's older brother became King Edward VIII. Seniors may remember seeing King George VI and Queen Elizabeth on television.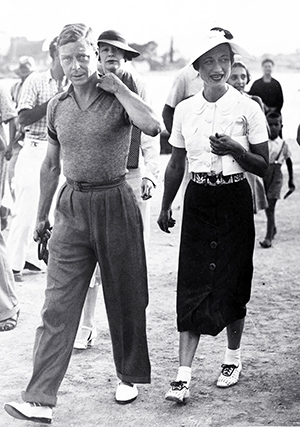 (King Edward VIII & Wallis Simpson 1936 Photo: Daily Herald Archive / National Media Museum) 
Before his death, King George V prophesied of his oldest son Edward, Prince of Wales:
"After I am dead the boy will ruin himself in 12 months",
"I pray to God that my eldest son will never marry and have children, and that nothing will come between Bertie and Lilibet and the throne."
Ten months after becoming King Edward VIII, Edward abdicated in December 1936. In a radio broadcast he explained he could not
"Discharge my duties as King as I would wish to do without the help and support of the woman I love."
Edward became Duke of Windsor after his abdication and married American divorcee Wallis Simpson in June 1937. The new Duke and Duchess of Windsor remained happily married until Edward's death in May 1972, age 77. Wallis Simpson died in April 1986 at the age of 89.
Oslo, Norway 1952 Winter Olympics
The 1952 Oslo, Norway Winter Olympics took place from February 14 to 25. The star of the 1952 Winter Olympic Games was Norwegian speed skater Hjalmar Andersen, who won 3 speed skating gold medals.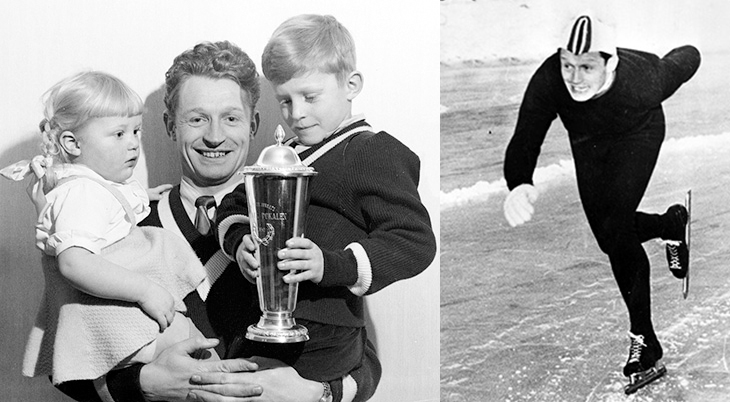 (Hjalmar Andersen & kids 1952: Schroder Foto i Trondheim | Hjalmar Andersen  c 1950: Oslo Museum)
Finn Hodt, a Norwegian speed skater, was not allowed to compete at the games because he had been a Nazi collaborator during WWII.
American figure skater Dick Button completed the first triple jump in competition (a triple loop) and clinched his second consecutive Olympic gold medal win at the 1952 Winter Olympics in Norway.. 
The Canadian men's ice hockey team beat the United States team to win their fifth Olympic gold medal – their last for 50 years, until they once again beat the United States to win the 2002 Provo, Utah Winter Olympics gold medal. 
This sixth Winter Olympic Games in Oslo, Norway in 1952 was the first for Japan and West Germany after World War II had ended. Neither the Soviet Union nor East Germany sent any athletes. 
Note: This article was first published in 2017. It has been updated with new & additional content.
*Images are believed to be in the public domain and/or Creative Commons licensed & sourced via Wikimedia Commons, YouTube, or Flickr, unless otherwise noted*