A Presto, Lake Maggiore and Lake Orta
Tour Northern Italy's Italian Lakes region of Piedmont close-up, and enjoy the historical and natural wonders of the area – in particular, Lake Maggiore and Lake Orta.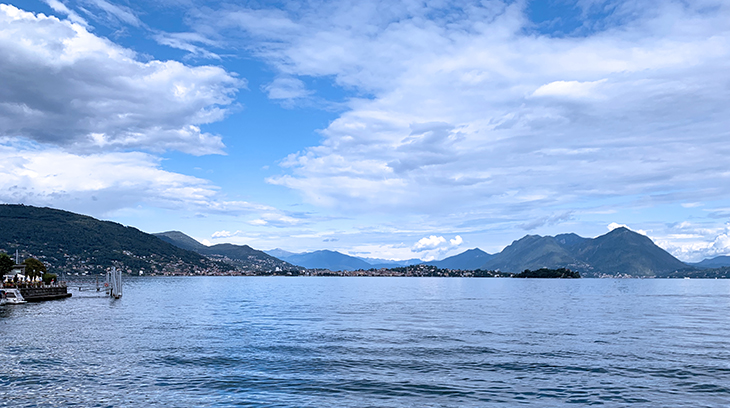 (Lake Maggiore as seen from Baveno, Italy Photo: A. Hamilton / 50+ World)
Baveno on Lake Maggiore
There's a lot of history here, going back to the conquering Romans in the 1st Century BC. Located as it is very close to the border of Switzerland, for many years Baveno, Italy was under Austrian rule (as was much of Northern Italy).
Our Insight Vacations tour group stopped in the town of Baveno on our route back to Milan after experiencing the Dolomites, a Prosecco wine tasting, magical Venice and the Byzantine architecture in St. Mark's Square, and the haunting Islands of the Venetian Lagoon. Our hotel for two nights was the Grand Hotel Dino, on the western shore of Lake Maggiore. The hotel boasts a stunning hotel lobby with an enormous crystal chandelier and stained glass ceiling.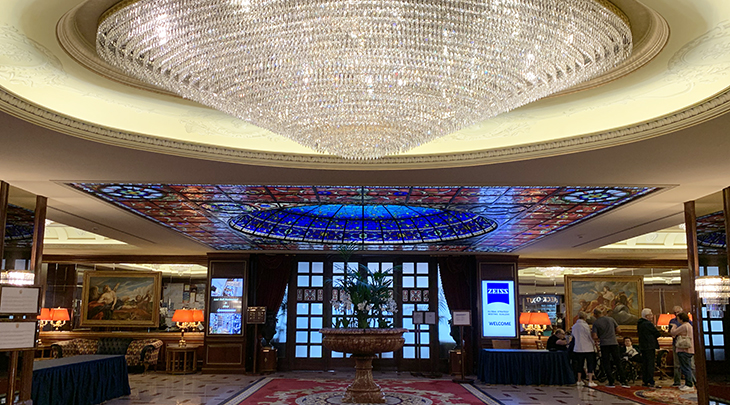 (Grand Hotel Dino Lobby, Baveno, Lake Maggiore, Italy Photo: A. Hamilton / 50+ World)
A cosy bar, breakfast rooms, and terraces look out onto the back of the hotel grounds, the town of Baveno, and Lake Maggiore.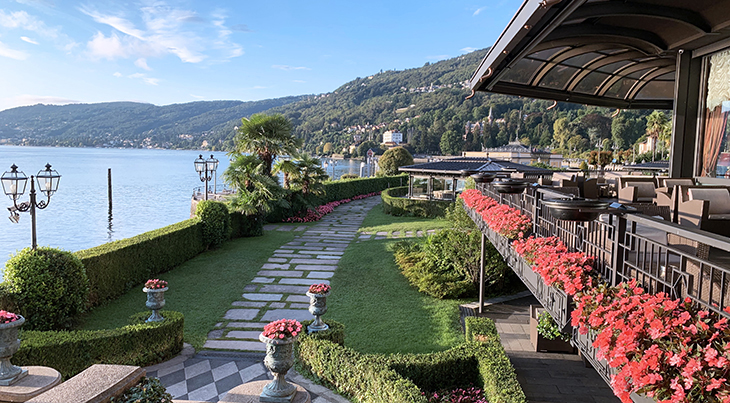 (Grand Hotel Dino Grounds, Baveno, Lake Maggiore, Italy Photo: A. Hamilton / 50+ World)
Three pools – two outdoor and one indoor, make this hotel a great family-friendly destination.
The Alps can be seen distantly to the north, while closer to the town of Baveno and visible from the front of the hotel, is one of the area's red/pink granite quarries, which has supplied granite for important buildings from Milan to Rome and far beyond.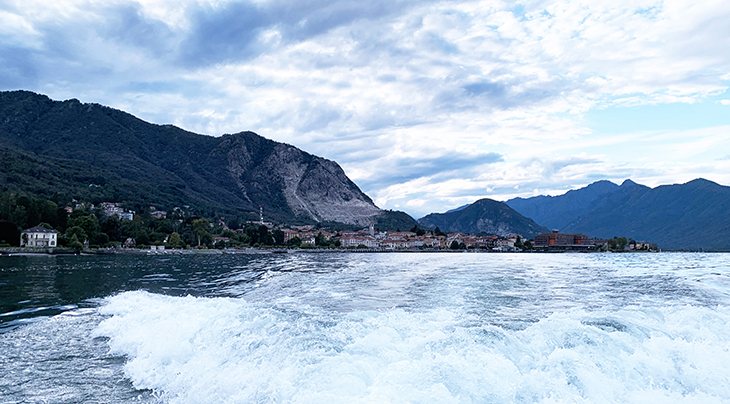 (Red / Pink Granite Quarry, Baveno, Italy Photo: A. Hamilton / 50+ World)
Looking straight out from the hotel's back terrace you can see the Borromean Islands of Isola Bella, Fishermen's Island, and Isola Madra. The Borromea Family and these islands are an important part of the history of Baveno and Lake Maggiore.
Santi Gervasio and Protasio Church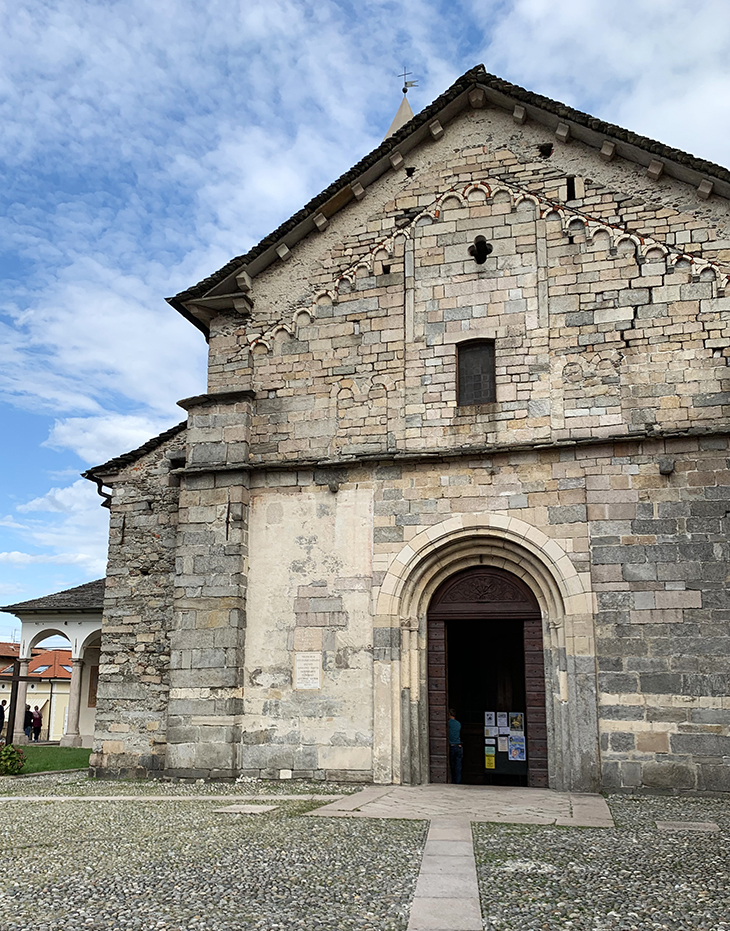 Santi Gervasio and Protasio Church, Baveno, Italy Photo: A. Hamilton / 50+ World)
In the heart of old Baveno, the cobbled 16th century Piazza della Chiesa houses the Santi Gervasio and Protasio parish church, which dates as far back as the 700s, according to various sources. It was consecrated in the 1300s, and Umbria Tourism says significant renovations and repairs were done to the church in 1584 and in the 1600s.
I wasn't able to enter the church to see the 13th-15th century frescoes and other works of art inside, but I did note an Roman epigraph on the side: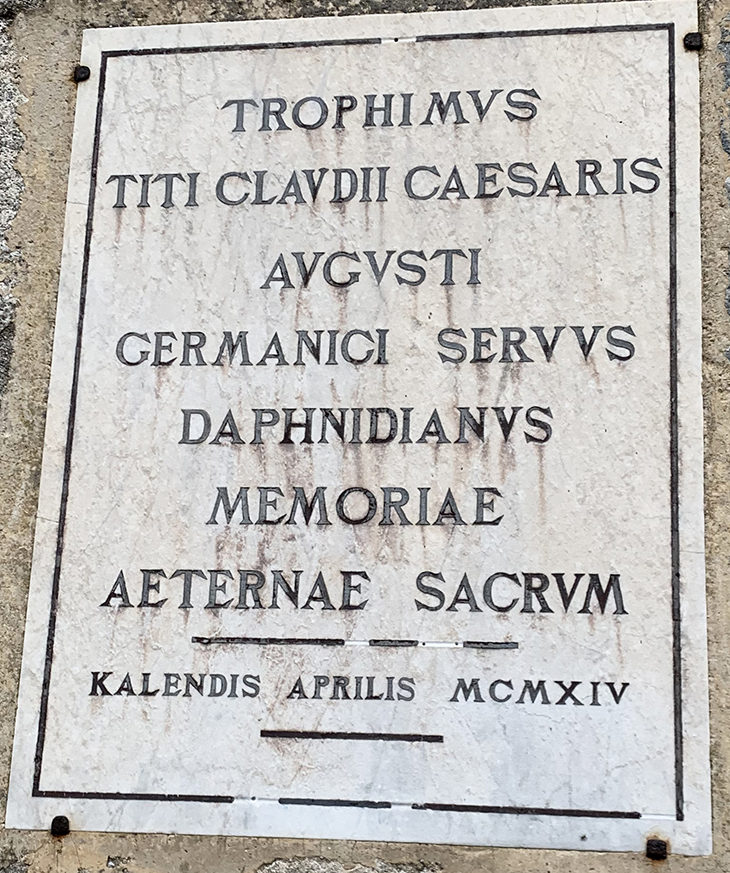 (Santi Gervasio and Protasio Church Roman Inscription, Baveno, Italy Photo: A. Hamilton / 50+ World)
Roughly translated, it indicates that the epigraph was placed on the side of the church in April 1914, and is dedicated to the eternal memory of Claudius Caesar Augustus Germanicus, by a Roman slave.
Historical Footnote: Tiberius Claudius Caesar Augustus Germanicas was the Roman emperor from 41-54 AD. During his reign he built canals, bridges, and roads, including a road from Italy to Germany. It was during Claudius' reign that the Roman Empire began it's campaign to travel north from Italy to conquer Britannia, ultimately a successful venture. 
Attached to the back of the church is a six-storey bell tower. A square Baptistery with an octagonal roof is a separate building to the side of the belltower and church.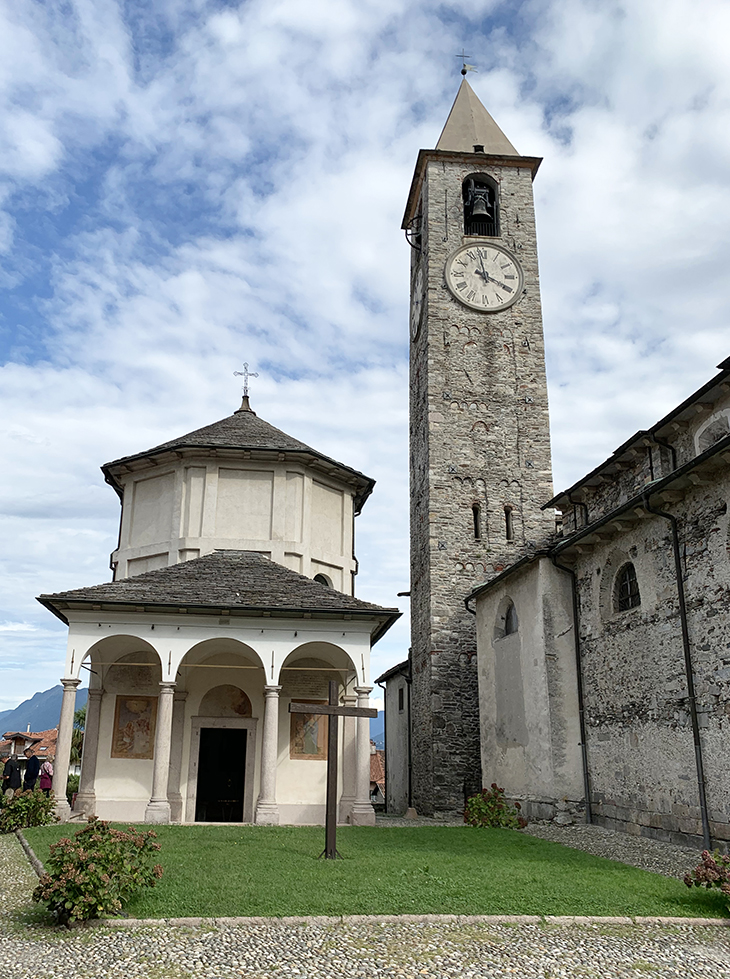 (Santi Gervasio and Protasio Baptistery and Bell Tower, Baveno, Italy Photo: A. Hamilton / 50+ World)
Renaissance frescoes (14th-17th century) adorn the interior walls and domed ceiling of the Baptistery.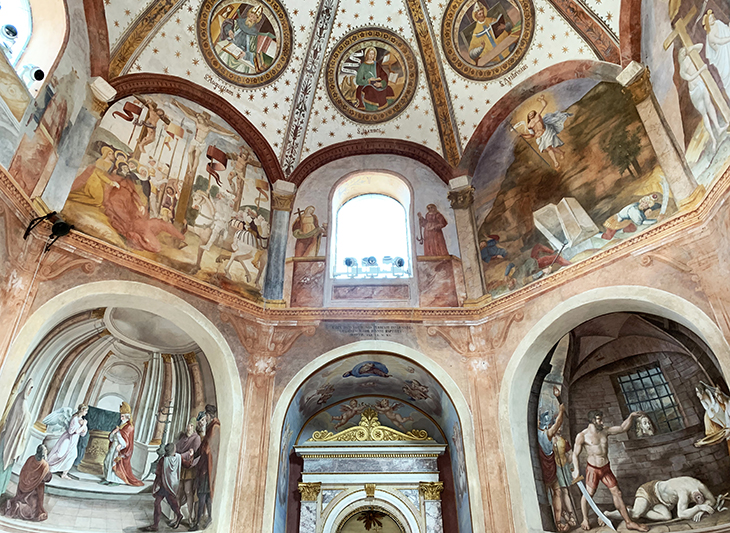 (Santi Gervasio and Protasio Baptistery Interior Ceiling, Baveno, Italy Photo: A. Hamilton / 50+ World)
Along one side of the Piazza della Chiesa is a covered portico with frescoes for the stations of the cross.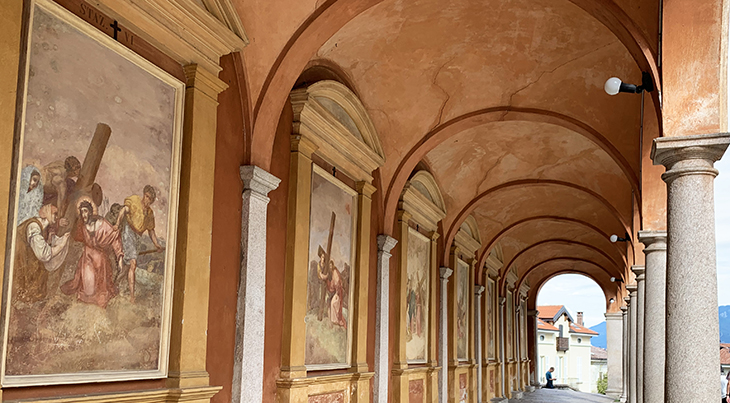 (Santi Gervasio and Protasio Portico Via Crucis Frescoes, Baveno, Italy Photo: A. Hamilton / 50+ World)
It's not a busy place – Baveno isn't that big of a town – so we were free to take our time and wander around the Piazza, Portico, and Baptistery at leisure. 
Orta San Giulio & Benedictine Abbey
A short ferry boat ride from the town of Orta San Giulio on the eastern shores of pretty Lake Orta, is the Benedictine Abbey on Isola Orta. As legend has it, the island and original church on it were founded by St. Giulio (San Giulio) in 390 AD, after he crossed the lake on his cloak and rid it of the snakes and monsters that inhabited it.
Today about 70-80 cloistered Benedictine nuns live on Isola Orta, and guard their privacy well behind ancient walls and lush greenery.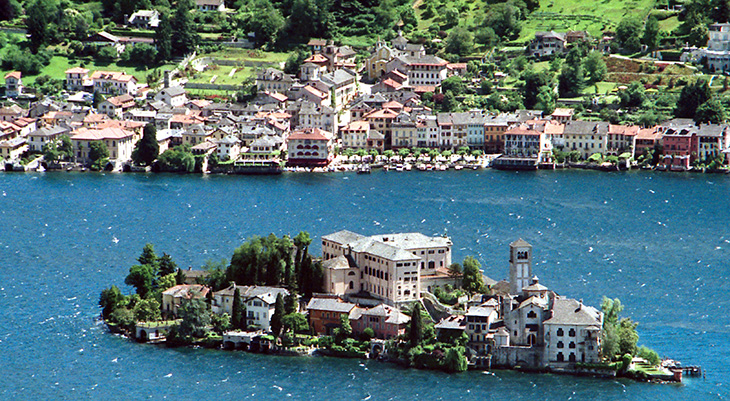 (Orta San Giulio Town and San Giulio Monastery on Isola Orta Photo: Carlo Colombo)
The Romanesque basilica of San Giulio isn't anything special to look out outside, and it's one of many old churches in the area, but once inside it's obvious why our tour guide calls this "THE church". At the front are magnificent paintings, gold embellishments, and carvings from the 1700's and 1800's, which she explained were considered "too new" to be included in the guided tour.
Unfortunately, no pictures are allowed inside the church when we visit, but you don't have to take my word for it…Below are a few pictures taken in previous years by other people.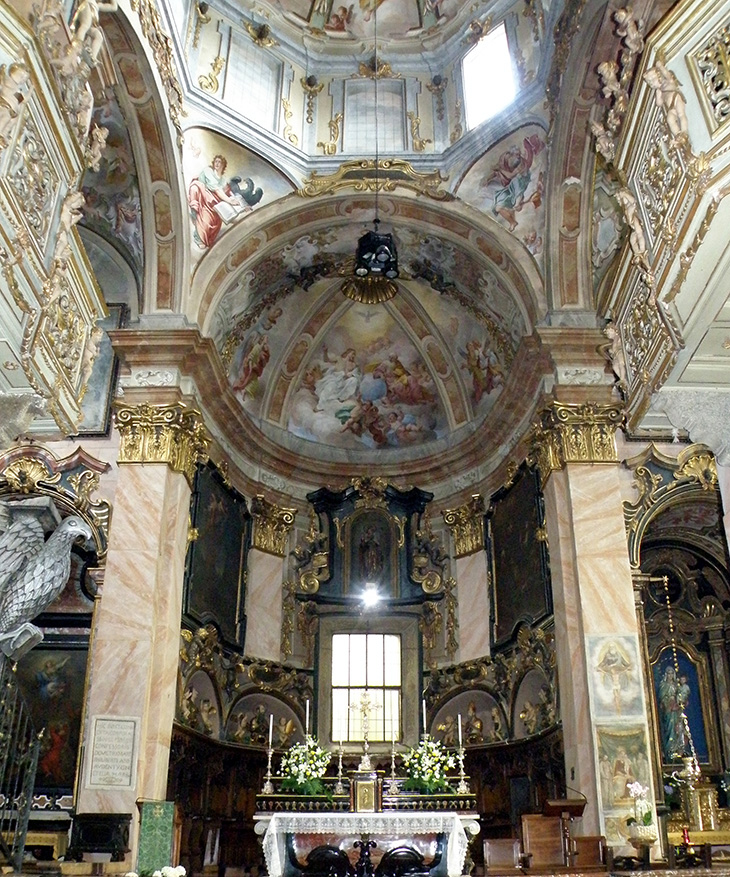 (Isola di San Giulio Basilica, Interior Front & Ceiling Photo: Torsade de Pointes)
The back of the church interior walls are covered with up to 4-5 layers of frescos, dating to the 1300 and 1400's.
The guide explained that several of the frescos (which are of religious scenes and saints), also had the odd image of a real person (of that time) included; the patron could pay the artist extra if they wanted themselves to be painted into the picture.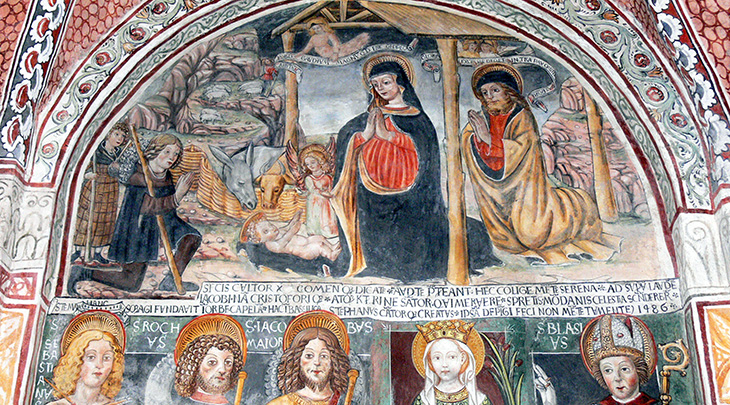 (Isola di San Giulio Basilica, Interior Back Nativity Fresco c. 1486 Photo: Wolfgang Sauber)
From Isola Orta, you can look out onto the calm waters of peaceful Lake Orta and the charming medieval mainland town of Orta San Giulio.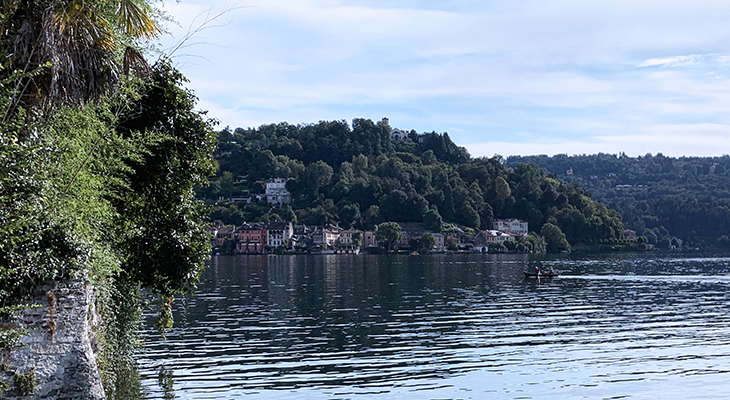 (Orta San Giulio, Lake Orta, Italy Photo: Anita Hamilton / 50+ World)
The main plaza (Piazza Motta) of Orta San Giulio houses shops and restaurants, and the frescoed Town Hall which was a trading center in ancient times. The streets are wide, cobbled, and hilly.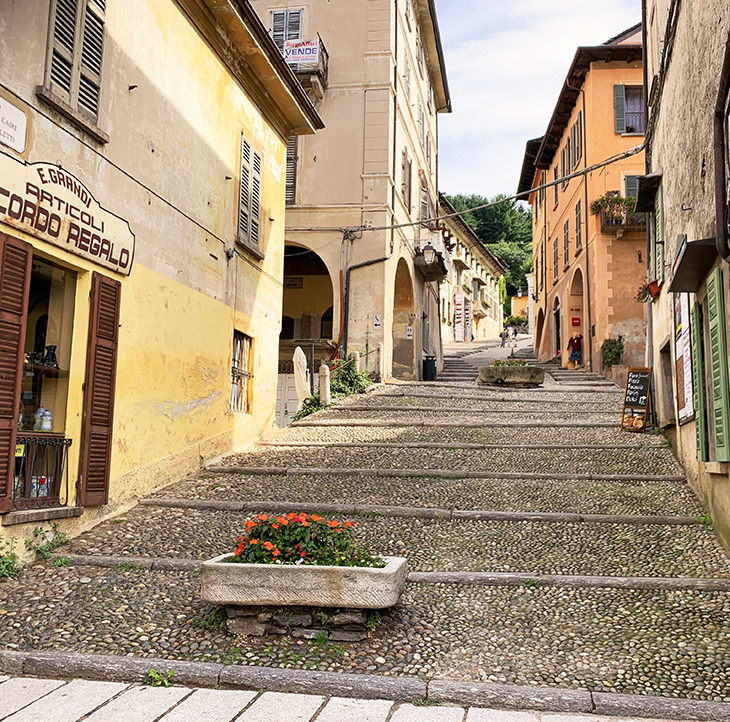 (Orta San Giulio Cobbled Street, Lake Orta, Italy Photo: Anita Hamilton / 50+ World)
We have an early lunch at a side street restaurant, respectively enjoying Greek salad and ravioli, served with the best rolls we've had yet in Italy.
We noted that although the waiter promptly brought us bread and the ever-present balsamic vinegar and olive oil before our meal arrived, they didn't bring any plates to dip the bread into. This has happened at almost every restaurant we've eaten at as we toured across Northern Italy, and we're mystified as to what we're supposed to do with the buns, oil, and vinegar without a plate or bowl for dipping?
Solving the Balsamic Vinegar and Olive Oil Mystery
Our tour guide solves the mystery for us! We had previously been educated by our Italian-Canadian friends that Italians don't put butter on their bread (that's a mangiacake Anglo thing to do, according to them), and we found this to hold true in Italy as well.
However, our friends had also told us to dip the bread into a pool of balsamic vinegar and olive oil (poured into a plate or bowl) in lieu of butter – delicious! Our guide explains that in Italy, Italians don't do that. The bread is to eat by itself (with nothing on it), and the balsamic vinegar and olive oil are brought in anticipation of putting it on a salad, as quite often salad in Italy is served with no dressing. 
We're glad to know the answer to this dining puzzle, but we continue to dip our bread in balsamic vinegar and olive oil regardless, and the waiter(s) oblige by bringing a plate when requested in every restaurant we eat at…they're used to us mangiacake tourists!
It's a funny footnote in what was truly a dream vacation to Italy. We also visited the Cinque Terre region, staying in Monterosso al Mare and in Florence on our own.
What Did I Miss Seeing in the Italian Lakes?
Well, many things – historic sites and impressive natural beauty, festivals and events abound in the Lake Maggiore, Lake Orta, Lake Como and the Italian Lakes region in general. There are far too many sights to see around this area of Northern Italy to attempt to discover them all in just a few days,. 
Here are a couple of places on Lake Maggiore I stumbled across online that I'll have on my list for a return visit: 
Hermitage of Santa Caterina del Sasso
Mid-way up on the eastern, Lombardy region side of Lake Maggiore, and overlooking the Borromean Islands, is the historic (what in Italy isn't historic, you might ask?) Hermitage of Santa Caterina del Sasso.
Tucked onto a ledge in a steep cliff wall, the Hermitage can be accessed by boat + climbing up 80 steps, or bus/automobile, and climbing down 240 steps. I'm pretty sure this is the reason it wasn't included in our group tour, as it might be a challenge for many of us "mature" travellers. This reminds me of the remote villages of the Cinque Terre region, further south on the Ligurian coast of Italy.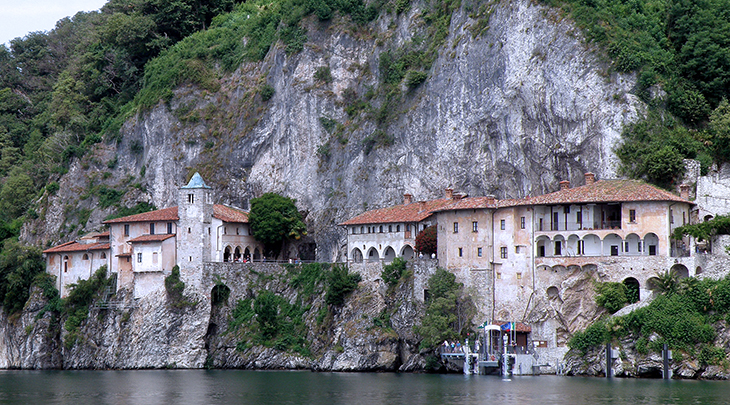 (Hermitage of Santa Caterina del Sasso, Lake Maggiore Photo: Torsade de Pointes)
The current church is from the 1300s-1400s, built on the site of the original, smaller church built in 1195 by one Alberto Besozzi of Arono. Various religious orders have lived in the Hermitage in previous centuries, but it's currently occupied by Oblate Benedictine monks.
Also on the grounds are a 1300s bell tower and two convents dating back to the 1200s-1400s, with frescos and other artworks etc. from subsequent centuries inside.
You can visit the Hermitage from March-October most days, with less regular hours/days in other months (best to check their schedule here).
Villa Taranto Giardini Botanici (Botanical Gardens)
The man-made greenhouses, terraced gardens, flowerbeds, and sculptures of the Giardini Botanici / Villa Taranto were the inspiration of Scottish Captain Neil McEacharn, who purchased the La Crocetta estate from the Marquise of Sant'Elia in 1931.
Located just above where Lake Maggiore splits into a "Y" shape on the Piedmont side of the lake, The Villa Taranto Botanical Gardens can be reached by bus or automobile from the SS34 road, or by boat.
You can tour the beautiful grounds of the Villa Taranto Giardini Botanici during their open season (Mid-March – October). Check their website here for more information.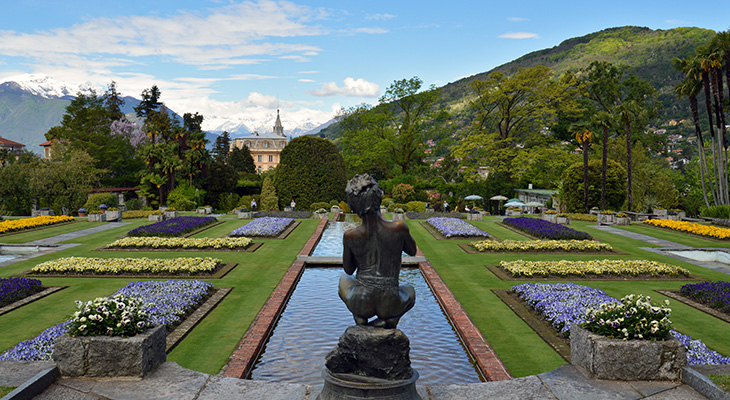 (Villa Taranto Giardini Botanici in May, Lake Maggiore, Italy Photo: Irene Grassi)
As they say in Italy – A Presto, Lago Maggiore! (See you soon, Lake Maggiore).
Pop Culture Trivia – Lake Orta & Lake Maggiore in Films
Both Lake Maggiore and Lake Orta have served as filming locations for many Italian films and documentaries, as well as these movies:
Rome Adventure (1962), a romantic comedy starring Troy Donahue, Suzanne Pleshette, Rossano, Brazzi, and Angie Dickinson connecting in Rome, Italy – and other locations, including Verona, Lake Maggiore's Isola Bella, Pisa, and several other places. Also in the cast of Rome Adventure are Hampton Fancher, Constance Ford, Al Hirt, and Chad Everett in an early film role.
Correspondence (2016), a romantic drama starring Jeremy Irons, Olga Kurylenko, and Simon Johns, was filmed in England, Scotland, and several Italian locales including Trentino Alto Adige (the South Tyrol area around Trento and Bolzano, north of Lake Garda), and Orta San Giulio on Lake Orta.
You may also enjoy reading Venetian Palazzos in Movies and Plays.
*This article is for general informational purposes only. 50+ World does endorse these providers, nor does it receive remuneration from them.* 
**Unless indicated otherwise, all photographs & text in this article are © 2019 Anita Hamilton. All rights reserved. Do not download or reproduce without written permission. Other images are either public domain and/or creative commons licensed and sourced via Wikimedia Commons or Flickr**