A Dream Vacation to Italy
As the mini-tour bus pulls into this quaint little Italian village, my husband and I exchange glances of excitement. Approaching the village from the south, we'd caught glimpses of beautiful mountainsides, with colourful homes perched on the side of the hills.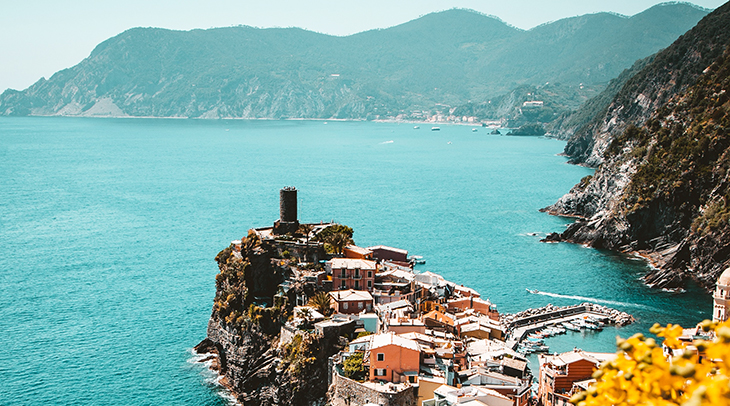 (Cinque Terre Region, Italy Photo: Josh Hild via Unsplash)
Far below us as we'd wound up and down the hills, had been the aqua-blue waters at the shore and further out, the deep blue of what I assume is the Mediterranean Ocean.
Northern Italy! One of my "dream vacations", a place I've long wanted to visit and now I'm finally here in Cinque Terre. The bus pulls to a stop and we disembark.
The other passengers from the bus are nowhere to be seen as we set out on a trek by ourselves to explore the old town and the surrounding countryside on our own. The fresh air is invigorating and we do a lot of walking to take in all the sights.
At the end of the day we reconvene back at the pick-up spot to be taken to our hotel. The bus is filled with friendly chatter in several languages as the other tourists speak in what sounds like German, with some English, French, and another language I can't quite make out. It sounds like everyone had a great day, and I'm looking forward to getting to know our fellow travelers during the rest of the tour. 
The other passengers have disappeared while I've been perched on the back of the open bus gate tying up my runners, which I'd unaccountably (and possibly rudely) taken off for the drive back to the hotel. I'm starving from all that exercise and fresh air, and my dogs are sore. I've also got a bit of a crick in my neck, must be from craning around to look out the bus window on the drive.
Our tour guide approaches and apologizes for having missed taking our dinner order – she asks if hamburgers will be ok and I nod in agreement. The burgers arrive in what seems like an instant, and they are delicious, thick and juicy with what I can only assume is the Italian version of a BBQ sauce, with fresh (Italian!) tomato and lettuce. As I bite into my burger and savor it, I notice that for some reason my husband has his burger on a plate with no top bun. Weird, but he seems to be enjoying it.
A whining noise and then a bark far in the distance nags at my attention. Another whine, closer and louder this time, startles me. It sounds like a dachshund, which is strange, as I haven't really noticed any dogs or other animals during the whole tour.
I startle awake when the whine turns into a chorus of three mini-dachshunds wanting to start their day. Darn it! I'm in my bed at home, and it was only a dream vacation to Italy. My neck is a bit stiff, as I'd rolled over onto my back at some point, and my head was at an awkward angle when I woke up.
In the hours since I awoke, I've had several disjointed epiphanies about other miscellaneous things (I must be still half-awake and dreaming). I've also been filled with hopeful anticipation for our upcoming Italian vacation in a few months, which will include the Cinque Terre region of Italy that I envisioned in my dream (and the portion of the trip I worked out yesterday – while awake – with the the travel agent). I look up Cinque Terre on again on the map and realize that it's the Ligurian Sea, not the Mediterranean Ocean, that I had been glimpsing in my dream and can look forward to in reality.
Co-incidentally – or not – our trip is booked with experienced Travel Agent Sandra Swash, whose agency used to be called Dream Vacations (now it's VacationTravelGroup.com). If our trip to Northern Italy is half as good as my dream and what she's worked out for us so far, it will be great.
Italy, here we come (in late August/early September). I sure hope none of my dreams between now and then are nightmares.
Update:  My real September 2019 dream vacation to Italy included staying overnight in Monterosso al Mare, Florence, as well as these other amazing destinations and experiences on an Insight Vacations bus tour:
Isola Bella Borromeo Palazzo & Gardens
Past and Present Meet in the Venetian Lagoon
La Vigna di Sarah B&B Prosecco Wine-Tasting
A Presto, Lake Maggiore and Lake Orta
Molto Grazie, Magnificent Milan
Guten Tag & Buon Giorno, Bolzano
Cortina d'Ampezzo and the Dolomites
Lake Como Gems: Tremezzo, Bellagio, & Como
The Prince-Bishops City of Trento
Buona Sera, Firenze: Touring Florence
Sirmione and the Grottoes of Catullus
The Heart of Venice: St. Mark's Square
**This article is for entertainment purposes only. 50+ World does endorse any specific provider, does it receive remuneration from them.**