The Prince-Bishops City of Trento
Trento's claims to fame are it's rich history as a centre for Prince-Bishops of Trento, silver mining, and as the modern university town it is today.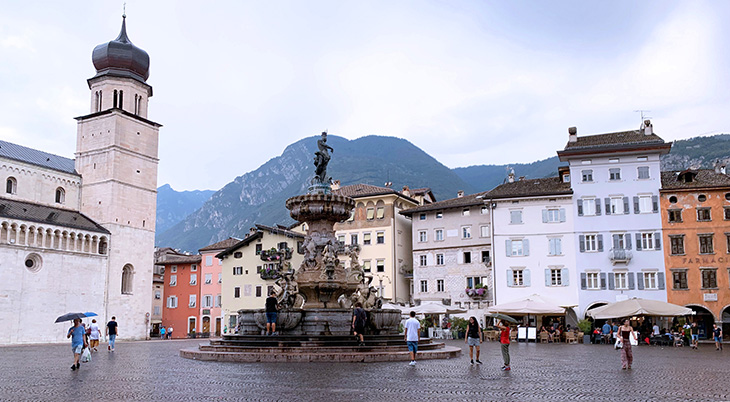 (Piazza Duomo & Fountain of Neptune, Trento, Italy)
As with other South Tyrol regions, the countryside here is home to plentiful apple orchards and vineyards.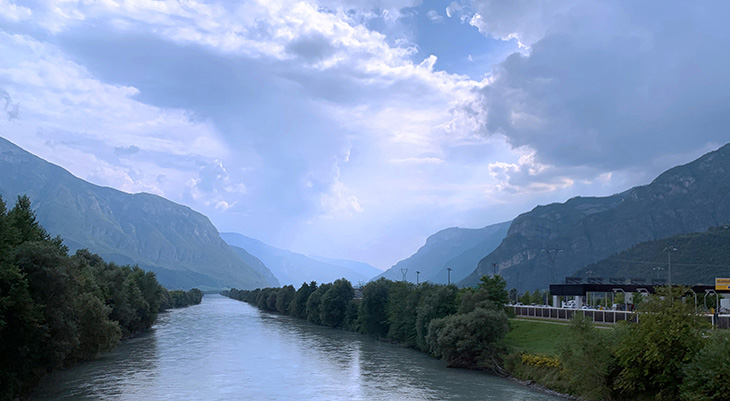 (Adige River, Trento, Italy)
Located alongside the Adige river on an ancient Roman route north from the Italian cities of Verona and Bolzano to Innsbruck, Austria, Trento's historical roots in the Adige Valley are tied to these neighboring areas.
On a recent Insight Vacations bus tour of Northern Italy, our driver took us north from Verona along the Brenner Autostrada beside the Adige River, on the way to an overnight stay in Trento.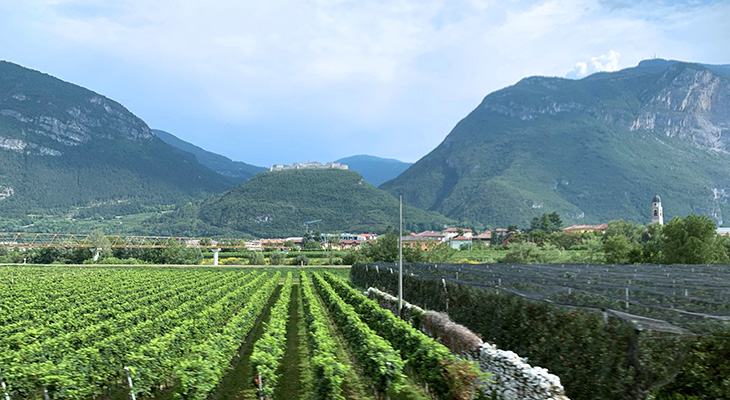 (Vineyards & Orchards below Castel Beseno, near Trento, Italy)
Several ancient castles can be seen along this route from the motorway, but Castel Beseno in the Adige Valley near Trento was the biggest – and most visible, perched as it is atop a hill. According to Trentino.com, the castle has existed since the 12th century (and possibly earlier), as a home to the Da Beseno family. The Trapp family took over Castel Beseno in 1470, and in succeeding years and centuries it was renovated; today it's a museum with spectacular views of the Adige Valley.
Archaelogists have determined the city of Trento was originally a Celtic village that was conquered by the Romans some time in the 1st century BC, when it was renamed Tridentum, in tribute to Neptune (Tri Dentum / Three Teeth), for the 3 mountains that surround the town.
Emperor Conrad II of the mighty Holy Roman Empire created the Prince-Bishops of Trento principality in 1027, which lasted until 1802.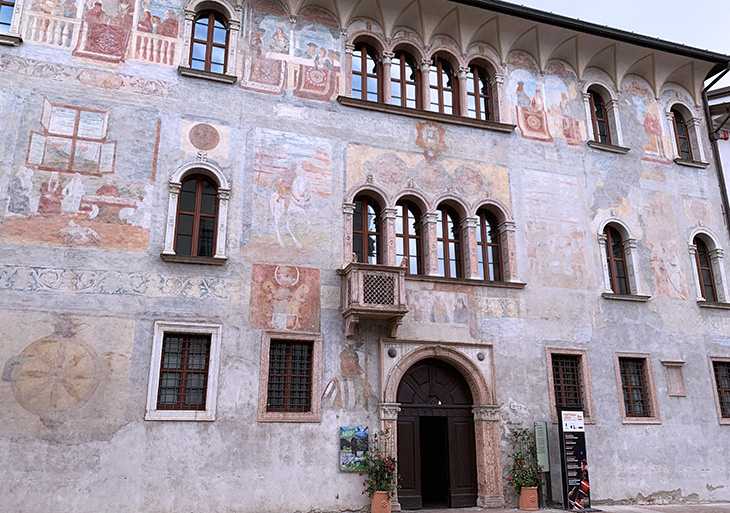 (Frescoed Palazzo Geremia on Via Rodolfo Belenzani / Contrada Larga)
Renaissance Palazzo Geremia is covered in beautiful frescoes and dates back to the early 1500s. Today it's a city council meeting room and city hall.
From 1809-1814, Trento was part of French General Napoleon Bonaparte's short-lived Kingdom of Italy. It then reverted to the Hapsburg Empire of Austria-Hungary.
Trento and Bolzano in the south Tyrol have been part of a unified Italy since the end of WWI, with a short interval during WWII (1943-1945) when Germany invaded Northern Italy and annexed the South Tyrol.
Today Trento is a pretty university town that boasts a high standard of living for it's inhabitants, and a rich history.
(Via Rodolfo Belenzani – Church of San Francesco Saverio & Chiesa dell 'Annunziata)
The Church of San Franceso Saverio (above left) is from c. 1711, and Chiesa dell'Annunziata (above right) was built in 1715 on via Rodolfo Belenzani. Some of the streets and sidewalks in Trento are made of pink marble, and beautiful flowers spill over planters throughout the city.
Trento's Piazza Duomo
It's raining lightly when we arrive in Trento's medieval Piazza Duomo in the heart of the old city. This large plaza is bounded by the Pretorio Palace, it's imposing bell tower, the Cathedral of San Vigilio, and various cafes, shops and restaurants.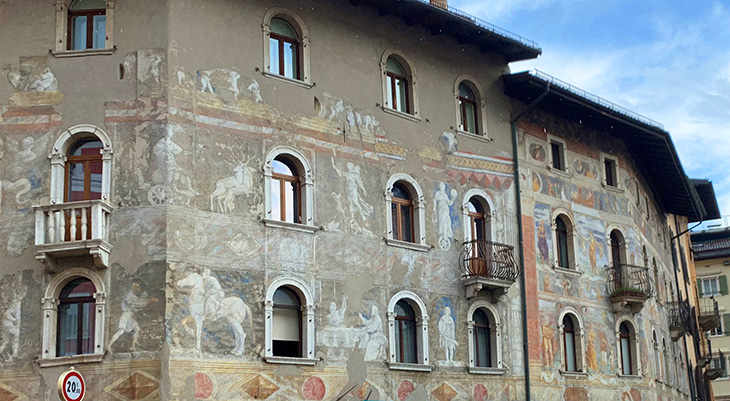 (Palazzo Malfatti, Piazza Duomo)
The beautifully frescoed Palazzo Malfatti on the Piazza Duomo is now a B&B with a cafe on the ground floor, on the corner of Piazza Duomo and Via Rodolfo Belenzani.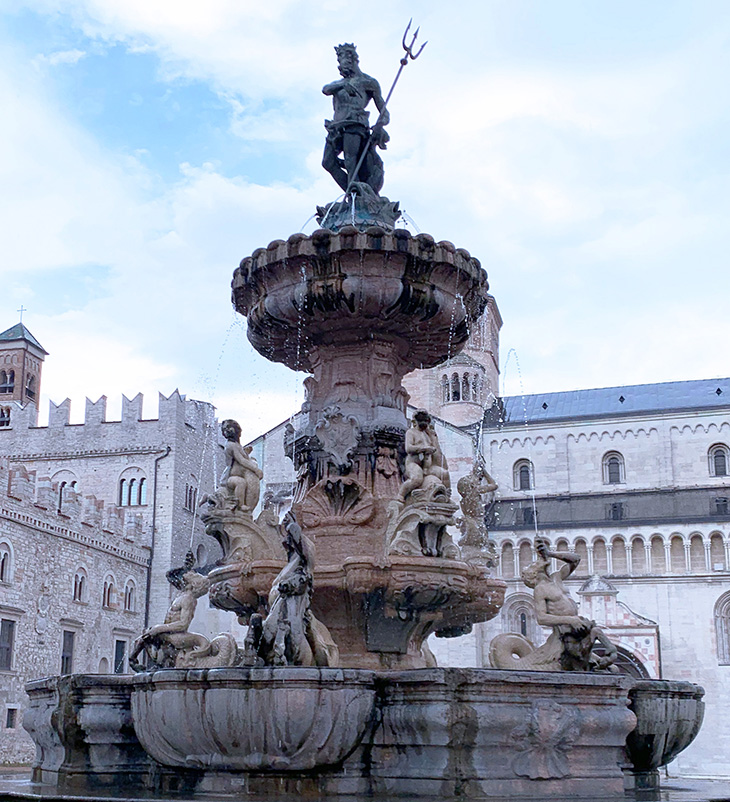 (Fontana del Nettuno / Fountain of Neptune)
Created by Francesco Antonio Giongo and built in 1767-1768, the ornate and massive Fountain of Neptune in Trento's Piazza Duomo draws the eye from any direction. 
Palazzo Pretorio & Torre Civica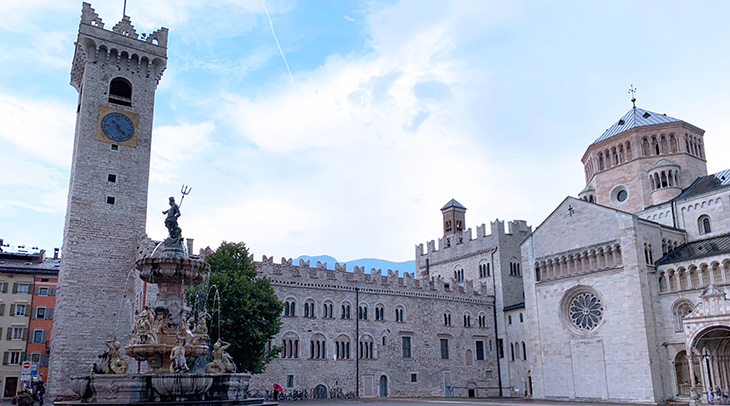 (Palazzo Pretorio & Torre Civica, Trento, Italy)
Trento's Torre Civica (Civic Bell Tower) dates back to before the 1100s, when it was a fortified "keep" or tower. Over the succeeding centuries it's height was added to. The tower was a city jail at one time, and the bell (Campana della Regna) rang to call public assemblies for death sentences and executions, held in the Piazza Duomo. 
The attached medieval Bishop's Palace / Pretorio Palace was built in 1220 by Prince-Bishop Federico Vanga, on the ruins of the San Giovanni Battista and the San Biagio churches. Currently the Museo Diocesano Tridentino is located in this castle. The ridge of peaks along the top of the palazzo walls are called Ghibelline embattlements. At the other end, the castle is attached to the Cathedral.
Palazzo Pretorio was the home of the succeeding Prince-Bishops of Trento through the upper middle ages.
Cathedral of San Vigilio / The Duomo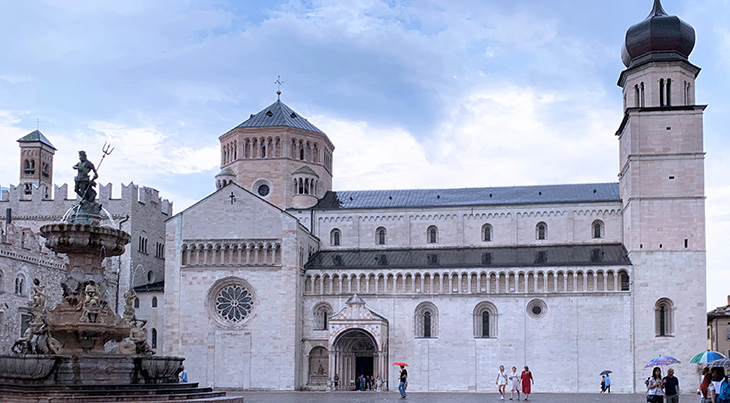 (Cathedral of San Vigilio / The Duomo Exterior, Trento, Italy)
The Cattedrale di San Vigilio / Basilica of Saint Vigilius, is an impressive medieval church dedicated to Saint Vigilius, patron saint of Trento.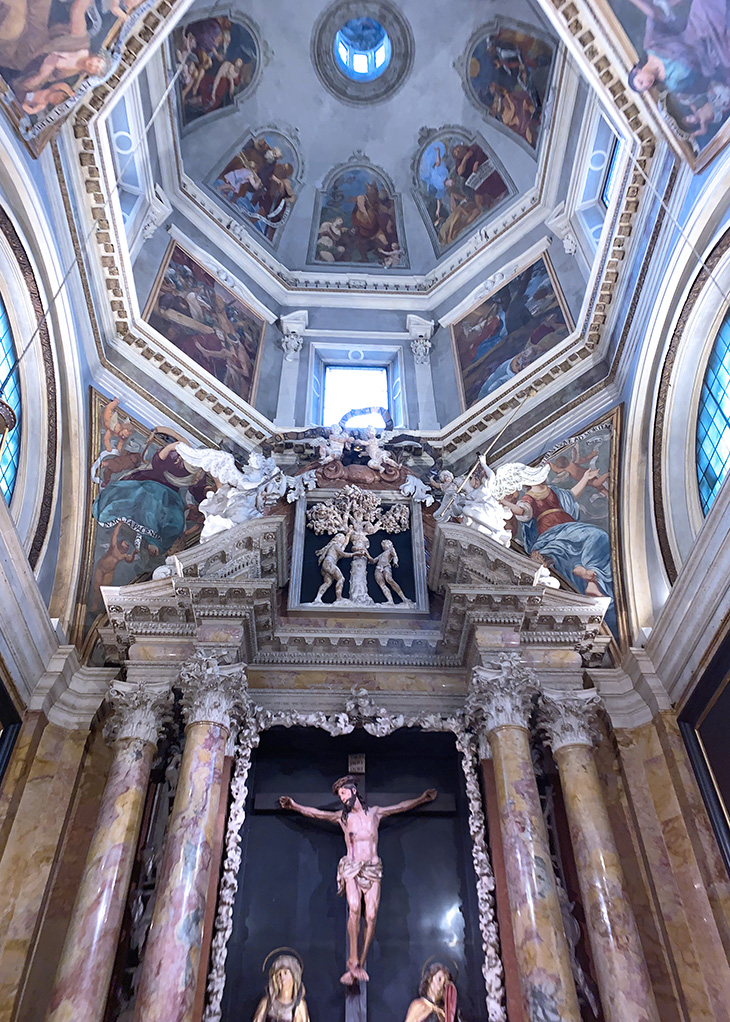 (Cathedral of San Vigilio Interior / Duomo)
Also known as the Duomo di Trento, the interior of the imposing domed ceiling is richly decorated with frescoes and sculptures.
Built in the Gothic and Lombard-Romanesque style, the Cathedral of San Vigilio was built in the 1100s on top of the ruins of an ancient Roman basilica. 
A large rose window "The Wheel of Fortune" from the 13th century is prominent both inside and out.
The entire inside of the church ,and paintings decorate the interior of the church.
Below the Cathedral is an underground crypt which holds the tombs Saint Vigilio and many of Trento's Prince-Bishops.
Cathedral of San Vigilio Crypt
For a few Euro, you can tour the crypt / cemetary underneath the cathedral of San Vigilio.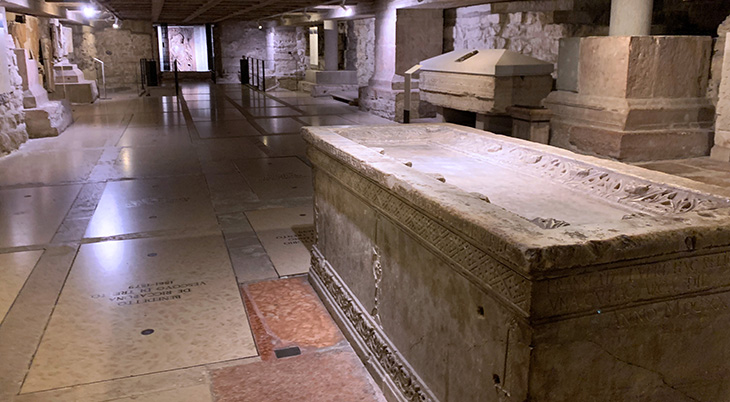 (Cathedral of San Vigilio Crypt, Trento, Italy)
Prominent near the entrance is the hollow white marble sarcophagus of San Vigilio. The brochure/guide explains that it was used as an altar, until his remains were found in it in 1629.
Excavations between 1964 to 1977 exposed remains of the Early Christian basilica of Saint Vigilius, presumed to be from around the end of the fourth century. The structure's original purpose was as a burial place for the missionaries murdered by pagans in 397 AD, and Vigilius, the third bishop and patron saint of Trento.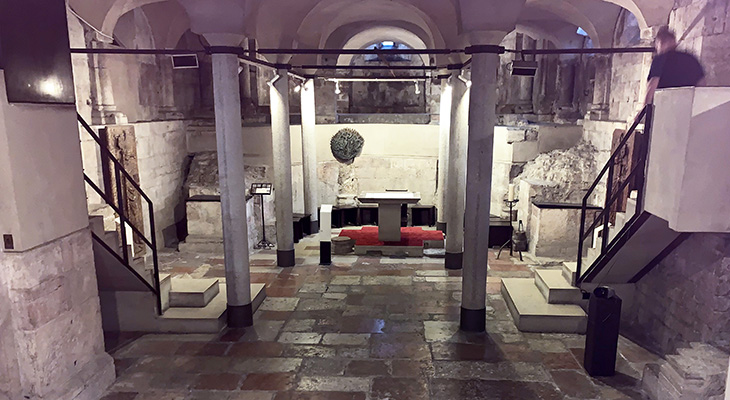 (Cathedral of San Vigilio Cryp, Trento, Italy)
This ancient Early Christian basilica was about 43 metres long and 14 metres wide, with a 4-sided porch or atrium with three doors; the central door still functions today. The floor is covered by tombs set into the ground.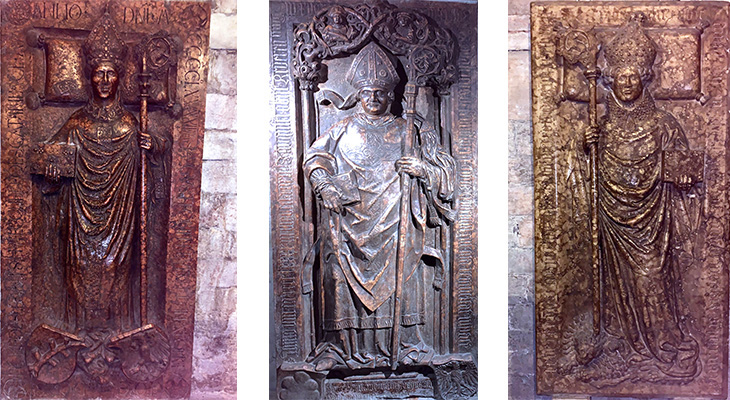 (Cathedral of San Vigilio Crypt, Tombs of the Prince-Bishops of Trentino, Italy)
Limestone tombs of the Prince-Bishops of Trentino dating as far back as 1156, line the walls.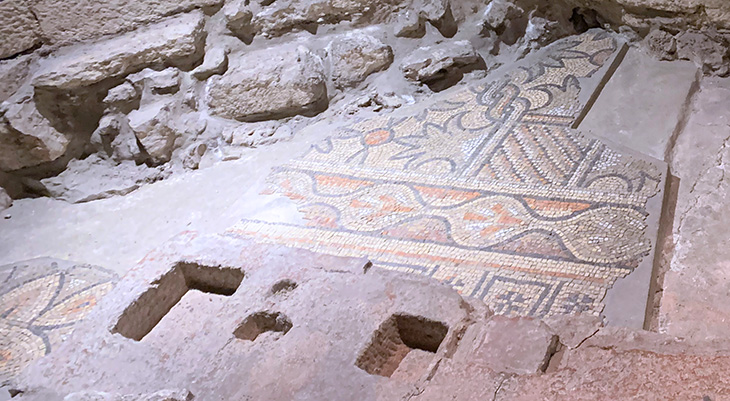 (Mosaic Floor Fragments, Cathedral of San Vigilio Crypt, Trento, Italy)
Fragments of a mosaic tile floor decoration from Roman times.
Our time in Trento ended too quickly. It was all part of a dream vacation to Italy that included visiting UNESCO World Heritage locations like Cinque Terre (and staying in Monterosso al Mare), a prosecco wine tasting,  seeing Roman ruins and the medieval town of Sirmione on Lake Garda, Lake Como, and touring the islands of the Venetian Lagoon. 
Trento in Movies and Books
Want to watch some movies filmed in Trento and the surrounding areas? Over 150 feature films have Trento locales in them. Here are just a few of the more noteworthy:
Ivanhoe (1952), a historical adventure movie starring Robert Taylor, Elizabeth Taylor, Joan Fontaine, George Sanders, Robert Douglas, and Sebastian Cabot. Although Ivanhoe is set in England and filmed in studios there, several Trentino-Alto Adige area castles were used as film locations – Castel Leone,  Castel Pietra, Castel Tasso, and Castel Coronedo.
Five Golden Hours (1961), a comedy starring Cyd Charisse, Ernie Kovacs, George Sanders, and Dennis Price, filmed in Bolzano and the Trentino-Alto Adige region in Italy.
The Great Manhunt (1950), a romantic thriller set in post WWII Europe, starring Douglas Fairbanks Jr., Glynis Johns, and Jack Hawkins. The Great Manhunt was filmed in Trento and the Dolomites in Italy, as well as United Kingdom film studios in Middlesex and Surrey.
Rome Adventure (1962), a romantic drama starring Suzanne Pleshette and Troy Donahue, with Rossano Brazzi, Angie Dickinson, Hampton Fancher, Constance Ford, Chad Everett, and Al Hirt. In addition to Rome, Italian film locations for Rome Adventure included Umbria, the Dolomites, Bolzano & Trentino – Alto Adige, Verona, Pisa, Tuscany, and Isola Bella on Lake Maggiore.
Three Coins in the Fountain (1954), a romantic drama set in Italy starring Dorothy McGuire, Clifton Webb, Jean Peters, Louis Jourdan, Rossano Brazzi, Maggie McMcNamara, and Kathryn Givney. Filming for Three Coins in the Fountain took place in the Dolomites, Bolzano and Trentino – Alto Adige, Venice, and of course, Rome. 
The Italian Job (1969), an action-thriller starring Michael Caine, Noel Coward, Benny Hill, Raf Vallone, and Rossano Brazzi. The Italian Job was filmed in London and other locales in the U.K., Dublin and other places in Ireland, and in Italy – Trento, Valle d'Aosta, and Turin. 
The Italian Job (2003), a remake of the original, starring Mark Wahlberg, Charlize Theron, Donald Sutherland, Jason Statham, Seth Green, and Edward Norton. This remake of The Italian Job filmed in 3 countries – Canada (Winnipeg), the USA (Los Angeles, Pasadena, Hollywood, Long Beach, Philadelphia), and Italy (Trento, Genoa, and St. Mark's Square in Venice).
Concert of Intrigue (1954), a drama starring Brigitte Bardot, filmed in Rovereto and Trento.
Lecture 21 (2008), a drama starring John Hurt set in Northern Italy's Italian Alps, and filmed in a few Trento / Trentino / Alto Adige locations.
A Place for Lovers (1968), a romantic drama starring Marcello Mastroianni and Faye Dunaway. In addition to Rome, A Place for Lovers also filmed in Treviso, Venice, Cortina d'Ampezzo, Milan, Bolzano and Trentino – Alto Adige. 
The Fearless Vampire Killers (1967), a horror comedy movie notable only because it starred both director Roman Polanski and his wife Sharon Tate (before they were married). The Fearless Vampire Killers was filmed in U.K. film studios as well as the Dolomites, Cortina D'Ampezzo, Bolzano and Trentino-Alto Adige in Italy.
Resources:
Local Expert, Placques & Brochures
**This article is for general informational purposes only.**
***Photographs & text in this article are © 2019 Anita Hamilton. All rights reserved. Do not download or reproduce without written permission.***