Celebrating Seniors - Brigitte Bardot Turns 82, Part 1
Brigitte Bardot, Part 1: Parisian Ballerina, Actress, Singer (1934-1961)
(Brigitte Bardot 1956 …And God Created Woman Movie Trailer)
Octogenarian senior citizen, French actress, ballet dancer, singer, model and animal rights activist Brigitte Bardot was born on September 28, 1934 in Paris, France. The Bardot family lived in an apartment on the Rue de la Pompe in Paris, and had a cottage in Louveciennes outside of Paris. They holidayed in The Alps in the winter and Saint-Tropez in the summer, where Brigitte's mother Anne-Marie Bardot had a house.  
Bardot began taking dance lessons as a child; as a new teenager in 1947, she began to study ballet at the Conservatoire de Paris for 3 years. In her ballet classes was another aspiring young Parisian dancer and future actress, Leslie Caron.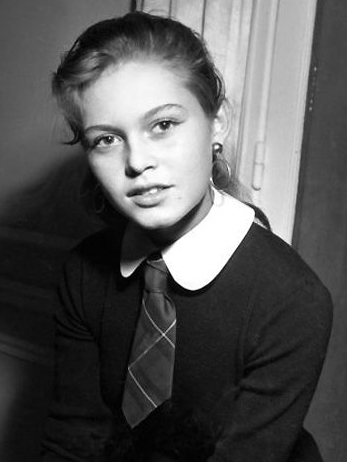 (Brigitte Bardot 1952 Photo: Michael Donovan)
Brigitte Bardot began modelling at age 15 and first appeared on the May 2, 1949 cover of Elle magazine. Her appearance on the March 1950 cover of Elle ended up catching the eye of fledgling French movie director Roger Vadim, age 22.
Vadim arranged a movie audition for 16-year-old Bardot and met her and her mother at the audition. 
According to France Today, both Roger Vadim and Brigitte Bardot were instantly smitten with each other. Although the movie she auditioned for was never made, they began to meet secretly. 
Brigitte Bardot's family disapproved of her relationship with Roger Vadim. They were going to send her away to England, when she attempted suicide by turning on an oven and putting her head inside. Her parents caved and agreed that they could be married when Brigitte turned 18.
17-year-old Brigitte Bardot made her film debut in the French comedy Le Trou Normand/Crazy for Love (1952).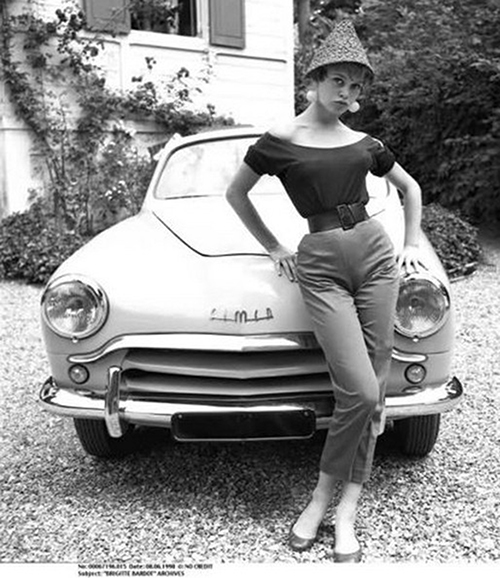 Brigitte Bardot posing in front of her 1954 Simca Weekend car, a prototype. (Photo: German Medeot)
In another first, she wore a bikini on screen in Manina, la fille sans voiles/The Girl in the Bikini (1952). In December of 1952, 18-year-old Brigitte Bardot finally married 24-year old director Roger Vadim. 
Roger Vadim took Brigitte to the 1953 Cannes Film Festival, and she was frequently photographed wearing a bikini on the beaches.
Bardot would wear bikinis again in the movies and has been credited with popularizing the tiny swimsuit with young baby boomers.
Brigitte Bardot continued to appear in small or uncredited roles in mostly French and Italian light comedies and romances in the early 1950's. She appeared in the World War II romance Act of Love (1953) starring Kirk Douglas and Dany Robin. The following year she starred in the drama Concert of Intrigue (1954) in Roverto and Trento, in Northern Italy.
Brigitte Bardot's first starring role was in the Italian drama Tradita/Concert of Intrigue (1954), and this was soon followed by more roles in bigger movies. In the English comedy Doctor at Sea (1955), Brigitte Bardot co-starred with Dirk Bogarde and Michael Medwin.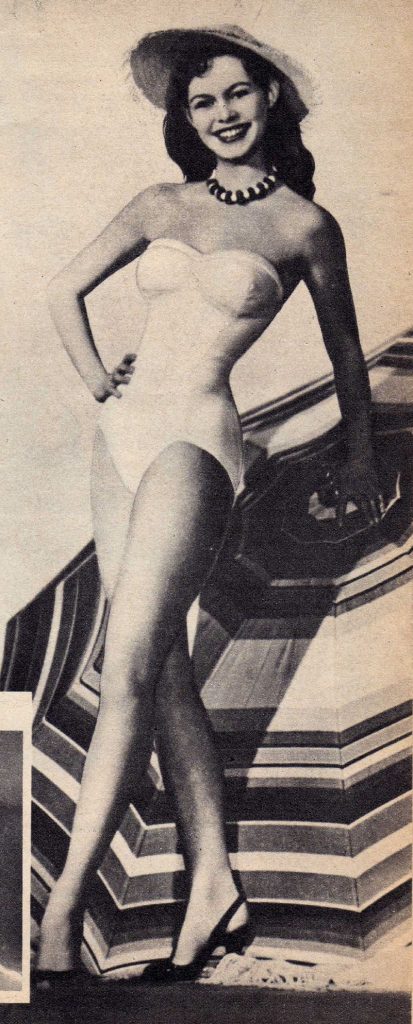 (Brigitte Bardot 1955 Photo: Smabs Sputzer)
The Italian historical comedy Mio figlio Nerone/Nero's Mistress (1956), Brigitte Bardot's co-stars included Gloria Swanson; and in La mariée est trop belle /Her Bridal Night (1956), Bardot is model Chouchou, opposite Louis Jourdan as Michel.
That same year, Bardot's husband Roger Vadim cast Brigitte in his movie Et Dieu… créa la femme/…And God Created Woman (1956) co-starring Curt Jurgens (Curd Jürgens) and Jean-Louis Trintignant, another Roger Vadim discovery.
In the movie, Brigitte Bardot is a free-loving, bikini-clad teenager seducing men. …And God Created Woman made Brigitte Bardot an international star and brought her to the attention of North Americans, and the phrase "sex kitten" was coined. 
Brigitte Bardot and Jean-Louis Trintignant (also married, to Stéphane Audran), began an affair during the filming of …And God Created Woman. 
As rumours of the affair between Trintignant and Bardot hit the press, Bardot left Vadim and Jean-Louis Trintignant joined the French army; he was frequently away for army duties during the almost 2 years they lived together. 
Despite the chaos in her private life, Brigitte Bardot continued appearing in movies such as Une parisienne/La Parisienne (1957), a comedy co-starring Charles Boyer.
In late 1957, Brigitte Bardot divorced Roger Vadim (1957) and met Gilbert Becaud (a married French singer and musician); she began an affair with Becaud, which eventually Jean-Louis Trintignant discovered. Trintignant left her and the press got wind of Bardot's affair with Gilbert Becaud, who was also frequently away performing, leaving Bardot alone. In early 1958, Brigitte Bardot had a nervous breakdown and another suicide attempt was reported.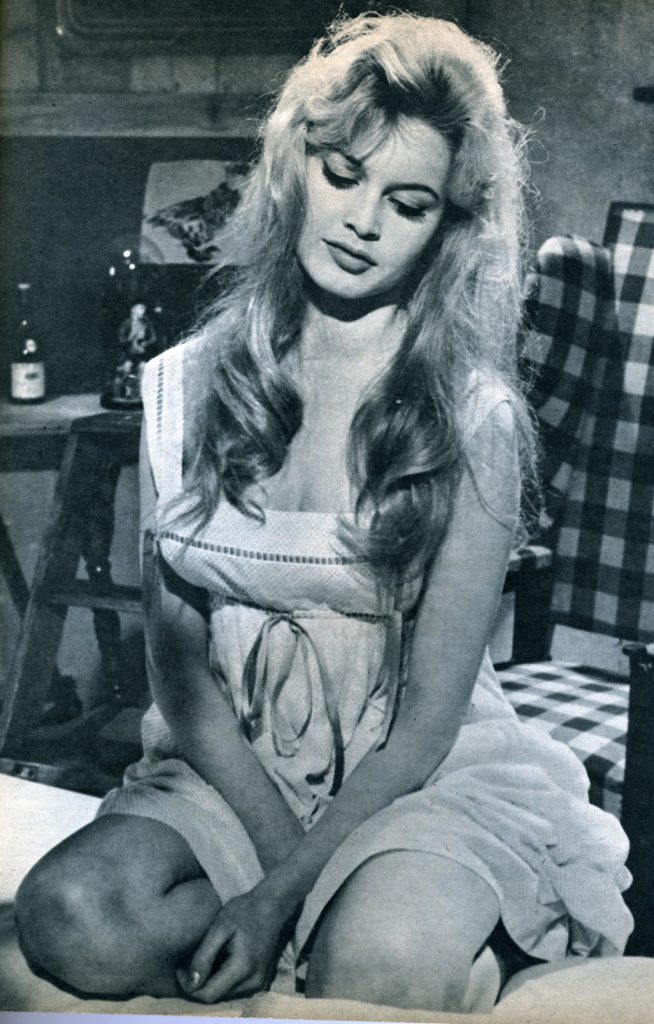 (Brigitte Bardot 1958 Silver Screen Magazine Photo: Jussi)
By the end of May 1958, a recovering Brigitte Bardot had dumped Gilbert Becaud and moved into a house she'd bought in Saint-Tropez called La Madrague, where she has lived ever since.
She met French singer and guitarist Sacha Distel, and another romance began. Although it was reported in the press in 1959 that Bardot proposed to him and their relationship ended when he refused, Sacha Distel issued a press release saying Brigitte Bardot had ended things between them.
In June 1959, Brigitte Bardot married French actor Jacques Charrier, who was her co-star in the WWII war comedy Babette s'en va-t-en guerre/ Babette Goes to War (1959).
Bardot said in her autobiography Initiales BB (1996) that when she found herself pregnant at age 25 in 1959, she punched her stomach in attempt to lose the baby.
Jacques Charrier and Brigitte Bardot's son Nicolas-Jacques Charrier (Nicolas Charrier) was born in January 1960, and her husband Jacques Charrier took care of baby Nicolas. Bardot has acknowledged that Jacques Charrier had the maternal instinct she lacked, and said that she was too much of a child herself to take care of someone else.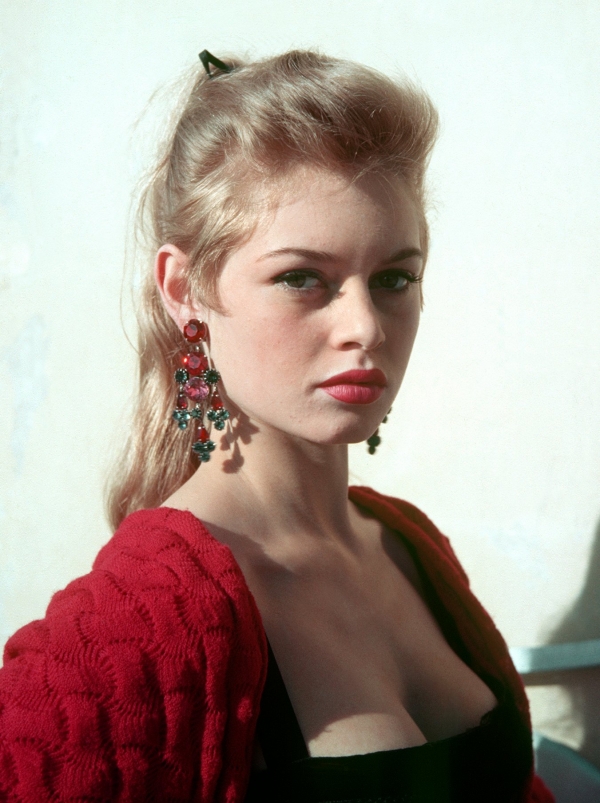 (Brigitte Bardot 1959 Photo: Michael Donovan)
Later that year, Bardot once again tried to commit suicide, this time taking sleeping pills and cutting her wrists. By the time Brigitte Bardot and Jacques Charrier were divorced in January, 1963 and Jacques Charrier was granted custody of Nicolas, the couple had been separated for a couple of years. Brigitte Bardot has rarely seen her son since he was a baby.
Beginning in 1961, Brigitte Bardot began recording albums and singles, most of them in collaboration with current or future lovers Serge Gainsbourg, Bob Zagury, and Sacha Distel. Although Brigitte Bardot Sings (1963) was an early collaboration with singer Serge Gainsbourg, they were not lovers until 1967. 
She was still on good terms with ex-husband Roger Vadim, who is quoted by Ginette Vincendeau, the author of the book, Brigitte Bardot: The Life, The Legend, The Movies (1995), as saying of Bardot's affair with Jean-Louis Trintignant while filming …And God Created Woman: "I knew what was happening and rather expected it…I would always prefer to have that kind of wife, knowing she is unfaithful to me rather than possess a woman who just loved me and no one else…I wanted a woman with spirit, with joie de vivre … a woman with a sense of adventure and sexual curiosity." Vadim was also unfaithful during their marriage, so he couldn't really complain.
They continued to work together on movies in the 1960's, with Roger Vadim directing Brigitte Bardot in the comedy La bride sur le cou /Please, Now Now! (1961), and the romantic drama Le repos du guerrier /Love on a Pillow (1962), which co-starred actor Robert Hossein.
In Amours célèbres/Famous Love Affairs (1961), Brigitte Bardot co-starred with Jean-Paul Belmondo, Philippe Noiret, and Dany Robin, who had been a co-star in 1953's Act of Love, one of Bardot's first movies.
Next: Brigitte Bardot, Part 2: Retirement and Animal Rights Activist (1962-2016)
*Images are public domain or Creative Commons licensed & sourced via Wikimedia Commons, Vimeo, YouTube, or Flickr, unless otherwise noted*