Celebrating Seniors - Brigitte Bardot, Part 2
Brigitte Bardot, Part 2: Retirement and Animal Rights Activist (1934-1961)
Famed director Louis Malle directed baby boomer favorite actress Brigitte Bardot in 3 movies: 
(Brigitte Bardot 1962 A Very Private Affair Photo: MGM)
Vie privée/A Very Private Affair (1962), a drama co-starring with Marcello Mastroianni. 
Histoires extraordinaires /Spirits of the Dead (1968), a segmented movie in which 3 directors (Federico Fellini, Louis Malle, Roger Vadim) each adapted an Edgar Allan Poe short story. Appearing in the Louis Malle Spirits of the Dead segment with Brigitte Bardot was Alain Delon; in another segment directed by Roger Vadim, Jane Fonda and Peter Fonda; and in Federico Fellini's segment, actor Terence Stamp appeared. 
Viva Maria! (1965), a romantic adventure with George Hamilton and Jeanne Moreau. Moreau and Bardot sing the duet Ah ! Les p'tites femmes de Paris in Viva Maria!
Brigitte Bardot was an uncredited co-producer and the star of Une ravissante idiote/Agent 38-24-36 (1964), a comedy co-starring Anthony Perkins.
Among the over 100 lovers (mostly men but some women as well) that Brigitte Bardot has admitted to, is Brazilian musician Bob Zagury. Bob Zagury and Bardot vacationed in the town of Armação dos Búzios in Brazil in 1964, and there is a statue in Bardot's likeness there.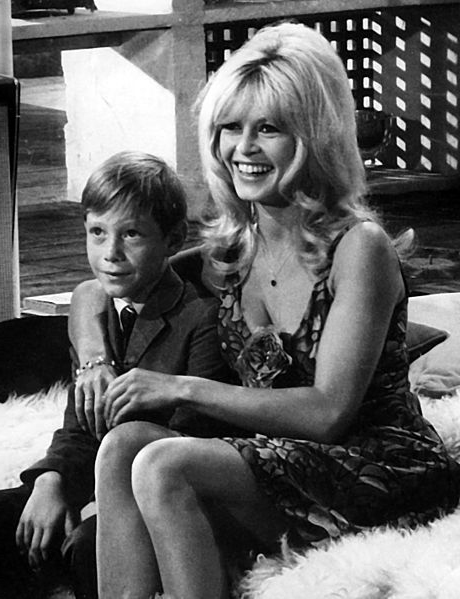 (Brigitte Bardot 1965 Photo)
Brigitte Bardot married widowed German millionaire, documentary maker, former Nazi party member and honorary SS officer Gunter Sachs in Las Vegas, Nevada in July 1966; it was her third marriage, his second. Sachs is reported to have romanced Bardot by dropping hundreds of roses from a helicopter as it flew over her Saint Tropez home.
They divorced on friendly terms in October 1969 and remained friends after the marriage ended. Gunter Sachs remarried, and was a septuagenarian senior citizen when he shot and killed himself in 2011 at the age of 78 at his home in Switzerland, reportedly because of Alzheimer's Disease or a similar condition. 
The movie Two Weeks in September (1967) starred Brigitte Bardot and Laurent Laurent Terzieff; for the first time, her voice was not dubbed in English. Below, Brigitte Bardot and Laurent Terzieff are featured in the movie trailer for Two Weeks in September.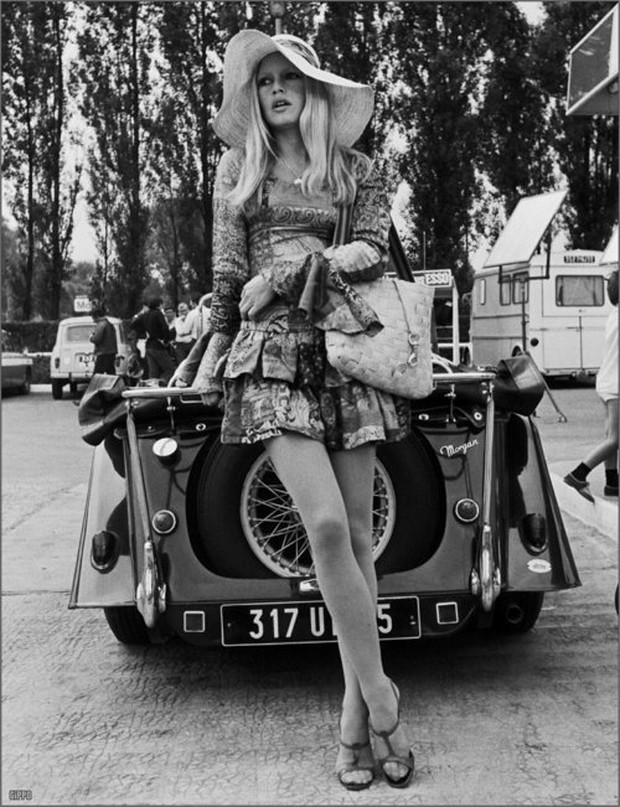 (Brigitte Bardot c. 1960s Photo: German Medot)
In the Brigitte Bardot Show 67 (1967), Bardot collaborated with former lover Sacha Distel and new lover Serge Gainsbourg to write and sing songs. She sang the duet Bonnie and Clyde with Serge Gainsbourg, and it was included on her 1968 album with Gainsbourg of the same name, Bonnie and Clyde. The single Je t'aime… moi non plus (1967) was another duet with Serge Gainsbourg. Gainsbourg dedicated his 1968 song and album Initials BB to Brigitte Bardot.
Bardot was nearing the end of her film career when she appeared in the western Shalako (1968) co-starring former James Bond film star Sean Connery, Stephen Boyd, and Honor Blackman.
In 1968 Brigitte Bardot began a new relationship with student/actor Patrick Gilles, who had a small role in her 1970 movie The Bear and the Doll; by mid-1971 she had broken off with Gilles. 
Actor Warren Beatty, who had co-starred with Faye Dunaway in the movie Bonnie and Clyde (1967), also had a very short-lived romance with Brigitte Bardot in 1972. 
In her book It's All About the Dress: What I Learned in Forty Years About Men, Women, Sex and Fashion (2011) by fashion designer Vicky Tiel, Tiel recalls attending a dinner in Paris, France with Warren Beatty, Brigitte Bardot, and an unnamed Frenchman. At the end of the meal Bardot stated "Now you three men must race the elevator of my building up to zee sixth floor. Whoever wins gets to sleep with me!" Tiel and Bardot stepped off the elevator on the sixth floor; a red-faced Warren Beatty arrived first and was led by Bardot into her bedroom. The next evening Warren threw a party for Brigitte, but she never appeared; and that seems to have been the beginning and end of their relationship. 
Les pétroleuses/Frenchie King (1971), a western comedy co-starring Claudia Cardinale and Michael J. Pollard, came near the end of Brigitte Bardot's movie career.
Ex-husband Roger Vadim directed Love on a Pillow (1962) co-stars Robert Hossein and Brigitte Bardot again in Bardot's second-last movie, Don Juan (Or if Don Juan Were a Woman) (1973). When Roger Vadim died of cancer in February 2000, his four ex-wives including Brigitte Bardot and Jane Fonda, attended his funeral.
Actor Laurent Vergez had a small role on-screen in Don Juan (Or if Don Juan Were a Woman), which co-starred Robert Walker Jr,. Robert Hossein, and Mathieu Carriere – but a larger one off-screen – he too had a romance with Brigitte Bardot. Bardot and Laurent Vergez recorded the duet Vous ma lady (1973) and Tu es venu mon amour (1973).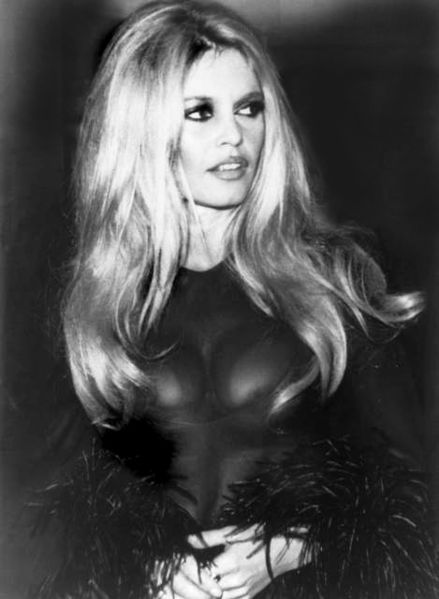 (Brigitte Bardot 1968 Photo: Michel Bernanau)
In 1973, 39-year-old Brigitte Bardot retired from acting after acquiring 40+ film credits over her 19 year movie career. The next year Playboy ran a nude photo shoot with her to celebrate her 40th birthday.
Bardot's love affairs continued through the 1970's and 1980's, as did her struggles with depression and suicide attempts fueled by drinking. From 1975-1979 her younger lover Miroslav Brozek, a Czechoslovakian sculptor, lived at her Saint Tropez home.
Brigitte Bardot began a relationship in 1982 with Allain Bougrain-duBourg, a French TV producer she'd first met in 1977.
After breaking up with Bougrain-duBourg in August 1983, on her 49th birthday the next month Bardot took either sleeping pills or tranquilizers with wine and went down to the beach near her home . She was pulled out of the surf and her stomach pumped at a local clinic. 
Since then, Brigitte Bardot has concentrated on various animal welfare causes; she is a vegetarian and an animal rights activist, and has protested inhumane treatment of animals in countries across the world. At times she has had 40+ rescued and adopted animals on her Saint Tropez property in France. The Brigitte Bardot Foundation for the Welfare and Protection of Animals was established in 1986.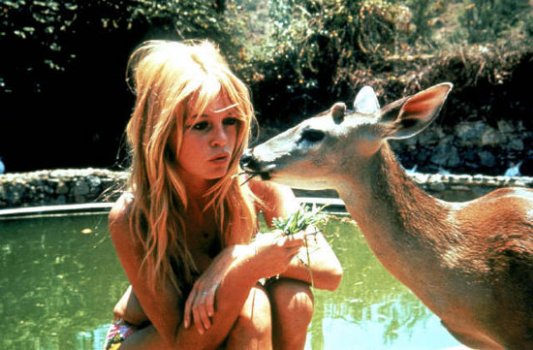 (Brigitte Bardot Photo: Juliana Dacoregio)
Brigitte Bardot has also written 5 books including her autobiography Initiales B.B. (1996), and has been fined several times for inciting racial hatred with her views about Muslim immigration in France.
It was disclosed to the press in 1985 that around 1983-1984, 50+ Brigitte Bardot was diagnosed with breast cancer. After at first being in denial about it, she underwent successful surgery and radiation treatment for breast cancer in 1984. 
In June 1992 Brigitte Bardot met businessman Bernard d'Ormale and they began living together. D'Ormale told People that two weeks after they met, Brigitte had called her estranged son Nicolas Charrier – who had not invited her to his 1984 wedding to Norwegian model Anne-line Bjerkanin – and arranged a visit to Switzerland so Nicolas (and his two daughters Anna and Thea, Bardot's granddaughters) could meet Bernard. While they were in Switzerland, Brigitte Bardot quietly married fourth husband Bernard D'Ormale on August 16, 1992.
A couple of months later, in November 1992, Bardot once again took an overdose of sleeping pills and was taken to hospital; although her husband said it was not a deliberate overdose and her stomach did not have to be pumped. 
Brigitte Bardot wrote her autobiography Initales B.B. (1996), in which she disclosed much of her negative feelings around her pregnancy, impending motherhood, and lack of maternal feelings; she said she would have preferred to have a dog and referred to the unborn baby as a "cancerous tumour". Her son Nicolas Charrier and ex-husband Jacques Charrier sued her; Bardot was ordered to pay damages to Nicolas for the emotional hurt she caused him, and to Jacques for violation of privacy. The following year, Jacques Charrier's book Ma Reponse a B.B. (1997), reproduced letters sent by Brigitte Bardot to him during their marriage, and Bardot sued Charrier. 
Unsurprisingly, Bardot and her son Nicolas Charrier were once again estranged. In 2009 Brigitte Bardot told Paris Match that "No, I'm not a good grandmother. They (her granddaughters) live in Norway with their father (Nicolas), they don't speak French and we don't have the opportunity to see one another."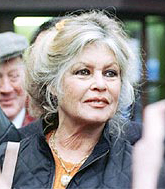 (Brigitte Bardot 2002 Photo: Cdrik b06)
Octogenarian senior Bardot became a great-grandmother in 2014, and her son sent her a picture of the baby; a rare communication. Author Ginette Vincendeau who wrote the biography Brigitte Bardot: The Life, The Legend, The Movies (2014) said that Brigitte Bardot still lived in La Madrague in Saint Tropez, France; she now walked with a cane because of arthritis, but had  refused to have hip replacement surgery.
Bardot and husband Bernard D'Ormale celebrated their 24th wedding anniversary in August 2016.
Previously: Brigitte Bardot, Part 1: Parisian Ballerina, Actress, Singer (1934-1961)
*Images are public domain or Creative Commons licensed & sourced via Wikimedia Commons, Vimeo, YouTube, or Flickr, unless otherwise noted*