Remembering Michael J. Pollard
Actor Michael J. Pollard will be remembered for portraying bumbling getaway driver C. W. Moss in Bonnie and Clyde (1967), an inept motorcycle racer in Little Fauss and Big Halsy (1970), and many other distinctive characters he created for movies and on television.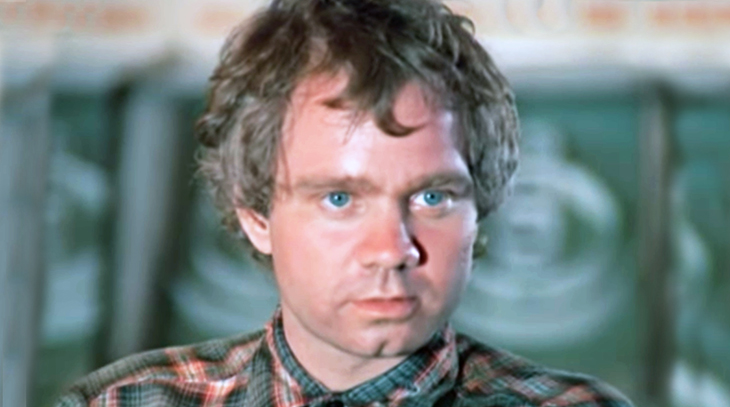 (Michael J. Pollard 1974 Movin' On)
Michael J. Pollard was 80 when he died on November 20, 2019 of cardiac arrest. He is survived by son Axel Emmett Pollard from his second marriage, and daughter Holly Howland from his first marriage to actress Beth Howland (1961-1969). 
Nee Michael John Pollack Jr. when he was born on May 30th, 1939, Pollard enrolled at Actors Studio in New York and changed his name along the way to success.
Crossing Paths With Warren Beatty
Michael J. Pollard began his film career on television in 1958, appearing in small parts on anthology series like Alfred Hitchcock Presents.
Pollard played Maynard's cousin, Jerome Krebs in 2 episodes of The Many Loves of Dobie Gillis in 1959, acting with regulars Dwayne Hickman and Bob Denver (Maynard Krebs), and fellow guest-stars Tuesday Weld, Warren Beatty, and William Schallert.
According to The Hollywood Reporter, Pollard also appeared on Broadway that year with Warren Beatty in Bye Bye Birdie (Dick Gautier was also in the cast). These interactions must have impressed Beatty enough to ensure Pollard was later cast in Bonnie and Clyde almost a decade later. In addition to Pollard, Faye Dunaway, and Beatty, the cast of Bonnie and Clyde includes Gene Hackman, Estelle Parsons, Denver Pyle, and Gene Wilder.
In a 1969 interview with Roger Ebert, Pollard confirmed that he couldn't, in fact, drive a car in the movies OR in real life.
"There was this guy teaching me, but I couldn't learn. So here I was stuck in the parking place, and Penn (the director) said, Okay, do it that way."
In this clip from Bonnie and Clyde, Pollard (as C. W. Moss) impresses bank robbers Bonnie (Faye Dunaway) and Clyde (Beatty), and is invited to join the team.
Still later yet, when Pollard's career (and Beatty's) was on the decline, Beatty cast him in Dick Tracy (1990). The star-studded cast of Dick Tracy includes Michael J. Pollard, Al Pacino, Dick Van Dyke, Madonna, Mandy Patinkin, Charles Durning, Seymour Cassel, Colm Meaney, Catherine O'Hara, James Caan, Henry Jones, and Glenne Headly.
1960's Television Guest-Star
During the 1960s Michael J. Pollard was a guest star on several popular TV shows such as The Virginian, and Channing, rubbing elbows with notable actors from these earlier days of television:
The Doctors and the Nurses, starring Shirl Conway and Zina Bethune, in an episode with Alan Alda.
The Andy Griffith Show, starring Andy Griffith, Ron Howard, Don Knotts as Barney Fife, and Frances Bavier; Pollard played Barney's disaster-prone cousin Virgil. He also had a 2-episode arc on The Baileys of Balboa, appearing with cast members that included Ron's younger brother Clint Howard, regulars Paul Ford, John Dehner, Sterling Holloway, and fellow guest stars Raquel Welch and  John Banner.
Route 66, starring Martin Milner and Glenn Corbett, in an episode with J. Carrol Naish and Lou Antonio.
The Lucy Show, starring Lucille Ball, Gale Gordon as Mr. Mooney, and Vivian Vance. Pollard plays Mr. Mooney's son Ted, Jr., who is dating Lucy's daughter Chris (Candy Moore), to Lucy's displeasure.
Gunsmoke, starring James Arness, Milburn Stone, Amanda Blake, Burt Reynolds, and Ken Curtis, in an episode with Mark Goddard.
Lost in Space, starring June Lockhart, Guy Williams, Mark Goddard, Bill Mumy, Angela Cartwright, Marta Kristen, and Jonathan Harris. Pollard plays a boy in an alien mirror.
Mr. Novak, starring James Franciscus and Burgess Meredith, in an episode with Beau Bridges.
I Spy, starring Robert Culp and Bill Cosby, in an episode with Cicely Tyson, Marge Redmond, and Raymond St. Jacques.
Star Trek, starring William Shatner, DeForest Kelley, and Leonard Nimoy. Pollard and fellow guest star Kim Darby play "children" inhabiting an alien planet similar to earth.
Michael J. Pollard's Notable Movies
While most fans will remember Michael J. Pollard for his Best Supporting Actor Academy Award nominated performance in Bonnie and Clyde as a gas station attendant turned criminal, or as Robert Redford's pal in Little Fauss and Big Halsey, he was in several other 1960s films.
His first credited movie role was in the star-studded Hemingway's Adventures of a Young Man (1962), featuring Richard Beymer as a young man traveling cross-country. Diane Baker, Fred Clark, Dan Dailey, Arthur Kennedy, Ricardo Montalban, Paul Newman, Eli Wallach, Jessica Tandy, and Edward Binns are among the many familiar faces in this film.
The following year he appeared in another film with Richard Beymer, The Stripper (1963), starring Joanne Woodward as the title character. Claire Trevor, Carol Lynley, Robert Webber, Louis Nye, Gypsy Rose Lee, Susan Brown, and Robert Blake's wife Sondra Blake, are also in The Stripper.
Michael J. Pollard plays Digby Popham in the Disney musical comedy Summer Magic (1963), starring Hayley Mills. Burl Ives is postmaster Osh Popham and Una Merkel is Mariah Popham.  Dorothy McGuire is a widow new to Boston, having moved there with her children, played by Deborah Walley, Eddie Hodges, and Hayley Mills.
In the Carl Reiner comedy The Russians Are Coming! The Russians Are Coming! (1966) starring Eva Marie Saint, Alan Arkin, Brian Keith, Theodore Bikel, Jonathan Winters, and John Phillip Law, Pollard is in fine company with an un-credited role as an airplane mechanic. Reiner must have liked Pollard's performance, because Pollard was cast again in Enter Laughing (1967), based on Reiner's novel. Actor Reni Santoni plays a would-be comedian and Michael J. Pollard is his encouraging friend Marvin. José Ferrer, Shelley Winters, Elaine May, Jack Gilford, Janet Margolin, Don Rickles, Richard Deacon, Rob Reiner, and Nancy Kovack are also in Enter Laughing.
The Wild Angels (1966) stars Peter Fonda, Bruce Dern & Diane Ladd (at the time, married in real-life), Nancy Sinatra as Fonda's girlfriend, and Pollard as "Pigmy", in a fiction drama about a California motorcycle gang.
While Doris Day and Richard Harris are the romantic leads in the spy spoof Caprice (1967), character actors abound in the film. Ray Walston, Jack Kruschen, Edward Mulhare, and Larry D. Mann, all join Pollard in notable supporting roles in Caprice. 
The Mirage (1965) remake Jigsaw (1968) stars Bradford Dillman as a man with amnesia courtesy of LSD-laced sugar cubes in his coffee, who hires a detective (Harry Guardino) to get to the bottom of things. Pollard is a hippie who kidnaps the detective. Hope Lange (The Ghost and Mrs. Muir), Pat Hingle, Diana Hyland, Susan Saint James, and Victor Jory are also in the cast of Jigsaw.
Michael J. Pollard co-starred with Oliver Reed in the WWII adventure-comedy Hannibal Brooks (1969). Reed and Pollard play captured soldiers working in the Munich Zoo as POW's, who escape and take an elephant in their care with them. This trailer and review of Hannibal Brooks features Michael J. Pollard and the attempt to capitalize on his lingering fame from Bonnie and Clyde.
Less Visible But Still Working
By the 1970s, Pollard was struggling with drug and alcohol abuse; he was still working but often seen in less prominent films and television series. 
Les pétroleuses/Frenchie King (1971), a western comedy notable only for starring French sex symbols Brigitte Bardot and Claudia Cardinale.
He had a starring role as Billy the Kid in Dirty Little Billy (1972), based on the early years of Billy Bonney. With Richard Evans, Lee Purcell, Charles Aidman, Gary Busey, and Dick Van Patten.
The Canadian thriller Sunday in the Country (1974) stars Ernest Borgnine as a farmer holding off criminals on the run who invade his farm to their regret. Michael J. Pollard, Hollis McLaren, Cec Linder, Louis Zorich, and Al Waxman are also in Sunday in the Country. This trailer from Sunday in the Country features Michael Sarrazin (in an uncredited role), Ernest Borgnine, Michael J. Pollard, and Cec Linder, among others.
By the end of the 1980s, Pollard had cleaned up his act, but the damage to his career had been done. His film roles now were usually smaller parts, but he did appear in some bigger movies:
Melvin and Howard (1980) is a comedic dramatization of a true story, starring Paul Le Mat as Melvin Dummar and Jason Robards as millionaire Howard Hughes. Pollard has a supporting role, as do actors Pamela Reed and Dabney Coleman. Actress Mary Steenburgen, who plays Melvin's first wife Lynda, won a Best Supporting Actress Academy Award for her performance in Melvin and Howard. 
Roxanne (1987), a romantic comedy re-telling of Cyrano de Bergerac, starring Steve Martin, Daryl Hannah, and Rick Rossovich, With Shelley Duvall, Fred Willard, Damon Wayans, Matt Lattanzi, and Michael J. Pollard in supporting roles.
Scrooged (1988), a Christmas fantasy-comedy starring Bill Murray, with Pollard joining supporting actors Karen Allen, John Forsythe, Bobcat Goldthwait, Carol Kane, Robert Mitchum, Alfre Woodward, Jamie Farr, Robert Goulet, and others in a large "name" cast.
Tango & Cash (1989), a comedy starring Sylvester Stallone and Kurt Russell as LAPD cops. Teri Hatcher, Jack Palance, James Hong, and Michael J. Pollard are in supporting parts.
Although Michael J. Pollard continued working through the 1990s and 2000s, his last released film was the thriller The Woods (2012) starring Franco Nero and Mickey Rooney.
Michael J. Pollard fans will remember him for the quirky traits his characters revealed onscreen – bright blue eyes, often puckish or shy, even when dangerous.
*Images are public domain or Creative Commons licensed & sourced via Wikimedia Commons, Vimeo, YouTube, or Flickr, unless otherwise noted*