Book Review & Excerpt: Mr. Novak
Update November 2018 – Mr. Novak now out on DVD courtesy Warner Archive!
An Acclaimed Television Series
By Chuck Harter
Introduction by Richard Donner, Forward by Martin Landau, and Afterword by Walter Koenig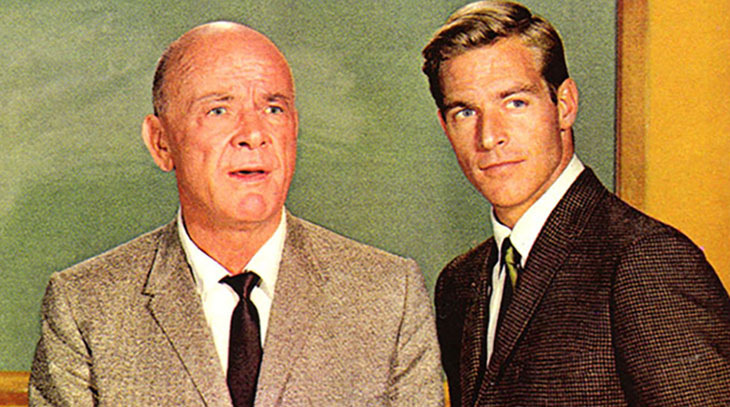 (Dean Jagger & James Franciscus 1963-1965 Mr. Novak Photo: Courtesy Chuck Harter)
Mr. Novak: An Acclaimed Television Series author Chuck Harter has painstakingly compiled a treasure chest of behind-the-scenes tidbits from castmembers, crew, and fans of the 1960's series. A comprehensive episode guide at the end gives the reader a complete picture of the on-screen who, what and when doings of Mr. Novak. Scouting the series location, casting decisions and background of the series stars, and more, make for a fascinating read.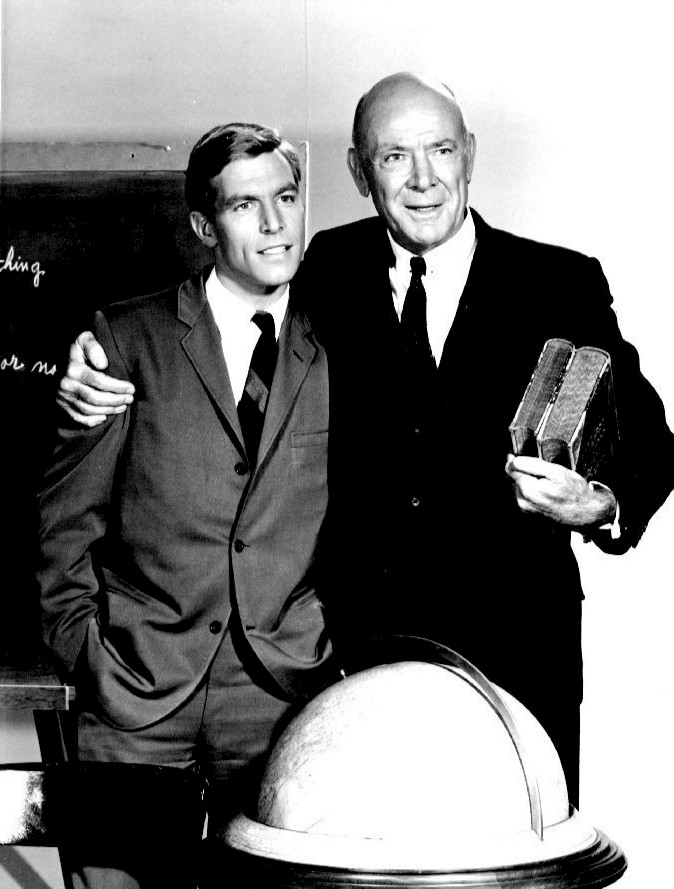 (James Franciscus Dean Jagger Mr. Novak 1964 Photo: NBC TV)
The Mr. Novak television series was set in a high school and starred James Franciscus as teacher John Novak and Dean Jagger as Principal Albert Vane.
Franciscus appeared in all 60 episodes of the series, while Dean Jagger left the series mid-way through 1965.
Veteran actor Burgess Meredith joined the cast for the last 15 episodes of Mr. Novak as new Principal Martin Woodridge. 
According to author Chuck Harter, series star James Franciscus was very happy to land the role of teacher John Novak, as per his wife Kitty: 
"When Jim was cast as Mr. Novak he was pleased. He had originally wanted to be a teacher and achieve a degree in that profession. Jim went into his acting career so this part 'killed two birds with one stone' as he told me. He thought the series would help people."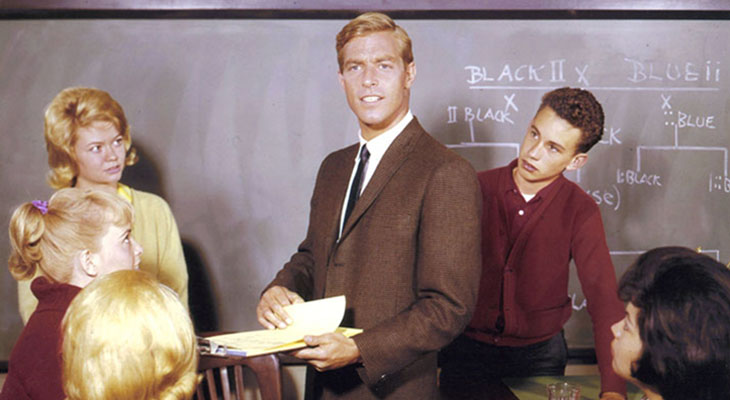 (James Franciscus 1963-1965 Mr. Novak Photo: Courtesy Chuck Harter)
Unlike many television series which based in a high school setting prior to Mr. Novak's debut (Our Miss Brooks, Mr. Peepers), the series was most definitely not a comedy. It broke new ground by seriously exploring contentious issues of the day for students, teachers, and parents, such as teenage drug use, sex education in the classroom, racial prejudice, teacher burnout, parental expectations and student anxiety. Over 50 years later, Mr. Novak stands up to scrutiny by modern viewers, and the themes the series explored have proven to be timeless and universal.
During it's two-year run, Mr. Novak compiled a stellar list of veteran and up-and-coming regular cast members and guest stars. Leave it to Beaver's Tony Dow played a student in several episodes, as did other young actors & actresses Beau Bridges, Brooke Bundy, Kim Darby, Johnny Crawford, Shelley Fabares, Patricia Morrow, and Don Grady.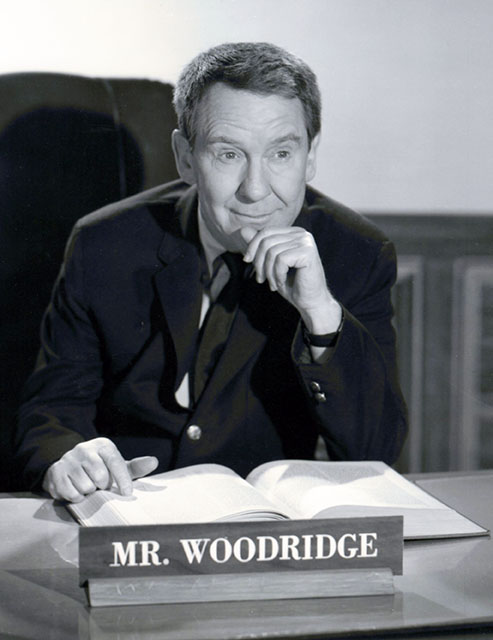 (Burgess Meredith 1965 Mr. Novak Photo: Courtesy Chuck Harter)
Adult guest stars who appeared on Mr. Novak included Edward Asner, Martin Landau, Marion Ross, and Burgess Meredith. Both Ed Asner and Martin Landau were interviewed and have endorsed the book, with Landau contributing a foreward.  
Harter gives readers the inside scoop behind Dean Jagger's exit from Mr. Novak, and the casting of Burgess Meredith as the new principal.
The Mr. Novak series and cast was recognized for it's excellence with numerous awards from educators, including the National Association of Secondary School Principals.
Author Chuck Harter's interviews of folks associated with the series all highlighted how seriously star James Franciscus took the responsibility of portraying his role as a young teacher. 
Warner Home Video announced plans to release the complete Mr. Novak series on DVD later in 2018.
Enjoy a brief excerpt from the Freshman Year chapter of Mr. Novak: An Acclaimed Television Series, below.
The September issue of 'TEEN magazine contained the first of many monthly columns written by James Franciscus. Although he was wary of the TV and movie fan magazines, he had agreed to write the columns for this quality teen publication. The columns would include such varying topics as cheating, classroom romances, scholastics versus athletics, volunteer work, teenage support groups, and more. Franciscus's wife Kitty recalled his commitment to writing for 'TEEN magazine:
"Jim really took his writing of the columns seriously. Even though he had a heavy schedule with the series, he enjoyed writing them. As he originally wanted to be a journalism major at Yale, he was in his element. "TEEN had a large circulation and Jim told me he was glad to make a constructive impact on his many young fans of the show. According to the publisher, the reaction to his columns was very positive and Jim was pleased with the response." – Interview.
Subjects of all of the columns can be found in the appendix. The production of new episodes continued with "A Feeling for Friday" which featured Diane Baker as a former flame of Novak: 
"It was a satisfying experience working on the series. Mr. Novak was a quality production in the acting, direction, and scripts. A series of class and distinction. I especially loved the writing which was honest and thought provoking. James Franciscus was a first-rate actor to work with." – Interview
The next episode to be filmed was "Pay the Two Dollars" in which Mr. Novak is accused of injuring a student. The teacher feels he is innocent but is asked to settle by a lawyer played by Martin Landau:
"I thought my character of attorney Victor Rand was of a guy who preferred to take the simple route. As a lawyer, he chose what he did so he didn't have to work so hard. He wasn't a trial lawyer but in this case he had to be one. Part of resistance was self-doubt. I liked to see confusion in a character." – Interview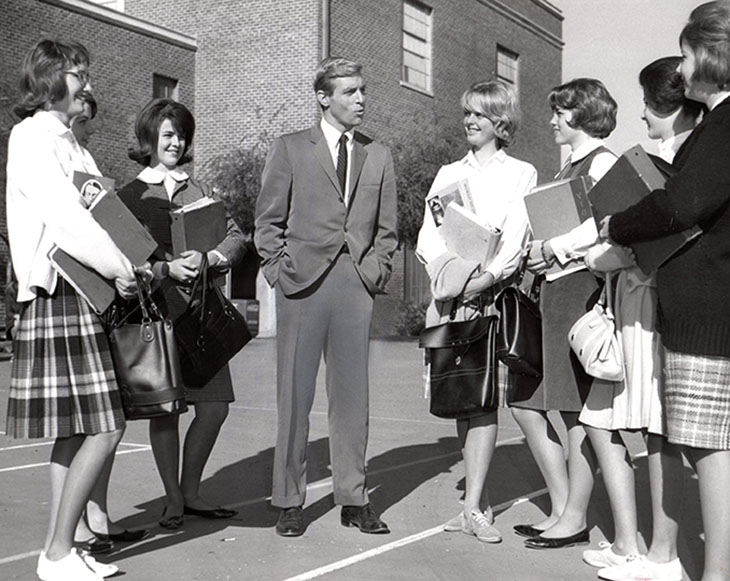 (James Franciscus 1963-1965 Mr. Novak Photo: Courtesy Chuck Harter)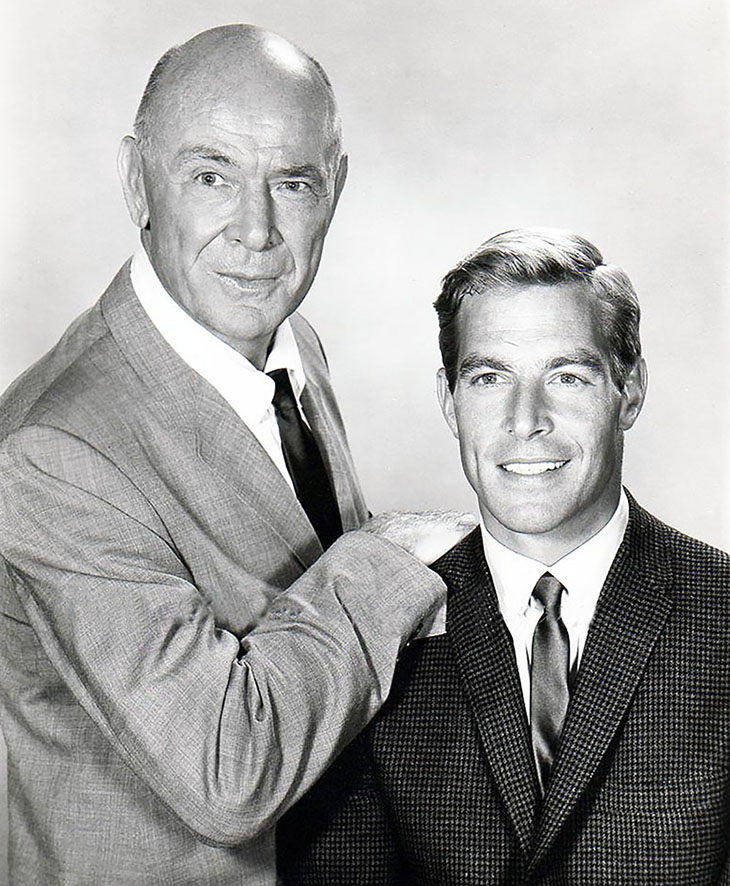 (Dean Jagger & James Franciscus 1963-1965 Mr. Novak Photo: NBC)
Fans of the Mr. Novak show (and it's stars James Francisus, Dean Jagger), teachers, lovers of the golden age of television, nostalgia buffs, and telephiles will enjoy this detailed account of how the series came to be, the actor's approach to their characters, and how the series was received by fans and educators.
With over 240 pictures, this is truly the complete Mr. Novak experience for readers.
For More Information & To Purchase Mr. Novak: An Acclaimed Television Series
Available for purchase on Amazon.com and other online booksellers.  
To order print editions visit publisher www.BearManorMedia.com
Visit www.MrNovakBook.com for more information and instructions on how to request an autographed copy. 
*Images are public domain or Creative Commons licensed & sourced via Wikimedia Commons, Vimeo, or Flickr, unless otherwise noted*