Celebrating Seniors - Mel Brooks Turns 90
Nonagenarian senior citizen, multi-talented Oscar, Emmy, Tony, and Grammy Award winning Jewish funnyman (actor, writer, producer, composer, lyricist & director) Mel Brooks (nee Melvin Kaminsky) was born on June 28, 1926 in Brooklyn, New York.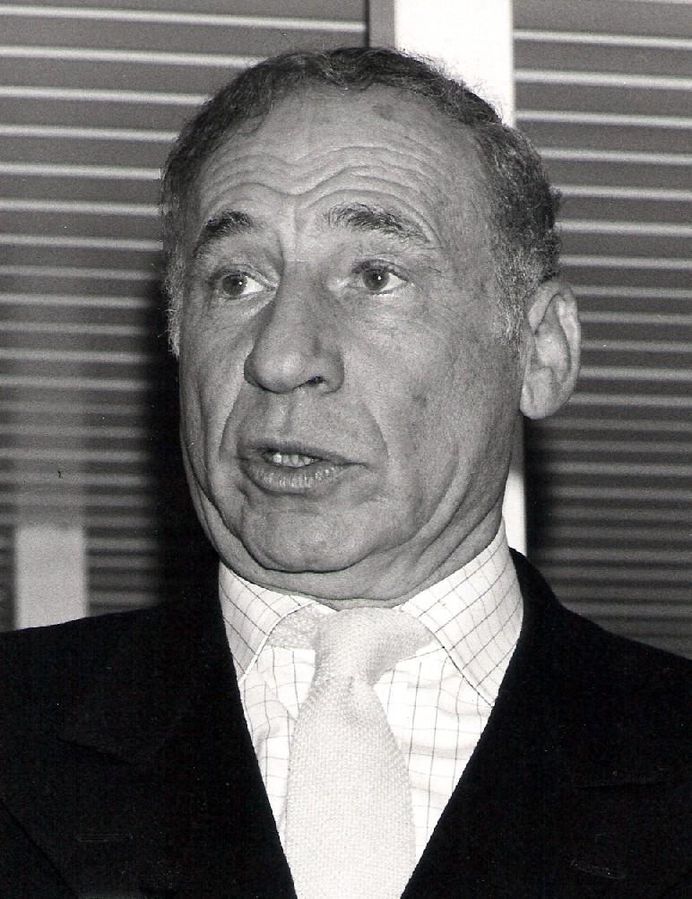 (Mel Brooks 1984 Photo: Towpilot)
Mel grew up and attended schools in Brooklyn, earning money while in high school by playing the drums, courtesy of classes from another Brooklyn resident, big band drummer Buddy Rich.
In a 1975 interview with Playboy, Brooks recounted meeting saxaphone player and future comedian Sid Caesar while working at resorts. 
Mel's post-secondary career at Brooklyn College as a psychology major was cut short when he was drafted into the U.S. Army. During World War II, he was a corporal and defused land mines.
While working as a drummer and pianist at resorts in the Catskills area of New York after WWII ended, Melvin Kaminsky changed his name to Mel Brooks.
He branched out into stand-up comedy and acting on stage, as well as performing on radio.M el Brooks began writing comedy for television, and landed a job with his old friend Sid Caesar's series The Admiral Broadway Revue in 1949.
The next year Sid Caeasar's new comedy series Your Show of Shows (1950-1954) was launched, with regular comedy writers that would include Mel Brooks, Carl Reiner, and the Simon brothers (Danny and younger brother Neil). It was the beginning of very long lifetime friendship for Carl Reiner and Mel Brooks, who are still best friends today more than 60 years later, in their nineties.
Elements of the writers experiences with Your Show of Shows, have crept into their subsequent creative works:
Carl Reiner created and wrote The Dick Van Dyke Show (1961-1966); the character of Buddy Sorrell (played by Morey Amsterdam) was based on Mel Brooks.
Mel Brooks executive produced the movie My Favorite Year (1982); the lead character of Alan Swann (played by actor Peter O'Toole) was inspired by Errol Flynn's appearance on an episode of Your Show of Shows, and the character of Benjy Stone (played by Mark Linn-Baker) was based on a combination of Mel Brooks and another of Sid Caesar's comedy writers, Woody Allen.
Neil Simon wrote the play Laughter on the 23rd Floor (1993) based on Your Show of Shows; the character of Ira Stone is also based on Mel Brooks.
Mel Brooks began to suffer from acute anxiety attacks due to his burgeoning success while Your Show of Shows, which was soon complicated by a physical ailments – low blood sugar, an under-active thyroid, and depression. He began to improve when he started seeing an analyst.
Mel Brooks had married Broadway dancer Florence Baum in 1953 and their three children were all born in New York – daughter Stephanie Brooks (b. 1956), son Nicholas (Nicky) Brooks (b. December 1957) and son Edward (Eddie) Brooks (b. May 1959).
When Your Show of Shows ended in 1954, "Melvin" Brooks, Paul Lynde and some other writers co-wrote the script for the movie New Faces (1954). That same year Mel Brooks began writing some episodes for yet another Sid Caeser show, the sketch comedy television series Caesar's Hour (1954-1957). In addition to Mel Brooks, Caesar's Hour (1954-1957) continued to showcase the writing talents of Danny and Neil Simon, Carl Reiner and others, while adding new writer Larry Gelbart (M*A*S*H) into the mix. 
When Caesar's Hour ended, Brooks struggled financially for several years. His marriage to Florence Baum suffered, and they separated, beginning divorce proceedings (he has said they married too young). Mel Brooks moved to Hollywood, where he and pal Carl Reiner began performing improv comedy skits at parties; this led to an appearance on The Steve Allen Show.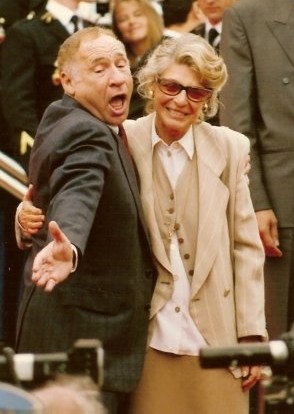 Left, Mel Brooks and Anne Bancroft in 1991. (Photo: Georges Biard)
Mel Brooks told Playboy that he went to a Perry Como television special rehearsal in February 1961 and saw a beautiful woman in a white gown singing – he was smitten by divorced actress Anne Bancroft, and they became inseparable.
Things finally began to improve financially for Brooks when he and Reiner collaborated on a comedy album 2000 Years with Carl Reiner and Mel Brooks (1961), based on their improv sketch routine. Brooks plays the 2000 Year Old Man, being interviewed by Reiner.
The follow up comedy album 2000 and One Years with Carl Reiner and Mel Brooks was released later that year.
Comedy record sales began to take off, with baby boomers and their parents buying more than a million copies.
Meanwhile, Mel Brooke occupied himself with miscellaneous projects. The book for the Broadway musical All American (1962) was written by Mel Brooks, and All American the play starring Ray Bolger endured for 80 performances. His concept for an animated short film The Critic (1963) and his commentary during The Critic led to an Academy Award for Animated Short Film. More financially secure now primarily due to the comedy album sales, in August 1964 Mel Brooks married Anne Bancroft in Manhattan, New York.
Together with Buck Henry, Mel Brooks helped create & develop characters in the first season for the new TV sit-com Get Smart (1965) starring Don Adams and Barbara Feldon. Brooks appeared on television in The Sid Caesar, Imogene Coca, Carl Reiner, Howard Morris Special (1967).
Fourteen years after writing his first movie (New Faces, in 1954), Brooks returned to films with a vengeance. He wrote and directed the comedy The Producers (1968), starring both established and budding comedy actors Zero Mostel, Dick Shawn, and Gene Wilder. It would be the first of several projects that Brooks and Wilder would work on together. 
In the early 1970's, Brooks began his most productive era in film. For his third movie outing, he wrote,  directed, and also appeared in, the comedy The Twelve Chairs (1970), left (DVD Cover Photo: Mixed Meters). Starring Frank Langella in his screen debut, The Twelve Chairs was the first of six Mel Brooks movies that comedian Dom DeLuise would appear in.
He voiced the "blond-haired cartoon man" in the educational kids television series The Electric Company (1971-1977).
Anne Bancroft and Mel Brooks' son, the screenwriter and actor (and zombie horror book writer) Max Brooks, was born in 1972 while Brooks was co-writing the script for what would become the western spoof movie Blazing Saddles (1974).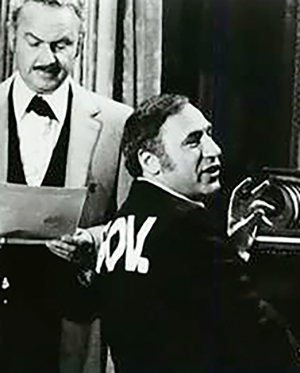 (Mel Brooks & Harvey Korman 1974 Blazing Saddles Photo: CBS)
Mel Brooks directed Blazing Saddles and appeared in the dual roles of Brooks Governor Lepetomane and an Indian Chief. Madeline Kahn and Harvey Korman made their Brooks movie screen debuts in Blazing Saddles, and when actor Gig Young had to drop out due to complications from alcoholism, he replaced him with friend Gene Wilder. Wife Anne Bancroft appeared in an uncredited role in the movie. 
While filming Blazing Saddles, Brooks began working with Gene Wilder to co-write the script for Young Frankenstein (1974).
Realizing he was smoking too much, Brooks quit smoking. Brooks directed and had some cameo appearances in Young Frankenstein, which has become a film classic. In addition to frequent co-star and friend Gene Wilder, actors Marty Feldman, Cloris Leachman, and Madeline Kahn also appeared in Young Frankenstein. They all appeared in subsequent Mel Brooks movies, part of a an ensemble of performers Brooks particularly liked. Both Mel Brooks and Gene Wilder were nominated for a 1975 Academy Award for Writing, Adapted Screenplay for Young Frankenstein. 
Mel Brooks did more movie voice-overs – helping out friend Gene Wilder on his movie The Adventure of Sherlock Holmes' Smarter Brother (1975) in an uncredited role, and as the voice of the 2000 Year Old Man on the movie adaptation of his and Reiner's improv skit/comedy album, The 2000 Year Old Man (1975).
Brooks also co-created the sit-com parody When Things Were Rotten (1975), starring Dick Gautier (Hymie in Get Smart) as Robin Hood. The When Things Were Rotten cast included Bernie Kopell as the character of Alan-a-Dale, and Dick Van Patten as Friar Tuck.
Now in his 50+ years, Silent Movie (1976) was co-written and directed by Mel Brooks; Brooks, along with his favorite comedians and actors Marty Feldman and Dom DeLuise were in the cast, as well as his old boss from Your Show of Shows, comedian Sid Caesar. A large cast of celebrities appearing as themselves were featured in the movie, including Burt Reynolds, James Caan, Liza Minelli, Brooks' wife Anne Bancroft, Paul Newman, and others.
The comedy suspense movie parody High Anxiety (1977), was co-written, directed, and produced by Mel Brooks, who had become a force in Hollywood based on the successes of his previous movies. Credits give a nod to suspense film master Alfred Hitchcock, who helped with the script for High Anxiety, and whose classic movies (The Birds, Vertigo, Spellbound) inspired the parody. Brooks also appeared in High Anxiety as the leading man, Richard Thorndyke, with Madeline Kahn as his leading lady.
More writing, producing, and acting in comedy movies followed for Mel Brooks. In History of the World, Part I (1981) he also directed the movie and appeared as multiple characters, along with favorite actors Dom DeLuise, Madeline Kahn, Cloris Leachman, and Harvey Korman. In (1983), Mel Brooks produced and acted alongside wife Anne Bancroft in a leading role; their son Max Brooks played the son of the character Rifka in To Be or Not To Be. Spaceballs (1987), co-written, produced, and directed by Mel Brooks, starred Mel Brooks as multiple characters, and a large cast that included Dick Van Patten and Dom DeLuise.
During his 50+ years Brooks was not absent from television; he starred in An Audience With Mel Brooks (1983) television special, and co-created the short-lived television satirical comedy series The Nutt House (1989) with Alan Spencer. The Nutt House TV series starred his favorites Cloris Leachman and Harvey Korman.
After becoming a senior citizen in 1991, Brooks began doing occasional episodic television work/voiceovers, on comedy series and made-for-TV movies such as Mad About You (1996-1999), and Curb Your Enthusiasm (2004). 
Brooks showed no signs of retiring from the movies right after becoming a senior citizen – he co-wrote, directed, produced, and appeared in three comedy movies in the next 4 years:
Life Stinks (1991)
Robin Hood: Men in Tights (1993), which included Dick Van Patten, Dom DeLuise, and Dom's son David DeLuise
And Dracula: Dead and Loving It (1995), which also had Harvey Korman, and wife Anne Bancroft in the cast.
Upon becoming a septuagenarian senior citizen in 1996 Mel Brooks cut back on his workload in the movies and on television. He has credited wife Anne Bancroft as his "guiding force", as he began focusing on developing stage musical versions of his earlier movies – The Producers and Young Frankenstein.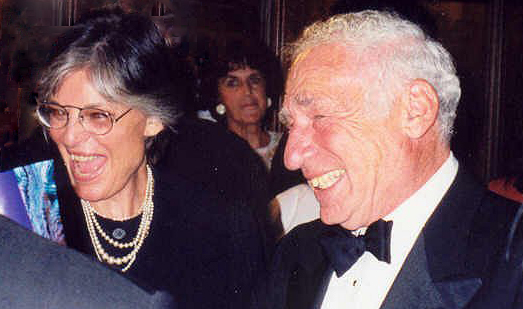 (Mel Brooks and Anne Bancroft 1997 Photo: Alan Light )
Brooks was the composer, lyricist, co-writer & producer for the Tony Award-winning Broadway musical The Producers (2001), starring Nathan Lane and Matthew Broderick. Brooks won Tony Awards for Best Book of a Musical and Best Original Score, and the play won Best Musical. The Producers musical  successfully toured America the next year, before opening in London's West End in 2004 & completing a UK Tour in 2007.
After more than 40 years of being happily married, Brooks' wife Anne Bancroft passed away from uterine cancer in 2005. The couple had recently become grandparents to son Max Brooks' child, Henry Brooks. Mel told The New York Post that he was deeply depressed for a year after Bancroft's death, and it was his children and grandchildren, and close friendship with Carl Reiner, that brought him out of it. 
Since becoming an octogenarian senior citizen in 2006, Mel Brooks has primarily focused on acting and voice-over work, such as voicing the character of Wiley the Sheep on the animated children's series Jakers! The Adventures of Piggley Winks, from 2003-2007. 
Some notable exceptions to this were:
Co-creating, producing, and writing for Spaceballs: The Animated Series (2008-2009), in which he also voiced the character of President Scroob.
Producing, composing, and writing the script and lyrics for the Broadway musical version of Young Frankenstein (2007). Young Frankenstein the musical was also performed in Argentina and toured the U.S. in 2009.
Appeared as himself in two 2011 television specials – Mel Brooks and Dick Cavett Together Again, and Mel Brooks Strikes Back
 (Mel Brooks 2010 Photo: Angela George)
Most recently, in 2015 Mel Brooks could be heard in the animated movie Hotel Transylvania 2 (2015) as the character of Vlad. His recent television appearances include the stand-up comedy special Mel Brooks: Live at the Geffen (2015), and an appearance as a celebrity guest in an episode of the TV comedy The Comedians (2015) with Billy Crystal. You can hear Mel Brooks next in the Blazing Saddles-inspired animated movie Blazing Samurai (2017), as the voice of  Shogun.
Until 2020, Brooks enjoyed going to the racetrack, having dinner several times a week with fellow widower and friend Carl Reiner, and watching television. Sadly, his best friend Reiner passed away in June 2020 at the age of 98.
*Images are public domain or Creative Commons licensed & sourced via Wikimedia Commons, Vimeo, or Flickr, unless otherwise noted*