Top 12 Healthy Diet Tools & Tips
Now is a good time to re-assess your kitchen tools and cooking habits, to see if you can make some changes for more heart-healthy eating. Regardless of age, these common kitchen tools and easy tips can help you to prepare nutritious meals and follow a healthy diet.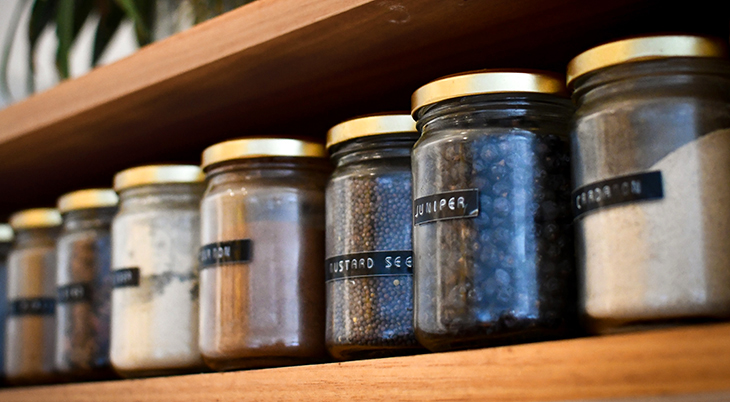 (Spice Rack Photo: Heather McKean via Unsplash)
12. Crock pot / slow cooker – The ultimate time-saver when you have a busy day planned, and excellent for preparing tender, easy-to-chew meats, poultry, and other meals. Throw in the ingredients in the morning, and by the time you get home at the end of the day, your supper is ready. 
11. Gravy fat separator – Keep the meat drippings and flavorful juices from your favourite roast, and eliminate the unhealthy fat and oil. 
10. Can opener – Canned and low-sodium beans, fish, soups, vegetables, tomatoes are ideal when you're in a hurry, have a limited budget, or just don't have the fresh ingredients on hand. Rinse off the salt on canned goods that are not low sodium.
 9. Spice rack – Low sodium, flavourful spices and herbs such as rosemary, basil, tarragon, oregano, curry, cumin, pepper and paprika are healthier choices than other salts (table salt, Kosher salt,  sea salt, fleur de sel, gourmet salt, smoked salt). Use cinnamon in coffee or on French toast instead of sugary options like sugar, butter or maple syrup.
8. Small blender – For portion control, use a small blender to make low fat yogurt smoothies, sauces, and salsas.
7. Use food labels. Keeping leftovers in the fridge or freezer defeats the purpose if you don't label them. Knowing the date and what it is will eliminate food waste and eating products past their best-by date. 
6. Steamer – Lock in the vitamins and nutrients,and keep vegetables crisp and colourful by steaming them instead of boiling them. Fish can also be steamed.
5. Knives – Use sharp kitchen knives to trim visible fat from bacon, meat, and poultry and the enjoy the added benefits of reduced grease to clean up after cooking. Dice & slice fresh vegetables and fruits for snacks and meals. 
4. Salad spinner and salad storage bag – Keep prepared lettuce and salad greens crisp and ready to eat. Wash the greens and then dry them in a salad spinner; after they're dry store in a salad bag or between paper towels. Eating lots of green leafy vegetables is one way to help maintain brain health.
3. Kitchen scale – For portion control or counting calories, a kitchen scale is invaluable. You'll be surprised at the difference between what you thought something weighed (wishful thinking?) and the reality. A serving of cooked fish, meat or poultry is 75 grams or 2 ½ ounces. A serving of cheese is 50 grams or 1 ½ ounces. 
2. Non-stick cookware – Reduce fat in baking with a non-stick frying pan or wok; they will only require small amounts of trans fat free margarine or oil to cook eggs, or stir-fry. Do not heat non-stick pans to above 350°C (650°F), or leave an empty pan on a hot burner.  
1. Meal planning – The fastest way to develop unhealthy eating habits is to not plan your meals in advance. Lack of advance meal preparation leads to grazing from the fridge and cupboards, or ordering fast food. Put up a whiteboard or chalkboard so everyone can see what's on the menu (and pretend you're at a restaurant!).
Bonus Tip for Calorie Counters – Use a calorie-counting app to keep track of how many calories are in what you eat. There are lots of free / paid apps today such as Lose It, MyFitnessPal and many others, that do this for you. And remember – EVERYTHING counts!
Summary
Whether you want to lose weight or just improve your nutrition in general, these time-saving, easy kitchen tips and tools – combined with developing good eating habits – can help you to preserve food at it's best, and reduce or eliminate unhealthy fats, sugar, and sodium from your diet. 
This article was first published in 2016 as Countdown: Top 10 Healthy Diet Tools & Tips. It has been updated with new & additional content. 
Resources:
10 Heart Healthy Kitchen Tools by Eat Right Ontario
Canada's Food Guide: Healthy Eating Recommendations
**This article is for informational purposes only and is not intended as expert nutrition advice, nor is it a substitute for professional medical or nutritionist advice, diagnosis, or treatment. Always seek the advice of a qualified physician or nutrition expert with any questions you may have regarding a medical or other health condition. In the event of a medical emergency, call a doctor or 911 immediately. This website does not recommend or endorse any specific tests, physicians, products, procedures, opinions, or other information that may be mentioned on the Site or on other websites it links to. Reliance on any information provided by this website or other websites it links to, is solely at your own risk..**