Non-Medical COVID-19 Masks
During this COVID-19 pandemic, should you wear a mask, and how can you make one?
With a shortage of personal protective equipment at these early stages of the Coronavrus pandemic, medical masks MUST be reserved for healthcare workers, first responders, and other people that provide direct care for COVID-19 patients.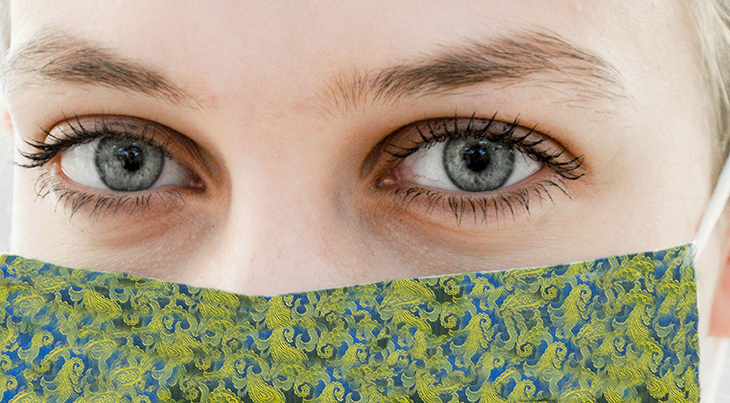 Benefits of Wearing Non-Medical Masks
So should the rest of us be wearing non-medical, homemade masks? There's been conflicting information about this, but the CDC and the Government of Canada have clarified that although there's no proof wearing a non-medical mask protects the person wearing it, wearing a mask IS a proactive measure to help protect the health of others around you, thus preventing the spread of COVID-19.
"Wearing a non-medical mask is another way to cover your mouth and nose to prevent your respiratory droplets from contaminating others or landing on surfaces. Just like our recommendation not to cough into your hands (instead, cover your cough with tissues or your sleeve) a mask can reduce the chance that others are coming into contact with your respiratory droplets."
An additional benefit of wearing a mask is that it may stop you from touching your nose or mouth.
You should not have to wear a mask frequently, if you are not an essential service provider, and are staying at home, restricting your grocery/shopping trips, and practicing social distancing. When you DO venture out to get your week's worth of household food and supplies, wearing a mask is an extra step you can take for the safety of others.
How to Safely Wear Non-Medical Masks
Yes, there's a right way and wrong way to wear masks to prevent the spread of disease, whether they're official medical masks or homemade, non-medical masks. Masks can become contaminated on the outside while you're wearing them.
The CDC recommends that masks or face coverings should allow you to breathe, have multiple layers of fabric, fit snugly to the sides of your face, be secured with ties or ear loops, and be washable/dryable.
Most importantly, remember that masks alone cannot prevent the spread of coronavirus. Strict personal hygiene, washing hands frequently, and social distancing are preventative measures that MUST continue to be followed.
Wash your hands before putting the mask on.
Ensure the mask fits well (non-gaping).
Don't touch your mask while wearing it.
Wash your hands after removing the mask.
Do not share YOUR re-usable mask with anyone else. 
Wash a reusable cloth mask in a hot cycle (it's okay to wash it with other items) if it is damp or soiled, and dry it thoroughly before wearing it again.

It's recommended to throw it directly into the washing machine when you remove it for washing, vs adding to a pile of laundry that will have to be picked up again later. I personally would throw mine in the next load of laundry after each time I wear it, because I wouldn't have a need to wear it on a daily basis anyway.

Single-use masks or masks that cannot be washed should be disposed of promptly after you take them off, directly into a lined garbage bin or garbage bag.

DO NOT throw them on the ground or leave them in shopping carts or elsewhere for someone else to pick up. LITTERING is NEVER ok, and there are usually municipal fines for that.
Making Home-Made Coronavirus Masks
There are a lot of online resources to help you make your own mask to help prevent COVID-19, or to donate;  whether you have a sewing machine and lots of material on hand, or have to improvise with what's at hand. Below are a few from among the many handy videos out there, about how to make masks – with or without sewing involved.
Improvising a Non-Medical Mask for COVID-19
What you'll need:
A square piece of tightly woven, preferably 100% cotton cloth that's the size of a handkerchief or bandanna
2 large hair elastics/ ponytail holders, or in a pinch, regular elastics
How to make it:
Take an oversize square piece of fabric and fold it over on itself from one side, until it's a strip wide enough to cover your mouth and nose.
Loop a hair elastic on about 1/4 of the way in on one end of the bandana; do the same with another hair elastic, on the other end of the fabric.
Fold the ends of the fabric that extend beyond the elastic, in towards the centre of the bandana.
Tuck one of the ends of the fabric into the other end.
Loop the ponytail holders on either end of the mask, around your ears.
Sewing a Non-Medical Mask for COVID-19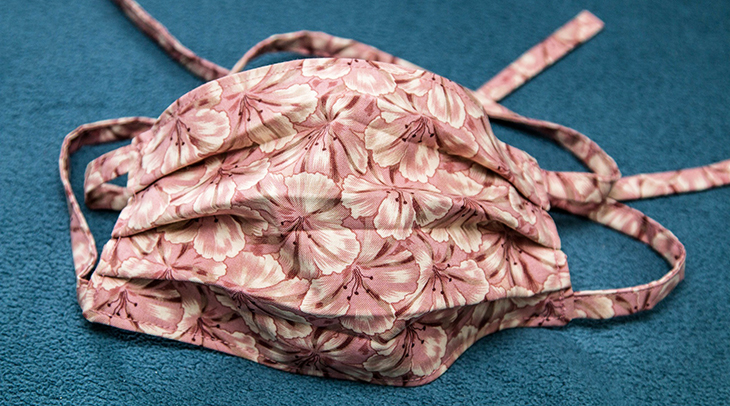 (Non-Medical Mask Photo: © 2020 Jacqueline Baker, Memories Through Lens Photography)
What you'll need:
Sewing machine
Computer & printer to download and print off a pdf pattern
Sewing pins to hold the pattern onto fabric
Scissors to cut the pattern/fabric
2 squares of tightly woven, preferably 100% cotton cloth that's the size of a handkerchief or bandanna. It's best if the two pieces of fabric are not identical to differentiate the inside from the outside.
Lengths of elastic
A friend who has a couple of nurses as friends, found instructions for how to make masks to wear over their medical surgical masks and thus extend the life of the medical surgical mask. She made the above masks and based on their feedback, added a pipe cleaner / wire at the nose, and an elastic piece at the chin, to help the masks stay in place and have a snugger fit.
Some other styles of non-medical mask that you can sew:
This first link is for a 3-page printable instructions from the CDC for 2 types of masks – the first one that you can sew, and the second one a bandana-style that you can make without sewing, even using old (clean) t-shirt material that you have to hand.
https://www.cdc.gov/coronavirus/2019-ncov/downloads/DIY-cloth-face-covering-instructions.pdf
And below, another video tutorial for another, simple type of face mask to sew using darts instead of wire or elastic at the nose and chin for a snugger fit.
Video for another style of fabric face mask
Wishing the best for everyone, and please stay well.
*This article is for informational purposes only and is not intended as medical or mental health advice, nor is it a substitute for professional medical or mental health advice, diagnosis, or treatment. Always seek the advice of a qualified physician or mental health provider with any questions you may have regarding a medical or mental health condition. In the event of a medical emergency, call a doctor or 911 immediately. This website does not recommend or endorse any specific tests, physicians, products, procedures, opinions, or other information that may be mentioned on the Site. Reliance on any information provided by this website is solely at your own risk.*