Bucket List Trips for Nature Lovers
As we get older, we start to think about all of the amazing sights the world has to offer. There are so many wonderful national parks and exotic countries to discover. If you are a senior and a nature lover, you undoubtedly know how beautiful this planet can be, so there is no time like the present to get out there and see it all.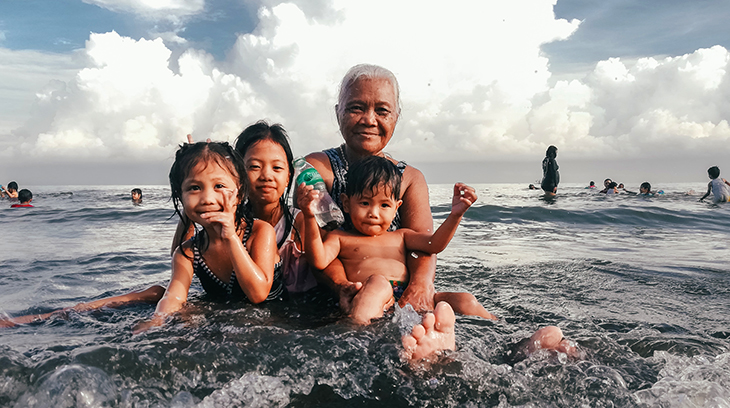 (Senior / Older Adult Vacation With Grandchildren Photo: Jove Duero via Unsplash)
Today, we'll talk about some of the best destinations for older adults and seniors who love nature and a bit of adventure. Plus, we'll discuss some tips for traveling the world as safely as possible.
Fun Road Trips in North America
While there are many amazing destinations around the globe that you can add to your bucket list, let's start out with the gorgeous travel destinations in the United States and Canada. Thanks to the sprawling national Canadian and American interstate highway systems, you can take a road trip in your RV or car to just about anywhere in North America, and you can reduce your carbon footprint along the way. 
However, before you hit the road, you should ensure that you have everything you  need to stay safe and secure on and off the road. Pack a first aid kit, ensure you have a spare tire and the necessary tools, and pack plenty of water and snacks that will help you stay full and hydrated if needed.
If you require the use of a mobility device, you should take that along as well. Luckily, it is easier than ever to bring your mobility scooter, with a hitch-mounted carrier. If your car supports a hitch, check the size of your scooter and find a mount that fits your needs. If you need help with this, contact a professional. Once you are set up with the right scooter carrier, you can load your scooter onto the back of the car, and you can unpack it at a moment's notice. 
Once you have everything packed and ready to go, consider some of these road-trip friendly places in Canada and the U.S.:
Yellowstone National Park – There is a ton of beauty to behold at this amazing park that spans the U.S. states of Wyoming, Montana, and Idaho, and just about everything can be accessed by people of all ages. There are many great trails to hike, and there is even a discount available for older visitors over 62. With so much nature to enjoy, you could easily spend a whole week at Yellowstone Park and never get bored.
Banff National Park – In the Rocky Mountains of Alberta, Canada, Banff National Park is over 2,500 square miles of beauty for you to explore. While this park is known for its adventurous nature, it also is easily accessible by car and offers activities for every age and skill level. Plan ahead so you can dip into Banff's famous hot springs, and enjoy the **Sulphur Mountain Gondola Ride.
Niagara Falls – This is one of the most gorgeous sights in both Canada and the U.S., and it is accessible to all visitors on both sides of the border. In addition to the amazing waterfalls, there are also lovely botanical gardens and a lot of forests, trails, and wildlife to adore.
Grand Canyon – One of the original Seven Natural Wonders of the World, the Grand Canyon is another destination you must see during your lifetime. Take the many gorgeous hiking trails to experience the splendor of the canyon from different vantage points. Plus, if mobility is an issue, you can still see the beauty of the Grand Canyon via an IMAX show, or take the shuttle tour.
Fly to Exotic Destinations
There are many amazing countries and islands that you can visit, and you never know which new sights or animal species you will see and be able to check off on your personal bucket list. 
Hiking Tip: While you are out hiking and exploring, consider bringing along wearable tech that can help you during the journey. In addition to informing you about how many steps you have taken, many of these devices can also work as blood pressure monitors or an EDG monitor to watch your heart rate. This technology can be a real lifesaver in a time of need.
Now that you know how to be safe an prepared, consider boarding an airplane and taking a trip to see these amazing destinations in Europe and South America:
Scandinavia – You can see the Northern Lights – another of the Seven Natural Wonders of the World – by visiting Canada, Iceland, Greenland, and the Scandinavian countries of Norway, Sweden, the Svalbard archipelago, and other parts of Scandinavia. There are many other great sights to see in Scandinavia as well, including Frederiksborg Castle, Nimb Hotel, and the cliffs of Mons Klint.
**Machu Picchu in Peru – This wonderful and picturesque Inca citadel should definitely be on your bucket list, and it is accessible to people of all ages. By taking the train or hiking the one-day trail, you can see this awesome place with your own two eyes. The citadel and the mountain peak make for great photo opportunities.
**High Altitude Tip: If you do choose Machu Picchu or any other high-altitude location, make sure to monitor your oxygen levels. Traveling to high altitudes too quickly can cause breathing to be labored due to less oxygen available in the air.
Cruises for Nature Lovers
Once you've seen the bucket list destinations via car and plane, you can see what is left while enjoying an unforgettable vacation cruise. This is an opportunity to enjoy amenities on the ship and take daily trips to the spots on your personal bucket list. 
Consider a cruise line that stops at these destinations:
Antarctica – There is a cruise line for just about any place in the world, including Antarctica. There is a lot to see and do here, including the awe-inspiring Mt. Erebus, and the McMurdo Dry Valleys, and you have a chance to see penguins, seals, and other amazing wildlife.
Africa – Yes, there are cruise lines, including Silversea Cruises, that can take you on trips to the natural paradise of Africa. A trip here will allow you to see wild lions, rhinos, zebras, and more. Also, you can check out the Underwater Waterfall in Mauritius and the Victoria Falls that border Zambia and Zimbabwe. There's also another of the Seven Natural Wonders of the World in Africa to check out – Victoria Falls.
There you have it – a great starting point for your nature-centered bucket list. There are many other glorious sights to see around the globe, so visit as many as you can. Remember to pack properly and prioritize your safety, and you can comfortably enjoy the beauty that this world has to offer.
*This article is for informational purposes only and is not intended as medical or mental health advice, nor is it a substitute for professional medical or mental health advice, diagnosis, or treatment. Always seek the advice of a qualified physician or mental health provider with any questions you may have regarding a medical or mental health condition. In the event of a medical emergency, call a doctor or 911 immediately. This website does not recommend or endorse any specific tests, physicians, products, services, or other information that may be mentioned on the Site or on other websites it links to. Reliance on any information provided by this website or other websites it links to, is solely at your own risk.*