New RV Tech Trends for Senior Travelers
RVing is a popular pastime for retirees, and with good reason. RVing offers seniors the opportunity to see the country without having to sacrifice any of the comforts of home. Many tech-savvy seniors and older adult RVers are looking for ways to make their motorhome trips even more comfortable, and that's where the newest RV technology comes in.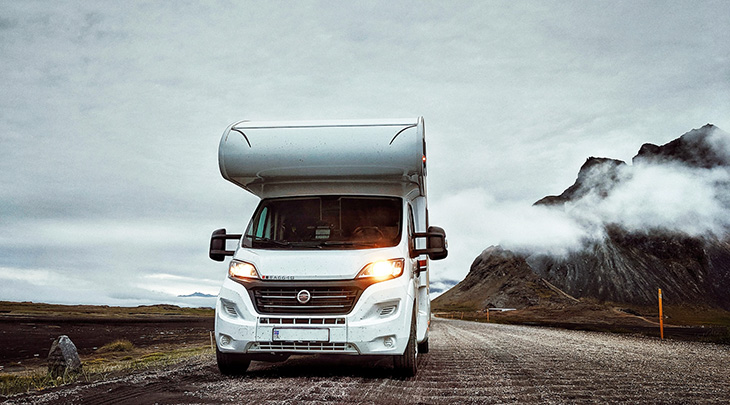 (RV Camper Van / Motorhome Road Trip: Nik Shuliahin via Unsplash)
Let's get the hang of the these new RV technologies and tech trends that can make travel easier, safer, and more affordable for older adults and seniors.
1. Solar Power System for RV Goes Mainstream
Solar power for RV has been around for a while, but they've only recently become mainstream. Solar panels can provide your RV with the energy it needs to run its lights, appliances, and other electronics. This is an ace way to save money on your RVing trips, as you'll no longer need to rely on campground hookups for power. Imagine the ease and convenience of not having to maneuver your RV into parking based on where the electrical hookup is located.
If you're not familiar with solar power, there are plenty of resources available to help you get started. You can find solar panel kits specifically designed for RVs, or you can work with a professional installer to design a custom system. Either way, going solar is a great way to reduce your dependence on fossil fuels and make your RV travels more sustainable.
2. All-Electric RV Models Are Just Around the Corner
Winnebago and THOR Industries have released their all-electric camper vans in 2022. These RV's are powered by batteries and electric motors, with no gas engine required. All-electric RVs offer a number of advantages over traditional RV models.
For one, these motorhomes are much quieter than gas-powered RVs. This is a major plus for seniors who want to enjoy the peace and quiet of nature without being disturbed by engine noise. Electric RVs also produce zero emissions, so you can feel good about doing your part for the environment.
Another advantage of all-electric RV models is that they're more efficient than their gas-powered counterparts. This means you'll save money on fuel costs over the long run. Since electric motors don't require tune-ups or oil changes, you'll save money on maintenance, as well.
3. Get Your RV-Transformer
There are RV models that include the features of a travel trailer, a pop-up camper, and a tent. These are called Hybrid RVs. A hybrid RV gives you the best of all worlds. You can have all the comforts of home while still being able to enjoy the great outdoors.
Such a transformer has an expandable design with tents popping out of the ends. This is perfect for older adults who want to plunge into a little adventure with no need to pack heavy. Hybrid RVs have a smaller design and weigh less than regular RVs. So you can traverse narrow spaces flawlessly. Plus, a lighter RV means a regular SUV can tow it with no issues.
Adults with limited mobility can add even more gadgets into their transformers. There are now RVs with features that make them more accessible, such as wider doorways and hallways, roll-in showers, and lifts or ramps.
4. Set up an Outdoor Kitchen for RVing
One of the RV tech trends for this year is to have an outdoor kitchen. This way, you can enjoy the outstanding weather and cook your meals at the same time. You can find RV outdoor kitchens that come with a fridge, stove, sink, and plenty of storage space. A modern outdoor kitchen is not just a table and Tupperware, it's something out of this world.
Modern motorhome kitchens include a TV screen to watch something or read recipes. There are hidden drawers to keep your tools organized. Multiple plugs and USB cables allow you to connect all the kitchen appliances needed; seniors who use a travel electric scooter can charge their aid vehicle too.
LED lighting brings new colors to the luxury and fancy design. An outdoor sink with water comes in handy when dinner is over.
5. Control Your RV From a Smartphone
RV technology is not just about the RV itself. It's also about the gadgets and devices you can use to control it. For example, many RV manufacturers now offer apps that let you do everything from starting the engine to checking the battery level.
There are plenty of other RV-related apps out there than can make your life on the road easier. These include the ones that help you find campgrounds or gas stations. With the GPS feature, you can get directions to your destination. And in in case of emergency, you can set up an SOS button for an urgent call.
Such an app can help you customize your vehicle and remotely control the RV windows, doors, etc. If accessibility is an issue, folks with limited mobility will find it helpful to set up a wheelchair lift and control it from their phone.
6. Install Wireless Trailer Camera System
For RVers who are towing a trailer, a wireless trailer camera system is an excellent gadget to improve safety. These systems typically include a camera that mounts on the back of the RV and a monitor that is placed inside the RV. The camera transmits live video to the monitor, so you can see what is behind you while driving.
This system is especially useful when backing up, or when changing lanes on the highway. Many wireless trailer camera systems also come with built-in sensors that will warn you if someone or something is in your blind spot.
7. Measure the Loaded Weight for Safe Towing
Keystone RV released its My Keystone app this year. The app is designed to help RVers measure the loaded weight of their RV so they can tow safely. The app uses smartphone sensors to take measurements and then calculates the RVs loaded weight. It also allows users to store measurement data for multiple RVs so they can easily switch between them.
This is a great tool for RVers who frequently change vehicles or who tow multiple RVs at different times.
8. Bring Alexa to Your RV Travel
Alexa can perform RV-related tasks, like opening the awning or starting the RV's generator. It can also give you RV trip-planning information, like finding RV parks or campgrounds in the area, and can provide weather reports and traffic updates. You can even use Alexa to control your RV's interior temperature and lighting.
If you have an RV with smart technology built-in, you may be able to use Alexa to control it directly. If not, there are aftermarket devices that allow you to add Alexa functionality to your RV.
Alexa and other technology can enhance travel, making your RV road trips easier and more fun. It can also give you solid peace of mind, knowing that you have access to RV-related information and assistance even when you're on the road. 
Conclusion
RVing is an ace way to travel, to see the country, and to spend time with family and friends. If accessibility, affordability, older adults or seniors are concerns, RV technologies and gadgets can make everyone's road trip travel experience safer, easier, cheaper, and more comfortable. Be sure to ask your RV dealer about available features than can enhance your RV trips.
*This article is for general informational purposes only. 50+ World does not endorse any product or service providers, nor does it receive remuneration from them. Obtain expert advice – financial, legal, medical, industry-specific, etc. – from qualified practitioners about your unique situation.*