Isola Bella Borromeo Palazzo & Gardens
At the mid-point of Lake Maggiore in Italy's Piedmont region are the Borromean Islands and summer palaces of the Borromeo family, whose history in Italy can be traced back to the 1300s.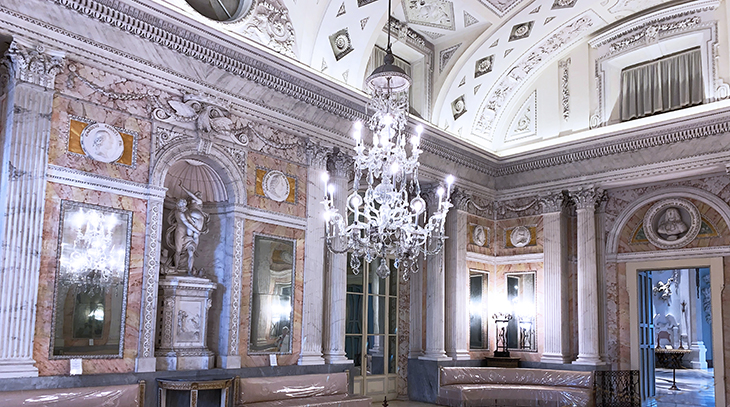 (Inside Borromea Palazzo / Summer Palace, Isola Bella, Italy Photo: A. Hamilton / 50+ World)
The Borromean Palazzo and terraced gardens on Isola Bella are a treasure trove for tourists who love art, architecture, history, and gardens. I recently stayed in nearby Baveno, Italy on the western shore of Lake Maggiore while enjoying a bus tour of north-eastern Italy with Insight Vacations, and visited the privately owned island of Isola Bella. Lake Maggiore is the second-largest lake in Italy, after Lake Garda.
The Borromean Islands
Located mid-way up Lake Maggiore on the Piedmont side, are the three Borromean Islands – Isola Madre, Isola Bella, and Fisherman's Island (also known as Isola Superiore / Isola dei Pescatori). You can visit all of the island by private boat or ferries from the nearby towns of Stresa or Baveno.
Although it has never been owned by the Borromeo family, Fisherman's Island / Isola dei Pescatori (aka Isola Superiore on the map above) is considered to be the most westerly of the Borromean Islands. It's inhabited by locals and there are several hotels and restaurants on it.
(Fisherman's Island on right/foreground, Baveno in left/background Photo: A. Hamilton / 50+ World)
The other two islands have been owned by the wealthy Borromeo family for centuries.
Isola Madre (originally called Isola di San Vittore and then Isola Maggiore) is the largest and most northerly of the three Borromean islands in Lake Maggiore. According to the Borromean Islands website, Isola Madre had a church in the mid-900s AD; olives and possibly other crops were grown on it. In 1501 Lancillotto Borromeo had a gardener cultivate citrus fruit on the island, and began building the L-shaped Palazzo Borromeo as a family home.
In the late 1700s Count Vitaliano Borromeo had construction begin on what would be 8 hectares of gardens – the Giardini Botanici dell'Isola Madre – with cypress trees, rhododendrons, palms trees, camellias, and birds. A family church was built on Isola Madre in 1858.
Today you can tour the church, the Borromeo Palazzo, and the gardens on Isola Madre from March-October.
Isola Bella is the most southern of the Borromean family and houses a 100-room castle and splendid terraced gardens.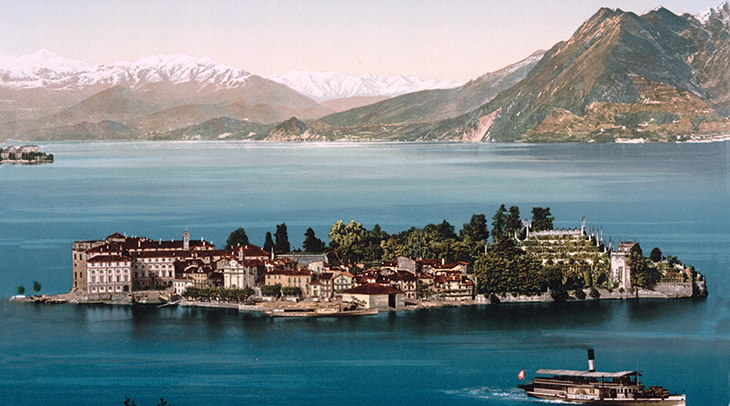 (Isola Bella, Lake Maggiore / Italy c. 1890-1900 Photochrom Print: US Library of Congress)
According to the Borromeo tourism website, work on a casino on the island (until then named Isola Inferiore) began around 1630 under the direction of Carlo Borromeo III to please his wife Isabella d'Adda:
"From now on the island will be called Isabella, since it is made to create a place for the pleasure and recreation of my lady the Countess Donna Isabella."
Twenty years later Vitaliano VI Borromeo changed the plans from a casino to a beautiful palazzo and garden on the island; the palace was enlarged by Cardinal Gilberto III* and Count Vitaliano VI by 1690.
In the following decades changes and enhancements were made – all told, work on the Borromeo Summer Palace and Gardens on Isola Bella took four hundred years until it was completed.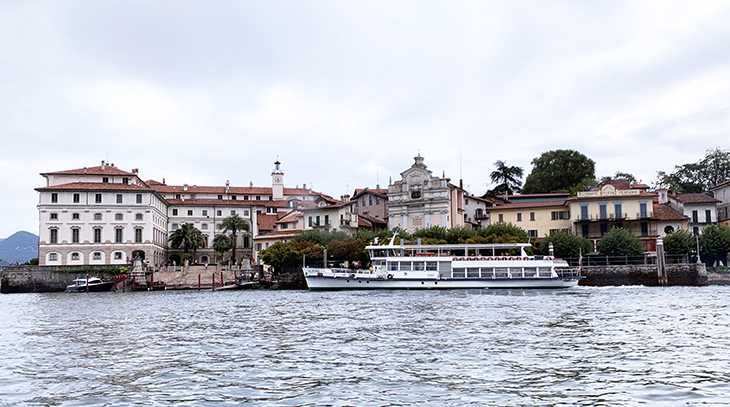 (Isola Bella, Lake Maggiore / Italy 2019 Photo: Anita Hamilton / 50+ World)
Isola Bella's Borromea Palazzo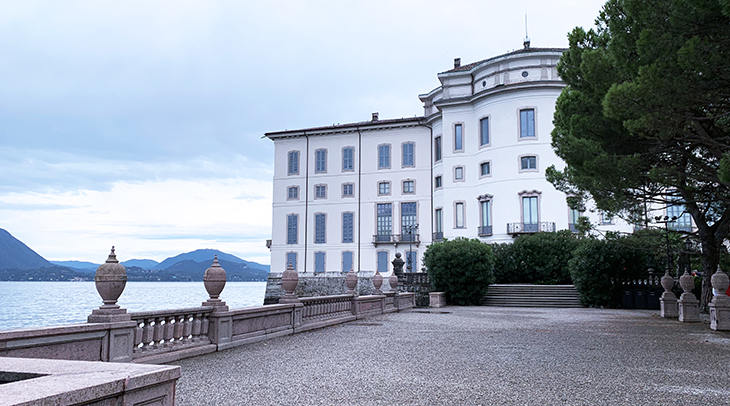 (Borromea Palazzo / Summer Palace west and center wing, Isola Bella, Italy Photo: A. Hamilton / 50+ World)
There are 100 rooms in the Borromea Summer Palace on Isola Bella, and we had a guided tour through 20 of them – the ground floor rooms, and basement or Grotto level – by a local expert. The other 80 or so rooms are for the use of the Borromea family and staff.
My first impression of the Isola Bella Palazzo is awe at the stunningly beautiful high mitred ceilings and trompe l'oeil architectural frescoes; they draw the eye upward in every room.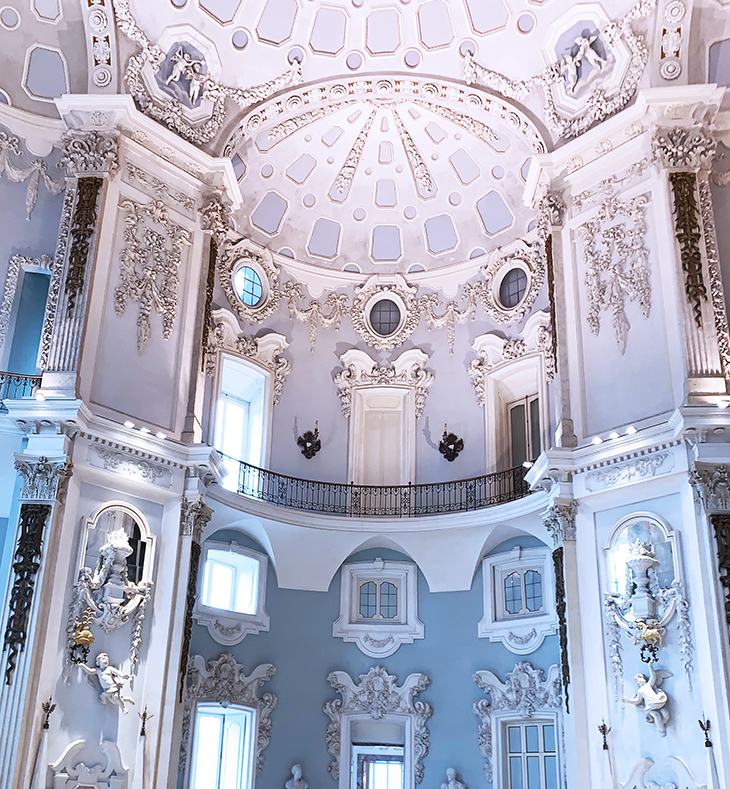 (Borromea Palazzo / Summer Palace Ballroom, Isola Bella, Italy Photo: A. Hamilton / 50+ World)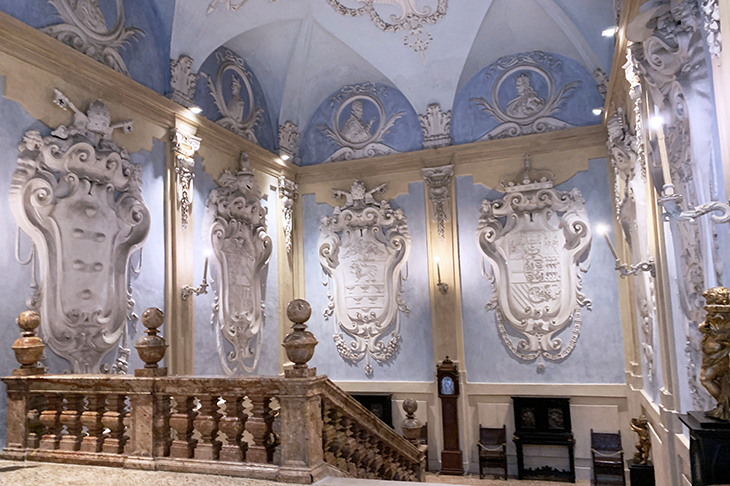 (Borromea Palazzo / Summer Palace Stairwell, Isola Bella, Italy Photo: A. Hamilton / 50+ World)
Borromea Summer Palace Dining Room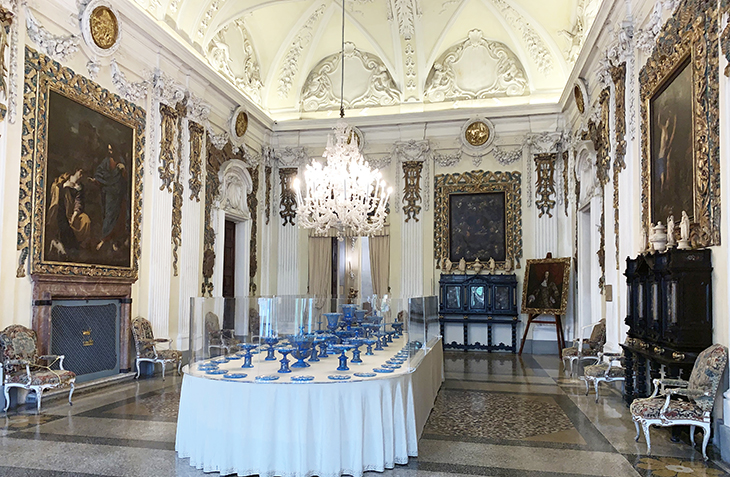 (Dining Room, Borromean Summer Palace / Palazzo, Isola Bella, Italy Photo: A. Hamilton / 50+ World)
The marble floors, beautiful ceilings, 18th century paintings, and glass chandelier are highlights in the Palazzo dining room, which has a table set for upwards of 40 people.
General Napoleon Bonaparte's Visit
Napoleon Bonaparte, his wife Josephine de Beauharnais, and his retinue of approximately 60 people, arrived unexpectedly at Isola Bella on August 17, 1797 for an overnight stay. He couldn't have been a welcome visitor; the previous year he had taken command of the Army of Italy and knocked out the Piedmont forces.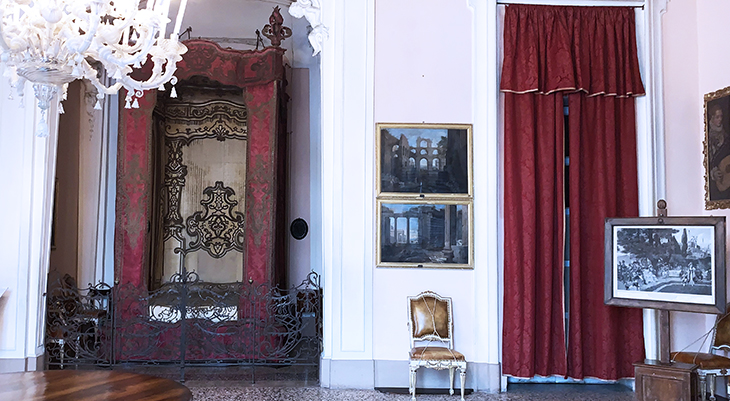 (Napoleon's Bedroom / Alcove Room, Borromea Palazzo, Isola Bella, Italy Photo: A. Hamilton / 50+ World)
Nevertheless, the Alcove Room in the Palazzo was quickly transformed into a bedroom for the general and his wife, and is preserved today as it was for his 2 day visit. The 18th century canopy bed they slept in is on the left, while on the right is an easel holding a sketch of General Napoleon, Josephine, and his attendants in the gardens of Isola Bella. According to a placard in the palace, their guests had bad manners and left their rooms "dirty and foul smelling."
By the end of 1797, General Bonaparte had revoked most of the Borromeo jurisdiction over lands and towns within the Duchy of Milan – although they did keep their private palaces and the Borromean Islands.
Borromea Palazzo Music Room and Stresa Treaty
(Music Room, Borromean Summer Palace / Palazzo, Isola Bella, Italy Photo: A. Hamilton / 50+ World)
Centre-stage in the Music Room of the Borromea Summer Palace on Isola Bella is a beautiful 1769 Murano glass chandelier, suspended from the mitred vault ceilings above an ornate forte-piano / pianoforte. 
On the left side of the music room you can see one of two cabinets made between 1600-1799, decorated with embossed silver columns and gilded bronze sculptures. 
Behind the piano is a large 18th century table and armchairs, all covered in brocade from that era. It was in this room at this table, that the April 1935 Stresa Conference was held. Heads of state and ministers from Italy (Benito Mussolini), France (Pierre Laval, Minister of Foreign Affairs), and Britain (Prime Minister Ramsey MacDonald) discussed violations of the Versailles Treaty by Adolf Hitler's Germany. They condemned Hitler's violations of the Treaty and reported the danger of Germany's actions for Austria in a document of intent, to no avail.
Borromean Summer Palace Grottoes
The lower floor of the Borromeo Palazzo on Isola Bella consists of rooms (grottos) lined with cobblestone, black & white rocks, and shells. 
Grotto Saddle & Harness Room
The Sixth Grotto room displays harnesses used in Borromeo family members for weddings and horse riding expeditions during the 1700s. Centre right is an architectural model of the Angera Fortress, where Archbishop Carlo Borromeo was born in 1958. The Angera castle was destroyed by Napolean Bonaparte in 1800.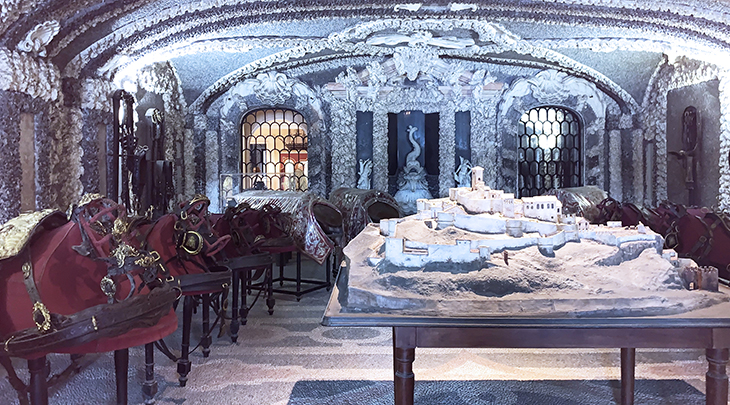 (Grotto Saddle & Harness Room, Borromea Palazzo, Isola Bella, Italy Photo: A. Hamilton / 50+ World)
Grotto Puppet Room
Eighteenth and nineteenth century puppets made of papier mache, fabric, and wood, are housed in display cases in the Puppet Room of the Grotto. The original backdrops painted by Alessandro Sanquirico (scenographer of the Scala Theatre of Milan) for puppet show performances held on Isola Bella, are also in the display cabinets.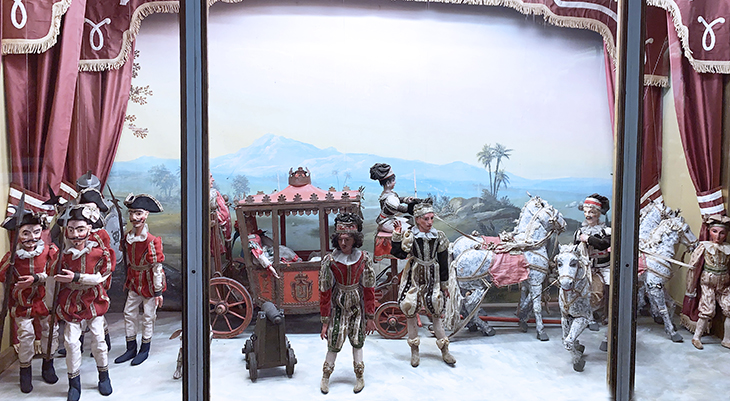 (Grotto Puppet Room Cabinet, Borromea Palazzo, Isola Bella, Italy Photo: A. Hamilton / 50+ World)
Italianate Baroque Gardens and Teatro Massimo
Count Carlo IV completed the baroque gardens at the southern end of Isola Bella in 1671.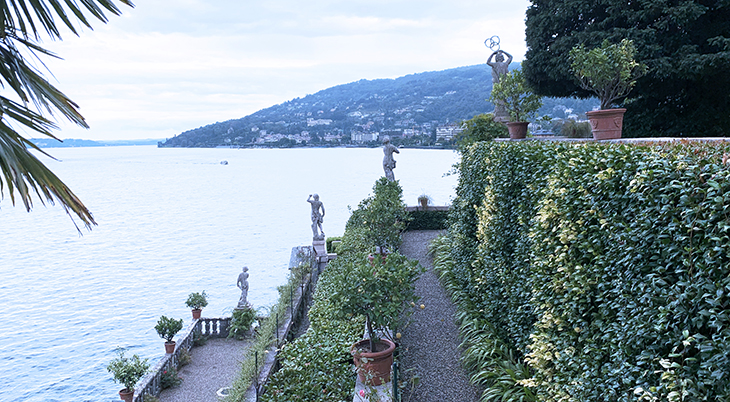 (Terraced Baroque Gardens, Borromea Palazza, Isola Bella, Italy Photo: A. Hamilton / 50+ World)
Tons of earth were brought in to build 10 terraces. From the garden you can look towards the town of Stresa on the shores of Lake Maggiore.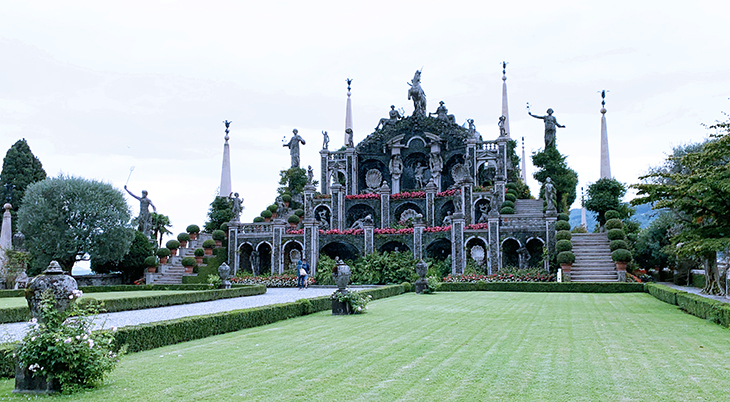 (Teatro Massimo, Borromea Palazzo Baroque Gardens, Isola Bella, Italy Photo: A. Hamilton / 50+ World)
Light operettas were performed on the highest terrace in front of the Teatro Massimo, a pyramid-shaped theatre backdrop of sculptures topped by a magnificent unicorn, created by Carlo Simonetta.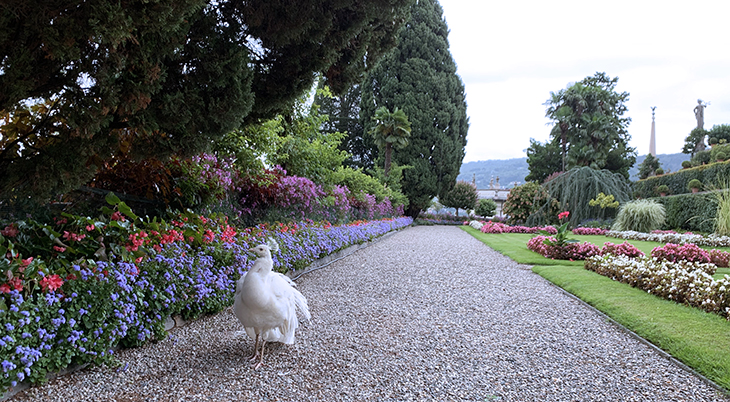 (Borromea Palazzo Baroque Gardens & White Peacock, Isola Bella, Italy Photo: A. Hamilton / 50+ World)
White peacocks stroll around the lush gardens, which in late summer when I visited, are still bursting with color. 
The Borromea Family & History 1300s-2000s
I found the 700+ years of history of the Borromea family fascinating and thought I'd share these geographic and historical tidbits:
Filippo Buon Romei (Buon Romei because of his Roman origins) was a San Miniato merchant in the 1300s. His progeny founded banks in Venice and Florence (and later, Bruges and London); it was his sons Borromeo and Giovanni Buon Romei that founded the Borromei Bank in Milan in the late 1300s.
Filippo's descendant Vitaliano (son of Paduan ambassador Giacomo Vitaliani and Margherita Borromeo) took his uncle Giovanni Borromeo's last name when he died. It was this Vitaliano Borromeo that was made Count of Arona around 1445, thus establishing the aristocratic House of Borromeo, which still exists today. By 1449 Vitaliano had acquired most of the lands and castles of the cities of Arona and Angero around the southern part of Lake Maggiore.
Vitaliano's children and grandchildren continued to manage banks in the 1400s, acquire property, and build castles in Northern Italy during the 1500s, including these significant properties they still own today – Rocca d'Angera Palazzo Borromeo, Milan Castel of Peschiera Borromeo, and of course the Borromean Islands with the two palaces on them – Isola Bella and Isola Madre.
Gilberto II Borromeo (1515-1558) married Margherita Medici di Marignano (1510-c.1547), sister to Pope Pius IV and the Duke of Marignano.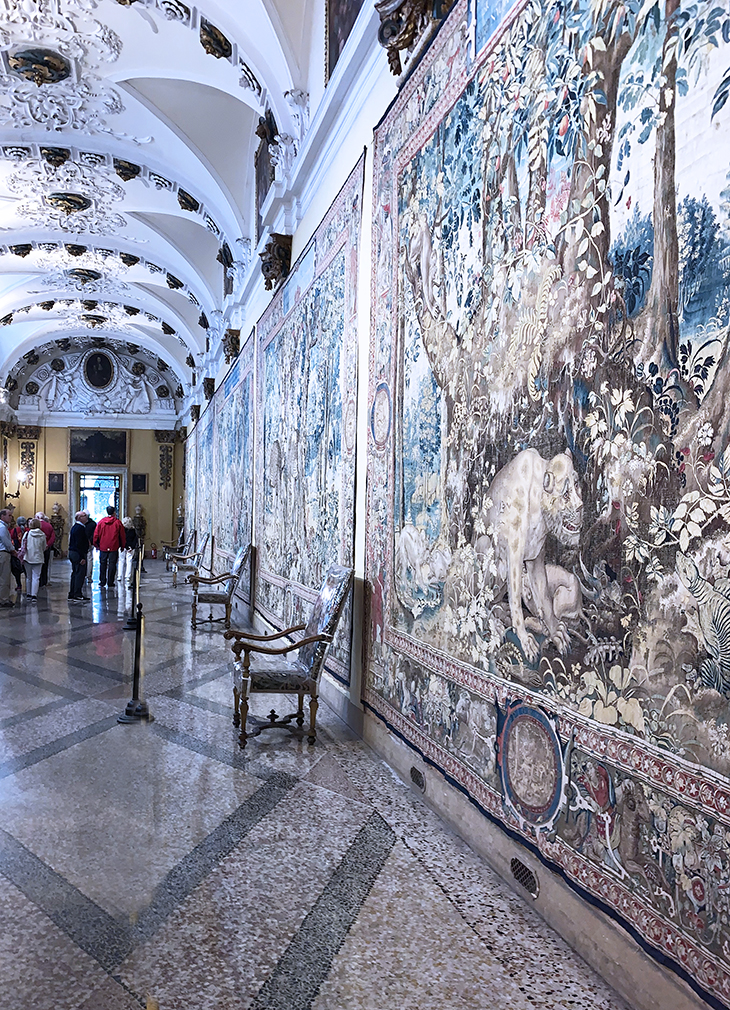 (Borromeo Tapestries c. 1565, Salon Degli Arazzi, Borromean Palazzo, Isola Bella, Italy Photo: A. Hamilton / 50+ World)
Gilberto and Margherita's son Carlo Borromeo (1538-1584) was an archbishop of Milan, a Roman Catholic Church cardinal, and a canonized saint (St. Carlo). His motto "Humilitas" can be seen in many elements on Isola Bella including the gardens; according to a 2010 interview with W Magazine, it was Carlo Borromeo who sold the title of prince that had been bestowed on the family in the 1500s, in order to benefit the poor. 
Cardinal Federico Borromeo (1564-1631) was named Marquess of Angera in 1623 by Spain's King Philip IV.
The title Conte di Arona was confirmed by the King Victor Emmanuel III of Italy for Gilberto Conte Borromeo Arese in 1896; he was named Prince of Angera in 1916. 
The current Principe Gilberto VIII and Principessa Bono Borromeo were married at Milan's majestic Duomo by Cardinal Montini in 1958; Cardinal Montini became Pope Paul VI 5 years later, in 1963.
Today the very private Principe and Principessa, and their sons Count Vitaliano XI and Federico X and their children, can often be found residing on Isola Bella in their private apartments (3 floors of the palace) and walled garden grounds during the summer months. A flag is raised whenever a member of the family is residence, something I saw when we toured the public rooms and gardens. 
The Isola Bella Summer Palace is unheated, making it uncomfortable to live in during the winter. For most of the year the Borromea family live and work in their Milan homes / palaces. 
Other Borromeo descendants today include their nieces – equestrian and horse-breeder Matilde Borromeo, wife of Germany's Prince Antonius zu Fürstenberg; and her sister, journalist Beatrice Borromeo. Beatrice married Pierre Casiraghi (son of Princess Caroline of Hanover) in a civil service in Monaco in 2015, followed by a religious ceremony on Isola Bella a week later, according to Town & Country. 
Traveling to Isola Bella Tips
How to Get to Isola Bella:
You can only get to Isola Bella by boat. Inspired by a friend and travel agent who had recently toured Northern Italy, I booked a slightly different bus tour – Country Roads of Northern Italy – with Insight Vacations. They pre-arranged a private boat to take us to the island, and purchased our entrance tickets for us. You can book the tickets online yourself at the Isole Borromee website (link below), and there are public ferries as well as private boats for hire from Stresa or Baveno. Or, use an experienced travel agent if you want to book a tour for your own dream vacation to Italy, that includes Baveno and Isola Bella on the itinerary.
Where to Stay:
I stayed at the beautiful Grand Hotel Dino in picturesque Baveno on the shores of Lake Maggiore, and highly recommend it (although the breakfast eggs were a bit runny for my taste). There are lots of restaurants and transportation options from Baveno to get to the islands as well as to visit other towns along the lake. There are also hotels elsewhere along the lake including in the next biggest town of Stresa, or you can even stay in hotels on Fisherman's Island (but then you'd have to take a boat to go most other places).
When to Go:
Isola Bella, Isola Madre, and many of the local attractions are open only from March-October. Even Northern Italy can be hot in the peak summer months so plan your trip accordingly.
Where to Eat:
You're going to find lots of nice little Italian restaurants serving pizza, fish and seafood, and of course pasta, pretty well everywhere in the nearby mainland towns. I didn't really have a bad food experience anywhere (just some spotty service in a couple of places). Fisherman's Island has several seafood oriented restaurants; in my experience, seafood in Italy means calamari, squid, clams, sardines, and other local lake or mediterranean ocean fish…not so much shrimp, lobster or scallops as you'd expect in North America. 
What to Watch Before You Go / Movie Trivia
The film Rome Adventure (1962), while set and filmed primarily in Rome, also filmed in the Dolomites and Isola Bella as a filming location. This romantic drama stars Suzanne Pleshette and Troy Donahue, with Angie Dickinson, Rossano Brazzi, Constance Ford, Chad Everett, and Hampton Fancher.
Our tour to Northern Italy also included Shakespeare's Fair Verona, the lovely Isola Bella with the Borromeo Palazzo and Gardens, a Prosecco wine-tasting at La Vigna di Sarah winery, Bolzano, the Prince-Bishops city of Trento, Venice and the historical and haunting islands of the Venetian Lagoon, and Lake Como. On our own before the tour, we had visited Florence and Cinque Terre, staying in the village of Monterosso al Mare for a couple of nights.
And if you enjoyed this article, you may also like:
Venetian Palazzos in Movies and Plays
Notes:
Primary Resources – Isola Bella Borromeo Palazzo, Exhibit Signs & Tour; Isole Borromee Website
Other references to Isola Bella: There is another Isola Bella, in Taormina, Sicily. The West German romantic comedy film Isola Bella (1961) is set in the region of Ticino, Switzerland, which includes the northern tip of Lake Maggiore, and where the spoken language is primarily Italian.  
*Some sources have Gilberto as Giberto; I have used the spelling of Gilberto, as that is what appears on the Borromeo website.
**This article is for general informational purposes only.**
***Photographs & text in this article are either © 2019 Anita Hamilton, or Creative Commons licensed. All rights reserved. Do not download or reproduce without written permission.***