Lake Como Gems: Tremezzo, Bellagio & Como
Traveling to the Italian Lakes district would be incomplete without a tour of Italy's famous Lake Como, dotted with vacation homes of celebrities (George Clooney, Richard Branson, etc.) and beautiful villages dating to 400s-100s BC.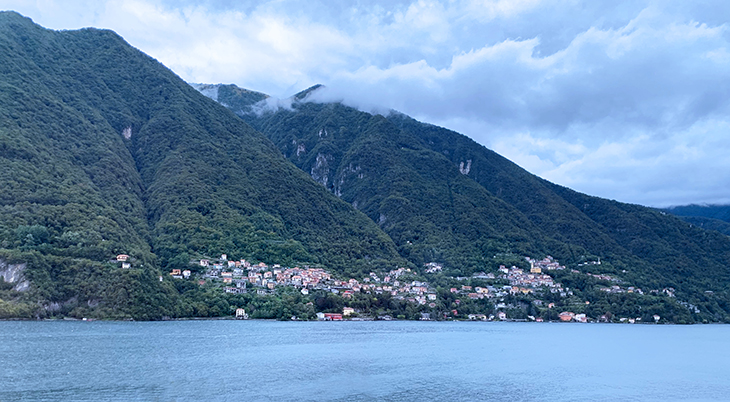 (Lake Como, Italy)
Como, Italy
Our 10-day bus tour of Northern Italy with Insight Vacations stopped at the Grottoes of Catullus and medieval Sirmione on Lake Garda (Italy's biggest lake) before arriving for an overnight stay in the city and province of Como on the southern-most shore of Lake Como (third largest lake in Italy). Como is it's own province, 
Civilization has existed in the area of Como since before Roman times (by Celts in the Bronze age). After the Romans took control, by the 1st century B.C. the city was called Novum Comum. Construction workers recently discovered of a gold coin-filled amphora under the basement where the historic Teatro Cressoni had been built in 1870 (it closed in the 1990s). The coins date back to 474 B.C. and are stamped with likenesses of different Roman emperors.
Como is the birthplace of Roman author-philosophers Pliny the Elder and his nephew, Pliny the Younger.
Pliny the Elder (AD 23-79) was a Roman Empire naval/army commander and friend of Emperor Vespasian*; he was also a naturalist and wrote what would today be considered the first encyclopedia, books of history, etc. Pliny the Elder died while trying to rescue people by ship during the eruption of Mount Vesuvius south of Naples, which buried Pompeii and Herculaneum. He kept two villas on Lake Como which he called Tragedy and Comedy, and although no confirmed remains have been found of either, they are believed to have been near the village of Bellagio. 
Pliny the Younger (AD 61-113) was adopted by his famous uncle and mentor, and inherited his estate when he died. He became a lawyer, judge, and politician, and the hundreds of letters he wrote have provided historical insights into his times and that of his uncle and mentor. As a judge, Pliny the Younger conducted investigations of people "denounced" as Christians, and ordered them executed if they refused to recant their faith.
Due to it's proximity to the major centre of Milan (about 1.5 hours north, by modern-day driving time), the thread of power held in Como from the 1100s on in subsequent centuries, usually mirrored that of Milan. 
After checking into the very large and comfortable Hotel Barchetta Excelsior in Como, there was time for a walk around the adjacent streets. We noticed the elegant neo-classic facade of the Teatro Sociale theatre / opera house.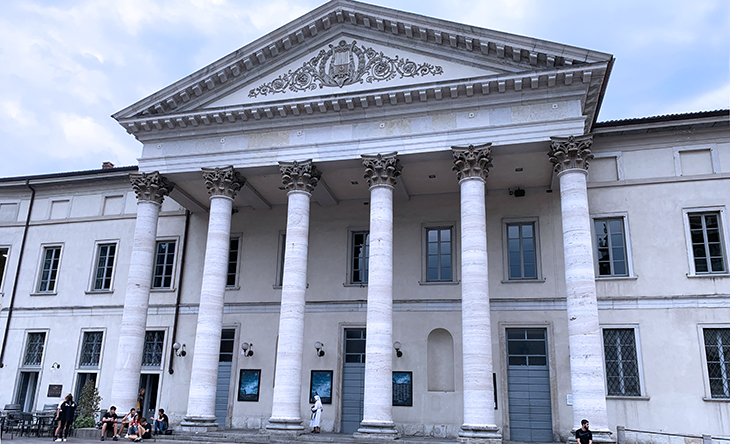 (Teatro Sociale, Como, Italy)
Construction of the Teatro Sociale was completed between 1812-1813, on the site of what had once been a medieval castle (Torre Rotonda). The Theatre was expanded in 1855, and remained in use off and on until it was closed for a period of time to allow for major renovation and repairs. It's still in  use today. 
In the evening just as the heavens opened up with torrential rain, lightning, and thunder – it was time to walk to La Dorsena restaurant for a pre-arranged meal. Despite being soaked on arrival, and having to move tables because the rain and come in under the closed patio doors of the restaurant, we enjoy a lovely meal of pasta and veal, accentuated with good service. Thankfully by the time we were done eating the thunder and lightning were over and the rain had eased off. We really enjoyed the hot shower and comfy bed in our hotel room that night.
Duomo di Como / Como Cathedral
We toured the magnificent Cattedrale di Santa Maria Assunta, or as English tourists better know it, the Como Cathedral. It's a Gothic marble cathedral that was built over the remains of an earlier basilica that dated back to the 800s-1000s.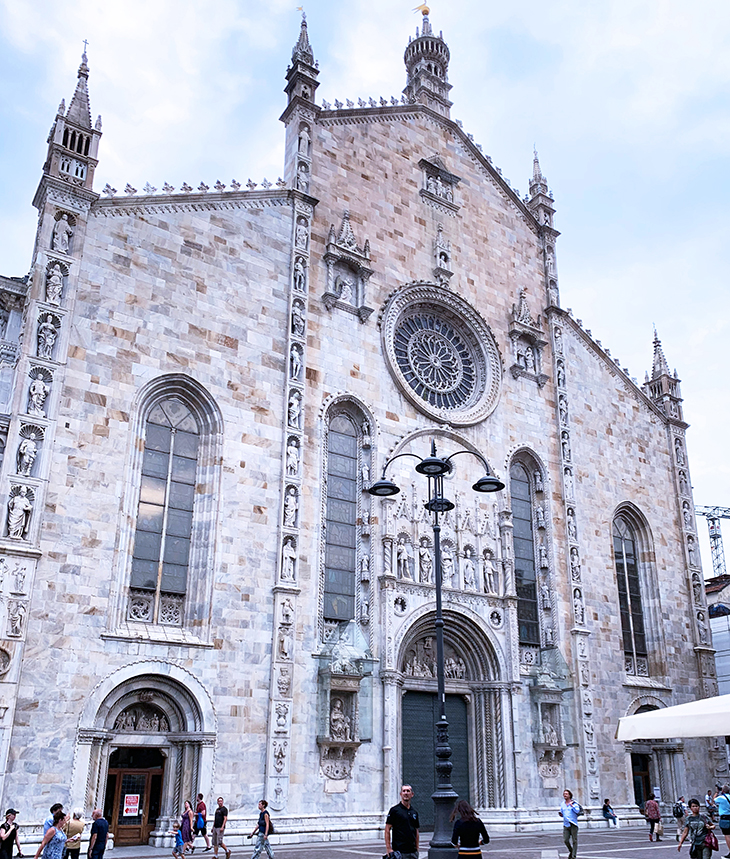 (Como Cathedral / Duomo di Como Main Entrance, Como, Italy)
The west front main entrance was built between 1457-1498 and has a centre pretty rose window, long windows below that, ornately carved sculptures including two statues of Pliny the Elder and Pliny the Younger on either side of the main front door, and two other entrances.
The church is built in the shape of the cross, and this west facade would be at the base of the cross.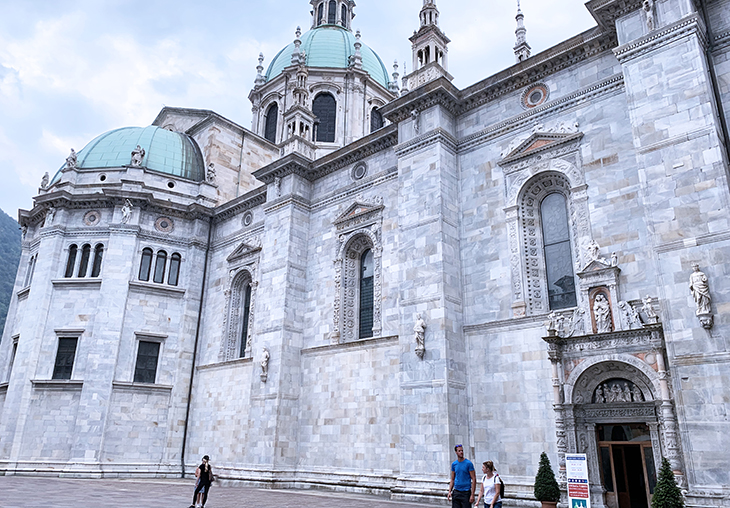 (Como Cathedral Dome Exterior, Como, Italy)
Closer to the top of the cross where the arms intersect, is a center dome, with smaller domes at the very top and extreme sides of the cross arms.
Construction began in 1396 and took a few centuries to complete.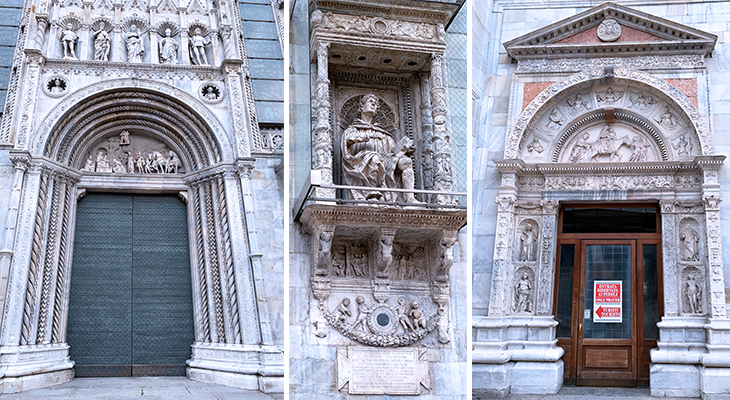 (Como Cathedral Main Entrance Door, Pliny the Younger Statue, & Side Door, Como, Italy)
The massive main front door separates two statues – Pliny the Elder, and Pliny the Younger. A placque on the exterior under the Pliny the Younger statue commemorates these two Roman historic figures, as well as Emperor Vespasian. It seems odd that two non-Christians are so prominently displayed on the front of the Cathedral, especially when one of them executed Christians; however, at the time construction began local dignitaries must have thought the most important element in their history is that they were from Como.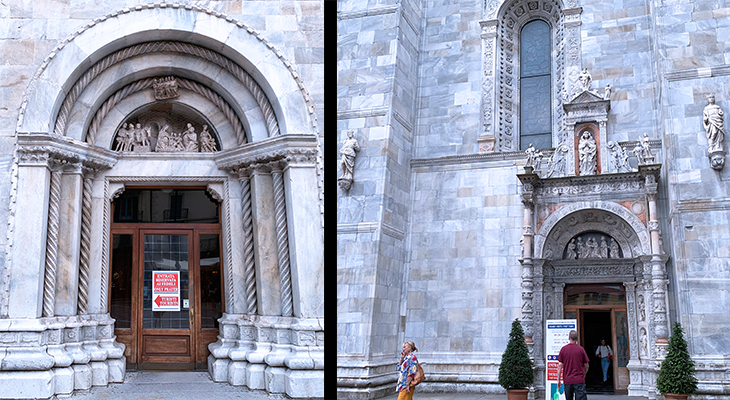 (Adoration of the Shepherds side door | Door of the Frog north side, Como Cathedral) 
These are just a couple of the ornately carved entrances and doors to access the cathedral.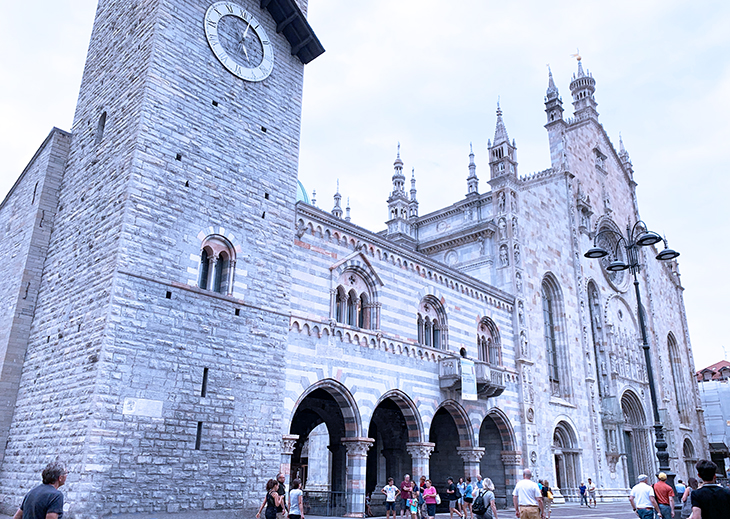 (Como Cathedral West Facade/Entrance, Broletto/Town Hall, and Bell Tower, Italy) 
Facing the main, west facade of the Duomo, you'll see the bell tower on the extreme left, with the Broletto or Town Hall in the middle, and the church on the right – all attached.  
Below, the west facade interior with rose window, tapestry, and paintings from inside the church.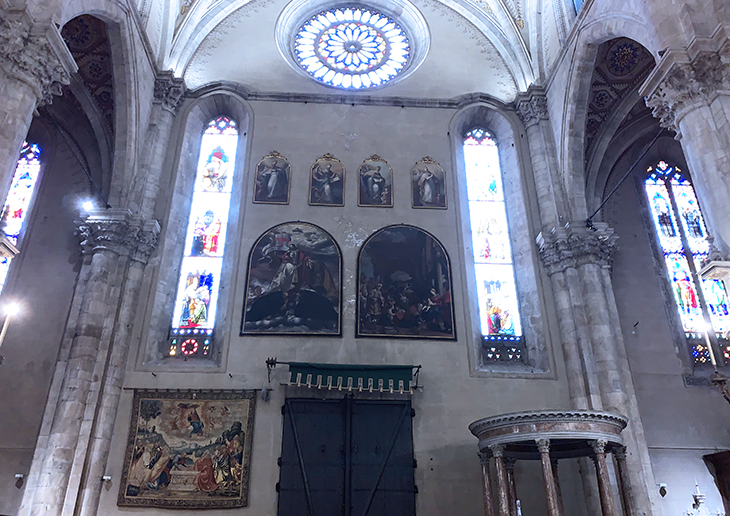 (Como Cathedral West Facade Interior, Italy)
The apses and choir were finished in the 1500s. Many tapestries and paintings inside date back to the 1500s and 1600s.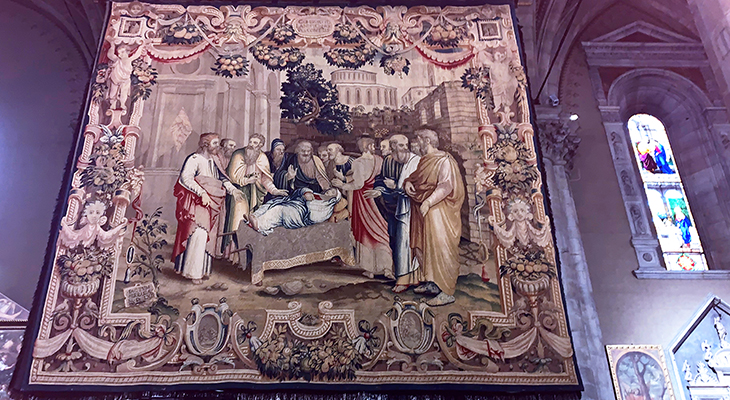 (Dormition of the Virgin Tapestry, Como Cathedral, Italy)
The drawing for the Dormition of the Virgin Tapestry pictured above done in 1558.
There are several ornate altars inside the cathedral.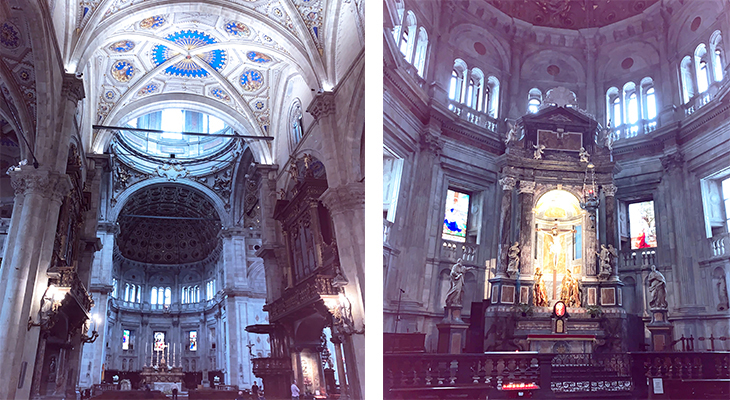 (Como Cathedral Altars – Crucifixion of Christ on the Right)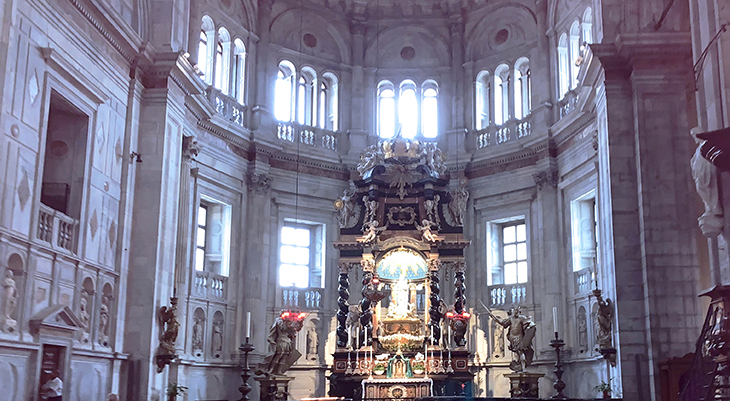 (Como Cathedral Altar of Raimondi, and St. Jerome)
Tremezzo and Lake Como Homes
In the morning we get on a bus for drive alongside Lake Como. Heads crane and people get up from their seats when the bus slows almost to a stop, so our tour guide can point out the top of George Clooney's house – or as she refers to him, simply "George". Apparently Clooney, his new wife and their young children haven't been coming to Lake Como as frequently as he used to before they  married (in Venice, Italy) in 2014.
Not likely by sheer co-incidence, George Clooney's crime thriller Ocean's Twelve (2004), was filmed in Como, as well as locations in Sicily, the USA, France, the Netherlands. In addition to Clooney, the star-studded cast of this crime-thriller sequel to Oceans Eleven (2001) stars Brad Pitt, Julia Roberts, Catherine Zeta-Jones, Andy Garcia, Casey Affleck, Scott Caan, and others.
The bus pulls into Tremezzo and we have time to walk around admire some of the buildings. Built in the 1500s and renovated in the 1700s, the baroque Villa Sola Cabiati (the centre building with wings) dominates the Tremezzo waterfront.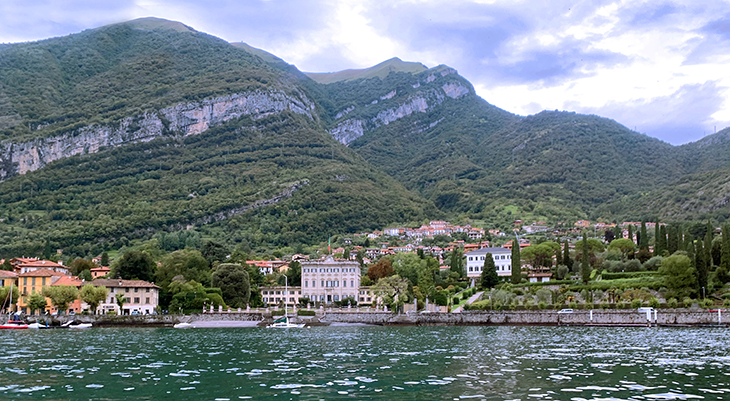 (Tremezzo & Villa Sola Cabiati, Lake Como, Italy)
Although some sources say it was once the home of Charles II, King of Naples, that seems unlikely, as he died in 1309. 
(Villa Sola Cabiati House and Grounds Close Up, Lake Como, Italy)
According to the Villa Sola Cabiati website, the taller centre part was built in the early 1500s by the Del Caretto Dukes. In the latter half of the 18th century, Duke Gabrio Serbelloni had significant renovations made in the neoclassical style, adding the two side wings; it served as his summer house.
Tourists can stay in the Villa Sola Cabiati today, but you have to rent the entire place for approx $40,000 a week. 
Another mansion that looks very like Villa Sola Cabiati minus the two side wings, is the Villa Carlotta. Today, Villa Carlotta is a museum with art galleries, and botanical garden tourist attraction for visitors.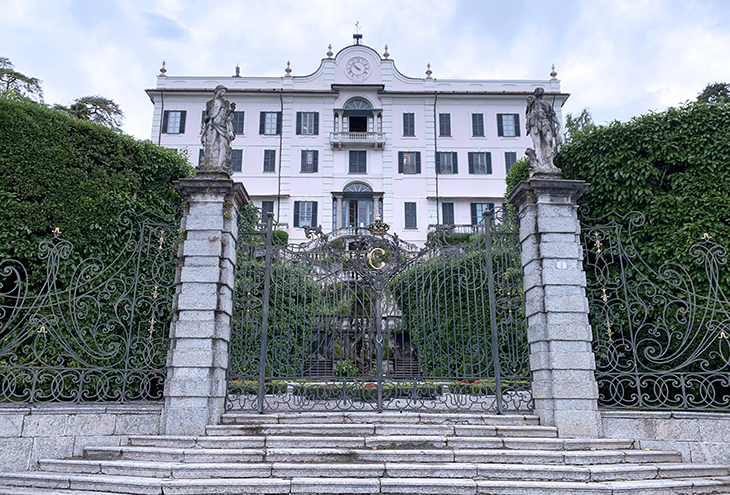 (Villa Carlotta, Tremezzo, Lake Como, Italy)
According to the Villa Carlotta museum website, it was built in the 1700s by Marquis Giorgio Clerici of Milan, Villa Carlotta was sold in 1801 to then-President of the Government Committee of the Cisalpine Republic (established by General Napoleon Bonaparte). It changed hands again in 1843 when Princess Marianne of Prussia bought it as a wedding gift for her daughter Charlotte (m. Duke George II of Saxe-Meiningen). In World War I the estate was confiscated by the Italian government because of the owners German origins) and by the end of the 1920s the property was managed by a trust, and opened as a non-profit with public gardens, museum, art gallery, and arts programs.
Our tour group gets on board a boat for a cruise. Many celebrities and some of the wealthiest people in the world own lakefront homes here, like Sir Richard Branson.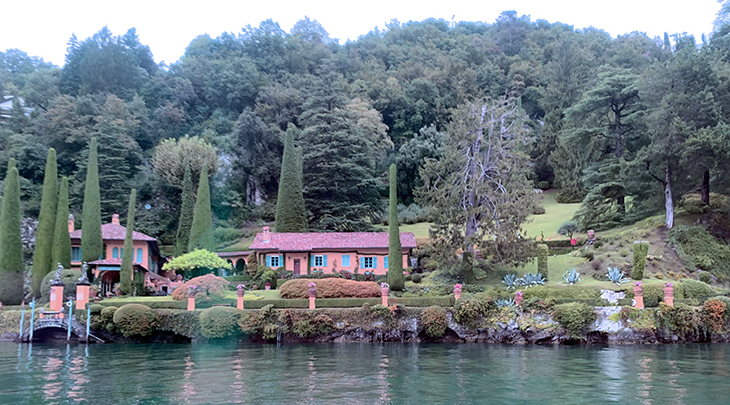 (Sir Richard Branson's Home, Lake Como, Italy)
The estate above, owned by Sir Richard Branson, is also available for rent at select times, at a fabulous price (for Branson). It comes with servants including groundskeepers.
Near the area of Lenno on Lake Como is the historic Villa del Balbianello with terraced gardens, built on the ruins of a Franciscan monastery that was there in the 1200s. The two towers still standing are from the monastery's 13th century church.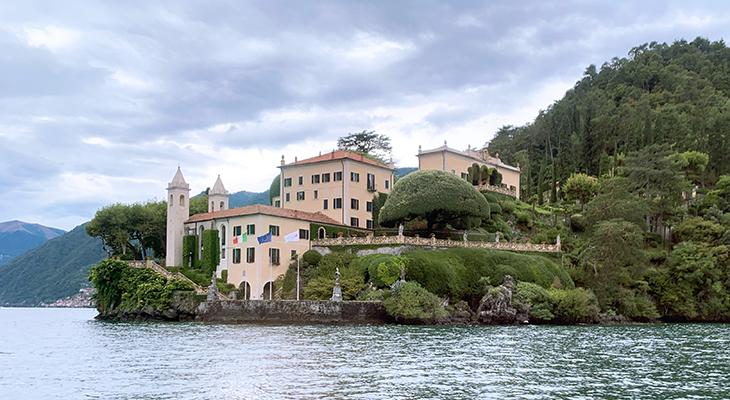 (Villa del Balbianello, Lake Como, Italy)
The monastery property was bought by a cardinal in 1785 and he renovated it for use as a summer villa. The property changed hands a few times, in the 1820s and again in 1919, and each time more renovations and enhancements were made to the villa and gardens. Villa del Balbianello was bequeathed to the National Trust of Italy by it's last owner, Mount Everest climber and Italian explorer Count Guidio Monzino.
In the 2000s it was one of the filming locations for a couple of popular films (below). Today it's a luxury wedding venue.
Star Wars: Episode II – Attack of the Clones (2002) starring Hayden Christensen, Natalie Portman, Ewan McGregor, Christopher Lee, Jimmy Smits, and Samuel L. Jackson, among others. Star Wars: Episode II – Attack of the Clones also filmed in Spain, Tunisia, and the UK.Today it's billed as a luxury wedding venue.
Casino Royale (2006), a James Bond film starring Daniel Craig, Eva Green, Mads Mikkelsen, Judi Jench, Jeffrey Wright, Giancarlo Giannini, and others. Casino Royale also filmed scenes at several locations in Venice, Giudecca Island in the Venetian Lagoon, the Bahamas, Prague and the Czech Republic, and the U.K.
Mussolini's Lake Como Flight and Execution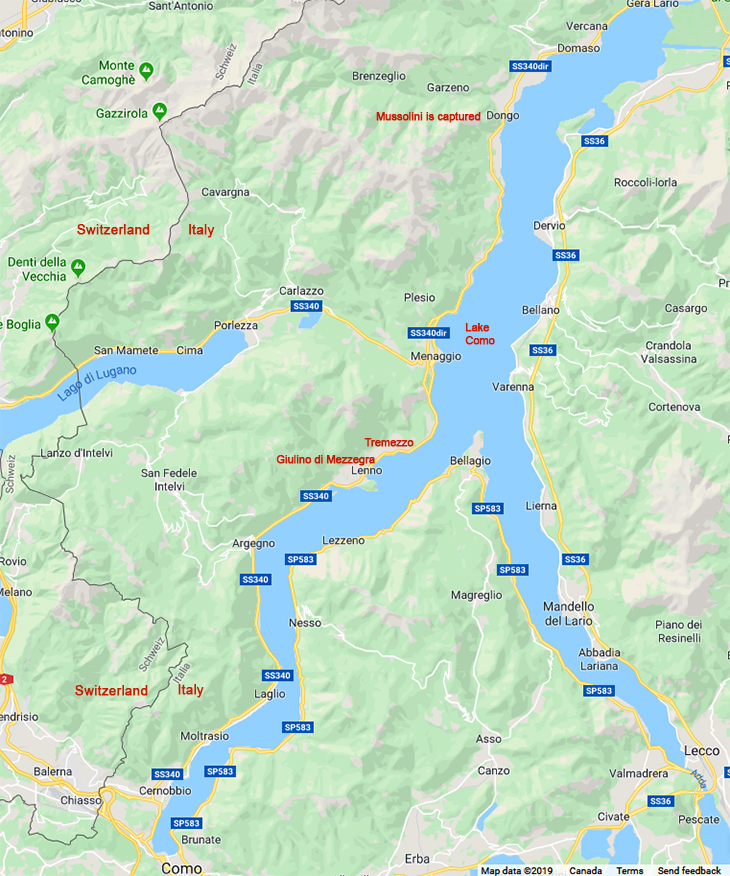 (Lake Como Map)
Our tour guide points out from the boat, where deposed fascist Italian Benito Mussolini and his lover Claretta Petacci were executed by local resistance fighters in April 1945, at the end of World War II.
On April 25, Mussolini and Claretta left in a German convoy heading to Switzerland, on the run from the Allies. They went through the town of Como on their way north.
On April 27, the convoy was stopped near Dongo on Lake Como, and the Germans handed over all the Italians (50 fascist leaders and their families) before being allowed to continue on their way. Mussolini and Claretta were held on a remote farm overnight, so fascist sympathizers wouldn't be able to rescue them.
On April 28th Mussolini and Claretta were handed into the custody of partisan communists and driven to the village of Giulino de Mezzegra, where they were shot in the head at the side of the road. Their bodies were subsequently taken to Milan and hung upside down in the Piazzale Loretto.
Bellagio, Italy
We stop in the town of Bellagio on Lake Como. It's an opportunity to have lunch or a coffee break, wander up and down hilly streets, and gaze in shop windows.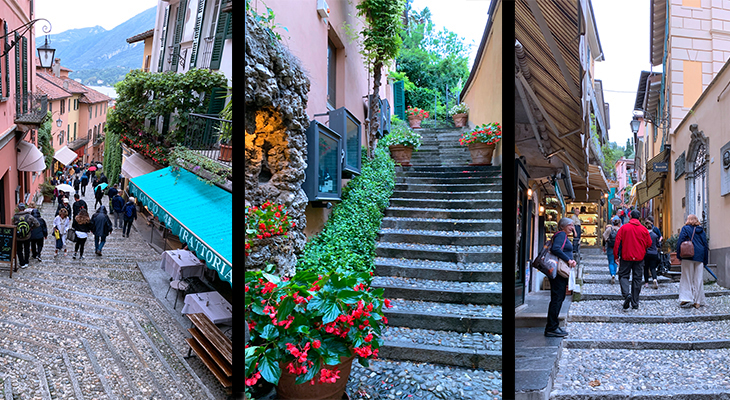 (Bellagio Hills & Streets, Lake Como, Italy)
The day we visited Bellagio it was raining, but thankfully everything was open and we didn't get too wet in between buying souvenirs.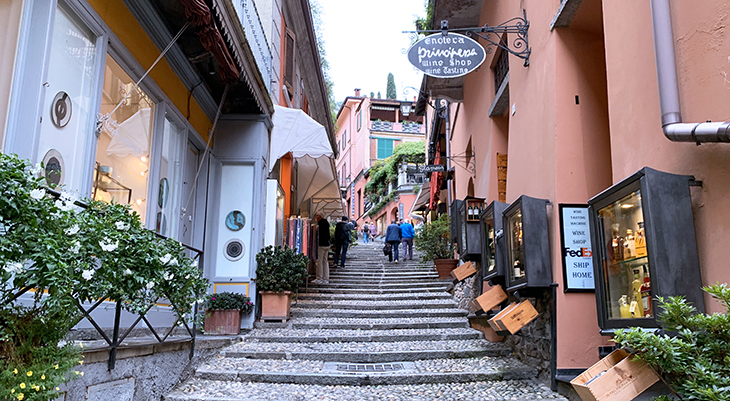 (Salita Serbelloni Street, Bellagio, Italy)
Several stores in Bellagio sell "Como silk" scarves, shawls, ties, and other accessories of varying sizes. Azalea enthralled me with the variety of beautiful original designs on display, almost all of them made locally. They also sell scarves and more of Italian cashmere, cotton, and wool, all made in Como.
La Lanterna's display of painted wine bottles – some flattened – outside their entrance caught our attention.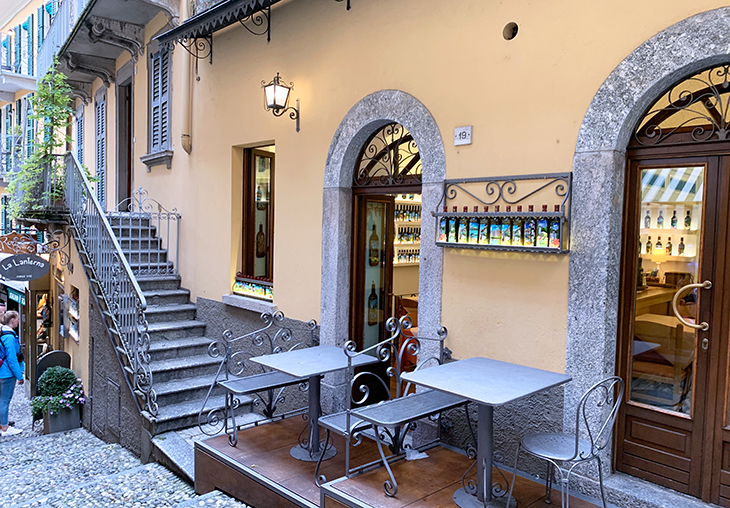 (La Lanterna Exterior, Bellagio, Italy)
We walked inside and found the walls lined with painted bottles of wine, condiment bottles, and other bottled items (liqueurs, olive oil, etc.) in various sizes and shapes.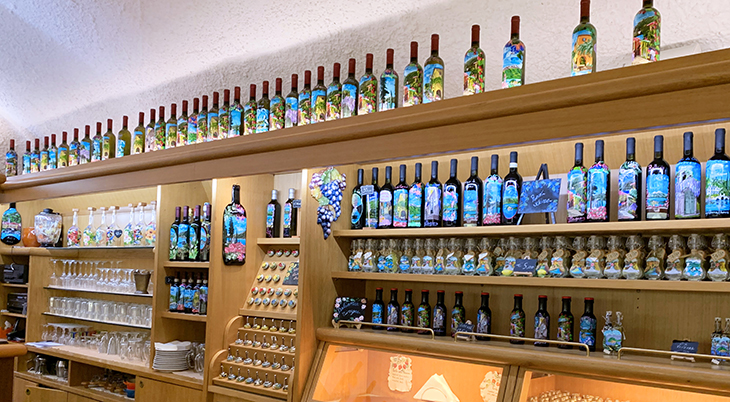 (La Lanterna Interior Painted Wine Bottles, Bellagio, Italy)
We buy a small painted combo set of olive oil and balsamic vinaigrette. The shop proprietor tells us it's his grandfather that does the painting, and he paints all day, every day. You can see some of the many different bottles for sale on the La Lanterna website.
A tented Pacio pop-up stand near the boat launch was filled with hand-crafted wood items, mostly cutting boards in unique shapes, different sizes, all with a rich glowing wood grain. Along with some purely decorative pieces, several other handy household items are for sale – scoops, spoons, rolling pins, plates, bowls, etc. Many of the items are fish-shaped, a natural design for crafts produced in this Italian Lakes region. After much debate (what will be useful yet not weigh too much on my airplane baggage?) I settle on a mid-size whale-shaped, thinner cutting board with a handle. The woman handling our transaction tells us it's her uncle that makes the wood crafts on display. You can view items from this shop online at the Pacio website.
Bellagio, Tremezzo, and Como, are each little facets of the gem that is Lake Como.
The next morning, we left Lake Como headed for Lake Maggiore (Italy's second largest lake) for a couple of nights stay and a tour of the Borromean Summer Palace on Isola Bella, before heading home from our Italian dream vacation in Northern Italy.
Other destinations and experiences we enjoyed on this Northern Italy trip:
The Prince-Bishops City of Trento
Cortina d'Ampezzo and the Dolomites
Guten Tag & Buon Giorno, Bolzano
Cinque Terre's Monterosso al Mare
La Vigna di Sarah B&B Prosecco Wine Tasting
Lake Como in Movies and Books
Before you visit Lake Como (or after), you may be interested in reading this article: Mary Scott's Murder at Lake Como.
I'd also recommend these books and other movies that are set in the area. 
What to Read
Author Lindsey Davis – If you're interested in history from the era of Pliny the Elder/ Younger, and like a good mystery, I highly recommend reading the books of UK historian and author Lindsey Davis. She's written several non-fiction books and two mystery series set in Rome, featuring private investigators Marcus Didius Falco (during the time of Emperor Vespasian and his older son Emperor Titus), and slightly later, Marcus' adopted daughter Flavia Alba (during the time of Vespasian's younger son Emperor Domitian). The books combine history with humor and mystery.
Author Erica James – A favorite writer that often works with a combination of modern day romance, mystery, and history (flashbacks) in her novels. Two of her books are set on Lake Como – Summer at the Lake (2013), and Garden's of Delight (2005). 
Daytime television soap opera The Bold and the Beautiful filmed several segments in Lake Como in 1997.
Movies to Watch
In addition to Star Wars: Episode II – Attack of the Clones and Casino Royale, other movies partially filmed or set in Lake Como include:
The Other Man (2008), a thriller starring Laura Linney, Antonio Banderas, and Liam Neeson, filmed in Lake Como and Milan, Italy, as well as several UK locations.
Man on Fire (1987), a thriller with Scott Glenn, Joe Pesci, Brooke Adams, Jonathan Pryce, and Danny Aiello. Man on Fire was filmed in Rome, Lake Como, and Milan, Italy.
A Month by the Lake (1995), a romantic comedy starring Vanessa Redgrave, Uma Thurman, and Edward Fox. A Month by the Lake was set and filmed in Lake Como. 
Haunted Summer (1989), a fictional historical romantic drama about Lord Byron, and Percy and Mary Shelley. Starring Philip Anglim, Laura Dern, Alice Krige, Eric Stoltz, and Alex Winter, Haunted Summer was filmed in Rome and Lake Como.
The Love Lottery (1954), a musical romantic comedy starring David Niven, Peggy Cummins, Anne Vernon, Herbert Lom, with Gordon Jackson, Theodore Bikel, and Sebastian Cabot. The Love Lottery was filmed in U.K.'s Ealing Studios, and at Lake Como.
Murdery Mystery (2019), a comedic murder mystery starring Adam Sandler and Jennifer Aniston, with Luke Evans and Terence Stamp, was filmed in Italy's Lake Como, Genoa, and Milan, as well as Monaco, California, and Montreal, Canada.
Bobby Deerfield (1977), a racing drama starring Al Pacino and Marthe Keller, filmed in part at the Grand Hotel Villa Serbelloni in Bellagio.
**This article is for general informational purposes only.**
***Photographs & text in this article are either © 2019 Anita Hamilton, or Creative Commons licensed. All rights reserved. Do not download or reproduce without written permission.***