Barbara Rush - Movies, Peyton Place and More
Actress of stage, TV and movies Barbara Rush was born on January 4, 1927 in Denver, Colorado.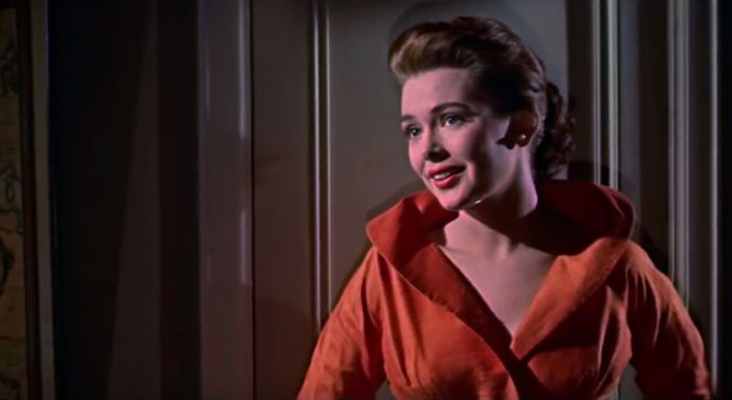 (Barbara Rush 1956 Bigger Than Life Trailer)
Barbara Rush graduated from the University of California, Santa Barbara in 1948, and told Cinephiled in 2015 that her early career aspirations were humble: 
"I was never really that ambitious — that was sort of a problem I had! …When I was younger, my plan had been to go to New York and wait tables and do theater. I got a scholarship at the Pasadena Playhouse after college and did many plays there. This was not long after the war so there were many actors who were there on the G.I. Bill. So in my class at the Pasadena Playhouse there were about 12 guys and I was the only girl. I got every female part."
A talent scout from Paramount saw 19-year-old Barbara Rush at the Pasadena Playhouse and had her do a screen test; a contract with Paramount Pictures promptly followed. Rush would continue perform in plays throughout her career and formed a fast friendship with actor Anthony Perkins while acting in New Jersey summer stock.
Her first movie role was a small part in the comedy The Goldbergs/Molly (1950), along with actor Peter Hansen (later Lee Baldwin on General Hospital). The following year, Peter Hansen and Barbara Rush had graduated to co-starring roles in the sci-fi thriller When Worlds Collide (1951) with John Hoyt. Hayden Rorke and Stuart Whitman both had small parts in When Worlds Collide.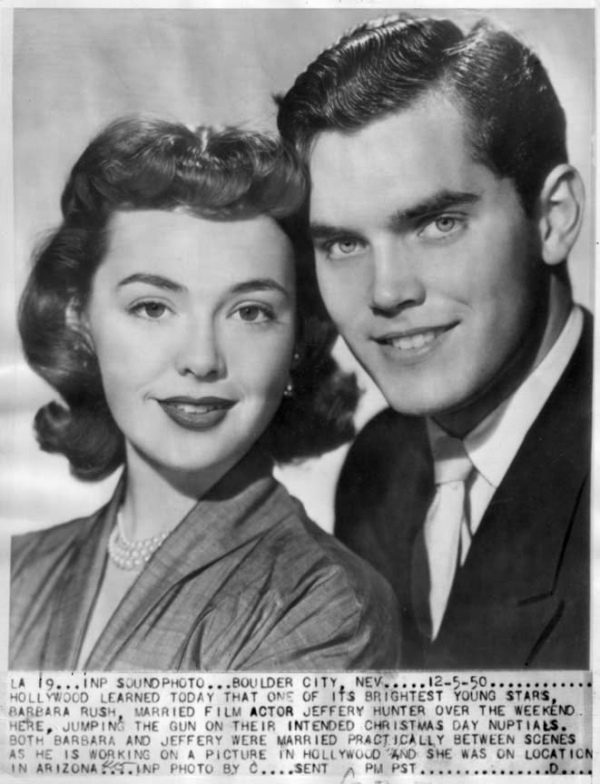 (Barbara Rush & Jeffrey Hunter 1950 Photo: Film Star Vintage)
In Famous Wisconsin Film Stars (2002), author Kristin Gilpatrick notes that young actor Jeffrey Hunter had first noticed Barbara Rush at a Paramount screen test. Jeffrey Hunter asked Barbara Rush to marry him on their second date, and a few months later, when they were in different countries filming movies – Rush was filming the western Flaming Feather/Devil's Canyon (released 1952) – they decided to elope. Barbara Rush and Jeffrey Hunter were married on December 1, 1950 (the first marriage for both of them), and returned to filming after a 2-day honeymoon. 
Their son Christopher Hunter was born August 29, 1952; soon after Jeffrey Hunter left for England to film another movie. 
The classic sci-fi horror movie It Came From Outer Space (1953), co-starred Richard Carlson and Barbara Rush as a schoolteacher. It Came From Outer Space was one of the first movies filmed in 3D. 
Also released in 1953 was the period adventure movie Prince of Pirates, starring Barbara Rush and actor John Derek. Off screen, Barbara Rush and husband Jeffrey Hunter counted her former co-stars Peter Hansen, John Derek and his wife Patti Derek, Debbie Reynolds, and Robert Wagner among their friends. In 1961, John Derek and Barbara Rush were reunited onscreen in an episode of the TV series Frontier Circus 1961 with Chill Wills and Brian Keith. 
Rock Hudson and Barbara Rush co-starred in 3 movies directed by Douglas Sirk, beginning with the western romance Taza, Son of Cochise (1954) (movie trailer above). In Taza, Son of Cochise, Barbara Rush was Rock Hudson's love interest; Gregg Palmer played Captain Burnett, Jeff Chandler has an uncredited role as Cochise, and Hugh O'Brian played the voice-only role of a dead settler.
Of Rock Hudson and filming Taza, Son of Chochise, Rush told Cinephiled that
"We had a lot of fun on location even though it was really hot. Oh, I just loved Rock. I remember on that film he was always playing Doris Day records, he loved her even though he didn't know her yet. I was so happy when they got to work together and, of course, she really adored him. But on Taza we'd just giggle all day long. My Indian name was Oona and he'd always call me 'Oona, dos, tres.' We'd just scream with laughter!"
Released that same year, the movie Magnificent Obsession (1954) had Barbara Rush as a supporting actor to stars Jane Wyman and Rock Hudson. Also in the cast of Magnificent Obsession were Agnes Moorehead and Gregg Palmer, in his second movie with both Rock Hudson and Barbara Rush. The following year, Rock Hudson and Barbara Rush co-starred in the Irish historical adventure Captain Lightfoot (1955). Captain Lightfoot was filmed on location in Ireland, and was the third and final movie for Rock Hudson and Barbara Rush. 
Barbara Rush and Jeffrey Hunter were divorced on March 29, 1955; both said it was time spent apart pursuing their separate acting careers that had effectively separated them and ended their marriage. Two years later, Barbara Rush and her ex-husband Jeffrey Hunter were co-stars in the drama No Down Payment (1957), along with Joanne Woodward, Sheree North, Tony Randall, and Pat Hingle. Jeffrey Hunter died in May 1969 from an intracranial hemorrage, at the young age of 42; he left his third wife  (of just 3 months) Emily McLaughlin (Jessie Brewer on General Hospital) a widow. 
Rory Calhoun and Barbara Rush co-star in the film-noir crime thriller Flight to Hong Kong (1956).  Filmed in Hong Kong, Honolulu, San Francisco, and Tokyo, Flight to Hong Kong also features actor Pat Conway, Werner Klemperer, and Paul Picerni in supporting roles.
Although Barbara Rush was rarely seen on television during the 1950's and early 1960's, she did appear twice on the popular series Playhouse 90 in 1957 and again in 1960. Her costars on Playhouse 90 included Robert Vaughn, Rita Moreno, Don Murray, and Burt Reynolds, among others.
In a 2-part episode of Sunday Showcase in 1959, Barbara Rush co-starred with Dina Merrill and John Forsythe. When she guest-starred on Police Story 15 years later in 1974, Rush and John Forsythe were reunited onscreen.
The Young Philadelphians (1959) co-starred Barbara Rush, Paul Newman, Alexis Smith, Brian Keith, Robert Vaughn, and Adam West. 
Other movies of note for Barbara Rush during the 1950's included:
The Black Shield of Falworth (1954), starring husband and wife Tony Curtis and Janet Leigh. Also in the cast of The Black Shield of Falworth with Barbara Rush was actor Patrick O'Neal.
World in My Corner (1956), a boxing drama co-starring WWII hero and actor Audie Murphy. 
The Young Lions (1958), a World War II drama starring Marlon Brando, Montgomery Clift, and Dean Martin, with Hope Lange (The Ghost and Mrs. Muir), Maximilian Schell, Arthur Franz, and Lee Van Cleef. The Young Lions was a critical and box office success, marking a comeback for Dean Martin after his professional split with Jerry Lewis.
Bigger Than Life (1956), co-starring James Mason and Walter Matthau. Child actor Jerry Mathers (Leave it to Beaver) was in the cast of Bigger Than Life, in an uncredited role as Freddie. 
In 1959, Barbara Rush filmed the drama The Bramble Bush (1960) with Richard Burton and Angie Dickinson. Author Tom Rubython (And God Created Burton) says 

Richard Burton had an affair with both

Barbara Rush and Angie Dickinson during filming of The Bramble Bush.
By the end of 1959 though, Barbara Rush had married Hollywood publicist Warren Cowan (m. June 14, 1959). Their daughter Claudia Cowan was born July 31, 1963. 
In the 1960's Barbara Rush continued to appear frequently in feature films. She co-starred with Kirk Douglas and Kim Novak in the drama Strangers When We Meet (1960), playing the wife of Kirk Douglas' character. Strangers When We Meet also had Roberta Shore (The Virginian) and Walter Matthau in the cast.  
That same year, Walther Matthau and Barabara Rush co-starred in an episode of Our American Heritage with Tom Clancy, Farley Granger, and Robert Redford in a rare TV appearance.
Frank Sinatra and Barbara Rush co-starred in two movies. In the comedy Come Blow Your Horn (1963), Sinatra and Rush were joined by Dean Martin and producer Norman Lear in uncredited roles as party guests. In Come Blow Your Horn Barbara Rush plays a sassy nightclub singer that gets Frank Sinatra to propose; the movie was a box-office hit.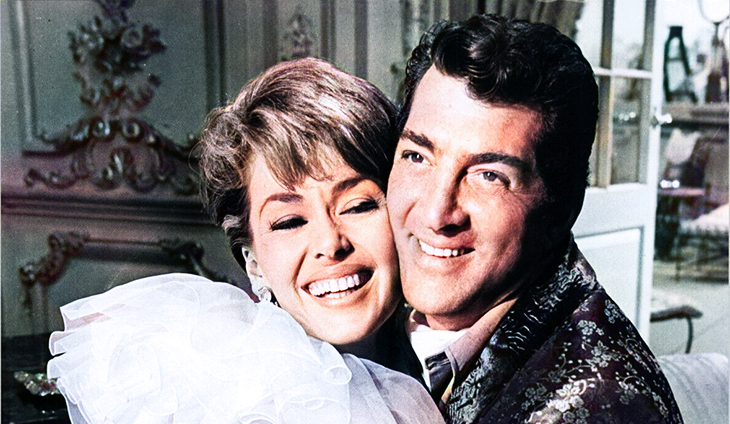 (Barbara Rush & Dean Martin 1964 Robin and the 7 Hoods)
Their second film was the musical comedy caper Robin and the 7 Hoods (1964) starred Frank Sinatra, Barbara Rush, Dean Martin (his 3rd movie with Rush), Sammy Davis Jr., Bing Crosby, and Peter Falk. Filming of Robin and the 7 Hoods took place in November-December 1963, and Frank Sinatra almost backed out before it was finished because of the November 1963 assassination of his close friend, President John F. Kennedy; followed a couple of weeks later on December 8, 1963 with the kidnapping of his son Frank Sinatra Jr. When asked if she ever got to keep the costumes from her movies, Barbara Rush told cinephiled in 2015 that
"Every time I worked with Sinatra, he always said to me, 'The clothes are yours!' And those were really expensive clothes, let me tell you, particularly Robin and the Seven Hoods. So beautiful! Frank was always a man of great emotion and impulsive action!"
Barbara Rush and Frank Sinatra in a scene from Robin and the 7 Hoods, below.
In the western Hombre (1967) starring Paul Newman, Martin Balsam, and Fredric March, Barbara Rush played the wife of Fredric March's character. Much of Hombre was filmed on location in Arizona; the movie was critically acclaimed. Hombre was a reunion for Paul Newman and Barbara Rush, who had co-starred in 1959's The Young Philadelphians.
The feature film mystery Strategy of Terror (1969) co-starring Barbara Rush, Hugh O'Brian, and Neil Hamilton was recycled from a two-part episode of Kraft Suspense Theatre (1965) "In Darkness, Waiting". Hugh O'Brian and Barbara Rush had previously appeared in the western movie Taza, Son of Cochise in 1954. 
Barbara Rush began to appear more frequently on television beginning in the 1960s, with guest-starring spots on popular baby boomer series such as Ben Casey, Dr. Kildare, Laredo, and Convoy, starring John Gavin. Other notable episodic television series appearances for Barbara Rush during the 1960's included a solo spotlight episode on Vacation Playhouse in 1965 called The Barbara Rush Show. 
Popular mid-1960's series Batman with Adam West, Yvonne Craig as Batgirl, Alan Napier as Alfred, and Neil Hamilton as Commissioner Gordon, had Barbara Rush guest-starring twice as Nora Clavicle. Rush's fellow guest-stars on her Batman episodes were Milton Berle as Louie the Lilac and Burgess Meredith as Penguin. Neil Hamilton and Barbara Rush also appeared in an episode of Kraft Suspense Theatre in 1965, with Jeff Cooper, David Lewis, and Hugh O'Brian.
Two of the made-for TV movies Barbara Rush co-starred in during the 1960's included The Unknown (1964), a sci-fi horror movie with David McCallum and Vera Miles; and Dateline: San Francisco (1962), with Rod Taylor.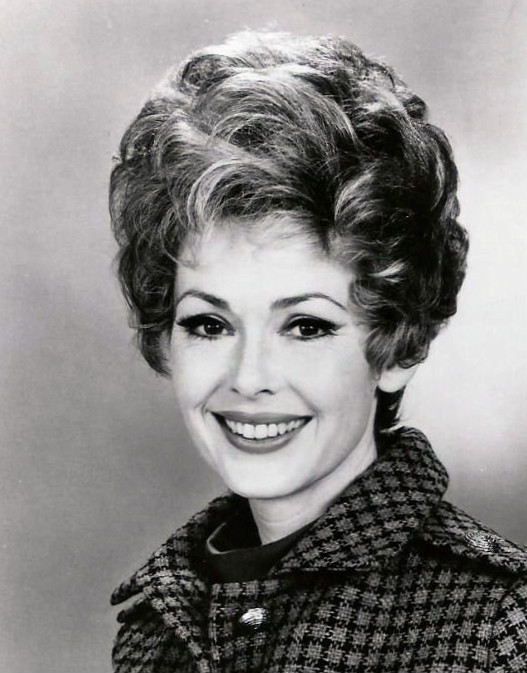 (Barbara Rush 1969 Peyton Place Photo: ABC Television)
From 1968-1969 Barbara Rush was a cast member on Peyton Place (seasons 4 and 5) as Marsha Russell. She appeared in over 75 episodes of Peyton Place with other regular cast members Dorothy Malone, Ed Nelson, Ryan O'Neal, Barbara Parkins, and Robert Hogan as the Rev. Tom Winter.
As the 1960's ended and the 1970's began, Barbara Rush ended one relationship – she got divorced from Warren Cowan in August 1969 – and began another – marrying sculptor Jim Gruzalski in 1970. Jim Gruzalski and Barbara Rush had no children and were divorced in 1973. 
Below, a 1968 episode of Peyton Place that features (in order of appearance) Robert Hogan, James Douglas as Steven Cord, Patricia Morrow as Rita Harrington, Christopher Connelly as Norman Harrington, Ed Nelson as Michael Rossi, Barbara Rush as Marsha Russell, Tippy Walker as Carolyn Russell, Joe Maross as Fred Russell, and Sharon Hugueny as Donna Franklin.
During the 1970's, Barbara Rush's film work began to shift heavily towards television vs feature films. She did appear in a few big-screen movies, including The Man (1972), a political drama co-starring James Earl Jones, Martin Balsam (her co-star from 1967's Hombre), Burgess Meredith (a co-star from a Batman episode), and George Stanford Brown. 
Superdad (1973) was a Walt Disney comedy co-starring Bob Crane (Hogan's Heroes), Kurt Russell, Dick Van Patten, Naomi Stevens, Nicholas Hammond, Ed Begley Jr., and Bruno Kirby in his first movie. In Superdad, Barbara Rush played the wife of actor Bob Crane, but even their acting skills and Disney's grown-up child star Kurt Russell couldn't save Superdad; some reviewers have said it was possibly the worst Disney movie ever released. 
Baby boomers are most likely to remember Barbara Rush from her many TV movies during the 1970's:
Suddenly Single (1971), a comedy co-starring Hal Holbrook, Margot Kidder, Agnes Moorehead (a co-star from 1954's Magnificent Obsession), Michael Constantine, and Cloris Leachman. Cloris Leachman and Barbara Rush co-starred again a couple of years later in the TV mystery Crime Club (1973). Crime Club's star-studded cast included Lloyd Bridges, William Devane, David Hedison, Belinda Montgomery, Martin Sheen, Alan Napier (a co-star from Batman), and Richard Hatch.
The Eyes of Charles Sand (1972), a thriller co-starring Peter Haskell (Bracken's World), Sharon Farrell, Bradford Dillman, and Adam West. Sharon Farrell and Barbara Rush had been co-stars when Rush had a recurring role as Lizzie Hogan in 4 episodes of the TV series Saints and Sinners between 1962-1963. Their Saints and Sinners co-stars had been Lola Albright, Gary Lockwood, Glynis Johns, Elizabeth Montgomery (Bewitched), and Ed Nelson (a Peyton Place co-star as well). 
Moon of the Wolf (1972), a horror movie co-starring David Janssen and Bradford Dillman (his second movie with Barbara Rush). Moon of the Wolf co-stars David Janssen and Barbara Rush had previously co-starred in an episode of The Eleventh Hour 10 years earlier in 1962. Rush had also guest-starred in 2 episodes of David Janssen's series The Fugitive, in which she played the blind wife of Lt. Philip Gerard (actor Barry Morse), the man pursuing David Janssen. 
 Fools, Females and Fun (1974), a comedy starring Brooke Bundy and Jack Cassidy. Also in the cast of Fools, Females and Fun with Barbara Rush were Robert Hogan and Julie Newmar, Jack Cassidy and Barbara Rush had both guest-starred on the same episode of Mod Squad, starring Michael Cole, Clarence Williams III, Peggy Lipton, and Tige Andrews.
The Last Day (1975), a western in which she played the wife of actor Richard Widmark. The Last Day co-stars included Robert Conrad, with Richard Jaeckel, Tim Matheson, Tom Skerritt, and Loretta Swit.
Of Men and Women (1973), a drama in several parts. Rush appeared in a segment Of Men and Women with Stephen Boyd and Farrah Fawcett. 
Other episodic television work for Barbara Rush during the 1970's included appearances on popular baby boomer series Maude, Streets of San Francisco, as well as: 
Marcus Welby, M.D. starring Robert Young and James Brolin, guest-starring in 1969 and again in 1972.
McCloud starring Dennis Weaver and J. D. Cannon, in an episode with Milton Berle and Diana Muldaur.
Cade's County starring Glenn Ford, with teen idol Bobby Sherman.
Owen Marshall, Counselor at Law starring Arthur Hill and Lee Majors, in an episode with Meredith Baxter. 
Ironside, starring Raymond Burr and Don Galloway, appearing twice in episodes with Richard Anderson and Kay Lenz. 
Cannon, starring William Conrad, with BarBara Luna.
Mannix, starring Mike Connors. She appeared on Mannix in 1968 and again in 1975, when she guest-starred with Tom Selleck. Barbara Rush later guest-starred twice on Tom Selleck's series Magnum, P.I. in the 1980's. 
The Bionic Woman, starring Lindsay Wagner as Jamie Sommer. In a 1976 episode of The Bionic Woman with Richard Anderson, Barbara Rush played a mystery woman claiming to be Jaime Sommer's mother. 
Ellery Queen, starring Jim Hutton. Rush was in the Ellery Queen premiere episode in 1975 with Joan Collins, Farley Granger, Tom Reese, and Ray Walston; and again in a 1976 episode with Troy Donahue, Vincent Price, and James Sikking. Troy Donahue and Barbara Rush later guest-starred on the same episode of The Eddie Capra Mysteries in 1978 episode with Wendy Phillips and Hector Elizondo.
Barbara Rush had a recurring role as Margot Bright on The New Dick Van Dyke Show between 1973-1974, appearing in episodes with series star Dick Van Dyke, and Hope Lange, Dick Van Patten, and Carl Reiner. She was a frequent guest-star on Medical Center starring Chad Everett from 1969-1974, appearing in episodes with Dick Van Patten, John McMartin, Earl Holliman, Vincent Van Patten, and Jill Clayburgh. 
During her 50+ years from 1977 on, Barbara Rush's senior and baby boomer fans began to see her less frequently on film. 
She guest-starred twice as Eleanor Gardner on The Love Boat with Gavin MacLeod, Fred Grandy, Bernie Kopell, and Ted Lange. In her first appearance on The Love Boat, she was married to Dr. Todd Gardner (Peter Marshall); in her second appearance as Eleanor Gardner, she was divorced and a love interest for Captain Stubing (Gavin MacLeod). 
The 2-part TV mini-series The Seekers (1979) featured Barbara Rush as Peggy Kent and Martin Milner (77 Sunset Strip) as Philip Kent. The large cast of The Seekers also included Randolph Mantooth, Delta Burke, John Carradine, George Hamilton, Brian Keith, Hugh O'Brian, Robert Reed, Stuart Whitman, Ed Harris, and Eric Stoltz. Brian Keith and Barbara Rush had first co-starred in The Young Philadelphians 20 years earlier, in 1959. The Seekers was the third time that Hugh O'Brian and Barbara Rush worked together, after Taza, Son of Cochise (1954) and Strategy of Terror (1969). 
By the late 1970s, a 50+ Barbara Rush was no longer the leading lady in films. She had a supporting role in the TV thriller Death Car on the Freeway (1979), a TV thriller starring Shelley Hack, Frank Gorshin, and Peter Graves. Also in Death Car on the Freeway were Dinah Shore, Abe Vigoda, her The Seeker's co-star George Hamilton, and Morgan Brittany. Death Car on the Freeway has the dubious distinction of winning the first Golden Raspberry Award for Worst Picture.
Produced in 1979 by Irwin Allen for Warner Brothers, but not released until 1983, the TV disaster movie The Night the Bridge Fell Down cast included Barbara Rush, Leslie Nielsen, James MacArthur (Hawaii Five-O), Desi Arnaz Jr., Richard Gilliland, Eve Plumb (The Brady Bunch), and Philip Baker Hall. 
Barbara Rush fans may recall seeing her in several TV and feature film flops (Can't Stop the Music) during the 1980s. Her last full-length feature-film role was in Summer Lovers (1982), a romantic comedy starring Peter Gallagher and Daryl Hannah. 
Episodic television work for Barbara Rush during the 1980's and the end of her 50+ years included guest-starring work on Murder, She Wrote starring Angela Lansbury, and: 
Matt Houston, a 1983 episode starring Lee Horsley, Pamela Hensley, and John Aprea, with Edward Mulhare (The Ghost and Mrs. Muir) and Stella Stevens. That same year, Barbara Rush guest-starred on Edward Mulhare's series Knight Rider. Mulhare and Barbara Rush had first guest-starred together in a 1967 episode of Custer, almost 20 years earlier. In 1991, Barbara Rush guest-starred on another Lee Horsley series, Guns of Paradise.
Fantasy Island starring Ricardo Montalban, appearing 3 times between 1978-1984 in episodes with Cyd Charisse, Peter Graves, Robert Morse, Michelle Pfeiffer, Pamela Hensley, Lynda Day George, Kevin McCarthy, and John McCook. In a 1982 episode of Fantasy Island, Barbara Rush and Stuart Whitman played married couple Jesse and Kathy Moreau. Stuart Whitman and Rush had both co-starred for the first time in the 1951 sci-fi thriller When Worlds Collide, over 30 years earlier, and had been in the 1979 mini-series The Seekers.
Masquerade starring Rod Taylor, with Kirstie Alley and Greg Evigan, in a 1984 episode with Alan Thicke and Dick Van Patten. 22 years previously, Rod Taylor and Barbara Rush had co-starred in the TV movie Dateline: San Francisco (1962).
Glitter starring David Birney and Morgan Brittany, in a 1985 episode with Dorian Harewood, Tracy Nelson, Martin Balsam, and Lee Meriwether. Martin Balsam and Barbara Rush had co-starred in the movies Hombre (1967) and The Man (1972). 
Hooperman starring John Ritter, Barbara Bosson, Joseph Gian, Debrah Farentino, and Jillie Mack.
Finder of Lost Loves starring Anthony Franciosa, Deborah Adair, with Anne Jeffreys, Grant Goodeve, Eleanor Parker, and Peter Scolari. 
From 1980-1982, Barbara Rush was a regular on night-time soap opera Flamingo Road, co-starring with John Beck, Morgan Fairchild, Mark Harmon, Kevin McCarthy, Stella Stevens, David Selby, and Cynthia Sikes. Below, the opening credits for the first season of Flamingo Road feature Barbara Rush and her series co-stars John Beck, Mark Harmon, Howard Duff, Kevin McCarthy, Stella Stevens, and Morgan Fairchild.
By the mid-late 1980's, Barbara Rush and her second husband Warren Cowan (who married and divorced third wife Josette Banzet in the early 1970's), were once again living together. In an interview with the Los Angeles Times, Cowan referred to his household with ex-wife Barbara Rush and their daughter Claudia. Barbara Rush and Warren Cowan married for a second time in 1990 (the fourth marriage for both of them) in 1990. In April 1995, People magazine reported that 65-year-old Barbara Rush had filed for divorce from 74-year-old Warren Cowan after five years of marriage. After their 1995 divorce, Warren married for a fifth and final time; he was an octogenarian senior citizen when he died from cancer in May 2008 at the age of 87. 
In 1992 Barbara Rush turned 65 and became a senior citizen, but showed no signs of retiring. In addition to continuing to appear on stage, she took on a 3-month stint that year as Napa Valley vineyard owner Nola Orsini on daytime soap opera All My Children. 
A 1995 guest-starring role on Burke's Law starring Peter Barton, with Frankie Avalon, Howard Hesseman, Kathleen Robertson, had Barbara Rush co-starring with actor Doug Savant. When Rush had appeared on 2 episodes of Hotel in 1985 & 1986, her fellow guest-stars had included Doug Savant, as well as Peter Mark Richman, Ken Kercheval, Leigh McCloskey, and Kim Johnston Ulrich.
Barbara Rush's last TV movie was the thriller Widow's Kiss (1996), in which she played a grandmother and co-starred with Beverly D'Angelo, Mackenzie Astin, Dennis Haysbert, Bruce Davison, and Michael Des Barres. Bruce Davison and Barbara Rush had first worked together in the short drama Peege (1973) 23 years earlier, with co-stars Jeanette Nolan, William Schallert, and Barry Livingston (My Three Sons). Davison and Rush had also teamed again in a 1977 ABC Weekend Specials episode. 
After becoming a septuagenarian senior citizen in 1997, Barbara Rush was semi-retired from on-screen appearances. She was in a 1998 episode of The Outer Limits playing the wife of actor Harve Presnell, and had a recurring role as grandmother Ruth Camden on 7th Heaven from 1997-2007, opposite fellow recurring actor Peter Graves. 
Septuagenarian Rush told SFGate in 1997 that in addition to her performance that year on stage in The Golden Age (playing 80-year-old Isabel), she had previously appeared in the popular play Love Letters several times, and done a world tour of the one-woman show A Woman of Independent Means.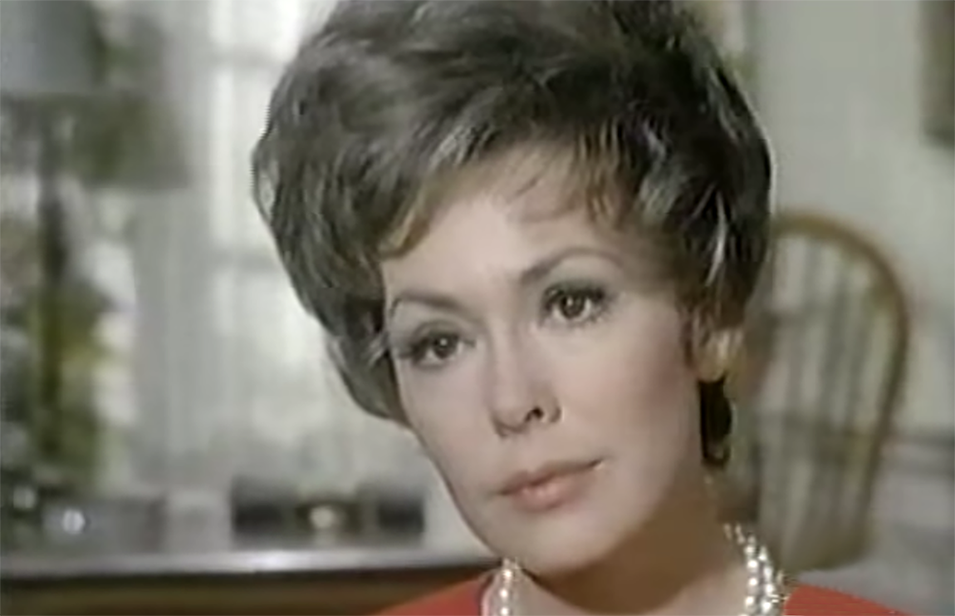 (Barbara Rush 1969 Peyton Place)
Barbara Rush is now retired from acting.
*Images are public domain or Creative Commons licensed & sourced via Wikimedia Commons, Vimeo, or Flickr, unless otherwise noted*