Celebrating Seniors - Diana Muldaur Is 78
Septuagenarian senior citizen, actress, and sometime Airedale Terrier breeder Diana Muldaur was born in Brooklyn, New York on August 19, 1938.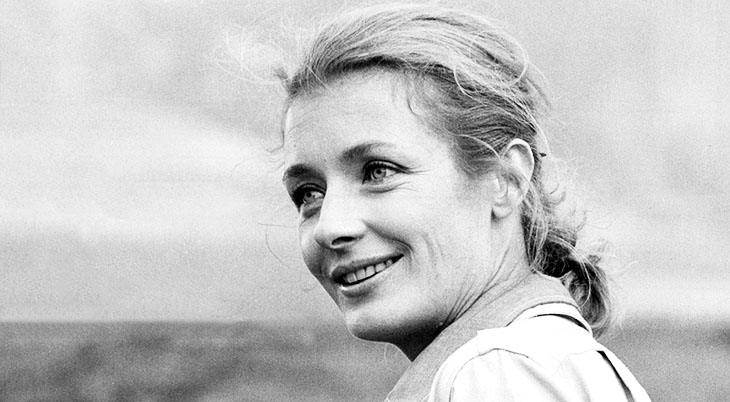 (Diana Muldaur 1974 Born Free Photo: NBC Television)
Muldaur told Martha's Vineyard Magazine that she grew up on Martha's Vineyard, Massachusetts and New York, and began acting in high school plays. She studied drama at Sweet Briar College in Virginia and after graduating in 1960, moved to New York and studied acting under Stella Adler for six months.
By 1965, Diana Muldaur had begun making a name for herself in on and off-Broadway plays. Her television debut came in the mid-1960's beginning with a role on an episode of The Dupont Show of the Week (1964). While appearing in a role on the daytime soap opera The Secret Storm in 1965 as the character of Ann Wicker, she met regular cast member and divorced actor James Vickery, who played Alan Dunbar on the series from 1957-1967.
Diana Muldaur had a recurring role on Dr. Kildare (1966) starring Richard Chamberlain and William Shatner, as the character of Jeannie Orloff. Jack Nicholson appeared in several of the same episodes of Dr. Kildare as Muldaur.
She met actor Burt Reynolds when she appeared on an episode of his Native American detective series Hawk (1966). Both Diana Muldaur and Reynolds guest-starred on the same episode of The F.B.I. television series in 1968, and Muldaur appeared in an episode of Burt Reynold's Dan August TV series in 1970. Ten years later, the TV movie Dan August: The Jealousy Factor (1980), saw Diana Muldaur guest-starring as the same character she'd played in 1970, Elizabeth – along with the returning regular cast members from the original Dan August television series, Burt Reynolds and Richard Anderson.
Throughout the remainder of the 1960's, Diana Muldaur found steady episodic work on popular baby boomer TV series such as The Virginian, Gunsmoke, Bonanza, I Spy, The Invaders starring Roy Thinnes, and The Outcasts starring Don Murray.
Diana Muldaur was a frequent guest-star on Mannix starring Mike Connors, appearing 3 times as 3 different characters between 1967-1973. On an episode of The Courtship of Eddie's Father (1969) starring Bill Bixby, she guest-starred as his latest girlfriend.
Baby boomer and "Trekkie" fans may remember Diana Muldaur best from the 1960's when she guest-starred in two different original Star Trek (1968) TV series episodes, starring William Shatner, Leonard Nimoy, and George Takei. Muldaur was Dr. Miranda Jones in one episode and Ann Mulhall/Thalassa in another.
Star Trek creator and writer Gene Roddenberry would later work with Muldaur in the sci fi TV movie Planet Earth (1974) starring John Saxon. Twenty years after her first Star Trek appearances, Roddenberry brought a now 50+ Diana Muldaur back to the Star Trek franchise from 1988-1989 for the role of Doctor Pulaski on Star Trek: The Next Generation TV series starring Patrick Stewart, Jonathan Frakes, LeVar Burton, Wil Wheaton, and Whoopi Goldberg.
Diana Muldaur appeared in her first big-screen movie with a small role in the Burt Lancaster drama The Swimmer (1968). The following year she had a bigger role in the movie Number One (1969) starring Charlton Heston, Bruce Dern, and Jessica Walter. 
Before the 1960's ended, Diana Muldaur scored a recurring role as Belle on the short-lived television drama series The Survivors (1969) starring Lana Turner, Rossano Brazzi, Jan-Michael Vincent, George Hamilton as Duncan Carlyle, and Ralph Bellamy as Baylor Carlyle. A few years later, Muldaur, Hamilton, and Bellamy would all appear in the TV movie The Last of the Powerseekers (1972) as the same characters they had played in The Survivors.
James Vickery and Diana Muldaur got married in 1969 and moved to Los Angeles in 1970. Diana Muldaur continued to work steadily on television throughout the 1970's, interspersed with some big-screen roles. Episodic television work was her bread and butter, and she appeared on many of the most popular baby boomer TV series. She appeared on an episode of Mod Squad along with fellow guest-stars David Cassidy and Marion Ross; on Hawaii Five-O, actor Martin Sheen appeared in an episode with her.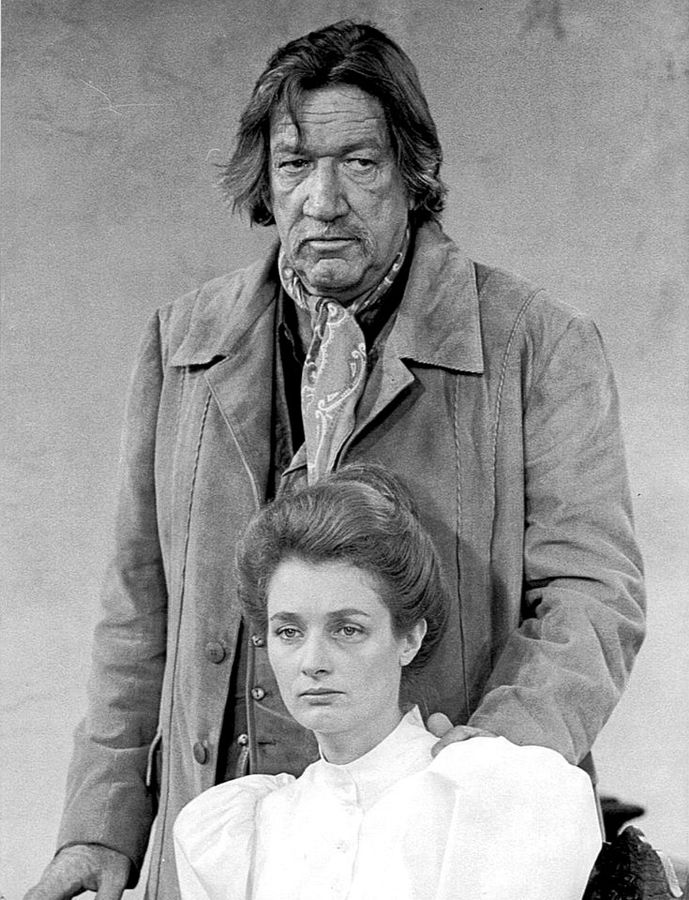 (Richard Boone & Diana Muldaur 1973 Hec Ramsay Photo: NBC Television)
Other TV series appearances in the early 1970's for Diana Muldaur included The Name of the Game, Marcus Welby, M.D. starring James Brolin, Ironside, Hec Ramsay, Kung Fu, and Cannon. 
She worked with David Hartman and John Saxon in an episode of The Bold Ones: The New Doctors in 1972; two years later John Saxon and Diana Muldaur were both in the movie Planet Earth.
The cast of the TV movie Call to Danger (1973), starring Peter Graves, also included Diana Muldaur and Tina Louise.
Several action movies in the early 1970's saw Diana Muldaur working with some of the biggest names in Hollywood. In One More Train to Rob (1971) she co-starred with George Peppard (Banacek); in Chosen Survivors (1974) she worked with Bradford Dillman and Jackie Cooper.
In McQ (1974), she co-starred with John Wayne, Eddie Albert, and Clu Gulager. Muldaur and Gulager had previously co-starred with John Anderson and Peter Graves in the TV movies Call to Danger (1973) with Tina Louise, and in Smile Jenny, You're Dead (1974) with a young Jodie Foster. 
Diana Muldaur had a recurring role on the TV movies/series McCloud from 1970-1977, as star Dennis Weaver's girlfriend Chris Coughlin. Muldaur reprised the character of Chris Coughlin when she was in her 50's in the TV movie The Return of Sam McCloud (1989).
Diana Muldaur (as Joy Adamson) and Gary Collins (as George Adamson) co-starred in the television series Born Free (1974). Born Free was filmed on location in East Africa. Diana Muldaur's real-life husband James Vickery appeared in 2 episodes of Born Free, and other guest stars on the series included Juliet Mills and Susan Dey. 
With the demise of Born Free, Diana Muldaur returned to TV movies and episodic TV appearances in the mid 1970's. Baby boomers could see Muldaur pop up in series such as The Rockford Files, S.W.A.T., Police Woman starring Angie Dickinson, Streets of San Francisco, Fantasy Island, The Love Boat, and $weepstake$.
Diana Muldaur appeared on Charlie's Angels in an episode that featured Tommy Lee Jones and David Ogden Stiers; and made an appearance on The Hardy Boys/Nancy Drew Mysteries starring Parker Stevenson and Shaun Cassidy. She had a recurring role as Judge Eleanor Hooper on The Tony Randall Show (1976-1978), starring opposite Tony Randall.
Near the end of the decade, Diana Muldaur appeared in two TV mini-series, both of which starred Eddie Albert, who had been in McQ with her: Black Beauty (1978), which had William Devane and Diane Ladd in the cast; and The Word, co-starring David Janssen, Nicolas Coster, Geraldine Chaplin, and Kate Mulgrew. Muldaur was a regular on the short-lived sitcom Hizzonner (1979).
TV movies in the late 1970's included The Miracle Worker (1979) starring Patty Duke as Anne Sullivan, with Diana Muldaur as Kate Keller, mother to Helen Keller (Melissa Gilbert); and To Kill a Cop starring Joe Don Baker, Desi Arnaz Jr., and Alan Oppenheimer. Muldaur's husband James Vickery appeared in To Kill a Cop in an uncredited role (his last); he died from cancer in 1979, leaving Diana a widow. Diana Muldaur, Patty Duke, and Melissa Gilbert are featured in the DVD trailer for The Miracle Worker, below.
After her husband's death in 1979, Diana Muldaur told People magazine that she took almost a year off before returning to work in episodes of different series such as B. J. and the Bear,  The Incredible Hulk, and in the TV movie The Return of Frank Cannon (1980). She took on a recurring role for a year on Quincy M.E. as Dr. Janet Carlyle.
Around this time she also began dating television and film writer and producer Robert Dozier ($weepstake$), who had been married and divorced 3 times and had 3 grown children. Diana Muldaur and Robert Dozier married in 1981.
That same year, Muldaur became a regular cast member on the comedy-mystery series Fitz and Bones (1981) starring Dick and Tom Smothers; she played one of their bosses, Terri Seymour. Although the series was cancelled after only 4 episodes, the TV movie Terror at Alcatraz (1982) was a continuation from the series with Diana Muldaur and Tom and Dick Smothers playing the same characters they had on the Fitz and Bones series.
In 1983 Diana Muldaur became the first female president of the Academy of Television Arts and Sciences. She continued acting, however was seen less and less frequently during the 1980's on TV and film. Her 1980's episodic television work included a couple of appearances on Hart to Hart (1983-1984) as two different characters and an episode of Murder, She Wrote starring Angela Lansbury.
The Agatha Christie mystery TV movie Murder in Three Acts (1986) featuring Peter Ustinov as detective Hercule Poirot, included Diana Muldaur, Tony Curtis, and Emma Samms in the cast. Muldaur starred as Dr. Alice Foley in the TV mini-series A Year in the Life (1986), with costars Richard Kiley, Adam Arkin, Sarah Jessica Parker, and Eva Marie Saint. The following year A Year in the Life was made into a television series with the same actors returning to their roles, with the exception of Eva Marie Saint. Muldaur had a recurring role on A Year in the Life from 1987-1988.
By 1988, Diana Muldaur and her husband Robert Dozier had moved to the Sierra Nevada mountain range in California and were living a quiet rural life. Muldaur came out of semi-retirement to appear for one season in Star Trek: The Next Generation (1988-1989).
The role that baby boomers, seniors, and television viewers of all ages may remember Diana Muldaur best from was her next and one of her last – that of cold attorney Rosalind Shays on L. A. Law from 1989-1991. As Rosalind Shays, Muldaur was the secret lover of Leland (Richard Dysart), a reveal that shocked viewers. More shocking however was the way Rosalind Shays left L. A. Law  (scene below from the L. A. Law episode Good to the Last Drop). In addition to Richard Dysart, Muldaur's co-stars on the large ensemble cast of L. A. Law included Harry Hamlin, Susan Dey, Corbin Bernson, Jill Eikenberry, Alan Rachins, Michelle Greene, Jimmy Smits, Michael Tucker, Susan Ruttan, Blair Underwood, and Larry Drake.
After L. A. Law and an appearance on Empty Nest (1992) starring Richard Mulligan, Dinah Manoff, and Kristy McNichol, Diana Muldaur retired from on-screen appearances. Her husband Robert Dozier had been diagnosed with cancer and she was suffering from burnout as she approached her 55+ years. Muldaur could be heard in a few voice-over roles for animated TV series such as The Legend of Prince Valiant (1993) featuring Robby Benson and Batman: The Animated Series (1992-1993), but since then she has been fully retired from acting. 
In 2000, Robert Dozier and Diana Muldaur Dozier began renovations on a home she had bought out from her brothers in Edgartown on Martha's Vineyard in Massachusetts, her home town. Muldaur has lived there full-time ever since. A 60+ Muldaur told People magazine in 2000 that "You don't see many people my age on television." and that she had decided against a face-lift because "Somebody has to look the right age."
In 2011, Diana Muldaur told Martha's Vineyard Magazine that she was spending time on her family, her animals and sailing. For a time she had bred and shown Airedale terriers, but by 2011 she had retired from that as well, and was working at the Animal Shelter of Martha's Vineyard. The Diana Muldaur Fund was established in 2010 to help cover veterinary costs for rescued Airedale Terriers needing extensive vet care. 
Husband Robert Dozier's cancer had gone into remission, then recurred in 1997, and gone into remission again, but it returned one final time and he died in January 2012, leaving Diana Muldaur a widow once again. In an interview with Emmy TV Legends (below), septuagenarian senior Muldaur touched on several highlights from her career and reflected on her time on L.A. Law as Rosalind Shays, and her exit from the series.
Now a single septuagenarian senior citizen, Diana Muldaur has appeared as herself on the Star Trek: Next Generation documentaries Making it So: Continuing Star Trek – The Next Generation (2012) and Chaos on the Bridge (2014). She's also made appearances at some Star Trek conventions, but as of August 2016, hasn't returned (as yet) to acting. 
*Images are public domain or Creative Commons licensed & sourced via Wikimedia Commons or Flickr, unless otherwise noted*