North by Northwest's Eva Marie Saint
Eva Marie Saint has over 20 big-screen movies and 70 years in show business to her credit, having gotten her start as professional actress on television in the game show Campus Hoopla (1946) as a commercial spokeswoman for one season.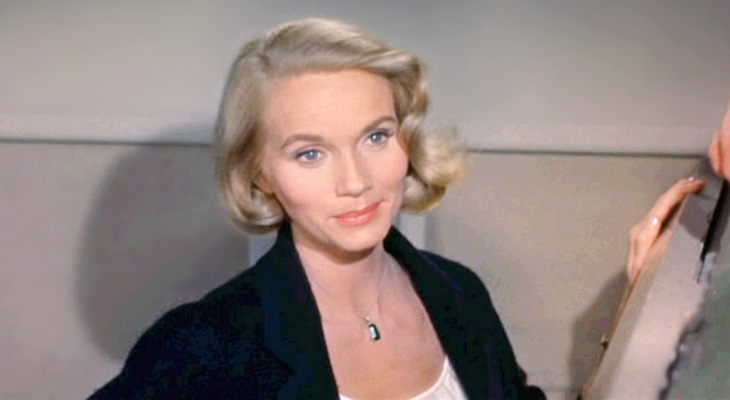 (Eva Marie Saint 1959 North by Northwest Trailer Screenshot)
Now a nonagenarian senior, actress Eva Marie Saint was born on Independence Day, July 4 1924 in Newark, New Jersey.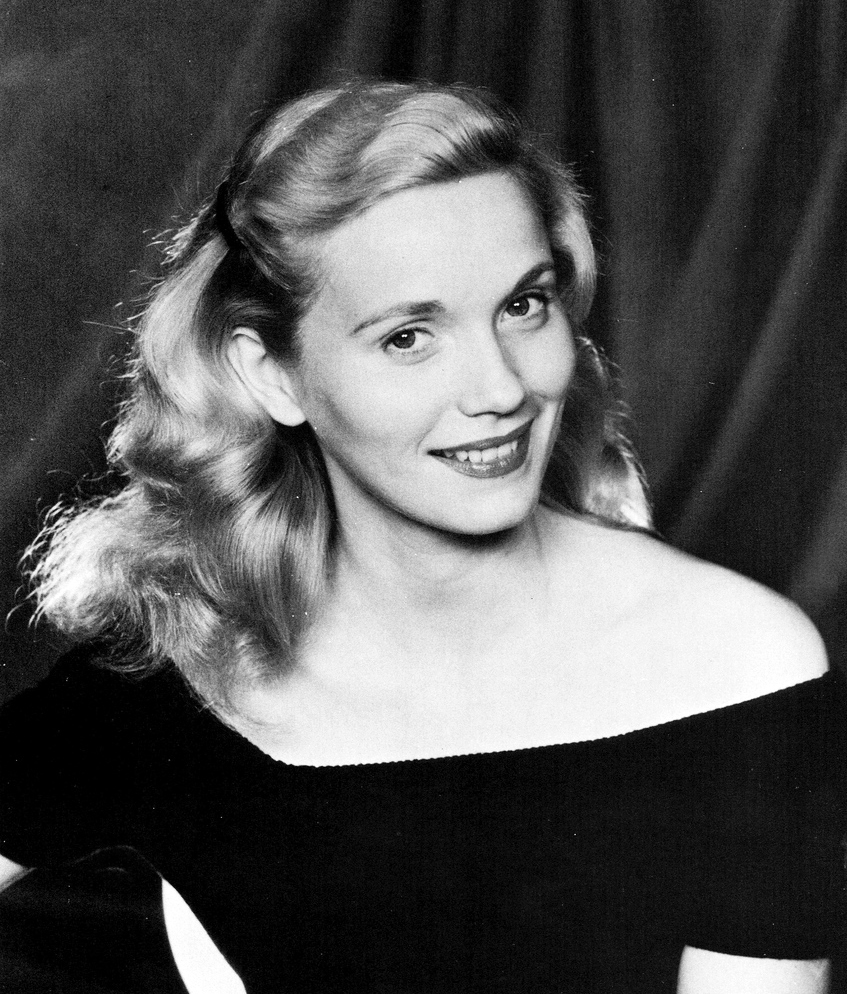 (Eva Marie Saint c. 1954 Photo: kate gabrielle)
Eva Marie Saint attended high school in Delmar, New York and then Ohio's Bowling Green State University to study acting, before moving to New York City in the late 1940's to model. She studied acting at the Actor's Studio and understudied on Broadway in Mister Roberts.
Eva Marie Saint told the story of her initial meeting with NBC Radio researcher Jeffrey Hayden in a 2014 Los Angeles Times interview. 
Hayden had seen her on the subway from behind and admired her walk, before he wangled an introduction to her through a mutual friend when he saw her again at Radio City.
Jeffrey Hayden also studied at the Actors Studio, before focusing on directing.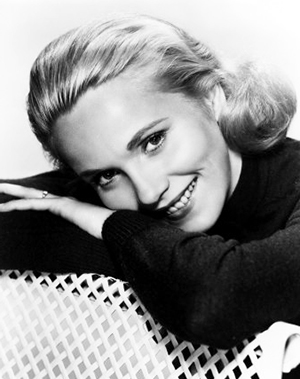 (Eva Marie Saint 1950s Photo)
During the late 1940's and early 1950's Eva Marie Saint worked steadily in radio, episodic television, and on stage. Life Magazine featured her twice – once in a 1947 spread about television, and two years later in a 1949 article about being a struggling actress.
Eva Marie Saint married producer-director Jeffrey Hayden on October 28, 1951. Their son Darrel Hayden (b. 1955) is became a university design instructor in San Francisco, and daughter Laurette Hayden (b. 1958) a marriage and family therapist. 
Her performance in the NBC teleplay and Broadway production of The Trip to Bountiful (1953) with former silent movie star Lillian Gish, earned Eva Marie Saint a 1953 Drama Critics Award.
Over 60 years after filming The Trip to Bountiful, during a 2014 Turner Classic Movies special and interview, Saint recalled Lillian Gish telling her not to worry about her future:
"It's today and tomorrow, and don't get cranky."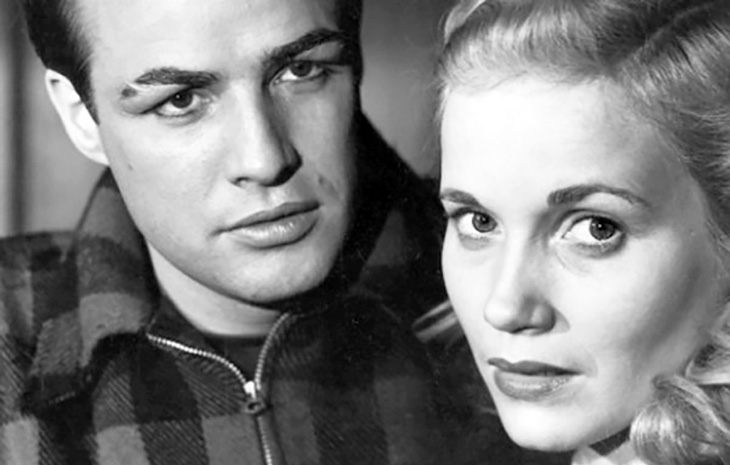 (Marlon Brando & Eva Marie Saint 1954 On the Waterfront Photo) 
Appearing as Edie Doyle in On the Waterfront (1954) in her movie debut, Eva Marie Saint overcame feeling intimidated by co-star Marlon Brando's powerful performance. She won both the BAFTA and the Academy Awards for Best Actress in a Supporting Role for her work in On the Waterfront. 
Below, Eva Marie Saint, Marlon Brando, Karl Malden, Lee J. Cobb are featured in the movie trailer for On the Waterfront.
More movie and television roles kept Eva Marie Saint busy for the remainder of the 1950's and 1960's, and made her a favorite with baby boomer fans and their parents. She won back-to-back Best Actress in a Single Performance Emmy Awards for episodes of The Philco Television Playhouse (1955) and Producer's Showcase (1956). 
That Certain Feeling (1956) was the first of two romantic comedy movies Eva Marie Saint made with Bob Hope; Cancel My Reservation (1972) was the second.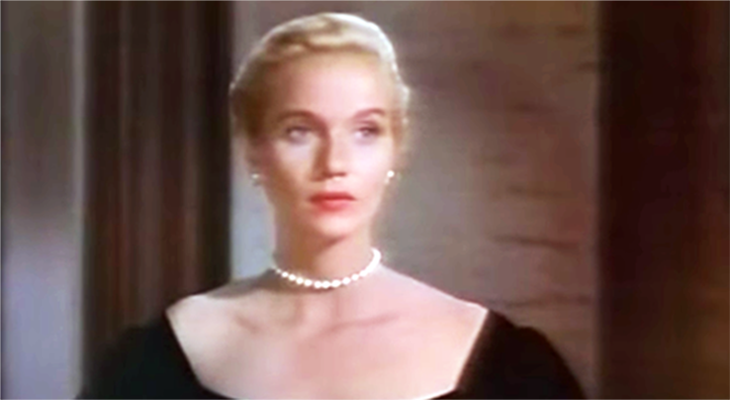 (Eva Marie Saint 1956 That Certain Feeling Screenshot)
Eva Marie Saint appeared in the movie Raintree County (1957) with co-stars Montgomery Clift, and Elizabeth Taylor. Also appearing in Raintree County were Lee Marvin and Rod Taylor.
For her performance as a pregnant young wife to an addict in the movie A Hatful of Rain (1957), opposite co-stars Don Murray and Anthony Franciosa, Eva Marie Saint won the BAFTA, Golden Globe, and Laurel Awards. 
(Anthony Franciosa & Eva Marie Saint 1957 A Hatful of Rain Screenshot)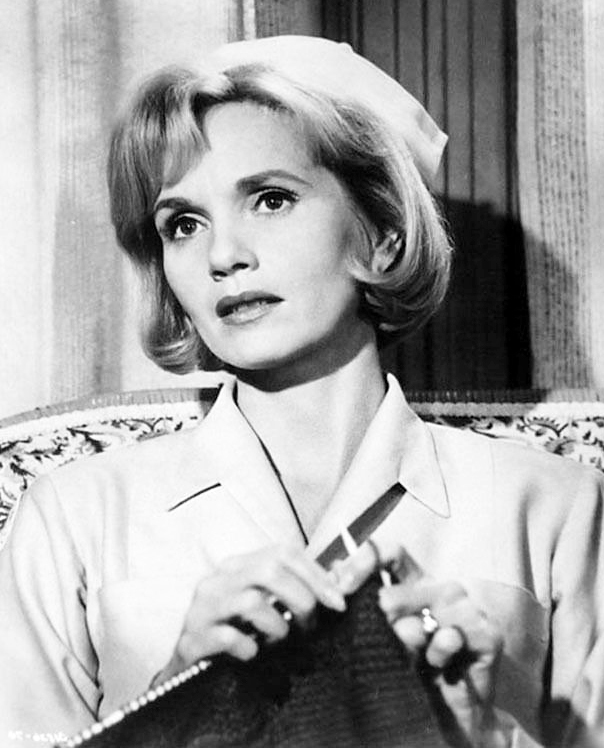 (Eva Marie Saint 1964 36 Hours Photo) 
Saint's second movie with Rod Taylor, and her first with James Garner, was the suspense film 36 Hours (1964). Familiar TV series character actors John Banner (Hogan's Heroes) and Alan Napier (Batman) were also in the cast of 36 Hours.
The following year, she made her second movie with Elizabeth Taylor, The Sandpiper (1965) a drama that included actor Charles Bronson and Elizabeth's new husband, Richard Burton. Saint played Claire Hewitt, the wife of school headmaster Dr. Edward Hewitt (Richard Burton). As in real life, the characters played by Richard Burton and Elizabeth Taylor are drawn to each other in The Sandpiper. 
Below, James Garner, Eva Marie Saint, and Rod Taylor are featured in the movie trailer for 36 Hours.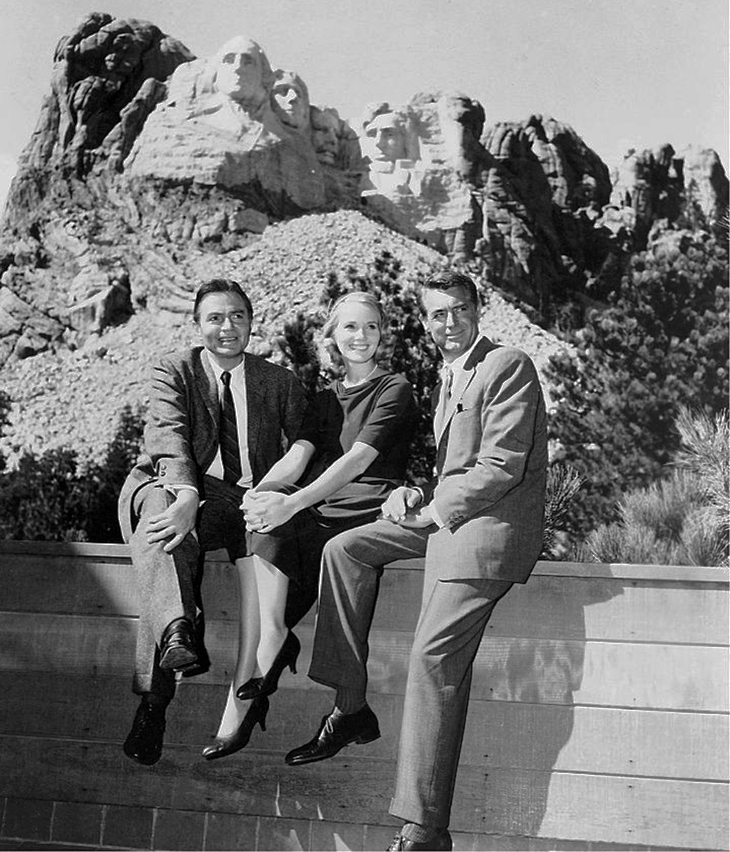 (From left, James Mason, Eva Marie Saint, & Cary Grant 1959 North by Northwest Photo: Motion Picture Daily) 
But perhaps the movie that Eva Marie Saint is most well-known for is North by Northwest (1959), an Alfred Hitchcock movie starring Cary Grant as Roger Thornhill and Saint as his mysterious love interest Eve Kendall.
English actor James Mason is bad guy Phillip Vandamm, character actors Martin Landau, Edward Platt (Get Smart), Edward Binns, and Jessie Royce Landis are also in the cast of North by Northwest. 
Below, the movie trailer for North by Northwest features Eva Marie Saint and Cary Grant.
Paul Newman and Eva Marie Saint were in two movies together – Exodus (1960), and the racing car movie Grand Prix (1966), which also co-starred Yves Montand.
Eva Marie Saint has been in movies with most of the major names from the golden era of Hollywood in the 1950's and 1960's. Her co-star in one of her favorite movies, All Fall Down (1962) was Warren Beatty; in the western Stalking Moon (1968), Gregory Peck; and in the comedy The Russians Are Coming, The Russians Are Coming (1966), her co-stars included Carl Reiner, Alan Arkin, Brian Keith, Karl Malden, and Angela Lansbury. 
Eva Marie Saint was back on television in 1964 after an absence of almost 10 years, focusing on acting in made-for-TV movies throughout the rest of the 1960's, '70's, '80's, and 1990's. She was the mystery guest on What's My Line in 1966, below.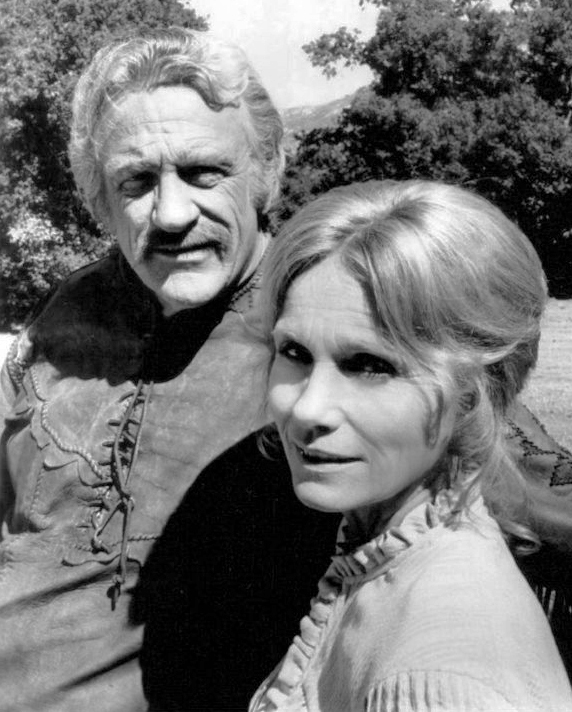 (James Arness & Eva Marie Saint 1976 How the West Was Won Photo: MGM Television)
In her 50+ years, Eva Marie Saint won the Outstanding Lead Actress in a Limited Series Emmy Award for her performance in the television series How The West Was Won (1977).
The cast of How the West Was Won also included Bruce Boxleitner, James Arness (Gunsmoke), William Kirby Cullen, Kathryn Holcomb, Fionnula Flanagan, Peter Hansen, Lloyd Bridges, Ricardo Montalban, John Reilly, Peggy McCcay, Michael Conrad, Ed Lauter, Anthony Zerbe, Don Murray, Mel FErrer, Brian Keith, John Dehner, and Cameron Mitchell. William Conrad (Cannon) served as narrator for several episodes. 
The following year, she won the Outstanding Lead Actress in a Drama or Comedy Special Emmy Award for her appearance in Taxi!!! (1978). 
Eva Marie Saint and fellow Hitchcock blonde actress Kim Novak were co-stars in the TV movie Malibu (1983). Joining them in Malibu was an all-star cast that included Chad Everett, Steve Forrest, George Hamilton, William Atherton, James Coburn, Susan Dey, Jenilee Harrison, Ann Jillian, Troy Donahue, Richard Mulligan, Anthony Newley, and Valerie Perrine.
Just before becoming a senior citizen in 1989, Eva Marie Saint had a recurring role on the hit baby boomer series Moonlighting (1986-1988), starring Bruce Willis and Cybill Shepherd. 
She won another Emmy Award, this time for Outstanding Supporting Actress in a Miniseries or a Special for 1990's People Like Us.
In her septuagenarian senior citizen years, Eva Marie Saint appeared as Hazel Foley in Titanic (1996), a two-part miniseries/TV movie.
The feature film drama Time to Say Goodbye? (1997), had Eva Marie Saint playing the wife of a man who wants to end his life after being stricken with Alzheimer's Disease.
More television movies, and the big-screen biographical drama I Dreamed of Africa (2001) followed. Below, Eva Marie Saint and Kim Basinger are featured in the movie trailer for I Dreamed of Africa. 
Although the movie and television roles dwindled after she became an octogenarian in 2004, Eva Marie Saint appeared in the Sam Shepard comedy-drama Don't Come Knocking (2005), as the mother of Shephard's character. She was the friendly older woman in the family movie Because of Winn-Dixie (2005), and Clark Kent's adoptive mother Martha Kent in Superman Returns (2006). 
Most recently Eva Marie Saint could be heard in a recurring voice-acting role on the animated television series The Legend of Korra (2012-2014), as the character Katara.
She was in the big-screen romantic fantasy-drama Winter's Tale (2014), as the now-grown Willa Penn. Below, 90-year-old Eva Marie Saint was interviewed in 2014 for Winter's Tale, and she touched on the topic of people living longer lives today.
Proud nonagenarian grandmother Eva Marie Saint said in 2014:
"You reach a certain age and you're so proud that you're walking and breathing and loving and working and all of that at 90," adding that she and husband Jeff Hayden still walked an hour a day to keep fit and healthy in their old age.
Beginning in the late 1990's, Saint and husband Jeff Hayden staged the play Love Letters a few times a year. Their romance was still alive after more than 65 years as a couple in 2016. She told the Los Angeles Times that
"Just the other day, I was thinking about life, and I guess I was a little low, and I said, 'Jeffrey, what in today's world inspires you?' He just put his head up and said, 'You.'"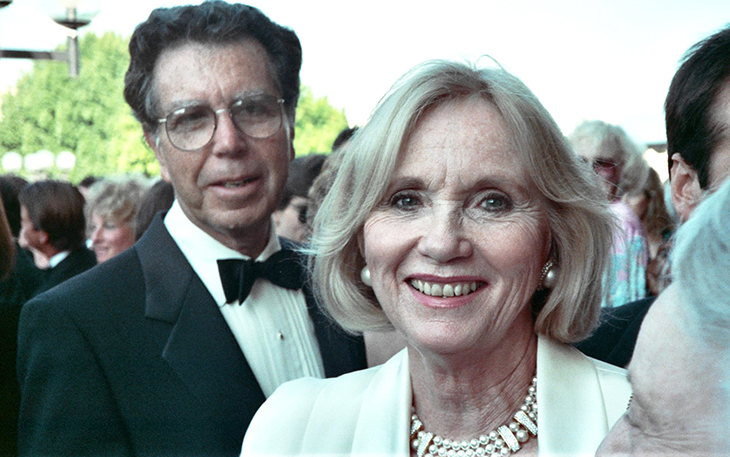 (Eva Marie Saint and husband Jeffrey Hayden 1990 Photo: Alan Light )
Sadly, soon after they celebrated their 65th (Blue Sapphire) wedding anniversary in 2016, Jeffrey Hayden died (December 24, 2016) after being treated for cancer. 
Note: This article was originally published in 2016 under the title Celebrating Seniors – Eva Marie Saint is 92. It has been updated with new & additional content. 
*Images are public domain or Creative Commons licensed & sourced via Wikimedia Commons, Vimeo, or Flickr, unless otherwise noted*