Boomer TV Trivia: Get Smart
Q1. What later star of The Love Boat, had a recurring role as a KAOS agent on the original Get Smart television series?
Q2. Did Get Smart sitcom stars Don Adams and Barbara Feldon ever marry? 
The main characters of Get Smart were ably played by Don Adams as Maxwell Smart/Agent 86, Barbara Feldon as Agent 99, and Edward Platt as The Chief in Get Smart.
Popular baby boomer television series Get Smart  ran for 5 years (from 1965-1970) and won the Emmy Award for Outstanding Comedy Series in 1968 & 1969.
Don Adams – Agent 86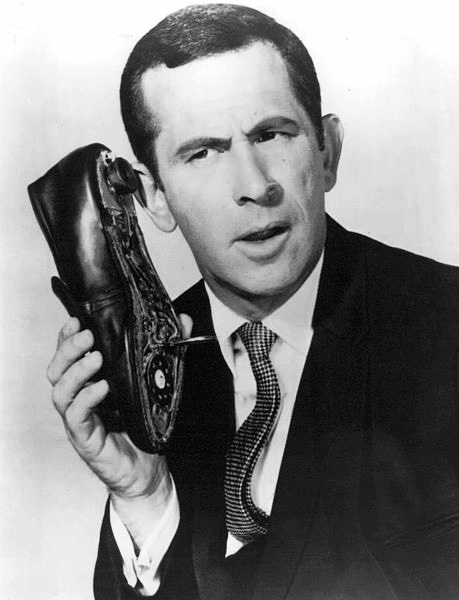 (Don Adams & "Shoe Phone" 1968 Get Smart Photo: GAC)
Series star Don Adams (Maxwell Smart) got the leading man role because NBC owned his contract. Adams won the Emmy for Outstanding Continued Performance by an Actor in a Comedy in 1967, 1968 & 1969, 3 out of 5 years that Get Smart was on the air. His comedic intonations for the lines "Would you believe...", "Missed it by that much!", "Sorry about that, Chief", "The Old (such-and-such) Trick", "And … loving it," and "I asked you not to tell me that," turned them into popular culture catchphrases that are still used today.
During his tenure on the series, Don Adams appeared in every episode of Get Smart and also wrote (2) and directed (13) episodes. 
When the series was just starting on the air, his secretary Patti Lilly was interviewed about her boss and claimed her job was to remind him of things:
"Don is brilliant! He can learn a whole script in an hour. He's sharp as a tack, and sublt. He has beautiful taste. he's a very happy  man, which is unusual in an actor. But he forgets things…Like appointments, and haircuts…and to eat his lunch…I remind him personally during the day, and then I jot down reminders for him to take home with him. I leave them in his car in the lot because sometimes he forgets to check with me about them." – Wheat's Field by Chuck Wheat, Tulsa World, October 16, 1965
This last venture wasn't always successful, because apparently sometimes Adams forgot his car in the lot at the end of the day. What he loved best according to Patti, was his then infant daughter (with second wife Dorothy Bracken), and his black poodle.
Don Adams continued acting well into his senior years, including voice-acting the role of Inspector Gadget in the animated television series and movie of the same name. He was a septuagenarian senior citizen when he acted in Get Smart, Again (made-for-TV movie, 1989), a follow-up Get Smart television series (1995), and in guest-starring television spots and commercials.
Don Adams died in 2005, age 82.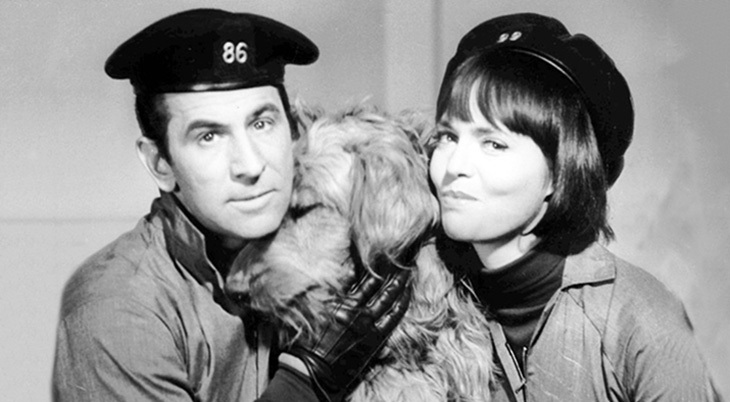 (Don Adams, Barbara Feldon & Fang 1966 Get Smart Photo: NBC)
Barbara Feldon – Agent 99
Co-star Barbara Feldon played the beautiful and cool-headed straight woman to her "Max". Although Maxwell Smart had the most "phones" on the show (his shoe was used most often), Agent 99 also had her unique "fingernail phone".
Barbara was married to photographer Lucien Verdoux-Feldon when Get Smart Smart started, but the married ended in divorce in 1967.
Feldon continued to act occasionally in movies and had guest appearances on television shows after Get Smart ended. Although she expressed surprise that the series was cancelled in 1970, she wasn't dismayed – telling an interviewer that the series had given her financial security and freedom from worry about what roles might come next.In fact, she sounded much like her optimistic Agent 99 character might have:
"We'd been canceled once before, so I knew how to handle it…It was a good thing while it lasted, but now I think it's very nice that I can try something else." – Eyes New Fields by Aleene MacMinn, The Los Angeles Times, March 13, 1970.
She appeared in the 1989 TV movie Get Smart, Again! and the 1995 series reprise with co-star Don Adams.
Barbara Feldon wrote her autobiography Living Alone and Loving It in 2003. She lives in New York City today and has appeared in some plays, but her last screen appearance was in the 2006 movie The Last Request. 
Edward Platt – The Chief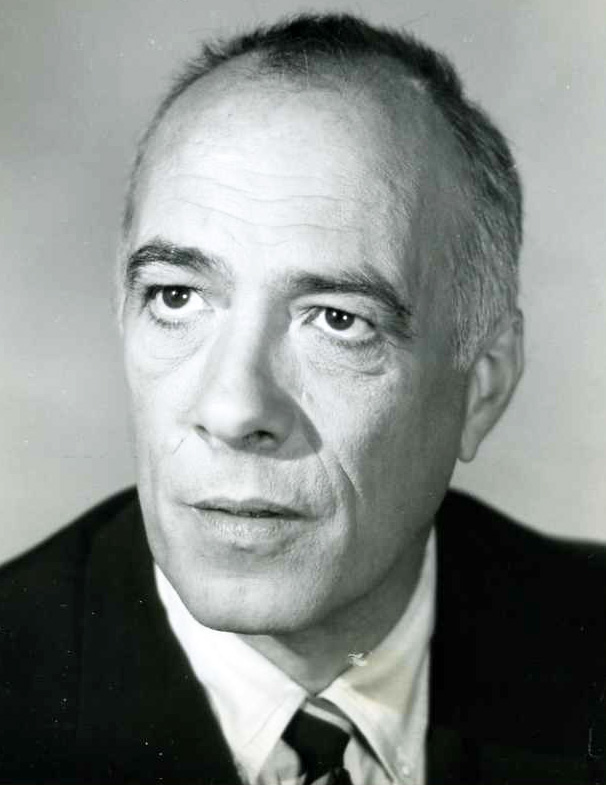 (Edward Platt as the Chief 1966 Get Smart Photo)
"The Chief" as played by actor Edward Platt, was the grumpy but supportive boss of Agent 99 and Maxwell Smart, the straight man to their kookiness.
In real life, Edward Platt (born February 14, 1916) started out as a singer in the 1930s. He performed with big band leader Paul Whiteman, then with the Gilbert and Sullivan Opera Company in 1942 – before turning to acting on radio and Broadway.
TV & movie roles began coming his way in the mid-1950s, and had appeared in several big-screen movies such as North by Northwest (1959), before landing the role of The Chief on Get Smart. 
When the series began he was married to Suzanne Belcher (since 1954). The couple lived in 4-bedroom ranch house with 3 children between the ages of 6 and 10 – daughter Anne, sons Jeffrey and Robert, as well as the family cat and a puli dog.
A 1966 interview revealed Platt may have been channeling The Chief away from the set:
"Unlike most Hollywood-based performers, Platt does not dress casually away from the set. He wears the same sort of business suits in private life that he does on the show. Even his sports shirts are conservative." – After 50 Movies, Platt Finally 'Got Smart' , UPI / The Macon News, December 3, 1966
When Get Smart ended Edward Platt was in his 50+ years. He went on to guest star in other television comedies until his death in 1974 from a heart attack at the age of 58; he and Suzanne had divorced in 1973.
A1. "Doc" on The Love Boat, actor Bernie Kopell appeared on 14 episodes of Get Smart as KAOS agent Siegfried, Vice President of Public Relations and Terror. 
Q2. While the characters played by Don Adams (Maxwell Smart) and Barbara Feldon (Agent 99) married in the 4th season of Get Smart, and the actors had great chemistry and became the best of friends during (and after) the show, they never married in real life.
Note: This article was first published in 2015. It has been updated with new & additional information.