Famous Fathers - Alan Ladd & Children
In honor of Father's Day, brief biographies and some favorite vintage pics of western & classic movie star dad Alan Ladd, and his children – Alan Ladd Jr., Alana Ladd, David Ladd, and Carol Lee Ladd..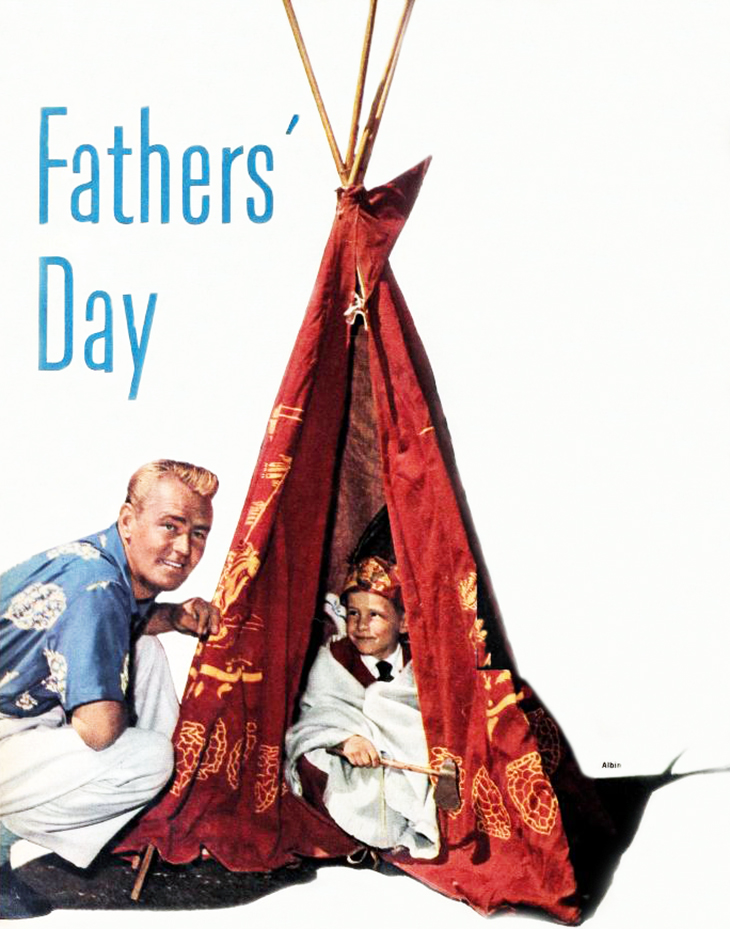 (Father Alan Ladd with son David Ladd 1953 Photo: Albin)
Famous Father Alan Ladd ("Laddie")
Actor, 1930s-1950s film star and movie producer Alan Walbridge Ladd was born September 3, 1913 in Arkansas. His father died when he was 4, and Ladd's widowed mother moved to Oklahoma City with him when he was 5. She soon remarried, and the family subsequently moved to California in the early 1920s.
Modern Screen printed a purported letter from Alan Ladd (written while he was on location in Nevada) to his son David in 1959. In the letter, Ladd recalled his childhood:
"We were poor, very poor. After my father died my mother washed and cooked for people to take care of me. Later on she married a housepainter, and that was no road to rished in the Depression. We jolted West from Arkansas, Okie style in a Model-T, and my stepfather painted houses along the way for gas and food…." – Dear David, by Alan Ladd, Modern Screen, September 1959
Alan Ladd attended North Hollywood High School beginning in 1930, and the track and swimming star met lifelong pal Noah Beery Jr.. Growing up in Hollywood, a career in the performing arts was a natural fit for a handsome young man. He was still in high school when Universal signed him, and recent high school graduate Tyrone Power, to long-term contracts. Ladd and Power both appeared in Tom Brown of Culver (1932), and each had other uncredited parts, but the studio ended up dropping both their contracts soon after.
Ladd graduated from high school in 1934 at the age of 20. Various jobs with different companies and a failed attempt at running his own hamburger and malt shop across from North Hollywood High School, all fell through. Acting classes with veteran actor Ben Bard eventually  paid off, and more unbilled film roles came his way – but it was radio that gave Ladd his first secure acting work, beginning in 1936 when he was signed by local Los Angeles radio station KFWB.
That same year, Ladd married his high school flame "Midge" Harrold".
"Three Hollywood Couples Wed Here…Alan W. Ladd, 23, actor, North Hollywood, and Marjorie Jane Harrold, 21, North Hollywood. Katherine L. Harrold and Carlton Gaello, were witnesses." – The Ventura (Calif.) County Star-Free Press, May 11, 1937
Their son Alan Ladd Jr. was born in October 1937; a month later, Ladd's mother died by suicide. She had asked Ladd for some money to make a purchase and used it to buy ant poison, which she ingested in the back of his car. 
Sue Carol & Veronica Lake
By the end of 1938, Ladd was working steadily on radio and had 14 small, uncredited movie roles on his resume. Former silent film actress turned talent agent Sue Carol (nee Evelyn Jean Lederer), impressed when she heard Ladd on a radio program, arranged to meet him.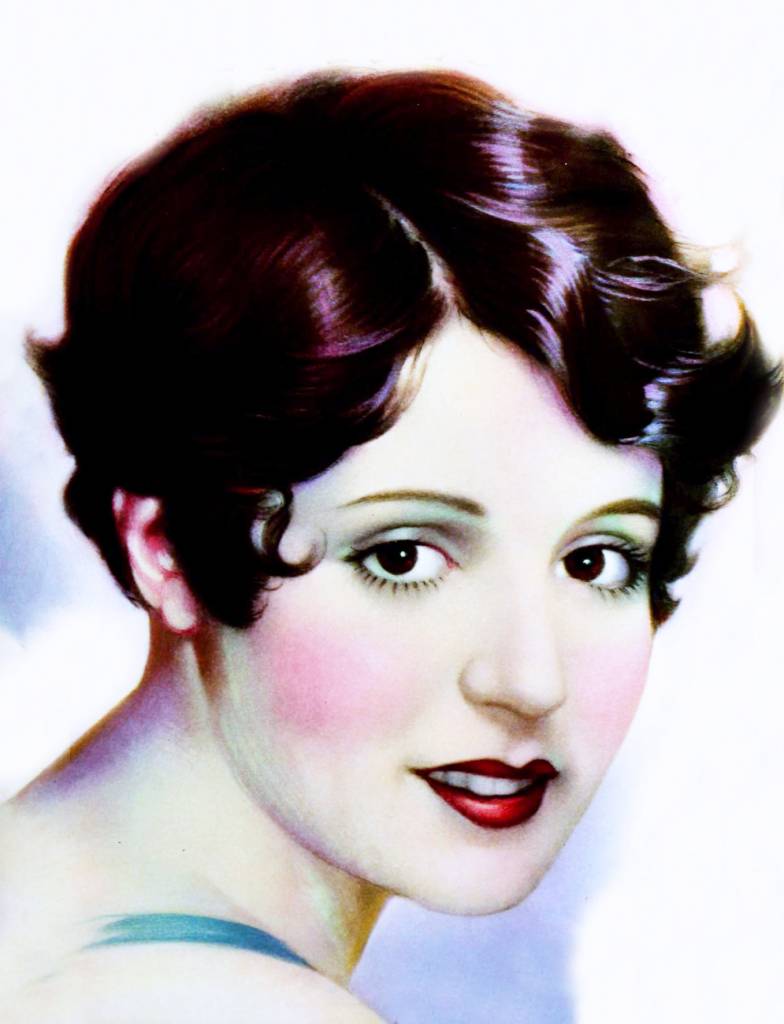 (Sue Carol 1928 Portrait / Motion Picture Classic Cover: Don Reid)
Sue Carol promptly signed Ladd as a new client & promoted him for movie and radio parts. By the end of 1939, he had his first two credited film roles, in Rulers of the Sea, and Hitler: Beast of Berlin.
Over the next couple of years, Alan Ladd's roles began to grow, with stronger supporting roles in movies like Her First Romance (1940). The studios took notice. Midge and Alan Ladd divorced in mid-July 1941, but that year wasn't a total loss – Paramount pictures signed him to a long-term contract after a successful audition for a lead role in This Gun for Hire (1942), a film-noir crime drama co-starring Veronica Lake and Robert Preston.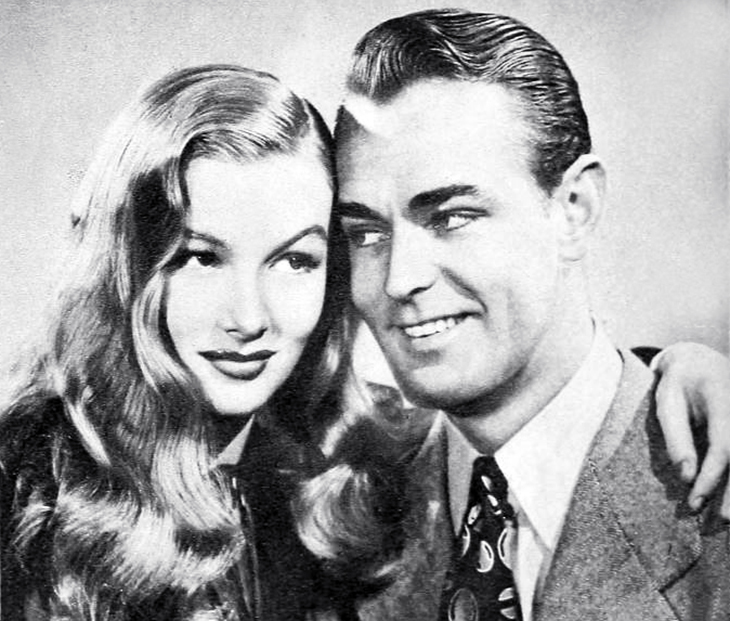 (Veronica Lake & Alan Ladd 1942: Screenland)
This Gun for Hire was just the beginning of a dynamic film noir screen partnership between Veronica Lake and Alan Ladd. At 5'7″, Ladd was substantially taller than 4'11" Lake, a rarity for his co-stars, some of whom had to stand in trenches in order not to tower over him. Veronica and Alan were in another 6 movies together, 3 of which – The Glass Key (1942), The Blue Dahlia (1946), and Saigon (1947) – they were co-starring romantic leads. Lake and Ladd also had cameos in the star-studded casts of Star Spangled Rhythm (1942), Duffy's Tavern (1945), and Variety Girl (1947). 
After his divorce from Midge was finalized, Alan Ladd married his agent Sue Carol, in 1942. 
"Because I happen to know him personally, I am going to try to give you a picture of the man behind Raven (his role in "This Gun for Hire"). …Alan wants to be friendly, but doesn't know how. It is agony for him to carry on any sort of conversation with strangers and torture for him to speak of anything personal. His father died when he was five years old. left with a young son to support, Mrs. Ladd was so busy working that Alan had to shift largely for himself. The result is that he has grown up shy, inhibited, and sensitive. It is only since he has known Sue Carol (herself one of the friendliest people in the world) that he has come out of his shell. Possibly because he kept everything bottled up inside himself he is terrifically emotional." – He's the Man Other Men HATE! But Women Love, by S. R. Mook, Screenland, August 1942
This was Sue Carol's fourth marriage, and she brought with her daughter Carol Lee Stuart, from her second marriage to actor Nick Stuart. Alan Ladd and Sue Carol had two more children together – daughter Alana Ladd, and son David Alan Ladd.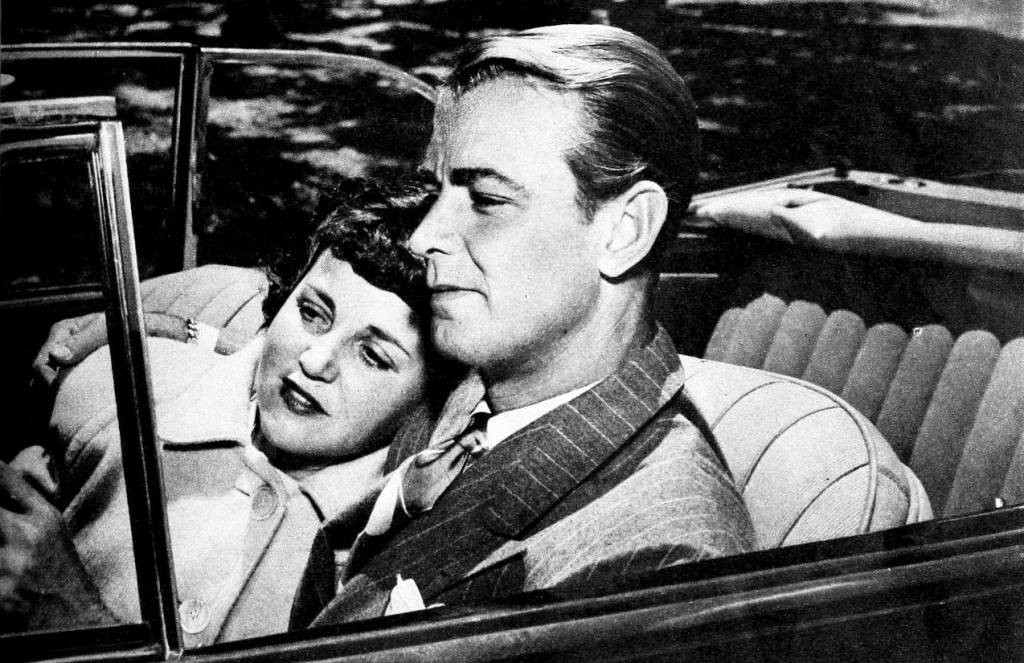 (Sue Carol Ladd & Alan Ladd 1948: Don Ornitz)
Alan Ladd toured the Boston Globe's Movie Editor Marjory Adams around their new Holmby Hills home (6 years in the making) in the fall of 1949:
"I walked through the Ladd dream home a series of exquisite big, airy rooms with one wing devoted to the most magnificent bedrooms and boudoirs I have encountered in Hollywood. I even investigated the tiled kitchen and saw the Ladd study, done in browns, where Alan rehearses, and I looked appreciatively out into the patio, where we later lunched and where young Alan Ladd Jr., who is 11 1/2, was swimming in the pool which is fenced off attractively from the rest of the patio so that the children won't wander. The two girls have a suite; the boys have a suite; Alan and his wife, Sue Carol, have their own very elegant suite." – Marjorie Adams, The Boston Globe, October 9, 1949
Many classic movie and unforgettable western film roles followed for Alan Ladd, including the role he perhaps most associated with, that of the western Shane (1953) with Jean Arthur, Van Heflin, Brandon De Wilde, Jack Palance, and Ben Johnson. A few of his other noteworthy films include:
Whispering Smith (1948), a western in which Ladd stars as a railroad detective Whispering Smith. Co-starring Robert Preston, Brenda Marshall, and Donald Crisp
The Great Gatsby (1949) with Betty Field, MacDonald Carey and Barry Sullivan; Ladd plays the enigmatic title character of Jay Gatsby from F. Scott Fitzgerald's classic jazz-age novel.
Hell on Frisco Bay (1955), a mob movie co-starring with Edward G. Robinson, Joanne Dru, and William Demarest 
The Proud Rebel (1958), a Civil War-era western with Alan as John Chandler, David Ladd as his son David Chandler, and Olivia de Havilland, Dean Jagger, Cecil Kellaway, and Harry Dean Stanton, among others.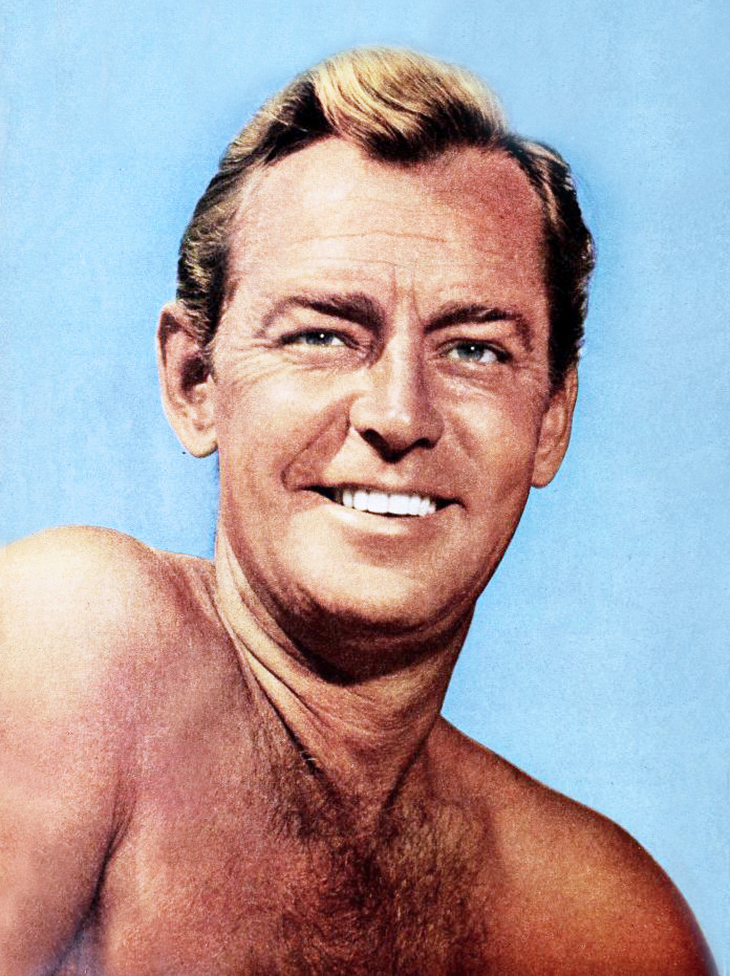 (Alan Ladd 1955: Modern Screen)
Alan Ladd's last screen role was a co-starring part as Nevada Smith in the film adaptation of Harold Robbins' potboiler The Carpetbaggers (1964), starring George Peppard as tycoon Jonas Cord. With Robert Cummings, Martha Hyer, Elizabeth Ashley, Lew Ayres, and Martin Balsam.
In addition to acting, Alan Ladd branched out into producing – first forming Ladd Enterprises in 1951, and Jaguar Productions in 1954. Son Alan Ladd Jr. worked for Jaguar Productions for a time as well.
Not only a savvy talent agent, Sue Carol was a wise investor of Alan's earnings, buying property along Rodeo Drive. In addition to their Holmby Hills home, the Ladd's also owned a Palm Springs hardware store, a 5,000 acre ranch in Hidden Valley (bought around the time of son David's birth in 1947), and another ranch in Palm Springs.
Farm animals and family pets abounded in 1958, with horses and chickens at the Palm Springs ranch; dachshunds and a boxer at the Holmby Hills home, and a Labrador retriever, sheep dog, and golden retriever at the Hidden Valley Ranch*.
Alan Ladd was only 50 years old when he died January 24, 1964 from an overdose of alcohol, a barbiturate, and tranquilizers. He was in the habit of regularly combining sleeping pills and alcohol to combat insomnia. His wife Sue Carol died in February 1982 at the age of 75. 
Alan Ladd's Children
All of Alan Ladd's children (and most of his grandchildren) found work to some degree in the film industry: Perhaps the most successful was his oldest child, son Alan Ladd Jr., who became a top executive at 20th Century Fox.
Alan Walbridge Ladd, Jr. ("Laddie")
Alan Ladd Jr. was born on October 22, 1937. He was 2 when his parents separated, and although initially he lived with his mother Marjorie after the divorce, as a pre-teen he eventually moved in with his father and stepmother Sue Carol at their Holmby Hills estate. 
Given his father's history, an unhappy marriage to his mother, natural reserve, and hard work ethic, it's not surprising that Alan Jr. later characterized his relationship with his famous father as almost non-existent. Alan Jr.'s daughter Amanda Ladd-Jones later noted that her own relationship with her father was not that different – Alan Jr. was mostly away from home working, and was emotionally distant.
Instead of following his dad into acting, Alan Jr. initially followed his step-mother Sue Carol's example – he became a talent agent at an early age, and also worked in his step-father's real estate business..
"Summer Work – Alan Ladd Jr. will start learning the motion picture business after graduating from high school, Ladd Sr., now making 'The Darkest Hour,' says his son will work at a Hollywood talent agency [MCA] before starting college in the Fall." – On the Town by Karl Krug, Pittsburgh Sun-Telegraph, June 10, 1955
Alan Jr.'s mother, now Marjorie Jane Farnsworth, died in May 1957 at the age of 41.. 
Business-minded Ladd Jr. was full of hustle. In 1958 he started the Pacific Registry switchboard service for private telephone and mail answering agencies, with friends James MacArthur and James Franciscus.
"Young Ladd, twenty-two, who several years ago began putting his film earnings into such things as real estate and a share in his dad's Palm Springs hardware store, came up with an idea. Why shouldn't the three of them get together and start a phone – mail service that would fill this lack?…Operators are Ladd, MacArthur and Franciscus, plus four other friends, none over twenty-two." – Young Names Start Own Business Firm, by Harold Heffernan, The Daily Item, June 27, 1958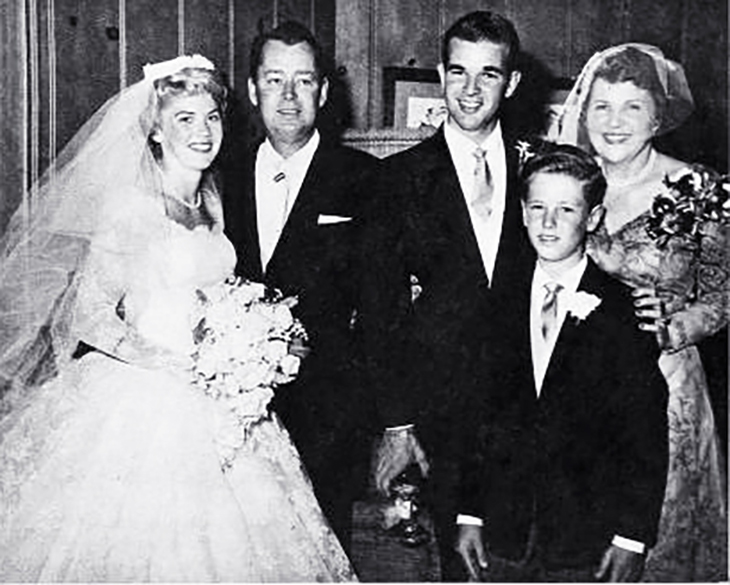 (Patricia Beazley, Alan Ladd, Alan Ladd Jr., David Ladd, Sue Carol Ladd 1959: Screenland Plus TV-Land)
Ladd was dating actress Natalie Trundy early in 1958, but it was fellow UCLA student Patricia Ann Beazley that he married in September 1959. Ladd was called up to serve in the Air Force for a second time in October 1961, the same month the first of their 3 daughters was born:
"Alan Ladd, Jr., celebrated the birth of his [first] baby [Kelliann] on Sunday [Oct. 1], and the following day got his orders from the Air Force, in which he's a reserve officer. So he leaves his real estate business in Newport in November." – Talk of Hollywood, by Hedda Hopper, The Evening Sun, Friday, October 6, 1961
Daughter Traci / Tracy Ladd was born in October 1963, and daughter Amanda Ladd was born in 1973. 
While working as a talent agent for at MAC for Freddie Fields, Creative Management, and London International Agency, Alan Jr. represented the likes of Julie Christie, Robert Walker Jr., and Roddy McDowall, before enjoying a long career as a respected film company producer and top executive for 20th Century Fox, Pathe Entertainment, and Metro Goldwyn Mayer.
"Roddy's producer, 31-year-old Alan Ladd Jr., was also present. Laddy, as he's familiarly called, bears a striking resemblance to his late father. He was a stuntman and talent agent before he went into film production. 'Laddy used to be my agent,' said Roddy. 'He found this project for me." – Child Star Wants to Be Taken Seriously, by Stanley Eichelbaum, The San Francisco Examiner, August 26, 1969
Patricia and Alan Ladd Jr. divorced in 1983. Ladd remarried in July 1985 to Cindra Pincock, and their daughter Chelsea Allyn Ladd was born March 13, 1987. Chelsea Ladd died March 28, 2021 at the age of 34, pre-deceasing her father.
Alan Ladd Jr. died in March 2022 at the age of 84. 
"He is survived by three children from his first marriage, Kelliann Ladd, Tracy Ladd and Amanda Ladd Jones; a brother, David; a sister, Carol Lee Veitch; and six grandchildren. a daughter from his second marriage, Chelsea Ladd, died in 2021." – Film executive behind 'Star Wars,' many other hits, by Nell Genzlinger, Honolulu Star-Advertiser, March 6, 2022
Carol Lee Stuart Ladd Anderson
Carol Lee Stuart was born in July 6, 1932 to then-actors Sue Carol & Nick Stuart. After her parents divorced & her mother married Alan Ladd, Carol Lee used her step-father's last name. Carol Lee attended U.C.L.A., and was still a teenager when recovering WWII veteran John Veitch, ready to break into film acting, moved in with the Ladd family upon his arrival in Hollywood.
A few years later, Carol Lee married actor Richard Anderson in January 1955, a lavish wedding complete with Cary Grant as an usher.. Unhappily, the marriage failed and they divorced a little over a year later, in April 1956.
Romance eventually blossomed between John Veitch and Carol Lee Ladd.
"John was a fine and able man, and he and his lovely wife Carol Lee were close friends of mine when I was the CEO of Columbia Pictures in the 1980s…he was severely wounded as a young Army infantryman…while hospitalized in Buffalo, he was 'discovered' by Sue Carol, who was also the wife of film star Alan Ladd ('Shane'). She noticed the handsome young soldier while she and her husband were visiting the hospital. As John told me, 'She made Alan come over to see me by telling him I was such a fine-looking kid I ought to be in the movies. She asked what I was going to do after I got out of the hospital and I told her I planned to go home to Brooklyn and work for the phone company. But she convinced me I belonged in the movies, and to look her up if I ever got to Hollywood, and thought I might like to try acting.'" – Fay Vincent, Veitches among good folks in Hollywood, Press Journal, February 16, 2014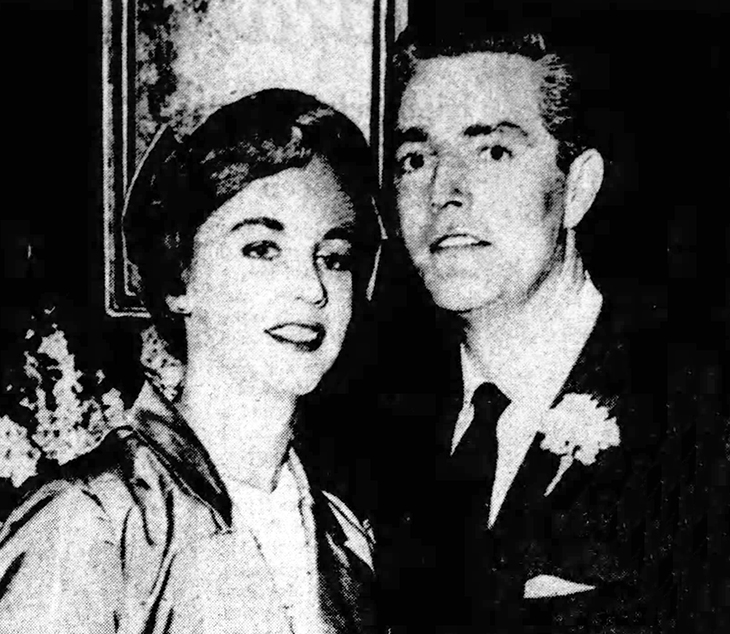 (Carol Lee Ladd Feb. 1958 wedding to John Veitch: AP Photo)
Carol Lee Stuart Ladd (age 25) and John Veitch (age 37) were married February 8, 1958 at the Little Brown Church of the Valley. Ladd walked his step-daughter down the aisle; step-sister Alana Ladd was maid of honor, and writer Louis L'Amour (Veitch's lifetime friend) was the best man.
John Veitch became a movie actor, director, and a highly successful film producer. During their long and happy marriage (41 years!) Carol Lee and John were friends with Ronald Reagan, and author Louis L'Amour and his wife. They had two children (son Jonathan Veitch and daughter Jonna Veitch) and four grandchildren at the time of Veitch's death from pancreatic cancer in December 1998.
Although some sources indicate she died in 2010 (with an undisclosed date), this is incorrect. Carol Lee Stuart Ladd Veitch was still alive in September 2011 according to The Santa Fe New Mexican, who noted she had recently been having dinner with L'Amour and his wife. When brother Alan Ladd Jr. died in March 2022, newspapers noted Carol Lee Veitch as among his surviving family members.
Alana Ladd Jackson
Sue Carol & Alan Ladd"s daughter Alana Ladd was born April 21, 1943 had small parts in a few films and TV episodes in the 1950s and early 1960s, including a supporting role in the western Guns of the Timberland (1960) starring her father, Jeanne Crain, Frankie Avalon, Noah Beery Jr., and Gilbert Roland. Alana's only co-starring film role was her last, in Young Guns of Texas (1962), with James Mitchum, Jody McCrea (son of Joel McCrea & Francis Dee), and Chill Wills.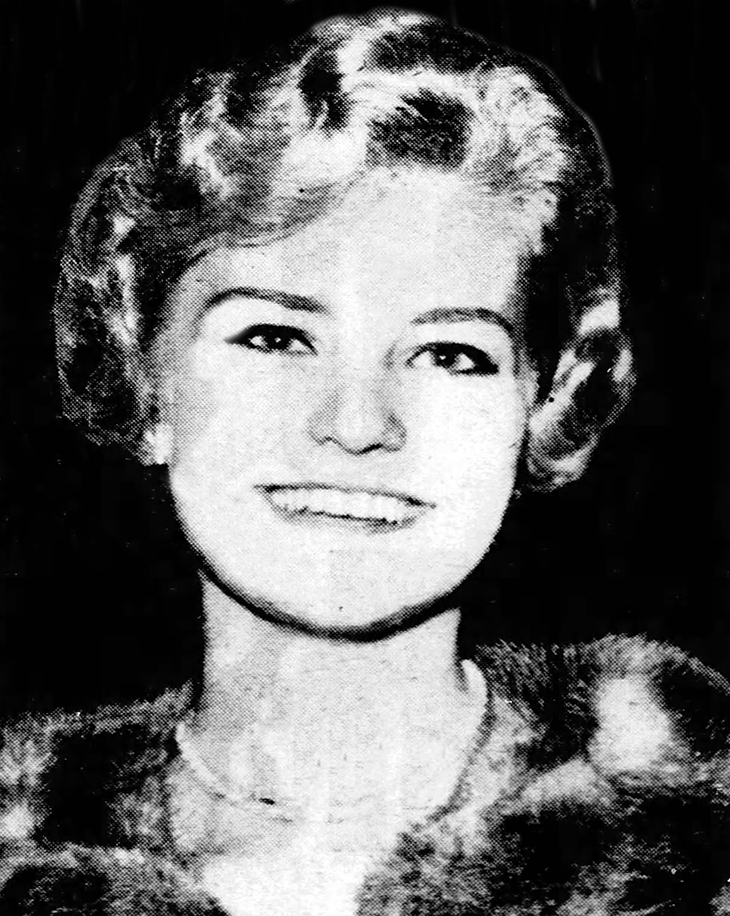 (Alanna Ladd age 22, 1965: UPI Cablefoto)
As a teen Alanna dated Robert Walker Jr. and Disney child star Tim Considine, but it was English actor and talk radio host Michael Jackson (no relation to the singer) that she married on October 16, 1964 at her parents Holmby Hills home. Alana Ladd Jackson died in November 23, 2014 at the age of 71, and was survived by her husband, their three children & 5 grandchildren, and her two brothers Alan Ladd Jr. and David Ladd, and step-sister Carol Lee Stuart Ladd Veitch. Alanna's husband Michael Jackson died in 2022. 
David Alan Ladd ("Alan Ladd Jr.")
Alan Ladd's youngest child with wife Sue Carol, son David Ladd was born February 5, 1947. His father stated that he was named after actor David Clyde, who Alan Sr. used to board with when he was starting out as an actor.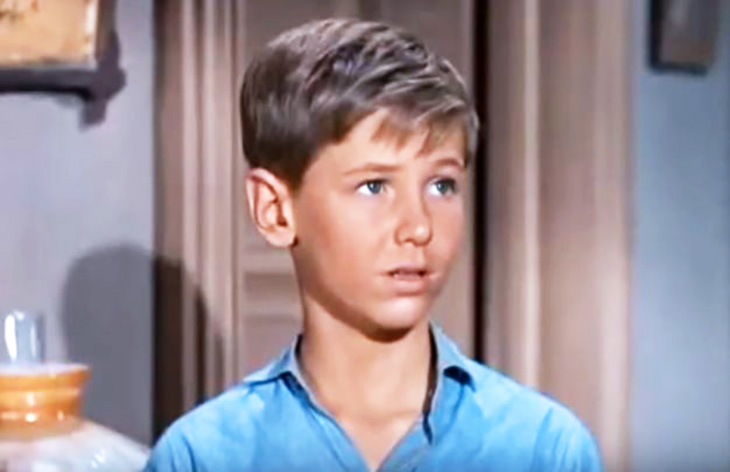 (David Ladd 1960 Bonanza)
David Ladd began acting in childhood (sometimes billed as Alan Ladd Jr.), and appeared in several movies with his father Alan Ladd: Shane (1953); The Big Land (1957) co-starring Virginia Mayo and Edmond O'Brien; and The Proud Rebel (1958). He had starring roles in A Dog of Flanders (1960) with Donald Crisp and Theodore Bikel, and Misty (1961) with Arthur O'Connell and Pam Smith.
As a child in the 1950s, he attended Black Foxe and Harvard Military academies.
After his brief marriage to first wife Louise Anne Hendricks ended in 1972, David married model-actress Cheryl Ladd in 1973, and is father to their daughter, actress Jordan Ladd (born January 14, 1975). He embarked on a new career as a producer with the TV show The Cheryl Ladd Special (1979).
David Ladd's third marriage, to actress Dey Young (m. 1982 – div. 2012), produced daughter Shane Ladd (born July 6, 1985). 
His father Alan Ladd's 1959 Modern Screen letter to David reminisced about his birth:.
"Your birthday is one day neither your mom nor I will ever forget. We were both at the Cedars of Lebanon Hospital in Hollywood that February 5, 1947…Your mother was where mothers have to be when they have babies – in the delivery room. I was in a cell where they put fathers. Some places call it The Stork Club, which is a grim sort of joke. It's no fun spot, David, as you'll find out some day. The suspense is terrific. Id' been in a place like that twice before, sweating in your big brother, Laddie, and your sis, Lonnie. But it never gets any easier – and this time it was rough, very rough. ..You were finally born a perfect baby, but Sue – she dipped down into the shadows. Her pulse was gone until stimulants brought her back to life and she held on. But for two days after it was nip and tuck."
Ladd also acknowledged that he was a strict father, and believed discipline was good for children, giving them character and security. He mused on his relationship with David, and that of himself and his own father..
"It's always been a mighty close relationship, David – for a lot of reasons: Maybe because we got you so precariously, so dangerously, Maybe because you're the baby of the family. Maybe because, as  your mother swears, you're a 'carbon copy of your dad.' You see, I never knew my dad, really, David. He died when I was only four years old and, after a pretty rough go of it alone, my mother married another man. He was a good man, and good enough to me. But he wasn't my real dad and that makes a difference. When your big brother, Laddie, was born, things were pretty desperate with me. I was struggling for a toe-hold in Hollywood. I didn't have a chance to buddy with him until later when he was fairly grown up. But when you came along I was over the hump and things were easier. So we could be pals from the start."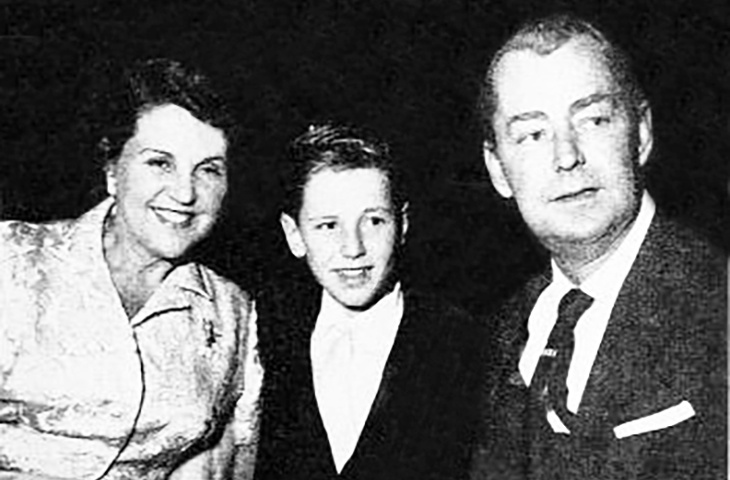 (Sue Carol Ladd, David Ladd & Alan Ladd 1960: Modern Screen)
When Alan Ladd died in 1964, a letter from David to his father was read at the funeral service. 
"Fans waited outside while Ladd's long-time friend, actor Edmond O'Brien, eulogized him as a man whose loyalty to his friends was his religion…He was buried with the two things he prized most, the wedding ring that he never took off – even while filming pictures – and a letter written by his 16-year-old son, David, aboard an airliner flying to Hawaii last July. The letter was read at the services, and said, in part: 'You are to me a father, a friend and a great man. If I had one wish in life, I wish I could be like you for there is no man that could compare with you in any field…At times I have not understood some of your ways of raising me but I realize now some of your strictness and the training you have given me stem from your love. Both you and mother have been the best parents any boy could ever have." – Widow Insists 1000 Waiting Fans Be Allowed to Pass Ladd's Casket, Albuquerque Journal, February 2, 1964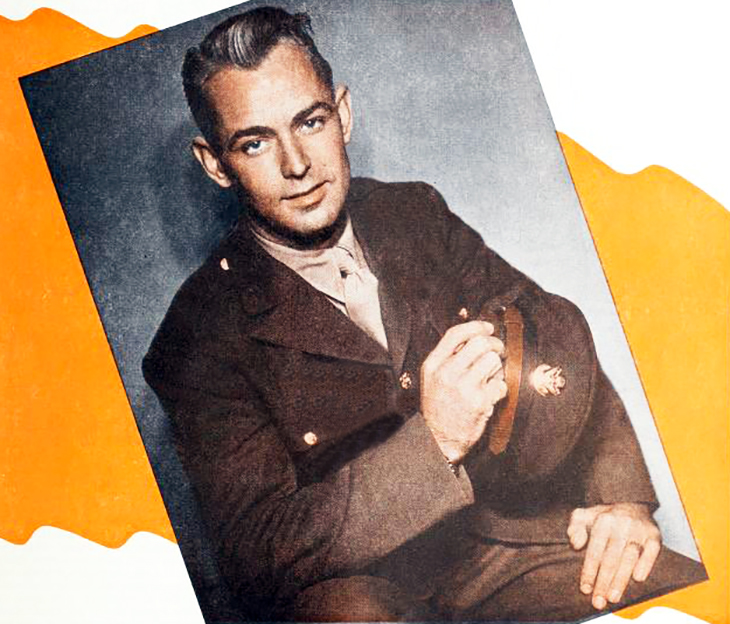 (Alan Ladd 1940: Photoplay)
Additional Resources
*Husband and Son are Movie Actors by Dorothy Roe, Tucson Daily Citizen, December 30, 1958