Olivia de Havilland's Long Life
Olivia de Havilland has died at the age of 104 on July 25, 2020. She is survived by her daughter Gisèle Galante.
Multiple Academy Award-winning (and five-time nominee) silver screen actress Olivia de Havilland was born July 1, 1916 in Tokyo, Japan to her mother Lillian and British father Walter de Havilland.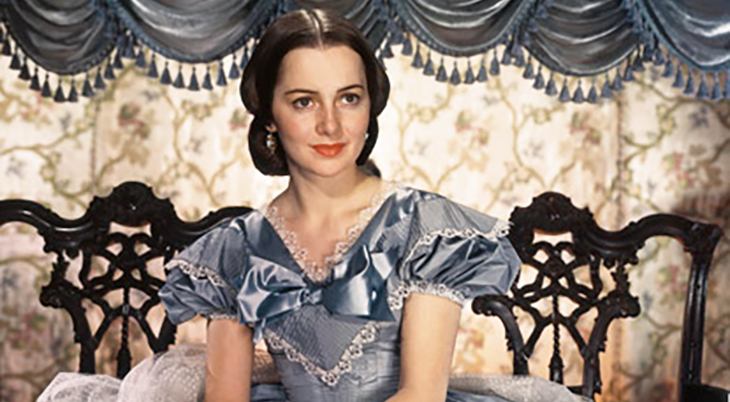 (Olivia de Havilland 1939 Gone With The Wind Photo: MGM)
Olivia de Havilland's younger sister Joan was born in 1917; en route back to England by way of California in 1919, Joan fell ill and Lillian stayed on with the girls in California, while Walter de Havilland returned to Japan.
The family and the marriage were not particularly happy. Walter was unfaithful (before they ever left Japan) and in 1925 after being separated for 6 years, they divorced; he would later marry their former Japanese housekeeper, whom he'd been having an affair with.
Lillian remarried to George Fontaine, who was very strict. According to Joan Fontaine, Lillian favoured Olivia; the girls were competitive with each other for the rest of their lives.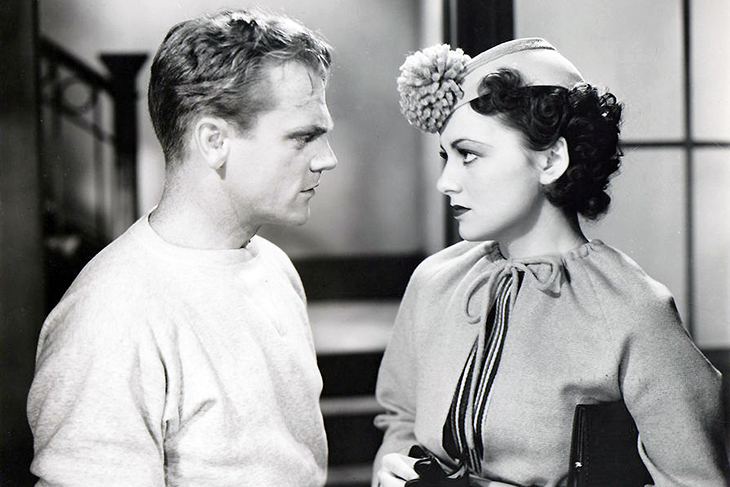 (Olivia de Havilland & Jimmy Cagney 1935 The Irish in Us Photo: Warner Bros.)
Olivia de Havilland was "discovered" and signed to a 7 year contract with Warner Bros. when she was only 18, fresh from a role as Hermia in a stage play of A Midsummer Night's Dream.
Her first movie role was as Hermia in the film version of A Midsummer Night's Dream (1935), co-starring with James Cagney. That same year, Cagney & de Havilland co-starred again in The Irish in Us (above). 
Seniors might recall seeing Olivia de Havilland on the big screen in 1935's swashbuckler Captain Blood (1935) opposite actor Errol Flynn in the movie trailer above.
Captain Blood was the first of 8 films that Flynn & de Havilland co-starred in. Although their on-screen chemistry was evident, and they both later confessed in interviews (hers) and autobiographies (Errol Flynn's My Wicked, Wicked Ways) to having "crushes" on each other, according to de Havilland the relationship was never consummated.
Below, the trailer for The Adventures of Robin Hood (1938) features Errol Flynn and Olivia de Havilland.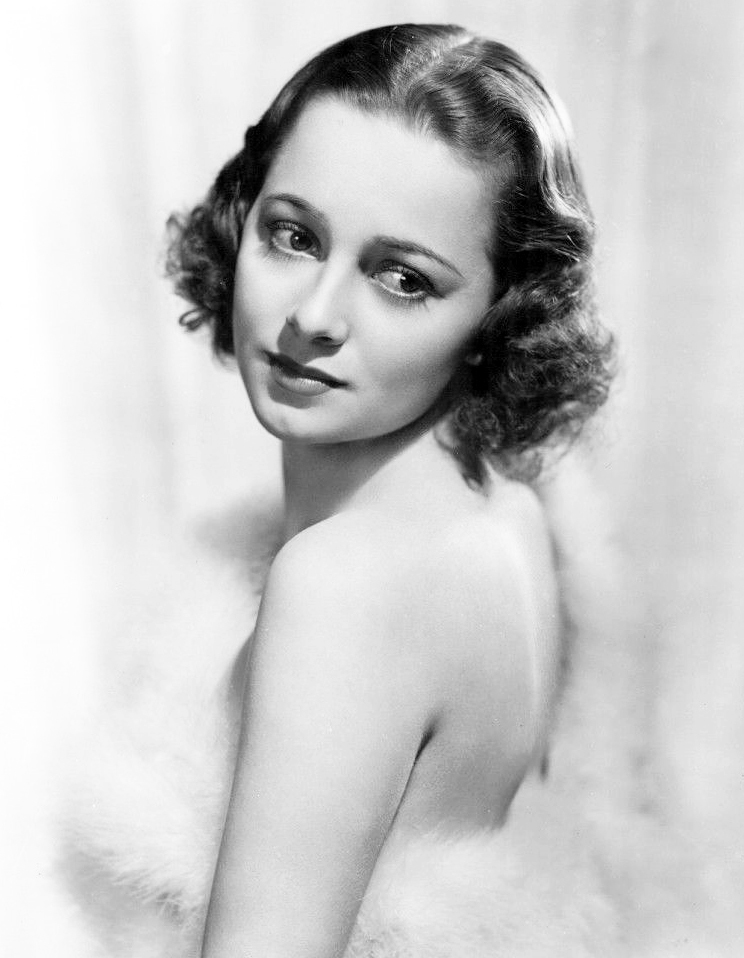 (Olivia de Havilland 1938 Photo: Warner Bros. )
Although Olivia de Havilland was often found in romantic comedies throughout the 1930's and 40's, she is best remembered by baby boomers (via television re-runs) and seniors alike, for her Academy Award nominations in dramatic roles. Some of these films & her co-stars in each include:
Too-good Melanie in Gone With the Wind (1940). Clark Gable, Vivien Leigh, Hattie McDaniel, Butterfly McQueen, Leslie Howard.
Kit Carson Holliday in Santa Fe Trail (1940). Errol Flynn, Raymond Massey, Ronald Reagon,  Alan Hale, William Lundigan, Van Heflin. Music for the movie by composer Max Steiner.
Naive teacher Emmy in Hold Back the Dawn (1941). Charles Boyer, Paulette Goddard, Victor Francen, Rosemary DeCamp, Nestor Paiva.
Unmarried mother Jody in To Each His Own (1946). Mary Anderson, Bill Goodwin. 
Mental patient Virginia in The Snake Pit (1948). Mark Stevens, Leo Genn, Celeste Holm, Leif Erickson, Beulah Bondi, and Natalie Schafer. 
Unworldly Catherine in The Heiress (1949). Montgomery Clift, Ralph Richardson, Miriam Hopkins, and Russ Conway. 
(Clark Gable & Olivia de Havilland 1940 Gone With the Wind Photo: MGM)
Her performance in The Snake Pit won much critical acclaim and award nominations (and was de Havilland's professed favourite role). Despite this, she only won the Academy Award for Best Actress twice – for To Each His Own and The Heiress.
Olivia de Havilland had lifelong friendships with actresses Bette Davis and Gloria Stuart. Olivia first met Gloria Stuart when she was understudying Stuart for her role as Hermia in the stage play of A Midsummer Night's Dream in 1934; today Gloria is likely best known from her role as 100-year-old Rose Dawson in 1997's Titanic. Olivia de Havilland and Gloria Stuart were friends until Gloria died a centenarian in real life, at age 100 in 2010.
Bette Davis and Olivia de Havilland starred in 4 movies together, from 1937's It's Love I'm After, to Hush…Hush, Sweet Charlotte in 1964; Bette Davis died in 1989. Below, Olivia de Havilland and Bette Davis on This is Your Life in 1971.
Joan Fontaine and Olivia's sisterly relationship, never good, was strained further when millionaire producer Howard Hughes dated (and according to various reports, proposed) to both girls at the same time. Neither sister would marry Howard Hughes, who is reported to have proposed to a lot of women.
Olivia de Havilland's 1942 Academy Award for Best Actress nomination for Hold Back the Dawn was scuppered by her sister Joan Fontaine's win, for Suspicion. Their always-competitive sisterly relationship was strained for many years, until finally it broke down completely in 1975 over disagreements about their mother Lillian's cancer treatments and subsequent death. Olivia De Havilland secretly stayed in touch with Joan Fontaine's daughter Deborah despite the rift with her sister. Below, Olivia's sister Joan Fontaine talked to CBC about their relationship in 1979.
When Warner Brothers told actress Olivia de Havilland in 1943 that an extra 6 months had been added to her 7 year contract because of suspensions for rejecting roles, de Havilland sued (with support from The Screen Actors Guild). The case went to the Supreme Court of California, whose ruling in her favour became known as the "De Havilland Law". Unfortunately Warner Brothers was not as admiring as her peers and she was blacklisted for a couple of years.
Before the blacklisting, she had starred in the WWII movie 1943's Princess O'Rourke. Her co-stars in Princess O'Rourke included (below from left), Julie Bishop, Robert Cummings, and Jack Carson.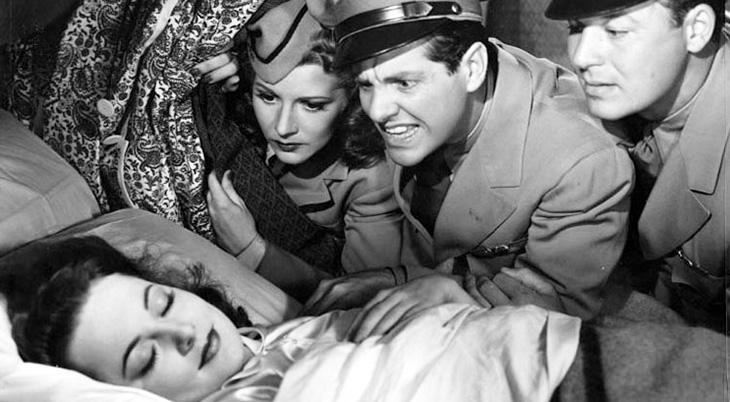 (Olivia de Havilland, Julie Bishop, Robert Cummings, Jack Carson 1943 Princess O'Rourke Photo: Warner Bros.)
By now a naturalized U.S. citizen, in 1944 Olivia de Havilland campaigned for Franklin D. Roosevelt's re-election and visited the American WW II troops overseas.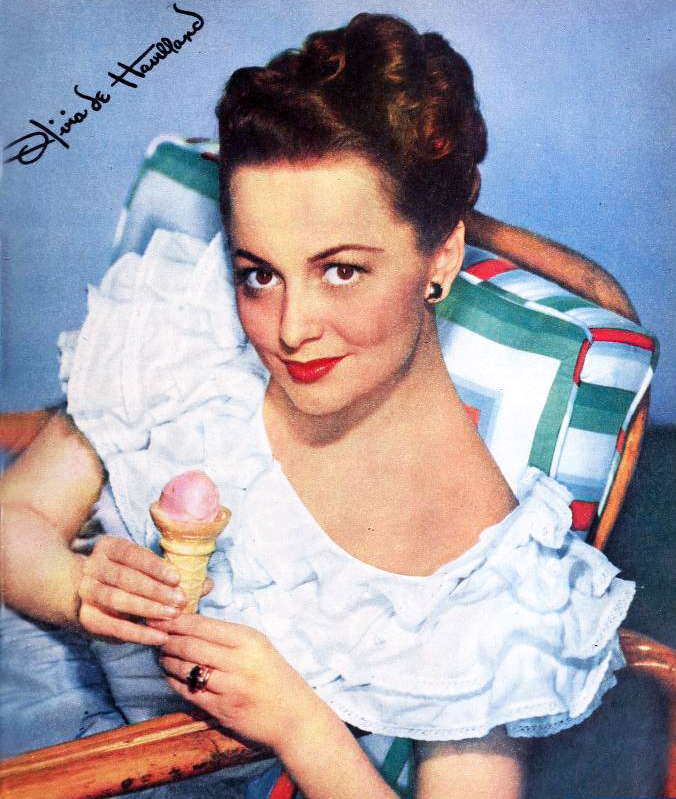 (Olivia de Havilland 1948 Photo: Screenland)
Post-WWII, she joined an advocacy group – the Independent Citizens' Committee of the Arts, Sciences and Professions – and made speeches in 1946 aligned to the pro-Soviet, Communist Party propoganda. According to de Havilland, she later realized that a small cadre of Communist members were attempting to control the Committee, and started removing the pro-communist content from her speeches, replacing it with anti-communist sentiments.
Although she resigned from the Committee when it was clear that it could not be swayed from it's pro-communist direction, Time magazine castigated her for her involvement in it. 12 years later, she was called before the House Un-american Activities Committee (HUAC) in 1958 to give testimony about her involvement in the Committee.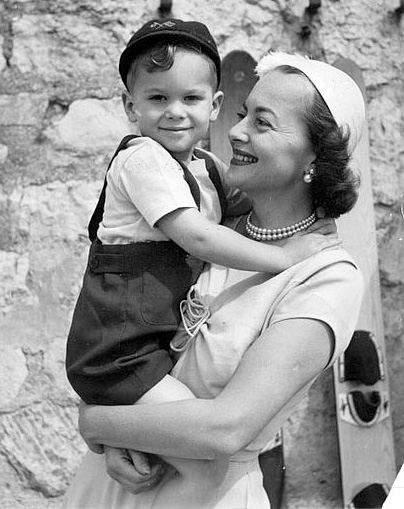 (Olivia De Havilland & son Ben Goodrich 1952 Photo)
In 1946 Olivia de Havilland married for the first time, becoming author and screenwriter Marcus Goodrich's fifth wife.
They divorced 6 years later in 1952, after having son Benjamin Goodrich in 1949.
In a strange co-incidence, both Benjamin Goodrich and his father Marcus died within three weeks of each other, in 1991.
Below, Richard Burton and Olivia De Havilland co-starred in the 1952 film adaptation of Daphne du Maurier's classic gothic romance novel, My Cousin Rachel.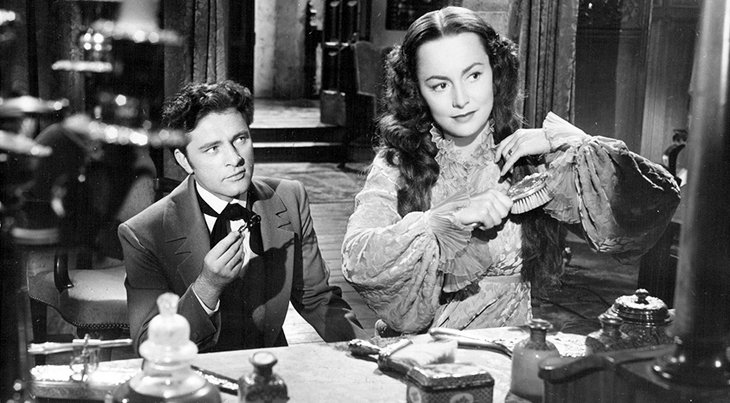 (My Cousin Rachel 1952 Photo) 
In a 2013 interview with Scott Feinberg for The Hollywood Reporter, de Havilland said that after her divorce, she took her young son Ben to the 1953 Cannes film festival and noticed a strange man watching her constantly. Paris Match editor and journalist Pierre Galante finally spoke with her and courted her openly until she agreed to marry him.
Upon her marriage to Pierre Galante in 1955, Olivia moved to Paris, where she lives in the same home today on Rue Benouville near the Bois De Boulogne.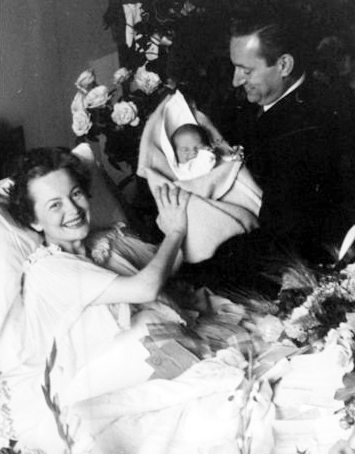 (Olivia de Havilland, husband Pierre Galante and newborn daughter Gisèle Galante 1956 Photo)
Olivia de Havilland and Pierre Galante's daughter Gisèle Galante was born July 18, 1956, when Olivia was 40. 
Although Olivia and Pierre separated in 1962, they remained friends and didn't divorce until 1979. She helped take care of him when he became ill with cancer (he was living across the street by then), until his death in 1998.
Olivia de Havilland's 1962 book Every Frenchman Has One is about her adaptation to living in France and the French culture.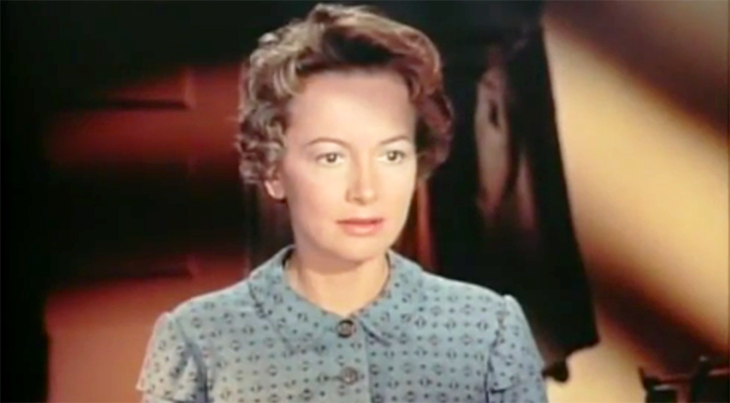 (Olivia de Havilland 1958 The Proud Land)
In her 50+ and senior years, despite continuing to live far from Hollywood in Paris, Olivia de Havilland was seen in occasional movies and on television. She appeared in The Screaming Woman (1972), a made-for-television movie co-starring Ed Nelson (Peyton Place), Joseph Cotten, and Laraine Stephens.
She filmed scenes for the romantic drama Light in the Piazza (1962) set in Italy (Florence and Rome). Her co-stars included Italian actor Rossano Brazzi, George Hamilton, Yvette Mimieux, and Barry Sullivan.
Her last big-screen movie role was in 1979's The Fifth Musketeer. As a 70-year-old septuagenarian senior citizen, Olivia de Havilland was nominated for an Emmy and won the 1987 Golden Globe for her television mini-series role as Dowager Empress Maria in Anastasia: The Mystery of Anna.
Below, Olivia de Havilland accepting her Golden Globe in 1987, presented to her by James Brolin and Stephanie Beacham.
Olivia de Havilland's last role on-screen role as Aunt Bessie in the 1988 television miniseries The Woman He Loved (about the abdication of Edward VIII) resulted in nominations for both an Emmy and Golden Globe Award.
In a 2006 Associated Press interview, de Havilland said that her acting career for the remainder of the 1990's was limited, as she spent her time supporting her family through illnesses; son Ben died in 1992, ex-husband Pierre in 1998, and daughter Gisele Galante suffered from bouts of depression. 
In 2006 as her 90th birthday approached, de Havilland told the Associated Press "I can't wait to be 90! Another victory!" She went on to say about acting, that
"Life is too full of events of great importance. That is more absorbing and enriching than a fantasy life."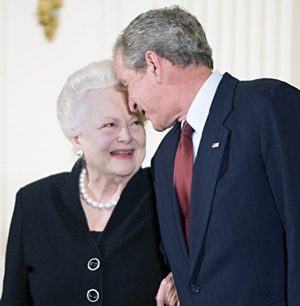 (Olivia de Havilland & President George W. Bush 2008 Photo: James Kegley / National Endowment for the Arts)
She wasn't done with acting yet however – in 2009 at 93 years of age, she narrated the Alzheimer's Disease documentary I Remember Better When I Paint, and presented the film at a special screening in Paris in 2011.
As a nonagenarian senior citizen, Olivia de Havilland has been decorated by the governments of both France (2010 chevalier (knight) of the Légion d'honneur) and the United States (2008 National Medal of Arts).
Below, a TCM tribute to Olivia de Havilland on the occasion of her 100th birthday in July 2016. 
As she approached her 100th birthday Olivia De Havilland told Vanity Fair that her secret to living a long and healthy life included doing the Times crossword puzzle daily. With a goal of living to 110, de Havilland said she didn't want to worry over aches and pains, and instead viewed them as a mystery to be solved.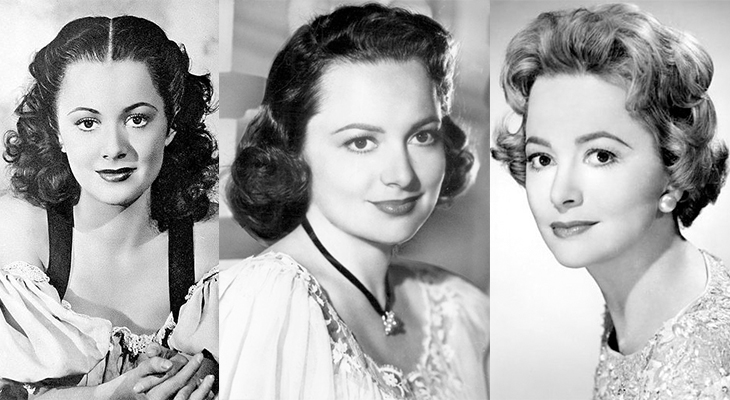 (Olivia de Havilland c 1936, 1948 & 1959 Photo Montage: AHamilton for 50PlusWorld)
Ever feisty, in March 2018 Olivia de Havilland sued FX and Ryan Murphy Productions for defamation, saying they falsely portrayed her character in their TV docudrama Feud. In the production, de Havilland's character calls her sister Joan Fontaine a "bitch" and portrayed Olivia as a gossip, both of which de Havilland vigorously denies. The lawsuit was denied by a California court, upholding artistic expression for creative works over the rights of the individual being portrayed. 
An unhappy footnote for Olivia de Havilland.
Note: First published in 2015 as a 2-part article Celebrating Seniors – Olivia De Havilland Turns 99. It has been updated with new & additional content.
*Images are public domain or Creative Commons licensed & sourced via Wikimedia Commons, Vimeo, or Flickr, unless otherwise noted*