Famous Fathers - Alan Hale Sr. & Jr.
In honor of Father's Day, an homage to famous movie and television stars Alan Hale Senior and Alan Hale Junior – celebrity dads from the era of silent movies, classic films and TV. 
Famous Father  Alan Hale Sr.
Actor Alan Hale (nee Rufus Edward Mackahan when he was born on February 10, 1892) began his film career in the era of silent films around 1912.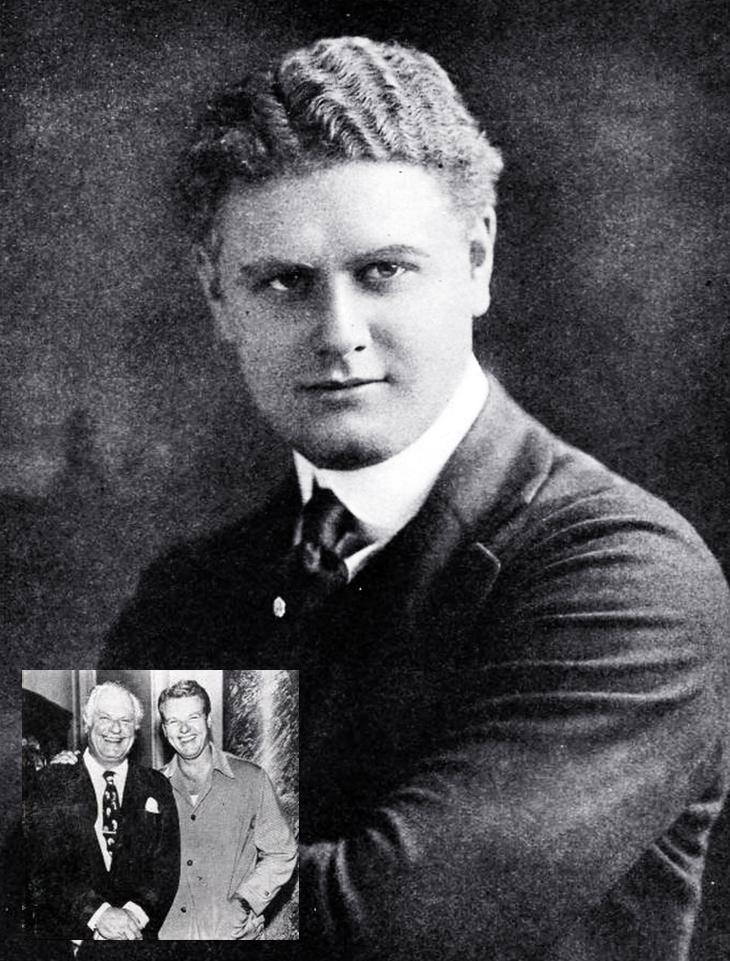 (Father Alan Hale Sr. 1915 with inset of son Alan Hale Jr. 1948)
With a figure best suited to character parts, he carved a respectable career as a supporting actor in movies for Biograph and other early film studios.
Alan Hale had starring or co-starring roles silent movies such as The Americano (1915 and 1916); The Woman in Black (1914) with Lionel Barrymore; Pudd'nhead Wilson (1916) co-starring Theodore Roberts & Thomas Meighan; A Doll's House (1922) with friend Alla Nazimova; Cameo Kirby (1923) co-starring with John Gilbert and Gertrude Olmstead; Dick Turpin (1925) with Tom Mix and Kathleen Myers; and Skyscraper (1928) co-starring William Boyd and Sue Carol.
He had a supporting role in Director Rex Ingram's blockbuster silent movie The Four Horsemen of the Apocalypse (1921), which catapulted former taxi-dancer Rudolph Valentino into the stratosphere of film stardom.
(Alan Hale "Facts" 1929: Motion Picture News Booking Guide)
It wasn't uncommon to be uncredited for acting, writing, and directing in the early days of filming; Alan Hale has no writing credits on IMDB, but does have some directing credits listed between 1915-1927, including Braveheart (1925) starring Rod La Rocque and Lillian Rich.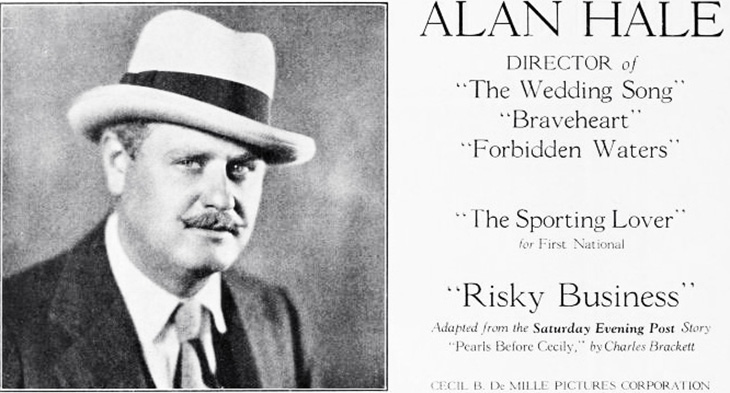 (Alan Hale, Director 1926)
Hale Sr.'s acting career survived the transition to "talkies" and among his many 1930s and 40s film credits are roles in Rebecca of Sunnybrook Farm (1932); It Happened One Night (1934) starring Claudette Colbert and Clark Gable; Stella Dallas (1937) with Barbara Stanwyck, John Boles, and Anne Shirley; and Algiers (1938) starring Charles Boyer and Hedy Lamarr.
He also played Little John three times on film:
Robin Hood (1922) with Wallace Beery, Sam De Grasse, Enid Bennett, and Douglas Fairbanks.
The Adventures of Robin Hood (1938) with his good friend Errol Flynn, as well as Olivia de Havilland, Basil Rathbone, Claude Rains, Patric Knowles, Ian Hunter, and Eugene Pallette. This was the second of 14 Errol Flynn movies that Alan Hale Sr. had a supporting role in, among which are Virginia City (1940), Sante Fe Trail (1940), and Dodge City (1939), which all featured Olivia De Havilland as the leading lady. 
Rogues of Sherwood Forest (1950) with John Derek as Robin; George Macready, Paul Cavanagh, and Diana Lynn are in supporting roles. The movie was released after Hale's 1950 death.
Alan Hale Wife & Mother Gretchen Hartman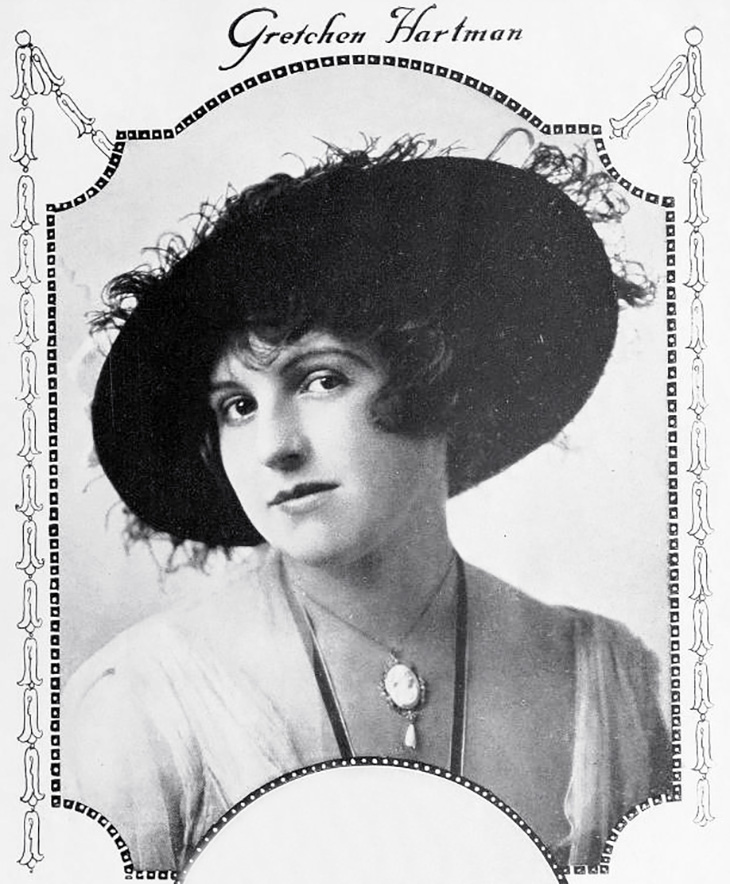 (Gretchen Hartman 1915 Photo: Biograph)
Alan Hale married actress Gretchen Hartman (nee Grace Barrett, born August 28, 1897) in 1914  Although not as well known as either her famous husband or son, Gretchen's sister Ruth Hartman was married to silent film star Carlyle Blackwell from 1909-1923, paving the way for Gretchen to break into movies herself in 1911.
She appeared in several films husband with Alan Hale Sr., among which are East Lynne (1915), Rolling Stones (1916), and The Purple Lady (1916). She bowed out of pictures with the arrival of sound, after making an appearance in a few "talkies" – She Goes to War (1929) starring Eleanor Boardman, John Holland and Alma Rubens, and The College Coquette (1929) with William Collier Jr., Jobyna Ralston, and Ruth Taylor.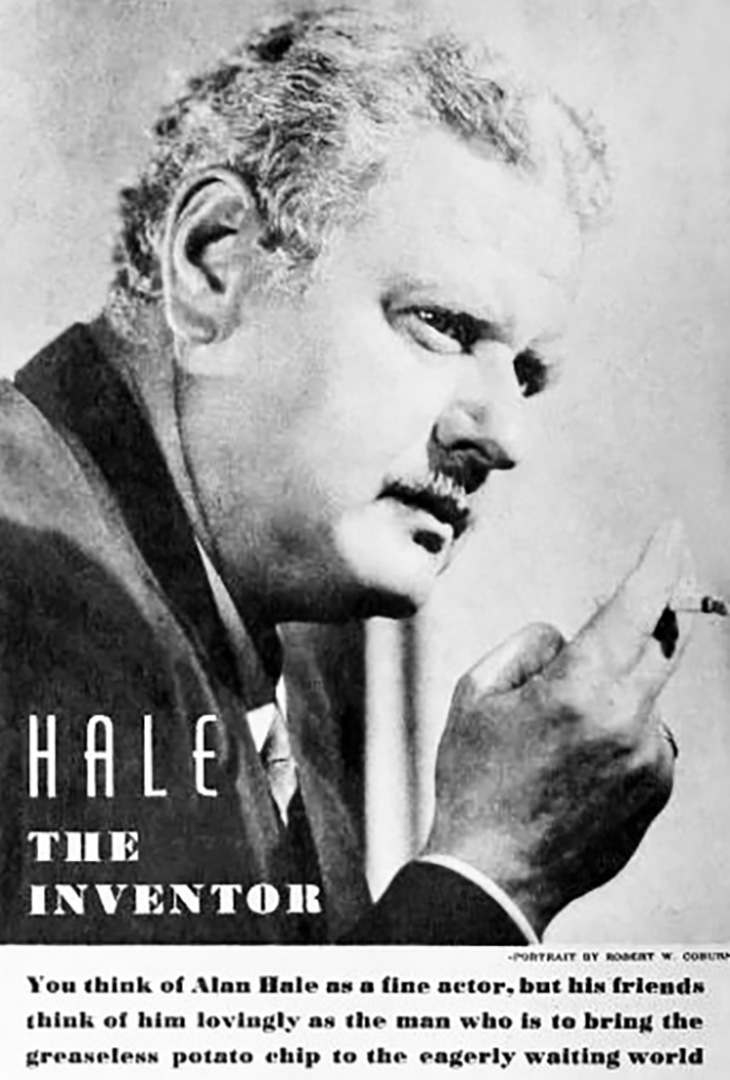 (Alan Hale 1937 Photo: Robert W. Coburn)
An inventor, Alan Hale Sr. gave the world the flip-up movie theatre chair, and dabbled with many other inventions over the years with his partner Merrill Hard, according to reporter Scoop Conlon (Hollywood, 1937). 
Gretchen Hartman and Alan Hale Sr.'s three children included his look-alike son actor Alan Hale Jr., and script supervisor Karen Hale Wookey.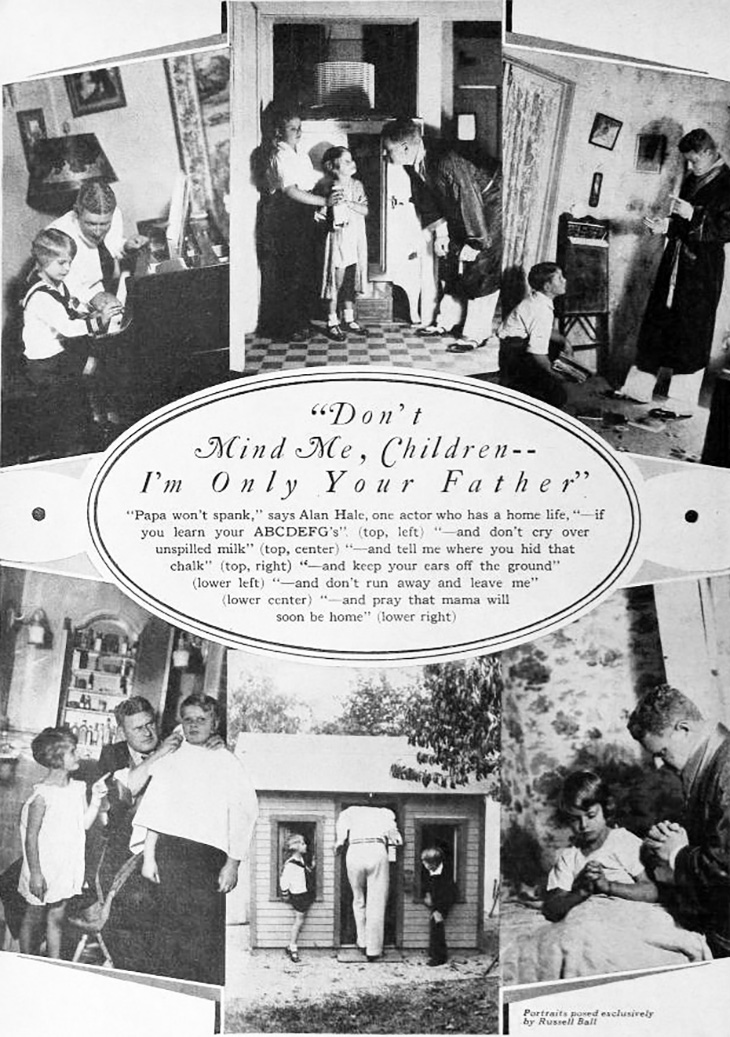 (Alan Hale Senior, Junior & family 1931 Photos: Russell Ball)
Alan Hale Sr. was 57 when he died in 1950; his wife Gretchen Harman died in 1979 at the age of 81.
Famous Son Alan Hale Jr.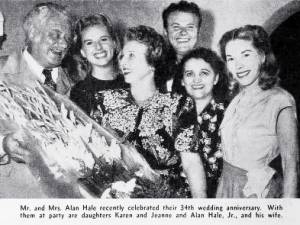 (Alan Hale Sr. & Gretchen Hartman 34th Wedding Anniversary 1949)
Alan Hale Jr. was born on March 8, 1921 and followed in his famous father's footsteps, becoming a character actor in 1940s movies.
Among Alan Jr.'s films are several westerns, the Gene Autry musical Riders in the Sky (1949), Springfield Rifle (1952) with Gary Cooper, and Destry (1954) starring Audie Murphy.
Alan Hale Jr. is most closely identified with television and his starring roles as Biff Baker, U.S.A. (1952-1954), Casey Jones (1957-1958) and as The Skipper on the 1960s TV sitcom Gilligan's Island and sequels.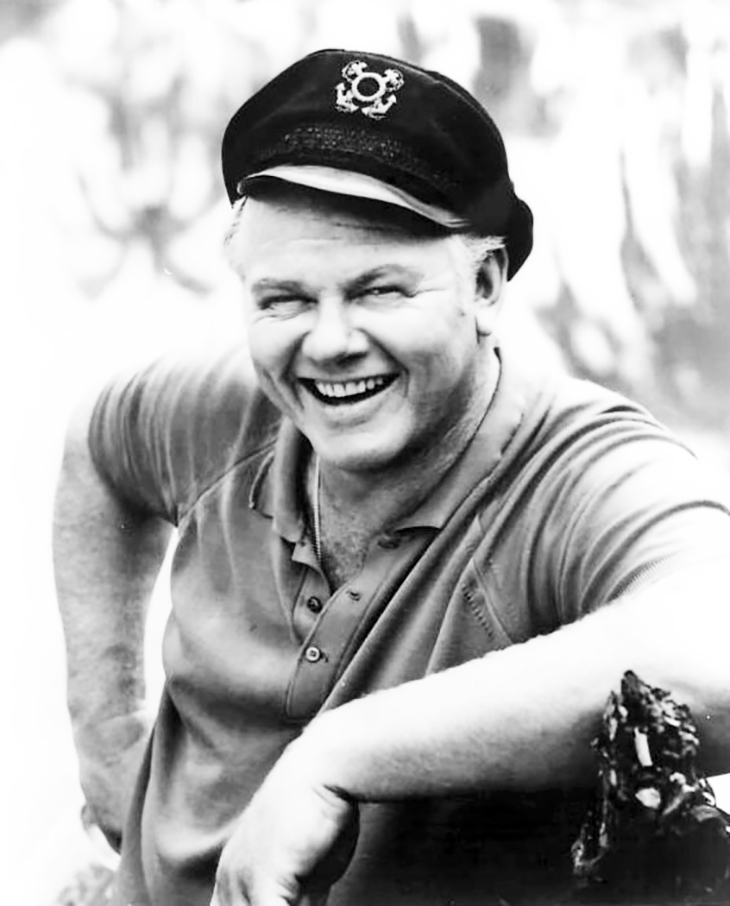 (Alan Hale Jr. as The Skipper on Gilligan's Island 1966 Photo: CBS Television)
Alan Hale Jr. married twice and became a father himself to four children with his first wife, Bettina Reed Doerr (m. 1943-div.). He was married to his second wife Naomi Grace Ingram from 1964 until his death of thymus cancer in 1990 at the age of 68.
Between them both, father and son Alan Hale and Alan Hale Jr. amassed over 500 film and TV credits, although they never appeared in a movie together.
More Famous Fathers:
Famous Fathers – Alan Ladd & Children
*Images are believed to be in the public domain, used by permission, or Creative Commons licensed & sourced via Wikimedia Commons, Vimeo, YouTube, or Flickr, unless otherwise noted*