TV Trivia: Zorro & Guy Williams
Q1. Which famous Walt Disney Mouseketeer had a recurring role on the 1950's television series Zorro, and a real-life crush on married star Guy Williams (Zorro)?
Q2. What was the name of Zorro's mute manservant and foolish-on-purpose co-conspirator?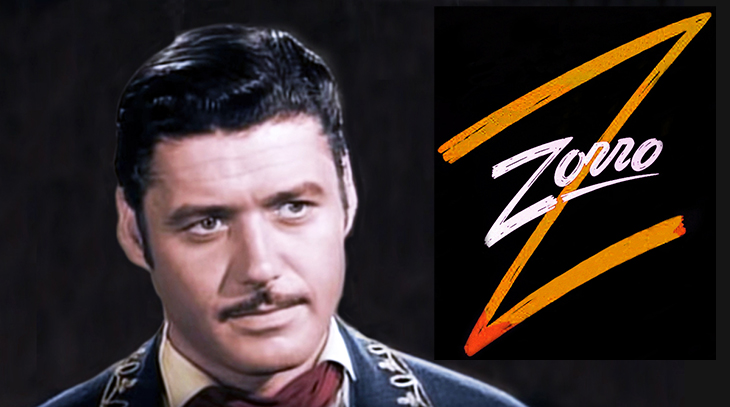 (Guy Williams 1958 Zorro)
Zorro star Guy Williams hair, which appeared black on screen in both the black & white, and colorized versions (as above) that The Disney Channel produced after 1992, was actually a medium-dark brown. 
The original half-hour, black-and-white Zorro TV show aired on ABC between October 1957- July 1959, and was a favourite with baby boomer children for many years (including re-runs). An additional four, hour-long specials aired between 1960-1961.
The television series and the many Zorro films that came before and after it, were inspired by author Johnston McCulley's serialized story The Curse of Capistrano (1919).
Canadian and U.S. baby boomers and their senior parents, may recall issues with "Z" being carved or drawn on school desks. Even the theme song (sung by the Mellomen in the intro) was popular.
Zorro Star Guy Williams
Handsome actor Guy Williams (born Armand Catalano) played Don Diego de la Vega/Zorro. Don Diego is recalled by his father Don Alejandro de la Vega (played by George J. Lewis), a rich cattle rancher, from Spain to their home in Los Angeles, to help in the battle for California (the era of Mexican rule in California was approximately 1821-1846).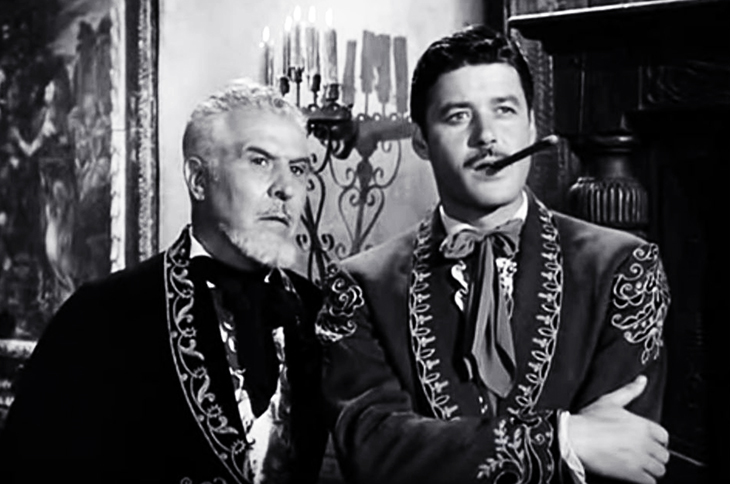 (George J. Lewis & Guy Williams as Don Alejandro & Don Diego de la Vega 1961 Zorro)
Don Diego is terrible at swords, unlike the masked Zorro who fights the injustices of Mexican Captain Enrique Sánchez Monastario (played by actor Britt Lomond).
Model and sometime movie actor Guy Williams was in fact an expert fencer, which (combined with his looks and acting) won him the role on Zorro.
"Physically, Guy is a lithe, six-foot-three, well proportioned one-hundred-eighty-five pounds, with gray-green eyes, dark wavy hair." – Alias Zorro, by Elsa Molina, January 1958 TV Radio Mirror
In a November 1957 interview by Bernie Harrison for TeleVue, Williams explained that motion picture fencing master Fred Cavens – who taught film actors Tyrone Power (The Mark of Zorro, 1940) and silent movie star Douglas Fairbanks (The Mark of Zorro, 1920) – showed him how to fence as Zorro, vs the competition fencing Guy was used to. 
As for horsemanship, luckily Williams already knew how to ride, although that almost wasn't enough when it came to riding the black quarter horse Tornado for Zorro:
"I didn't know it, but he's a top cutting horse and I'd never ridden one. We were going at a full gallop when I shifted my weight slightly and he cut. I nearly went the other way."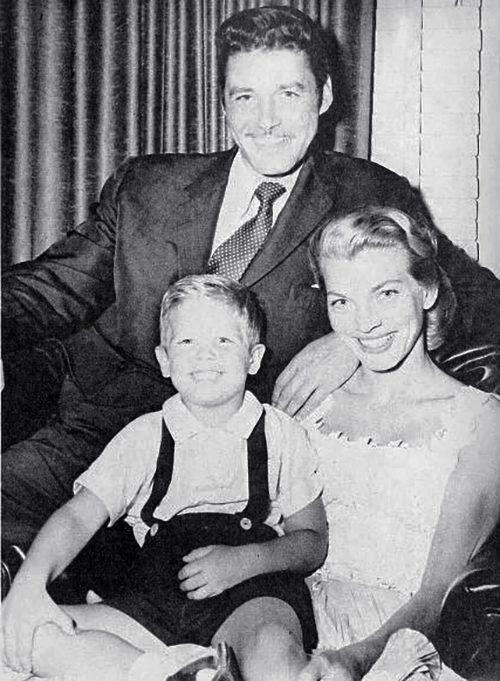 (Guy Williams, wife Janice Cooper & son Steve Catalano 1958)
While modeling in 1948, Guy had met Powers model Janice Cooper from Tennessee at a photo shoot. They immediately hit it off and were married two months later. Son Steve Catalano was born in December 1952, and daughter Toni Catalano in May 1958. 
Among his interests were time spent with friends such as Gunsmoke's Dennis Weaver, astronomy, photography, and chess, the athletic Williams and his wife enjoyed sailing on a 40 ft. ketch he bought in 1958.
"Guy Williams set sail on his yacht Oceana for Tahiti and a six-weeks rest before beginning the sixth Zorro chapter." – What's New on the West Coast by Eunice Field, TV Radio Mirror, December 1960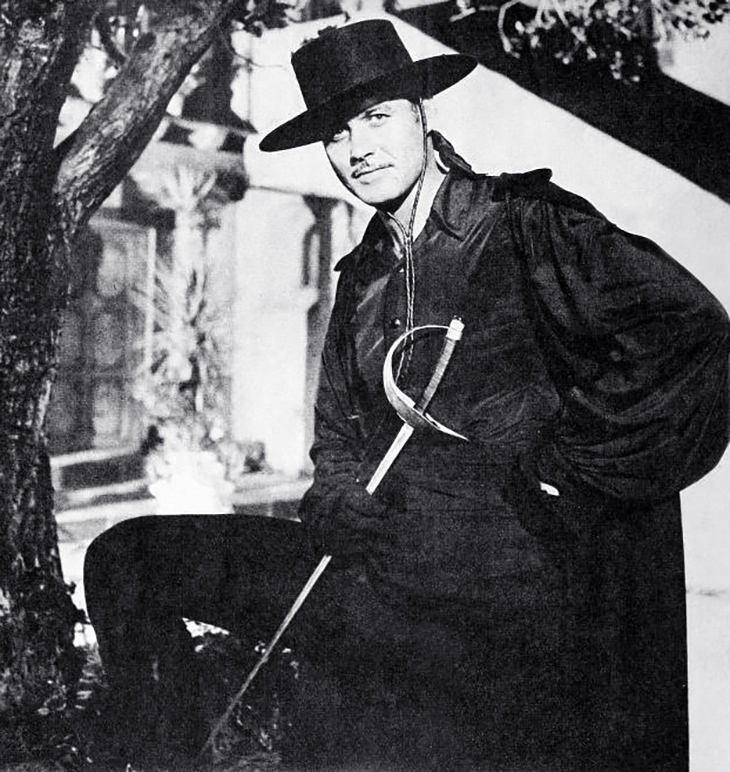 (Guy Williams as Zorro 1958)
Williams would later star in another well-known baby boomer television series, Lost in Space (1965-1968). However, he remained hugely popular in Argentina because of his role on Zorro, and ended up retiring there in the late 1970's, when he was 50+. He and wife Janice were divorced in 1983, and Williams remained in Argentina living by himself in an apartment.
Guy Williams was 65 when he died of a brain aneurism at his home near Buenos Aires, Argentina, in April 1989. His body was not discovered for several days, and at first a heart attack was reported. 
Zorro Cast Members & Guest Stars
Singer and actor Henry Calvin played brave yet bumbling Sergeant Demetrio López García, at first an adversary and later a fan, of Zorro. Calvin sang in several episodes of Zorro and acted and sang in other Disney productions.
The above episode of Zorro "Garcia's Secret Mission" aired in December 1957, season one of the series. Britt Lomond appears as Captain Monastario, Henry Calvin is Sgt. Garcia, and Nestor Paiva guest stars as Teo Gonzales, along with Zorro regulars Guy Williams and the actor playing Zorro's manservant.
Calvin kept in touch with the other Zorro cast members after the series ended, and visited Guy Williams at his home in Argentina. Henry Calvin was 57 years old when he died of cancer in October 1975.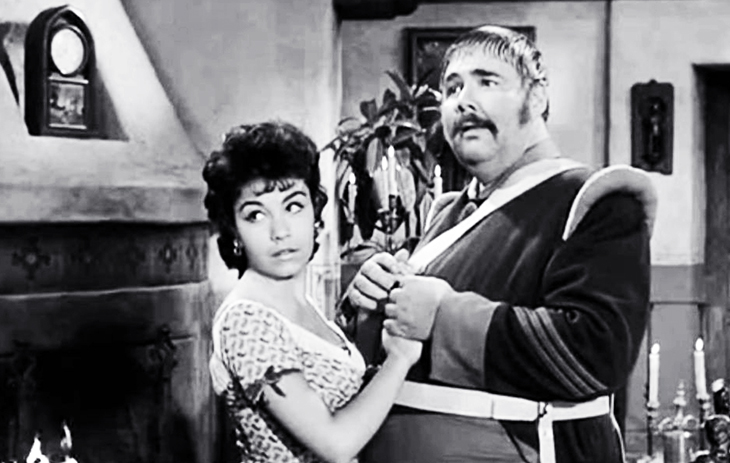 (Annette Funicello as Constancia de la Torre, & Henry Calvin as Sergeant Garcia 1961 Zorro)
Recurring actors and guest stars on Zorro for multiple episodes included Don Diamond as Corporal Reyes; Richard Anderson, who played the best friend/jokester/romantic rival of Zorro; and Eduard Franz as Gregorio Verdugo. Actresses Patricia Medina, BarBara Luna, and Joan Evans, each guest-starred 4 times, as did Cesar Romero, Ken Lynch, and Everett Sloane. Other notable guest-stars were Mark Damon, Rita Moreno, Jack Kruschen, Gilbert Roland, Vito Scotti, Ricardo Montalban, Sebastian Cabot, James Hong, Robert Vaughn, and many others.
A1. Walt Disney Productions owned the Zorro television series, and Disney gave Mouseketeer Annette Funicello a 3-episode role on Zorro as Anita Campillo in Season 2, as a birthday present (Walt knew about her crush on Zorro actor Guy Williams). Annette also played bride-to-be Constancia de la Torre in the special 1-hour episode The Postponed Wedding.
Note that Walt Disney himself gives the intro to this episode.
A2. Bernardo, played by character actor Gene Sheldon, used sign language to communicate. Although Bernardo was mute, he was not deaf (as he pretends to be) on the 1950s tv show. In the original Zorro stories written by author Johnston McCulley, beginning in 1919 with The Curse of Capistrano, Bernardo was deaf and dumb.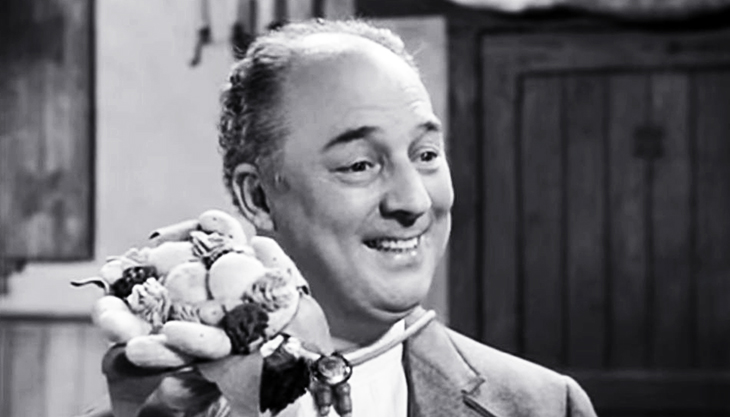 (Gene Sheldon as Bernardo, 1961 The Postponed Wedding, Zorro
Zorro was actor Gene Sheldon's biggest claim to fame. He began his career as a radio announcer in the 1920s, and segued onto stage and into films in minor roles in the early 1930s. A talented mime, several of his early stage and movie appearances were non-speaking parts – as was his last movie role, in Babes of Toyland (1961).
Sheldon played a genie for star Fred MacMurray in the musical fantasy Where Do We go From Here? (1945) with June Haver and Joan Leslie, and was a professor in the fictionalized biopic The Dolly Sisters (1945), starring Betty Grable, June Haver, and John Payne.
Several of Gene Sheldon's film roles were in circus-themed movies such as The Hidden Menace (1938) with Otto Kruger. Sheldon played a clown in 3 Ring Circus (1954) starring Jerry Lewis, Dean Martin, Joanne Dru & Zsa Zsa Gabor. Both Sheldon and his Zorro co-star Henry Calvin had supporting roles in the Disney production Toby Tyler or Ten Weeks With a Circus (1960), with Kevin Corcoran, Richard Eastham (Tombstone Territory), and James Drury (The Virginian).
Gene Sheldon was 74 when he died in May 1982
Note: This article was first published in 2015 as Boomer TV Trivia: Zorro. It has been updated with new & additional content.
*Images are believed to be in the public domain, used by permission, or Creative Commons licensed & sourced via Wikimedia Commons, Vimeo, YouTube, or Flickr, unless otherwise noted*