Fascinating Facts From November 1940
News Headlines & Entertainment Trivia from November, 1940: Classic Movie Premiere – The Mark of Zorro, starring Tyrone Power, Linda Darnell, and Basil Rathbone; Little Norway Air Force Training Camp Opens on Toronto Island; Woody Woodpecker cartoon debut.
Classic Movie Release – The Mark of Zorro 
Producers Darryl F. Zanuck and Raymond Griffith's swashbuckling adventure romance film The Mark of Zorro starring Tyrone Power, Linda Darnell, Basil Rathbone, and George Regas, was released on November 8, 1940.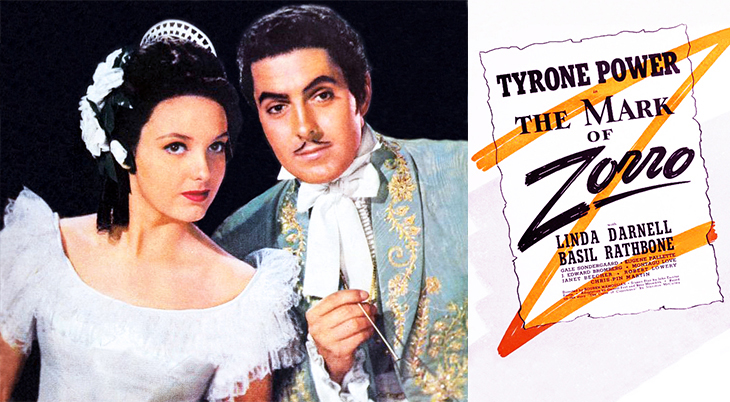 (Linda Darnell & Tyrone Power 1940 The Mark of Zorro: Screenland / The Exhibitor)
Director Rouben Mamoulian and cinematographer Arthur C. Miller filmed The Mark of Zorro in black and white on the lot at the 20th Century-Fox Studios at Century City, Los Angeles. Musical director Alfred Newman's stirring score for The Mark of Zorro was nominated for an Academy Award for Best Original Score, but lost to Pinocchio.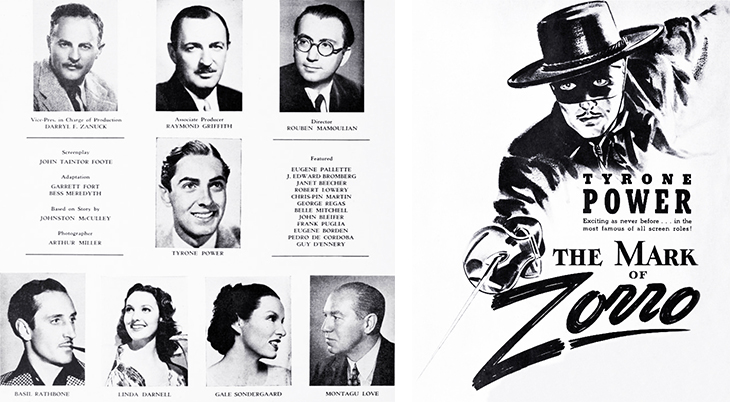 (Cast & Crew 1940 The Mark of Zorro & Ad: Boxoffice Digest / Hollywood)
Based on the serialized story The Curse of Capistrano (1919) by Johnston McCulley, The Mark of Zorro takes place in Southern California during the early 1800s.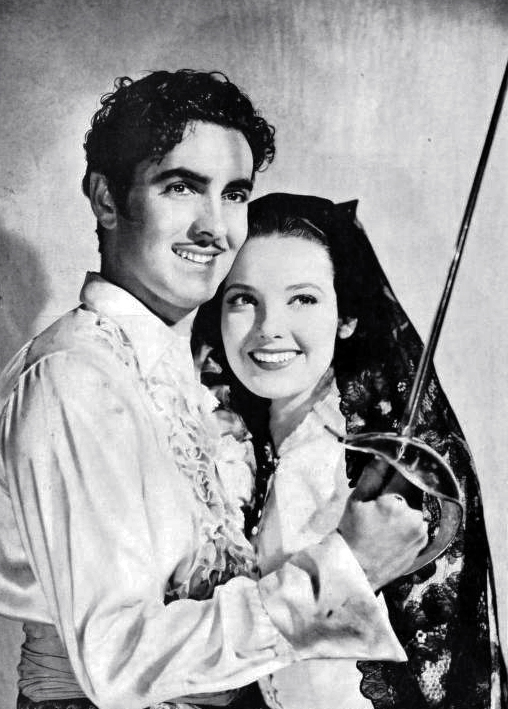 (Linda Darnell & Tyrone Power 1940 The Mark of Zorro: Photoplay)
Wealthy California rancher Don Alejandro Vega (Montagu Love) has asked his son, the outwardly foppish Don Diego Vega (Tyrone Power) to return home from Spain.
Don Diego is an expert swordsman, a skill he disguises.
Eugene Pallette is Friar Felipe, Robert Lowery is Rodrigo, and Pedro de Cordoba is Don Miguel.
When he discovers that corrupt magistrate Luis Quintero (J. Edward Bromberg) is mistreating the locals, Don Diego becomes the masked Zorro.
Quintero's sidekick Captain Esteban Pasquale (Basil Rathbone) is suspicious.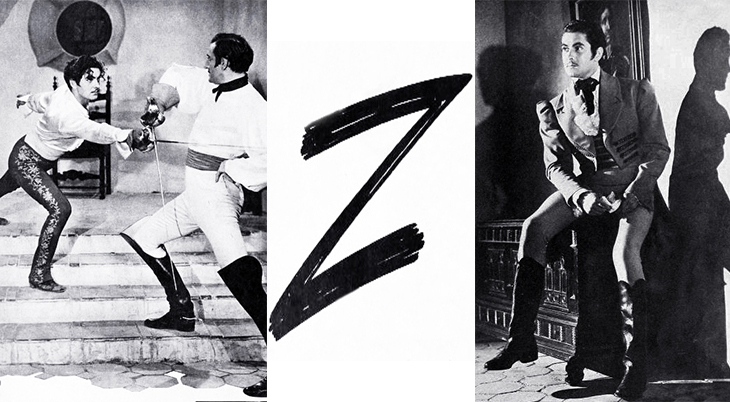 (Tyrone Power & Basil Rathbone 1940 The Mark of Zorro: Hollywood / Screenland)
Note: According to Power's co-star Basil Rathbone, Tyrone was one of the most accomplished swordsman he'd seen in front of the cameras. Despite Power's skill with a blade, character actor and expert fencer Albert Cavens (Cyrano de Bergerac, 1950) was his fencing double in some scenes. Albert Caven's father Fred – a Hollywood fencing master – is credited with choreographing the duel scene. Fred Cavens also provided "film swordsmanship" coaching to Zorro TV series star Guy Williams. 
Quintero's beautiful niece Lolita (Linda Darnell) quickly becomes Zorro's love interest, but to further his plans he also flirts with Quintero's wife Inez (Gale Sondergaard, before she was blacklisted).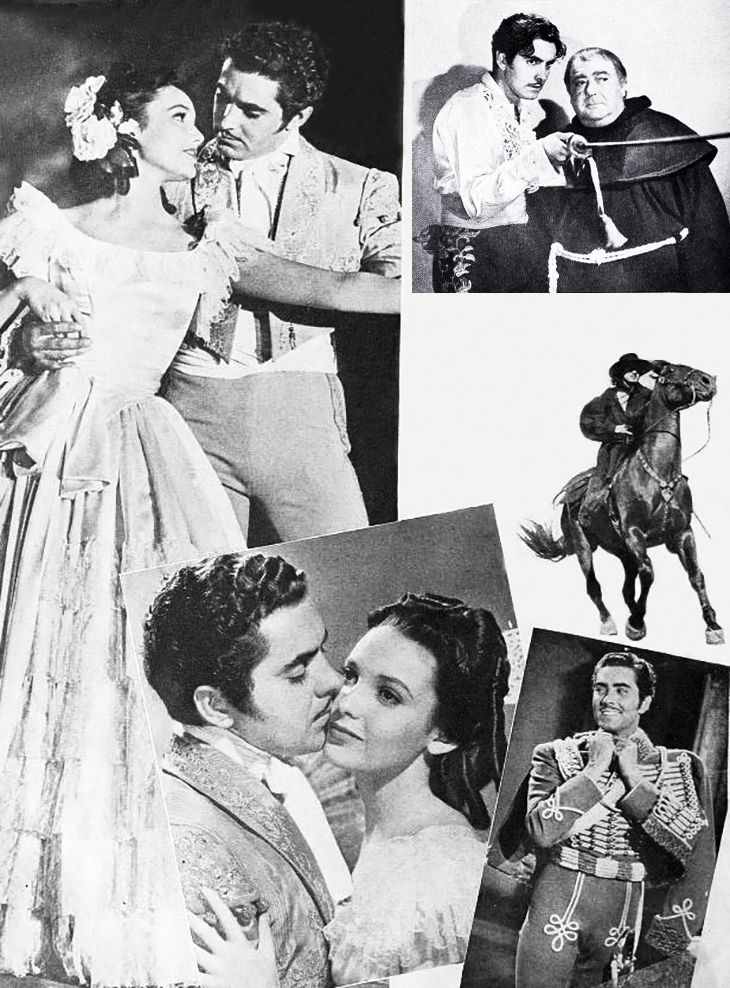 (Linda Darnell, Tyrone Power & Eugene Pallette 1940 The Mark of Zorro: Screenland / The Exhibitor)
Sadly, the lives of co-stars Linda Darnell and Tyrone Power were both cut short – Tyrone Power died at the age of 44 from a heart attack in 1958, and Linda Darnell lost her life in a 1965 house fire at when she was only 41 years old.
The Mark of Zorro was the last movie for Greek-American character actor George Regas (nee Yorgios Regaskos*), who plays Sergeant Gonzales in the film. Regas (often billed as Rigas) began his film career in Mary Pickford's 1921 silent movie drama The Love Light, credited as George Rigas. He played an Indian guide in the Bob Hope / Paulette Goddard mystery comedy The Cat and the Canary (1939), and was an Indian again in Daniel Boone (1936), starring George O'Brien, Heather Angel, and John Carradine.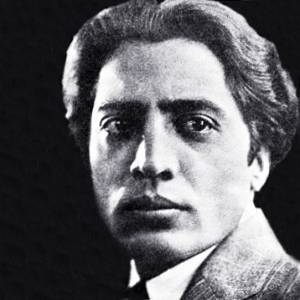 (George Regas 1920 Photo: Camera!)
George Regas had supporting roles in two other films that have a similar storyline to Zorro, but don't use the name, and have a "Robin Hood" theme as well  – both of these movies had former silent film idols in the leading roles:
Robin Hood of el Dorado (1936), with Warner Baxter, Ann Loring, Bruce Cabot, and J. Carrol Naish.
The Californian (1937), starring Ricardo Cortez,  Marjorie Weaver, and Katherine DeMille (Cecil B.'s daughter).
George Regas was the second husband** of vaudeville singer-actress Reine Davies (nee Irene Douras, and sister to Marion Davies), who was divorced from Broadway producer-director George Lederer. Reine Davies and George Regas were married from 1925 until her death in 1938. Although they had no children together, Regas was stepfather to Reine's son Charles Lederer and daughter Josephine (Pepi) Lederer. A month after The Mark of Zorro was released, George Regas died at the age of 50, after undergoing an operation for a throat infection on December 13, 1940. He was survived by his younger brother, actor Pedro Regas (nee Panagiotis Regaskos).
The Mark of Zorro (1940) has been preserved by the National Film Registry since 2009 because of it's significance. 
The Mark of Zorro Film Inspirations & Imitations
There have been quite a few Zorro films before and after The Mark of Zorro (1940) movie, and here are some of the most noteworthy: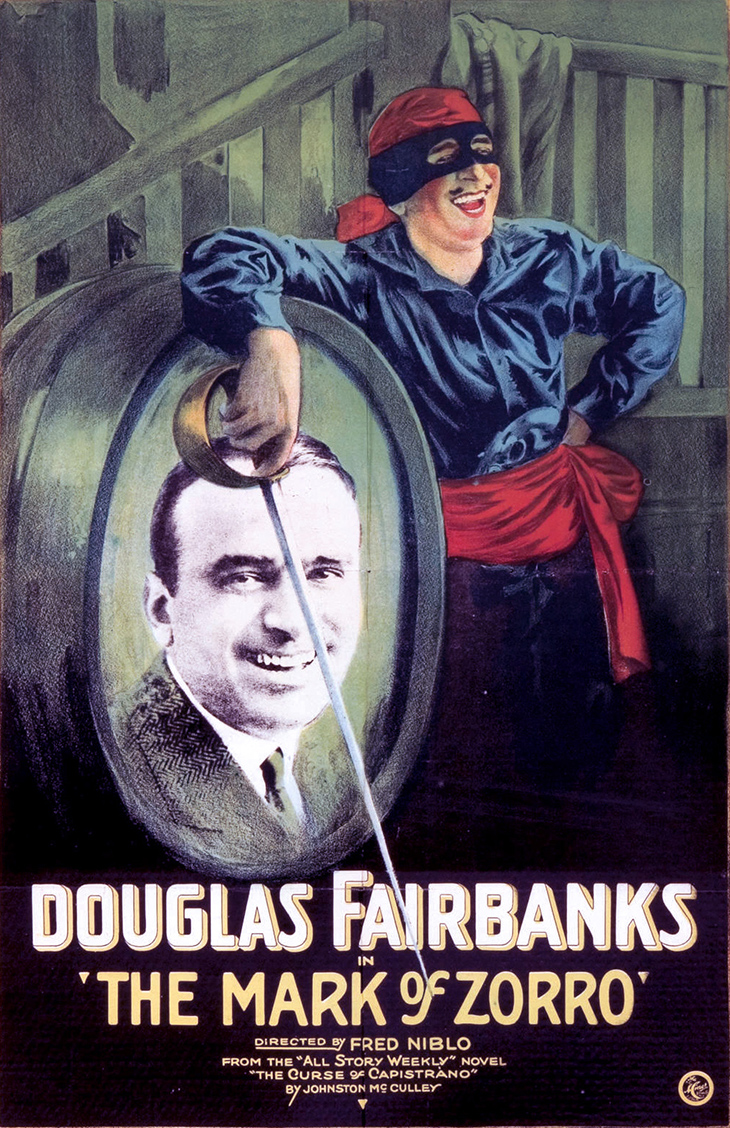 The Mark of Zorro (1920) was the very first Zorro movie, and starred swashbuckling silent film idol Douglas Fairbanks Sr. as the title character. Directed by Fred Niblo, with supporting actors Marguerite De La Motte, Robert McKim, and Noah Beery as Sgt. Pegro Gonzales. Appearing in uncredited roles in this silent movie as boy, are a young Noah Beery Jr., and Milton Berle. 
Don Q Son of Zorro (1925), a sequel silent movie starring Mary Astor as Dolores de Muro, Jack McDonald as General de Muro, and Douglas Fairbanks in a dual role as Don Cesar de Vega / Don Cesar's father, Zorro. Jack McDonald, Donald Crisp, Warner Oland, Jean Hersholt, and Lottie Pickford (Mary's little sister) also appear in Don Q Son of Zorro.
Zorro Rides Again (1937), starring John Carroll as James Vega, the great-grandson of the original Zorro. The railroad, airplanes, and machine guns, and the title Zorro Rides Again, make it clear this is a modern sequel (of the time). With Noah Beery  – who was in the first Zorro film – as well as Richard Alexander, Reed Howes, and Helen Christian.
Zorro's Black Whip (1944) a film serial starring Linda Stirling as Barbara, an expert with a pistol and a bullwhip. When her brother, newspaperman Randolph Meredith (Jay Kirby) is killed by Dan Hammond (Francis McDonald), Barbara dons a black mask and earns The Black Whip nickname as she fights for justice. With George J. Lewis, Lucien Littlefield, and Hal Taliaferro.
Ghost of Zorro (1949), a serialized film starring Clayton Moore as Zorro / Don Diego's grandson, telegraph engineer Ken Mason. With Pamela Blake, Roy Barcroft, George J. Lewis, Gene Roth, and John Crawford. Clayton Moore is famous for being another mask-wearing good guy, The Lone Ranger of TV and movies, so he has no trouble wearing a mask in Ghost of Zorro.
The Sign of Zorro (1958), which cobbled together 8 episodes of the 1950s television series Zorro starring Guy Williams as Don Diego De la Vega / Zorro, Henry Calvin as Sgt. Garcia, Gene Sheldon as Bernardo, Britt Lomond as Capitan Monastario, George J. Lewis (who was in the 1944 film Zorro's Black Whip), as Don Alejandro de la Vega, and John Dehner as Don Estaban. 
Zorro, The Gay Blade (1981), a comedy and sequel of sorts to this 1940 movie, starring George Hamilton as Diego / Ramon, the twin sons of Zorro. With Lauren Hutton, Brenda Vaccaro, and Ron Leibman.
The Mask of Zorro (1998), starring Antonio Banderas as Alejandro Murrieta / Zorro, Catherine Zeta-Jones as Elena, Anthony Hopkins as Don Diego de la Vega / Zorro, Tony Amendola as Don Luiz, and Stuart Wilson as Don Rafael Montero. The Legend of Zorro (2005) sequel has Banderas and Zeta-Jones reprising their roles, and adds in Rufus Sewell as Armand, Zorro's rival.
Little Norway Air Force Training Camp Opens on Toronto Island
The Little Norway Norwegian Air Force Training Camp on Toronto's Centre Island officially opened on November 10, 1940 during World War II.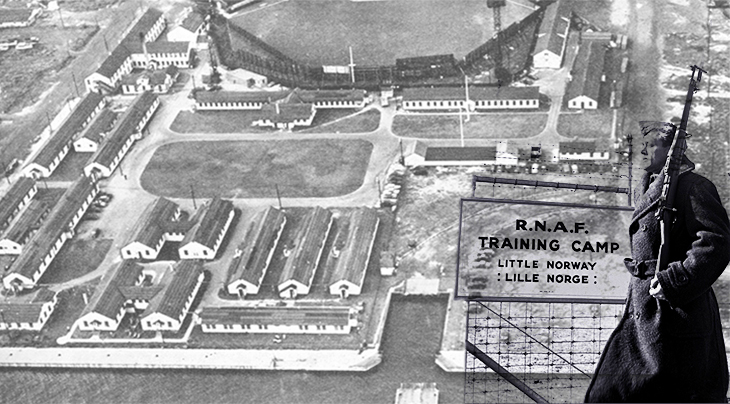 (Little Norway, Toronto Centre Island, Ontario c. November 1940 Photos Composite)
Nazi Germany had defeated Norwegian forces in April 1940, with some Norwegian pilots escaping to England. The Norwegian government decided to set up headquarters in Canada that would include a training camp and school for their remaining and new, pilots and soldiers.
They negotiated with the Canadian government to establish a base at Toronto's Island Airport, where they could use, and build upon, existing airport facilities. 
On November 23, 1940, Fairchild PT-19 aircraft began arriving for use as training aircraft. The remaining Norwegian Army Air Service and Royal Norwegian Navy Air Service pilots were transferred to the base and kept their separate command structures, with Hjalmar Riiser-Larsen appointed as the base commander.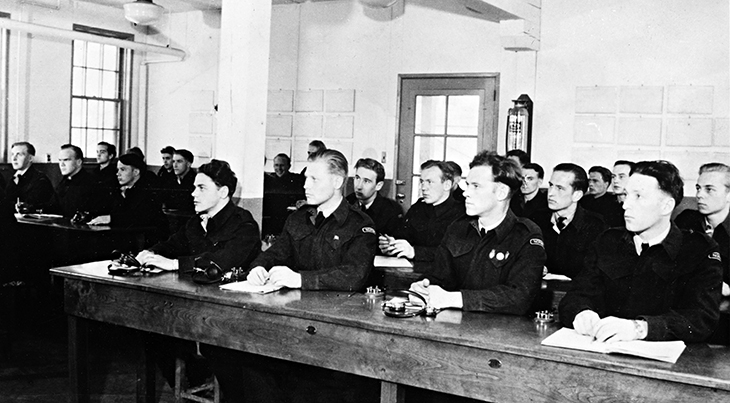 (RNAF Camp Little Norway Students, Toronto Centre Island, Ontario c. 1940 Photo: National Library of Norway) 
Pilots and flight crew underwent basic training at Little Norway.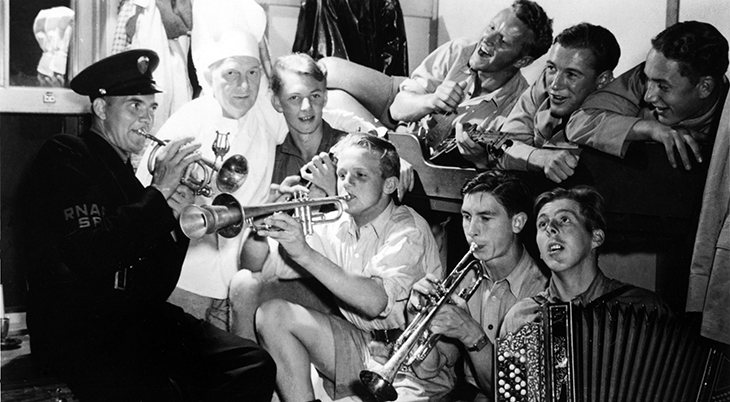 (Off Duty at Camp Little Norway, Toronto Centre Island, Ontario 1941 Photo: National Library of Norway) 
Students selected as fighter pilots from among Little Norway's training grounds, were then sent to the British Commonwealth Air Training Plan base in Moose Jaw, Saskatchewan for advance training beginning in 1941.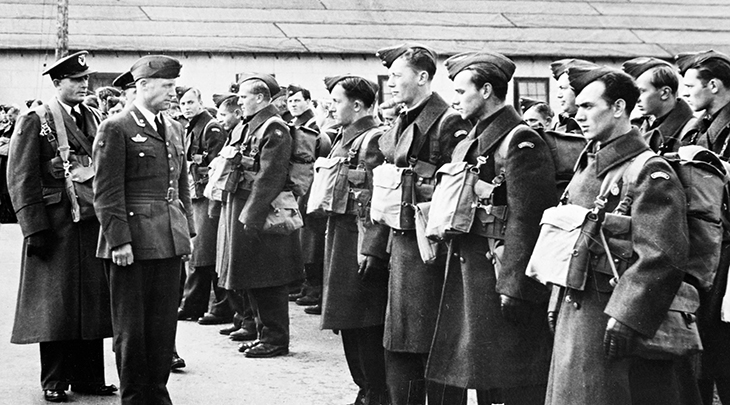 (1941 Photo: National Library of Norway)
This photograph was captioned "Royal Norwegian Air Force ground crew at Little Norway, Toronto ready for overseas duty."
A student pilot collided his aircraft with a ferry boat in the Toronto harbour in June 1941, resulting in the death of the student and his instructor. This incident, and three other fatal crashes during training at locations near Toronto in 1941 and early 1942, precipitated the move of the Little Norway training camp to Muskoka Airport (north of Toronto) in 1942.
Some some advanced flight training continued at Toronto's Island Airport. By that time, the two air service units had melded their training, and in 1944 the Norwegian government announced the merger into one unit – the Royal Norwegian Air Force.
Near the end of WWII, the camp was moved again, this time overseas to Winkleigh air base (Devon, England) where it functioned as the Norwegian Training Base. It wasn't until after the end of World War II that the Norwegian air training base was moved back into Norway, at Gardermoen (near Oslo).
Over 2,500 Norwegian air force crew were trained at Little Norway training bases in Canada during World War II. A total of 23 trainee and instructors from these bases lost their lives due to a combination of flying accidents (there were other crashes, fatal and non-fatal near Vancouver's Jericho Beach and Patricia Bay, and in Muskoka), disease, drowning (one flight went down in Lake Ontario), and car accidents.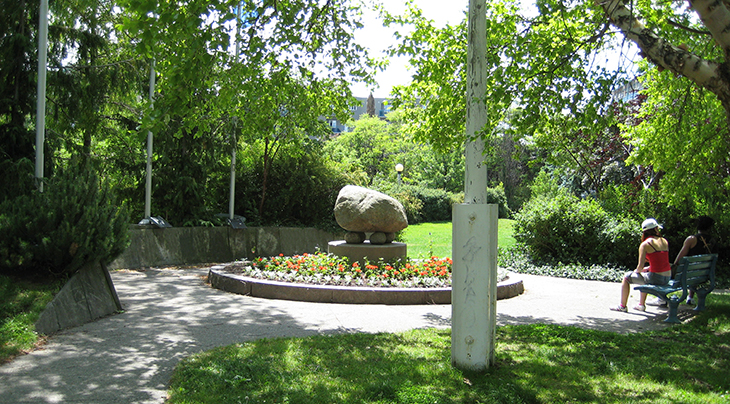 (Little Norway Park, Toronto Centre Island, Ontario 2009 Photo: SimonP)
Today the Toronto Island airport is called Billy Bishop Airport, honouring the WWI Canadian flying ace. The City of Toronto has established a Little Norway Park on the island to commemorate the site of the original base.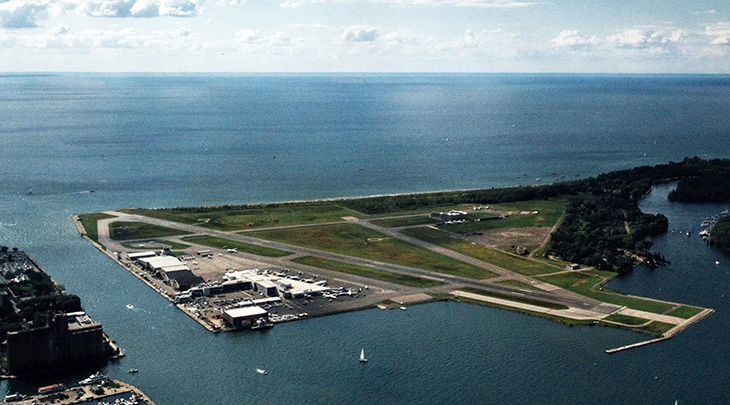 (Billy Bishop Airport, Toronto Centre Island, Ontario Photo: Jp Valery)
Woody Woodpecker's Cartoon Film Debut
The animated short film Knock Knock premiered on November 25, 1940, along with the new cartoon character of Woody Woodpecker, courtesy of cartoonist and producer Walter Lantz.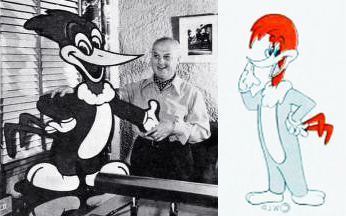 (Walter Lantz & Woody Woodpecker c. 1955 & 1953: Motion Picture Herald / Business Screen Magazine)
Woody was created by Walter Lantz and storyboard animator/artist Ben "Bugs" Hardaway of Universal Studios. Legend has it that while on Walter Lantz and his new bride honeymooned in 1940 on the shores of June Lake, California, the couple was kept awake at night by (among other things), a noisy woodpecker outside their cabin and rain coming in through holes the bird had drilled in the roof.
Walter Lantz worked in the animation department at Universal Pictures from beginning in 1928. In addition to overseeing other animated films and cartoon characters, Lantz created his own – notably, Andy Panda, which until Woody's debut, was his best-known animated creation. 
Fans of Woody Woodpecker will remember the character's laughing call, which was originated by legendary voice-over artist Mel Blanc. Blanc soon moved on to work exclusively for Warner Bros., and other voice-over actors have since spoken on behalf of Woody. Woody's co-creator Ben Hardaway even voiced the character from 1944 -1949, when the previous actor Kent Rogers was killed during WWII.
Different animators worked on the character of Woody Woodpecker over the years, and thus his appearance and storylines have altered, although his laugh has remained the same.
Kay Kyser's recording of The Woody Woodpecker Song (written by George Tibbles and Ramey Idress in 1947) with vocalists Harry Babbitt and Gloria Wood, was a hit single in 1948.
When the song was included in the animated film Wet Blanket Policy (1948), The Woody Woodpecker Song was the first such tune to be nominated for an Academy Award for Best Original Song.
Woody Woodpecker has appeared in many animated short films and television series since 1940, and today is the official mascot at Universal Studios and the Universal Studios Theme Parks.
Resources:
*The National Herald, November 2013
**Chicago Tribune August 21, 1925 – Reine Davies, stage star and divorced wife of George Lederer, former Chicago theatrical manager, is married to George Regas, movie actor.
*Images are believed to be in the public domain or Creative Commons licensed & sourced via Wikimedia Commons, Vimeo, YouTube, or Flickr, unless otherwise noted*