Fascinating Facts from April 1940
News Headlines & Entertainment Trivia from April, 1940: Classic movie release – Rebecca, starring Joan Fontaine and Laurence Olivier; German WWII invasion of Denmark and Norway; Portia Faces Life radio series starring Lucille Wall debuts.
Alfred Hitchcock's Rebecca Is Released
The master of murder's classic black & white psychological thriller Rebecca, starring Joan Fontaine and Laurence Olivier, was released on April 12, 1940 in the United States.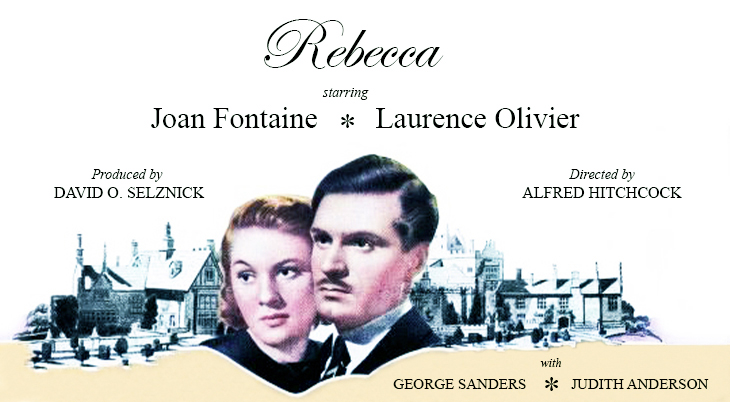 (Joan Fontaine & Laurence Olivier 1940 Rebecca Modified Ad)
Producer David O. Selznick and director Alfred Hitchcock filmed Rebecca at Selznick International Studios in California, doing location shooting at Big Sur, Palos Verdes, and Point Lobos State Natural Reserve in California, in the fall of 1939. They were both nominated for Academy Awards, and Selznick / Rebecca won Best Picture, against stiff competition from Foreign Correspondent, Our Town, The Grapes of Wrath, The Letter, The Great Dictator, The Long Voyage Home, The Philadelphia Story, All This, and Heaven Too, and Kitty Foyle.
Author Daphne Du Maurier's best-selling book was adapted into a hit movie by screenwriters Robert E. Sherwood & Joan Harrison, earning them an Oscar nomination. In all, Rebecca was nominated for a whopping 11 Academy Awards and won two – Best Picture and Best Black & White Cinematography (George Barnes).
The movie opens at Monte Carlo on the French Riviera, with a shy, naive paid companion (Joan Fontaine, sister of Olivia de Havilland) catering to Mrs. Edyth Van Hopper (Florence Bates), a rich socialite. The companion (her first and maiden name are never given, in the book or in the movie) is soon spotted by wealthy English widower Maxim de Winter (Laurence Olivier), who sweeps her off her feet and marries her.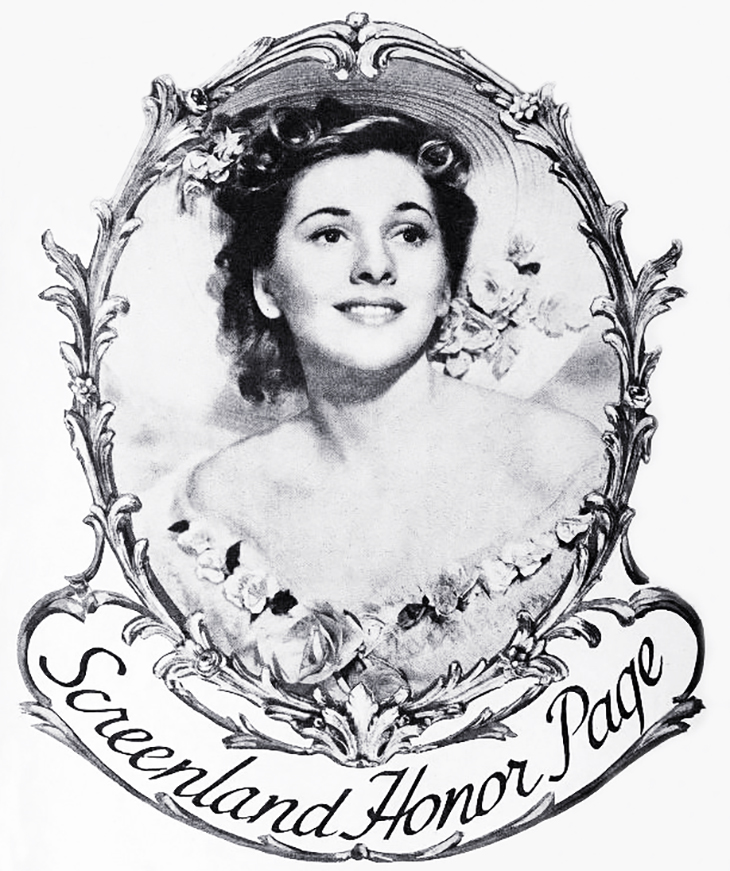 (Joan Fontaine of Rebecca 1940 Screenland Honours)
Maxim takes his new bride, the second Mrs. De Winter, back home with him to Manderley, his sea-side mansion. They are greeted by the snooty housekeeper Mrs. Danvers (Judith Anderson).
Before long the new Mrs. De Winter has also met Maxim's estate manager Frank Crawley (Reginald Denny), Maxim's sister Beatrice Lacy (Gladys Cooper) and her husband Major Giles Lacy (Nigel Bruce). When Max is away, Mrs. De Winter also meets his first wife Rebecca's smarmy cousin, Jack Favell (George Sanders).  
Mrs. Danvers takes every opportunity to undermine any confidence the new Mrs. De Winter might have, by constantly implying that Maxim's dead first wife Rebecca was a superior hostess, wife, employer, etc. She goads the young bride into holding a lavish costume ball and wearing a dress identical to one that Rebecca had worn. Maxim blows up at his wife when he sees her in the dress. Mrs. Danvers is almost successful in persuading the upset woman to jump out the window, when news of a shipwreck interrupts their intense conversation.
The shipwreck reveals the body of Rebecca, and afterwards, Maxim reveals even more to his new wife. He actually hated Rebecca, who was promiscuous throughout their marriage; one of her affairs had been with her cousin Jack, and she had become pregnant. Maxim and Rebecca had argued, she had fallen and hit her head and died; Maxim rowed her body out to sea and sank the boat. A police investigation headed by Colonel Julyan (C. Aubrey Smith) follows the discovery of Rebecca's body, and Maxim is suspected of murder. The tension continues to rise to a fiery conclusion.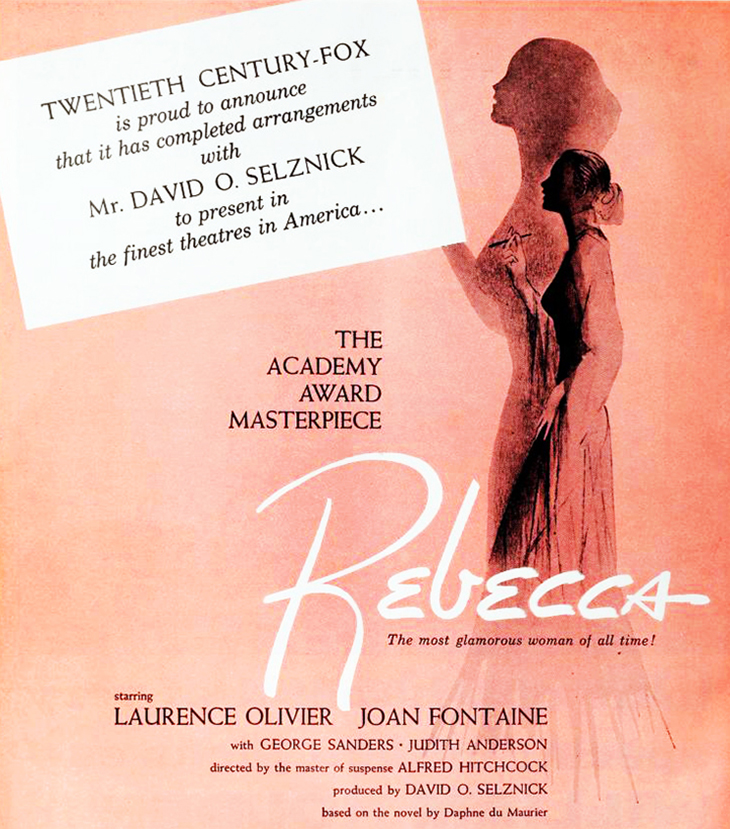 (Rebecca 1956 Re-Release Ad: Motion Picture Herald)
Although both lead actors Laurence Olivier and Joan Fontaine were nominated for Best Actor and Actress respectively, neither won.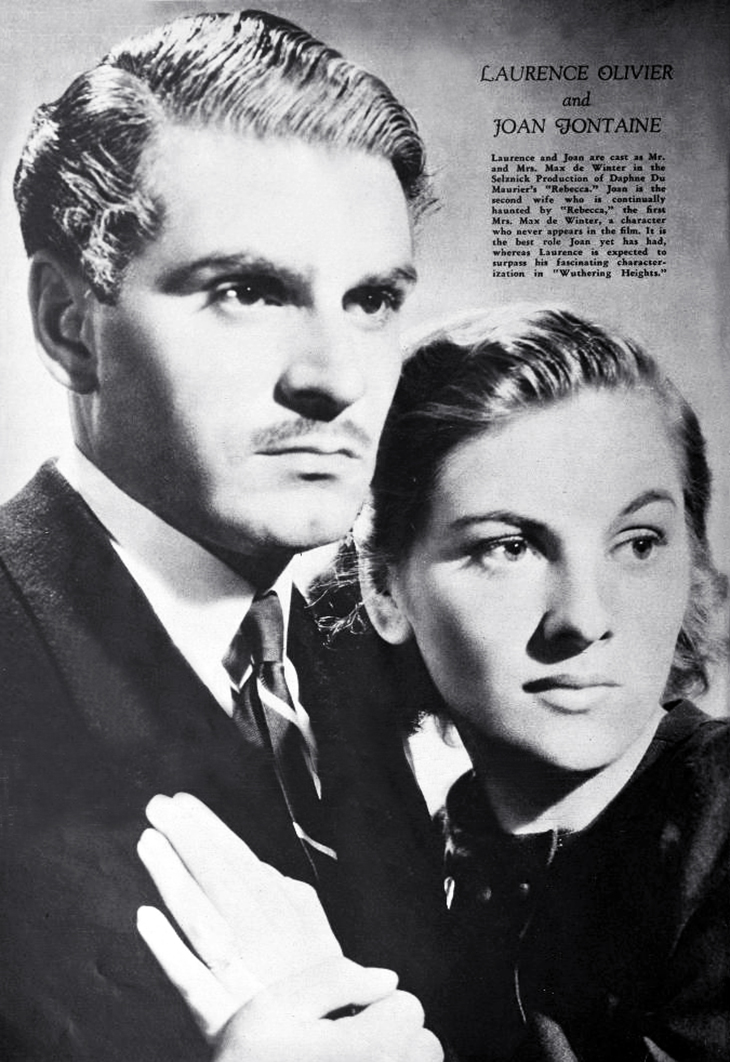 (Laurence Oliver & Joan Fontaine 1940 Rebecca Photo: Silver Screen)
Best Supporting actress nominee Judith Anderson was also unsuccessful, losing to Jane Darwell for The Grapes of Wrath.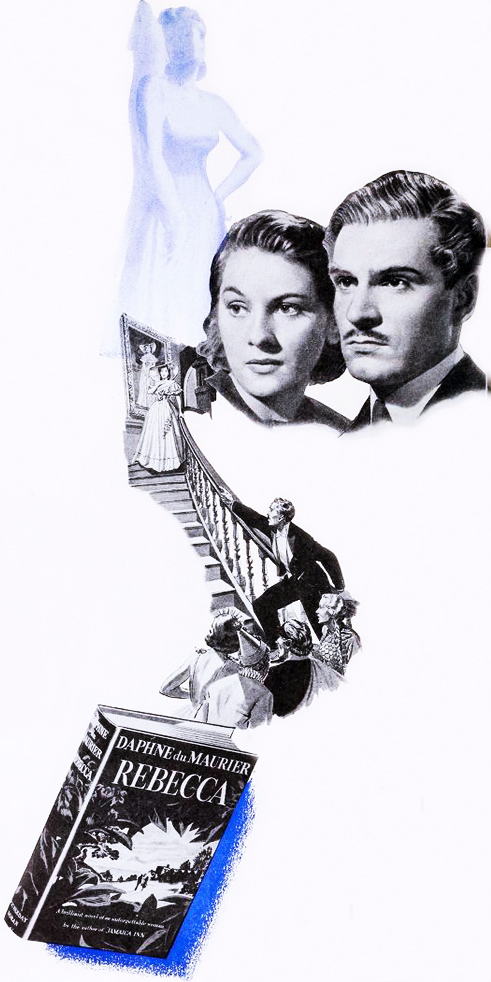 (Joan Fontaine & Laurence Olivier 1940 Rebecca Ad)
The other, unsuccessful Academy Award nominations for Rebecca:
Best Original Score (Franz Waxman), losing to Pinocchio, in a crowded field (17 nominees!) that included the films Arizona, The Mark of Zorro, Dark Command, The House of the Seven Gables, One Million B.C., and Waterloo Bridge.
Best Art Direction, Black & White (Lyle R. Wheeler). This was another category with a lot of nominations – 13 in all – with stiff competition from movies such as The Westerner, My Favorite Wife, Lillian Russell, and of course the winner, Pride and Prejudice (Cedric Gibbons and Paul Groesse).
Best Film Editing (Hal C. Kern)
Best Special Effects (Photographic Effects by Jack Cosgrove, Sound Effects by Arthur Johns). Another multiple entry category, with 14 nominees in all. In addition to Typhoon, Swiss Family Robinson, and The Invisible Man Returns, two (other) films released in April, 1940 received an Oscar nod – One Million B.C., and Dr. Cyclops. In the end, Thief of Bagdad (Photographic Effects by Lawrence W. Butler & Sound Effects by Jack Whitney) walked away with the Academy Award.
The 2020 Netflix colour remake of Rebecca boasts beautiful period costumes and an attractive cast that includes Armie Hammer as Maxim De Winter, and Lily James as his second wife, with Kristin Scott Thomas as Mrs. Danvers.
It doesn't measure up to Hitchcock's original production for gothic tension, and Hammer isn't as compelling as Laurence Olivier, but then who could be?
Despite the passage of over 80 years now since it was first released, the 1940 Rebecca is the more highly rated of these two films today.
They're both worth watching, but don't watch the original late at night in the dark, unless you have a chair to hide behind when the tension gets to be too much.
WWII German Invasion of Denmark and Norway
Nazi Germany invaded Denmark and Norway on April 9, 1940 as the opening salvo of World War II's Operation Weserübung, despite having signed a non-aggression pact with Denmark less than a year previously, and Norway's neutral stance.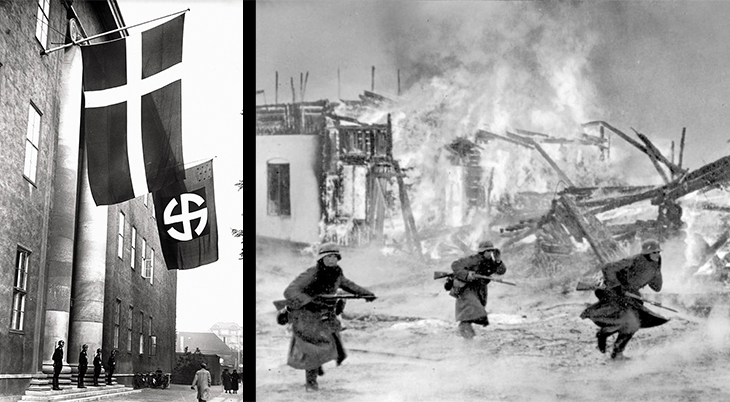 (Nazi Germany Flag at Danish Order of Freemasons Lodge 1943 & Norway Battle Apr 9, 1940)
Denmark had limited military equipment and troops, and was targeted by Germany as a stepping-stone to taking adjacent Normandy.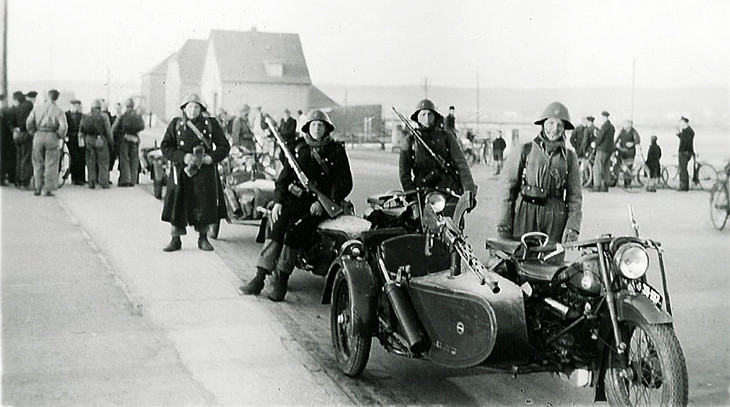 (Danish motorcycle patrol, Abenraa, April 9, 1940 Photo: National Museum of Denmark)
After two hours of fighting on April 9, 1940,  the Danish Prime Minister ordered the troops to stop fighting, to prevent Copenhagen from being bombed. Queen Margrethe II of Denmark (since 1972), was born on April 16, 1940 in Copenhagen, to Denmark's Crown Prince Christian.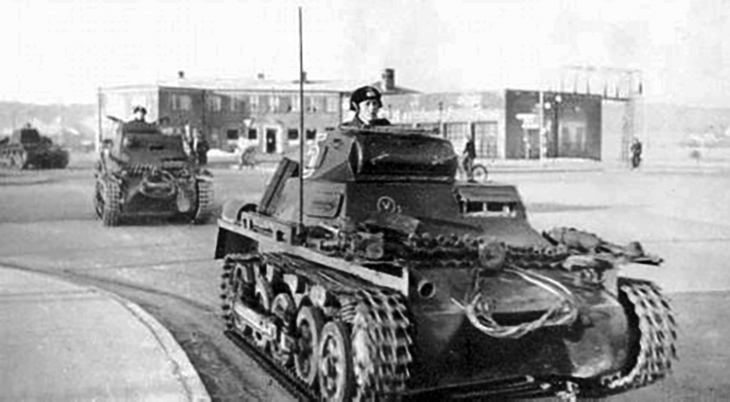 (German tanks in Abenraa, Denmark, April 9, 1940 Photo)
One of the Danish regiments – the 4th Regiment at Roskilde, under the command of Colonel Helge Bennike – refused to surrender. Bennike initially believed that the Danish government had been forced to accede. Bennike and the 4th Regiment went into exile in Sweden, and in 1943 most of those soldiers formed the Danish Brigade in Sweden.
Resistance from Norwegian forces allowed Norway's King Haakon VII, his Welsh wife (and first cousin) Maude (youngest daughter of England's then Prince Edward, later King Edward VII), their son Crown Prince Olav, and the Norwegian government, to escape from Oslo by train. On April 10, 1940, King Haakon and the cabinet refused to accede to Germany's demands to appoint a new government headed by Norwegian fascist party leader Vidkun Quisling, and vowed to keep fighting. 
Nazi collaborator Vidkun Quisling formed a new, alternate Norwegian government on April 10, 1940.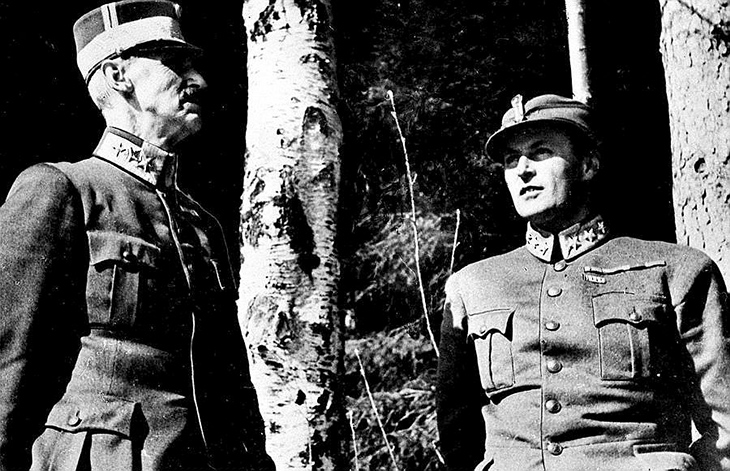 (King Haakon VII and Crown Prince Olav, Molde, Norway, April 1940 Photo: Per Bratland)
Under bombing by Germany's Luftwaffe, Norway's king and elected government escaped north to Molde, where they boarded the HMS Glasgow, a British cruiser. They were taken to remote Tromsø in northern Norway
Norwegian troops fought German forces on sea, air, and land for a couple of months, with some help from allied troops before they withdrew in early June. Under heavy fire and with losses of destroyers and an aircraft carrier, the British cruiser HMS Glasgow evacuated King Haakon, his family, and the Norwegian government officials, and took them to England  
Both Danish and Norwegian resistance fighters – both organized larger groups, and small pockets – continued to wage covert war against Nazi occupation during WWII with acts of sabotage, spying, raids, and other undercover operations.
Germany imprisoned roughly 6,000 Danish citizens in concentration camps during WWII. After Denmark was liberated, 40,000 Danish people were arrested on suspicion of collaboration, and 46  were convicted and executed. 
During the German occupation of Norway, some of the 80,000 Norwegians who escaped the country, joined Allied forces in Norwegian units. The Royal Norwegian Air Force established the "Little Norway" training base on Toronto Island, Ontario. Approximately 50,000 Norwegians were arrested by Germans, with around 9,000 sent to prison camps outside Norway.
After WWII ended, King Haakon, Crown Prince Olav, and the exiled cabinet returned to Norway. Post-war trials of Germans and Norwegian Nazi collaborators resulted in 37 executions, including that of Vidkun Quisling.
Portia Faces Life Radio Series Debut
The daytime radio serial Portia Faces Life began in syndication on April 1, 1940. Scriptwriter Mona Kent created and wrote every episode of this long-running classic radio program. From 1940-1951, Portia Faces Life was among the top-ranked daytime radio soap operas.
Broadcasts of Portia Faces Life originated from New York City. The initial and primary announcer for Portia Faces Life was George Putnam. Others who took on the role later on included Bernard Dudley, Thomas Carr, Cy Harrice, Richard S. Stark, and Ron Rawson
Producers and directors of the series included Mark Goodson (c. 1946-1949), who would be come more famous later on for producing highly successful television series.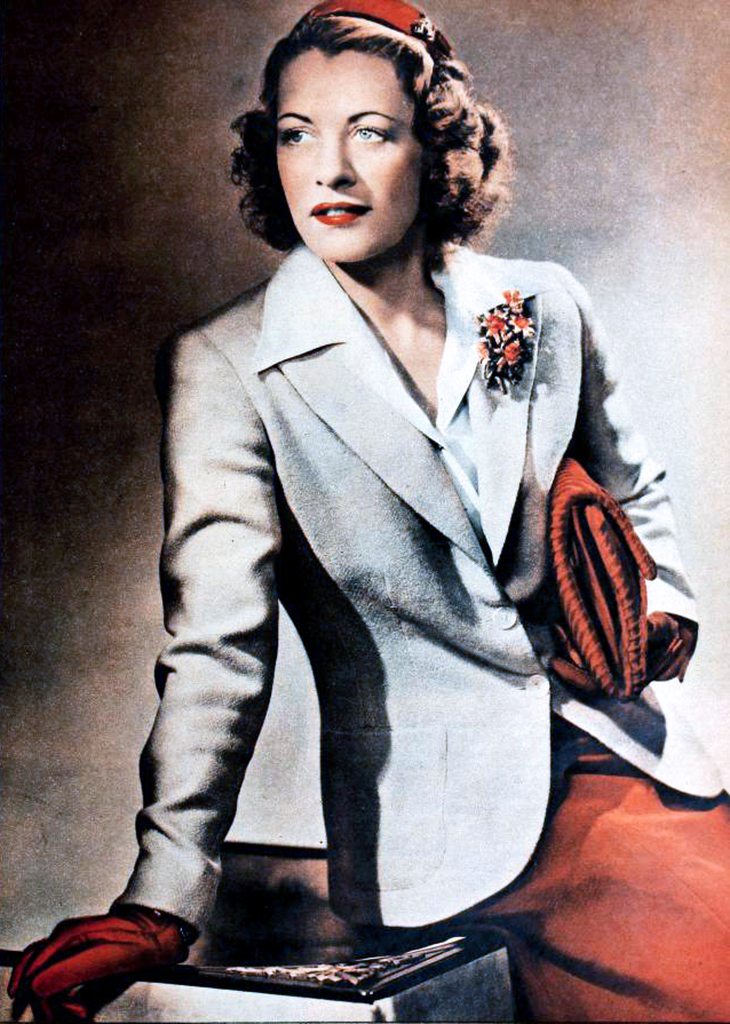 (Lucille Wall as Portia Blake 1942 Photo: 20th Century-Fox)
Actress Lucille Wall starred throughout the series run as title character Portia Blake. Throughout the series, Portia struggles with balancing being a career woman / successful lawyer, and a traditional homemaker.
The only exception to Lucille Wall in the role came in 1948, when Radio and Television Mirror reported that she been recuperating for three months after slipping against the open door of her refrigerator; Wall ended up with a skull fracture and serious concussion. Anne Seymour played Portia during Wall's absence. Born on January 18, 1898, blonde, blue-eyed 5'7″ Lucille was a graduate of the American Academy of Dramatic Arts. She was a veteran of Broadway and radio by the time she began starring as Portia. 
Based on fan voting, Radio Mirror Magazine awarded Portia Faces Life and Lucille Wall as Favorite Daytime Serial and Favorite Daytime Actress for the 1948 and 1949 calendar years.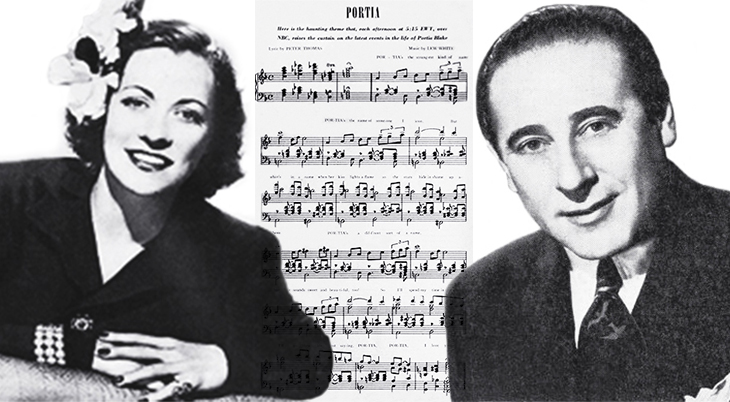 (Lucille Wall, Portia Faces Life Song & Composer/Organist Lew White)
Composer, conductor and organist Lew White provided background accompaniment and wrote the theme song.
In January 1941, Broadcasting reported an experimental tie-in of characters from radio soap opera Young Dr. Malone (which also began airing in April 1940) making crossover appearances on Portia Faces Life, a promotional gimmick that would become more common on radio and television during the 1950s.
Portia Blake is a widowed single mother and practicing attorney in Parkerstown. Portia's husband Richard Blake was murdered fighting corruption in their home town. Richard "Dickie" Blake is their 10-year-old son (initially played by Raymond Ives; Alistair Kyle c 1943; Ben Cooper c.1946; Edwin Bruce c. 1947-1949). 
Twelve-year-old actor Alastair Kyle (Dickie c. 1943) had a unique gift, according to Radio Mirror: "After listening once to the sound of the genuine original accent, he can reproduce it perfectly, and to date, has mastered French, German, Polish, Japanese, Chinese (and they are different, these two), Russian and Italian."
Local newspaper reporter Walter Manning (Myron McCormick 1940-1942; Bartlett Robinson 1943-1951; Robert Shayne c. 1945) had long harbored a secret crush on Portia that he believed was unrequited. Feeling guilty after an accident in which Arline Harrison, the daughter of his boss at the newspaper, is injured, Walter marries Arline. Arline's jealousy makes difficulties for Portia, especially when Bryan Harrison dies suddenly without a will, and the court appoints Walter and Portia as co-administrators of his estate. 
The scripts of Portia Faces Life reflected the impacts of WWII as the series progressed. Walter Manning becomes a foreign correspondent; his letters home reveal he joins guerrilla forces to help the Allies against the Nazis. Walter gets shot by the Nazis in the Balkans and is believed dead; he continues to work with the guerrillas against the Nazis. A heartbroken Portia is on the brink of marrying Dr. Stanley Holton (who is under the thumb of corrupt town slumlord owner John Parker, played by Bill Johnstone), but  when she goes to see Holton, she finds him dead.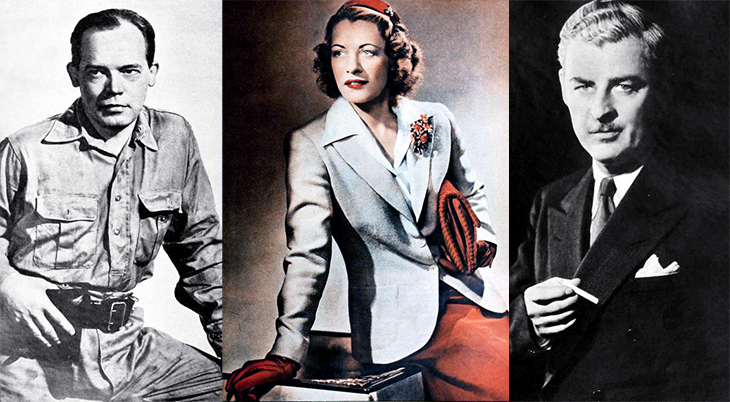 (Myron McCormick, Lucille Wall, Bill Johnstone 1942 Photos: Ray Lee Jackson / 20th Century Fox)
Portia is discovered beside Holton's body by John Parker, who accuses her of murder and tries to blackmail her into dropping her charges against him.
Portia's best friend Kathy Marsh (Esther Ralston c. 1941, Marjorie Anderson c. 1942; Selena Royle c. 1943; Elizabeth Reller c. 1946-1948; Rosaline Greene c. 1948; Anne Seymour c. 1949-1950), and nightclub singer Julie Peters (Nancy Douglass) had also fallen in love with Dr. Holton. When Kathy discovered Holton was two-timing her with Portia, she shot him. Julie eventually confesses to the murder, and is acquitted at trial thanks to fine lawyer-ing from Portia.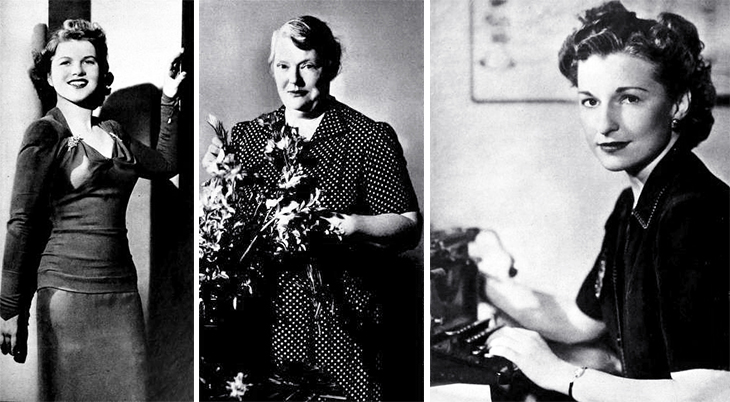 (Nancy Douglass, Henrietta Tedro, Marjorie Anderson 1942 Photos: Ray Lee Jackson)
Actress Henrietta Tedro vocalized the part of lovable, outspoken boarding house landlady Miss Daisy in 1942. Other actress who played this role included Doris Rich (c. 1947-1949).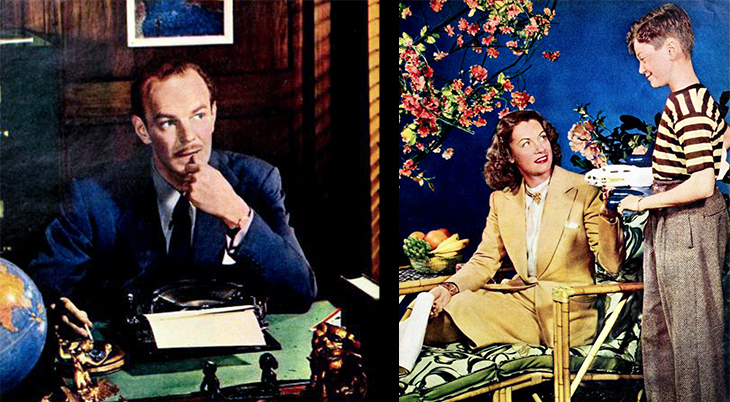 (Bartlett Robinson as Walter Manning, Lucille Wall as Portia & Edwin Bruce as Dickie 1947)
Over the thirteen years that Portia Faces Life was on the air, Radio and Television Mirror magazine ran several serial stories based on the programs storyline, including Paying Our Way (1945), To the Girl I Love (1946), Portia Blake Settles a Point of Law (1947), Portia Faces Life (1948), I Take Thee by Helen Christy Harris (1949), The Silent Challenge (1950), and Walter Returns Home (1951).
Variety (May 30, 1951) reported that General Foods had stopped sponsoring Portia Faces Life the previous week. Portia Faces Life left the airwaves on a cliffhanger in July 1951, as Portia (now married to Walter Manning) has been accused of bribing a witness, with a framed case successful enough to send her to prison. (Radio Television Mirror, July 1951). 
Portia Faces Life star Lucille Wall continued to be heard on radio as a freelance actress and regular; she was Belle on Lorenzo Jones during and after Portia, and went on to star on Valiant Lady as Joan Scott in 1952. From 1963-1976, she played Lucille March Weeks on TV's General Hospital soap opera. Lucille Wall was 87 when shed died in July 1986.
Other Portia Faces Life Radio Program Cast Members & Characters
Louise Barclay as Leslie Palmer c. 1947-1948.
Peter Cappell as Dr. Norman Byron (a love interest for Portia) c. 1946-1947.
Lester "Les" Damon as Bill Baker c. 1948-1949; Damon's wife Ginger Jones voiced Joan Ward c. 1949.
John Gibson as "Mr. Coffee Nerves" c. 1949.
Lamont Johnson as Christopher Manning, Walter's brother, who is secretly in love with Portia c. 1951. Johnson had been a regular in 1945 on Amanda of Honeymoon Hill. Actor Staats Cotsworth, who appeared on Amanda at around that same time, also popped up on Portia Faces Life, as did character/dialect actress Connie Lembcke.
James Monks as Paul Ingersoll c. 1951.
John Larkin as Eric Watson c. 1947.
Clint Morley as Santos Ortega c. 1949.
Lyle Sudrow as Mark Randall c. 1948-1949. Sudro went on to play Bill Bauer on radio and television's Guiding Light soap opera.
Stefan Schnabel as a sadistic Nazi c. 1943 – Son of pianist Artur Schnabel, Stefan could do 25 dialects.
Cora B. Smith as Lilli c. 1948-1949.
Dickie Van Pattan – I suspect this was a typo, and was actor Dick Van Patten, who was born in 1928 and acting on Broadway stages at the age of 7. 
Frances Woodbury as Portia's Aunt Edith.
Lesley Woods as Elaine Arden c. 1946-1947.
Other actors who could be heard on the series over the years included Joyce Hayward, Skip Homeier, Ben Cooper, Eunice Howard, Anne Francis, and Cynthia Stone (Mrs. Jack Lemmon).
An Australian version of the Portia Faces Life radio series ran from 1952-1970.
From 1954-1955, actress Frances Reid portrayed Portia Blake Manning on a TV version of Portia Faces Life. Bartlett Robinson was originally scheduled to reprise his role of Walter Manning, but instead Donald Woods debuted as Walter; by November, Karl Swenson was playing the role. The cast included Jean Gillespie as Dorrie Blake, Mark Miller as Tony Faraday, Mary Fickett as Ruth Byfield, and Patrick O'Neal as Karl Manning. The TV series faltered in the ratings and in a last-ditch effort to save it, was renamed The Inner Flame in June 1955. By the end of August, The Inner Flame was cancelled. 
CBC announced plans to pilot 5 episodes of a new Portia Faces Life TV show in 1959; it never came to pass. 
Resources:
Radio Romances formerly Radio Mirror / Radio Mirror / Radio and Television Mirror / Radio TV Mirror (1940-1955)
The Radio Annual (1941-1953)
Radio Varieties (1940)
Sponsor (1949)
Broadcasting / Broadcasting and Telecasting (1941-1943
*Images are believed to be in the public domain or Creative Commons licensed & sourced via Wikimedia Commons, Vimeo, YouTube, or Flickr, unless otherwise noted*