Fascinating Facts From July 1940
News Headlines & Entertainment Trivia from July, 1940: Sonja Henie marries millionaire golfer & Brooklyn Dodgers (football) team owner Dan Topping; Billboard Chart debuts with songwriter Ruth Lowe's #1 Hit I'll Never Smile Again, performed by Frank Sinatra with Tommy Dorsey; Classic Film Release – All This, and Heaven Too starring Bette Davis and Charles Boyer.
I'll Never Smile Again First #1 Billboard Hit Song
The first Billboard Best-selling Retail Records chart was published on July 27th, 1940.
At the #1 spot on that first list of song hits chart, was I'll Never Smile Again by Tommy Dorsey and his orchestra, with Frank Sinatra and the Pied Pipers providing vocals.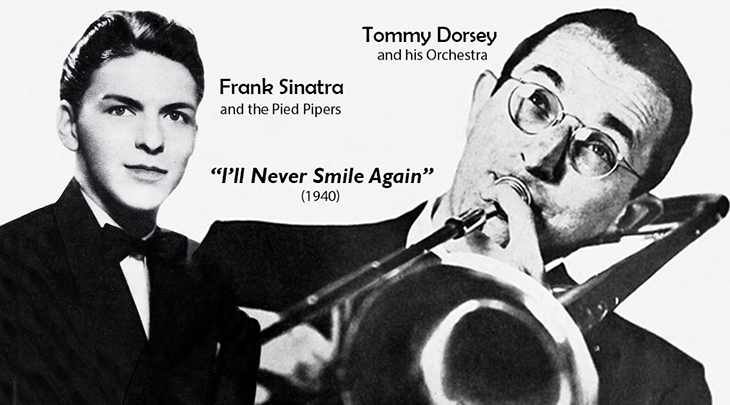 (Frank Sinatra 1941 / Tommy Dorsey 1939 Photo Blend: A. Hamilton)
Written by Canadian songwriter and pianist Ruth Lowe, I'll Never Smile Again was a #1 hit song for the Pied Pipers and Tommy Dorsey in 1940. It spent 12 weeks at the #1 spot through all of August, September, and the first two weeks of October 1940.
Frank Sinatra had only recently joined the Pied Pipers as lead singer, which already included singers Jo Stafford and her then-husband, John Huddleston, among the vocalists.
Here's the Tommy Dorsey Orchestra with Frank Sinatra singing lead vocals to I'll Never Smile Again, with Jo Stafford & the Pied Piper harmonizing in the background.
Songwriter Ruth Lowe was born on August 2, 1914 in Toronto, Ontario. After some time in the U.S., she returned to Canada and worked as a pianist solo, and with Ina Ray Hutton's all-girl band of musicians.
Lowe married Chicago music publicist Harold Cohen in 1938; tragically, Cohen died unexpectedly during an operation in 1939. I'll Never Smile Again is a reflection of Ruth Lowe's pain upon the loss of her young husband.
Canadian bandleader and composer Percy Faith played his arrangement of I'll Never Smile Again on his CBC radio program. A year later, Dorsey's guitarist was given a copy by Ruth, but Dorsey passed the song along to Glenn Miller first. Although Glenn Miller's recording of I'll Never Smile Again was out by May of 1940, it wasn't as big a hit as the Tommy Dorsey Orchestra/Frank Sinatra and the Pied Pipers version.
The Inks Spots also recorded the tune in 1940, as did Fats Waller. Other artists that recorded I'll Never Smile Again include Billie Holiday, and The Platters.
Ruth Lowe eventually did smile and fall in love again. She married Nathan Sandler in 1945 and they had sons Stephen and Thomas Sandler. Ruth wrote three other songs which became modest hits:
Put Your Dreams Away [For Another Day) (1943) recorded by Frank Sinatra for the first time in May 1945.
Take Your Sins to the River, co-written with her son Tom and recorded/released by The Travellers in 1965.
Ruth Lowe Sandler died of cancer in Toronto at the age of 66 in 1981. The next year, her song I'll Never Smile Again entered the Grammy Hall of Fame.
Sonja Henie Marries Dan Topping
After a one-week engagement, 27-year-old figure skater and actress Sonja Henie married 28-year-old New York millionaire Dan Topping on July 4, 1940 in Chicago.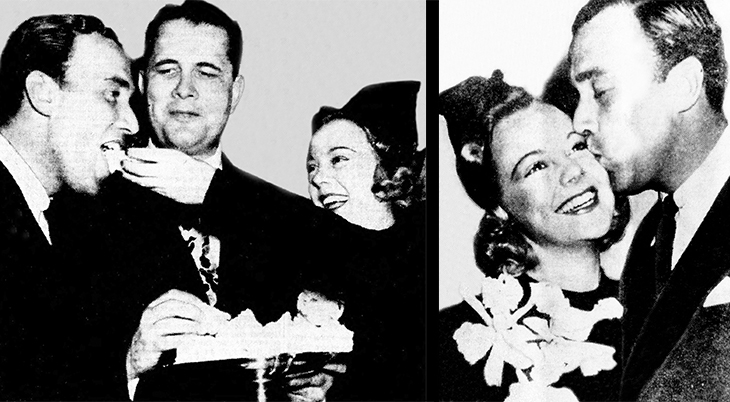 (Sonja Henie & Dan Topping July 4, 1940 Wedding Photos: The Nome Nugget) / A.P. Wirephoto)
The bride wore black – a turban and a street-length dress – for the small wedding, which took place in the home of Arthur Wirtz, a business associate of Sonja's. Sonja's brother Leif (also a figure skater), his wife Gerd Heinie, and their mother Selma Henie, were all present for the event. 

(Sonja Henie with brother Leif in 1937, & with mother Selma in 1938)
The press had been alerted to Henie's budding romance with golfer, businessman, and Brooklyn Dodgers football team majority owner Dan Topping, when they both took the same boat on a Honolulu trip in March 1940.
Prior to marrying Dan Topping, figure skater Sonja Henie had been a 10-time World Champion (1927-1936) and 3-time Olympic gold medalist (1928, 1932, 1936). She fulfilled a childhood dream of becoming a movie actress when she was signed to a contract with Twentieth Century Fox in 1936 by Darryl F. Zanuck.
Over the next four years, Henie was romanced by the likes of film stars Tyrone Power, Alan Curtis, and Richard Greene. Tyrone Power was her co-star & on-screen romantic interest in Thin Ice (1937), which co-starred Arthur Treacher, Joan Davis, and Alan Hale. They were co-starred again in Second Fiddle (1939), supported by singer-actor Rudy Vallee.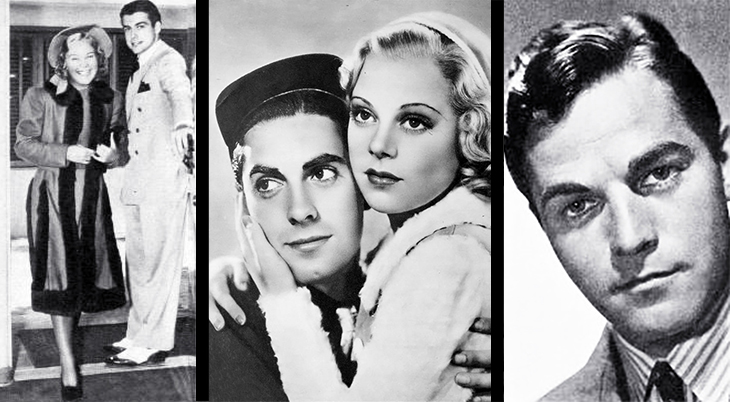 (Sonja Henie & Richard Greene 1938 | w. Tyrone Power 1938 | Alan Curtis 1939)
Actor Richard Greene was Sonja Henie's leading man in My Lucky Star (1938). Arthur Treacher and Joan Davis once again had supporting roles in this film, as did Cesar Romero, Buddy Ebsen, and Gypsy Rose Lee.
Henie's first Hollywood feature film One in a Million (1936) had seen her co-starring with Adolphe Menjou and Don Ameche. Among the cast of were Jean Hersholt, The Ritz Brothers, and actress Arline Judge, who was married to Dan Topping at that time. In an interview after he married Sonja Henie, Topping said he hadn't met the Sonja until he was given tickets to see her in a New York ice show in January 1940. 
This was Sonja Henie's first marriage, and the third for Dan Topping, who was previously married to heiress Theodora Boettger (m. April 1932 – div. July 1935) and actress Arline Judge (m. April 1937 – div. April 1940; son Dan Topping Jr.).
Both Henie and Topping were independent millionaires and gifted athletes, which may have been the attraction.
"Sonja says she is going to take up golf, which I have been playing since I was seven; and she has already taken to football like a real fan; she's seen twenty-five games this season. We both like to fish, and Sonja's great at it. We like to swim and we're building a Long Island beach house. In town we live in a suite at the Waldorf, and if we feel like a swim, we go to the airport where I keep my plane – I've been flying for years – fly down for the afternoon, take a dip and are back in New York." – Dan Topping, Modern Screen, August 1941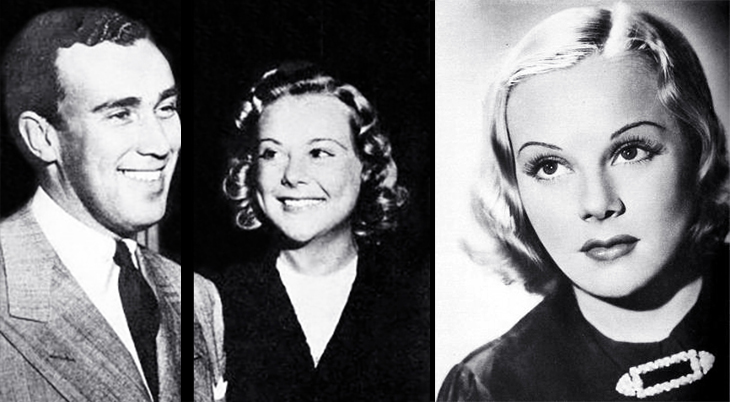 (Dan Topping & Sonja Henie 1941 | Sonja Henie 1938: Hurrell)
World War II put a blight on their happy honeymooner lifestyle. Norway had been invaded by Nazi Germany in April 1940, and Henie's home in Oslo was taken over by the Third Reich. She donated funds to Camp Little Norway on Toronto Island.
"The Crown Prince and Princess of Norway came back to see me when I was skating at the Madison Square Garden. They said the Nazis had taken my house and were living there, but only in summer….I have talked with so many of the Norwegian flyers – boys who escaped to England and were sent to Canada for their training. They told me there are more radios in Norway now that at any time and a regular underground system exists." – Sonja Henie, Detroit Evening Times, April 1945
Topping joined the Marine Corps and was away for most of the next 3 years serving in the Pacific until WWII was over, ending up with the rank of Major.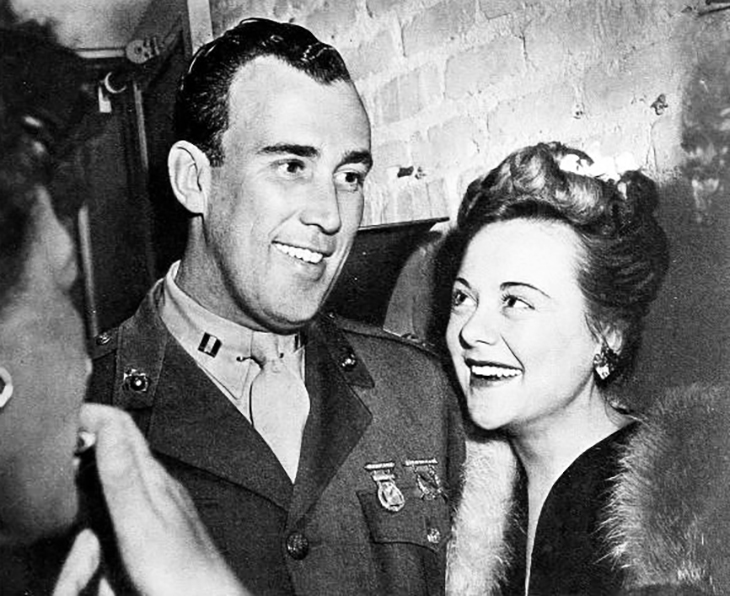 (Dan Topping & Sonja Henie 1943)
During his absence, Henie continued making movies. Topping did make it home occasionally, notably in April 1944 for Sonja's birthday party. He made the news when he punched actor Errol Flynn for reasons neither man cared to share with the press.
"Errol Flynn Felled By Dan Topping – It occurred after most of the guests had gone home. Flynn, Miss Henie, Capt. Topping and the actress' mother were all in the library. 'It must have been a one-sided argument, because I wouldn't argue with Dan….Anyway, I guess he hit me and I went down, he'd have to do a lot more before I'd hit him back.' The argument, whatever it was, was quickly patched up, Flynn said." – San Pedro News Pilot, April 10, 1944.
Absence did not make the heart grow fonder in this instance, and the couple were separated in 1945. Their divorce was finalized in February 1946. Post-divorce, both Sonja Henie and Dan Topping married other people.
Henie was married to Winthrop Gardiner Jr from September 1949 – April 1956.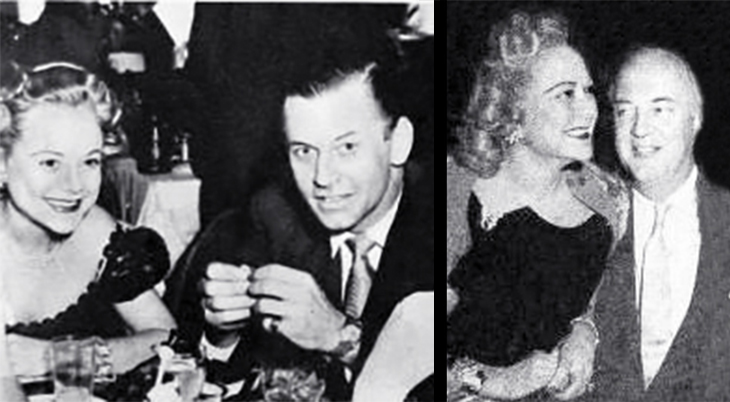 (Sonja Henie & Winthrop Gardiner Jr. 1949 | Sonja Henie & Niels Onstand 1958)
She retired from skating and acting to marry Norwegian business mogul Niels Onstand in June 1956. They remained married until her death from leukemia at the age of 57 in 1969 .Sonja Henie is buried in her home town of Oslo, Norway.
Dan Topping became a co-owner of the New York Yankees baseball team in 1945, and he married again – to actress Kay Sutton (m. March 1946 – div. July 1952) and model Alice Lowthers (m. 1954-div. 1957).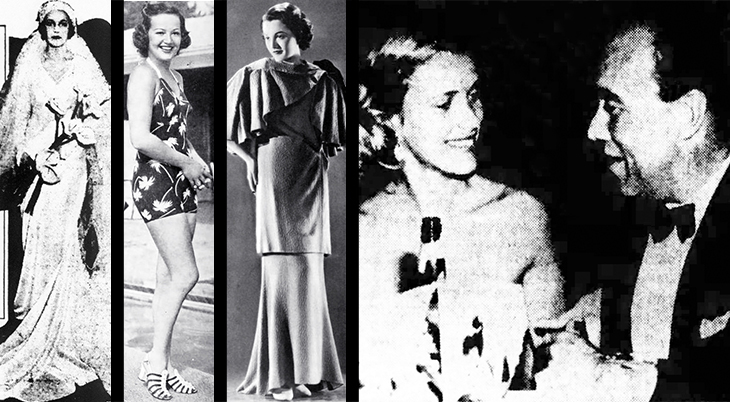 (Dan Topping Wives: Theodora Boettger 1932 | Arline Judge 1937 | Kay Sutton 1935 | Alice 1952)
When Dan Topping died of emphysema complications in 1974 at the age of 61, he was survived by his 6th wife Charlotte Lillard (m. 1958-1974), son Dan Topping Jr., and eight other children from his fourth, fifth, and sixth marriages.
Classic Movie Release – All This, and Heaven Too
Director Anatole Litvak and producer Hal B. Wallis' drama All This, and Heaven Too starring Bette Davis and Charles Boyer, was released in July, 1940.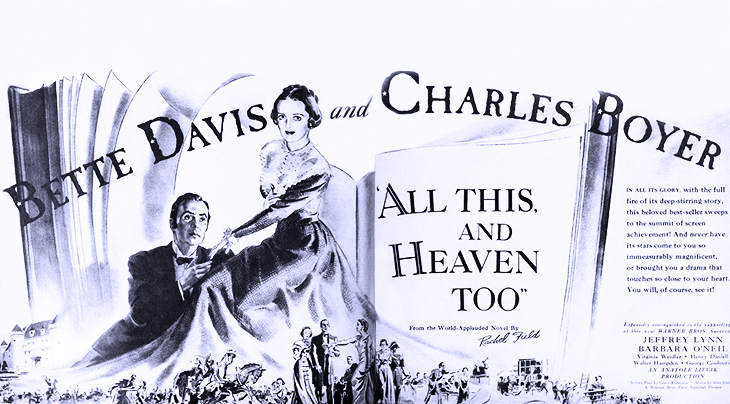 (Bette Davis & Charles Boyer 1950 All This, and Heaven Too)
Author Rachel Field's best-selling novel about her real-life great-aunt Henriette Deluzy-Desportes (played by Bette Davis), was the basis for this film.
The movie's setting is France before the 1848 Revolution: Henriette (Bette Davis) is a governess for the four children of Charles, Duc de Choiseul-Praslin (Charles Boyer) and his  Duchesse, Francoise or "Fanny" (Barbara O'Neil).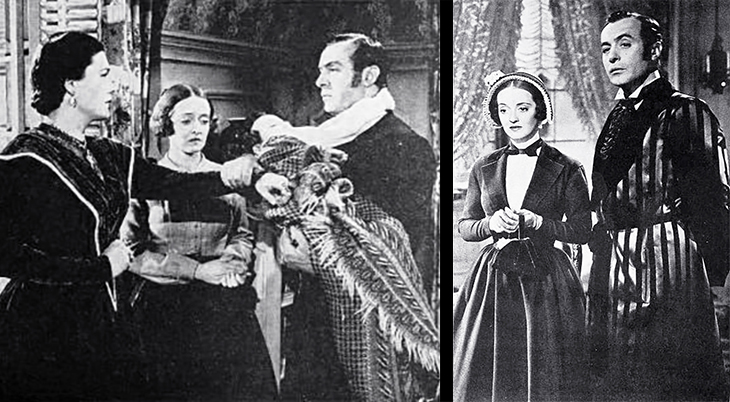 (Barbara O'Neil, Bette Davis & Charles Boyer 1940 All This, and Heaven Too)
The four children are played by Virginia Weidler, June Lockhart, Richard Nichols, and Ann E. Todd.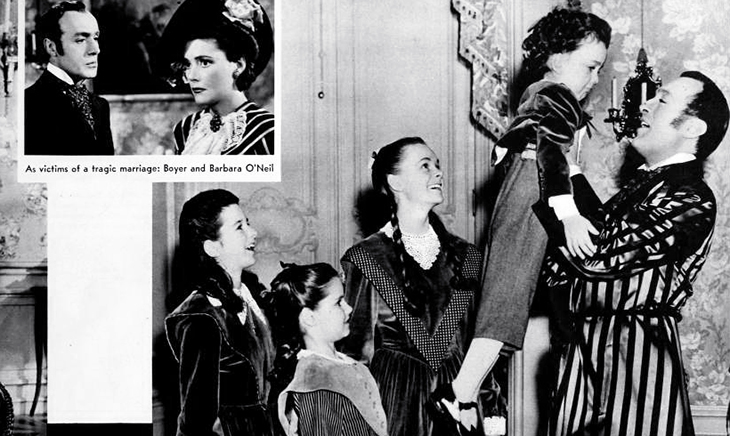 (Charles Boyer, Barbara O'Neil, Virginia Weidler, Ann E Todd, June Lockhart & Richard Nichols 1940)
While Fanny is possessively and violently in love with her husband Charles, he doesn't feel the same about her. He does however, have warm feelings for the kindly governess Henriette.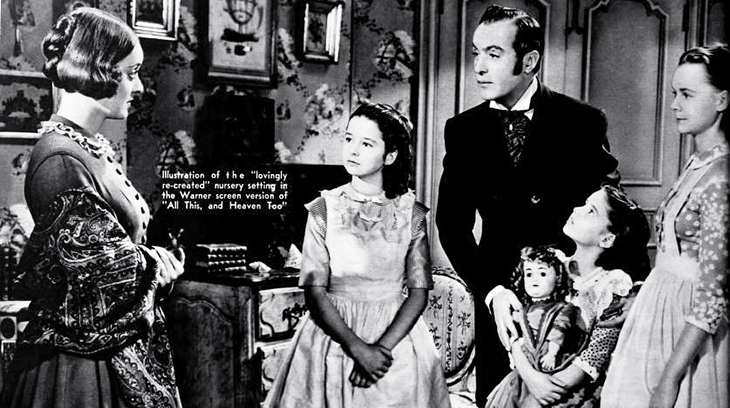 (Bette Davis, Virginia Weidler, Charles Boyer, Ann E Todd, June Lockhart 1940)
A jealous Fanny fires Henriette and refuses to give her letters of recommendation so that she can find another job. When Charles discovers Henriette's difficulty in finding a new job and the reason why, he confronts Fanny, who taunts him about two different types of letters she could write. Charles loses it and Fanny winds up dead.
Charles is arrested by the French police and imprisoned. He steadfastly professes his innocence and denies any affection for Henriette, who is also arrested. While's he's being held in prison, he takes poison and dies. 
Henriette is released due to lack of evidence, and she goes to America to become a teacher after American Reverend Henry Field (Jeffrey Lynn) recommends her for a position. As the film ends,  Rev. Field proposes and Henriette is likely to accept. 
The book and the movie pretty closely follow the actual events of the 1847 murder of Duchesse de Choiseul-Prasli. Writer and clergyman Rev. Henry Martyn Field (one of four famous American brothers; there were 7 brothers in all), went abroad in 1847. He was in Paris through the 1848 French Revolution and returned to America in 1850. Henriette and Rev. Field did get married, and remained so until her death on March 6, 1875. Henry Field married Frances Dwight in 1876. There were no children from either of his marriages, according to Rev. Field's January 1907 obituary in the Waterbury Evening Democrat.
(All This, and Heaven Too Filming 1940 Photo: Bert Six)
Above, Director Anatole Litvak (seated, with feet on cobblestone), Cinematographer Ernest Haller (in plaid coat), filming Charles Boyer & Bette Davis..
All This, and Heaven Too was nominated (unsuccessfully) for 3 Academy Awards:
Best Picture / Outstanding Production – the winner was David O. Selznick's period drama Rebecca, which emerged triumphant from a crowded field of 10 films that also included Foreign Correspondent, The Letter, The Great Dictator, Our Town, and Kitty Foyle.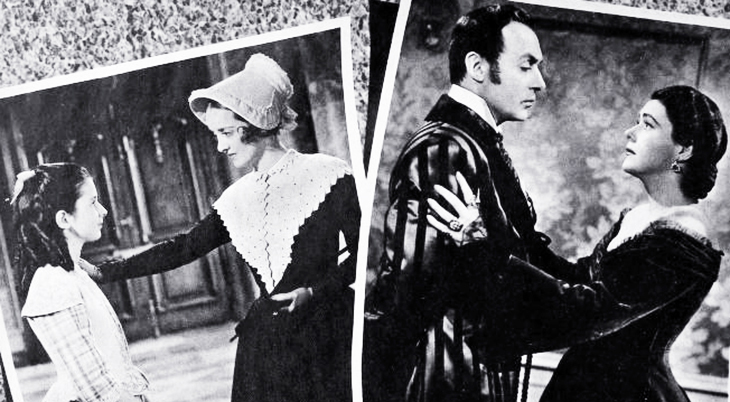 (Virginia Weidler & Bette Davis | Charles Boyer & Barbara O'Neil 1940 All This, and Heaven Too)
Best Supporting Actress nominee Barbara O'Neil lost to Jane Darwell for The Grapes of Wrath. Keeping O'Neil consolation were fellow nominees Judith Anderson as Mrs. Danvers in Rebecca, Ruth Hussey as Elizabeth Imbrie in The Philadelphia Story, and Marjorie Rambeau as Mamie Adams in Primrose Path.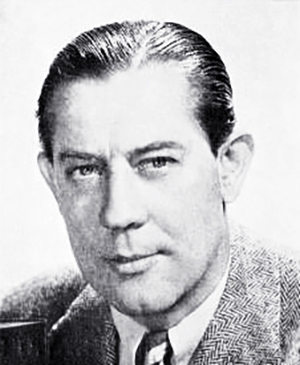 (Ernest Haller 1946)
Cinematographer Ernest Haller's nomination for Best Black & White Cinematography had stiff competition from James Wong Howe (Abe Lincoln in Illinois), Charles Lang (Arise, My Love), and Joseph Ruttenberg (Waterloo Bridge); George Barnes won for for Rebecca.
Haller worked frequently with film star Bette Davis on films like Dark Victory (1939), What Ever Happened to Baby Jane? (1962), and Jezebel (1938).
He was nominated for 7 Academy Awards, winning for Gone With the Wind (1939). 
"Ernest Haller had always been my favorite cameraman. I never told him what to do, but I put my trust in him to do what he knew how to do, to make me look my best." – Bette Davis, The Girl Who Walked Home Alone (2006) by Charlotte Chandler
Additional Resources:
Rachel Field, Author and Playwright, Dies of Pneumonia at 47, The Evening Star, March 16, 1942.
Sonja Henie, Skating Star, Third Wife of Dan Topping, by the Associated Press, The Evening Star, July 5, 1940
Reno Divorce Given to Mrs. D.R. Topping, The New York Times, July 6, 1935
Last One Famous Field Brothers, The Daily Telegram, January 26, 1906
*Images are believed to be in the public domain or Creative Commons licensed & sourced via Wikimedia Commons, Vimeo, YouTube, or Flickr, unless otherwise noted*