September 1949 Moments In Time
News headlines and entertainment trivia from September 1949.
Graham Greene's The 3rd Man
The Third Man film was released in the U.K. on September 2nd, 1949, and although not the most successful box office movie hit of 1949 in America – Come to the Stable and Pinky were at the top – it was the #1 movie in British theatres.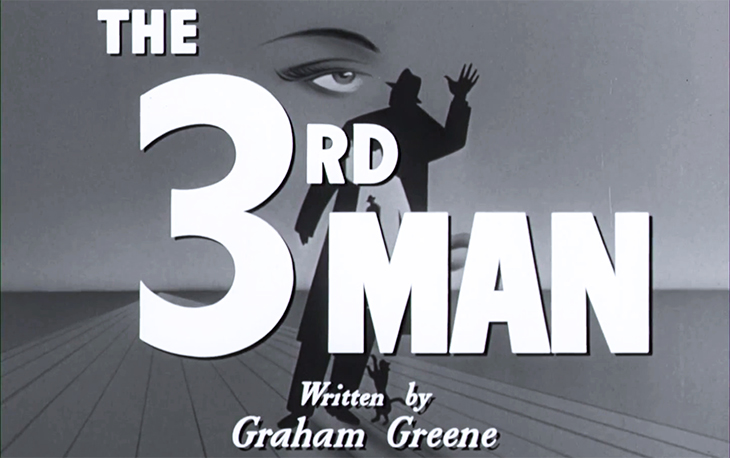 (The Third Man Trailer)
Novelist Graham Greene's postwar mystery The Third Man (1949) novella was made into a film-noir thriller starring Joseph Cotton, Orson Welles, Alida Valli, and Trevor Howard. Graham Greene also wrote the screenplay for The Third Man, a feat he'd repeat in 1959 when he wrote the book and screenplay for Our Man in Havana. 
In The Third Man Joseph Cotton plays Holly Martins, a struggling writer who arrives in post WWII Vienna at the invitation of his old school chum Harry Lime (Orson Welles), with the promise of employment. When he finds that Harry has been killed in a traffic accident just hours before they were to meet, Holly begins questioning Lime's acquaintances, determined to find out what really happened. Trevor Howard plays Lime's commanding officer, Major Calloway, while Wilfrid Hyde-White is a British army official. Italian actress Alida Valli plays an actress and Harry's girlfriend Anna Schmidt. Bernard Lee (he'd later play M in James Bond films) plays Sergeant Paine, a fan of Holly's novels.
This official trailer for the 4K restoration of The Third Man features Joseph Cotton, Alida Valli, Trevor Howard, and Orson Welles.
Cinematographer Robert Krasker's off-kilter filming angle and harsh lighting are notable throughout the movie, and The Third Man won the Academy Award for Best Cinematography. Director Carol Reed's work on the film has been acclaimed by critics as well, and The Third Man was voted the greatest British film of all time by the BFI in 1999.
Hi-yo Silver! The Lone Ranger Premieres on TV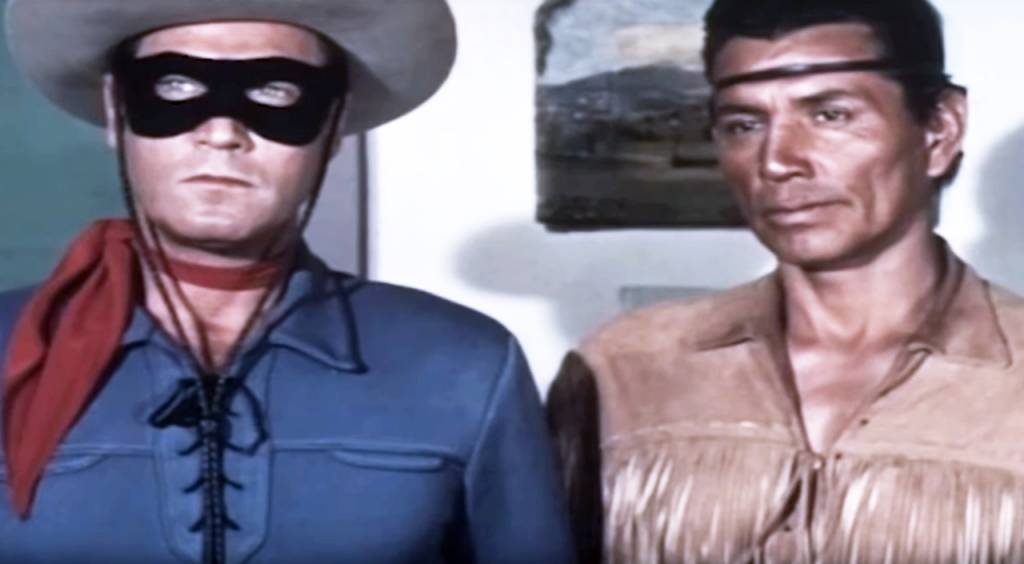 (Clayton Moore / The Lone Ranger, Jay Silverheels / Tonto 1956 Photo: ABC TV)
On September 15, 1949 The Lone Ranger western TV series premiered on ABC-TV. The Lone Ranger enjoyed high ratings during the early 1950s but began to wane in later years; it was cancelled in 1957 when producer  and rights owner Jack Wrather decided to focus on films instead of TV. Filmed in black and white for most of the series run, the last season was filmed in color.
The first couple of  episodes of the TV series – Enter the Lone Ranger and The Lone Ranger Fights On – establish the back story and philosophies of The Lone Ranger. As the series begins, Texas Ranger John Reid is the sole survivor of an attack by the outlaw Butch Cavendish on a troop of Rangers led by John's brother, Captain Dan Reid. The Indian scout Tonto (John's boyhood friend) helps him recover. John makes a black mask from his brother Dan's vest and as Tonto says, he is now The Lone Ranger.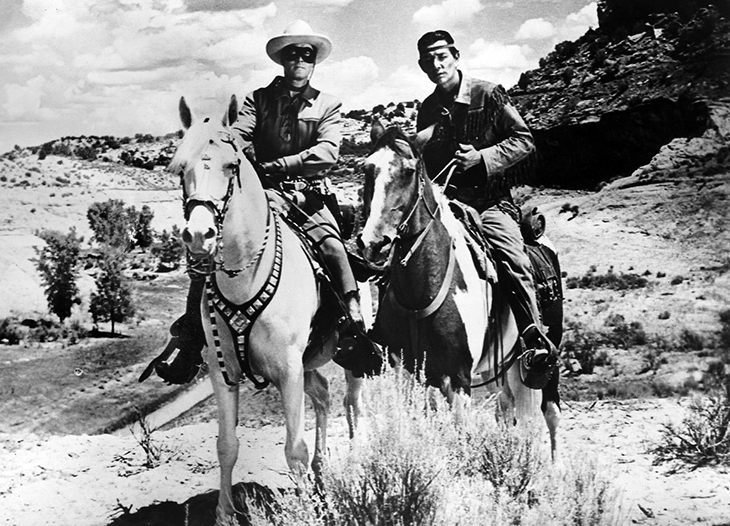 (Clayton Moore on Silver, Jay Silverheels on Scout Photo: ABC TV)
Tonto rides the paint horse Scout, and in the second episode of the series The Lone Ranger Fights On, The Lone Ranger and Tonto rescue a wild white stallion, which becomes The Lone Ranger's mount Silver. The Lone Ranger vows to never shoot to kill and arranges to have silver bullets made for his gun from the silver mine he owns.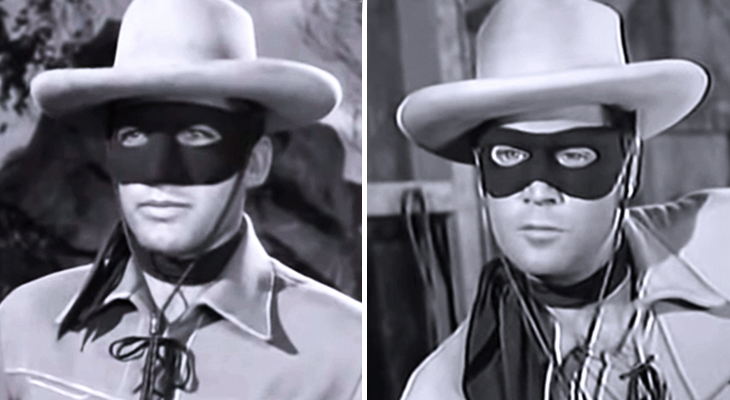 (The Lone Rangers: John Hart, 1953; Clayton Moore, 1949)
The Lone Ranger title character was portrayed by actor Clayton Moore (nee Jack Carlton Moore) for most of the series run, with the exception of 1952-1954, when actor John Hart played the role. Although The Lone Ranger was never seen without his mask, apparently fan's didn't take to John Hart in the role, and later on Clayton Moore was re-hired.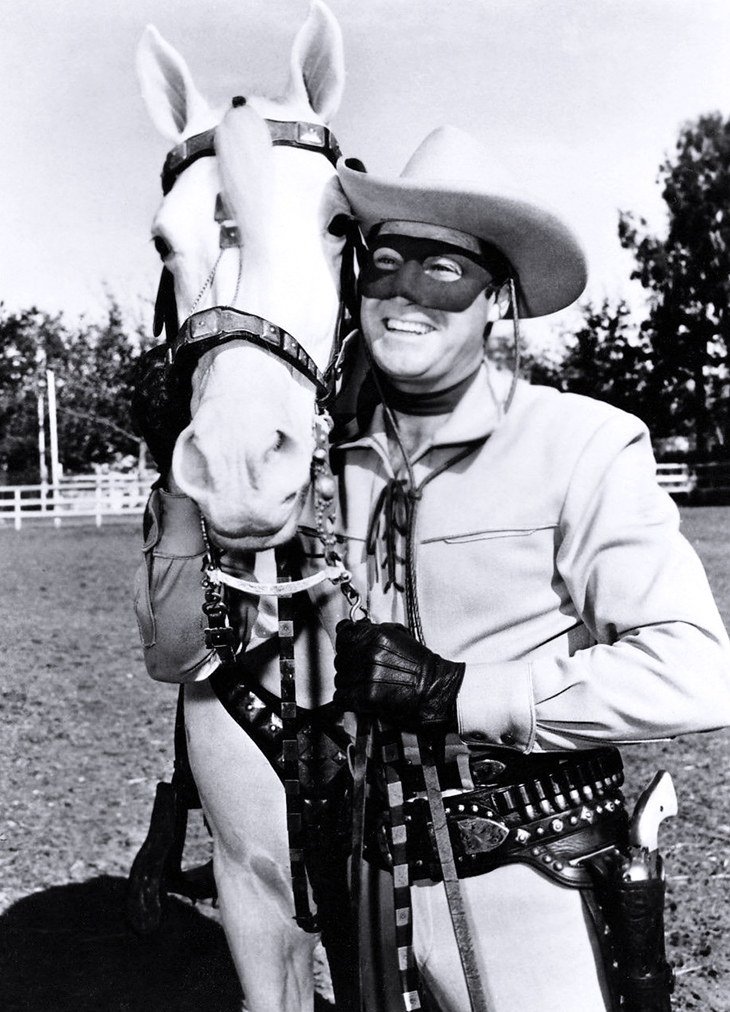 (Clayton Moore & Silver 1955 The Lone Ranger Photo: ABC Television)
Clayton Moore had a busy movie career as an extra and supporting actor during the 1940s, but The Lone Ranger is the role he will be forever identified with.
After the series ended Moore made appearances as The Lone Ranger, which led to a legal battle with rights owner Jack Wrather.
Wrather was awarded a court order preventing Moore from appearing as The Ranger in 1979, but finally dropped the suit in 1985, just two months before he died of cancer.
Clayton Moore died in December 1999 of a heart attack.
The role of faithful sidekick Tonto was played by Canadian actor Jay Silverheels (nee Harold Jay Smith) for the duration of the show. Silverheels was a noted Mohawk athlete – a member of the Canadian Lacrosse Hall of Fame and a Golden Gloves boxer – raised on the Six Nations reserve near Hagersville, Ontario. Like Clayton Moore, Jay Silverheels had a busy movie career in supporting and extra roles during the 1940s, but is best known for The Lone Ranger. Jay Silverheels died of a stroke in 1976. 
Both Clayton Moore and Jay Silverheels reprised their roles as The Lone Ranger and Tonto in the feature film The Lone Ranger and the Lost City of Gold (1958), released the year after the series ended.
Lewis and Martin Movie Debut in My Friend Irma
The stage comedy duo of Dean Martin and Jerry Lewis made their film debut when My Friend Irma premiered in New York City, New York on September 28, 1949.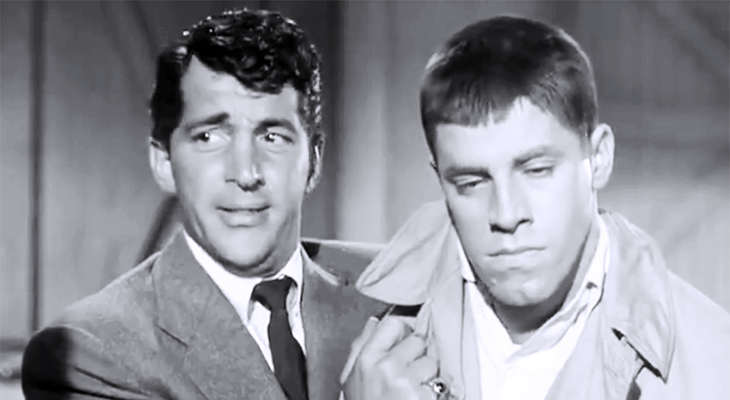 (Dean Martin & Jerry Lewis 1953 Scared Stiff)
Jerry Lewis and Dean Martin had signed a 5-year contract with Paramount and would go on to make another 11 films together (including the 1950 sequel My Friend Irma Goes West), before their friendship developed a rift, ending what had been a highly successful onscreen partnership. 
The original My Friend Irma radio comedy series (1947-1954) starred Cathy Lewis (later played by Mary Shipp) as working girl Jane Stacey, roommate and friend to scatterbrained stenographer Irma Peterson (played by Marie Wilson) from Minnesota. Jane moons over her rich boss Richard Rhinelander III (actor Leif Erickson), while Irma frustrates her boss Mr. Clyde (Alan Reid). Irma's boyfriend Al (played by John Brown) is a jobless con-man always trying some new get rich quick scam.
The women's landlady Mrs. O'Reilly (played by Jane Morgan, and Gloria Gordon later) is romantically inclined towards another tenant, the creatively insulting Russian violinist Professor Kropotkin (Hans Conried).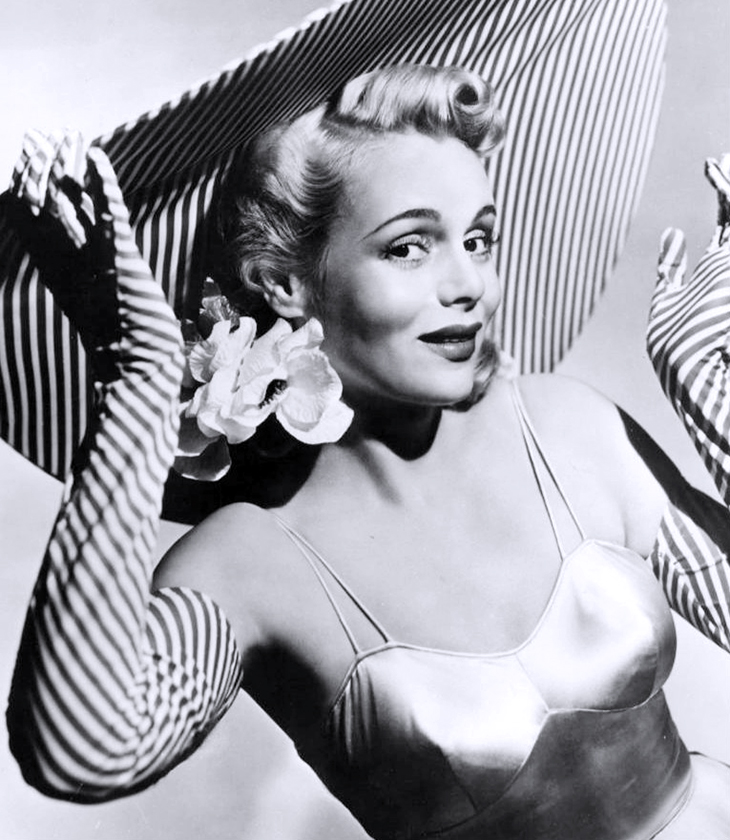 (Marie Wilson 1954 Photo: Boston Summer Theater)
When filming began on My Friend Irma in early 1949, Jerry Lewis was to have played the part of Al in the movie. According to Lewis in his book Dean and Me: A Love Story (2006), the first screen tests made it clear he was miscast. Changes were made and in the finished film Lewis instead plays the new character of Seymour, a sidekick to Steve (played by Dean Martin), another new character and romantic interest for Jane Stacey.
My Friend Irma radio series stars Marie Wilson (Irma), Hans Conried (Professor Kropotkin), and Gloria Gordon (Mrs. O'Reilly) reprise their roles in the movie. John Lund takes over the role of Al, with Diana Lynn as Jane Stacey, Don DeFore as Richard Rhinelander, and Percy Helton as Mr. Clyde.
The My Friend Irma radio series also inspired a comic strip (1950-1955) illustrated by Jack Seidel / Dan DeCarlo and written by Stan Lee. 
A 1952-1954 My Friend Irma television series has the original radio stars Marie Wilson and Cathy Lewis once again playing Irma and Jane Stacey, and Gloria Gordon as Mrs. O'Reilly. Mary Shipp plays friend Kay Foster, Donald MacBride is Mr. Clyde, Sid Tomack is Al, Brooks Rest is Richard Rhinelander III, and Sig Arno plays Professor Kropotkin.
*Images are public domain or Creative Commons licensed & sourced via Wikimedia Commons, Vimeo, YouTube, or Flickr, unless otherwise noted*